Leggings, especially hiking leggings, are one of the most comfortable types of clothing one can ever own. They are often made with soft stretching material designed to give your body all the comfort and flexibility while looking stylish.
Leggings can either be worn on their own or under other garments for layering when the conditions call for it. They are becoming more and more popular as appropriate hiking gear, for both men and women.
Conventionally, leggings are known to be a women's attire and mention of a man in leggings may conjure images of characters from Shakespeare plays or Peter Pan. However, this is no longer the norm and there are leggings designed for both men and women to be layered or to wear independently.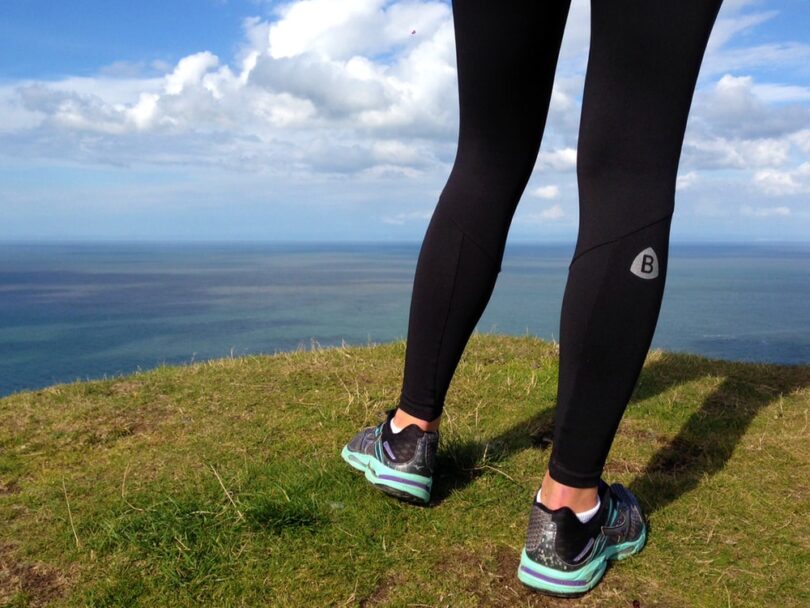 They come in different colors, prints, and styles to suit the different preferences of the buyer.
Different Styles of Leggings
Stirrup leggings: These come with straps that secure them under your foot. They are ideal as casual hiking attire in both warm and cold weather subject to other design features.
Capri Leggings: These leggings are designed to cover only to the mid-calf and they are especially popular on the summer trail. This style of leggings is ideal for hikers who love to show just a little bit of skin.
Knee-Length Leggings: These will only cover up to your knee. They are ideal for wearing in the summer by people who want some sun and fresh air on their legs.
Ankle-Length Leggings: This is the most popular style of leggings. They cover all the way to your ankles. They can be worn in any weather and are especially popular in winter weather worn alone or layered.
Footed leggings: Footed leggings are designed for maximum cover of your lower body. Their design is similar to tights and they are perfect for winter backpacking either alone as bottoms or layered.
Jeggings: These are the perfect breed between jeans and leggings. They are designed to give you the style advantages of tight fitting jeans and the comfort and mobility of leggings.

Advantages of Hiking in Leggings
Mobility. Leggings are made with stretching material that allows the body excellent mobility. They are perfect for maneuvering tricky sections of your trail in comfort and are equally good on the straight and smooth sections. If you want hiking gear that allows your body maximum freedom of movement, then leggings will be ideal for you.
Lightweight. Unlike regular pants, leggings take up minimal space in your backpack and add very little weight to your gear or on your body. This allows you room to pack other essentials without breaking your back. This makes them an excellent choice, especially for ultra light backpacking.
Versatility. When it comes to hiking, leggings make good multi-function attire. They can be comfortably worn during day and night, on the trail or at the campsite, and they can even double as pajamas. You can hike in your leggings, sleep in them and do all kinds of outdoor activities in them.
Crease-free. Most leggings are made from material that does not crease. Unlike most ordinary hiking pants, your leggings will come out of the backpack still looking neat. Just because you are in the outdoors does not mean that you have to look like a hobo in wrinkled clothes. If you mind how your clothes look even out in the wildness, then leggings are a perfect choice for you.
Easy wash and fast drying: It is a lot easier to get the dirt of the trail off leggings than hiking pants. Additionally, leggings dry a lot faster than most pants, making them ideal for life in the great outdoors.
Layering: Leggings are perfect for layering. Because they are form-fitting, they can be layered with each other or under normal pants to facilitate good warmth retention. This makes them ideal for hiking in cold weather.
Compression: Because of their tight fit, even ordinary leggings provide a little bit of compression.
Style: If you prefer a little style and versatility in your hiking bottoms, then leggings are a good choice for you. As seen above, they come in different types designs to suit the different style preferences and hiking conditions. Paired with boots, leggings fit right into the boots to give a chic look and they stay stylishly form-fitting without cutting off your circulation.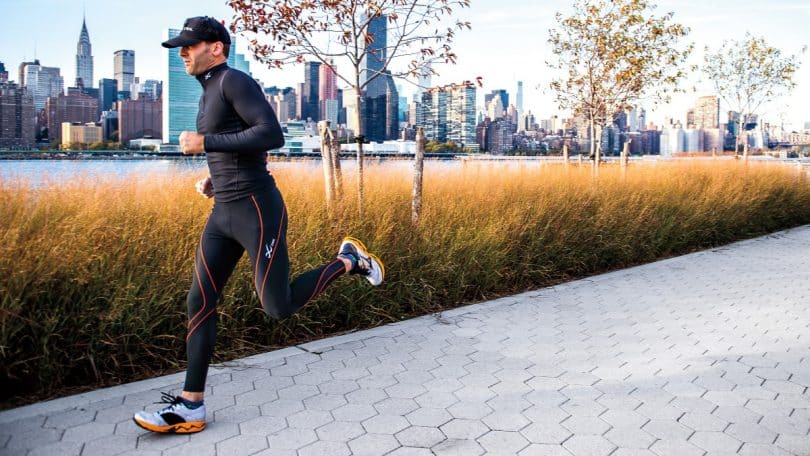 The major let-down with hiking in leggings is that they do not come with pockets so unlike cargo pants, you will not have where to keep small items like keys, wallet or phone. They may also not provide the same level of protection for your legs against bugs, thorns, and brush.
Features to Consider When Choosing Leggings for Hiking
Moisture-absorption: The best leggings for hiking are those that have moisture-wicking features. As your body heats up from hiking, it will start sweating and soon get uncomfortable. Wearing moisture-wicking leggings ensure that the sweat is immediately drawn off your body, leaving you to continue your hike in dry comfort.
Stretch: The best leggings for hiking are those made out of 4-way stretch fabric which allows maximum mobility for your body. This enables you to stay comfortable even when maneuvering tricky terrain.
Length: The length of leggings varies from ankle-length, capri, knee-length and stirrup. Be sure to pick the ones with the ideal length for your trail and the weather. It would be wrong to wear knee-length leggings if you are hiking in cold weather or if you have to move through lots of brush, but the same leggings will be perfect for a hot day on smooth terrain.
Weather: The type of weather matters a lot when picking leggings to go hiking in. For example, legging made for wearing in cold weather are designed to trap hot air and provide warmth, and even with these the degree of warmth provided will differ so make sure you pick the right leggings to suit your hiking weather. If you end up wearing hot-air-trapping leggings while hiking in the summer, then you are in for a long, sweaty and uncomfortable trek.
Anti-Odor: The best leggings are made with anti-odor technology to keep your body fresh so be sure to look out for this before making the purchase. Hiking will cause your body to heat up and this may at times produce some odor. Anti-odor leggings are the perfect solution to this problem.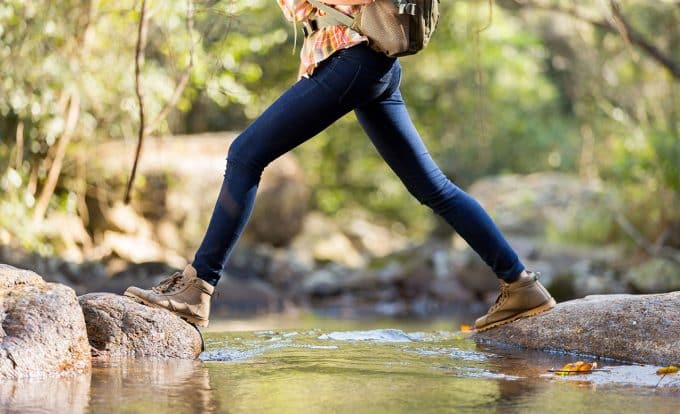 Some of the Best Leggings to Add to Your Hiking Gear
Below, we have picked some leggings that will make excellent additions to your hiking gear.
Duofold Thermal Leggings
Weight: 1 pound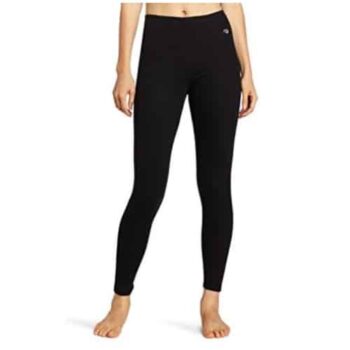 Key features: Pull-on closure, machine wash, moisture-control properties, double-layer thermal, chafe-resistant seams.
Best use: Hiking, winter backpacking, running, walking, outdoor games
The Duofold Thermal Leggings are made for outdoor life. They are designed to provide warmth and comfort on the trail, around the campsite or in everyday life, with moisture control properties to ensure enhanced comfort. They have good stretch and perfect fit for flexibility on the trail and warmth in cold winter weather.
These leggings are opaque and not see-through so they can be worn on their own without any worry or they can be worn inside jeans and other clothes for extra warmth during cold weather. They are so formfitting you could comfortably fit under most winter clothing.
A combination of the thermal design, two-layer protection barrier, close-to-body fit, and moisture control make these great for comfort and warmth in cold weather. The, however, may be too thick to wear under tight fitting skinny jeans or under another pair of leggings, but they are perfect for wearing under most winter clothes.
Related: If you are looking for something to pair these leggings with, Duofold makes nice thermal shirts like the Mid Weight Double Layer Shirt, the Heavyweight Double-Layer Shirt, and the Mid Weight Wicking Shirt to go with them.
Columbia Luminescence Spacedye Legging
Weight: 2 pounds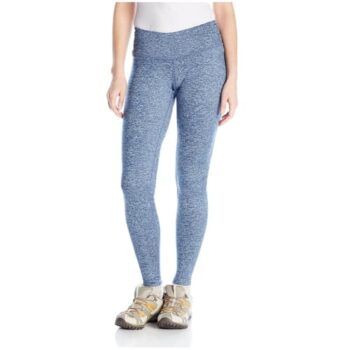 Key features: Omni-wick technology, 4-Way comfort stretch, flatlocked construction, stash pocket, gusset detail.
Best use: Hiking, yoga, gym, walking, camping
Made with 4-way comfort stretch fabric, the Columbia Luminescence Spacedye Legging are designed to provide comfort and maximum flexibility, making them ideal for hiking. The stretching material allows your body maximum flexibility on your hiking trail and for other outdoor activities.
The leggings have sweat-wicking technology which makes them ideal to keep your body dry and fresh on long sweaty hiking trips. Because they are opaque, these leggings can be warm independently with just a top but they are also very form-fitting so one could choose to wear them under other clothes for maximum warmth in cold weather.
They are ideal for winter backpacking and can be worn on the trail, around the campsite or even at night for extra warmth while you sleep. They even have a stash pocket where you can keep small items like keys or a phone.
The 4-way comfort-stretch fabric, Omni-wick technology, stash pocket, gusset detailing and galactic print make these leggings both practical and stylish enough for those who prefer SOME detail in their hiking gear.
Related: If you prefer your leggings to come with a more bold print, then you could opt for the Trail Bound Printed Leggings or the Anytime Casual Printed Legging all by Columbia.
Under Armour Men's Base Leggings
Weight: 1 pound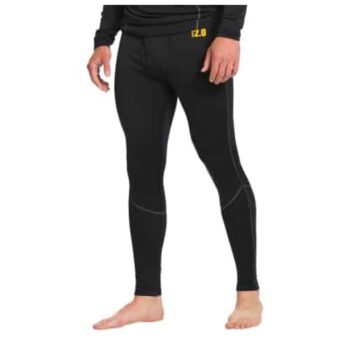 Key features: 4-way stretch fabric, traps hot air, anti-odor technology, moisture transport system.
Best use: Hiking, yoga, camping, walking, exercising, outdoor games
The Under Armour Men's Base Leggings are made for today's man who loves to stay warm in cold outdoor weather. The leggings are made with 4-way stretch fabric to allow your body maximum mobility and flexibility, which makes them ideal for hiking even on tricky trails. Their interior is specifically designed for the cold days with a soft brushed negative grid that traps hot air, enabling amazing warmth on cold days. Their moisture transport system wicks sweat away and keeps you dry while the anti-odor technology keeps you smelling fresh.
They anti-odor technology, moisture wicking system, 4-way stretch fabric and negative grid interior make these perfect for the cold weather both on and off the trail. Additionally, they are very lightweight so they will not add any unnecessary weight to your backpack or your body.
Be careful when choosing between the different versions of these leggings as there is a significant difference between the level of warmth provided.
Related: If you are to go hiking in temperatures below 10 degrees, then you might want to consider getting the Under Armour Men's Leggings, which are a lot warmer and made for such extreme winter days.
Cuddle Duds Flex Fit Legging
Weight: 1 pound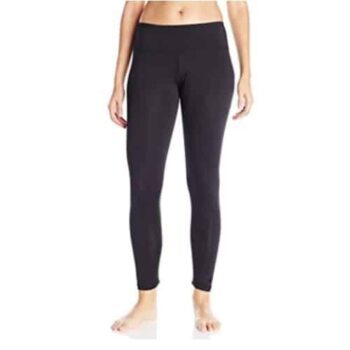 Key features: Hollow-care fiber technology, Comfortech fabric, 360-degree stretch, body-hugging fit.
Best use: Hiking, yoga, gym, camping, running, outdoor games
The Cuddle Duds Flex Fit Legging are made with hollow-care fiber technology to give your body adequate warmth and Comfortech fabric to absorb moisture and leave your body dry and fresh. The stretch material of the leggings ensures good mobility, allowing you to move comfortably even on a difficult trail. The leggings are comfortable enough to be worn on the trail, around the campsite, at night as pajamas and for outdoor games in cold weather. They can be worn alone or under other clothes for extra warmth depending on your desired purpose and style.
Related: If you want a warm and comfortable top to pair these leggings with, then you can try the Women's Flex Fit Top, the FlexFit Long Sleeve Crew, or the Flex Fit Huddle up Turtleneck Top, all from Cuddl Duds.
Under Armour Base Legging
Weight: 1 ounces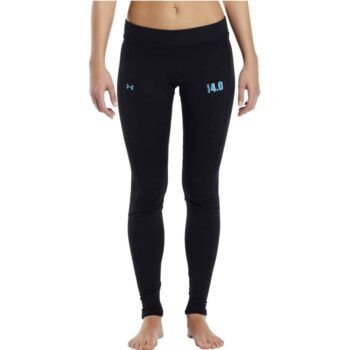 Key Features: Thermal grid fabric, quick-dry construction, lightweight, 4-way stretch construction, anti-microbial technology.
Best use: Hiking, camping, walking, winter outdoor games, ultralight backpacking
Made with Mega-grid thermal fleece, the Under Armour Base Legging is designed to provide warmth on extreme winter days. The fabric has tiny pockets that trap heat to give you long lasting warmth in the outdoors on brutal winter days while its quick-dry nature wicks moisture to keep you dry on the trail. The leggings are also made with 4-way stretch material that allows your body maximum mobility and flexibility which is really important for outdoor attire.  Additionally, the leggings are extremely lightweight and will add very little weight to your body or backpack.
All this, coupled with antimicrobial technology that fights odor, make these the ideal extreme weather leggings perfect for hiking in winter.
Related:  These leggings also come in the Women's Base 1.0, Women's Base 2.0 and Women's Base 3.0 versions all made for different temperatures with 1.0 being for the least cold days. Be careful when picking between these leggings as each version gives a significantly different warmth level.
RBX Active Lightweight Capri Pant
Weight: 1 pound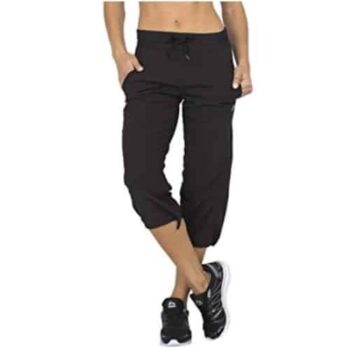 Key features: Quick sweat-wicking materials, adjustable waistband, adjustable ankle closure, four-way stretch, machine wash.
Best use: Hiking, camping, running, outdoor games, walking
The RBX Active Lightweight Capri Pant are made with ample room so the body can freely sweat while the quick sweat-wicking material absorbs the sweat. The combination of these properties allows your body to stay free, fresh and dry, with great mobility from the 4-way stretch fabric. The waistband is designed to give you the freedom to adjust the pants to your chosen fit for comfort and the ankle closure can also be adjusted to your preferred fit. These capri pants fit just well enough without being too tight.
The adjustable qualities, the 4-way stretch, sweat-wicking material and relaxed fitting make these pants ideal summer hiking attire for ladies who prefer to show a little leg on the trial.
Related: You can also try RBX's Body Contouring Crop Capri Leggings or if you prefer to trek in full-length pants then the  Full Length Cotton Jogger and the Full Lenght Relaxed Fit Pant will be good options for you.
Important Takeaway
Feel free to pack a mixture of bottom outfits for your backpacking trip but be sure to throw in some leggings due to their various advantages.
When choosing leggings to add to your hiking gear, it all boils down to your personal preference and the material. Scrutinize the features of the different leggings to see which ones are in line with your intended purpose.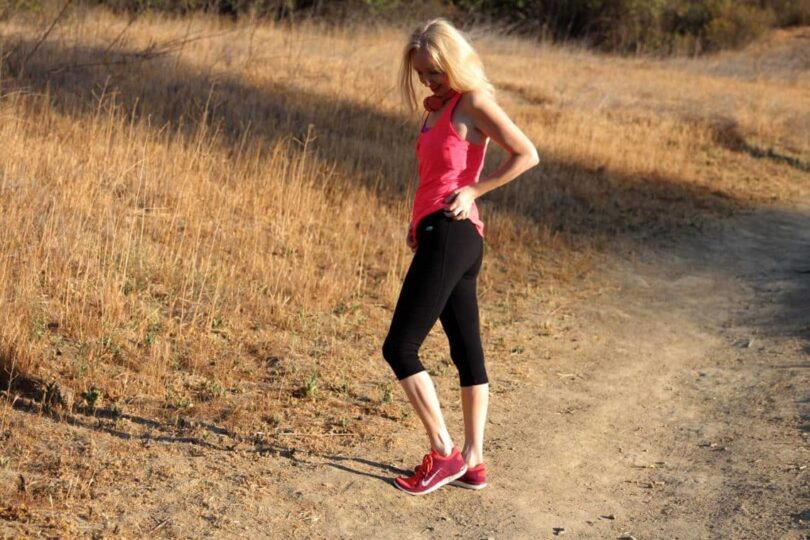 If you are going to go hiking in cold weather, for example, be sure to buy leggings whose material traps air to give your body the needed warmth and if you are planning for summer backpacking, then get leggings that will serve you accordingly.
Also, since you are most likely going to sweat, be sure to get leggings that are sweat wicking. The ideal leggings you chose for hiking should have 4-way stretch fabric to allow you maximum mobility. After you are sure of those basic features, then you can look at other factors like style.
If you liked our article and found it useful, feel free to share it with your friends, and you can also leave a comment in the comments section, and share your experiences with our readers and us.