Walking or running on snow in winter is one of the greatest recreations that are popular to many outdoor enthusiasts. Snowshoes are a key to enjoying this recreational sport because without them, you might sink in a deep snow. Knowing how to choose snowshoes is yet another key to enjoying Snowshoeing sport during the winter season. It can be quite daunting to choose the best snowshoe when you are not well-versed with the features or other considerations to look for. This challenge has prevailed among the novice snow enthusiasts and has led to the emergence of this article to give you expert tips prior to your purchase.
There are varying types of snows and terrains upon which snow enthusiasts can traverse. There could be deep snow on off-trail terrains, particularly on steep mountains and also on flat surfaces, packed on created pathways.
Each of the snow terrain types requires a different set of snowshoes with their specifically designed features. For instance, the snowshoes used to walk on well-groomed trails may not be as advanced as the ones used to walk on steep mountains, deep snows and off-trail terrains. Off-trail terrains, in particular, require larger shoes with more aggressive crampons and enhanced traction.
Off-trail Snowshoeing is rarely done for recreational purposes, but often for other outdoor activities such as mountaineering, backpacking, and backcountry. It is important to anticipate the type of snow terrain that you will encounter in your travel adventures. This article will extend the emphasis of the tips on this important feature to help choose the best snowshoe for your next expedition.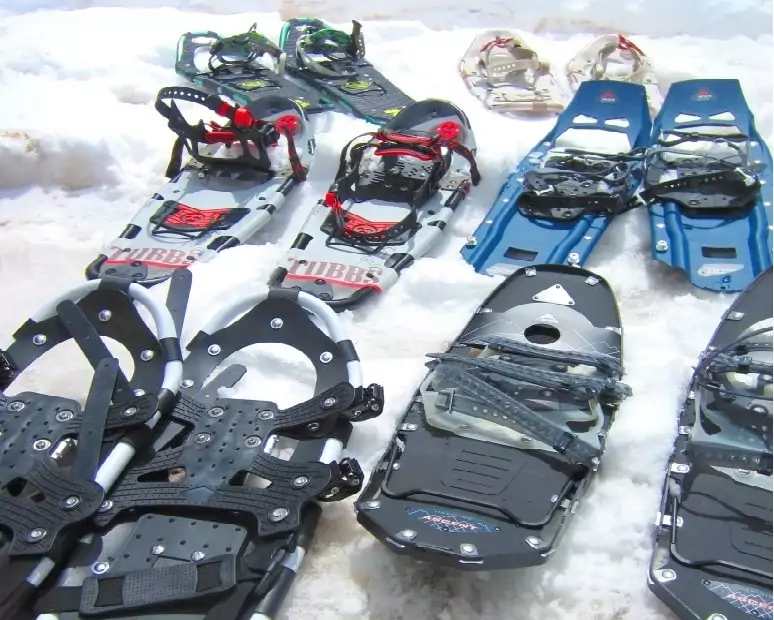 Choosing the best snowshoe is also important if you plan to engage in showshoeing for fitness or racing purposes. Running or racing on snow has proven to be a fun activity to burn calories in a bid to reduce body weight.
Some people are racing on snow for fun. The snowshoes for theses purposes also exist on the market with their features that vary from other activities. The main difference between such shoes and the ones designed for other outdoor snowshoeing activities is the minimal need of flotation.
Only the ability for one to run smoothly and comfortably while wearing the snowshoes for running purpose is important. Let's first help you understand how these shoes work.
How Do Snowshoes Work?
The main purpose of snowshoes is to distribute your weight evenly on a flat surface to prevent you from sinking into the snow you travel on. They make traveling on snow an absolute breeze for all travelers. In the absence of these shoes, you would probably sink in the snow up to your thigh height.
You may be susceptible to health risks more especially when you are wearing weak winter boots. The snowshoes protect you from possible contractions of illnesses due to inclement weather.
In spite of their varying purposes, the snowshoes have common features but different materials. The rawhide and wood, for example, have been used in the past in the production of these shoes. These are now replaced by modern frames that are made of metals such as the aluminum, steel, and carbon fiber to provide stiffness and durability to the shoes.
Other composite plastic materials are also used interchangeably in the manufacturing of these snowshoes. The frames optimize the performance of the shoes to make your snow activities easy.
The snowshoes surpass winter boots with their advanced traction optimized by the featured crampons. The traction varies from one shoe to the other depending on the purpose you want to use them.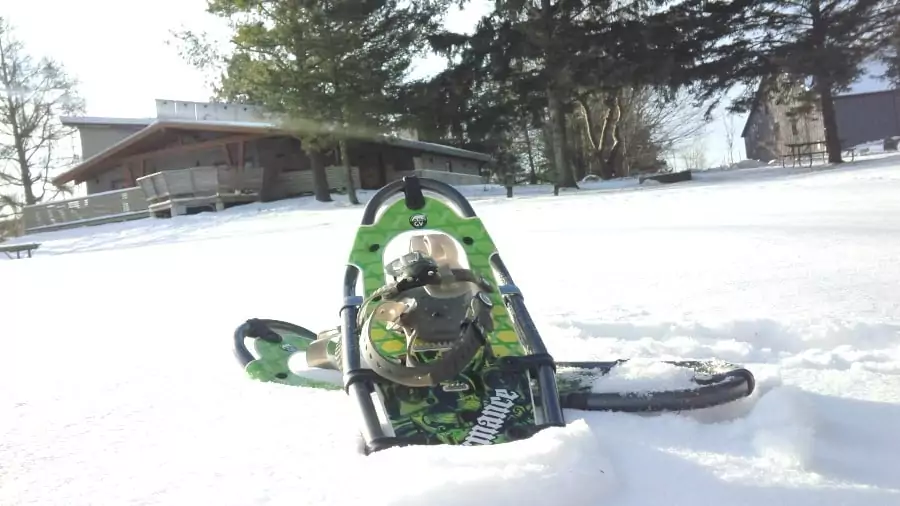 For example, the snowshoes bought for running purposes differ with traction from the ones designated for steep mountain climbing to avoid sliding from the top of the mountain. The crampons are tougher for off-trail terrain travel than for well-established trails.
If you want a greater flotation, then a larger decking material on these shoes is necessary. Walking in off-trail mountains would require a larger deck for more flotation while walking on powdery conditions of snow would merely require small decks with minimal flotation.
Your weight also counts in the size of the deck. If you are overweight or have a large camping gear, you need a larger deck to give you more support.
In order to be able to walk firmly while wearing these shoes without your feet flipping or sliding, you need tightened bindings. These bindings give support to the type of the shoes you are wearing. Because snowshoeing is done in winter, you are expected to put on winter boots for this sport. Light, running shoes are also eligible to fit in the bindings.
There are varying types of binding materials. Without bindings, your feet would not grip well on the snowshoes. The straps and other fastenings are used to hold your feet tightly.
For more details on how to snowshoe, see our article on this informative topic.
Important Considerations for Choosing Snowshoes
In choosing the snowshoes, there are important considerations that will narrow down your choice. For instance, you have to understand that snowshoes are activity- and gender-specific. Considering the activity-specific shoes, there are, among others, recreational or hiking snowshoes, running and backcountry travel snowshoes.
All these differ in size, design, and the materials used in construction, including the price implications. The shoes dedicated for recreational purposes are relatively inexpensive compared to the ones for backcountry purposes wherein off-trail and steep mountains features are common.
The features also differ according to the purpose you intend to use them for. We will detail below the different types of these shoes based on various activities and the features. If you are a beginner, then see our post on how to select the best snowshoes for your needs.
Activity-Specific Snowshoes
Backcountry snowshoes
Backcountry Snowshoeing activity is usually done on deep snow, steep mountains, and far from groomed tracks. That being said, sturdy, durable, stiff, and technical snowshoes with superior features are needed.
Although these shoes are quite expensive, they give you the comfort needed to walk up the steep terrain and deep snow without sliding. They have a great traction system with the aggressive crampons and advanced bindings for your winter or snowboard boots.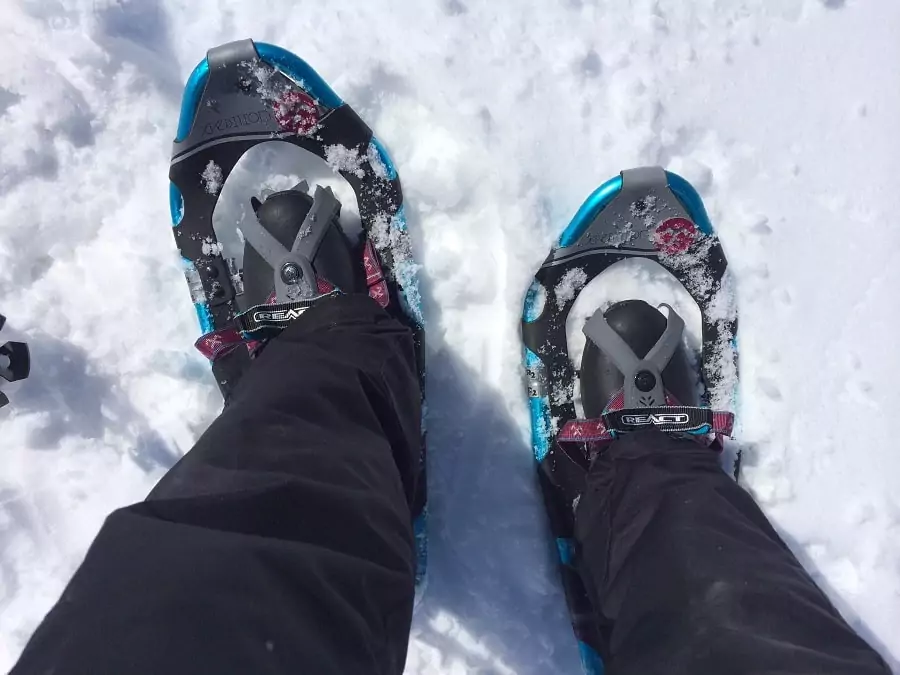 Mountaineers and backpackers will find these shoes very appealing to meet the demands of off-trail travels. Found in these shoes are often long tails, wider frames and very aggressive crampons to give more traction.
Furthermore, these models of snowshoes are made durable to withstand the demands of mountain-climbing and off-trail travel. Unlike the other models, backcountry snowshoes offer more traction and flotation to prevent the dangers of falling when climbing steep terrains.
Recreational snowshoes
These kinds of shoes are capable of traversing on flat surfaces with well-groomed and less-packed pathways. The tracks are seldom packed with deep snow that could require more advanced shoes with advanced features.
These shoes are not designed to withstand technical and more challenging terrain, particularly in off-trail tracks. Hikers are also known as frequent users of the snowshoes for recreational activities. The advantage of these shoes is that they are relatively inexpensive with just intermediate features.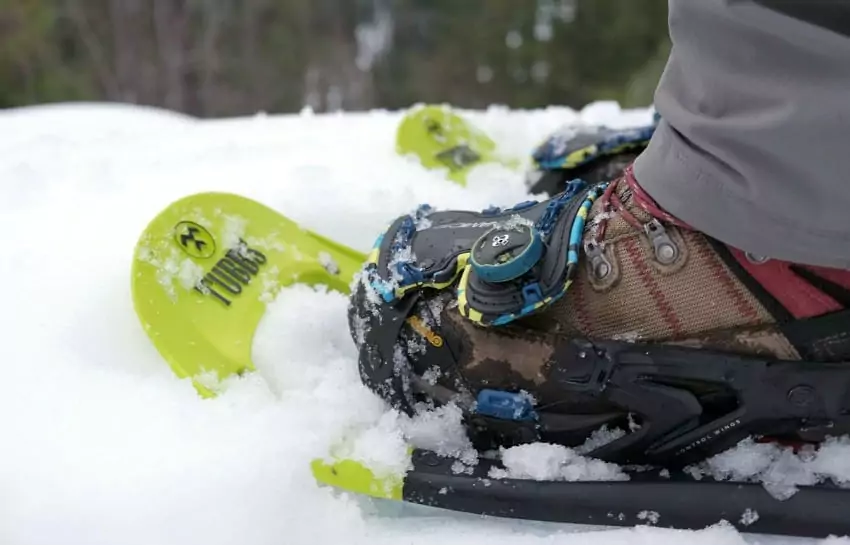 Some of their features include webbing bindings and less aggressive crampons for traction. The frames used in these shoes are wider, but same in width with the backcountry shoes. In actual sense, the size of the frames helps you achieve more flotation depending on the amount of snow to traverse on.
When traveling on flat snow, narrow and short frames are relevant because only minimum flotation is applicable. The small size of the snow also calls for less aggressive crampons that gives minimal traction on well-groomed terrain.
Running snowshoes
If you intend to run so that you can burn calories and stay fit in the snow, the running snowshoes are the best preference for you. These types of shoes are usually small in size with tapered tails to enable your running activity.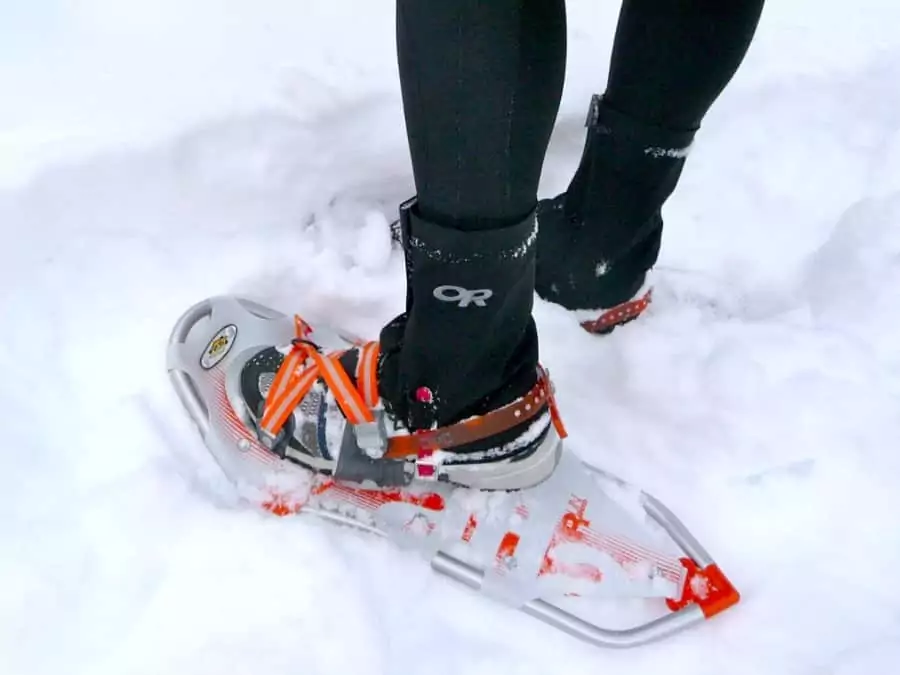 Flotation is not maximized for these shoes because only the ability to run smoothly on them is paramount. They are also relatively inexpensive, and designed for flat or rolling terrains that are well-groomed.
The running snowshoes cannot be overlapped with backcountry and recreational models. They are designed for maximum performance in your running or racing adventure. The features often found on these shoes include light weight, shorter frames, shortened and tapered tail lengths. Minimal traction and flotation is required. As thus, the crampons are semi-aggressive.
Gender-specific snowshoes
With gender considerations, women and men tend to have varying shoe sizes and designs. For example, men's snowshoes have long, wide tails, whereas women's snowshoes have narrowed tails, and are small in size. Women are, in general, lighter in weight and therefore require less flotation compared to men.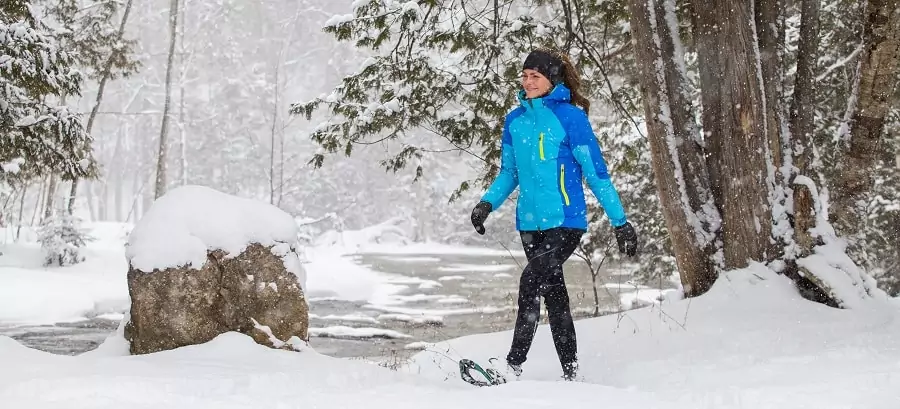 As thus, their snowshoes are relatively small with less aggressive features for more traction. The bindings for women are often narrower and also arch-shaped. There are some unisex models as well, that can be fitted by anyone regardless of gender.
Features of Snowshoes
There is a wide range of features to consider when buying snowshoes for your next expedition. From crampons, bindings, frame, flotation and size, and the decking materials. We will discuss them hereunder to help you in your search of snowshoes.
Frame materials: Gone are the old materials that were used as frames in these shoes. Rawhide panels and wood were predominantly used to construct frames. Unfortunately, they were characterized by a lack of stiffness, durability, and frequent maintenance.
Now a tubular aluminum frame, carbon fiber, steel, and composite plastic materials are predominantly used as features in these shoes to replace the old ones. Traction and flotation are improved in modern snowshoes.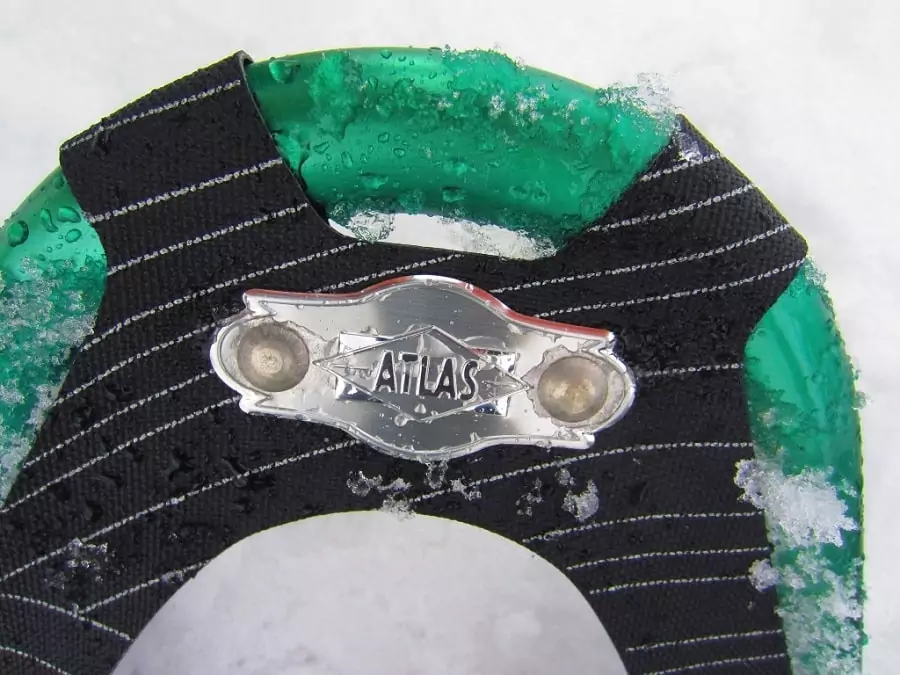 The frames help determine the size and the shape of the shoes. Women's designed frames are often tapered or narrowed at the tail to enhance natural stride and more efficient travel. In order to enhance flotation, the frames are usually oval-shaped. The sizes and shapes of these frames differ from one manufacturer to the other.
Decking materials: this is yet another important feature of these shoes. It is accommodated by the frame. The size and the shape of the frame, therefore, determines that of the decking. Rawhide webbing has been used in the past to make the deck. Now modern materials such as the urethane nylon, plastic, synthetic leather and thermoplastic urethane are used for this purpose. They are relatively durable compared to previously used rawhide panels and webbing.
Bindings: There are different bindings used in these shoes. Before you purchase, make sure you buy the right shoes with great bindings that will hold your winter boots well. The bindings are also activity-specific because, for example, the bindings for backcountry snowshoes are more sturdy and stiffer compared to the ones designed for running snowshoes.
Backcountry shoes are engineered to accommodate all sorts of winter footwears with their varying sizes. When running in the snow, often light sneakers and running shoes are worn. The bindings for backcountry Snowshoeing will be irrelevant for running shoes.
Below are the various types of binding materials and designs often found in snowshoes that you will purchase. It is important to understand all of them so as to narrow your choices when making purchases.
Nylon webbing straps: they are easy to adjust, and are also light in weight. They are also versatile in that they can be used to hold a variety of snowshoes. If you are into light bindings, then these straps are meant for you.
Ratchet straps: these are more like the bindings that are usually used in snowboard bindings. They are also adjustable to fit any type or size of the shoe you wear.
Rubber straps: they are tough bindings with resistance to stretching when faced with inclement temperatures. They are commonly used in many bindings.
Boa closure: it is an easy strap to use in bindings with its wraparound fit.
There could be other bindings on the market than what we mentioned here. However, these ones are commonly found in many snowshoes. Prior to making a purchase, you need to make sure that the bindings chosen are compatible with your footwear and can offer a tight grip on them.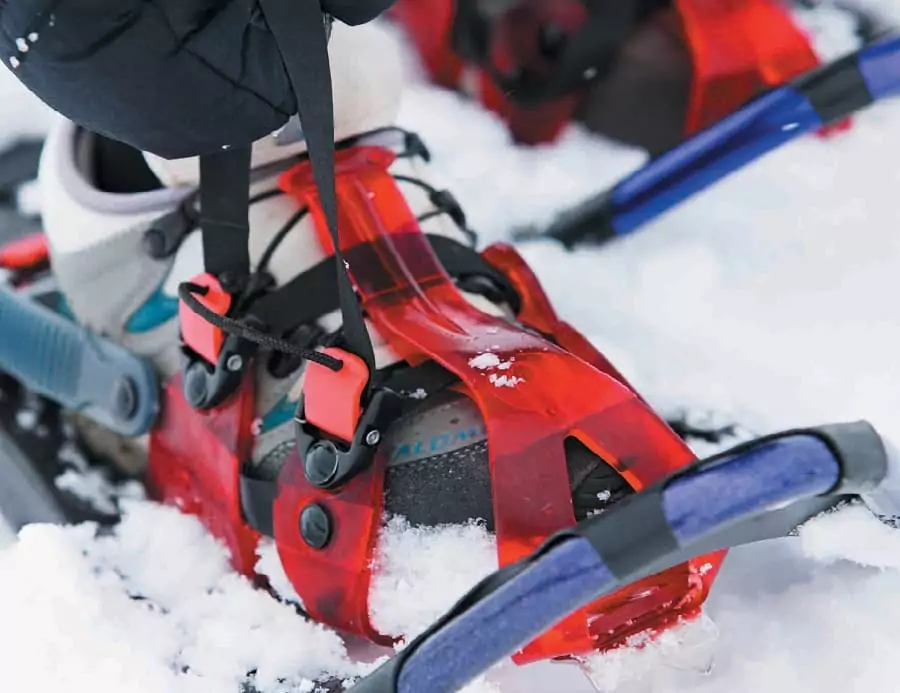 Buying the snowshoes with incorrect bindings could render them useless because the straps are not removable but only adjustable. On running shoes, the bindings are usually fixed to prevent the feet from slipping.
Heel lifts: if you plan to ascend the steep hills in deep snow, the heel lifts are a must-have for you. Climbing the mountains without this feature could be detrimental or inconvenient to your heels. The heel lifts are flipped up under the heels to enable a comfortable ascending when faced with steep terrains.
Flotation and Size: the size of these shoes goes hand in hand with the amount of flotation. Flotation provides pleasure in the snowshoeing activity unless your main purpose is to remain fit by racing or running on snow. The shoes come in varying sizes that could range from 20 inches to 36 inches. Larger sizes are known for their ability to enhance more flotation. Also to be taken into account is your weight combined with the weight of your gear.
The snowshoes distribute the weight evenly on a flat surface. You therefore have to take into consideration your weight in relation to the size of the shoes to be bought to achieve more flotation.
Running snowshoes seldom take into account flotation. Only the ability of the shoes to hold your running shoes is important. The size of the snowshoe should still be considered important. Many of these running shoes are small in size.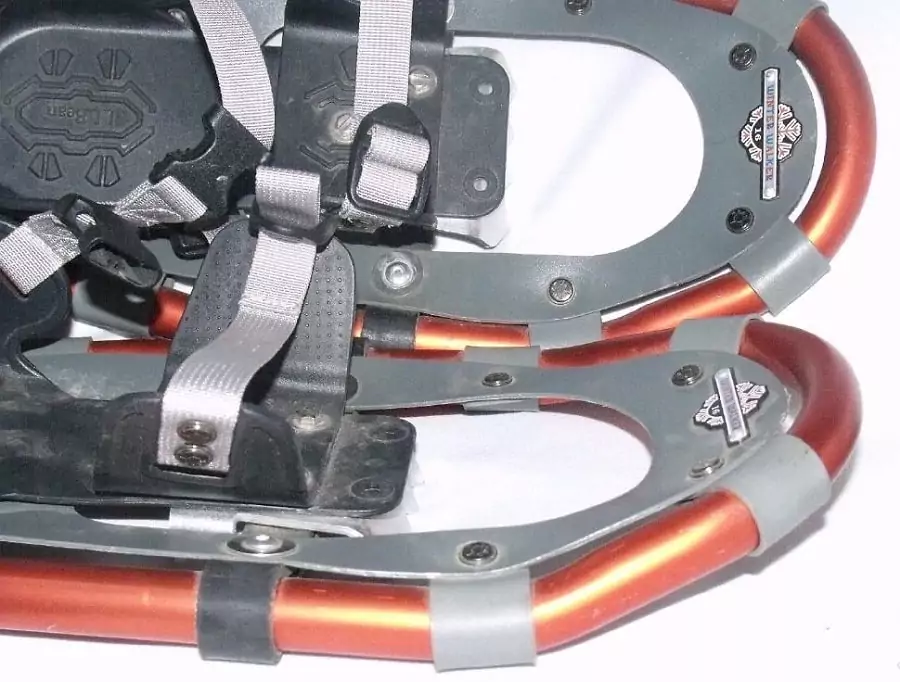 To help you buy the right sizes in line with your weight, the snowshoes come with recommended weight per size as tabled below:
| | |
| --- | --- |
| Range of body weight: | Recommended snowshoe size: |
| 80 to 150 pounds | 20 inches |
| 120 to 200 pounds | 25 inches |
| 170 to 250 pounds | 30 inches |
| 220 to 300 pounds | 36 inches |
The best advice is to limit the weight of your gear so it does not require larger snowshoes to travel on snow terrain. The type of snow and the terrain you are heading to also has effect in determining the size of your shoes. For example, if you plan to travel or climb off-trail terrains, you need more flotation and larger sizes of these shoes.
Crampons: These are materials located at the bottom of the snowshoes to provide the much needed traction when walking or running on the snow. They can either be made of steel, composite plastic material or aluminum.
The crampon varies from one shoe to the other depending on the expected terrain to use them. More aggressive crampons are used for difficult terrains such as off-trail high peak mountains. They are made to withstand the ice and to make the shoes more secured and stable when wearing them.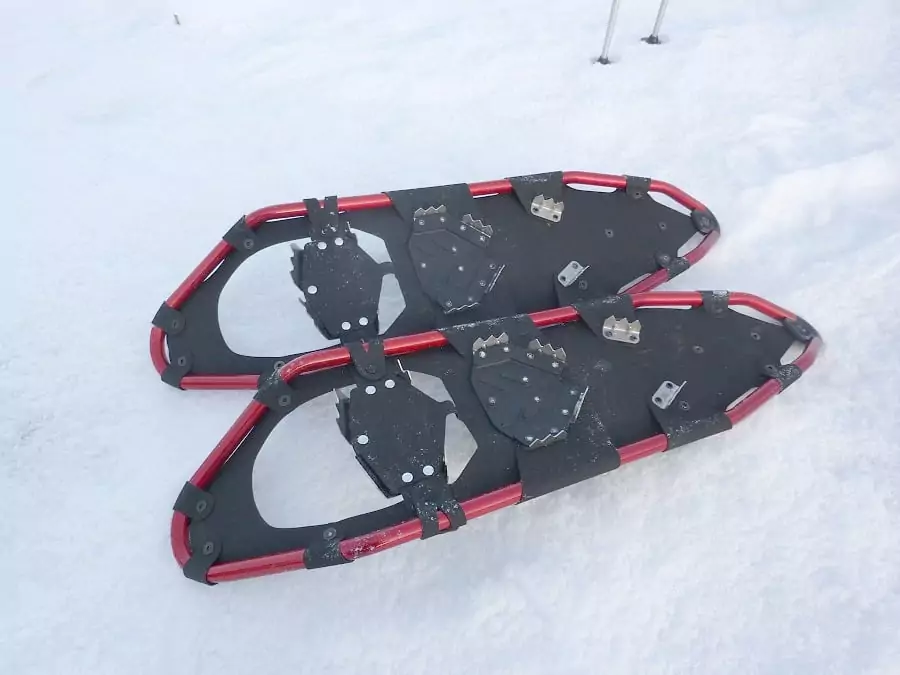 On the other hand, less aggressive crampons are required for the groomed or packed terrain trails. To give you more information, see our article comparing how crampons differ from microspikes, a must-read for everyone.
Wrapping It Up
Having introduced you to the important considerations to choose snowshoes, we are confident that you are now well-prepared to hit the market. The key to choosing the best snowshoe that will remain comfortable and secure in your outdoor winter sports is understanding the foremost important features.
Also highlighted in the article are the activities that play a central role in choosing these shoes. It has transpired that snowshoes are activity-specific. Moreover, they are gender-specific. We gave more valid reasons to expand on these topics. Also important was our accommodation of novice people in snowshoeing activity when we discussed how do these shoes work.
Should you wish to embark on a DIY snowshoes project, take a look at our earlier piece for more information and guidelines.
Also, if you have more question regarding this topic, feel free to leave a question in the comments section below.