Hiking has become an increasingly popular pastime for Americans and outdoor activity enthusiasts. Compared to other forms of travel, hiking has become a good, more affordable alternative to visiting beautiful new destinations — sometimes without leaving the country. According to data from travel company Explore Worldwide, six of the top ten most picturesque trail destinations in the world are in the US. These scenic American trails span from California and Utah to Georgia and Nevada, with England, Scotland, Spain, and Chile filling the rest of the list.
As activities like hiking and backpacking become more popular, however, smokers may feel discouraged due to the physical activity and exercise associated with them. Smokers should also be considerate about their habits if hiking with a group. Still, that doesn't mean that smokers should be limited from the joys of hiking.
Below, we'll look at the health effects associated with hiking and how smokers can benefit from them, as well as the importance of practicing proper hiking etiquette as a smoker:
The health benefits of hiking
One of the more obvious health benefits of hiking, of course, is the physical activity. For some, hiking is a great break away from their sedentary routine, along with a chance to rejoin nature and greenery, even for just a while.
A study on mountain hiking and forest therapy found that being in a forest environment engages all five of the human senses. Many find hiking and forest therapy healing, especially when combined with other practices like meditation, breathing exercises, and cognitive behavioral therapy.
When out in a natural environment, hikers can experience positive emotional changes, followed by cognitive and behavioral changes. In turn, these motivate people to shift away from the more unhealthy, sedentary, or passive lifestyle. Researchers also note that a natural environment can help reverse stress-induced immunosuppression, normalizing your body's immune function and neuroendocrine hormone levels.
Likewise, in a previous post, we highlighted some of the reasons so many doctors suggest hiking as good exercise. For one, hiking helps reduce stress, depending on the intensity of your hike. Hiking daily is found to help stabilize your mood and can reduce stress and depression. At the same time, hiking can help reduce anxiety by releasing adrenaline. For smokers, a day or weekend spent hiking may be the proper outlet for managing stress instead of turning to cigarettes.
The importance of hiking etiquette
Of course, while hiking can be significantly beneficial for your health as well as a lot of nature fun, it's essential to consider and respect proper hiking etiquette to ensure your hiking experience is enjoyable, safe, and isn't disruptive to others around you.
Hiking etiquette spans various aspects of the outdoor activity, from practicing mindful photography and not disrupting local wildlife to staying on designated trails and understanding the trail right of way — such as always yielding to hikers going uphill.
A CBS article also recently highlights the importance of practicing responsible pet ownership when hiking. This includes always picking up your dog's poop and carrying it out with you and always bringing plenty of water and first aid for you and your dog. If it's hotter than 80 degrees out, it might be best to leave your furry pal at home.
Of course, for smokers specifically, some hiking etiquette should be prioritized. Below, we'll share some hiking etiquette to follow for smokers to enjoy their hiking trip:
Hiking etiquette for smokers
Compared to a non-smoking hiker's experience, hiking as a smoker may differ in various aspects. Some hiking etiquette to be strictly followed as a smoker is practicing proper trail hygiene and waste disposal. This is because cigarettes pose a fire risk for the environment and wildlife around you and thus should be disposed of properly without leaving a trail of litter behind you.
If the hiking trail you've chosen allows smoking at designated stops or areas, be mindful of others on the hiking trip with you, as they may not appreciate the smell of cigarette smoke or may have health concerns.
Leave No Trace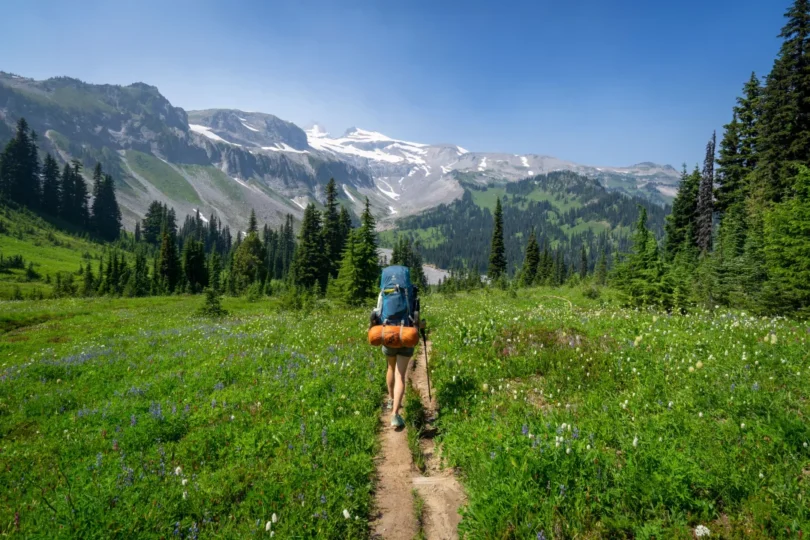 Established by the Leave No Trace Center for Outdoor Ethics and built on work by the US Forest Service, National Park Service, and Bureau of Land Management in the mid-80s, Leave No Trace is a set of principles that help protect national parks and the environment where you may be hiking. This includes practicing fire safety and minimizing lasting environmental impacts.
Recently, the Mount Philo State Park in Charlotte, Vermont, made news for getting a nod from the Leave No Trace organization. The organization spent some time at the state park to work with local agencies to deliver education and partner on restoration and stewardship projects.
Use smoke-free alternatives
Finally, an even better alternative to proper disposal of your cigarettes is… by not bringing them at all. Quitting smoking is easier said than done, but many smoke- and tobacco-free alternatives are available today. Oral nicotine products like nicotine pouches can help manage cigarette and smoking cravings, ensuring your hike stays enjoyable and relaxing. Today, nicotine pouches can easily be bought from a retailer website and are sold in various multi-packs to ensure you're well stocked for your hiking trip.
Other oral nicotine products available on the market include nicotine lozenges, tablets, gummies, and gum. Like nicotine pouches, these provide nicotine in microdoses without smoke or tobacco, making them a convenient and safe alternative for hiking trips. As these are edible, you won't have to worry about having to dispose of them after use — although do still dispose of their packaging or wrappers appropriately.
Ultimately, don't let the idea of physical activity and outdoor time intimidate you from planning a relaxing or healing hiking trip just because you smoke. If anything, hiking can be a great way to reconnect with nature and let your body — and mind — heal from the effects of cigarette smoking, as well as a chance for you to kick the habit once and for all.
As long as you practice proper hiking etiquette, hiking will remain an indiscriminate escape for everyone — even smokers. Check out our homepage for more tips, guides, and insights on all things hiking.