When you are stuck in the wilderness, and you find it difficult to survive, the best backpacking knife would be a crucial tool to have as this can be utilized for a wide range of tasks including cutting ropes, hunting, opening cans, and more.
However, before you spend your money on these devices, you will need to know about the features you want your knife to have. When it comes to selecting the best knife for your backpacking tour, there is a range of options you will need to consider.
The convenience of owning and handling a knife during a camping or hiking tour is one significant determinant. Today, the market is filled with technologically superior, multitasking, razor-sharp tactical knives from the best brands across the globe.
If you have limited requirements, it is advisable to avoid knives that are feature-loaded. With that in mind, you should also know that the concept of perfection has its loopholes. The suitability of a knife varies from one individual to another, and operating a knife requires some degree of outdoor skills.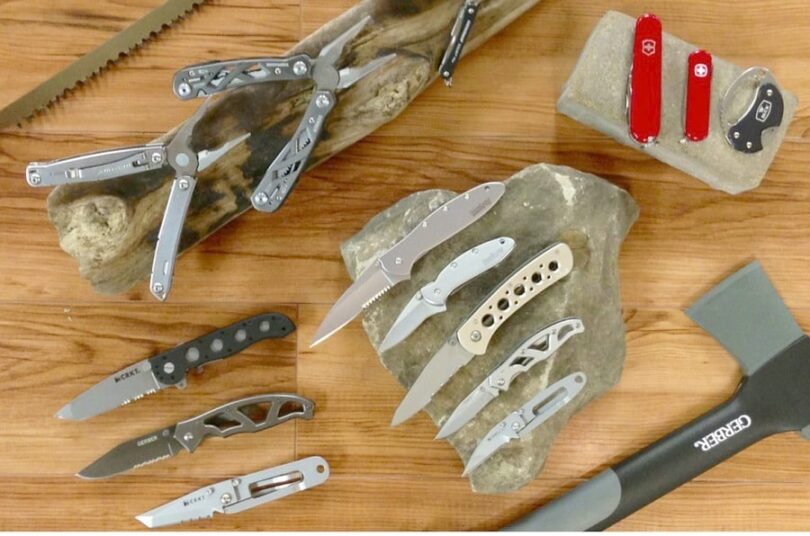 This is why survival knives are not designed to be used for everyday home applications as their features are meant to help you survive your backpacking tour. Therefore, survival knives are not just tools to own, but they are a necessity when you are out for an extended backpacking trip.
When you are planning to go on backpacking tour or a short hike which will not demand much when it comes to knives, a folder could fit the bill. Alternatively, a smaller fixed blade would be an ideal option if you are engaging in a short trip to the mountains.
Nonetheless, if you can bring a single knife with you, or you will need the knife to do some heavy chores, a fixed blade with an extended or full tang would be the right choice as this is dependable compared to the folding knife.
All in all, no matter what the choice of your knife is, it is imperative to carry a knife that requires zero or less maintenance when out in the field.
Features to Consider
Backpacking knife is an excellent addition to your survival gear. With this kind of a tool, you can easily survive when you are in the wilderness. When looking to purchase one, you need to know what factors to consider so you can pick the right knife to help you survive in the wild. Here are some vital features you will need to consider.
The Tang
A knife's Tang is a section of the blade that stretches down into the handle. It is an extension of the blade, and for that reason, they are all made from a single piece of steel.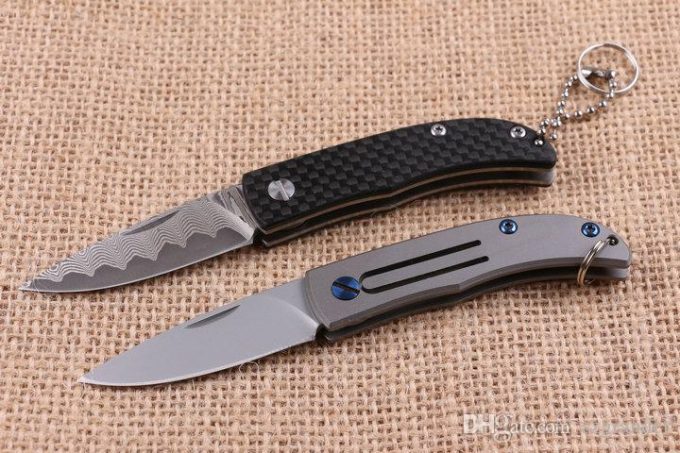 A tang that goes into a handle's base is the best for a survival knife as this part gives the whole knife the strength it deserves. Cheaper and low-quality knives have their tangs connected to the handle's top, making them fragile and easy to break off.
The Handle
The handle on backpacking knives varies widely. They can be made from a polymer or hard rubber. Many of the handles are excellent and of high quality, so the easiest thing to go about this is remembering what to avoid – any knife with a hollow handle for keeping or storing things.
Although this sounds neat, there are some good reasons as to why you should avoid knives of this kind. For example Parry Blade Survival Knife has a hollow handle without a full tang, which we know is important.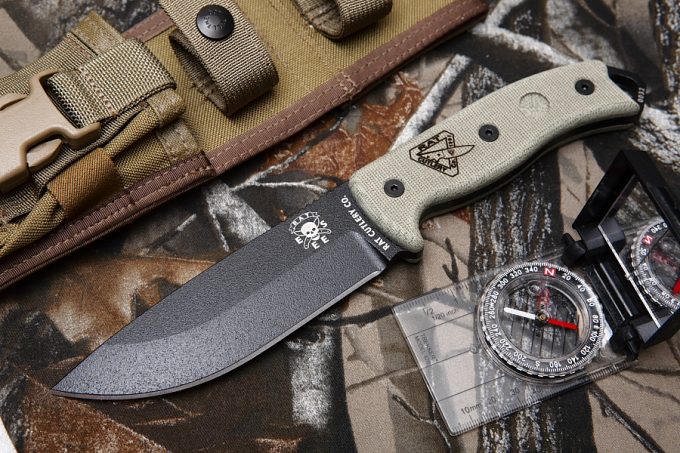 Additionally, if the handle is used to store matches and you happen to misplace or lose the knife, then the matches are also gone, and you will not light your fire. Another aspect to avoid is a compass at the middle of the handle. This feature is usually common with novelty survival knives.
Again, this may seem like a cool feature, but this addition could mess up your knife's grip. Is it prudent to have a 25 cent compass on your knife's handle when there are high chances it will make your knife difficult to work with or even lead to injuries? In a survival situation, anything that could compromise your mission is unacceptable.
The Blade
Backpacking and survival knives usually come in two different steel material: Carbon and stainless. There is a significant difference between these two materials you should know about. These are as followa:
Stainless steel virtually indestructible, is durable, can withstand a beating, and can last for an extended period without rusting. Nonetheless, some believe that this component losses an edge faster compared to carbon
Carbon steel knives can hold a good edge for a long time compared to the stainless steel. However, this material rusts faster than the stainless steel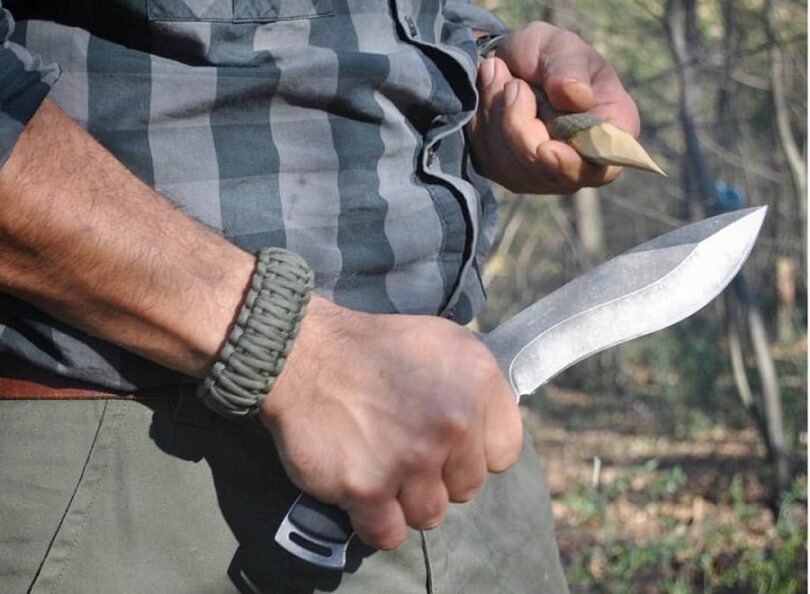 Sheath
The sheath of your knife may seem less important, especially when you are not familiar with what a serious survival knife should entail. There are things you would expect in your ideal knife sheath.
Lower attachment: some attachment piece or hole at the sheath's end used to strap the knife on the belt or to your leg, or on the strap of your backpack.
Belt and Lanyard Attachment: Is there a belt loop? Is there a hole for lanyard on the handle of the knife
Strap: look at how the sheath locks around the knife. It is best to go for a strap that crosses over at the point where the handle and the sheath meet. A sheath that has a strap at the handle's base allows the knife to slide out
Sharp Pointed Tip
This may seem an obvious aspect, but numerous survival knives have rounded, angled, straight cut flat, or hooked tips. Despite the contrary debates, there are a lot of compelling reasons as to why you need to get a knife with a sharp pointed tip.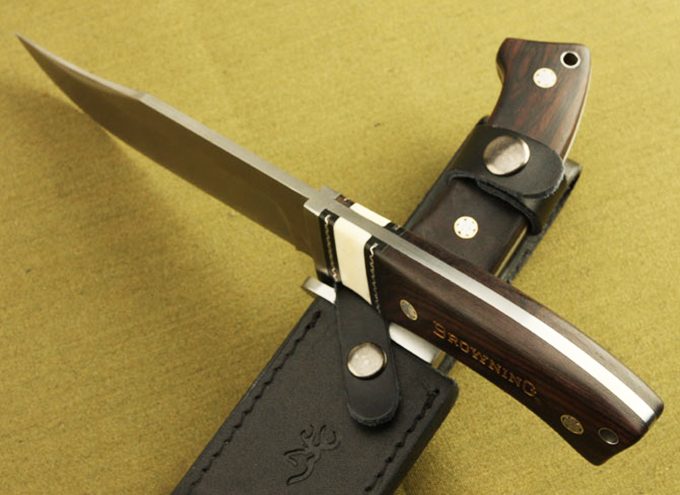 One of these reasons is self-defense against beast or man. Anything other than this will compromise your ability to stab or thrust your knife through the thick hide/fur or a layered clothing. Likewise, a knife that is spear-pointed can be utilized as a hunting tool – either lashed to a stick to form a long spear, or used by itself.
Top Product Reviews
Now, we are going to show you actual backpacking knives for you to consider. Look at their features and see which one works for you!
Columbia River Knife and Tool's M21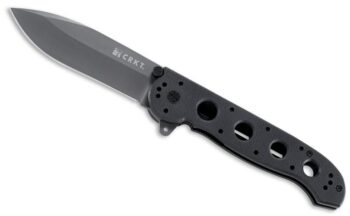 Price: Approx. $45
Weight: 7.2 ounces
Dimensions: 6.5 x 2.1 x 1.3 inches
Specific features: Titanium nitride finish, 8Cr14 stainless steel, G10 with 420J2 Liner handle,
Best use: Survival, camping, backpacking, hiking
Description: There are a lot of reasons why custom knife manufacturers choose to make their products using G10 scales and stainless steel liners in preference to titanium or aluminum. First, the G10 texture offers exceptional grip and is a very strong component. Second, G10 is lightweight and is an excellent insulator with low specific heat.
As a result, it is warmer to grip during subfreezing temperatures and is cooler to grip during the beating desert sun. Due to these benefits, the Columbia River Knife and Tool's M21 offers an unprecedented cutting power that incorporates deep-bellied spear point blade at the front side. The knife is lightweight and features a strong G10 handle.
The knife has been designed to help you survive in the wilderness with the least problems possible. Users like this knife because of the sharpness, and how long it lasts. Some users have had this knife for years and it has taken a beating, but it still works! You can still sharpen it over time and it is easy to take along with you!
PROS:
Lasts for years
Durable and strong
CONS:
Pivot screws can move when you open the blade
Can get off center
Related: If you will be in the dark, the Streamlight 88061 ProTac Tactical Flashlight will light your way! Around $45 this flashlight has a few modes you can use.
SOG SLPro Toologic SLP2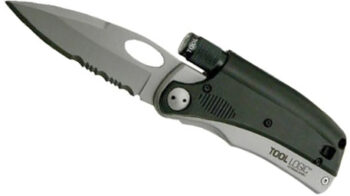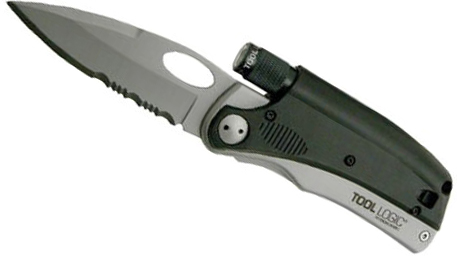 Price: Approx. $35
Weight: 4.3 ounces
Dimensions: 6 x 6 x 4 inches
Specific features: A built-in loud signal whistle, magnesium alloy fire starter rod, rugged frame lock, waterproof flashlights, 420 J2 stainless steel
Best use: Survival, camping, backpacking, hiking
Description: The SOG SLPro ToolLogic SLP2 comes with a partially serrated blade that can be released and locked using its frame lock. It also features a LED light magnesium fire starter and a whistle that is loud enough to leave your ears ringing.
The SOG SLPro ToolLogic SLP2 is a multi-functional knife that has a solid steel construction. The knife features a sturdy Zytel frame with a stylistic lock to give you an easy and smooth one-handed operation.
It also features a three-inch razor-sharp 50/50 blade created from a 420 J2 stainless steel material, stainless steel pocket clip, magnesium alloy fire starter and lanyard hole. The magnesium fire starter is rated for a thousand sparks, with the ability to throw a shower of spark for over 2,500 degrees even in wet environments.
This knife provides a solid steel folder that comes with a bright detachable white LED flashlight that uses four 1.5 volt cell batteries. It is also waterproof in shallow immersions and can easily be used in wet environments. This knife weighs 4.3 ounces and has a silver blast finish to give you the aesthetic appearance you would want your survival knife to have.
PROS:
Includes LED flashlight and a fire starter
Has emergency whistle
Clips to your belt
CONS:
Whistle is not very loud
Liner lock can give you problems
Related: Sharpen your knife with the Smith's PP1 Pocket Pal Multifunction Sharpener that has a tapered diamond rod and carbide blades.
Ka-Bar Mule Folder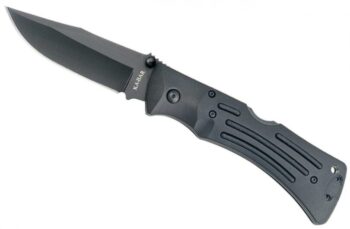 Price: Approx. $42
Weight: 0.5 pounds
Dimensions: Unlisted
Specific features: AUS 8A stainless steel, cordura sheath included
Best use: Survival, camping, backpacking, hiking
Description: The Ka-Bar Mule Folder is a heavy duty piece equipment that gives you all the answers to the questions you have regarding outdoor survival and backpacking. The knife has a sturdy construction, and its pure heft ensures it can withstand all tests you subject it to, while in the wilderness.
Weighing only 0.5 Pounds, the KA-BAR is an excellent tool to have with you on your backpacking tour. Many of those in the military use, this knife and it does include the sheath. It is made of stainless steel and is great for outdoor use or for just collecting. It does go through testing to ensure the quality of product you are getting.
Overall, users like this knife because it is so durable and strong. While a little costly, this knife does do a great job. The length of the knife is 9 and 1/16 inches, and it sits at a 15 degree angle.
PROS:
Comes with sheath
Light weight
Stainless steel
CONS:
Lock is not sturdy
Screws can strip off if you take it apart
Related: The Nicholson 06706N Axe File will sharpen axes,  and much more when you need it to. Under $10, this file works wonders!
Cold Steel  Pendleton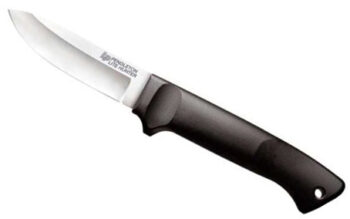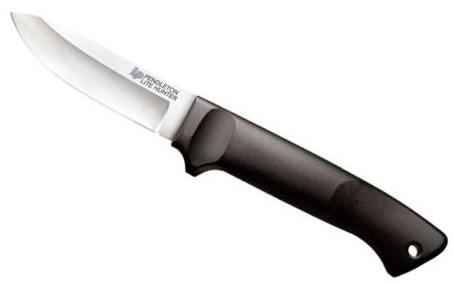 Price: Approx. $22
Weight: 1 pound
Dimensions: 8.2 x 4 x 1 inches
Specific features: VG-1 stainless steel, secure-ex sheath,
Best use: Survival, camping, backpacking, hiking
Description: The Cold Steel Pendleton is tough and well-constructed, and can withstand abuse or any heavy workload. If you do not hunt, this tool is probably not meant for you. However, the Cold Steel Pendleton can be utilized as a self-defense equipment if you lack other options.
With that in mind, this knife is designed to hunt so if you are not a hunter, then it may not be of much use to you. This knife has a KRATON handle that is an excellent option for a functional knife. It is not the right choice in terms of aesthetic, but KRATON offers both a firm grip and is a comfortable tool to use.
It's all about functionality and its handle means you can use it effectively without slipping off the blade or wearing out your hand. The handle of Cold Steel Pendleton fills your entire palm upon grip, which is something that is rare with hunting knives. Furthermore, its excellent design makes it conducive for your hunting escapades.
PROS:
Affordable
Thick blade
Has sheath
CONS:
Handle feels slick
Does not pierce well
Related: The Work Sharp WSGFS221 Guided Field Sharpener is made to sharpen knives anywhere you are. It has diamond plates and ceramic rods that will sharpen your knife well.
Cold Steel Recon 1 Spear Point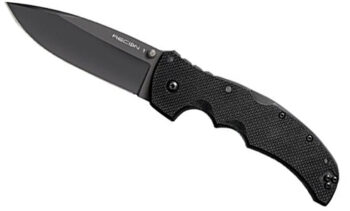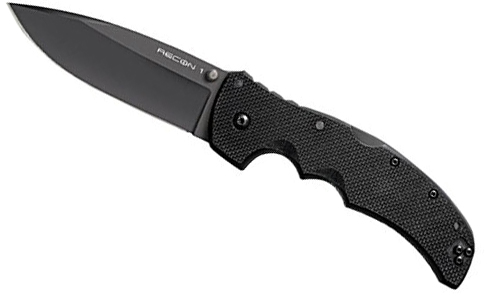 Price: Approx. $82
Weight: 5.3 ounces
Dimensions: 9.5 x 1.5 x 1 inches
Specific features: Carpenter CTS XHP alloy blade steel, ambidextrous pocket/belt Clip, 5 3/8″ long. G-10 handle
Best use: Survival, camping, backpacking, hiking
Description: Now with the Carpenter CTS XHP Alloy blade steel that features a DLC coating, the Cold Steel Recon 1 Spear Point, like any other Recon I series, sets the standard for Tactical folding knives which are hard to beat.
The Recon I series, has been the trendsetter in the world of survival and tactical knives for years, with a reputation for strength and reliability. The Cold Steel Recon I is a popular knife with law enforcement and military personnel, rescue and fire crews, and civilians who appreciate a sturdy, dependable equipment for any occasion.
Tough as a tank and sharp as a scalpel, Recon Series can be found with 2, 3, 4 and 5-and-a-half-inch blades. Every aspect of the knife's construction has been designed to make the tools durable, strong, and effective.
The Cold Steel classics are also light, thin, razor sharp and strong! All models in the diverse Recon series feature the manufacturer's renowned tri-ad lock, making the tools almost invulnerable to shock and keeping your fingers safe when using the knife in the most difficult situations.
PROS:
Nice 4 inch blade
Made of steel
CONS:
Does not come very sharp
Lock back hole pops up and down
Related: The ESEE Mini Survival Kit In Tin is about $35 and will help you in some survival situations. It includes things like a fishing kit, compass and more.
Columbia River Knife and Tool's 2125KV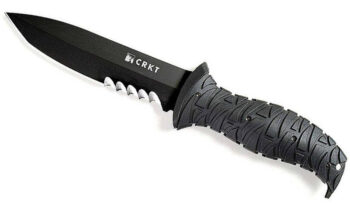 Price: Approx. $70
Weight: 8.3 ounces
Dimensions: 14 x 3 x 3.5 inches
Specific features: Black titanium nitride blade, 5-Inch veff serrated edge
Best use: Survival, camping, backpacking, hiking
Description: The Columbia River Knife and Tool's 2125KV, made by the Columbia River knife, is a five inch tactical razor edge tool which looks like the bronze age daggers of four thousand years ago. Its handle has over seventy-triangle grip sections that give you the ultimate control.
The knife is made of a stainless steel ti-nitride serrated blade with a black finish that gives the tool a Tactical appearance. It also comes with a black Cordura Zytel sheath which has an injection-molded liner. These features are what make the knife the best survival and tactical tool you can ever have in your backpacking tour.
Users who have purchased and used it do enjoy this knife because of the grip, the angle on the blade, and overall looks nice! A great tactical knife, this one is definitely a knife that should be with you whether outdoors, survival, or in the military.
PROS:
5 in serrated edge
Nice grip
Black titanium nitride blade finish
CONS:
Sheath is not the best
Does not come sharpened
Related: The CRKT Ultima Knife Kydex Sheath is about $25 and is crafted to work with many knives and hook to your belt loop!
Gerber LMF II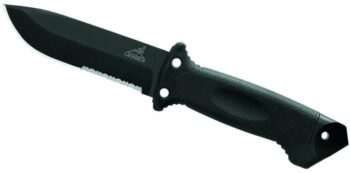 Price: Approx. $72
Weight: 1.2 pounds
Dimensions: 12.2 x 4.7 x 2.8 inches
Specific features: Plexiglass punch, sheath has integrated sharpener, partially serrated blade, converts to a spear,
Best use: Survival, camping, backpacking, hiking
Description: The Gerber LMF II is a tool that was designed to help you survive even in the worst conditions.
The ten-inch survival tool was designed by Jeff Freeman, a former military man, and was tested with troops to ensure that it could withstand rugged and rigorous use, and provide high-performance capabilities during adverse and emergency conditions.
The strong, serrated blade of the Gerber LMF II can be utilized in different applications. Whether you need to build a shelter, cut firewood, or slice through any tough material, the Gerber LMF II has you covered. The knife was designed to withstand and adapt a variety of conditions, so you will not have to worry about having the right knife.
In addition to its strong, serrated blade, the Gerber LMF II has a pointed butt cap which is made from stainless steel material. This part of the knife can be used to cut glass in case you want to get out of an automobile.
The tool features an excellent design which is physically separated from its tang so as to provide shock absorption when used as a hitting tool and to prevent electrical shock as well.
PROS:
Tough and durable
Comes with a sheath made of nylon
CONS:
Heavy
Handle can become sticky after storing due to material
Related: The Gerber Bear Grylls Fire Starter is under $10 and has a lanyard to keep everything together!
Concluding Thoughts
A tactical or survival knife isn't a magical tool nor does it possess any magical powers. The real power lies in the skills and expertise of whoever wields the knife. Skill comes from experience, practice, and repetition. A tactical knife is acquired to help you survive in wilderness conditions and not to decorate your man cave.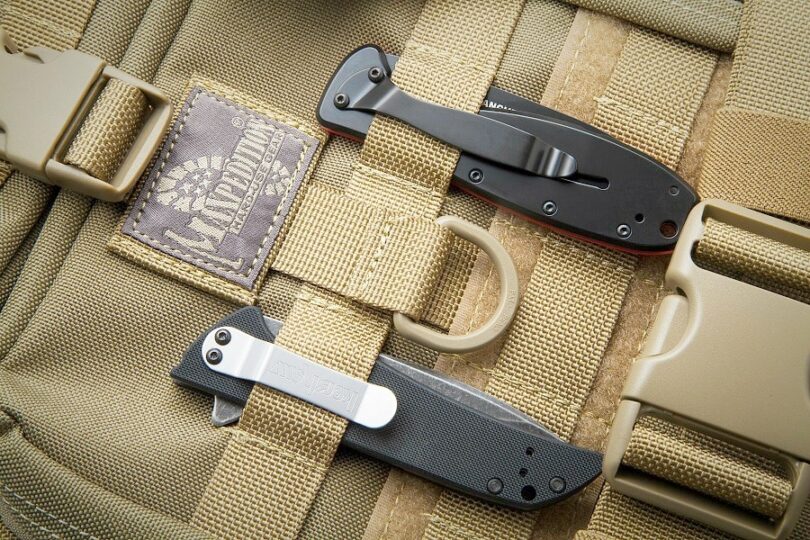 That said, when looking to buy you backpacking knife, you need first to consider your needs – what you intend to use it for. After that, consider the features you will need your knife to have before you can settle on any model.
Hopefully, this article will give you an idea of what aspects to consider, how to go about choosing the best knife, and how to use your knife when in the wilderness.
So, do you own a tactical knife? Please let us know. You can post your views in our comment sections. We will be more than happy to hear from you.