Is there anything more fun than going hiking with your dog? Looking at how excited they get during a backpacking trip preparation, you would say there is nothing as exciting as that. Letting your dog accompany you on your hiking trip creates a good exercise for you both.
Plus there will be more exciting moments during the voyage. For this reason, you need to prepare the gear for your pet as much as you prepare yours. Dog hiking boots should be among the priorities.
One may wonder why it is so important to purchase dog hiking shoes. Well, considering the harsh outdoor environment, you need to protect your pet's paws from injuries. However, not all voyages call for dog hiking shoes, but there are some which a good pair will make the hike worthwhile and memorable.
In this article, we are going to discuss how to choose the best hiking boots for your furry friend, and give you some reviews on dog hiking boots so you can see what is available for your pup now to purchase. Let's get started!
Features to Consider
When choosing hiking boots for your dog, you should pick ones that will protect your friend's paws and pads against rocks, thorns and maybe snow, if you are planning to walk in a snowy place. Knowing your hiking destination, therefore, is the first most important thing to consider.
Material
Boots with Velcro closure are the best as they are easy to slide in and remove. During the first few times, be ready to take your time putting the boots on your dog as they may offer resistance. However, once they get used, you will have no trouble and will, in fact, be thankful after realizing that the boots protect their paws.
Sole and Orthotics
Shoes with a thicker sole are best for hiking since they are hard to damage hence last long. A thicker sole gives your dog maximum protection during a hiking expedition.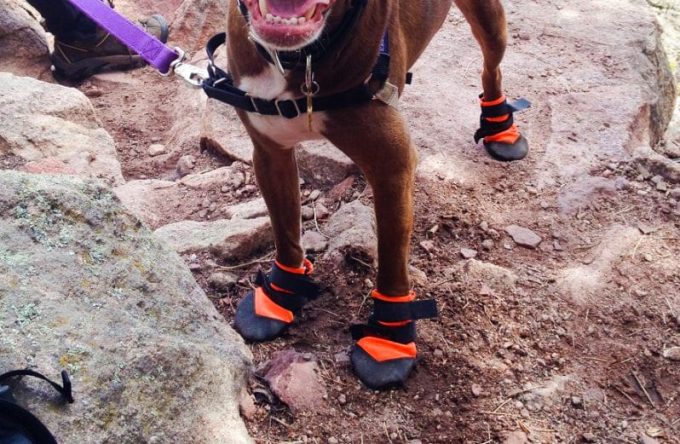 Older dogs might require orthopedic dog boots to help them maintain the right posture as well as give the dog the support. These types of boots are very helpful for dogs susceptible to hip dysplasia among other related issues. Your vet should be in a position to advise about using these boots.
Breed
Different dog breeds have different paws with some having webbings. For this reason, it is necessary to inquire for your vet's advice before buying shoes for your dog. After purchasing the perfect boot for your dog, you need to give him time to adjust to wearing them before letting him loose on a trail.
Also, you need to realize that their hiking boots are not always 100% impermeable. It is, therefore, important to check the paws for any injuries after a hike or when resting in the evening after a long day. Regularly checking your dog's paws will help you treat any injuries, hence preventing any serious infections.
Maintenance
Keeping your dog's boots clean is a priority that you shouldn't compromise.  Just like human shoes and clothes, dog shoes come with cleaning and maintenance instructions attached. Be keen to check although in many cases, all you need to do is wash in a dry cleaner and then air them to dry.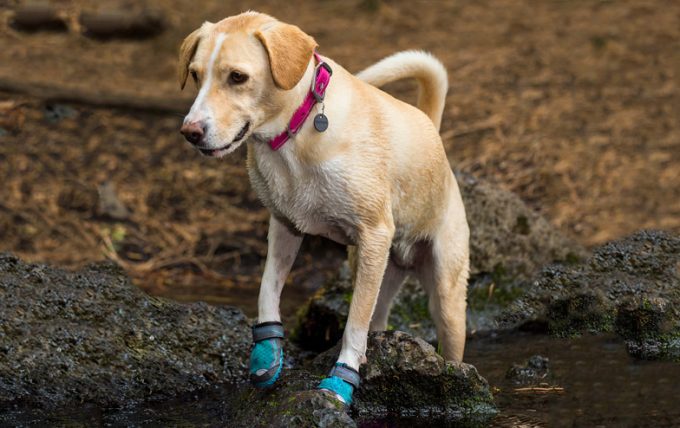 There are cases where you can protect your dog pads with more than just boots and especially if they are cracking. In this case, you might consider applying vitamin E oils or simply lotions with vitamin E. To avoid the dog from licking the oil, use cream that gets absorbed quickly.
Protection and More
Protection from ice and de-Icers – if you live in a cool place where snow is a guarantee during winter months, then dog boots are a necessity to help keep your dog's paws safe. Also, a pair of shoes for your dog will protect her from intoxication by de-Icers during the cold months.
As the adage goes, prevention is better than cure; buy your dog a pair of shoes to avoid treating paws and pads infections. After realizing which hiking boot is best for your dog, it is necessary to invest in an extra pair. Even though some of these boots are highly durable, they are not permanent.
Keeping an extra boot will help them last longer. You might also consider a dog shoe to keep in your car boot and especially if you are a spontaneous person who can embark on a hiking trip unannounced.
Top Product Reviews
We have now arrived to the product reviews section, where you can read about several pairs of great boots for your dog all at once! Be sure to pay attention to the details of each product, so you can find a comfortable fit for your pooch.
Ultra Paws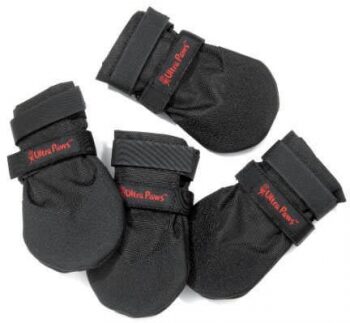 Price: Approx. $35
Weight: 3 oz
Colors: Red and black
Specific features: Water resistant, foam comfort fit, easy to slip on and hard to slip off, expandable split side seam
Best use: Both indoors and outdoors
Description: The Ultra Paws come in small, medium and large sizes and you can buy depending on your dog paw size. Before purchasing, make sure you measure your dog's paw so that you purchase a perfect fit.
This shoe has a super grip and pliable sole, which prevents the dog from falling off slippery floors. For protecting your pet's paws against ice, snow, thorns or cold, this is the most suitable dog shoe. You can also put it on your dog to prevent him from scratching furniture and wooden floors.
With the expandable split side seams, it is easy to slip on the shoe on the dog legs while the Velcro straps help hold the shoe in place. At the shoe, closure is a comfort closure that helps tighten the shoe grip and also provide comfort to the dog's paw.
You should consider this shoe for senior dogs as it will protect them from falling off glazed tiles and hardwood flooring.
PROS:
Easy to put on and take off
Water resistant
Works in all conditions, even ice and mud
CONS:
Not waterproof
Feels stiff at first
Related: If the weather is cold, you will want not only some dog boots, but also a dog coat so your pup will stay warm outdoors. The Derby Originals Dog Coat is waterproof and comes in 5 sizes. Plus, it has a 1 year limited warranty, as well as cost under $10.
PetAcc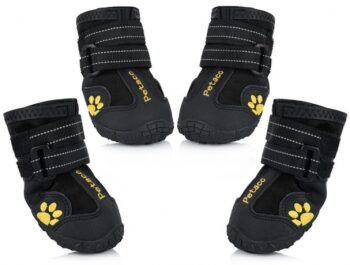 Price: Approx. $20
Weight: 2.4 oz
Colors: Black
Specific features: Tough hence durable, water resistant material, two long adjustable velcro straps, wide split seam for easy slipping, sturdy soles, fashionable
Best use: Hip dysplasia, running, and walking
Description: PetAcc dog hiking boots will keep your pet warm during the cold seasons and also protect her from injury during hiking trips.
These shoes are made of a water resistant material which helps keep your pet's pads dry even during wet seasons or when you go hiking in wet areas.
The opening seam is wide enough making it easy to slip on the boot. The two Velcro straps help fasten the boot preventing it from slipping off as the dog is walking or running. Even though these shoes are durable and water resistant, good care must be taken to them.
Ensure you store the shoes in a dry and dark place; do not expose to sun heat. While hiking, prevent the dog from getting in the water with these shoes or the sand. Doing this might expose the shoes to hidden sharp objects that will make holes, hence interfering with the water resistance feature.
PROS:
5 sizes to choose from
Water resistant, skid resistant
Waterproof soles
CONS:
Can wear out quickly
Can fall off
Fabric can fray
Related: If you find that the ground your dog is walking on is too hot, you can add a layer of protection to your dog's boots, by putting Musher's Secret Paw Wax on their feet as well. This wax is easy to use, and will protect your dog's feet from the hot ground as well as salt and ice!
My Busy Dog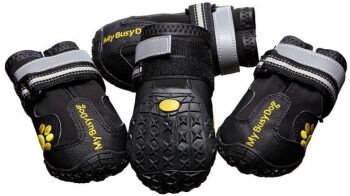 Price: Approx. $40
Weight: 2.3 oz
Colors: black
Specific features: Available in a variety of sizes(1-8), wide split seam for comfortable wearing, two adjustable and reflective velcro straps ensure a tight fit, water resistant, made of durable, rugged material
Best use: Hiking, walking, and swimming
Description: My Busy Dog Boots come in different sizes giving you the option to choose the size that will fit your dog perfectly. You can easily slip them on your pet's feet considering the wide split seam. To tighten the shoe, use the two reflective Velcro straps which also ensure your dog is comfortable while wearing these shoes.
As you might already know during your stay with your pet, dogs don't like getting their paws and pads wet. Manufacturers of waterproof dog shoes with reflective Velcro and rugged anti-slip sole knew this too, and that is why they made the shoe with waterproof material.
Also, they added a sturdy and highly durable material, therefore, ensuring you don't upgrade the boot now and then. Those who have purchased these shoes can see a little extra bounce in their dog's step. Their dogs have found them comfortable to wear, and they fit well overall.
PROS:
Comfortable fit
Helps dogs walking and running performance because they are not hurting from the hot ground
Have a good grip
CONS:
Can fall off on some dogs
Can wear through at the bottom
Can wear against the dog's skin
Related: Once your pup has new dog boots, you can play outdoors with new toys and his feet won't hurt or be affected by the hot ground! Celebrate this with a new dog toy like the Tough By Nature Hol-ee Roller which is about $5 and is easy for your dog to grip in its mouth.
Lonsuneer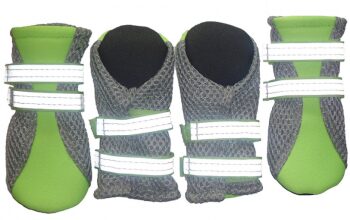 Price: Approx. $12
Weight: 2.8 oz
Colors: Blue with green
Specific features: Meshed breathable material on the upper part, flexible faux leather soles, waterproof, nonslip, adjustable velcro strap to fasten the shoe around the ankle, lightweight
Best use: Everyday basic wear, hiking, and traveling
Description:  The Lonsuneer dog shoes are perfect daily wear as they will help protect your pet from injuries caused by thorns, asphalt or grass while walking on the sidewalk.
These dog shoes are also water resistant and therefore can be worn while going for hiking or any other outdoor expedition. The breathable meshed fabric on the upper part of the shoe, keeps your dog's paw fresh and comfortable even on hot days.
These dog hiking boots are easy to put on with the Velcro straps helping maintain the shoes on without slipping off. These shoes are easy to keep as they are hand washed and require open air drying. To get long term service from these boots, store them in a cool, dry and dark place.
Also avoid using the boots in heavy rains or deep waters because despite being waterproof, they may not withstand too much water.
PROS:
Affordable
Nonslip mesh
Reflective straps
CONS:
Not for large dogs
Only one color choice
Related: Do you plan to take a swim while you are out hiking? If your pup loves to swim, you can take off the new booties and strap on the Outward Hound Dog Life Jacket. Your dog will be safe in the water because this vest is easy to see and fits comfortably, all for under $20!
Canine Equipment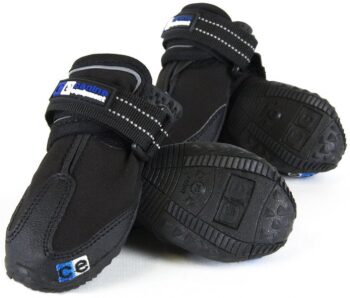 Price: Approx. $50
Weight: 8.4 oz
Colors: Black
Specific features: High traction all terrain soles, breathable, water resistant, velcro straps for fastening, gussets for paw protection
Best use: Walking and hiking
Description:  The Canine Equipment is a perfect dog hiking shoe as it will protect your pet from getting injured while running through the bushes. It is also ideal for walking as it prevents the hot pavement from burning the dog's pads.
These dog shoes come in different sizes ranging from small, medium, large and extra-large giving you a choice to choose depending on the size of your dog.
Cinch closure provides an enhanced paw protection while the water-resistant material makes the boots perfect wear during rainy or snowing seasons. The material has breathability features which help keep the feet fresh during warm seasons.
Although the shoes come with maintenance instructions, it is important to stress that these shoes should not be dry cleaned or bleached. Simply machine wash and lay them flat of open air to dry. Users love that these boots fit so comfortably on their dog, big or small. Plus it comes with a garment bag to keep all the boots together!
PROS:
Great traction and grip
Water resistant
Breathes well
CONS:
Can wear out easily
Not very durable
May slip off
Related: If you are in colder terrain, your dog's boot might not fully keep him warm. Add in the RuffWear Bark'n Boot Liners which will keep your dog's feet warm, comfortable and dry! These liners are quick drying and cost around $15, and come in 4 different sizes.
RuffWear Grip Trex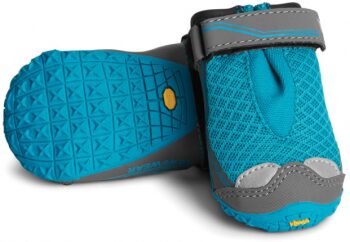 Price: Approx. $75
Weight: 8.8 oz
Colors: Obsidian black, blue spring, red currant
Specific features: Breathable mesh, gusset design, eight different sizes, high traction
Best use: Hiking, biking, and running
Description: The Ruffwear Grip Trex is the best dog shoe option if you like the company of your dog while hiking running or biking. These shoes are made of a sturdy material which will protect your best friend's paws from any injuries, plus, they are stylishly designed so your best friend will look cool every time he wears them.
They are also breathable hence the foot pads will always be dry and fresh even during warm days, but will also offer your pet paw support, thanks to their Vibram sole. It also helps keep off debris and dirt while hiking. The gusset design ensures the paws are comfortable and holding in place.
Make sure you check and fasten the closure before you start walking, this will maintain the shoe from slipping off and possibly harming your dog's paws. The owners claim that their dogs quickly got used to them and that they even noticed that the dogs liked wearing them as they are most likely quite comfortable.
PROS:
Nice colors and design
Vibram sole for support
Reflective trim is easy to see
CONS:
Costly
Velcro strap can rub against dew claw
Related: If your dog is wearing boots to keep his paws from the hot ground, consider getting him a cooling vest like the RuffWear Swamp Cooler Vest. This vest comes in several sizes and has a 3 cooling layers to keep your dog from overheating. Easy to put, this does not hurt your dog's range of motion, and they will stay happy outdoors.
Concluding Thoughts
Dog hiking boots come in different sizes and make, what you buy is entirely your opinion. However, don't make a blind purchase, consider important factors such as where you expect to go hiking, what time of the year and how often.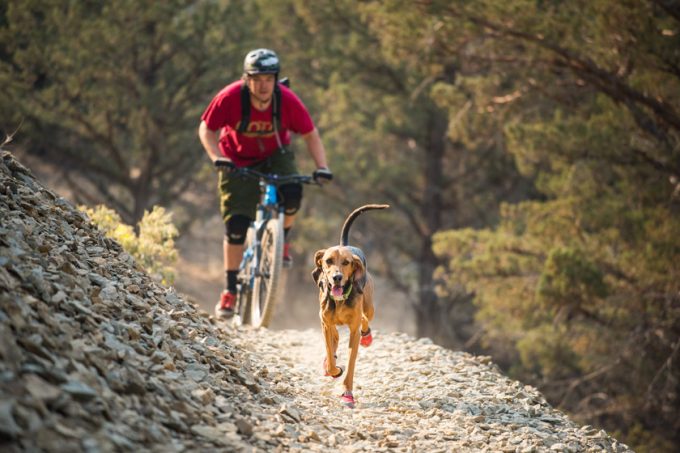 Other factors such as durability and water resistance are also worth considering as you might never know when it will rain or encounter harsh elements that you earlier expected while planning your hiking trip.
If you think we left out something important, feel free to leave a comment in the comments section below, Or, if you have a question, please do not hesitate to ask in the same section, and we will do our best to give you the answer as quickly as possible.