If you are a dog owner, you know how hard it is to leave your best friend at home while you are on vacation or some other trip. It takes a brave heart to leave those sad puppy eyes behind and go on with your human schedule.
However, if you are one of those who would go an extra mile in order to include your dog in your favorite activities, this article is just right for you, because we will be talking about the backpacking dog bed, which will provide a comfortable resting place for your pal, after a long day's walk.
Heading out into the wilderness has never been more fun and more bonding, than in the companion of your dog. It is also useful to keep him around, since your best friend also has greater hearing and sniffing abilities than you. Dogs are able to sense someone from miles away.
The only thing an animal has to do is to step on a branch, far away from you and your dog will sense it. Don't get this wrong, the nature is not a horror movie. Animals are not luring from the bushes waiting for you to fall asleep so that they can attack you.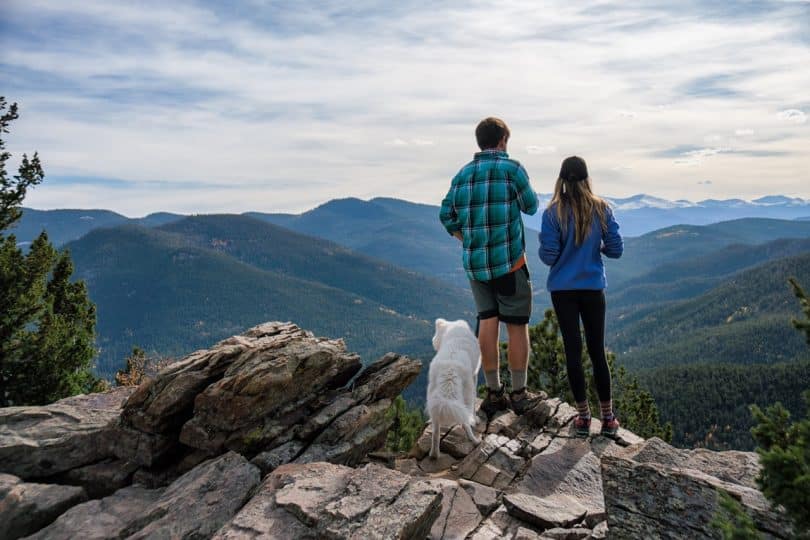 However, they might stray away or into your campsite and scare you. Your dog will make sure this never happens. You will always be alerted in time. Having this in mind, it is only natural that you provide your protector and friend with decent sleeping conditions. This includes a dog bed for backpacking, among other things.
Like any other piece of backpacking equipment, dog beds also come in different qualities and in different variations depending on the manufacturer and the material being used. Considering your dog's safety, there are few things you could do.
Choosing the right bed is a good way to start. In order to do so, you must first consider the features a product like this has. If this is your first purchase of a dog bed, you might get the wrong impression that they are easy to choose and that this is a straight forward and simple process, but believe us, it isn't.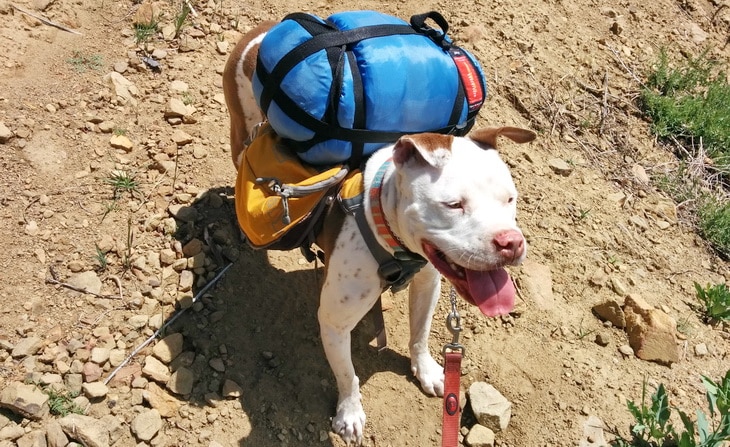 You should also consider if the trails you are planning on hiking or backpacking are allowing dogs. It is also recommended that you keep your dog on a leash, especially if it is a big sized dog. Even if you believe there is no one in the wilderness, there is a possibility that another backpacker appears nearby and gets scared of your dog. For more tips on how to backpack with your dog, see our article on this topic and be amazed.
It is much easier if your dog is trained to come back as soon as you call him. This way, on the first sight of humans around, you could call him and avoid this whole situation.
Size
The first thing you should consider is the size of the dog bed. It must be big according to your dog size. Otherwise, your dog's head might end up on the ground and he will be freezing, during the night. Even if you do choose the right size for your furry friend, there is no guarantee that this won't happen.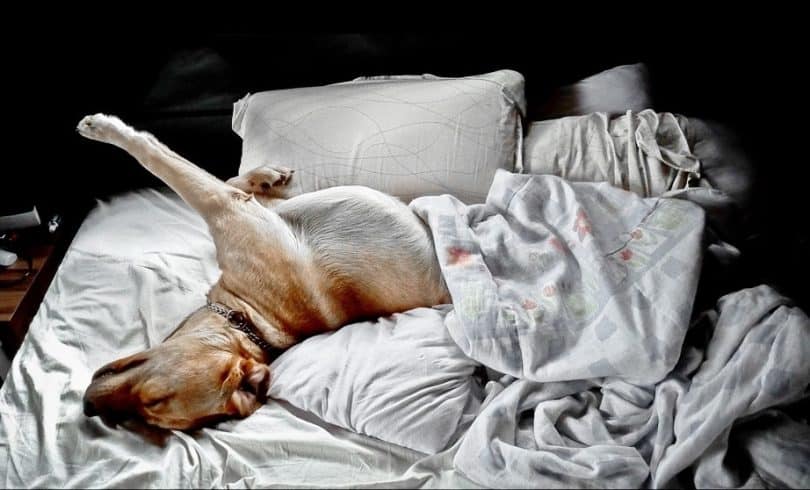 However, you, as a dog owner are obliged to provide him the necessary conditions and however he chooses to use them is on him. We have all witnessed our dog sleeping in a pose that just dares you to take a photo of him. But it is good to have the assurance that if he is cold or uncomfortable, he could easily go to his dog bag.
Sleeping position of your dog
Having this in mind, it is also important to consider your dog's sleeping position. This is vital for choosing a dog bed since it is directly connected to the shape of the bed. If he sleeps stretched out, it is a better idea to go with a rectangular bed. If he likes to place his head on the side, a square bed, is more appropriate. If he is a bit overweight, it is also important to consider.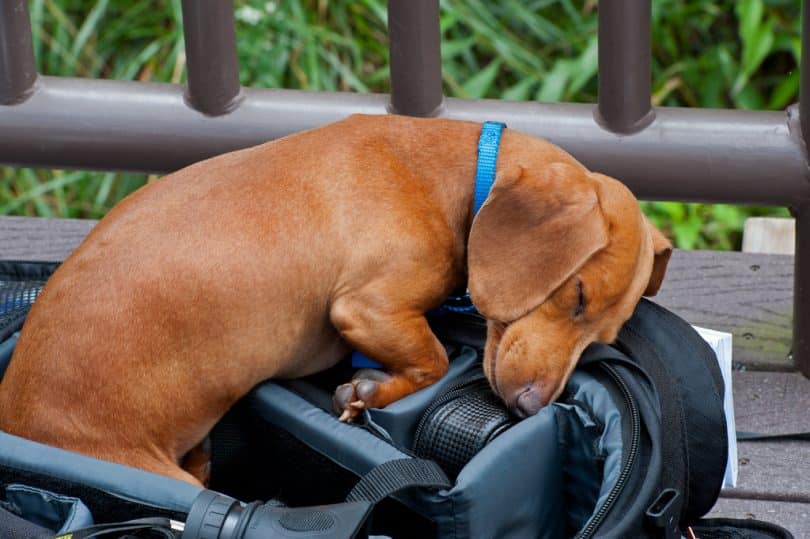 Maintenance of the dog bed
Unlike the other family members, dog beds should be cleaned more frequently. They don't have the possibility of putting sheets on and washing only the sheets, since your dog will probably understand this option as his newest toy he should tear apart as soon as possible.
For this reason, it is good if the bed you choose for your dog is machine washable so that you wash it as often as you can. Since some breeds should be washed as little as possible, at least their beds should be clean.
Dog hair
It depends on the breed, but if your dog has short hair it is highly probable that it is not used to low temperatures. Although for warmer weather conditions, an inflating sleeping pad could be just enough, if the temperatures drop, you will need a back up. Every dog needs his own sleeping bed to keep him warm and cozy.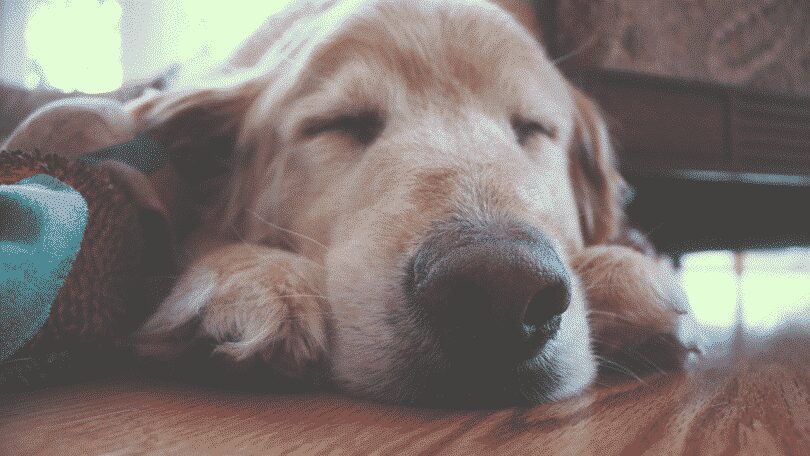 Also, if you are backpacking in a humid or rainy area or weather, you should consider that your dog would take some time to get dry unlike you. The hairier it is, the more time he will need. If this is the case, you might want to consider a nylon material backpacking dog bed since it is water resistant, durable and it is a quick drying material. It doesn't matter if your dog is a little wet when it gets in his sleeping bed, it won't keep the moisture in. If you and your dog is planning to go trekking, read our piece on the best hiking boots to protect your dog's paws.
Insulation
The insulation is the number one reason why you are even investing is a dog bed. If this feature is not great, you might as well let your dog sleep on a pile of leaves. There are dog bed insulations which are providing your dog protection from the ground temperature only, which are just enough for temperatures as low as 50 degrees.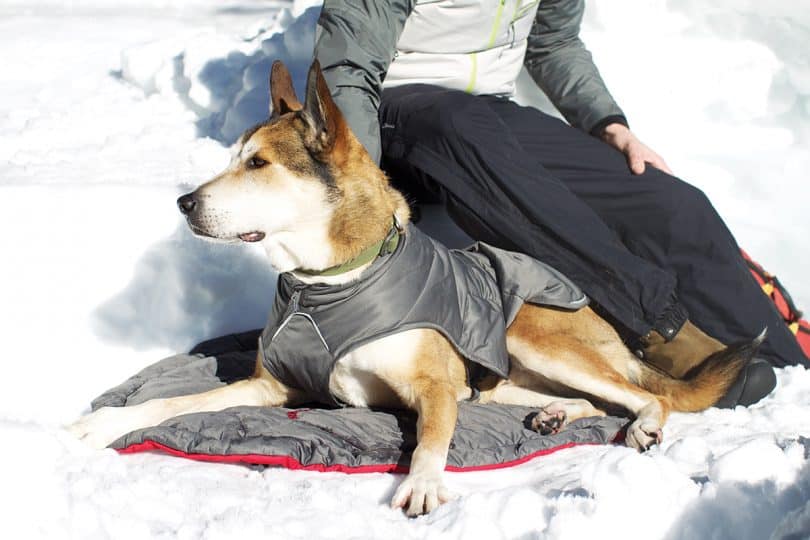 However, when the temperatures begin to drop, your dog as well needs additional insulation. This means, that it would be good if his sleeping bed included a side insulation, which would provide him additional warmth. These beds are also more expensive, so it is a luxury feature so to say.
Weight
It is very good that your dog has the best sleeping bed possible, but you should also consider his weight when deciding this. You don't want to overload him with gear so that he is not able to move properly. There are many backpacking dog beds which are specifically designed for your dog to carry his gear himself.
However, you could decide to wear his gear for him. This is recommended for smaller dogs that don't have much physical condition and are not used to walking so much. Lower weight beds are usually pricier, and not many people are willing to spend more money on equipment for a dog.
However, if you are bringing with you "plus one" you should make sure he has the right equipment, no matter if it is a human or a dog. So in order for you to have a proper indication on how much weight it is okay for your dog to carry, we will provide some pointers.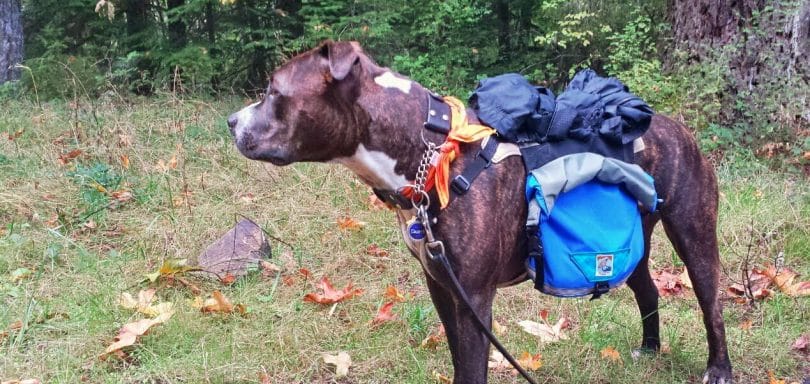 The weight that a dog should carry depends on the age and health condition of your dog. Of course, if you are planning on bringing him with you, it is probably a young and healthy dog and he is able to carry 25% of his own weight. However, if you believe your dog is not up to the task, have no worries with weighing him with at least 10 to 15% of his weight.
Pad sleeve
A pad sleeve is a nice addition to the features a dog bed could have. However, not many dogs are comfortable with a sleeve pad. If they are used to a blanket or a similar object, you might try this. They are intended for lower weather conditions or for dogs with short furs that are kept at home, or at least on a home temperature. A sleeve pad doesn't add up much to the weight yet it is providing more warmth during cold nights.
Material quality
There are some dog beds which look wonderful on paper or a website, however, your dog manages to destroy every one of them you bought. In order for this not to happen, it is important that you consider the material resiliency. A dog bed should be made from a strong material which would be durable, not only warm. Of course your dog is doing to try to destroy it, but manufacturers should be aware of this fact and make it as resilient as possible.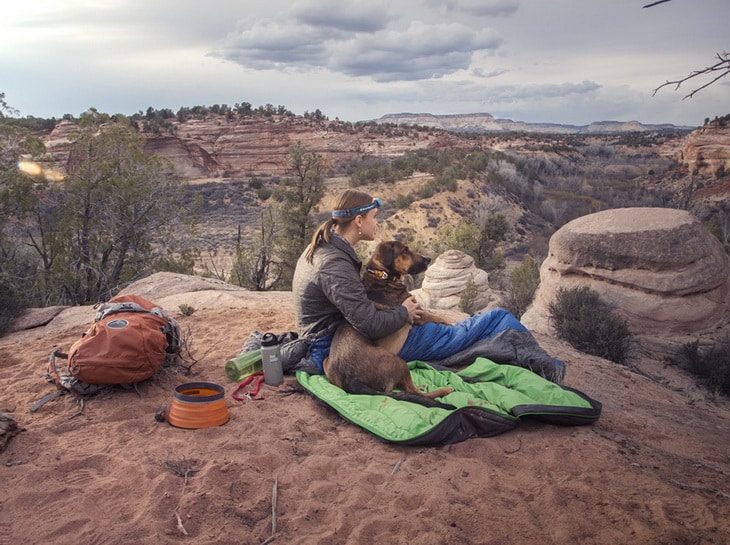 Dog beds with nylon cover are usually very durable, although you should be careful about the thickness of the nylon. Fleece on the other side is only recommended for smaller dogs with gentle flaws and well maintained nails.
Water resistant dog beds
Water resistant dog beds are keeping their water resistant properties only for a while. Although this is true for most dog beds out there, hats off to those manufacturers who have managed to produce a dog bed durable enough so that it doesn't get punctured by the dog's nails. Almost all materials are subjected to getting punctured and for this reason; truly water resistant dog beds use very thick synthetic materials which won't need patching up.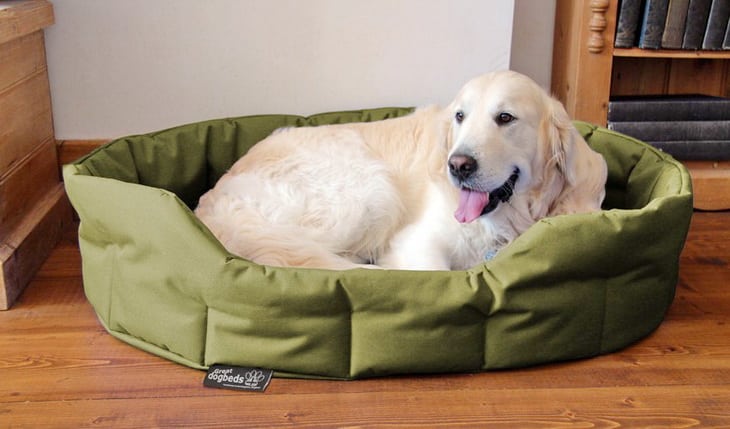 However, if a bed with such properties does get punctured, you could tape it or put some glue on it. This is also a knife with two sharp edges since your dog might find the tape interesting to play with it, and remove it as soon as you fall asleep. For the very same reason, air mattresses are also a bad idea.
Although many manufacturers are promoting their products are extremely durable, you should keep in mind your dog's personality and his nails. If he is easily destroying his beds at home, there is a great chance this would also happen on your backpacking trip.
One time purchase
Durability is the number one issue with dog sleeping beds. Dogs are not aware of your troubles of choosing one for them, so they are not exactly taking care of it. This doesn't mean that you shouldn't get one for your dog. Even though he doesn't put much thought into keeping it new, he does appreciate the comfort and warmth that a sleeping bed provides for him.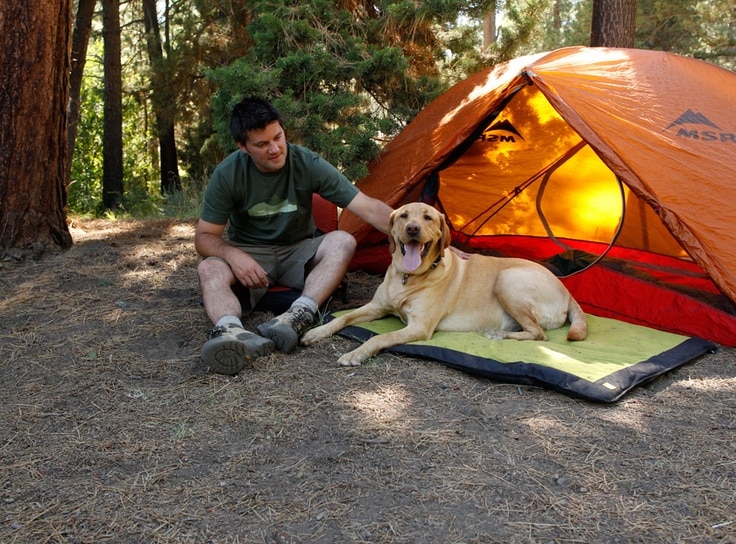 Dog beds should not be bought every year. Even if they should be changed after a couple of years using them, they should be maintained in order to make them more durable. If you are looking to spend less money on a dog sleeping bag on a long term, it is best that you get a sleeping bed with an extra cushion which would definitely be more durable.
This way, you can only change the cushion instead of changing the whole bed. However, some dog beds with lower quality are only made from a cushion, so this option wouldn't be possible.
Price
Most people find dog beds too expensive. This is mainly because they are imagining that these products are additions to the main equipment and should cost accordingly. However, one should understand that dog beds are as important to dogs as sleeping bags are important to humans.
In fact, they are a combination from a pad, a bag and a tent. When you see it this way, the price you form in your head before even doing the research would be considerably higher. This way, you will have the real estimation of the market prices.
Just for indications, a nice quality backpacking dog bed costs around 70$. Of course, there are some which are less expensive, and those whose price and features are way higher than this. They are sold at a wide price range, but in the end, you have to weigh the advantages and downsides to every product and decide accordingly. You can choose to spend more money on a dog bed and use the product for a longer time, or spend less and change it more frequently.
Sleeping beds with extra cushions
There are some sleeping beds for dogs which are made with an extra cushion which is detachable for easier maintenance. This is a very practical feature since it keeps your dog comfortable and it takes a task from your hands.
These beds provide extra comfort for your dog and they can be used with or without it, depending on your backpacking trip destination. If you decide that the weight is too much for your dog or yourself to carry, then simply remove the extra cushion and you are left with perfectly comfortable dog bed which you would like to crawl in when you see how comfortable it is.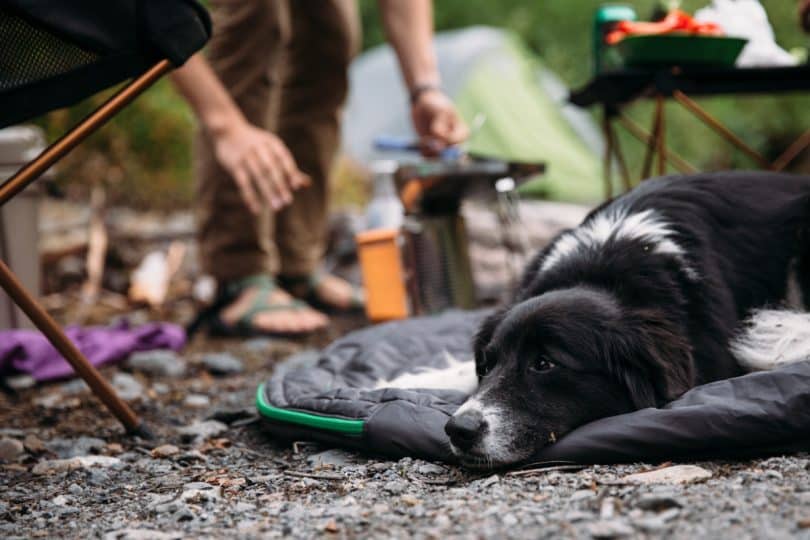 House dog beds
Some dog beds are made in a form of a house with a roof over their heads and walls made from element protective materials. These dog beds are recommended if you are planning on backpacking in an area which you know is windy and cold. They are usually made from windproof materials which will make your dog feel like he is at home. Even you as a human wouldn't have this luxury, but we are sure that your dog would love and appreciate this kind of product!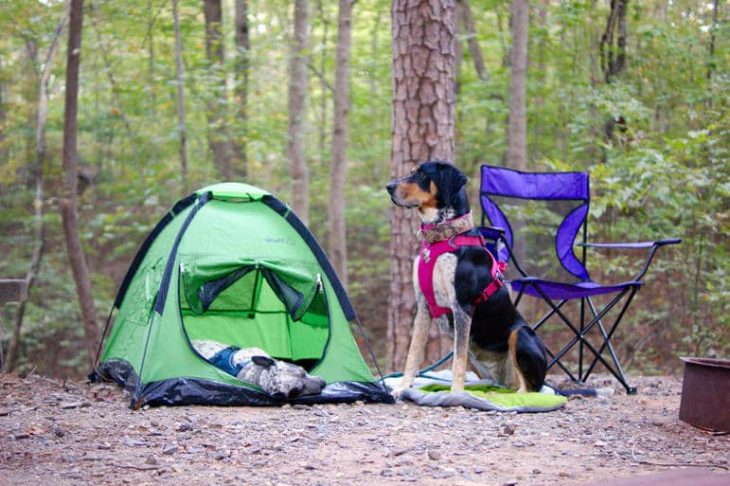 Final thoughts on Dog Hiking Beds
If, however, you decide to take your dog backpacking without a dog bed, don't be surprised if you get a midnight visit in your sleeping bag. Dogs are trying to keep themselves warm with their own body first, but it is not rare that they are sleeping in your sleeping bag if you don't give him his own space. Getting used to this space is a subject on its own.
Don't be surprised if your dog won't sleep in his new sleeping bed. It doesn't mean that it is uncomfortable for him. It just might take him a while to get used to it. Keep encouraging him in this, and eventually he will enjoy his new backpacking dog bed and you wouldn't be able to wake him up in the morning. The bottom line is that, what works for people, works for dogs too!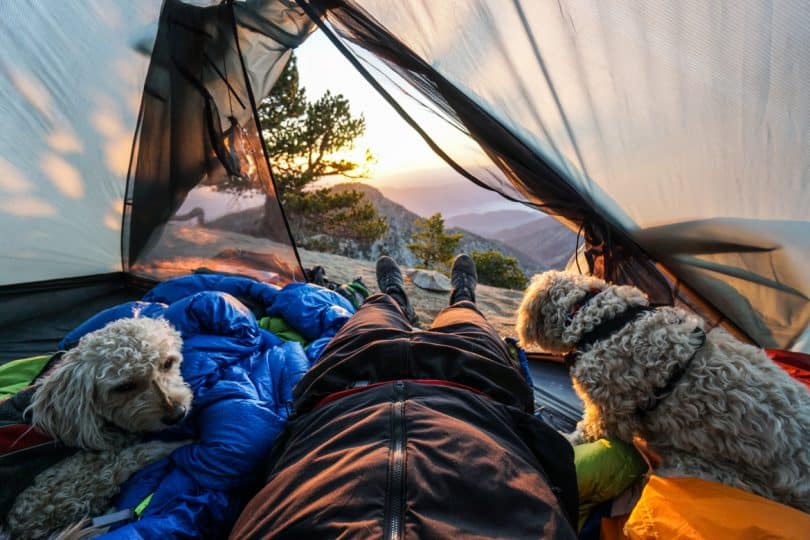 All in all, the backpacking dog bed which you would choose for your furry friend should be lightweight, compact, and easy to carry and warm. And of course, make sure you read his body language so that you are certain whether your dog likes his new bed or not. They are always telling, even though they cannot tell us directly. See if your dog belongs to the best dog breeds for hiking by clicking the link to our popular article.
Anyways, once your dog's bed starts to smell like him, he is going to consider it his new home. As you can see, every dog should have his unique sleeping bed which would make him feel secure, but also be beneficial as a protection against the elements. Whichever product you choose, we all agree that a dog bed is an essential piece of the equipment for your little friend.
Before heading out with your furry friend, read our article on the topnotch backpacking gear for you dog to have a safe time together.
Do any of you dog lovers have any good or bad experience with a backpacking dog bed? Make sure to share it with the whole community. It is always fun to hear about the experiences with our furry friends! Share them with us in the comment section below!