We all have that favorite pair of boots that fit comfortably and work well, but unfortunately, they are old and worn out. You take note that the sole is coming apart from the boot. What can you do?
Surely, you want to repair them! Never fear, there are many things you can do when it comes to boot sole repair, as well as with other boot related repairs. You just have to find the way that works best for you!
Boots can take a real beating, especially if worn on a day to day basis. It is only natural that, at some point, the soles will start to come loose and you will want to repair it. Maybe you can quite afford a new pair of boots, or love your boots so much that you cannot bear to let them go just yet.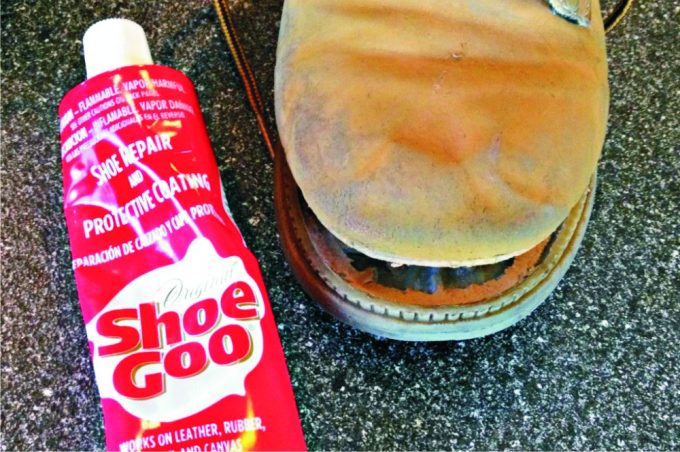 If you do not want toss the boots, you will search for a way to get them fixed. Surely, you can take them to a repairman in the local area. You can also buy glues to fix the soles. But, which way is best? How do the glues work?
You will find out that and more in the rest of the article as we discuss how you can reattach boot soles in various fashions. So do not toss those boots out yet! We can fix them and save you some cash, or some sadness of having to give up your comfortable boots! Keep reading below for reviews on various fashions in which your boots can be rescued!
If you're in a quandary which is better – hiking boots or hiking shoes, see this amazing article we did.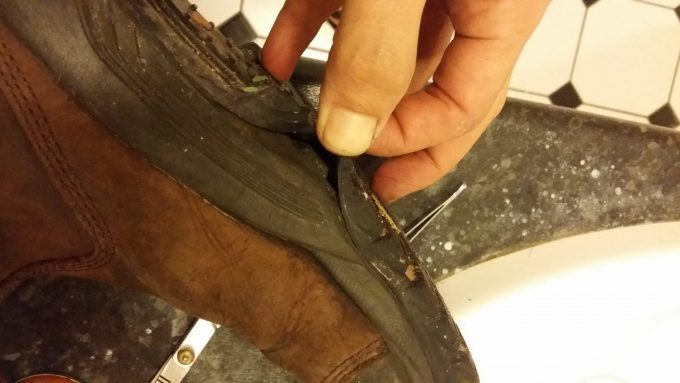 First up, we will discuss some of the things you should consider when it comes to repairing them. From there, you will learn more about repairing and see what other people have to say about different products. Let us not waste any more of your time, and dive right in!
Things to Consider
There are several things you can do to get your boots repaired. Consider some options below that will get your boot soles fixed or replaced.
Local Cobbler
You can take your boots to a local cobbler, or shoe repair person, that will restore your boots to working condition again. To find a cobbler, you can simply ask those you know, or you can do a search in the phone book or online to find one near you. The cost will vary, but you will not have to repair them yourself and risk more damage.
Restoration Programs
Some boot companies have restoration programs wherein you send your boots to them and they have restoration techniques where they can completely repair your boot to be like new again.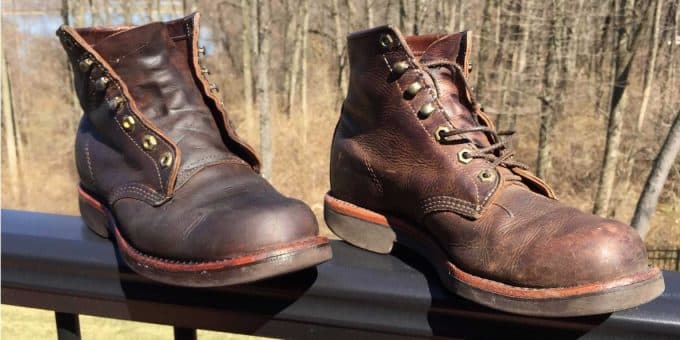 The cost will vary on what type of restoration you need, and will vary by company, but it is a good idea because the company that made them can repair them.
Glues
Glues are probably the cheapest way to repair a pair of boots. While less costly, it can get messy some boots may need you to do the gluing treatment a couple of times in order to seal the boot. While directions vary, this is a process you can do yourself at home and wear your boots out again in a day or so.
Boot Sole Replacement
In some cases, if the boot's sole is too damaged, you may need a complete replacement. You can often search online for a matching sole and have it delivered. Sometimes you can go to a shoe store and find them.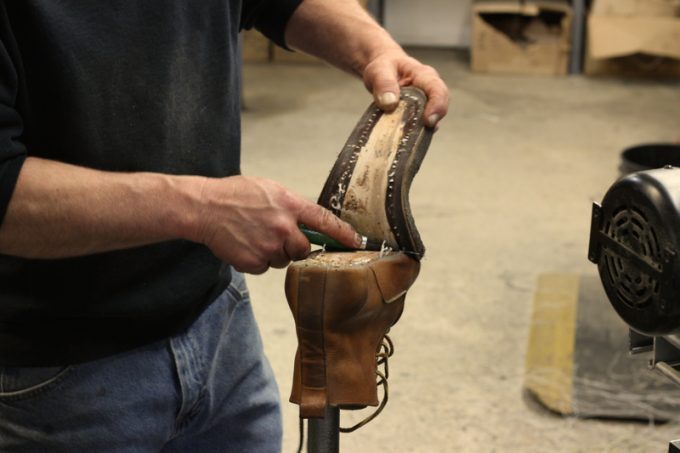 This all depends on where you can find a new sole that fits your budget. You will have to replace the sole yourself unless you go to a cobbler, like mentioned above.
Here's How You Can Do It
So you have a pair of boots that are in need of a sole repair. Now you need to figure out which route you will take to get those boots fixed. You will have to think about how much you can afford in order to fix the boots, as fixing them can get pricey at times.
There are advantages and disadvantages when it comes to which technique is used when getting boot soles repaired. Let us discuss in further detail which ways work better than others, and why.
A local cobbler can be a great source of help when it comes to getting your boot soles fixed. They have the experience and proper tools to get the job done correctly. The price can range from $50 to $100 on average depending on what else needs to be done to repair the boots. The thing about going to a cobbler is that if you are taking a child's boots there, they can outgrow them soon, so the price may not be worth it.
If you want to use a cobbler for repairing your boot soles, you may not get them back the same day. You will need a back up pair of boots if you are using them for work purposes, especially.
When it comes to restoration programs, your boots must be of the brand that has the restoration program in order to get them repaired. For instance, if your boots are Timberland brand and you want them repaired by Red Wing or Chippewa Boots, you will have to find another way to get them fixed. Red Wing only repairs Red Wing shoes, and the same goes for Chippewa.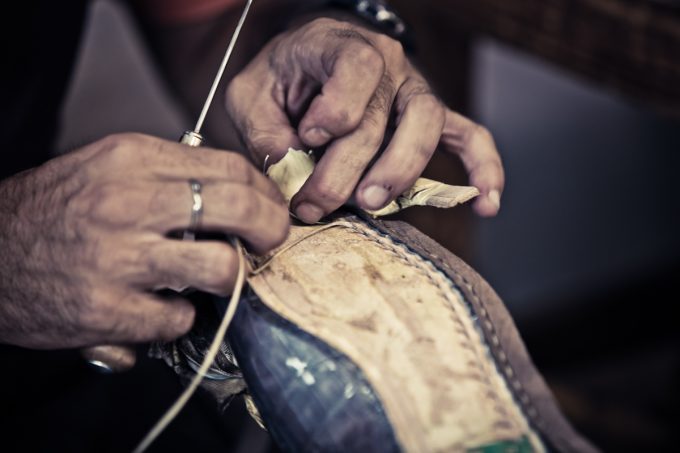 However, these companies feature great restoration processes and have options like adding new laces, or cleaning and polishing the boots! These programs can range in price, upwards of $100, so price may be a factor here.
Glues are a cheap and somewhat effective way to repair your boot soles. These glues can be found in many large chain stores or at shoe stores and malls. These glues generally cost under $15 and involve you cleaning the boots properly before applying the glue. You will usually have to wait 24 hours before you can wear the boots again.
The thing about glues is that it can get messy and if you do not cover the area properly, the boot sole can come apart again, requiring you to use more glue. In the end, while inexpensive, it may cause more hassle.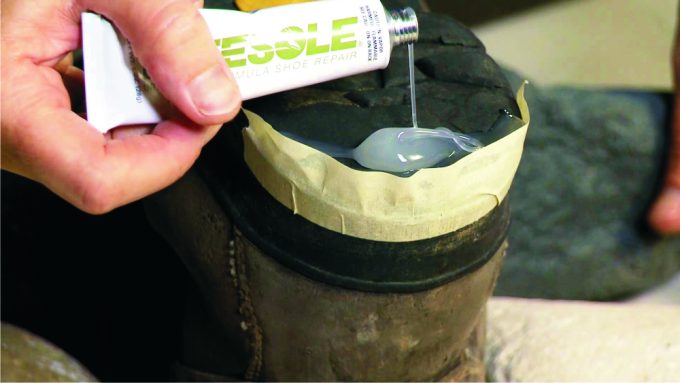 Boot sole replacement usually happens when the original boot sole is completely destroyed to the point where it cannot be fixed. You can buy a matching boot sole from the store or online. Or you can have a cobbler or restoration program put on a new boot sole. The price of new boot soles will range widely, from cheap to expensive, costing as little as $8 and as much as $50 or more.
Below is a table of information to look at to decide which process you will use in getting your boot soles repaired.
| | | | | |
| --- | --- | --- | --- | --- |
| Boot Sole Repair Information | Cobbler | Restoration Program | Glues | Boot Sole Replacement |
| Price Range | $50 to $100 on average | $75 to $100 and up | $15 or less on average | $8 to $50 on average |
| Length of Time to Restore | Hours or Days | Days | One Day | Hours |
| Ease of Process | Easy | Easy | Messy | Somewhat easy |
| Mess Factor | None | None | Some | None |
| Useful For All Boot Brands | Yes | No | Yes | Yes |
| Length of Time Until Boots are Returned | Days | Days or Week | None. This is Do It Yourself. | None. This is Do It Yourself. |
What Causes Boot Soles to Come Apart?
The older the pair of boots gets, or the cheaper quality of the boots, will mean that you have caused some wear and tear on the boots. If the quality of the boots is cheap, then they will fall apart before a pair of boots that are made with quality. If the boots are getting old, then day to day wear can cause soles to start coming apart.
Wearing the boots in bad weather, like rain and snow will definitely cause the wear and tear to make the soles start to detach. The weather will make the soles loosen, where water can get in and begin the separation process. See our article on how to waterproof your boots to save on money.
What Do Others Have To Say?
Of course, those who have had their boot soles repaired have a favorite method of doing so. For some, they prefer a cobbler, others are more of the Do It Yourself type of people. Either way, as long as the boots get fixed, you can still wear them!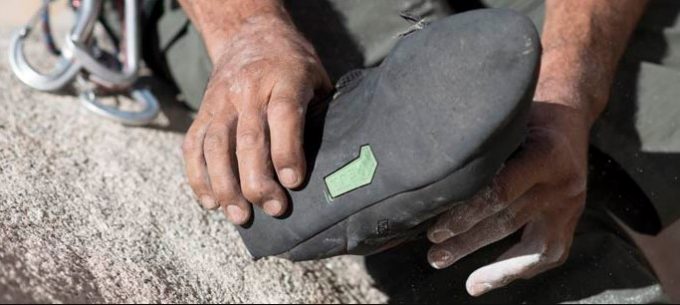 As for cobblers, people do enjoy using them because they are giving their money to a local repair shop, where they know a person is there that is experienced, and has the proper tools and materials to get the job done right. Once a place has done great work, they should continue to get your business through the years.
This helps in a small way to keep your local economy going. The only drawback is that this can get expensive for some, but you will have your boots back in no time.
Using restoration programs can be highly useful if the company that made your boots has a program to do so. You will send the boots in and let the company know what type of restoration is needed. These programs also offer extras, like new laces, or polishing the boots, among other extra services.
People enjoy using these services because they like the idea of having their boot soles or other parts of the boot repaired by the company that made them. That way, they can ensure the boots are fixed with the correct type of sole, etc.
The thing about this method is that it can take a while to get your boots back this way instead of doing it yourself, or going to a cobbler. Plus, it can get pricey, depending on the type of restoration you need.
People like using the glues because it is a cheap and fast way to repair boots. The glues are easy to find at local stores, and you can do the process yourself and wear the boots again about a day later. This process can get messy, and sometimes the boots will need to be glued again because the sole will come back apart.
You must follow the process exactly, making sure you clean the area before applying the glue. Even then, you might see the boots coming apart again.
Some users realized that there was no way to fix the boot sole because it is too far damaged. In this case, users decided to replace the entire boot sole. This method is moderately priced, and the soles can be found in shoe stores or online at varying prices.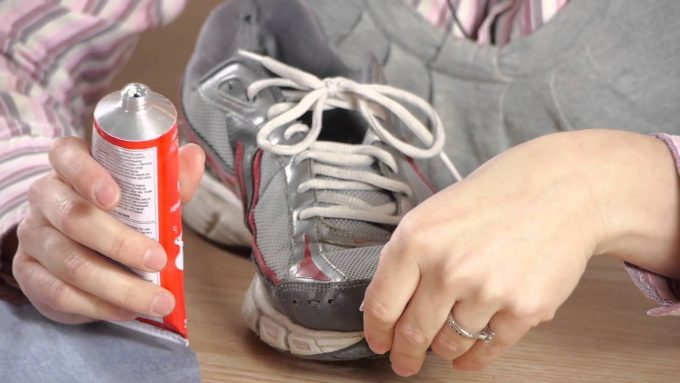 Once you get the boot sole, you can then attach it yourself to the boot, or go to a cobbler who has the necessary tools to attach the sole properly, without issue. The issue with this method is that you have to find the right sole to fit your boots.
Pros and Cons
As with any method, there are going to be good things and bad things about each one. User experiences are always different, and preferred methods will vary by person. Let us talk about the pros and cons of each method, which will hopefully help you decide with which process is the best for you and your budget.
Cobbler
The best part about using a cobbler is that you are supporting a local business by a person who knows the trade well and has the proper tools and the proper materials to fix your boot with quality work. While this can be expensive for some, many people love going to a cobbler, and have often given repeat business throughout the years.
They have made selling, repairing and replacing boots and their parts their livelihood and therefore have the knowledge, care and skill to do the job right. If you prefer quality over quick and cheap, then using a cobbler is the best way to go!
Restoration Programs
If you are someone who has purchased boots that have a restoration program, then you could always go the route of sending the boots into the company to repair. Some companies, like Red Wing and Chippewa, have these programs, so that those who purchased those boots can have the company that made them, repair them.
Some people prefer this way because they have the peace of mind that the company will use the right size and product on the style of boot that they own. While restoration packages can get pricey, you can find basic services for repair that fit your budget.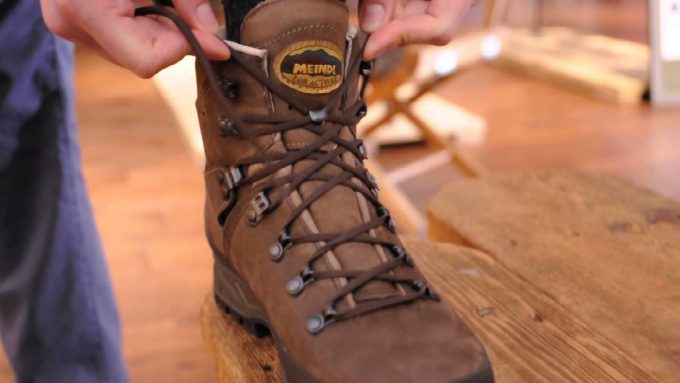 This process can take a while before your boots get returned, as they have to go through a mailing service to be returned and sent in. These companies also include extra services like the aforementioned additional laces or polishing of the boots, which people enjoy as it makes their boots even more like new.
Glues
Most people agree that using glues to repair boots can be a messy process. While cheap in price, which users like, the process might have to be done over as your boots' soles can start coming apart again. While you can use your boots as soon as 24 hours, you might have to keep an eye on them in case they do fall apart again.
Even if you do the entire process correctly, the glue is known to become detached on occasion. Also, before applying the product, you have to clean the area that is getting repaired.
Boot Sole Replacement
The good thing about a boot sole replacement is that you are getting a whole new sole for your boots. But, this also means that your old sole was beyond repair. The problem with this is ensuring you find the correct size and shape of the sole for your boots either at a shoe store or online.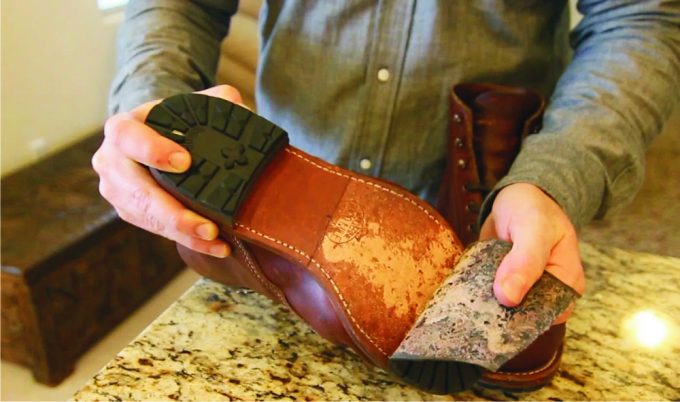 You will then have to wait for it to be delivered, so you probably will not wear your boots in the meantime. Then, when it does arrive, you will have to either attach it yourself or go to a cobbler who has the tools to do the job correctly.
Wrapping it up
There was much to learn about repairing boot soles. There are many methods in which to do so, and each cost a different price depending on the method, where you go and what you need done to the boots. Either way, ensuring you have a correctly fixed, or new, sole will ensure your boots continue to work correctly for you and that your feet are comfortable while you wear the boots for work or pleasure purposes.
Now that you are armed with all of the information, you can now get those favorite pair of boots hiding in your closet repaired! Or those work boots, that are falling apart, can finally be properly repaired and worn at work again, without worry that your whole boot will fall apart!
In case your boots are already beyond repair, see our previous post on the best hiking boots for your reference.
How do you prefer to get your boots repaired? What was the reason your boot soles detached? Was your method of repairing or replacing expensive? Let us know in the comments what your experiences were! Thanks for reading!