If you're a caffeine lover, then your camping mornings and evenings are incomplete without a steaming cup of coffee. Who doesn't want to enjoy a steamy hot meal at the end of an exhausting backpacking or hiking day?
Having the best alcohol stove you can get your hands on will allow you to have all these luxuries during your camping trip. If you're worried about the weight and the difficulty of carrying it during the day then here is a good news for you. Alcohol stoves now available in the market are lighter in weight and easier to carry around than ever.
This means that you don't have to worry about carrying a lot of weight and the cooking on these stoves is really convenient too. But, there are a lot of options in the market which can prove to be confusing so I've created this list to help you choose the best one for your needs. However, before picking a product, here are a few things you need to know before making any decision.
| Product Name | Capacity | Weight | Material | Best Use | Price |
| --- | --- | --- | --- | --- | --- |
| Esbit CS985HA | 33.30 fl oz | 14.7 oz | Brass, Aluminum | Trekking, Backpacking, Camping | Check price on Amazon |
| Trangia Ultralight | 33.81 fl oz | 26.08 oz | Brass | Backpacking, Camping, Trekking | Check price on Amazon |
| Cool Knight Alocs | 13.52 lf oz | 27.2 oz | Aluminum | Camping, Picnic, Hiking | Check price on Amazon |
| Out-d Camping | 3.38 fl oz | 8.71 oz | Stainless steel | Camping, hiking, backpacking | Check price on Amazon |
| Trangia Spirit | 33.81 fl oz | 4.2 oz | Brass | Hiking, Cycling, Backpacking | Check price on Amazon |
| Solo Stove Spirit | 33.81 fl oz | 3.5 oz | Nichrome wire, 304 Stainless Steel | Hiking, Camping, Backpacking | Check price on Amazon |
Features To Consider
Before you make a decision of buying a product there are a few important things that you need to check out in an alcohol stove. So here is a list of those things which you should take into consideration.
Weight
When you're backpacking or hiking you obviously want something that is lightweight and convenient to carry around. So look for the weight of the product you're buying and if it needs a windshield, then its weight including the windshield will be the final weight.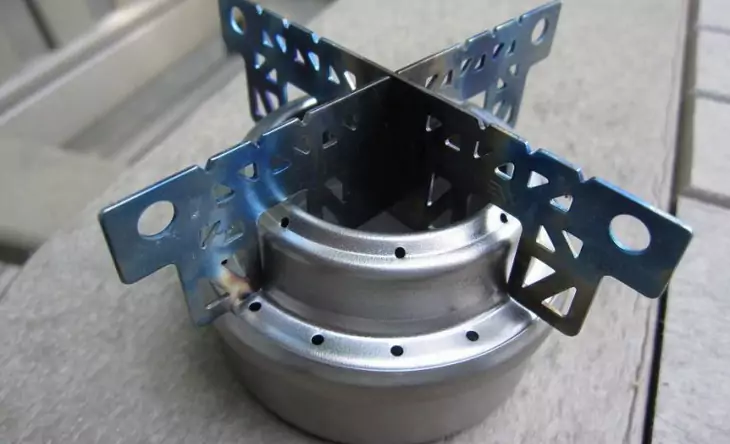 Luckily alcohol stoves are lightweight and convenient to use.
Size
One of the main things you need to do is to choose how big or small you need your alcohol stove to be. This will rely on the expected use. Are you planning on camping alone? If yes, one with a small size will be good to get. Then again, if you are planning on camping in group, you will definitely need to get a bigger one.
Alcohol Used
The perfect choice is a kind of stove that utilizes denatured alcohol, and which is quite easy to get and safe. Make sure you maintain a strategic distance from stoves that utilizes methyl alcohol and grain alcohol.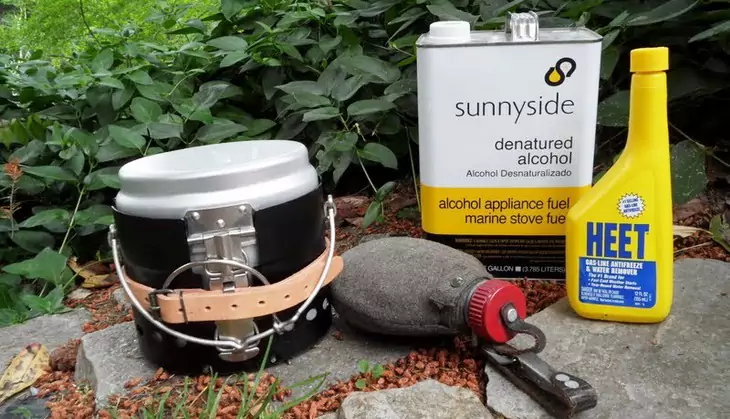 They are well-known for being noxious due to the fact that they contain destructive chemicals.
Cost
There are a variety of stoves available in the market with a wide range of prices. Alcohol stoves are mostly inexpensive and you can even make one yourself. So, they are within almost any budget because of this and cost wise, they are an ideal part of your hiking gear.
Windscreen
Alcohol stoves are slow in cooking and the wind can be a reason to slow the process even more. To get protected from the wind so that the heat remains within the pot and cooking process increases, you need a windscreen with the stove.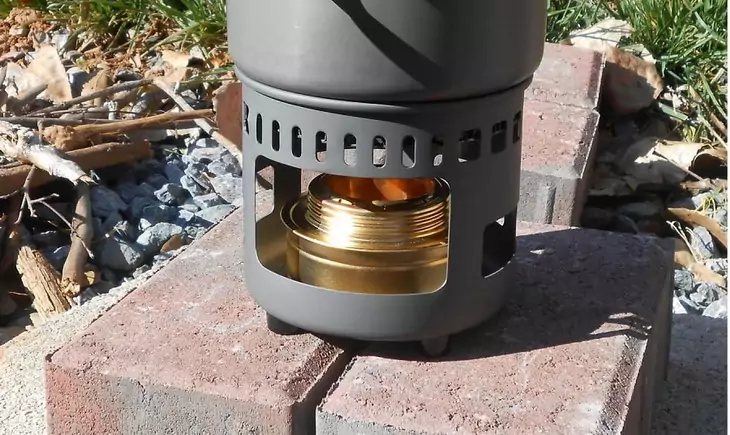 There are stoves available which come with windscreens otherwise, you may need to buy one.
Boiling and cooking
You need to decide what you need the stove most. Are you going to cook a lot or just boil the water? There are stoves designed exclusively just for boiling water because of many backpackers nowadays prefer making simple food that only requires boiling water like Ramen noodles, soups, pasta and frozen products.
Destination
Where you're going is an important aspect that you need to take into consideration while choosing a stove.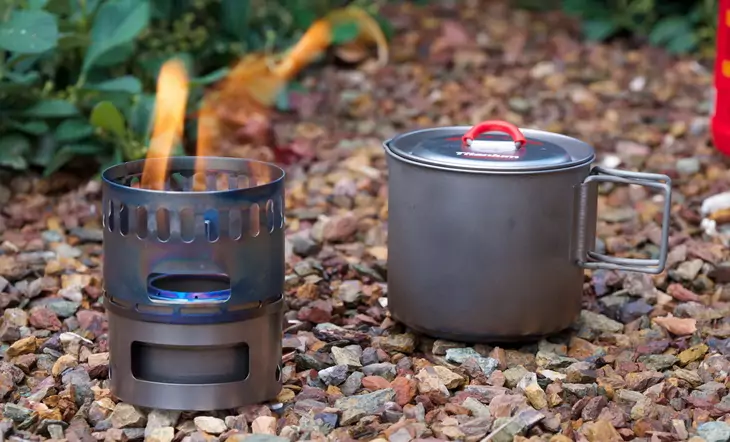 If you are going to a forest area, check if it's a fire banned area because even little fire can become a cause of a lot of damage, so better to be safe than sorry, and make sure to take precautions.
Pot Stability
If you want to cook for more than one person, you need a stove with a wide base so that pots are stable on it.  Smaller pots can work just fine too, but they might be a little imbalanced. Stability is important because if the pot is balanced, then cooking will be easy and will make less of a mess.
Simmer Ring
If you love cooking and want to cook a variety of meals, look for simmer ring on the stove because it will enable you to control the temperature.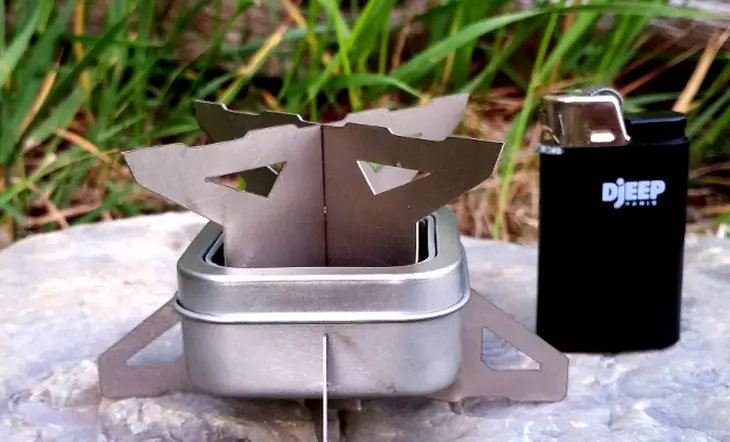 It can be a useful feature for boiling too, because you can boil water fast with a high-temperature option.
Preheating
Some alcohol stoves need preheating to work efficiently. This is like warming up the stove, you light up a small amount of fuel let it heat up and when the stove gets hot enough it performs efficiently. It can be a little confusing for newbies thou it's really easy to do.
Best Product Reviews
All stoves should be sturdy, durable, leak proof and not unstable. Having that in mind, we have carefully gathered some of the best models available on the market today. So check through each of them and pick the one the meet your need.
Esbit CS985HA 
Price: $36 – $42
Weight: 14.7 oz
Dimensions: 5.13 x 5.38 x 6.5 inches
Specific features: Lightweight trekking cook set, brass alcohol burner stove, 2 anodized aluminum pots
Best use: Trekking, backpacking, camping
Description: Esbit CS985HA Alcohol Stove is all about providing numerous options for cooking while backtracking. The product is extremely light in weight and has a 985 ML pot with a volume indicator.
Additionally, it has a 470 ML pan which also functions as a lid. The product is made from hard anodized aluminum and alcohol burner is made of brass that allows temperature control and also stores the denatured alcohol in it during carriage. The product comes with a stand, a solid fuel base, alcohol burner and a mesh storage bag to carry the kit. The pots have hinged grips on both sides made of stainless steel. The temperature is controlled by a variable flame regulator with a foldaway handle.
The alcohol burner has a sealable screw top so there's no need for a separate fuel storage. The volume indicator in the big pot shows the volume in liters and ounces. The price is $36 which make it affordable so on the whole, it's a really good investment if you want a lightweight stove that has it all. The affordable value of this alcohol stove model is a thing that you may like. You don't have to spend a top notch value just to enjoy an item with great quality.
PROS:
Durable construction
Comes as a complete set
Integrated
Easy to assembly
Lightweight
Good pot stand
CONS:
A bit bulky
The simmer ring can be complex to adjust
Windscreen is insufficient
Related: for your hiking trip, you need a fuel that is safe for you to transport from one place to another. The Esbit Smokeless Solid Fuel Tablets are one of the safest fuel alternatives for transport. They are perfect for lighting fires and boiling water in case of a disaster or amid an emergency situation.
Trangia Ultralight 
Price: $63 – $65
Weight: 1.63 lb
Dimensions: 4.33 x 7.48 x 7.64 inches
Specific features: 1000 w output, lightweight, compact
Best use: Backpacking, camping, trekking
Description: Trangia Ultralight is a dependable alcohol stove which is the most important quality you need during a backpacking trip. The product is ultra-lightweight, which makes it convenient to carry around. The product comes with backpack cooking kit which includes two saucepans, windscreen for wind blockage and a nonstick frying pan. Even with all these added products, the kit is lightweight and compact.
The output of the product is 1000 w.  The price of the product is between $125 and $151 depending on where you buy it from. The material used in its making is hard anodized which covers all the basics. The added two windscreens hold the heat in the pot by protecting against the wind which increases the cooking process.
This is really an amazing stove for you if you like ultra-reliable and simple gears, enjoy eating well regardless of the climate, and possibly wouldn't fret some additional weight of fuel and stove. This Swedish-made stove is a true exemplary and one of the absolute best cooking gear available.
PROS:
Arrives in a complete set
Has measurements on each side
Durable
Related: if you want a great cover that can keep your backpacking stove and cookset clean and organized in one place, then you can check out the Trangia B004RZ Cover.
Cool Knight Alocs 
Price: $43 – $45
Weight: 1.7 pounds
Dimensions: 5.8 x 6 x 7.2 inches
Specific features: Aluminum material, compact size, suitable for 1-2 person
Best use: Camping, picnic, hiking
Description:  If you're looking for an alcohol stove appropriate for 1 or 2 persons, then Cool Knight Alocs Alcohol Stove is a great choice for you. The price of this product is $43 which is quite affordable. The product has 7-piece kitchenware set that covers all your needs.
The product is manufactured with high quality and ultra light aluminum. The pot with handle has the capacity of 0.9 liters and lid has a capacity of 450 ml. The size of the product is compact and it can be stored collectively in a mesh bag that can put into your backpack.
The product comes with alcohol furnace, pedestal, bracket, windscreen, cleaning towel and a pot with lid and handle. The cleaning towel can serve as a dish rag to help you with the clean up. The flame of this alcohol stove lasts long, so it is very fit to boil water quickly. The product has enough inside space to store fuel bottles so it saves you the extra space for carrying the fuel bottles. Overall the product is great.
PROS:
Fuel efficient
Lightweight
Inexpensive
Reliable
Related: if you want a portable polyurethane container for transporting denatured alcohol, then you can check out the Vargo T-304 Alcohol Fuel Bottle. Leak proof to avoid spills.
Out-d Camping 
Price: $15 – $24
Weight: 8.71 oz
Dimensions: 3.5 x 3.6 x 4 inches
Specific features: 100ml capacity, stainless steel, affordable
Best use: Camping, hiking, backpacking
Description: Out-d Camping Alcohol Stove is by camping stove which provides you with the maximum efficiency. The price range of this product is from $15 and 24$ depending on where you buy. The net weight of the product is 247g and it's made of stainless steel. This product is available in silver color. The size is 90x130mm which is small thus perfect for backpacking. The stove holds a lot of fuel and comes with a zipper bag.
The downside of the product is that it remains hot a bit longer than the aluminum made stoves because of the stainless steel. It's prepared to hold big pots so if you need to make more food you can rely on it. It's well-constructed and durable, so you can rely on it for a long backpacking or camping trip. Overall, it's a great product. It is likewise a nice thing that this stove was made to have 100ml capacity. This is all that anyone could need for basic cooking activities that you have to do outside.
The collapsible stove stand is one additional thing that you may love. This makes the alcohol stove to be space-effective. At the point when not in use, it can be folded so that the unit turns out to be more compact.
PROS:
Long lasting
Innovative design
Generous alcohol capacity
CONS:
Easily prone to scratches
A bit heavy
Related: if you need a good windscreen for your stove, then you can check out the HIGHROCK Lightweight Camp Stove Windscreen. This folding windscreen is an extraordinary expansion to outdoor cooking with backpacking stove. Obstruct the wind for quicker cooking and retention of heat. You can likewise utilize this to enable you to ignite a fire in blustery conditions.
Trangia Spirit 
Price: $13 – $25
Weight: 4.2 ounces
Dimensions:  4.7 x 4.7 x 1.2 inches
Specific features: Versatile, user-friendly, reliable
Best use: Hiking, camping, backpacking
Description: The Trangia Spirit Alcohol Stove is a reliable product that's been a famous choice among backpackers for a long time. In comparison to other alcohol stoves, it's more durable. The product has a simmer ring to offer a better heat control.
Additionally, this product comes with a screw lid to store the unused alcohol. The product is fairly priced between $13 and $25 depending on where you buy from. The negative aspect of this alcohol stove is it's a bit heavier (because it's made of brass) than its competitors and it doesn't come with a windscreen or a pot stand.
This product is small in size, but it heats up your cookware very efficiently and you can make anything using this stove. This alcohol stove is sturdy, easy to use and sustainable.  This product lasts for decades and with its unique features, it's a good investment decision. It should be utilized along with a cook stand, and additional alcohol should be conveyed for longer journeys, as you will obtain two cans of bubbled water from one burner-brimming with fuel. It has no rolling parts, so cannot break easily.
Obviously, you can utilize the burner all alone, without the extra stove, however, that means you won't have a windshield or a bolster for your lid or cup, which you have to make available, nor would you be able to modify the flame.
PROS:
Fuel efficient
Lightweight
Durable
Easy to operate
Related: Every stoves need a good cross stand to provide an ideal height for the stove to burn efficiently. So if you need a good stove stand, then you can check out the Liberty Mountain Evernew Stove Cross Stand. It likewise acts a stand for cooking pots and gives protection against wind.
Solo Stove Spirit 
Price: $18 – $24
Weight: 3.5 oz
Dimensions: 2.9 x 2.9 x 1.8 inches
Specific features: Affordable, versatile, user-friendly, simmer lid with fold out handle, cap with rubber o-ring
Best use: Hiking, camping, backpacking
Description: The Solo Stove Spirit Alcohol Stove serves as a great backup fuel source, it is paired up with the wood burning solo stove. The product benefits from the Solo Stoves effective air flow system when used inside, which results in achieving faster boil time.
The product has a simmer lid with a fold out handle which enables you to control the temperature conveniently. The burner also has a cap with O-ring that seals the burner so you don't need to empty unused fuel between uses and stops evaporation.
A lesser amount of wasted fuel means a lesser amount of fuel you have to carry. The price range is between $18 and $24 depending on where you buy from. This product is versatile, easy to use and affordable which makes it a really great choice. The capacity of this product is 1/10th of a liter, and with the full burner will last for 25 minutes, which gives you enough time to cook a proper meal. This spirit alcohol stove is made of brass, but its ultra-light weight and perfect for a backpacking or a hiking adventure.
PROS:
Reasonable price
Easy to use
Compact size
Durable
Long lasting
CONS:
Prone to leaking
Can easily crack
Related: if you want a good windscreen that can be used with Solo Stove, then you can check out the Solo Stove Windscreen. This aluminum windscreen can likewise be used with other camping stoves, backpacking stoves, alcohol stoves and butane stoves.
Concluding Thoughts
There are a lot of products available in the market, you just need to choose one according to your needs. The thing you need to know first is that you need to plan what you're going to cook and how much fuel you're going to need for it. Alcohol stoves have been a foremost choice of hikers and campers.
They have a simple design and are made of aluminum cans which lead to innumerable variations. They are ultra-light in weight and are very easy to use, which basically are the qualities that a hiker wants in a stove.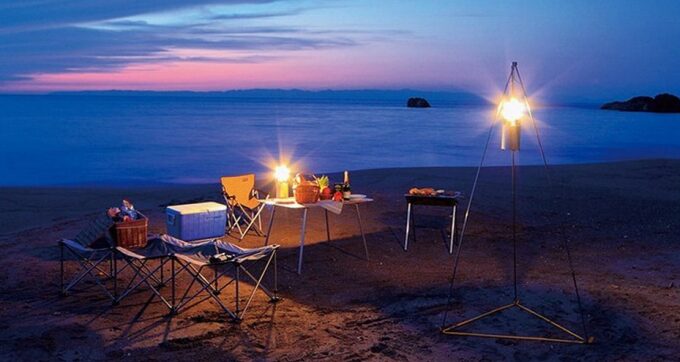 There are alcohol stoves available for 1 or 2 persons too, you need to check them out if you're going alone. Alcohol stoves are quite popular among backpackers because of their readily available fuel and their light weight. And in case you're going with a group or family then your choice should be accordingly. Make sure the product you're buying is exactly what you need.
Make a plan of what you're going to cook during the trip and what kind of stove do you need for it. For a family trip, you might need an alcohol stove with a large pot. Anyways an alcohol stove can prove to be useful in a number of situations so keep one with you just in case.
We hope that our article helped you in deciding which alcohol stove is the best one for your needs and that your future outdoors adventures will bring plenty of hot, tasty meals for a great finish of a day filled with activities. If you feel like sharing your outdoor cooking experience with us and our readers, leave a comment in the comments section below.