Getting the most out of your exercise routine is important. That is why having the best activity tracker can help you with your workouts. Not only do they monitor your activity, but they can count calories, track your sleep, can connect to your phone and be used with an app. There are many benefits to using one.
There are many features of activity trackers you will learn about below. These features help you make the most of each workout, allowing you to track your progress. You will have to choose your design, decide if you want a screen, and choose the type of battery you want, among other decisions.
By the end of this article, you will be able to decide which activity tracker is best for you. We will show you some reviews to look over to show you what is on the market for purchase now. Maybe one of these will be your next activity tracker! Let us read on more below.
Our Top Picks
Features to Consider Before Buying
Now that you know what activity trackers we will be looking at, you should know there are some features to consider before you buy these, or any activity tracker. You want to make sure to get one that works well for your routine and functions well no matter your activity. See below for several features to look into before you go shopping.
Design
The way an activity tracker looks and feels is important to how much you will wear it. Picking one that looks sleek and is comfortable around your wrist will ensure that you wear it all of the time for the most accurate tracking possible.
Wristbands: Designed exactly the same as a watch, you'll be able to wear them on your wrists.
Clips/hooks: Clips/hooks are easily clipped to your clothing and can be secured anywhere on your body.
Shoe straps: You'll be able to loop it through your shoelaces with your shoelaces securely fastened.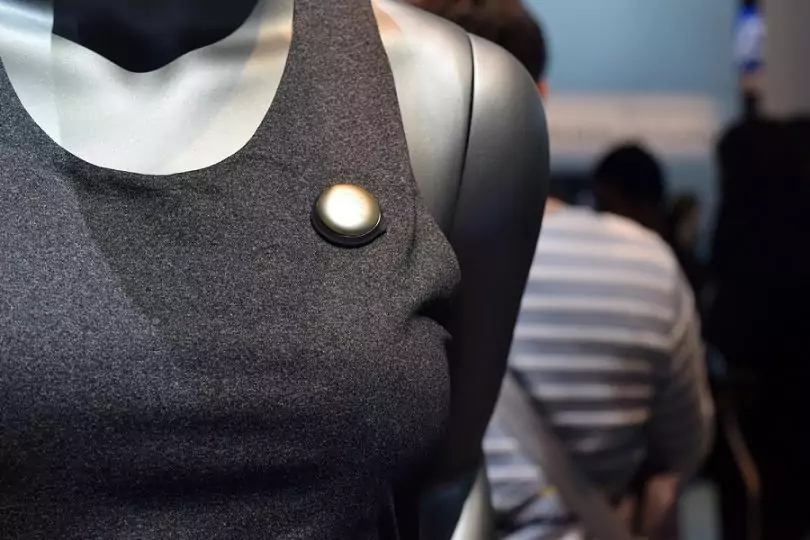 Battery Life
You're given a couple battery options to choose from when deciding on an activity tracker. The battery options are based on personal preference, neither is worse or better than the other. Let's take a look at what they have to offer.
Rechargeable: Rechargeable batteries require you to charge your activity tracker every 4-5 days, depending on your usage. These batteries are charged via a USB cable. The only con for these batteries is that you have to remember to constantly charge your battery.
Watch Battery: Other activity trackers use watch batteries to run the tracker, these batteries will last at least 6 months at a time, however, will need to be changed then.
Waterproof
You can choose to purchase a waterproof activity tracker that will be able to withstand harsh weather conditions. They're usually slightly pricier than regular activity trackers, however, it depends entirely on your purpose for using an activity tracker.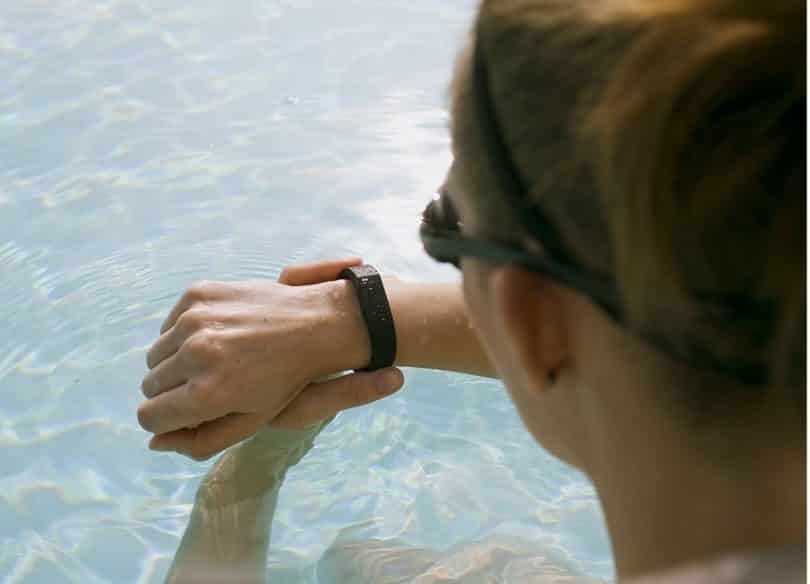 If you'll be working out year-round or swimming, then you best invest in the waterproof option.
Screen
You have the option of having a built-in display on your fitness tracker. It will display the time and your fitness goals without you having to open the app. It usually will cost a little extra than a no-screen activity tracker, however, it's just depends on your needs and your preferences.
Top Product Reviews
Now, we have come to the part where we review several of the best activity trackers you can get right now. Look at these products and see what features they have and what they can be used for. Then you can make the best choice about which one works best for your life.
Fitbit Flex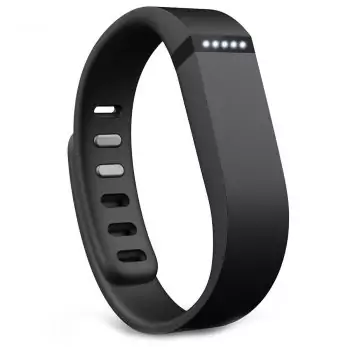 Price: Approx. $90
Weight: 4 ounces
Dimensions: 6 x 0.4 x 8.2 inches
Best use: Both land and water activities
Description: Water-resistant and made of rubber, the Fitbit Flex activity tracker is ideal for land and water activities. It tracks steps, distance, calories burned and total activity minutes. In addition, it also seconds as a sleep wristband which measures the duration and quality of your sleep. If you were looking for an activity tracker with a screen, this one is screen less.
However, the activity tracker does come with LED lights to show if you're reaching your fitness goals. Fitbit flex is slim and sleek in design and extremely comfortable to wear as it comes in two sizes, large and small, with an interchangeable clasp. It's easy to sync wirelessly and is compatible with over 150 smart phones. Both an activity and sleep wristband, you'll be able to wear this from day to night.
PROS:
Syncs to tablets, computers, and smart phones
Sync range of 20 ft
Gets call notifications
Rubber
CONS:
Needs internet to sync
Syncing to a mobile means using a Bluetooth
Only comes in black
Related: If anything ever happens to the charging cord for your Fitbit Flex, you can buy a replacement such as the Fitbit Flex Charger Replacement Cord for Fitbit Flex. Some people like an assortment of bands to choose from to switch things up, so you can always look at the Henoda Replacement Bands for Fitbit Flex.
Fitbit Charge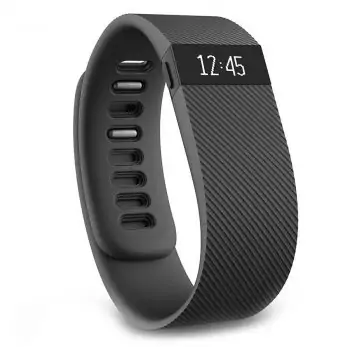 Price: Approx. $135
Weight: 0.8 ounces
Dimensions: 2 x 0.8 x 0.4 inches
Best use: Land activities
Description: The Fitbit Charge is a two-in-one activity and sleep tracker which can track your workouts, heart rate, distance, calories burned, floors climbed, active minutes, steps and quality of sleep. The screen allows you to see call notifications, daily stats and the time – all necessary features for when you're working out and don't want to look at your phone.
If you're worried about sizes, this activity tracker comes in 5 different sizes from x-small to x-large. It syncs wirelessly to your smart phone and is compatible with over 150 smart phones. It also comes with, a silent alarm, which will wake you up without disturbing others. Many activity trackers only come in one color, however, Fitbit created five different vibrant colors for you to choose from.
PROS:
Tracks lots of activity levels
Lets you see the call notifications
Auto Sleep and Alarm modes
Long battery life
CONS:
Quite pricey
Only comes in black
The band may fall apart after a while
Related: Some people kick up a lot of dust on the trail, therefore their tracker can get dust inside of it. You can look into the Moretek Silicone Anti Dust Plugs for Fitbit HR Port Protector Fitbit Tracker if you have that issue. If you tend to be on the safe side with electronics, you can add a screen protector like the Ace Armor Shield Shatter Resistant Screen Protector for the Fitbit Charge HR.
Up 24 By Jawbone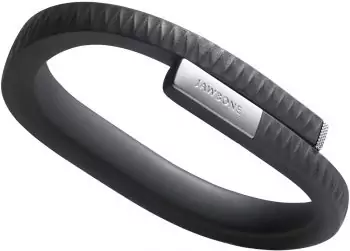 Price: Approx. $30
Weight: 0.6 ounces
Dimensions: 5 x 2.6 x 2 inches
Best use: Land and water activities
Description: The water-resistant UP 24 by Jawbone activity tracker helps motivate you by showing you your fitness levels and sleep quality. It tracks steps, calories burned, quality and hours slept, and exercise.
With the UP App Food Score, you can also track your food, drinks and nutrients to make sure you're also eating properly to receive the best results. The Smart Coach also acts as an alarm by sending you vibrations to wake you up without an annoying sound waking everyone else around you up.
You can also connect with friends and family and reach goals together via team leader boards. The activity tracker comes in three sizes: small, medium, and large. Because it's water resistant, you'll be able to wear it while engaging in water activities, without fearing that you'll ruin the tracker. So, whether you're on land or sea, you'll be able to wear this tracker day and night.
PROS:
Uses an app to track food, beverages and nutrients.
Smart Coach uses features like Smart Alarm to wake you up
Uses leader boards to connect with family and friends, and share data
Variety of colors
CONS:
Does not have heart monitoring
Does not have advanced tracking
May not last beyond a year
Related: If anything happens to your charger cord, you can find a replacement easily, such as the Getwow Replacement USB Charging Cord for Jawbone. The Jawbone Replacement End Caps Covers are for when you lose your end cap covers on your tracker and need some replacements.
Moov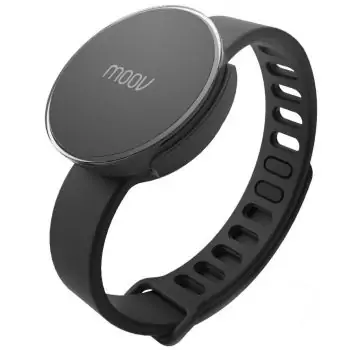 Price: Approx $20
Weight: 0.3 ounces
Dimensions: 5 x 1.5 x 0.3 inches
Best use: Land and water activities, ideal for triathletes
Description: The MOOV tracker is ideal for those are training heavily, as it's ideal for those training for triathlons. This activity tracker monitors your fitness levels and advises you on how to achieve the most out of your workout – a feature not seen on many of these fitness trackers. It's powered by 9-axis motion sensors, a military-grade technology that is highly precise at measuring your movements.
The real-time audio coaching is available for running, cycling, body weight, and cardio boxing workouts. Moov's design can be worn on your wrist or ankle, depending on which you prefer.
The app is also included with the purchase of the activity tracker and is a great option for those that need motivation and are looking to get the most from their workouts. It's available in three colors: blue, pink and black.
PROS:
Counts steps and calories burned
Each session gives you a detailed account of the data
Real time audio coaching
In app feedback
CONS:
Only comes in black
A newer version available now
Does not work well underwater.
Related: After a while, you might find yourself in need of a replacement battery for the tracker. One, such as the Panasonic CR123A Lithium 3V , can be helpful. The SoundPEATS Wireless Earbuds will help you stay in touch with your hiking partner if you two should split up for a short time.
Polar H7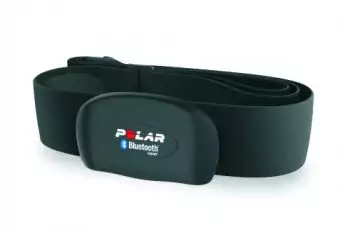 Price: $50 – $155
Weight: N/A
Dimensions: N/A
Best use: Land and water activities
Description: The Polar H7 fitness tracker heart rate sensor provides you with a real-time and accurate heart rate and is synced via Bluetooth to your iPhone, iPod Touch, and Android.The strap is very comfortable and will analyze and review your heart rate while you're training.
It's compatible with various Polar products as well as other gym equipment. What's great about this tracker, is that it's waterproof and can monitor your heart rate while swimming.
It measures distance, calories burned, speed, heart rate and duration of activity. A perfect workout accessory if you're looking for something simple yet effective. This isn't a device that will make you read the instruction manual, it's very basic in function, but does the job. In addition, it also comes with a 2-year limited warranty which is another feature that many people appreciate.
PROS:
Includes heart rate monitor
Waterproof
Long battery life
Counts calories
Not very expensive
CONS:
Hard-to-remove battery
Sometimes will have trouble connecting to Bluetooth
For some, it quit working at around 1 year of use
Related: The Polar Soft Strap Set is a great addition to your tracker if you like having various colors of straps to interchange.
LifeTrak Zone C410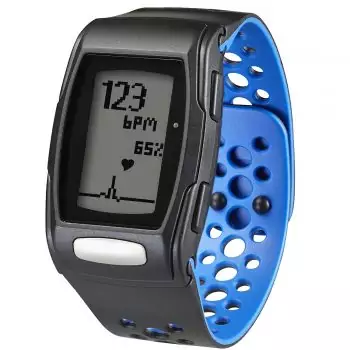 Price: Approx. $50
Weight: 1.3 ounces
Dimensions: 3 x 2.1 x 2.1 inches
Best use: Land and water activities
Description: If you're looking for an activity tracker with a large screen, the LifeTrak Zone C410 is a great option. Some people prefer having a large screen that shows their progress and that is this tracker.
You can wear this tracker on land or in water, day or night, whatever the conditions, it'll be able to withstand them. This tracker is great if you're the type of person that cannot remember to charge their phone.
The LifeTrak Move doesn't need to be recharged, it comes with a one-year battery life with a standard coin cell. It's also great for water activities as it is waterproof up to 30 meters / 90 feet deep.
It has an ECG heart rate monitor which can measure your heart rate without having to wear a chest strap. You'll be able to view the ECG wave and heart rate right on the screen. The app is another great feature with LifeTrak as it reviews your data on charts via your smart phone.
PROS:
Auto sleep report
Tracks heart rate
Graphs for each hour or week
Mode for working out
CONS:
No app for Android
May not track sleep correctly
Must swing arms as you walk or steps do not count
Related: You can purchase additional straps for your tracker such as the LIfeTrak ComfortFit Band, which gives you one color on each side, so you can change them as you like!
Nike+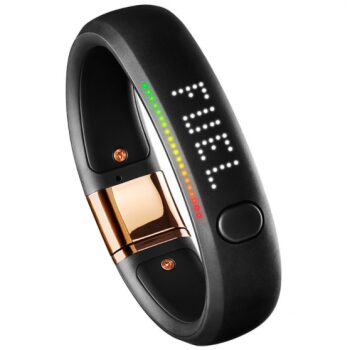 Price: $135 – $600
Weight: N/A
Dimensions: N/A
Best use: Land activities, not waterproof
Description: Sports giant Nike couldn't be left out of this concept. So, they decided to create the Nike+ Fitness Tracker. Instead of making it a flashy wristband, Nike kept it sleek and minimal in design, however, with a sporty twist.
It's extremely comfortable and sturdy and displays time, steps, calories burned and fuel, on the tracker's screen. Your activity is synced wirelessly to the app and your information is kept in your profile.
However, in comparison to other tracks, this one is slightly higher in price and is relatively basic in comparison to our other choices. It doesn't measure distance, stairs climbed, heart rate, skin temperature or sleep quality. However, if you don't need that information, then this is a good choice. It works via a rechargeable battery that simply needs to be plugged into a USB cable.
You can set a daily fuel goal indicating how active you want to be that day and Nike will send you reminders, motivating you to maintain your goal. With the app,  you can also create teams and receive your feedback regarding your workouts.
PROS:
Comes in 3 sizes
Two extra links for better fit
Works with Bluetooth
CONS:
A little pricey
No way to track sleep
Does not track all kinds of exercise
Related: The Nike+ Stand Alone Sensor Kit will sync with your tracker and goes right under your sock liner of the shoe to measure your activity. The Star Wars Death Star USB Car Charger can charge your tracker, and looks just like the Death Star!
Fitbit Zip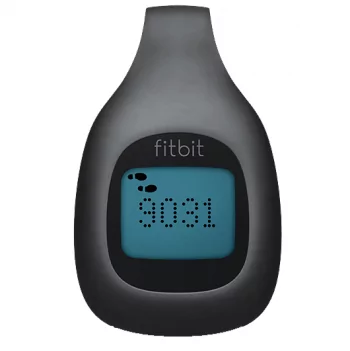 Price: Approx. $60
Weight: 3.8 ounces
Dimensions: 9 x 3.6 x 1 inches
Best use: Land activities; not waterproof
Description: The Fitbit Zip activity tracker is an easy-to-use and fun way to track your daily activities. It's really the ideal device if you're looking for a tracker that isn't filled with hundreds of options. If you want a simple device, well, then here it is.
This track does come with a screen that will display your all-day activities such as steps taken, distance traveled and calories burned. What's great about this device is that its design isn't like a traditional watch.
Instead, it can fit in your pocket, clip onto your belt or bra. Some people don't feel comfortable with wearing a watch and this is a great option if you're one of those people.
It is water-resistant and also comes with a long-lasting battery that lives up to six months before replacement, you'll be able to wear it all day, every day without having to charge it. It also syncs daily to your computer and is compatible with over 150 smart phones. The app is very easy to read and provides you with charts and graphs so you can easily track your progress.
PROS:
Affordable
Works with iPhone and Android
Syncs automatically to a computer
Compete with friends
CONS:
Some features do not work for users
Will not show you weight tracking or food intake
FitBit is taking too long for an update of features that need to be repaired
Related: Should you ever find yourself in need of a replacement band, you can check out the Baaletc Cute Replacement Wrist Band. The Sony NP-FW50 Rechargeable Battery is a great choice for when your original battery is done for.
Striiv Play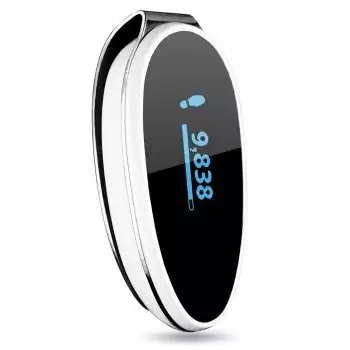 Price: Approx. $18
Weight: 3.2 ounces
Dimensions: 2 x 3.5 x 1.6 inches
Best use: Land activities
Description: If you're looking for a tracker that you can easily clip onto your belt or keep in your pocket, then Striiv Play tracker is another great option. Striiv is a hands-free wireless tracker which will tracker your fitness by monitoring your steps, stairs climbed, calories burned, distance, and minutes of activity. It can connect via Bluetooth to your iPhone and Android device, as well as PC and Mac computers.
Through this, you'll be able to view your fitness and progress online as well as connect with friends to track each others progress. It has the best real-world accuracy that comes with a 3-D accelerometer, high precision altimeter and is designed to avoid "fake" steps.
The bright OLED screen also displays your activity and can be seen even in the daylight. It's also a great option if you don't want to break the bank on purchasing a tracker as this one is very modest in price.
PROS:
Connects to Bluetooth, used with Android and iPhone
Invite friends to challenge with workouts
Comfortable to wear
CONS:
Loses connection sometimes
Basic charts
Bad battery life, drains quickly
Not super accurate like other trackers
Related: If you like a challenge, the Striiv Smart Pedometer will count your steps, but give you challenges along the way to complete!
Concluding Thoughts
As you can see, having an activity tracker can help you keep track of not only your exercise, but also aspects of your health, as well as track your sleep. While they vary in price, surely you can find one that fits your budget and still works well for you. These help you to get motivated to exercise and reaching your goals.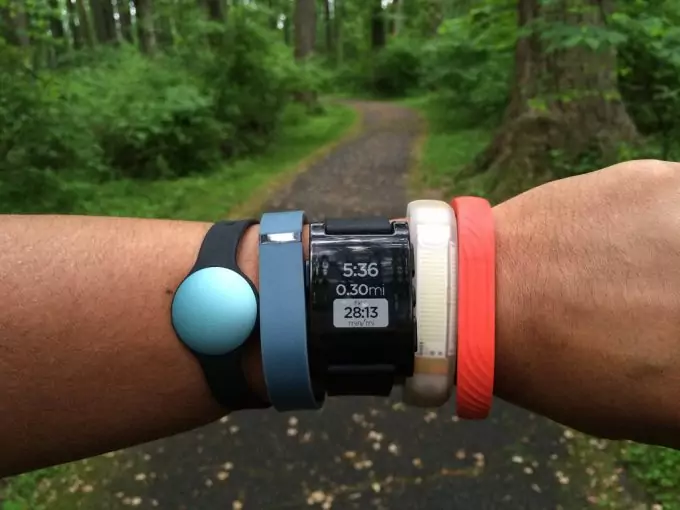 Finding the best tracker means it will track your various activities, like your food intake and calorie consumption, as well as tracks your sleep. You also want it to track your heart beat and heart health. These things can be seen in data through the computer so you can stay on a healthy routine.
Talk to your doctor for more information on fitness and what activities you can do. If it connects to Bluetooth, has an app, and can work through not only your computer, but your iPhone or Android, then you have a better chance of keeping your routine on track. With notifications and tips, you will be successful in your journey to fitness!
Do you have an activity tracker? What kind do you own? How do you use it for exercising or everyday use? Please tell us what tracker you have, and your thoughts and stories below in the comments section! We love hearing from our readers, especially when it comes to health and ways to stay on track! We do love hearing from you!