Who says that camping out in the wilderness has to distance you from most of luxurious gadgets such as the electric toaster used to make crispy and delicious slices of bread for your mind-blowing breakfast?
With a continuous innovation of outdoor products that mimic our household products, we have the best camp toaster today that may even prompt you to save electricity even when you are at home.
So, stress not because you can still enjoy the delicious breakfast in the wilderness. Today we have a range of camp toasters on the market, available in varying designs, capacity, materials and other features. How will you know if you chose the best among all? That's the question we will help you with in this review of the best toasters.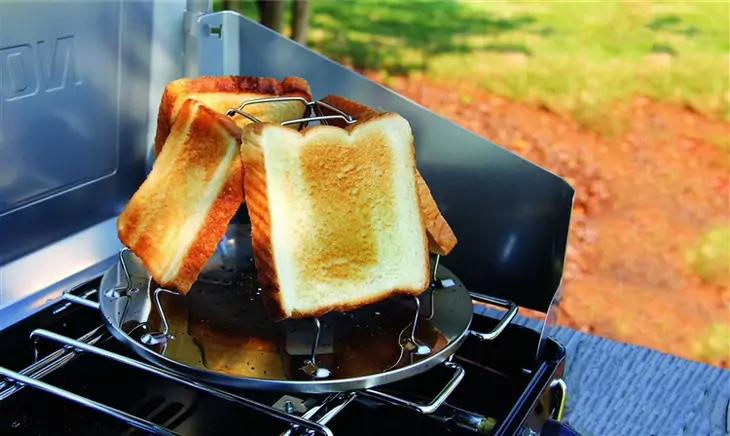 Although the camp toasters strive to mimic the electric toasters, they do not work exactly the same, with the camp toaster requiring manual operation than relying on a peep button. We know just about everything that the finest model should have, and we intend to make it easier for you to shop for one.
Below are some of the features you should consider before buying a toaster, and a list of what we found to be the best in the market currently. We have a range of handpicked camp toasters to narrow your search for the best product.
Let's first consider the table below that gives a glimpse about the difference between these toasters, and then proceed to discuss the important features worth-considering in your purchases.
Things to Consider before Buying
Before purchasing any product, it is imperative to consider its foremost features that set it apart from the rest. Likewise with the camp toaster, we have varying models and each person has preferences. As a newbie it might be challenging to quickly spot the best of your choice unless you are well-rounded with the features. Continue reading…
Weight
This is arguably the most important features for minimalist hikers in the wilderness. One should take into account the portability and the foldability of the toaster, especially when you do not travel by car.
The design of the toaster also plays a role in the weight. Usually, the toasters with complicated designs will add more bulkiness to your backpack. You must aim for simple design that cuts excess pounds.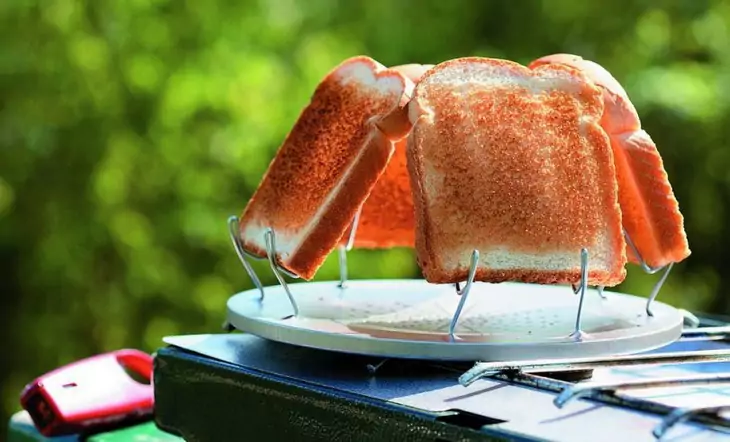 Most toasters are made of steel and metal alloys such as aluminum. Steel is known to be bulky compared to the aluminum. However, steel provides you an unbeatable durable, but have to make sure if the toaster is rust resistant.
Duration
The materials that a particular toaster is made of are a determining factor of how durable it is. Some camp toasters may have the plastic material although not meant to be exposed to direct hear. The choice of such should depend on the fire source if it's BBQ, camp fire or propane gas. For a campfire that poses durability concerns.
Quite guaranteeingly, steels and metal alloys are durable. Most of the toasters are made of aluminum and steel. Also note the other metal alloys that can be used like chrome, etc. Rust resistance must also be taken into account when choosing the material of the camp toaster. Always go for one that will serve you for a long time, while still in a perfect condition..
Portability
There are varying designs of toasters. Put an eye on foldability and portability whenever making a purchase. There are fold up toasters, camp stove top toasters, box and pyramid toasters. The list is non-exhaustive.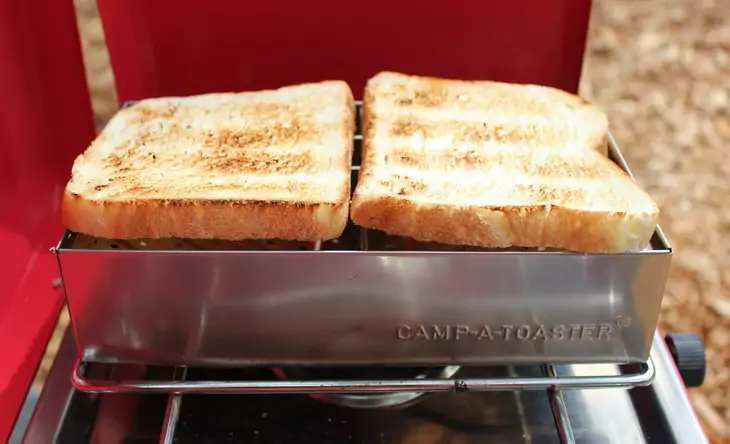 Every type has its trade-offs and the specific occasion. The fold up toaster is recommended for minimalist hikers.
Capacity
Capacity of the camp toaster is also important, more especially if you're not a solo camper. Some toasters can toast 4 slices, 2 slices or 8 slices at once.
Others need you to toast one at a time, and unfortunately that will be time consuming if you travel with your entire family of, say, 4. The other major influence is the time it takes to toast a set of bread before toasting for your fellow camper.
Capacity should be taken into serious account too. Most of our reviewed products have a capacity of toasting 4 slices at once. Together with capacity, dimensions of a particular toaster are also worth considering as they indicate to you how many slices can be put.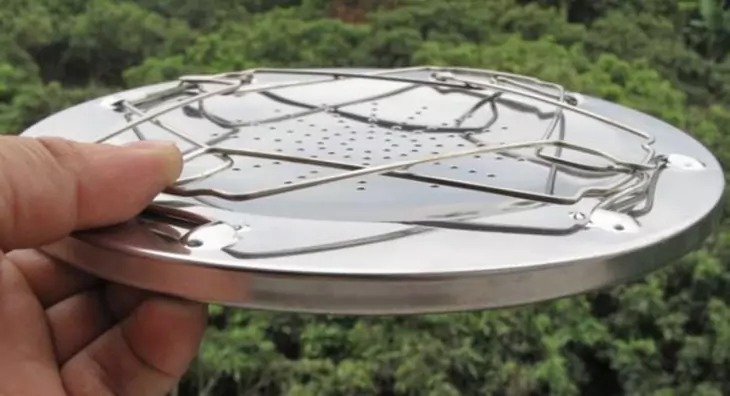 We have indicated the dimensions in our reviews. But, at the same time, you don't want the larger dimensions that won't be easy to pack on the go. All we need is a reasonable dimension that can accommodate more bread slices, but at the same time user-friendly to pack compactly in a backpack.
Ease of Use
The model you choose should be straightforward when it comes to using it, otherwise you might not use it at all. You must aim for the camp toaster that even your kids will be able to use while you are away from the campsite.
These toasters need manual operation of continually changing the slices to make sure that they are not burning. Now that we've gone through the important features to consider, we can delve into the reviews of our best products.
Best Products on Today's Market
As promised, we have compiled a list of the best camp toasters in here to narrow down your search of the best products on the market. Also included are the trade-offs and the related product worth taking alongside these toasters.
Stansport 276 Camp Stove Toaster

Price: $5 – $10
Weight: 0.5 ounces
Dimensions: 9.5 × 0.8 × 9.5 inches
Specific features: Toasts 4 slices of bread at a go, folds compactly for easy storage, compact and sturdy, lightweight, affordable, has an RV smoke alarm, toasts quickly and very well, durable, rust-resistant steel
Best use: Hiking, camping, mountaineering
Description: The Stansport 276 Camp Stove Toaster is the ideal deal when you are away from home and electricity, but still need that well-toasted slice of bread. You can toast even four slices of bread at ago, and it only takes a moment. You can never wish to be home for breakfast or lunch if you have this stove toaster.
Stansport is known for manufacturing durable products, and they do not compromise on the quality of the materials, even when giving the best prices in the market.
This is the same for this stove toaster, it is made of the best materials to resist rust and thus serve you for many years. You can also use it in any environment without fear of it getting damaged.
It folds compactly thus making it even more sturdy. You will have the easiest time carrying or storing it. It saves space too. However you like your slices toasted, you can get exactly that and in the shortest time ever! For toasted
bread lovers, this toaster is the way to go. This toaster also makes your toasting job easier because it has an RV smoke alarm, thus you can do some other tasks without getting your slices burnt.
PROS:
Toasts 4 bread on the go, and at once
Toasting made easy with the RV smoke alarm
Rust resistant toaster made of steel to last you for many years
Lightweight toaster that can pack compactly in a backpack
Affordable product that will not break your bank with a price tag under $10
CONS:
Requires patience and can take time to fully toast the bread. It depends on the type of flame you use
Although rust resistant, if in contact with water for long it can rust
Related: If you plan on having scrambled eggs with that toast, you will need a case to carry your eggs safely, and Stansport also offers the Stansport 266 Egg Container.
Coghlans 504D Camp Stove Toaster

Price: $6 – $10
Weight: 16 ounces
Dimensions: 11.8 x 6.8 x 1 inches
Specific features: The stove performs perfectly toasting 4 slices of bread at a time, durable steel with coated rust-resistant wires, folds flat for easy storage and packing, perfect size- 9" diameter, Coghlan's stove toaster, exclusive sure-grip holder.
Best use: Camping, hiking, outdoor activities
Description: The Coghlans 504D Camp Stove Toaster toasts 4 slices at a go, meaning if all you need is the four slices you will get them in one round of toasting. This feature makes the camp toaster ideal for a group of campers because if you only have one toaster and need to toast enough slices for everyone, then you need a toaster that will do it quickly. The fact that the Coghlans Camping Stove Toaster can toast 4 slices at a go makes it perfect for the task.
Also, when out camping or doing other outdoor activities, weather changes may occur at any time, and thus it's good to be sure that your camping toaster will withstand any condition and mostly if you will be in a salt water environment.
The Coghlans Camp Stove Toaster is made of durable steel thus cannot rust and will give you many years of quality service. You can carry it confidently to any place, and it will perform just as good.
Needless to say is that you won't have to worry about how to hold your camp toaster while carrying it around or when toasting your slices as it has an exclusive sure-grip toast holder.
You probably are worried about the storage space or how to pack this toaster. Well, this should be nothing to worry about because the toaster folds to 9 inches, making it easy to pack and carry. The last thing anyone who is out camping wants is a toaster that will consume half of their morning trying to get it working.
PROS:
Rust-resistant coated wires
Sure-grip toast holder to handle the toaster from one place to the other
Made of a durable and rust-resistant steel
Easy and portable to carry
Toasts 4 slices of bread at once
CONS:
Not dishwasher safe as it can lead to rust
Not versatile, so cannot use on an electric stove
Related: If you wish to switch from just a toast to a full-course-breakfast the outdoors way, Coghlan also offers the Coghlan's 7640 Non-Stick Camp Griddle.
UST Blue Sky Gear Toaster

Price: $10 – $15
Weight: 6.4 ounces
Dimensions: 8.75 x 5 x 8.75 inches
Specific features: Toasts 4 slices of bread at a go, wire toast-frames lock into place, stainless steel with chrome-plated (rust-resistant) finish, collapses easily to get a compact storage, assembles in seconds, quickly toasts bread, lightweight
Best use: For home, camping, hiking
Description: With the UST Blue Sky Gear Toaster, you get to do your toasting in a matter of minutes because you can toast even four slices at a go thus saving time. This helps you in making your breakfast or lunch very fast, then move on to the other tasks. This is also an advantage for group campers.
When you think of how much you can do with this camp toaster, it's unbelievable that it only weighs 0.4 pounds. This is because its manufacturers had the needs of the camper in mind, and thus they designed it in a way that you can carry it even in your backpack without adding any weight to your luggage.
This camp toaster quickly pops up in seconds, stands upright on the grill or the campfire to toast bread. With the Ultimate Survival Technologies Camping Toaster, you do this in seconds and immediately start toasting. Every camper knows how important every minute is while out there so let not a toaster be a reason to be late for anything.
No matter how much a product costs, you must be sure that it is durable and will serve you as expected. With this toaster, it does not only work perfectly, but it also serves you for the longest time possible as it's made of all durable materials.
We all know how damaging rust is and so any product, especially if it will be used outdoors, it should be rust-resistant.
PROS:
Rust-resistant stainless steel camp toaster
Toasts 4 slices of bread at a time
It is easy to set up. It pops up in a few minutes on the campfire or grill
Lightweight camp toaster weighing just 0.4 pounds
Durable and sturdy product
CONS:
Relatively expensive camp toaster over $10
Some customer experienced a steel not stainless steel construction
Related: To enjoy your toast, especially during the breezy picnic days, you need some tablecloth clamps to assist in securing the table cloth and the UST offers the UST 02083 Cloth Clamps
Ezyoutdoor HPAD0 Camp Stove Toaster

Price: $9 – $13
Weight:  0.2 ounces
Dimensions: 22.0 × 22.9 × 1.6 inches
Specific features: Easy storage: folds compactly, stainless steel and chrome-plated finish, toasts 4 slices at a go, doesn't rust, comes with a folding cup, coated wires, ideal diameter (22.9 cm), has the sure-grip toast holders, heavy steel plate
Best use: For outdoor breakfast
Description: First of all, you need to know that the Ezyoutdoor HPAD0 Camp Stove Toaster folds completely. This way, it occupies the smallest space available, and it also gives you an easy time organizing your luggage. This is perfect for a camper or anyone going for any outdoors because saving some space is always a priority and this also dictates what one can take with them and what not to.
The two most important features for a camping toaster are durability and rust-resistance. The Ezyoutdoor Toast Rack gives you just this as it's made of stainless steel and chrome-plated finish, thus can't rust and can be used for the longest time possible and in any environment.
You can, therefore, own it and it will serve you for the many camps that you have listed in your adventure list. How else are you supposed to operate your camp toaster if it does not feature holders and not just any holders but the sure-grip holders?
When you get the Ezyoutdoor Camping Toaster, means that you will never miss your grip which makes toasting easy and fun. You will also move your toaster safely from one place to another and also avoid simple accidents when using it.
PROS:
Chrome-plated finish and stainless steel to add on its durability
Features sure-grip holders to securely handle it
It is rust-resistant
Toasts 4 slices of bread to feed many family members in the wilderness
Coated wires to minimize rust occurrence
CONS:
It is not dishwasher safe
Repeated washes can lead to the degradation of the coatings
Related: If you are like most people, you will need something to drink after taking your toast, and thus a cup becomes a necessity. Ezyoutdoor is offering the Ezyoutdoor 9OIH40 2pcs Folding Cups.
ASR Outdoor B9VO8 Open Fire

Price: $10 – $15
Weight: 8.3 ounces
Dimensions: 12 x 12 x 1 inches
Specific features: Open flame camp toaster, holds 4 slices of bread at a go, material: stainless steel ribs, tan base, folds flat, thus easy storage, works perfectly in near open flame or when placed on the grill.
Best use: Camping
Description: If you love camping, but the thought of missing your favorite toasted bread for some days makes you think twice about it, now you have a perfect solution, the ASR Outdoor B9VO8 Open Fire. With this toaster, you will have the toasted slices of bread whenever you need them.
Talk about saving time and getting exactly the results you expected! The ASR Outdoor open flame camping Toaster makes your camping one to remember by making sure that your breakfast is as good as what you get from home and that you get it as fast as you need it. You do not get to regret your decision to go camping even for a second.
The ASR Outdoor Open Flame Camping is made of the best materials. It's durable and works perfectly. Ones you own one of this, you will always have your toasted bread whenever you need it. It does not rust, thus can work in any environment, salt water places included, and still give the best-toasted bread.
For easy storage, this toaster is designed to fold flat thus making it easy to pack it in any bag and also, makes it occupy a very small space. This is helpful to any traveler or camper as no one wants to move around with huge and heavy luggage. This enables you to create some space for other essential items that you need while away from your home.
PROS:
Easily store it due to its lightweight
Folds flat for easy of packability
Toasts 4 slices of bread
Made of durable stainless steel material
Tan base that works well when cooking on or near an open flame
Related: Most of the time, one gets thirsty after taking toast and thus if you are on the go, portable drinking is the only solution and ASR Outdoor are offering the ASR Outdoor 4GDM90 Mini Key Chain that can also be used for alcoholic beverage storage.
Coleman 260 Camp Stove Toaster

Price: $15 – $20
Weight: 1 ounce
Dimensions: 9.75 x 9 x 0.75 inches
Specific features: Toasts 4 slices of bread at a time, camp stove toaster, doesn't rust, features a steel and chrome-plated finish, folds compactly thus quick storage, durable camping toaster, fairly priced, a great gift, aluminum construction
Best use: Hiking, camping, for home use as well
Description: To save on time, the Coleman 260 Camp Stove Toaster is made to toast four slices of bread at a time, and this does not mean that you cannot toast just one or two slices.
This enables you to get your breakfast as fast as possible and go on with the day's business. If you are with your friends or family, toasting the bread becomes super-fast, and everyone leaves full and happy.
You know you got the best camping toaster if it's Coleman! Just like all their other products, their camping toaster has the best design and is made with the most durable materials thus withstands any abuse and does not rust. This enables you to use it in different environments and use it for as long as they need to.
The Coleman's camp stove toaster is so compact and sturdy when folded. It folds to a very small size enabling one to pack it easily and carry it to wherever they are going with ease.
The fact that it folds compactly means it can be packed together with items and still come out as perfectly as it went in and in case it drops or hits something, no damage is caused.
If you were to use the Coleman Camping Stove Toaster before paying for it, you would definitely think that it is the price is higher than what it's going for in the market. It has all the great features and gives amazing results, yet the price is so low.
PROS:
4 slices of bread to toast and prepare for your breakfast during your outdoor excursions
Chrome-plated finish and stainless steel assures durability of use
Can withstand the outdoor abuse and will not rust even it rained on it while you forgot it outside
Folds flat to fit in a backpack on the go
A very lightweight toaster that will not be a burden to your terrains
CONS:
It is fairly expensive compared to others on the list already
Related: If you wish to switch from toast to some bake rolls, corn bread, cinnamon rolls or other quick-to-make treats while camping, Coleman are offering the Coleman 6462 Camp Oven.
Wrapping Up
For toasted bread and camping lovers, a camping toaster is a must have item. However, you can only get the best results from the best toaster. Thus, you as a buyer should know all the necessary features to consider before buying one.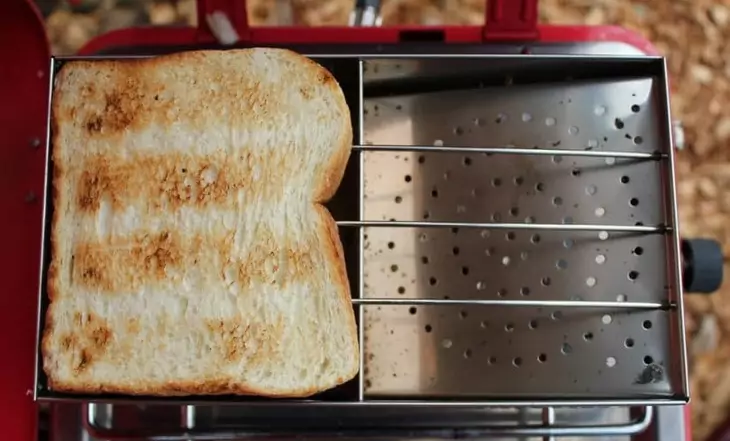 This article has described every little detail to help you in hunting for the best camp toaster, and it also has a list of what we found to be currently the best. If you find it helpful, feel free to share it.
However, if you feel like we left something out or you would like us to make some changes, kindly leave a comment on our comment section, and we will do the necessary in our next review. Good Luck!