You will probably agree when we say that backpackers and hikers, are always trying to lessen the weight on their backpacks, but still have all the gear they need. A poncho is a versatile and important tool for your backpack that needs to be small and lightweight as well.
Getting a good and reliable Gore Tex poncho is one way to cut down on weight and keep the purpose that you're after. That's why you want to make sure you have the right one, however, so it's lightweight and still very useful.
There are quite a few options available in the market, but the most important thing in a poncho is the waterproof shell. We've discussed all of this and more in the information here, so you don't have to do the research.
Our Top Picks
Things to Consider Before Buying
With so many different ponchos out there, choosing what it takes to really be a great choice can be complicated. Each of these factors will make it easier for you to decide what you want and what you're going to need when you get out there.
Waterproofing
The basic and most important function of a poncho is that it should protect you from rain whether you are hiking, backpacking or climbing. A lot of options are available and producers use a variety of waterproof fabrics. The ponchos are mostly seam taped to protect against any kind of water leakage and to keep you completely dry.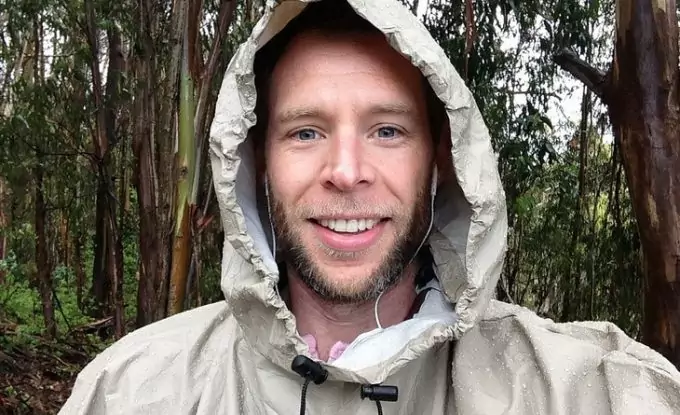 You need to check out the quality of fabric and make that the water resistant treatment is durable so that you don't get into any kind of trouble during the trip.
Also, make sure it is actually waterproofed rather than just a material that helps keep away water. Waterproofing on the material helps a great deal in getting the water to actually run off instead of sitting on the outside of your poncho.
Ventilation and Breathability
The breathability and the ventilation depend on how the fabric is bonded, the type of construction and the type of waterproof membrane that is used. When you are on the go you can get hot, even if you are only wearing a tee shirt, if you don't have the right type of poncho.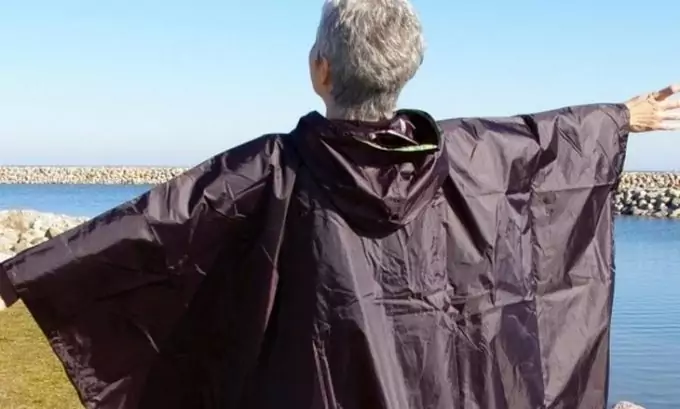 Breathability is a big issue for most campers and hikers because most ponchos allows the heat to pass through, but they don't allow the heat to escape.
When you are buying a poncho or a raincoat, make comparisons of their ventilation and breathability and choose one that suits you best. If the fabric of the poncho is breathable then it will be comfortable to be in during a rain storm.
Versatility
Versatile ponchos can work in all three seasons. They will work in summer camping as well as cold winter camping. This is an important thing to consider because it will prove to be beneficial in the long run.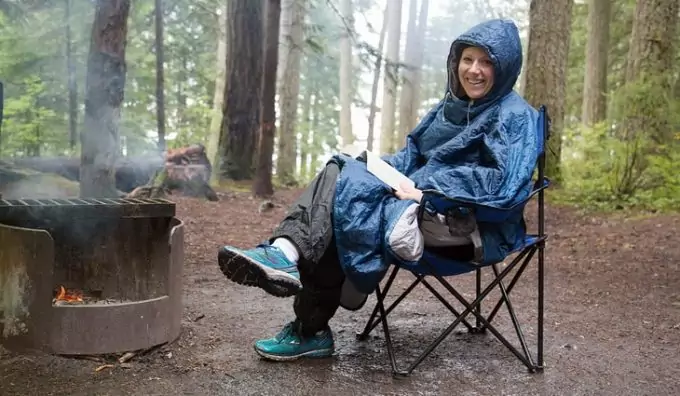 If you have a poncho that's only designed for warm weather you may end up cold during the winter months when you're trying to wear it. If it's designed only for colder weather you could get overheated. You want something with a moderate level of weight and insulation (if any).
Performance
The performance depends directly on the features and designing of the poncho. Some ponchos will have added features besides just protecting you from the rain. For example, you may find some that feature pockets and drawstrings or any number of other things that make it a whole lot easier to take what you need.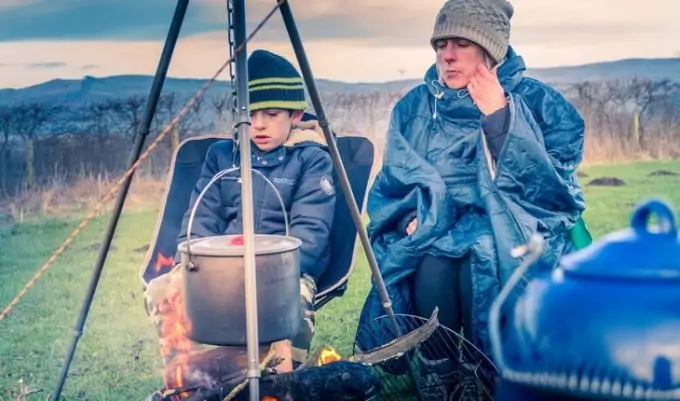 A poncho designed for performance is also going to make it easy for you to move around and for you to store it when you're not using it. This isn't always the case with a typical poncho, but it's something that you definitely want to make note of.
Weight
For all backpackers it is quite clear why the weight is so important. You have to carry that weight around with you. Lesser weight means a lightweight backpack and more space for other things that are more important.
A poncho doesn't weigh much, but every extra ounce can be the difference between a comfortable hike and an uncomfortable one.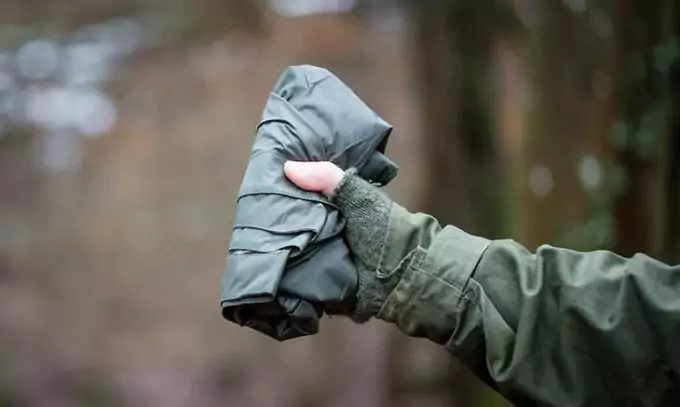 You want a poncho that balances out the weight with functionality, so make sure that you are looking at everything you get, for the weight that you have. Some might have a good balance while others might be too heavy for what you're planning.
Storage Size
The weather can change very quickly as we all know and you need to be prepared for any kind of weather. That means it should be easy for you to unpack your poncho when it starts to rain and it should be easy to pack it back away when the rain stops.
You also want to make sure that poncho is easy to store in a small compartment or container rather than taking up too much room.
Some ponchos are smaller than others when folded, so you want to look at the overall compressed size. You want to make sure that your poncho is going to fit well into a pocket that you don't need for anything else or that you have easy access to while you're hiking.
Pockets
Having a few pockets in your poncho can prove to be really handy. You can store stuff in those pockets that you need easy access to like your phone, wallet, etc. This is especially important when you're wearing the poncho, but you want those pockets to be easy enough to empty when you decide to take the poncho off.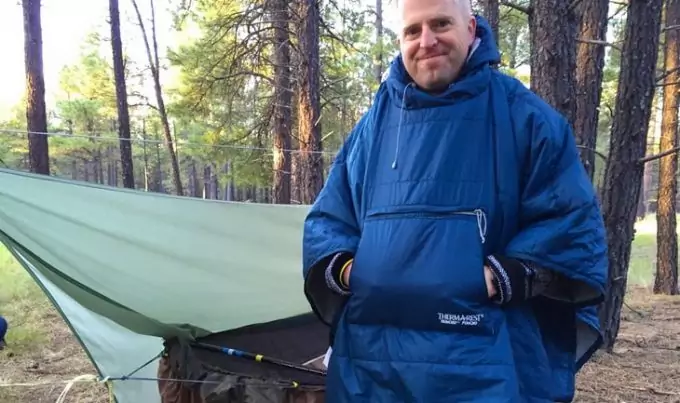 Another benefit is that you'll be able to put your hands in those pockets and use them to help keep yourself warmer and more protected from the rain. Pockets in general are a personal preference, however, and aren't necessary for a poncho.
Best Products on Today's Market
A poncho may seem like a little thing, but when you're out there in the wilderness and it starts raining you'll realize how important it actually is. With any of these, you're going to have no problem continuing with your trip, even in the rain and that's going to be a great thing for anyone.
Mil-Tec US Poncho 
Price: Approx. $25
Weight: 1.1 lb
Material: Rip stop nylon
Dimensions: 2.76 x 6.06 x 7.72 inches
Specific features: Drawstring arms and base, ripstop material, hood attached, includes carry pouch
Best use: Hiking, backpacking, hunting, festivals
Description: The Mil-Tec US Poncho is available in black is made with a ripstop nylon that is durable and reliable. Additionally the military designed material weave makes this poncho lighter in weight without compromising on the strength. What's even more important is that it offers great versatility as the eyelets on the hem enable you to use it as a ground sheet or a shelter.
The stud poppers on the side enable you to use it as a sleeping bag cover as well, so there's no end to the uses for this particular product.
The hood has a draw cord for easy fitting and this poncho comes with a matching carrying pouch for storage in a backpack. This is a really good choice if you want a lightweight poncho that offers versatility and overall quality.
The lightweight aspect of this poncho means that it can easily be stored wherever you want and the fact that it folds up small means you can store it in a pocket without a problem.
PROS:
Covers arms and torso
Can be used as a shelter when needed
Doesn't crinkle while walking
Good width for easy wear
Long enough to cover with backpack
CONS:
Stitches make for leaks in the poncho
Can be a little heavier than other ponchos
Can be a little large
Related: The Indalo Premium Blanket is made with ripstop material and provides you with a waterproof, sandproof surface that you can use to enjoy your travels. It's easy to carry and it's super lightweight as well, which is great if you're camping or going to the beach.
Ikea Knalla Rain Poncho 
Price: Approx. $20
Weight: 0.5 lb
Material: 100% polyester
Dimensions: 43 x 59 inches
Specific features: Front pocket, arm slits for more flexibility, folds into own pocket, hood stays in windy conditions
Best use: Hiking, backpacking
Description: The Ikea Knalla Rain Poncho is made of 100% polyester fabric and is available in black, gray and red to match your own personal style. The unique feature of this poncho is that it folds itself into its own pocket to fit comfortably in your backpack.
The size is compatible for adults only and it's designed to fit everyone. The hood has an adjustable hook and loop fastener to keep it in its place even when it's windy outside.
The poncho also has a front pocket to keep your wallet, phone or other stuff in while you're walking so it's in easy reach. It's also lightweight and made with nylon for a durable and strong frame.
Great for anywhere you want to go and any conditions you might find yourself in, this poncho can be washed and folded back up to be used again and again. You'll also have no problem wearing it because it's not too bulky or heavy for normal use.
PROS:
Thicker for better rain protection
Front pocket for storage
Folds up small
Reusable and washable
Can be worn with backpack or bag
CONS:
Difficult to fold back up
The hood can be difficult to see around when secured
Could be a little longer
Related: If you really want a nice jacket to go along with your rain poncho you can check out the Sawadikaa Windbreaker right here. It's sleek and elegant while still modestly priced, which will definitely make a great asset for your needs.
Qzunique GBD-XZM Raincoat 
Price: Approx. $20
Weight: 1.3 pounds
Dimensions: 35.4 x 29.5 x 46.5 inches
Material: Pongee
Specific features: Color options, dress style, includes a pouch, hood attached, batwing sleeve design
Best use: Hiking, trekking, camping
Description: The QZUnique GBD-XZM Raincoat is available in 6 different styles and colors. This is a perfect raincoat for women who want a combination of style and protection.
The raincoat is textured elegantly and is according to the newest fashion when it comes to style, so you get something really unique and fun to wear at the same time.
The raincoat comes with a matching pouch so that you can store it in your backpack conveniently when you're not wearing it and is completely water resistant with a hood to keep you completely dry. No matter where you go or what you're doing you'll definitely feel warm and comfortable in this.
The material used in its making is 100% Eco friendly pongee which is extremely water resistant and comfortable. Available in several different color options, you can choose what works best for you and won't have to worry about drying it off when you're ready to put it away because it dries quickly.
PROS:
Unique dress/batwing style
Eco friendly material
Pouch for easy storage
Dries quickly
Pockets, snaps and zippers for added protection
CONS:
Not ideal for wind
Not ideal for larger women
Water repellent rather than fully waterproof
Related: With this rain coat you have taken care of your upper body when the rain starts, but what about your feet? We can suggest these really stylish pair of rain boots that would go great with the coat. The London Fog Piccadilly Rain Boots come in various stylish designs and will definitely save your feet from getting wet.
3A Shop Covenov Poncho 
Price: Approx. $20
Weight: 1.6 lb
Material: Nylon
Dimensions: 1.8 x 9.4 x 16.3 inches
Specific features: Camouflage coloring, can be used as a shelter, scratch-resistant, fade-resistant, 100% waterproof
Best use: Hunting, fishing, mountain climbing, hiking
Description: The 3A Shop Covenov Poncho is available in a beautiful camouflage color that makes it work for just about anything. This poncho is multi-functional as it can serve as a moisture proof pad and tent when you don't need the poncho itself and it has a unique design and is extremely lightweight.
Very easy to carry around, the poncho is made of water resistant nylon, which makes this a reliable and durable product. The scratch resistant rain cap will keep your head protected and the long design of the poncho itself is great for just about everything else. . The camouflage effect is perfect for surviving in a wilderness environment.
A PVC coating over the top makes it leakproof and breathable at the same time. If you want something even larger you can use the snaps to attach more than one poncho together to get an even bigger canopy.
PROS:
Camouflage coloring for hunting or fun
Can be used as a poncho or tent
Folds small to make storage easier
Heavy duty material
Fits easily in a backpack
CONS:
Zipper not good quality
Grommets are small
Can be a bit heavy
Related: This Camo poncho is usually bought together with the Lifestraw Personal Water Filter and there is a good reason for it. This filter is small, portable, and allows you to drink water from practically any source you find.
Charles River Youth Unisex Poncho 
Price: Approx. $25
Weight: 1 lb
Material: Polyurethane
Dimensions: 40.5 x 73 inches
Specific features: Several color options, side snaps, heat sealed seems, wind and waterproof, elastic gathering for the hood
Best use: Camping, hiking
Description: The Charles River Youth Unisex Poncho is available in 8 different amazing colors to match your personal style. The poncho is made of polyurethane which is waterproof and wind proof and is bonded to a knit backing to give the fabric extra strength and durability.
Another feature of this product is that it has heat sealed seams to keep out moisture even at the weakest points. The hood has elastic gathering to provide protection against wind or rain and to make sure it stays up over your head when you want it.
Even more, the arms of this poncho have side snap closure and the product comes with a bag to pack it into for storage. Designed for children, it's easy to put on and easy to wear while you're doing whatever you want.
The sleeves are about ¾ length and the bottom of the poncho comes about the knee, but this is great for children who want to play out in the rain or who just need to get from one area to the next.
PROS:
Bag is very small when packed
Sheds water easily
Cord for hood makes it adjustable
Very lightweight and comfortable
Snaps under the arms hold secure
CONS:
Hood could use a drawstring
Arms are short
Can be a bit large for children
Related: If you need waterproof pants to keep your kid dry in the wet weather, we can recommend the Adidas Golf Boys Rain Pants.
Stormtech PCX-1 Rain Poncho
Price: Approx. $25
Weight: 0.03 lb
Material: 100 % nylon
Specific features: Color options, button down sides, 100% nylon, lightweight material, drawstring hood
Best use: Hiking, camping, trekking
Description: The Stormtech PCX-1 Rain Poncho is made from 100% nylon that is water resistant and wind resistant. The nylon fabric makes this product durable and long lasting so you can use it again and again. Not only that, but the draw cord on the hood enables you to keep the hood in place conveniently.
There are snaps down the sides to make sure the poncho stays in place where you want it and the material is very breathable and comfortable for an extended period. The fabric pouch included is easy to store your poncho in, and then put into a backpack or other bag.
You'll have no problem wearing this poncho either because it's super quiet while you walk. The short sleeves on this poncho are easy to move with though your arms may get a little wet  and the overall length of the poncho itself is good for moving and walking extensively.
PROS:
Very breathable for warm weather use
Drawstring keeps hood up
Packs down easily
Coated nylon material
Many available colors
CONS:
Can be a bit short for taller people
Drawstring doesn't hold a knot well
Clip for storage pocket is opposite of closure clasp
Related: In case you get caught by a sudden rain while on your outdoor adventure, a rain poncho will keep you dry in the beginning, but you will definitely going to need to find a shelter soon. If you don't have a tent to pop out, then we suggest getting the SE Emergency Blanket. It is lightweight, waterproof, and takes up almost no space in your backpack. And, what is most important, it can be turned into a shelter in less than a minute.
Wrapping It Up
With the Stormtech and the emergency blanket combination, we have reached the end of our article. We hope that you found our article informative and interesting to read.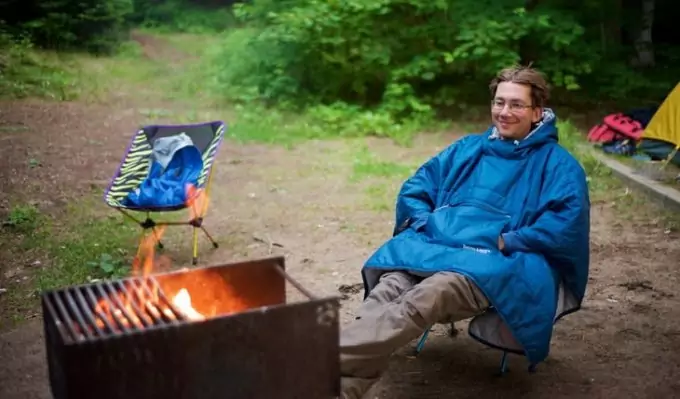 Now, what you need to remember, is that choosing the right poncho is not that complex of a choice to make if you keep all these things under consideration. The main purpose is to protect you from being wet and to give you room to breathe.
Make sure you check all the above points before you choose the right product for yourself. The choice is ultimately going to be yours, which will depend on your personal preference and budget.
What rain poncho did you think was the best? Are there any other features that you would look for when choosing one? Did you think there was a different poncho that would be even better? We want to know all about it.