Everyone loves drinking an icy cold drink on a hot summer's day. This is especially true when you've been busy outdoors in the sun all day. Unfortunately, vending machines aren't usually found at the top of mountain hiking trails or in the local park, so you'll be needing to supply that chilled cold drink yourself.
The traditional go-to for keeping picnic and other outdoor food and drink cold on hot days is a box shaped cooler with a handle to lug around.
Talk about onerous! We think it's fantastic that they've finally invented backpack shaped coolers that you can easily carry on your back to your location of choice. We love this concept so much that we've compiled a list of the seven best backpack coolers on the market for you to look at.
Our list is supported by extensive research and contains detailed descriptions to help you understand what each unique backpack cooler has to offer. All of them have the fantastic function of being a cooler on backpack straps, which is guaranteed to come in handy.
Most Important Features to Consider
There are of course lots of other characteristics backpack coolers can have which differ between products, but we think those are the most important features to be aware of. Just quickly, here's a rundown of what each of those features could mean to you:
Size / dimensions
We've all seen that kid in school whose backpack is almost larger than they are. Unless you're in the army, don't aim for that size backpack! The ideal backpack cooler will fit comfortably on your back and allow you to almost forget that it's there.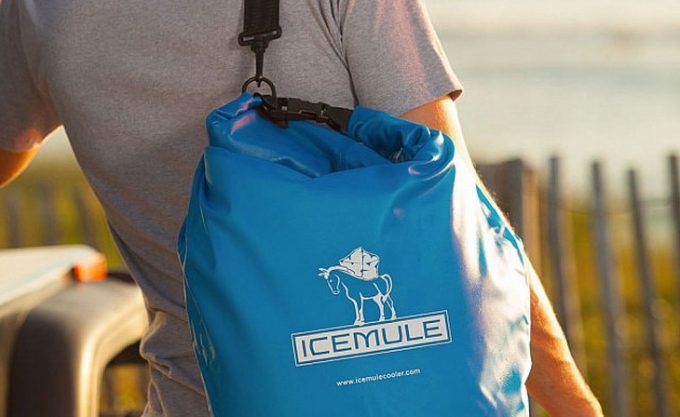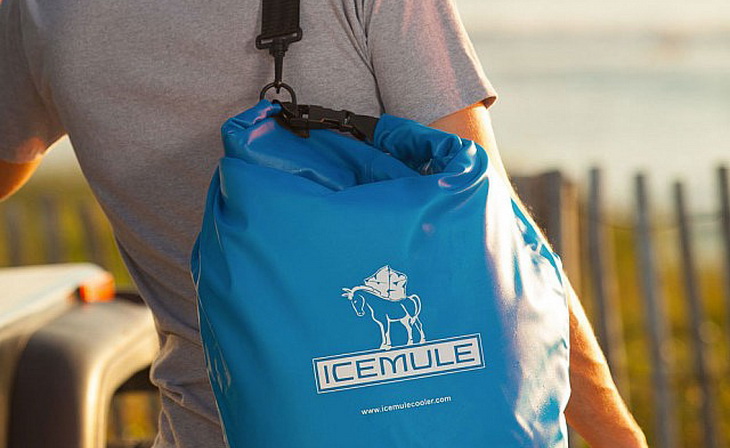 Height is probably the most important dimension, but do think about depth too – as this will directly influence the amount of room the cooler has for storage. Generally, the bag should be the right fit, meaning you should buy according to the size of the user.
Color scheme
If you're an aesthetically attuned person you'll be wanting a pack that compliments its surroundings and purpose. From camouflage bush cooler backpacks to professional black and silver designs, there are cooler backpacks to suit any intended use scenario.
Get a pack that suits the environment of your most common intended use area. Moreover, get one with a color that compliments your style, and the occasion. Most backpacks come in a wide range of colors that you will rarely lack one that suits you.
Weight
This is fairly self-explanatory. The entire point of getting a cooler backpack over a regular backpack is to add convenience and enjoyment to your life. Don't mare that objective by getting a backpack cooler that is too heavy to carry comfortably.
Do make sure to think of all the family members that may be carrying it and their weight carrying abilities. This is precisely because you will be adding extra items in your bag. You wouldn't want to be moving around with a load you can barely carry.
Price range
Often you'll get what you pay for, but do keep an eye out for bargains, to prevent the risk of making a purchase that breaks your bank. Our recommended range for a higher quality backpack cooler that will last well is $35 – $150.
We know that's still quite a big range, but it's the best we can do without cutting out decent options on either end of the price spectrum. At the end of the day, go with what you can comfortably afford, without necessarily compromising on other features.
Strap Design
The best backpacks will have padded, adjustable straps to enable you to carry them around easily and comfortably for long or short periods of time. This is especially if you will be carrying your backpack for longer distances.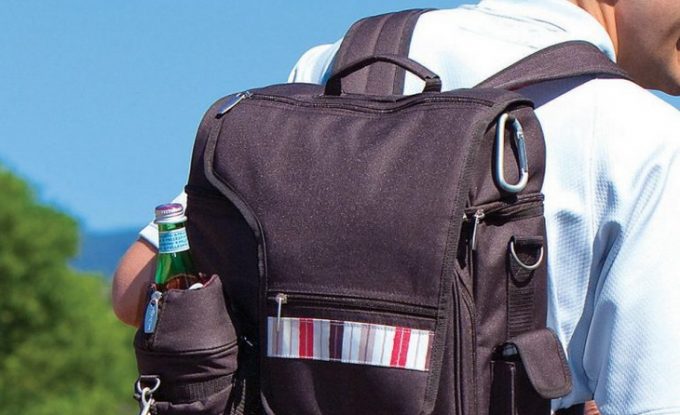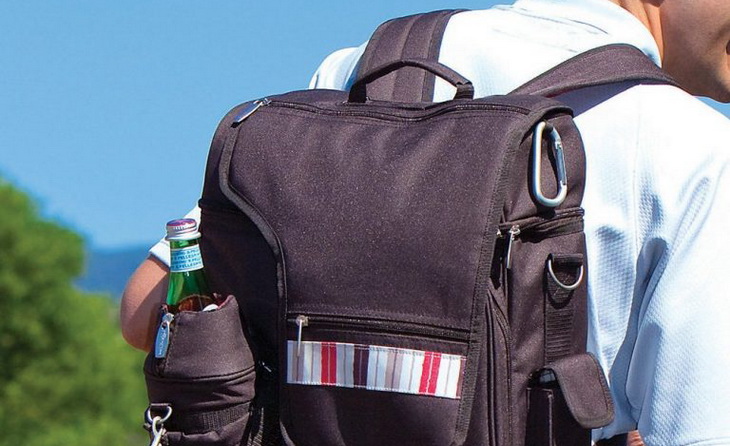 The last thing you want is to have sore shoulders from using unpadded straps. Adjustable straps also come in hand when you want to adjust the strap length.
Materials
You'll find most retailers of higher quality backpack coolers will actually tell you the material used in constructing their coolers. Polyester and nylon are fairly common and very satisfactory materials.
A good material translated to how long a bagpack will serve you without undergoing wear and tear. A good way to approximate the quality of materials is by the length of the warranty given by the manufacturers. If it's a lifetime warranty product, chances are it's well made.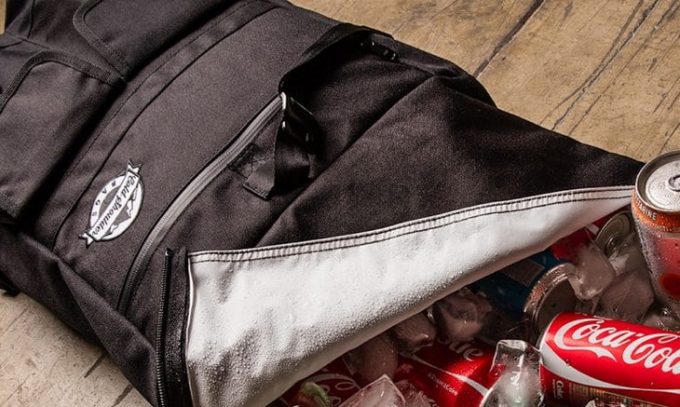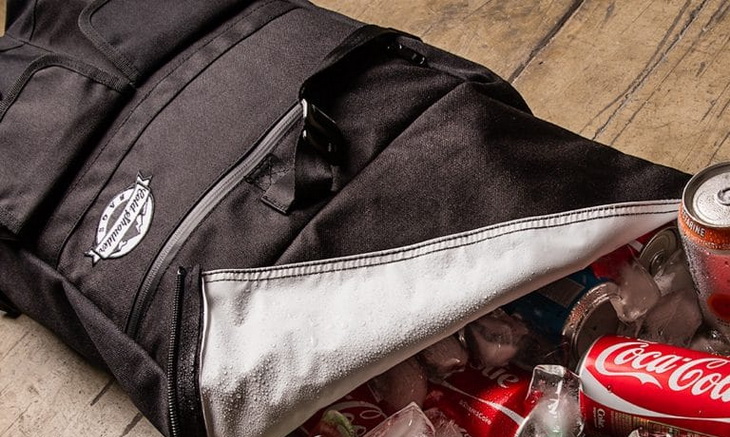 That's a very brief overview of the key features we recommend looking out for when selecting your backpack cooler. It's important that you have an understanding of these so that you can make an informed decision on which backpack cooler will best suit your needs.
Top product reviews
If you want a starting point for your search, below is our list of recommended backpack coolers based on the features that we just talked about.
Picnic Ascot Diamond Cooler Backpack

Price:  Approx. $37
Weight: 1.1 lb
Dimensions: 11 x 8 x 14 inches
Specific features: Adjustable straps, multiple compartments, unisex color scheme
Best use: School lunch carrier, picnics, outdoor concerts, travelling, the beach
Description: The Picnic Ascot Diamond Cooler Backpack is a very practical unisex orange and navy backpack cooler that's sure to come in useful to its owners.  The moderate sizing makes it large enough to pack a decent amount of food in, but not large enough to be cumbersome, which is perfect.
To add to this convenience, there are adjustable straps for a more comfortable wear. This would be great for sending to school as a lunch backpack during summer to keep the kids' lunches and drinks nice and cold. There are 2 drink compartments and a front buckled pocket for extra storage (we're thinking cell phone, pencils etc.).
The color scheme could be better in our opinion, but that's largely a matter of personal taste. At least it's unisex and could be shared by family members of any gender without a hassle.
You will be impressed with the insulated 22 can cooler compartment fully equipped with a heat welded leakproof liner that keeps your food and drinks cool for hours. What's more? The backpack is constructed in a rugged 600 denier polyester canvas that allows for the adjustable straps.
The bag comes in handy if you have allergies and you need to carry your food safe during outdoor escapades. It is also soft sided all around, so you can rest assured that it will not scratch your polished wooden floors. To keep your drinks cool, we recommend using ice packs as opposed to ice cubes. Reason being, the cubes will melt and ruin your bag and the items in it.
PROS:
Elegant and cool design
Keeps your food and drinks cool for hours
Versatile in use
More pockets for extra storage
CONS:
Not durable; the fabric and straps might start tearing off
The top zipper flap does not fit the bag very well; resistant when using
Leaks when you use ice cubes
Related: If the kids are taking this backpack cooler to school for their lunches, they might want some extra cooling power to make it last throughout the school day. Consider getting some ice packs like these cute Fresh Slim Ice Packs that go for only about $12 and won't leak in your bag like ice cubes do.
ONIVA Pismo Insulated Cooler Backpack
Price: Approx. $40
Weight: 1.6 lb
Dimensions: 11 x 8 x 19 inches
Specific features: Multiple compartments, adjustable straps, lifetime warranty
Best use: Picnic food transportation, day trips, beach time, hiking, school pack
Description: This ONIVA Pismo Insulated Cooler Backpack's designers have created an amazing hybrid of traditional backpack and modern backpack cooler with this product.
The main section of the backpack is split into two parts, with the top compartment allowing for the storage of picnic blankets, glasses, hats, etc. and the lower compartment being insulated to provide a great place to transport cold food and drinks.
This dual compartment function is very handy in that it means the moisture from the inner part of the cooled area won't get all over your other backpack items.
This function does however mean that the cooled compartment area is smaller than that in regular backpack coolers – so it's up to you to decide whether this backpack has a positive or a negative design for your circumstances of intended use.
The bag can, has exterior pockets that come in handy to hold all your extra stuff, with padded shoulder straps that give you maximum comfort. The top compartment is designed with air mesh complete with a drawstring closure that allows you to store items that need to breathe, like clothing.
The thermos guard insulation at the bottom section not only keeps the drinks cool, but it also has a heat sealed, water resistant lining that protects your bag against leaks.
Most users love the padded shoulder straps that are designed with air mesh on the underside, and a special pocket right at the front of the right strap that you can use to conveniently store your mobile phone.
PROS:
Heat sealed and water resistant lining
Padded shoulder straps that provide maximum comfort
Very stylish
Ultra-light
CONS:
No zipper at the top flap; Small items may keep falling out
The straps may become loose with time
Low durability; poor material
Related: Need to keep your food and drinks cool without using ice cubes that may result to leaking?  These TrekProof XPO44 Lunch Ice Packs that come in a pack of 3, are just what you need. They come in vibrant colors, are kid friendly and best of all, reusable thus Eco friendly. At only about $13, you can use the ice packs daily, and not even have to worry about spills in your bag anymore.
Igloo 59804 Realtree Cooler Backpack

Price: Approx. $50
Weight: 2.0 lb
Dimensions: 11 x 10 x 18 inches
Specific features: Camouflage coloring, multiple compartments, padded adjustable straps
Best use: Bush trekking/hiking companion
Description: We absolutely love the Igloo 59804 Realtree Cooler Backpack's camouflage color scheme. It'll be a great item to take out into the bush for your next camping or hiking trip. Your food is guaranteed to stay cold with the Igloo brand name backing this product.
Unfortunately, not a large range of information is provided for this product online, so allow us to inform you. We know that it has 2 non-cooled drink bottle holders on the side, a zipping front pocket for storing valuables, and a sizeable cooled compartment for the main section of the backpack.
We also know that it has adjustable padded straps which would make it good for long hikes, as well as a leak-resistant antimicrobial liner that should stand up well to the elements. If you're a bit of a bush explorer, this is the one we'd recommend for you.
However, most users are concerned with the material and overall durability of the bag pack. The straps start tearing after a few months of use, and the material tears off easily.
It's also much smaller than it appears on the website, therefore if you were looking for a bag to carry many items, you might consider an alternative product. The zippers might also give you a hard time, which speaks volumes about the quality of the product.
PROS:
Cooled compartment to keep your foods and drinks cool at all times
Padded shoulder straps for maximum comfort
Exterior pockets for extra storage
Has an antimicrobial liner that is leak resistant
CONS:
Low durability; does not hold up for long
Smaller; cannot carry many items
Poor fabric that tears easily
Related: As the drink bottle holders on this backpack cooler, aren't insulated, you might want to get this Damzon G3R2CGI Steel Insulated Bottle to keep your drinks cold in while the backpack takes care of your food.
OAGear GQR1KYK Backpack Cooler

Price: Approx. $20
Weight: 3.0 lb
Dimensions: 12.25 x 7.75 x 16.5 inches
Specific features: Padded adjustable straps, multiple compartments, no-leak liner
Best use: Travelling, backpack cooler, hiking, biking
Description: We really appreciate the smaller size of the OAGear GQR1KYK Backpack Cooler. It lends itself to being taken along in the car on long road trips or even just out for a day trip.
The green coloring is certain to compliment any environment and the heat sealed no-leak liner will ensure that your travel food stays safely packed away, amidst your other belongings.
The size, though nicely small, should still be enough to fit a decent amount of day travel food into, as it's boasted to hold 20 cans plus ice in one load. Definitely a good choice if you're a bit of a traveler at heart who enjoys setting out on day trips.
The colors, ranging from a bright red to darker shades of gray and black, are vibrant enough to turn even the gloomiest day around. Users are definitely impressed with the performance of the bag, owing to the fact that it can keep your drinks chilled for over 6 hours, as long as the zippers is closed.
The straps run a little small, therefore if you are a big person, you might be uncomfortable when carrying the bag. The fabric is very durable, and lightweight, thus dries off easily even when wet. However, the cooler part, may start coming off at the top, so the manufacturers might consider putting a zip to deal with the problem.
PROS:
Lightweight
Great price
Keeps drinks cold for long hours
CONS:
Tight straps; uncomfortable for bigger people
Top flap comes off
Doesn't hold a heavy load
Thin inner Lining that starts tearing after a few months of use
Related: If you are always outdoors, you cannot underestimate the essence of having adequate water to help you keep hydrated. The cooler pack won't allow you to carry as much water. Therefore, you might consider buying this Coleman 14870 Water Carrier, at just about $15
ONIVA Zuma Cooler Backpack

Price: Approx. $30
Weight: 2 lb
Dimensions: 19 x 11 x 8 inches
Specific features: Multiple compartments, high quality materials, adjustable straps
Best use: Concert and corporate picnics/gigs food carrier
Description: The ONIVA Zuma Cooler Backpack is a very stylish version of the cooler backpack concept. The pure black color scheme lends it a professional feel, making it perfect for taking along to corporate or concert event picnics.
We think it's cool that it's not just got a high quality look, but a high quality construction too. The durable 600D polyester material should last many years of strain.
Fortunately, the added strength of the material doesn't make it any heavier than a regular cooler backpack – so you should still be able to carry it without a problem.
The backpack has enhanced durability due to its polyester fabric, which is also lightweight with compartments and zippered pockets to hold all your items. The Top section is designed with a drawstring closure, to ensure all your stuff stays in place and does not fall out.
Moreover, the shoulder straps have an Airmesh underside for maximum comfort, and an extra pocket on the front strap to hold your devices. This bag also features a lining that is not only sealed against heat, and is water resistant to protect your bag against leaks.
PROS:
Stylish design
Lightweight and roomy
Padded straps for maximum comfort
Has a waterproof inner lining
CONS:
Top flap and draw strings not as tight
Insulated compartment collapses if empty
Flimsy top that does not stay up
Related: Keep getting the professional picnic feel with this traditional blue checkered Lovely Cool LB69 Picnic Blanket. At 14*200 centimeters, it's large enough to fit your whole party! The Oxford fabric with a waterproof PVC coating, paired with a good finishing on the edge, ensures you have the time of your life whenever you are outdoors.
Polar Bear Coolers HA83GC Backpack

Price: Approx. $120
Weight: 3.4 lb
Dimensions: 12 x 7 x 18 inches
Specific features: Top strap, high quality material, personalizable design
Best use: Day trip cooler, gift
Description: The only cooler on our list that's able to be personalized, the Polar Bear Coolers HA83GC Backpack would be a fantastic gift for any outdoorsy person. You are able to order this cooler with an embroidered monogram or logo, which we think should be that special someone's name (or nickname).
It's a very high quality cooler too (made of Cordura nylon) so you're not only giving somebody a unique and thoughtful gift, but a very practical and useful one too!
What makes this cooler, particularly awesome is its top strap, which allows you to carry it like a regular cooler when you're not in the mood to wear a backpack. That being said, we think it'll end up being used as a convenient backpack a lot as the back straps are comfortably padded and fully adjustable. That's a big thumbs up from us.
The rugged 1000D Nylon exterior is super durable; you will never have to worry about rips, scratches and tears. Most backpacks have zipper problems, but not this one; with strong unbreakable zippers and hardware.
It's also designed with a high density open-cell foam for maximum insulation that allows for over 24 hours of frozen ice. The interior lining is ultra-strong and safe and enhances the durability of the bag. If empty, it can easily be compressed down to half size for easy transportation.
PROS:
Packs small; up to half its size
Ultra-strong and safe inner lining
You can customize the bag to your liking
Durable interior; prevents rips and scratches
Leakproof and waterproof
CONS:
Bad odor right after purchase
Quite expensive
Related: For extra insulation in your cooler backpack, consider purchasing this Yeti Rambler Stainless Steel Colster, at about $27. It will hold your drink in place, keeping it frosty for longer. You can also wrap this up in a beautiful paper and gift a friend.
IceMule Coolers 59425 Backpack

Price: Approx. $70
Weight: 1.7 lb
Dimensions: 16H x 10W inches (medium), 16H x 12W inches (large)
Specific features: Durable no zipper design, single strap, compact
Best use: Overseas travel and bush camping
Description: We think the IceMule Coolers 59425 Backpack is in a design that you'll either love or dislike, with no room in between. That's because it's very much tailored to suit a specific type of taste.
The no sew rope pull shut top is great for durability and function as there is no zipper to get stuck on things or wear out over time. However the no zip-rope shut approach, is less aesthetically pleasing to some, as it's not exactly a 'modern' feature.
The other two-viewed parts of this design are the cylindrical shape, which is unique among backpack coolers, and the single strap instead of a double strap approach to the backpack concept.
Most users like the unique design of this backpack, which allows them to stand out in a crowd. The cooler can keep your ice intact for up to 24 hours. Moreover, it has welded seams that provide waterproof capabilities. The bag also rolls up easily allowing you to pack it up and transport it with no hassle.
The padded back strap will also give you maximum comfort when carrying. You will also love the fact that it does not leak, or sweat, which allows you to carry over long distances without a worry in the world.
PROS:
Keeps your food and drinks cool for up to 24 hours
Light weight
Compact; packs small for easy carriage
Does not leak or sweat
CONS:
Runs a bit small; does not allow you to carry many items
You may not like the unconventional design
Has only one strap; unequal distribution of weight
Related: The FlexiFreeze 3FSRT Ice Sheet is a 3-pack of chemical free and refreezable ice sheets that give you the maximum cooling power without leaving any mess. They are perfect for the IceMule backpack because they can be cut to fit its unique design. Just pop them into your freezer and only take them out when you are ready to use.
Wrapping It Up
You can probably tell just from reading this list that there are a massive number of backpack coolers on the market for you to choose from. Our best advice would be to not get too overwhelmed.
As soon as you see a pack that you like and that meets your needs, just pick it, and a good start would be checking our reviews again to see if a certain products, is a perfect match for your needs.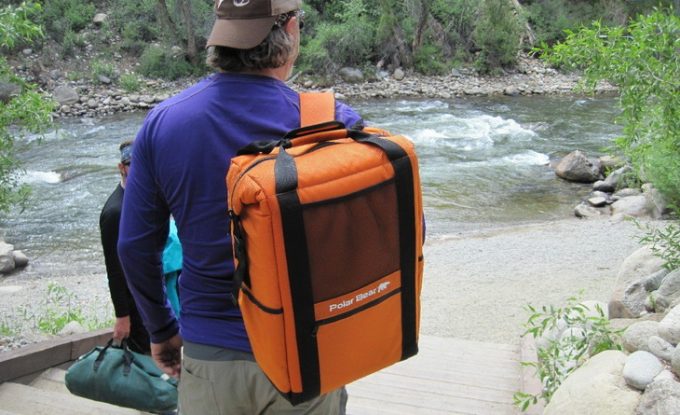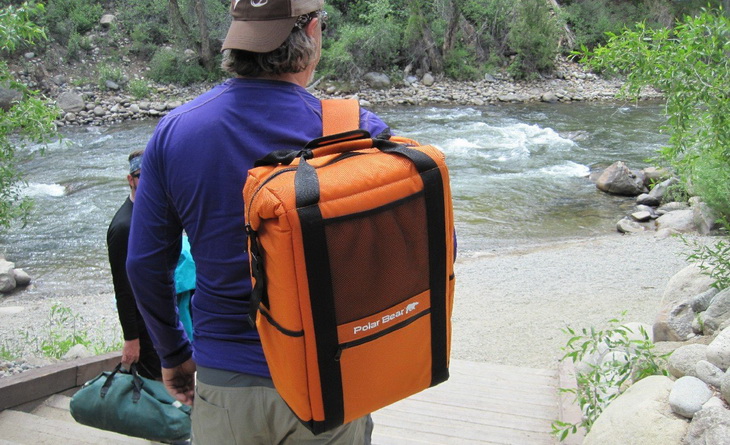 Decisiveness is a gift in today's world of product selection. We hope that we've created a pretty good list of high quality items, but if you can think of any other great options that we missed, please let us know in the comments below.
Getting a cooler backpack will lead to a lot more outdoor adventures, or at least plenty more refreshment during them. We hope you find the perfect cooler backpack for you!