For every outdoor enthusiast out there, it's extremely important that one has every tool needed to make outings more pleasant in the execution of tasks. Over the years, many people have been inconvenienced by taking many tools such as axes, pair of scissors, knives, pliers, screwdrivers and many more large tools to their vacations.
It's beyond doubts that these bring no pleasure, but unbearable weight if you carry them in a bag. Imagine the hassle of climbing mountains with a bag full of tools that you need to perform a variety of tasks.
The most jaw-dropping moment is when you have forgotten an important tool behind or you have inescapably left it due to it being heavier weight. That is exactly the reason why you have to take the best keychain multi tool into consideration. Fortunately the modern era has evolved with more technological innovations, wherein one can have portable tools. To make your vacation experience stress free, it's better to have something like this with you.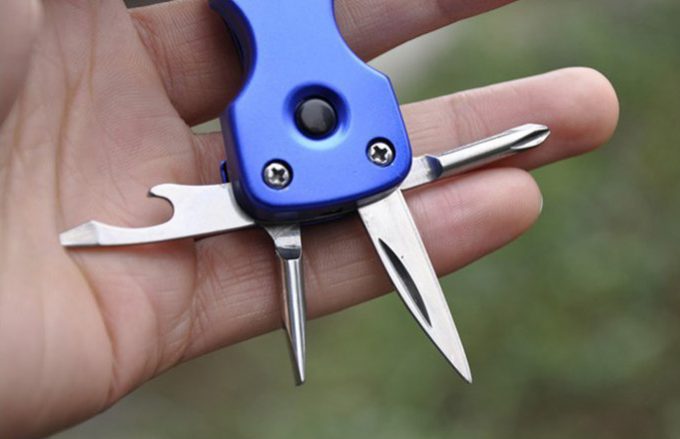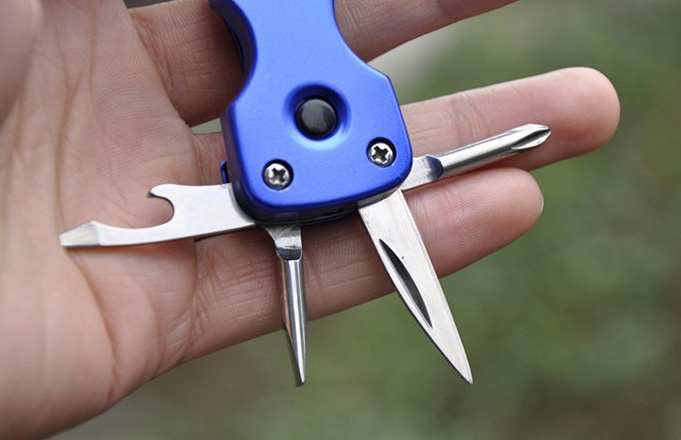 With this multi-tool you can now let go the struggle of carrying heavy tools because a durable multi-functional companion is at your fingertips. No more additional bags for whatsoever additional tool you deem important to have when camping in the forest. If you don't know which best product to purchase continue reading to see a variety of the best ones on the market. The article strives to give you helpful tips on what to look for among the tools given.
Features to Consider
Below are a few features to consider before you purchase a new key chain multi-tool. These factors will be important when making a decision on which tool is the best for you.
Lightweight
You will be carrying this type of tool around with you, and probably in your pocket or backpack. You want something that is highly functional but does not weight a lot. Also, you can find one that will clip to your pants or backpack.
Weather Protection
You want to find a multi-tool that is waterproof, weather resistant, or even just water resistant. This type of protection can help it last a long time!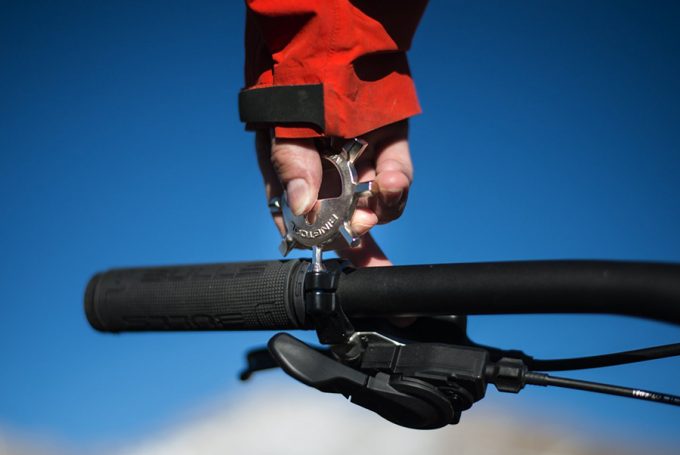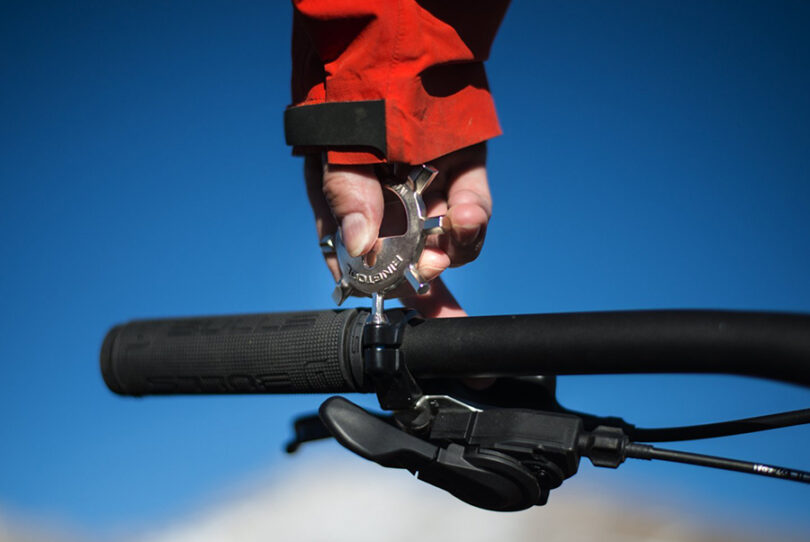 Many Functions
A multi-tool is just that, a tool that serves many functions. Not only would you have a knife, but you can have a screwdriver, scissors, bottle opener, wire cutter and more. Think about which options you need and go from there.
Durability
Your new multi-tool has to be strong and withstand the jobs that you need it to do. That is why it should be made of quality materials such as stainless steel. You do not want your tool to break during a time when you absolutely need it.
Top Product Reviews
This is the area where we will discuss the top reviews of multi-tools already on the market. Be sure to check which tool options these products have, and what the tool is made from. This way, you can find a key chain multi-tool that will work well for you!
Rapsil Survival
Price: Approx. $10
Weight: 8.8 oz
Dimensions: 5.2 x 4.1 x 2 in
Material: Stainless steel
Specific features: Slip resistant, has wire cutter, pliers and more
Best use: Survival
Description: Rapsil Survival is made of a heavy duty stainless steel with many tools for your multitasking interests suited for emergency or survival situations. It has a locking and gripping component which makes it more convenient to use for any task designed for depending on the types of tools it comes equipped with.
In this keychain multi-tool you can find nose pliers, regular pliers, Philip screwdriver, big and small knives, bottle opener, a pair of scissors, flat screwdriver, wire cutter and wood saw with ruler among other tools.
With these small tools enclosed in this multi-tool you can rest assured that no more huge tools to carry to any camping adventures you plan to undertake.
This multi-tool is made of stainless steel for durability in any weather conditions during your camping. It comes equipped with many features that include weather resistance, easy to grip, spring loaded jaw for a single hand use, and high grade gift tin with multi-tool key chain.
PROS:
Affordable
Heavy duty stainless steel
Spring loaded so you can use it with one hand
CONS:
Edges are coarse
Some had to add WD 40 to it
Not the best compared to other options
Related: If you are going to be roughing it outdoors, you will not only need the multi-tool, but you may need a way to filter your water, too. The Vestergaard LifeStraw is affordable, and filters up to 1,000 liters of water.
SmartRSQ 25 in 1 
Price: Approx. $40
Weight: 2.88 oz
Dimensions: 3.3 x 2.1 in
Material: Stainless steel
Specific features: Letter opener, can opener, fruit peeler
Best use: Indoor, outdoor, long trips
Description: As reflected in its name, this multi-purpose keychain tool is handy just like a credit card. It can fit well in a wallet or a pocket for ease of use or ease of travel as an outdoor enthusiast.
Hikers, campers or mere travelers will certainly fall in love with the multi-functionality and portability of this multi-tool.
SmartRSQ 25 in 1 has 25 mini tools in it that ranges in functionality from screwdrivers to rulers and knives. With the tool you can peel, bend, cut, unscrew or screw, open bottles or measure anything.
As portable as a credit card, it can be used as a gift card too, more especially for valuable events such as graduation, Valentine's Day, Mother's day, birthday, anniversary or any special event including weddings.
Its multi-functionality makes it versatile in any usage that's why you can regard it as a gift. For any emergency or disaster situation, it can help rescue the recipient. In addition to the tools, it comes with a black pocket cover, English user guide, box holder and a key ring.
PROS:
9 types of wrenches
Cable peeler and bender
4 types of screwdrivers
CONS:
Hard to find
You may not use all of the tools
Related: If you are one who uses a lot of tools, especially one with so many functions like this one, then you may find that keeping screws together can be hard. The MagnoGrip Magnetic works to keep your screws stuck to the wristband by magnets so you won't lose any!
Rugged Knife Army 
Price: Approx. $20
Weight: 3.3 oz
Dimensions: 1.38 x 3.74 x 0.79 in
Material: Stainless steel
Specific features: Nail file, bottle opener, scissors
Best use: Survival, backpacking
Description: Whether for an outdoor or gift usage, Rugged Knife Army can be of great use with its sturdy and durable knife. With this stainless steel blade you can confidently cut through hard things without a fear of bending or breaking it. There are many tools in addition to this sturdy blade.
Notwithstanding this range of tools, the keychain remains portable and lightweight compared to traveling inconveniently with heavy tools for different purposes. The manufacturer emphasized quality and durability in the tools to make sure the product remains usable no matter how long you stay out-door. The product is stylish to make it more suitable for gift purposes.
PROS:
Great grip
3 colors; Black, Pink and Ruby Metallic
Durable and affordable
CONS:
Scissors are not the best
Does not fit the screw heads the best
Related: While you may have a good multi-tool, it does not have waterproof matches with it, that can help you when you need a fire and there is rain. The Coghlan 940BP Matches are low priced and come in an 8 pack, and they are waterproof, which can be very handy outdoors.
Freehawk 7 In 1 
Price: Approx. $10
Weight: 2.9 oz
Dimensions: 0.59 x 1.1 x 0.59 in
Material: Stainless steel
Specific features: Knife, bottle opener, lifetime warranty
Best use: Hiking and camping
Description: Why would one carry 7 tools compared to having this multi-tool that commands 7 in 1 tool?
Freehawk 7 in 1 slim silver brushed keychain tool comes equipped with many multipurpose tools that include a bottle opener, 2 slotted screwdrivers, knife with a fine edge, LED flashlight, Philip screwdriver and a key ring which makes it attachable on keys.
The tool was made to be ideal for camping, mountain climbing or hiking hence the sturdy stainless steel for durability and resistance against corrosion and wear.
It has a lifetime warranty given by the manufacturer. Users can conveniently use it for emergencies or for survivals in any place at any time. Moreover, it can be given as a present for any special event to the loved ones.
It is among the slimmest and elegant key chain multi-tools on the market. For night riders it can become handy with its embedded LED flashlight.
PROS:
Affordable
Comes in 4 colors; Black, Red, Blue, and Silver
Slim design
CONS:
Bulky
Feels odd to hold
Feels heavy
Related: If you want to find something that has a better knife, and is only a knife, the SOG KEY-101 is durable and folds up so you can slide it in your pocket.
Reductivist Compact 
Price: Approx. $40
Weight: 1.6 oz
Dimensions: 2 x 2 x 0.25 in
Material: Stainless steel
Specific features: Lifetime warranty, allen wrenches, 2 screwdrivers
Best use: Biking, camping
Description: Made in the New York, Reductivist Compact is crafted with carefully selected stainless steel. It is portable to be attached easily to a key-ring when traveling abroad. It comes with an array of mini-tools as well as an unlimited warranty.
Users can hit bye to full-sized tools that they used to travel with them in their bags. Now portable knives, screwdrivers, can openers and many more tools can fit in a pocket or a pouch. This gives flexibility when you have to traverse forests for many miles.
Besides the bottle opener, you get a regular and flat head screw driver, as well as a T25 Torx Head screwdriver, plus 5 Allen wrenches that are 4, 5, 6, 8, and 10 mm. Users like this multi-tool because it slides right in their pockets so they can keep hiking, biking, or taking photographs of the beautiful outdoor scenery.
PROS:
Affordable
5 Allen wrenches
3 screw drivers
CONS:
Can crack in certain areas
Some parts seem flimsy
Related: If you like to have things attached to your belt loop or backpack, the Idakey Carabiner is a durable product that will attach to most items! It is made of quality materials and costs under $15.
Ezyoutdoor Skull 
Price: Approx. $40
Weight: 1.4 oz
Dimensions: 2.1 x 1 x 0.2 in
Material: Stainless steel
Specific features: Box cutter, safety lock, bottle opener
Best use: Repairing electronics, outdoor use
Description: This is a stainless steel key chain regarded as a mini tool screwdriver for your outdoor activities. It is more suited for repairing electronics such as watches and small appliances.
Ezyoutdoor Skull is characterized by a durable metal and hard plastic that outsmart corrosion and wear. Its screwdrivers include the slotted and the Philips sizes.
What best can you do with this multi-tool? There are many functions to be performed with a screwdriver. Watches or glasses can get loosened while on your vacation. This tool will be able to tighten the loose screws even the stripped screws in any small appliances.
The coated screwdrivers create friction between the tips and the fasteners. These screwdrivers' tips are diamond coated in order to reduce slippage when removing, for example, stripped screws. Users like this product because of the safety lock feature, the concealed blade, and that it's easy to use and take anywhere!
PROS:
Safety locking feature
5 inch blade
More high end than others
CONS:
Hard to find
Slightly pricey
Related: Since you can spend hours outdoors with your multi-tools, a survival key chain can be of help. The DETUCK Gerber has a para cord included, along with a carabiner, so it can help you as you hike or backpack!
SwissTech ST60300 
Price: Approx. $10
Weight: 2.6 oz
Dimensions: 2.4 x 1.1 x 0.5 in
Material: Stainless steel
Specific features: Slotted screw driver, bottle opener, awl
Best use: Dark areas, Outdoor and Indoor
Description: Featuring 7 mini tools in one key ring multi-tool, SwissTech ST60300 is more suited for almost any outdoor activity. It is portable to be attached to a key ring so as to avoid heavy specialized tools for any outing.
As a unique feature, this key ring multi-tool has a quick-release integrated locking system. It can easily be attached to a key ring.
One more advantageous feature is its light weight and quality to lengthen its lifespan. Not only can one use this product as an outdoor tool, but also for household use or even as a gift for your loved ones. Its multi functionality makes it more valuable.
Some users say it is bulky and a little heavy to carry around. However, many users like that it didn't cost much and it has an included LED flashlight so they can see in the dark indoors or outdoors!
PROS:
Affordable
LED flashlight
Comes in 1 or 2 pack
Related: If you need a durable key chain with extra rings to attach other items with your multi-tool, the Fencher Key key chain heavy duty car keychain has 2 extra key rings and is heavy duty!
Concluding Thoughts
It is inescapable to have tools handy whenever planning to travel abroad in your countryside. Carrying large specialized tools is no longer needed, thanks to the introduction of key chain multi-tools on the market. There are models that are more multi-functional than others, to help eliminate the need for specialized large tools. They can fit well in pouches or pockets or can be attached to key-rings.
The aforementioned tools are meant to give you a great deal in selecting a perfect additional tool to your camping gear. Select carefully based on your preferred criteria of features as well as accompanying cost prices.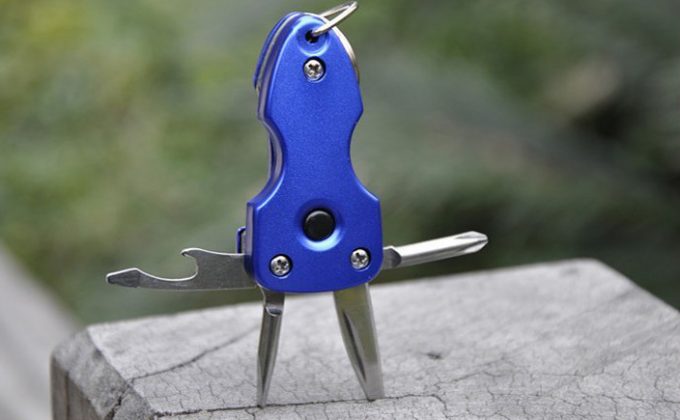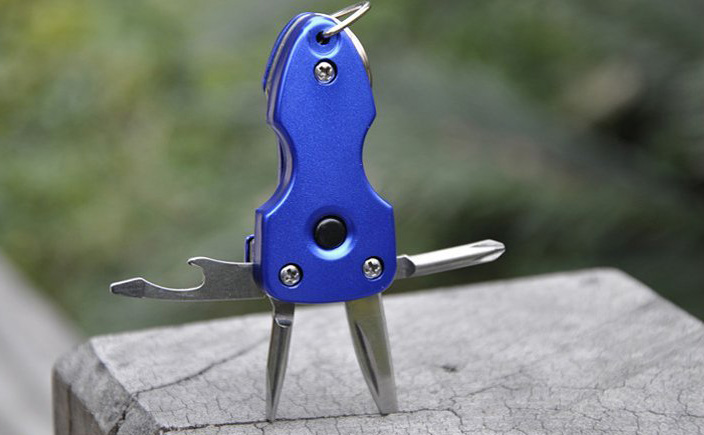 With all this said, we hope that you found our article useful, but if you have some suggestions or maybe questions, feel free to leave a suggestion or a question in our comment section below.