If you're keen on longer hiking adventures throughout the woods, then having something to help you guide is a must, right? While hiking adventures are great, getting lost in the great outdoors isn't fun. This is where the best GPS watch for hiking might come to save the day!
Ideally, your GPS watch will keep you on the right path at all times. Apart from coming with a great battery life, it should also be lightweight enough so you're not bothered by it. However, picking the right one out of the many isn't that easy.
In order to ease up the buying process, we created this article for you. Apart from highlighting the most important features that matter when it comes to picking the right watch, we've also included the reviews of some products you might find interesting. Follow up with us and read on to learn more!
Our Top Picks
Product Name
Weight
Size
Battery Life
Price
Garmin Fenix 5
11.8 oz
1.9 x 0.6 x 1.9 inches
Up to 2 weeks,
24 hours in GPS mode
Check price on Amazon
Suunto Ambit3 Peak HR GPS
3.8 oz
3.5 x 3.8 x 5 inches
Up to 8 days,
24 hours in GPS mode
Check price on Amazon
GoLife Running Adventure
2.88 oz
0.9 x 1.97 x 0.61 inches
Up to 18 days,
11 hours in GPS mode
Check price on Amazon
Suunto Traverse
2.82 oz
2 x 2 x 0.7 inches
Up to 2 weeks,
8 hours in GPS mode
Check price on Amazon
RUNACC Smart Sports
1.9 oz
10.6 x 1.8 x 0.6 inches
Up to 2 weeks,
24 in GPS mode
Check price on Amazon
TomTom Adventurer GPS
1.9 oz
2.4 x 1.5 x 0.6 inches
Up to 3 weeks,
11 hours in GPS mode
Check price on Amazon
Garmin Forerunner 35
1.6 oz
1.4 x 0.5 x 1.6 inches
Up to 9 days,
13 hours in GPS mode
Check price on Amazon
Things to Consider Before Buying
A good GPS watch must have some features that need to be taken into consideration before purchasing one. Of course, different activities mean different needs from your watch, but some things are really important. Here's a list of things you must know before getting a GPS watch:
Battery Life
One of the most important things you need to take in consideration is the battery life of your watch. Longer battery life means better right? Well, in most cases, yes, but when it comes to GPS watches, this is a category that is a little more complicated than it looks.
What does that mean? A GPS watch that uses satellites all the time will last a lot less than when it is in normal watch mode. Think of it as a Smartphone, if you have a ton of apps running on your Smartphone the battery will be drained in a day. But if you just check for messages from time to time, you won't need to charge it for days.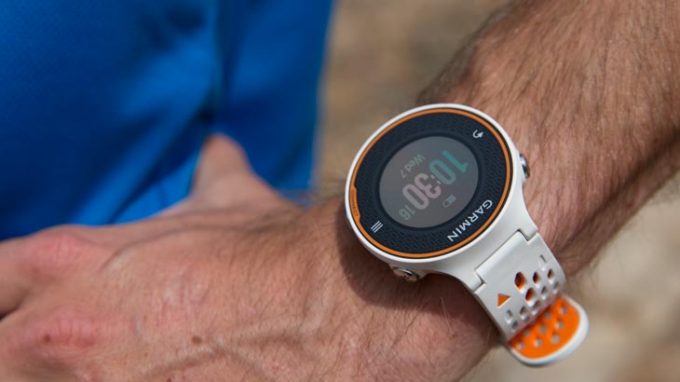 So think about what you need the most of your watch. If you think you're going to use the GPS mode more, then look for a battery that can go for more than 15 hours in one recharge. If you think you're going to use it for tracking your daily activities without the need of satellites, then you'll be fine with whatever option you choose because most of the watches on the market have batteries that can go more than a week in one recharge.
Working Mode
Basically, a good GPS watch is the one that is equipped with modes for more different activities. But, this is not something that a buyer must consider before buying one. Some people need it only for the activity they are involved in. For example, if a person needs a watch for running, they don't need to spend more money on a watch that will be highly waterproof and adequate for deep diving.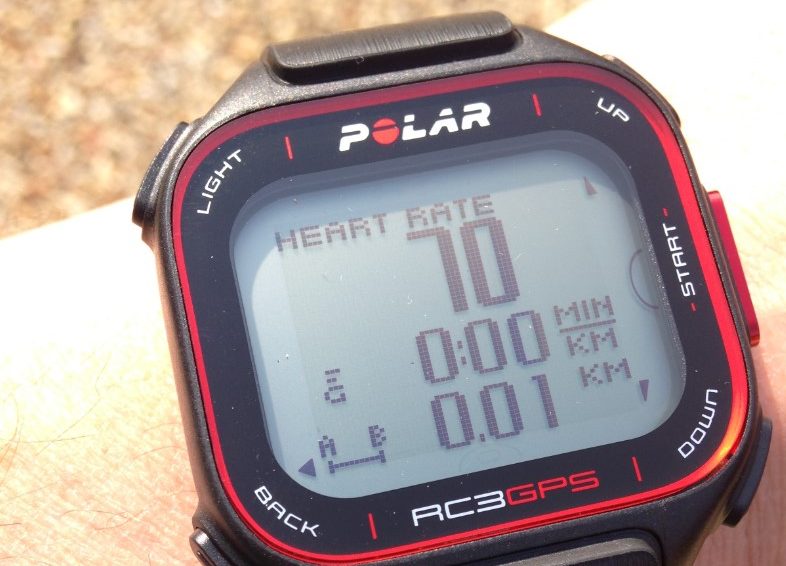 Before purchasing a new watch always look for what is its best use. If your activity is not among the activities listed, simply don't buy it. If you're a mountain climber, make sure there's an altimeter included. If you're a runner, be sure there's a heart rate monitor. If you're a swimmer, of course, you need it to be waterproof.
Phone Synchronization
For the best GPS watch experience, you should connect your watch to your Smartphone. This way, you get access to most of your everyday routine, but more importantly, you get access to some great apps that will make your activity amazing.
Some watches have their own apps specialized for the activities that are most supported by the watch. The combination of a GPS watch and a Smartphone is a powerful one if you want to get maximum enjoyment from your outdoor or indoor activities.
Weight and Ergonomics
One of the most important issues, of course, is the weight of the watch. Big bulky watches might have many options and buttons for all sorts of functions, but is it worth it if you need to feel like you're carrying a metal container on your hand? The best option is to find a small, lightweight, but packed with lots of functions watch that you can wear it as long as it's needed.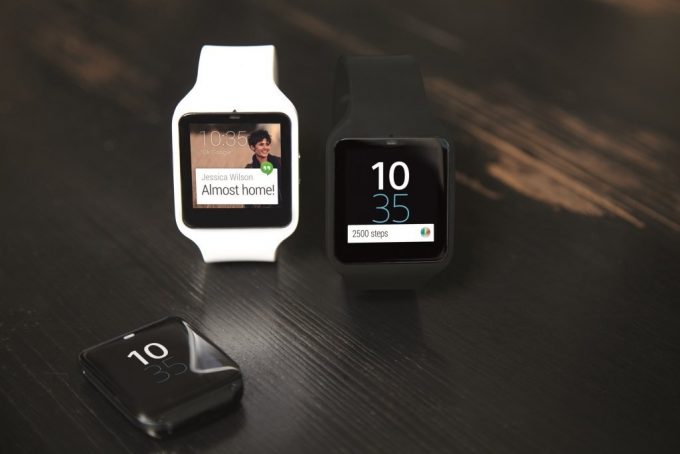 The other important thing is the ergonomics of the watch. Cheaper models may trick you with functionality or something else, but you might hate wearing it if it's not placed well on your wrist. Materials are very important for this, see Durability below.
Durability
Like everything we buy, we want our watches to be used as long as it's possible. We want them to be made firm and durable. That's why you need to pay special attention when you're buying a new watch on the materials it is built from, and the way it is constructed, so that you know how much the watch can take.
Good materials mean more durability and a better experience overall. Some low-quality watches are made completely of plastic which is not good. A solid watch is made of stronger materials combined with leather and rubber. The rubber is easy to be cleaned and makes the watch safe from collision with stronger materials.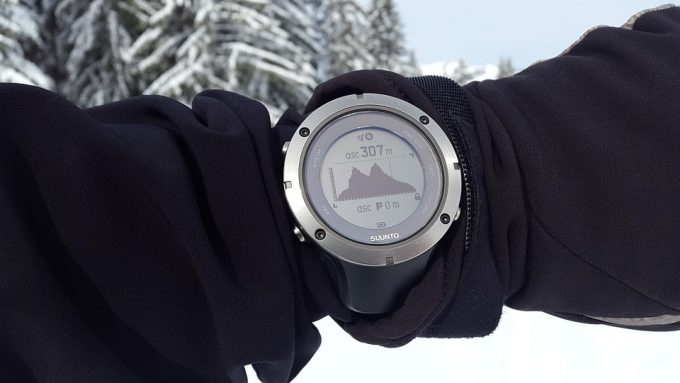 If you need your watch for diving, the first thing you'll look for is the waterproof feature. If you don't plan to take your watch deep under water, the minimum you need is the watch to be water resistant which means it will take some light rain and shallow waters without a problem.
Design
The design is something that can't be discussed as it's a matter that comes down to personal choice. Different people like different styles and that is completely normal.
However, if it is possible, look for watches that come with a replaceable band so you can match it with your outfit. Some brands offer hundreds of bands in different colors and materials that you can change. Others offer watches with fixed bands that are not changeable.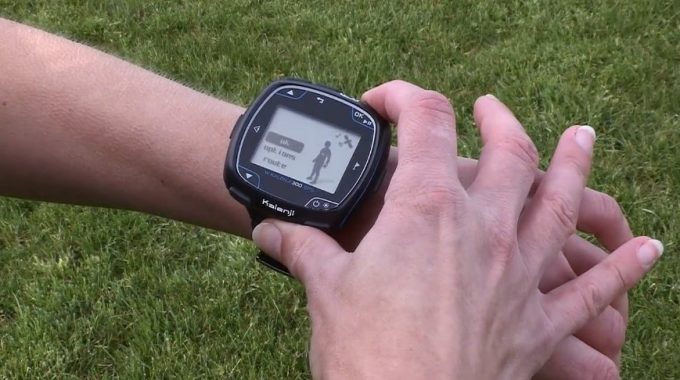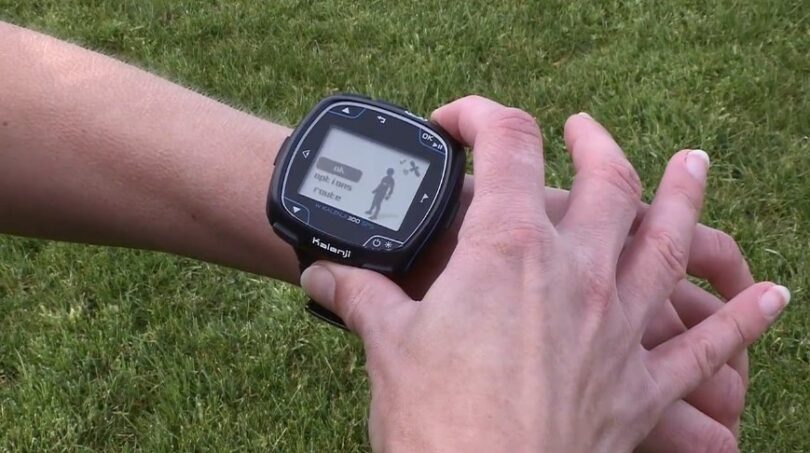 Another issue is the watch itself. The size, the shape, and the color of it might be important for you. Most brands offer watches in different colors, but one model has one shape and size, so you'll need to decide if you like bigger or smaller watches with a specific design. Remember that big watches might be bulky if you use them for some activities, so choose wisely.
Best Products on Today's Market
Considering everything mentioned above, we've made a list of GPS watches that are popular in today's market and are worth to take a look. If you find something that fits your need, feel free to purchase.
Garmin Fenix 5 GPS Watch
Price: Approx. $500
Weight: 11.8 ounces
Size: 1.9 x 0.6 x 1.9 inches
Specific features: Waterproof, barometer, altimeter, compass, gyroscope, tracking lots of activities, Smartphone compatibility, heart rate measure, satellite reception
Best use: Swimming, mountaineering, climbing, hiking, running, cycling, backpacking, everyday use
Description: They say, if you don't know what is good, look for the most expensive. In this case, it might be absolutely true. The Garmin Fenix 5 is a watch suitable for almost anything you can think of. There is no activity that this watch doesn't track which is a big plus for the lovers of more than just one activity.
It is very small, some would say even too small for an outdoor watch. The dimensions are even smaller than a watch that a person would wear as an accessory. Still, it gives the user complete control over its features.
The display is extra bright and no outside conditions can make you have trouble with it. Your Smartphone can be synchronized with it and show you messages and e-mails, and it can also be connected to a camera that can be controlled through the watch.
This watch is equipped with topographic maps, GPS coordinates, compass, route predictions, and lots of other features. It is absolutely amazing for all activities you can think of but is best for hiking and mountaineering because it is practically impossible to get lost with it.
A barometer and an altimeter are also a part of this watch. Being waterproof allows to use it for swimming and diving, but from the company, it is not recommended to go dive in great depth because big water pressure might damage it.
The battery is among the best on the market. It can go for 24 hours in GPS mode which is amazing. If you use it just as a watch, you won't need a recharge for two weeks which is even more amazing. We can freely say that there's almost nothing this watch can't do.
PROS:
Design
Battery life
Tracking activities
Features
Smartphone syncing
CONS:
Price
Too small for an outdoor watch
Related: If you don't like the band of the watch you already have, you can find some better solutions, like the ANCOOL for Garmin Fenix 5 Watch Strap available in more different colors. The width is 0.8 inches and is made of silicone which means it will fit perfectly on your wrist, and it's very easy to be cleaned after you take it off.
Suunto Ambit3 Peak HR GPS Running Unit
Price: Approx. $450
Weight: 3.8 ounces
Size: 3.5 x 3.8 x 5 inches
Specific features: Weather information, navigation, barometer, altimeter, compass, water resistant, Smartphone compatibility, heart rate sensor, Bluetooth
Best use: Mountaineering, hiking, running, climbing, swimming, backpacking, diving, everyday use
Description: The Suunto Ambit3 Peak HR GPS Running Unit is a beautiful piece of equipment for your running, hiking or biking sessions. It should be excellent both inside and out. It is built from strong materials, meaning it's very likely to have great durability, and the interface is very friendly and easy to use. Still, being easy to use, doesn't mean it lacks important features.
Some of the most interesting and important features are the compass, barometer, altimeter, thermometer, and of course, the GPS locator. You can make your own routes through nature, and the watch will easily follow them with GPS. Using some apps, you can even find other people's tracks and use them as your own. Sharing is caring, right?
The watch measures your heartbeat, and with it calculates how much energy you spend during your activity. For those that like to keep track of their calories, it also tells you how many calories you burned, too. Using Bluetooth, you can also connect this watch to your Smartphone and receive messages and e-mails in real time.
What makes this watch really worth for the money is the battery and the water resistance feature. The battery is amazing, it can go for 24 hours in GPS mode with one charge and will hold up to 8 days in standard mode. The water resistance feature is also something that is a great positive side of this watch. The pressure it can take is about 330 feet in depth.
PROS:
Battery
Water resistant
Smartphone sync
Features
Bluetooth
Related: Protect your watch screen with this Ace Armor Shield Shatter Resistant Screen Protector specifically made for the Suunto watches. It has an anti-shock technology integrated and it covers the whole screen offering 99% HD visibility. When placed ideally on the screen it is practically invisible and will protect you from scratches and bumps.
GOLiFE Adventurer GPS Watch
Price:  Approx. $120
Weight: 2.88 ounces
Size: 0.9 x 1.97 x 0.61 inches
Specific features: Compass, altimeter, thermometer, barometer, multi-sport options, smartphone synchronization, waterproof
Best use: Hiking, running, biking, walking, swimming, climbing, gym
Description: The GOLife Adventurer GPS Watch is for people that love adventure. It has a multi-sport tracking system and lots of activities are on its list. Whether it be running, swimming or biking, this watch will track all. There's a heart rate monitor system that is available and it will measure your heartbeat rate, while the GPS system with the compass will easily lead you to your destination.
Connected to your Smartphone it will give you live notifications without the need of stopping and checking your phone. Being connected, you can listen to your favorite tunes while you do your favorite activity. Whenever there's a new notification or any kind of alert, it will vibrate.
The battery of this watch is in the middle of the competition. It lasts two and a half weeks in standard mode and you'll get GPS access for 11 hours with one charge which is enough for most of the activities for one day. After that, you'll need to find a power source and recharge.
The waterproof option will allow you going under water for 160 feet. The manufacturer says it's suitable for swimming, but we'd say that this a great depth for shallow dives too. The altimeter, on the other hand, measures how far above the ground you are. That makes this watch suitable for walks in the mountains too.
PROS:
Smartphone sync
Sport modes
Waterproof
Heart rate measurement
Notifications
CONS:
Battery in GPS mode
Heart rate monitor system not included
Related: When you have a watch that can be synchronized with your Smartphone, and you can use its functions on the run, it's great to have a tool that can help you talk to your friends, family or coworkers at any time. The SAVFY Mini Bluetooth Headset is perfect for such occasions. It is lightweight, easy connectable and very practical.
Suunto Traverse GPS Watch
Price: Approx. $425
Weight: 2.8 ounces
Size: 2 x 2 x 0.7 inches
Specific features:  Wireless, heartbeat tracker, compass, barometer, calorie counter
Best use: Hiking, mountaineering, running, climbing, backpacking, everyday use
Description: The Suunto Traverse GPS Watch is made for the people who need a watch for activities, but are not too professional about it. That's why the style and the design of it are more elegant and stylish.
We can say that this watch is not suitable for some extreme outdoor activities like diving but is excellent for hikers, runners, and people who are more into everyday workouts. It has a step counter, flashlight, GLONASS navigation, vibration alerts, and similar features that can come handy for these types of activities. It also has a compass, barometer, altimeter and a thermometer which is really cool and can be of help in nature.
Connected to an app via the internet, there are even more possibilities, like counting calories, and tracking the progress of your exercises. The watch has a Bluetooth option if you want to connect it to your Smartphone and sync it so you can get e-mails and messages in real time. All the phone notifications are available on the watch when it is connected via Bluetooth.
The battery of this watch is nothing to brag about. It lasts only 8 hours in GPS mode but is impressive if you don't use the GPS mode. In that case, it can last up to 2 weeks which is great. Having in mind that it is made for people who use it more for short every day work out, it might not be a big problem. However, it is not wise to get lost in the wild, because the battery will fail you.
Another interesting option that is worth mentioning – is the sunrise and sunset information that this watch has. You can easily count how much daylight you have when hiking before it gets dark. If you're camping, you'll know exactly when to get up and start your day.
PROS:
Features
Smartphone sync
Battery in standard mode
Design
CONS:
Battery in GPS mode
Not suitable for more serious outdoor activities
Related: Measure your heart rate with the Suunto AW16 Smart Sensor. If you want to have a heart rate sensor that is extra lightweight and easy to connect with your watch and the Smartphone app, this is a great choice. It is made of plastic and textile which makes it water-resistant. It weighs 1.4 ounces and is compatible with both Android and iOS.
RUNACC Smart Sports GPS Watch
Price: Approx. $80
Weight: 1.9 ounces
Size: 10.6 x 1.8 x 0.6 inches
Specific features: Pressure measure, thermometer, altimeter, heartbeat measure, barometer, wireless Bluetooth, different languages option
Best use: Running, hiking, cycling, mountain climbing, traveling
Description: The RUNACC Smart Sports GPS Watch might be a little too confusing for some, but all in all, it should be a great watch with lots of features. It is listed as a sports watch which means it is best to be used for running and similar activities. You can keep track of many different data, like burning calories, the speed of movement, heartbeat rate, number of pace per minute, etc.
Using the wireless Bluetooth it is connected to your Smartphone. That way you can be sure that you won't miss any notification, a call or an e-mail while you run or do your favorite activity. It can be connected either to Android or the iOS. The watch is waterproof, but don't go swimming or diving with it, because it won't last long under the water pressure.
One thing that is worth mentioning and maybe being the best side of this watch, is the amazing battery that holds up to 24 hours using the GPS mode. If you don't use the GPS mode, it can be used with the normal functions for two weeks with only one charge. Considering the weight of this watch, you can completely forget you're wearing it for days.
PROS:
Languages
Battery life
Bluetooth
Waterproof
Cheap
CONS:
Not suitable for water activities
Confusing at the start
Related: Since this watch is not water resistant, but you like to have it out on the open sea maybe, there's a simple solution called RUNACC Universal Waterproof Case. You can place your Smartphone, watch, and important documents and enjoy the water without worrying about their safety. The case is compact and fits in your pocket. Comes in many colors and can save you when there's a danger of getting things wet.
TomTom Adventurer GPS Watch
Price: Approx. $350
Weight: 1.9 ounces
Size: 2.4 x 1.5 x 0.6 inches
Specific features: More sports modes, music player, barometer, altimeter, compass, waterproof, heartbeat measure, calories burned measure
Best use: Jogging, cycling, hiking, swimming, diving, skiing, snowboarding, everyday use
Description: The TomTom Adventurer GPS Watch is a piece that is made for people that live sport. It has multisport support and most of the outdoor activities will be tracked by this watch without a problem. It is designed to make you feel as much comfortable as you can while you hike, run or even dive.
One of the most interesting features of this watch is the option to go diving with it. It is water resistant to the depth of 130 feet. That is great depth for all people who like to go diving during their summer holidays.
Going deep underwater is not the only direction this watch is great for. The modes adjusted for skiing and snowboarding offer you enjoyment even if you like to go "off road". It will guide you even out of the regular skiing tracks. It will show you the altitude, and the compass will help you get oriented in case you get lost. Of course, with the GPS mode that will be almost impossible to happen.
However, be careful how long you use the GPS option because the battery will not last forever. The battery will hold up to 11 hours in GPS mode which is not bad compared to the competition. It's not the best though, but still okay. The real deal in the battery section you get when you turn off the GPS. In this case, it can go for three weeks without a recharge.
There's a built-in night or sleep mode. It tracks and records how much you sleep but knowing that the design and the shape of the watch are a little specific it's not the best option for recording how much you sleep. The orange color on the strap makes it unsuitable for using it like a regular watch, so we can freely say that this is a watch for people who sport most of the time.
PROS:
Waterproof
Music player
Battery life
Features
Sport modes
CONS:
Not for everyday use
Battery life in GPS mode
No USB charger
Related: If you like to have a wide range of wristbands to change and make your watch more suitable for everyday use, we recommend the TUSITA Silicone WristBand Replacement that comes in many different colors. Since it's made from silicone, it is very ergonomic and adjustable to the wrist. It protects your watch from scratches, bumps, and dirt.
Garmin Forerunner 35 Watch
Price: Approx. $200
Weight: 1.6 ounces
Size: 1.4 x 0.5 x 1.6 inches
Specific features: Heartbeat monitoring, vibration, high-resolution display, lightweight, waterproof, notifications, phone sync
Best use: Running, hiking, biking
Description: One of the most lightweight watches on the market is the Garmin Forerunner 35 Watch. Weighing just 1.6 ounces, you'd think it does nothing more than telling you the time, but it's not like that at all.
This watch connects to your Smartphone and the buttons are perfectly adjusted to switch between songs while you listen to your favorite music and run. Using an app it can measure a lot of activities, and there is a built-in heart rate sensor that will tell you how your heart is doing at all times.
The watch is waterproof but it's not suitable for swimming or diving because it won't last long under the water pressure. It doesn't track sports like snowboarding or skiing either, but it will give you all the information you need for your running or biking activities. Connected to your phone it will give you vibrating alerts for your notifications from the phone.
Even though it's pretty small in dimensions, it is still really powerful when it comes to the battery. It lasts more than a week in standard mode, and in GPS mode it can go for 13 hours with one charge. The design is a little different than the other watches from this brand but it's still very stylish and can be used as an everyday watch.
PROS:
Lightweight
Stylish
Battery/size ratio
Smartphone synchronization
Vibrations and notifications
CONS:
No USB charger
Not suitable for some activities
Related: Specially designed to protect the glass of this watch is the Lamshaw 9H Tempered Glass Screen Protector. It is made from AGC material and it's bubble free when you place the protector on the screen. It doesn't affect the precision of the touchscreen and it protects the watch from scratches, bumps, dust, and dirt.
Wrap up
The most important thing you need to ask yourself is: What am I going to use this watch for? If it's hiking then go for cheaper models that will fit your needs. If you want more from your watch, then consider a wider range of possibilities.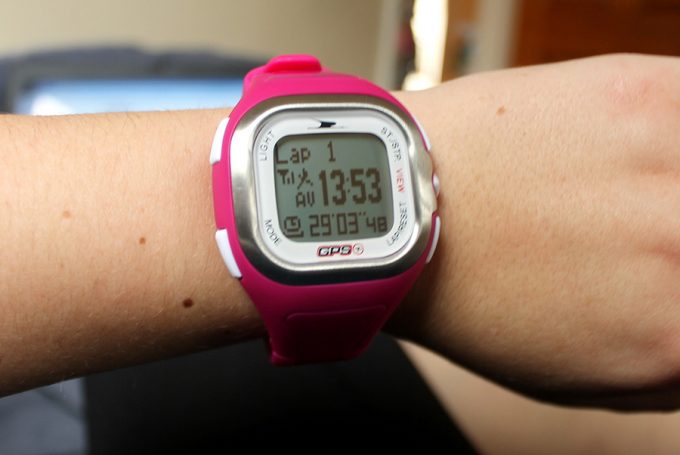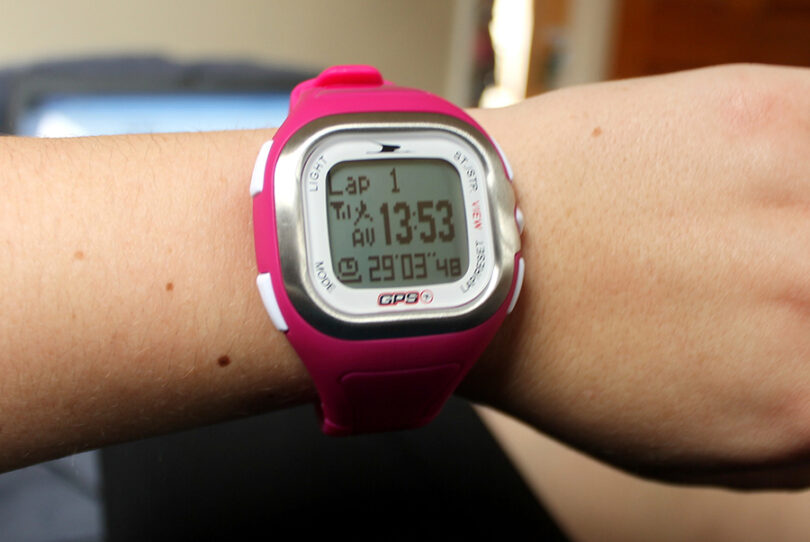 We've listed some products that fit both profiles, and we've reviewed some models that can give you much more than just a regular GPS watch suitable for hiking. From deep underwater to watches that can measure your altitude up in the mountains. It's up to you what you need more.
As a finish line, we'd recommend buying a watch that has a great battery so you won't be left alone in nature without guidance. After that, choose from the features and define your style.
Do you think we missed some great products that belongs in this list? Which one would you purchase? Let us know your thoughts in the comment section below!