Camping can make us feel more connected to nature, but it's not always a fun thing to do if you're freezing cold at night, right? That's why it's important to look at all of your options and make sure that you're getting one of the best tent heaters you can find.
A great tent heater can take care of the problems you're having with getting cold and they're not that difficult to find. They also don't have to cost a lot of money.
We've found you some of the best heaters that you can safely use in your tent without breaking the bank. Some, are going to get you a really high quality heating, while others are going to be moderate,  but no matter what, you're going to have a great heater.
Our Top Picks
Things to Consider
The modern camper has a number of options to consider as a way to warm their tent. What may seem like a great tent heater for one person may not work very well for someone else, which is why it's important for you to look at all of the different features that you should consider and then work your way through the list.
Electric or Gas Heater
There are different types of heaters that you can choose from to use in your tent. Gas or propane heaters are one of the most common, and since they don't use electricity they can be convenient when you're camping, other than you have to carry propane with you. They also give off carbon monoxide, which is highly toxic if not vented properly.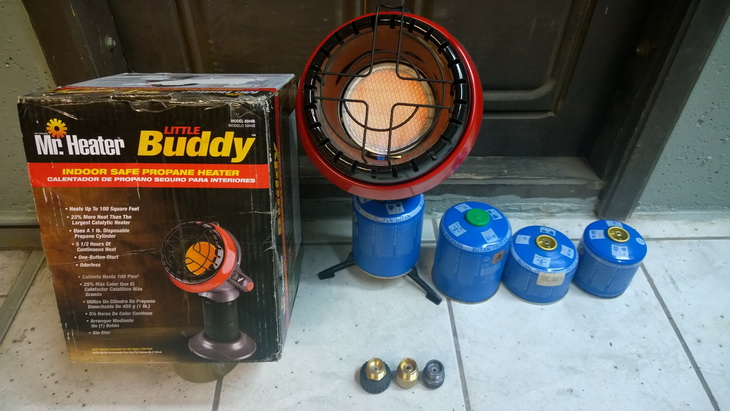 An electric heater requires you to have access to electricity at all times and therefore isn't as easy to use while camping, at least not for most people. These heaters do give off a decent amount of heat, however, and tend to have a much lower risk of fire than propane heaters.
Space to Be Heated
Next, you want to look at the space that you're heating. A larger heater is going to be able to provide you with a larger amount of heat and therefore it will work in a larger tent. On the other hand, if you have a small space you might want to look at a heater that is smaller as these will use less of your propane or electricity and will cost less to buy.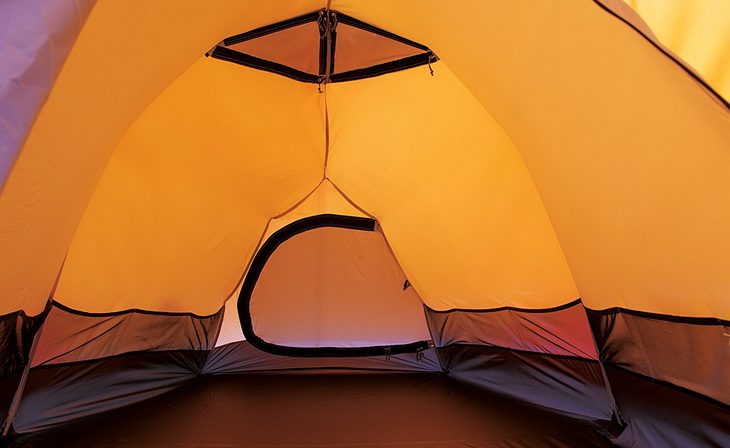 Get a heater that can easily heat the space that you have and make sure that it is designed for tent use as well. Make sure that you don't get something too small or it could be overworked trying to heat the space and don't get anything too large as it can overheat your area.
Amount of Heat Given Off
Different heaters will give off different amounts of heat, even with different sizes overall. A large heater may not be designed to give off as much heat as you might think, while a small heater may be able to give off a bit more.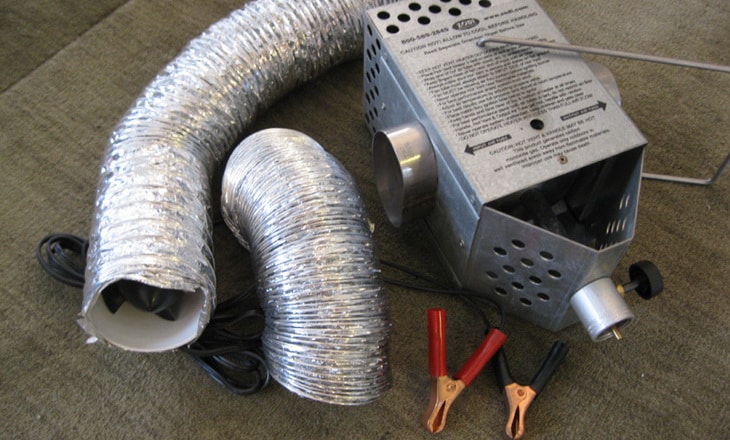 You want to know just how much heat is given off at any given time, as this is going to show how quickly you will be able to get warmed up. The amount of heat that it gives off is important also because that's going to reduce how much energy you'll need in order to get it up and running or make sure that it can do whatever you want it to do.
Portability of Heater
Having a heater that is portable is crucial if you're going to take it camping. Any tent camper should be able to transport easily from one place to another, but just how easily is going to be another thing entirely. Make sure it's lightweight enough that you can move it whenever you want.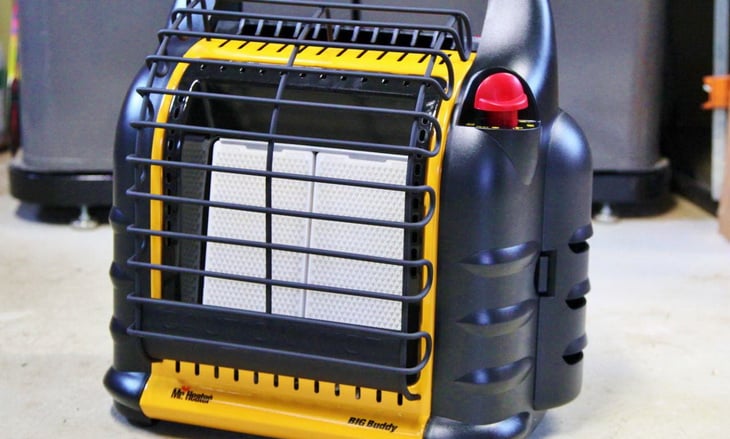 You may also want to look for things like handles or wheels that make it even easier to transport. These will help you feel better moving it and be more comfortable with the process as well.
Safety Features
Finally, having some good safety features is going to be extremely important as well. You want features that are going to protect your heater, your tent and everyone in it when that heater is on.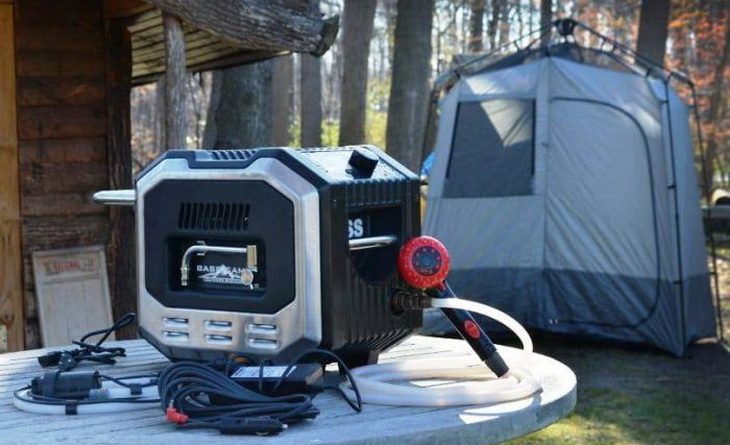 Most heaters will have some type of automatic shutoff after they've been on for a certain amount of time or after they get so warm, which helps you to keep everyone safe and make sure there is a lesser risk of fire.
Best Products on Today's Market
Now, let's take a closer look at some of the great heaters available that might suit your camping style. These heaters are not limited just to camping. You might find them useful in emergency situations such as power outages or for use when working in cold areas of your home like a garage.
Texsport B000P Tent Heater
Price: Approx. $30
Weight: 1.75 lb
Dimensions: 6 x 9 x 10.5 inches
Specific features: 2890 BTU, propane fuel, auto shut off valve, wide base, aluminum reflector, safety grid, carry handle, color – silver
Best use: Camping, hiking
Description: The Texsport B000P Tent Heater is a versatile fully portable propane heater that is suitable for use inside a tent. It takes 16.4 oz. or 14.1 oz. disposable canisters which are able to be purchased at many hardware stores. One canister might last about 7 hours depending on output.
This heater stands on a wide, plastic, four-paddle foot base for stability. The burner is made from durable stainless steel with an aluminum reflector to direct the heat and is fitted with an easily adjustable regulator control knob up to a maximum of 2890 BTU.
Should the flame go out it has an automatic shut off valve for safety and it has a metal safety grid over the burner. There is also a handle for easy transportation.
Overall, the Texsport Portable Outdoor Propane Heater is quite inexpensive, yet despite being budget friendly, it is robust, with a simple yet high-quality metal construction, easily portable and emits efficient heat.
PROS:
4 feet for stability
Compatible with 2 different sizes of cans
Automatic shutoff
Canister can last up to 7 hours
Up to 2890 BTU
CONS:
Difficult to get lighted
Gets very hot
Could use slightly lower settings
Related: You'll definitely want to pick up some propane for this heater in order to get the most out of it. This Prop Bottle (Pack of 2) is ideal for getting you up to 14 hours of heat in even the coldest of conditions with ease.
Mr. Heater MH9BX Gas Heater
Price: Approx. $80
Weight: 9.8 lb
Dimensions: 14.2 x 14.2 x 8.8 inches
Specific features: 4,000 to 9000 BTU, propane fuel, radiant heater, auto shut-off if pilot light out, auto shut-off for low oxygen, fold away handle
Best use: Camping
Description: This is one the of the most popular portable heaters used in the USA. The Mr. Heater MH9BX Gas Heater is efficient and powerful enough to heat up to 225 square feet of space. It is approved for indoor and outdoor use with clean burning almost 100% efficiency.
A wide, durable, porcelain-coated surface ensures radiant heat is directed efficiently. This ceramic burner is mounted on shock absorbers for durability and is easy to replace.
This heater has an integrated Piezo sparking ignition system and also has an output between 4000 to 9000 BTU so it can be used in smaller spaces.
Safety features include automatic shut off for when the pilot light is extinguished and if the heater registers on its low oxygen shut-off system (ODS). It is also fitted with a metal guard over the heater elements.
The Buddy connects to a 1lb propane tank or can be modified to fit a 20lb tank with appropriate hose accessories. The swivel moving regulator is fully adjustable for easy attachment to a larger tank.
PROS:
Holds 1 lb. propane tank
Automatic shutoff and ODS
Heats up to 225 sq. ft.
Up to 9,000 BTU
Up to 100% efficiency
CONS:
Can be too heavy for hiking
Heat is vertical
Only heats small areas
Related: The Mr. Heater Fuel Filter can be a great thing for anyone using a heater as it's going to keep your room a whole lot safer and keep out contaminants from the heater. This is going to make sure your heater lasts a whole lot longer, and for a very low price.
Zodi X-40 Heater

Price: Approx. $600
Weight: 34 lb
Dimensions: 13 x 13 x 22 inches
Specific features: 40,000 BTU, propane fuel, stainless steel heat exchanger, 12V power fan, strong airflow, flexible air hose ventilation, color – black
Best use: Camping, small outdoor venue
Description: This Zodi X-40 Heater looks a little like a rugged space alien, with its flexible silver "arm" air hoses. This is a powerful heater for its size with up to 40,000 BTU for fast, efficient heating.
This heater operates on propane delivered via hose from a portable 5 gallon tank. There is no adjustment on the heater, however you could reduce gas flow from the propane tank.
The air flow fan fitted inside one end of the 4 ft flexible hose ensures carbon monoxide fumes are well vented out of any tent or enclosed area for safety reasons.
It has an all metal construction, with four metal legs for a firm, stable stand, and settin it up is very easy with simple connections to a propane tank and 12 V electricity source with clamps fitted with the wires. It is a relatively compact size and packs out of a gear carry bag.
PROS:
Up to 40,000 BTU
Plenty of ventilation
Connects to 4 gallon tank
Can use propane or electricity
Compact size
CONS:
Requires a flat surface to stand
Heavy weight
High price
Related: A nice cot can be a great choice when you're planning to go up camping as well. This one is the Kamp-Rite Oversize Kwik Cot and it can provide you with a whole lot of comfort and stability for a moderate price.
Allegro Industries Electric Heater
Price: Approx. $400
Weight: 14 lb
Dimensions: 13.2 x 12.8 x 8.6 inches
Specific features: 5,000 BTU, electric heater – 120 V motor, single Ø, 60 Hz, 13 A, metal housing, 5 blade fan, 115 CFM (195.38 m3/hr) air flow, carry handle, color – green, CSA and UL approved.
Best use: Camping (with power source)
Description: The Allegro Industries Electric Heater is a very compact, portable heater, that  is easy to use and puts out a reasonable amount of heat for small areas at 5,000 BTU. It has a rugged, heavy duty, all-metal design, that will definitely withstand the regular use in commercial or heavy work environments.
Furthermore, there are no moving parts or external fixtures that would likely get damaged during the transport or when using it for camping. The motor is sealed off from outside elements, to reduce the possibility of damage from the dust or moisture. The 5 blade fan ensures air flow is constant, to keep the air warm throughout the area.
You should also know that when purchased with the Allegra Work tent, mentioned below, this tent heater can increase the inner temperature by about 50°F (10°C). The unit is lightweight for easy portability and overall has a clean, tidy, aesthetic look.
PROS:
Small size overall
5,000 BTU
No external pieces
Handle for easy movement
Sealed motor to reduce problems from dust
CONS:
Takes about an hour to get up to heat
Works best in small spaces
Not ideal for freezing temperatures
Related: Allegra Industries also manufacture an Allegro Economy Work Tent, which is suitable for use with the 50 Tent Heater. This tent provides plenty of space and is comfortable enough for anyone working out in the cold who needs somewhere to warm up.
Yellowstone GA007 Gas Heater
Price: Approx. $60
Weight: 5.25 lb
Specific features: Butane gas canister, BTU, ceramic coated element, metal safety grill, Piezo electric ignition, variable temperature, tilt direction heating, folding carry handle
Best use: Camping, backpacking
Description: This is a small, lightweight heater, which operates on butane gas to heat small areas. The Yellowstone GA007 Gas Heater is very simple to operate with a butane canister fitting behind the horizontal cover, which is locked into place with a safety mechanism before opening. It uses a Piezo ignition system and has variable temperature control.
It is relatively lightweight and very stable on the ground with a low profile. It has a convenient fold away handle so it can be moved while operating.
You can easily get the heat you're looking for quickly and easily with this unit, though you will want to adjust it slightly to make sure the heat is blowing throughout the room the way that you want it. The low price is great for those who are just getting into camping outdoors or who want to head out for only a few trips when it's cold outside.
PROS:
Safety locking mechanism for canister
Variable temperature control
Easy to insert cylinder
Lets off a lot of gas
Warms well in its area
CONS:
Can be heavy for hiking trips
Better for smaller areas
Uses a lot of propane
Related: You're going to need some propane in order to get this system to work well for you and this Pack of Four Canisters can be a great option. It's good for the heater and it provides enough for a decent amount of time.
Comfort Zone CZ707 Electric Heater
Price: Approx. $25
Weight: 3.1 lb
Dimensions: 8 x 6 x 6.8 inches
Specific features: 1500 W e powered, coil wire elements, fan forced, power indicator light, caution indicator light, adjustable thermostat, 2 x heat settings, fan only setting, metal construction, color – gray
Best use: Personal area, a small room, camping with power source.
Description: This compact, lightweight heater is suitable for warming small areas and could be used in a tent with appropriate safety measures. The Comfort Zone CZ707 Electric Heater has metal wire coils and a fan air flow for efficient fast heating. It has a standard cable and an electric plug for quiet fan operation.
There is a power indicator light as well a caution indicator light and 4 settings – Off, 2 for heat, and fan only for summer use. The adjustable thermostat allows for variable temperature control and the boxy, low profile shape is stable on most surfaces. It also has a fixed handle on top so you can move it easily.
It puts out about 1500 W and at a low price, it's definitely something most people can afford. It has a high limit safety fuse and it's super powerful and compact at the same time.
PROS:
1500 W
Adjustable thermostat
Caution indicator light
Quiet fan
High limit safety fuse
CONS:
Handle is very weak and low quality
Paint starts to bubble and peel off
Smells burnt when first turned on
Related: Now that you found your heater and are ready to get all cozy in the tent, it's time to think about the lights because trying to find your gear in the tent when the sun goes down is close to impossible. We can recommend the Liado LED Camping Lantern, as it is affordable, emits very bright light, and is likewise collapsible to help you save space in your backpack.
Tooluze 60116L Gas Heater
Price: Approx. $40
Weight: 5.4 lb
Dimensions: 11.6 x 10.9 x 7.9 inches
Specific features: Butane heater, ceramic burner, pressure sensor safety shut off device, gas consumption 100 mg/hr, GE certified, tilt head for heating elements
Best use: Camping, small venue
Description: The Tooluze 60116L Gas Heater is a compact, sturdy heater operating on standard butane canisters. At 5.4 lbs. it is not really suitable for backpacking, but fine for vehicle camping. It has a durable metal outer body and ceramic burners for efficient heat transfer. The ceramic elements can be tilted up to direct heat where it is needed.
For safety it has an automatic pressure sensing device to ensure the gas is shut off if accidentally tipped over. There is a metal handle for easy carrying and the butane you need to run it is actually very inexpensive and easy to find.
with a moderate level of gas consumption, you can trust this little heater to keep your space warm and it comes with a CE certificate as well. It puts out about 600 BTU's to give you just the right amount of heat for a small space and it's designed to keep you comfortable no matter where you want to camp or what time of the year.
PROS:
Uses cheap butane
Warms a moderate area
Moderate overall weight
Easy to move and transport
Auto shutoff pressure sensor
CONS:
Gets hot during use
Not ideal for backpacking
Uses a lot of butane
Related: You can get plenty of gas for this heater with the GasOne Butane Pack. It's inexpensive and makes sure that your heater will keep going for a long time. This butane is easy to attach and works just as well as anything else you'll find.
MR. Heater MH18B Gas Heater
Price: Approx. $130
Weight: 11 lb
Dimensions: 18.5 x 18 x 11.4 inches
Specific features: 18,000 BTU, propane gas, heats up to 450 sq. ft., blower fan on battery, carry handle, wire grid guard, porcelain reflector, variable heat control, safety shut off mechanism, low oxygen shut off mechanism, CSA certified
Best use: Camping, home use
Description: This versatile heater has so many options it covers a lot possibilities for using around your home as well as being fully portable for camping and other uses. The Mr. Heater MH18B Gas Heater covers a lot of bases.
Also known as a Big Buddy, it has a BTU of 18,000 and the capacity to heat an area up to 400 square feet. With its ceramic plates and battery powered fan it utilizes both radiant and convection heating methods. With variable adjustments for low, medium and high heats you can choose just the right heat output for each area.
Safety wise, nothing is compromised with shut offs for when the heater is accidentally tipped over or the oxygen levels in the area are depleted – ODS. The unit also has Piezo ignition so no need to use naked flames. The heater is fitted with a metal safety grid across the dual ceramic burner tiles.
Options include using the heater with one or two propane cylinders or connecting with a hope of larger gas bottles. 12 feet of hose can be stored in the heater. The blower fan uses 4 x D-Cell batteries or there is the option of using 6-volt A/C with an adapter (not Included).
The fan helps to heat the area and also keeps air flow and some ventilation. Fitting the propane cylinder is easy with a swivel mount.
PROS:
Auto shutoff features
Uses propane cylinders and gas bottles
Several heat levels available
Easy to attach cylinders
Up to 18,000 BTU
CONS:
Canisters don't last long
Takes a while to heat up
Not ideal for tents, but better for walled buildings
Related: Mr. Heater has many suitable products regarding heating for many situations. You might find these heating options helpful, for personal indoor use, Mr. Heater MH4B and for outdoor use, this radiant 30,000 – 45,000 BTU Mr. Heater MH15 Heater.
Lasko MyHeat Heater
Price: Approx. $25
Weight: 3.55 lb
Dimensions: 3.8 x 4.3 x 6.1 inches
Specific features:  Electricity 200 W, on/off switch, ceramic element, overheat shutoff, lightweight plastic, color – black, blue, purple, white.
Best use: Personal area, small tents
Description: The Lasko MyHeat Heater is a tiny powerhouse of a heater to efficiently warm small spaces without using a lot of power, thus being easy on the generator, or if used in home, on the electric bill. It really is tiny and can easily be placed in small spaces like bathrooms, small tents, beside desks, and so on. One touch, simple on/off switch.
This heater is designed to keep you nice and comfortable while you're sitting outside or even while you're indoors but in a cooler space. It's only for personal use rather than heating a large room and comes in several different colors that you'll really enjoy as well.
This little heater uses 200 W and is energy-smart. It's also safe to use in an indoor environment with overheat protection and cool-touch housing as well. You'll be able to stay warm without risking safety of any kind.
PROS:
Uses only 200 W
Small size for personal use
Color options for personal preference
3 year limited warranty
Built in safety features
CONS:
No tipover protection
Needs ventilation
Works only in small areas
Related: If you want to know what the temperature is in the space that you're in this Inkbird Digital Temperature Controller is a great way to tell. It lets you know about temperature quickly and efficiently so you're definitely always comfortable and able to adjust the settings on your heater.
Wrapping It Up
With the Lasko heater, we have reached the end of our article. So, now you have an overview of some very good heaters that might suit your camping and personal usage. But, you also know what you want from a heater and should be pretty sure that the one you choose, is the perfect one.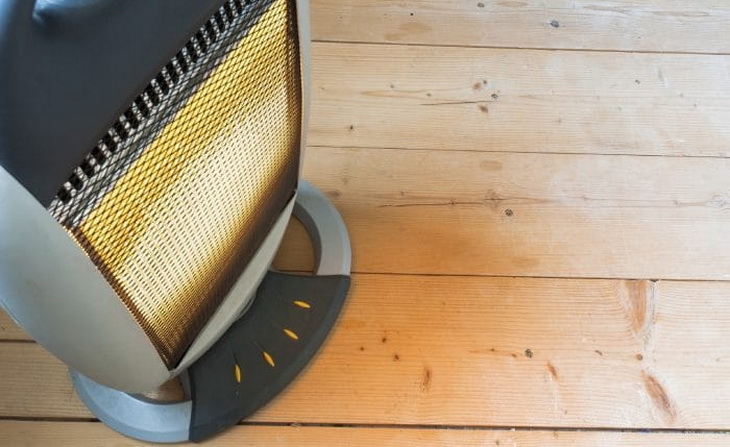 You'll want to take a look at each of these and see which one will fit your next camping trip the best. Make sure you look at how it's run and what sizes it's best for. You'll be surprised what you get in the long run.
So what do you think of each of these heaters? Is there one you like best? Is there a different one you think we should have included? We definitely want to know all about it.