Gone is the popular conventional thinking that hiking shoes should be rigid and heavy so that they can give you a better protection against all sorts of terrains. Minimalist hiking shoes are here to disproof that conventional thinking that has prevailed for many years to-date.
These new developments of hiking shoes provide a great ground feeling compared to traditional hiking shoes that are high off-the-ground, and, moreover, they restrict your ankle mobility when hiking because of their bulkiness.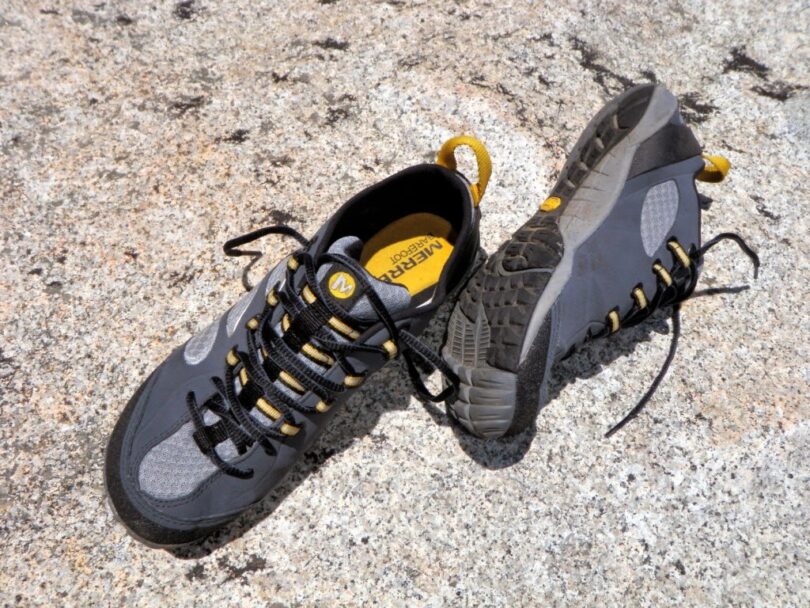 However, we do not insinuate that minimalist shoes for hikers are designed to be the replacements of traditional hiking boots in all sorts terrains and weather conditions. Let's observe their differences first.
| | |
| --- | --- |
| Minimalist shoes for hiking | Traditional hiking boots |
|  Light in weight | Relatively heavy in weight and bulky |
| Great ground sensitivity due to zero-drop from the heel to the toes | Minimal or no ground feeling due to high-drop from the heel to the toes |
| Minimum distance between mid-sole and outer-sole | Larger distance from insole to the outer sole |
| Better foot protection in less-rough terrains | Better foot protection in all terrains |
| Breathable membrane | Less breathable due to rigid fabrics |
| Comfortable and flexible | Less comfortable and less flexible |
| Reduced warmth | Maximum due to rigid synthetics |
| Better traction | Better traction too |
Other features as noted in the table may be disputable, simply because the models differ. For instance, you might find out that a minimalist shoe provides a better traction than a traditional hiking shoe, and the converse could be true too. In a nutshell, minimalist hiking boots are great choices for suitable weather conditions and even terrains.
Don't you think it's time you have your minimalist shoes now before your next hiking adventure? If that's a big resounding YES, we've got an impressive collection below.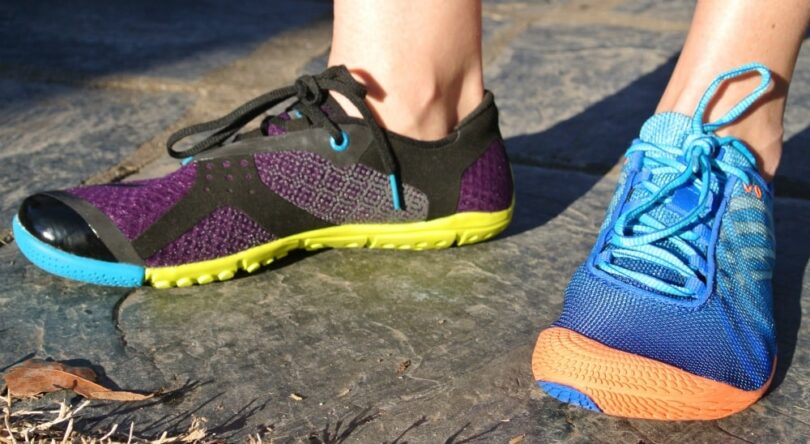 But before making any pick, it's important that you know about the critical factors to ensure that you have unregretably chosen the best hiking shoe. Essentially, these factors include a great sensitivity, foot protection, warmth, weight, traction, and comfort. The price can also be considered, but, it shouldn't be the determining factor.
Important features to look for when buying minimalist shoes for hiking
As cited above, we acknowledge a great ground sensitivity, traction, breathability, weight, comfort, and foot protection as important criteria for evaluation of these minimalist hiking boots before making a purchase.
Ground sensitivity
Nothing beats the feeling of the ground when hiking with these shoes because it gives that natural feeling and stabilization of feet. The shoes allow us to feel the sticks and rocks as we hike or run with them. That's the whole point of buying these shoes so that we can have an ample ground sensitivity rather than tolerating bulky hiking boots.
But, ground sensitivity has limits on rough terrains where our feet might be vulnerable to sharp objects that may not be withstood by the light soles of these shoes. That being said, your choice of ground sensitivity is dependent upon the type of terrain where you will be using these shoes.
Fortunately, some shoes manufacturers state the distance difference between the outsole and the midsole. Minimum differences denote a great ground sensitivity, although the thinner the difference is the more the likelihood of being affected by sharp rocks.
Foot Protection
Now this is the toughest criteria of evaluation with regard to these shoes. Conventionally, rigid boots with thick soles and a high drop from the heel to the toes are known to be the best foot protectors. Nonetheless, the minimalist shoes can also provide a good foot protection depending on how sturdy the sole material is.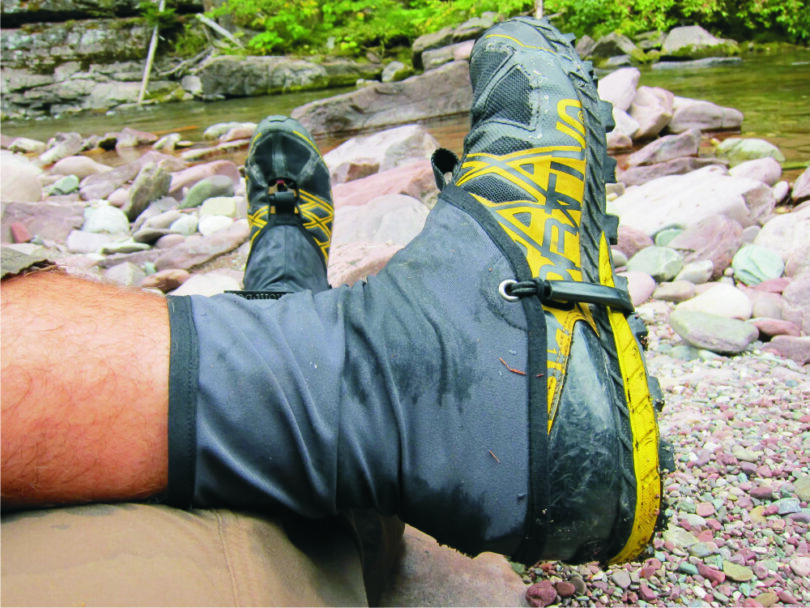 But, precautionary measures need to be taken care of. For example, if you wish to run or hike with minimalist shoes, you need to avoid off-trails and rough terrains because they might compromise your foot protection with sharp objects.
Hiking on well-groomed trails shouldn't be a concern at all. But hold on! We do not insinuate that foot protection isn't important to look for. Just choose in line with the terrain to be traversed, but also taking into account a ground feeling.
Traction
If your desired hiking trails are notoriously slippery, you therefore need great traction shoes.  But most of the hiking shoes, including the bulky traditional hiking shoes have a better traction.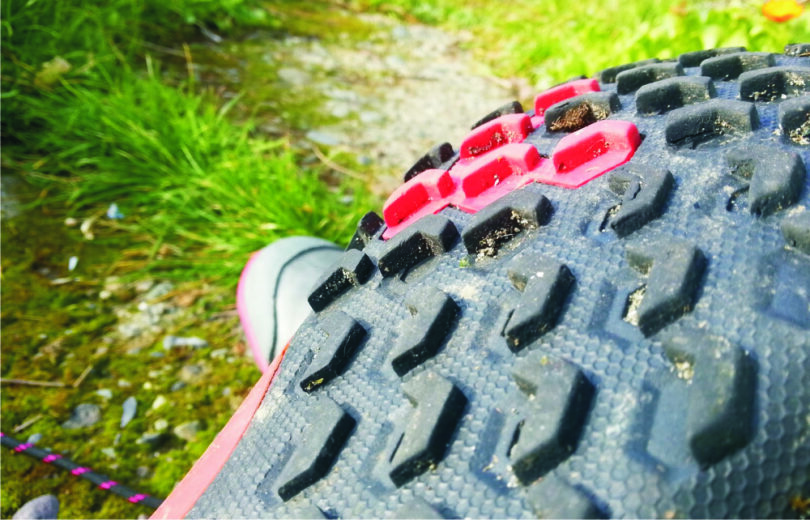 The trick is to find the most powerful traction to survive all the slippery trails you encounter. Check this feature as well as to see if your chosen hiking minimalist shoes have a better grip.
Comfort
With comfort, we refer to many things such as mobility of your ankles, instep, feet, and your fingers while wearing these shoes. With that in mind, the shoes should not be too stiff, and should not be over the ankles to restrict their mobility.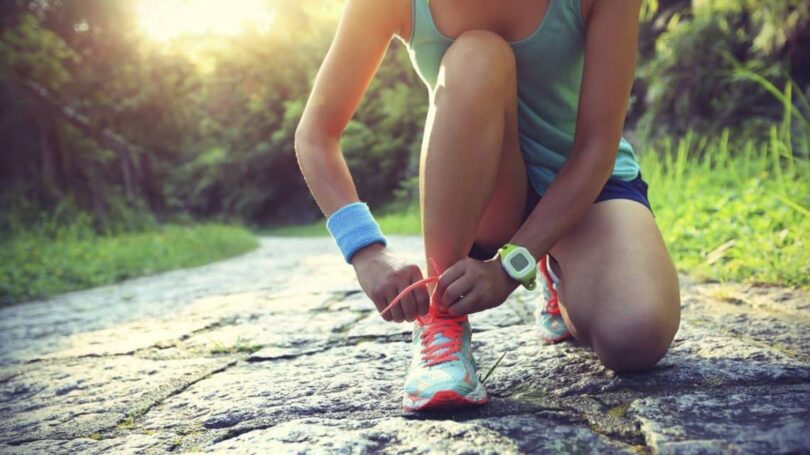 Furthermore, the foot should not be too narrow and should not be too warm. Mesh vents often bring the comfort of feet because they get rid of unbearable heat moisture. Just take note of these critical features of the evaluation when buying your minimalist shoes because we try to avoid blisters on your feet due to the discomfort of hiking shoes.
Breathability
Breathability is also an important feature to consider with these shoes. But, luckily, most of these shoes are extremely light so overheating may not be of a big concern. However, some materials are not breathable enough to get rid of sweat from the inside to evaporate.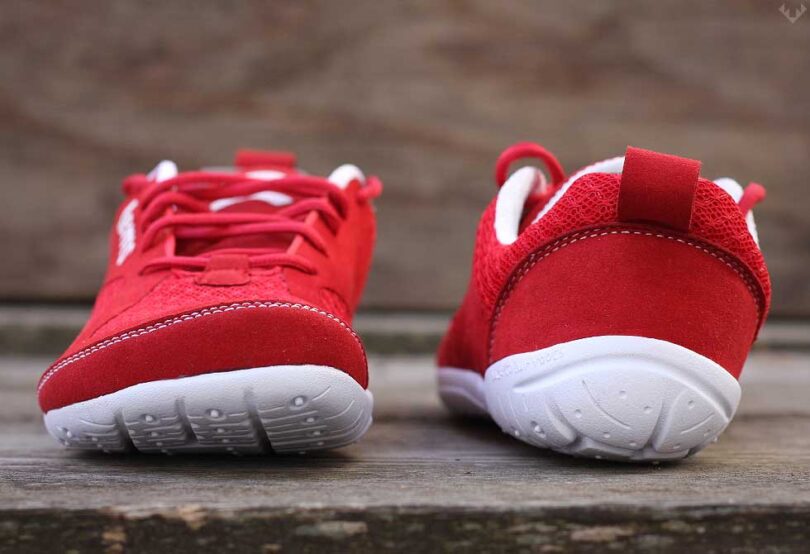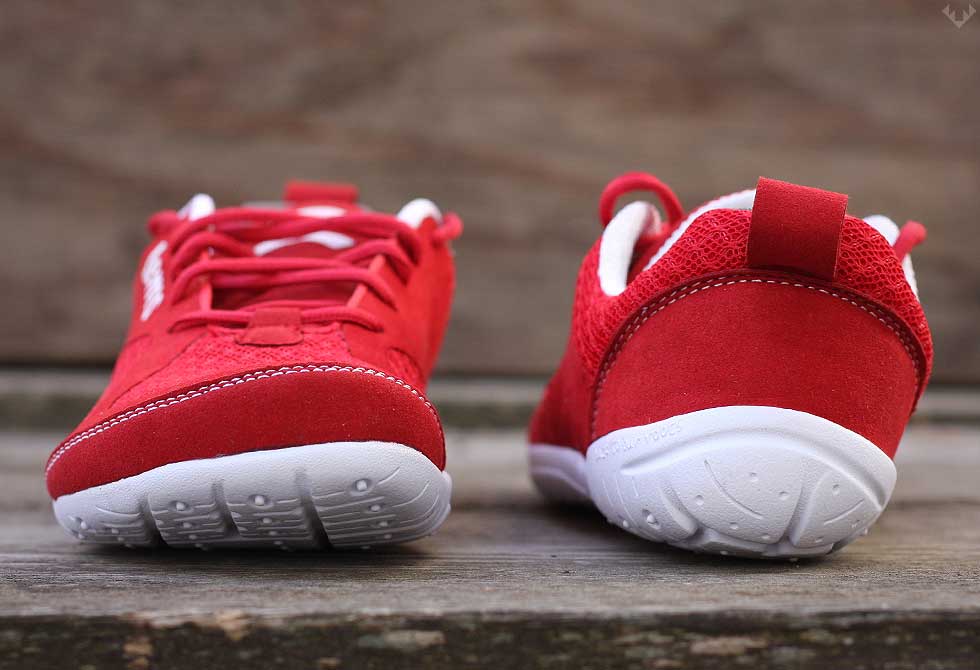 This should also be on your evaluation list – I mean checking if the shoes are made of breathable membranes or they have mesh vents. We do not want the discomfort of too much sweat in your shoes.
Weight
Now here's the common desire of almost hikers. All that we need are lightweight hiking boots that will not cause strain to our bodies.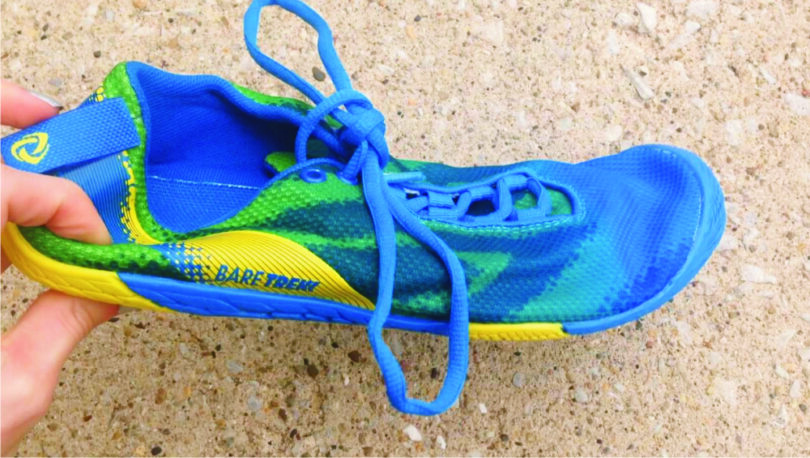 The traditional hiking boots, on the other hand, are frankly heavy in weight as an attempt to make them more insulated to survive the harsh temperatures.
Now, because minimalist shoes are commonly made for mild temperatures, they are seldom made of heavy materials. The outsole is thin all over, so weight issue is solved. But keep your eyes open when buying these shoes.
Minimalist Shoes Reviews
Merrell Women's Trail Running Shoe
Weight: 2.1 pounds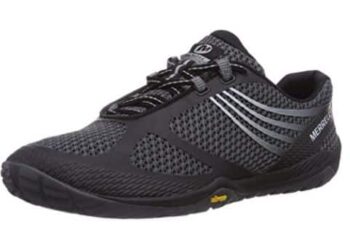 Dimensions: 12 x 8 x 4 inches
Specific features: Synthetic Vibram grip sole; imported fabric; 4 mm cushion and 3 mm lug depth; secure fit by Omni-fit lacing system; padded collar; TrailProtect pad and breathable mesh lining.
Best use: For even trails in hiking
Merrell Women's Trail Running Shoe is a minimalist hiking footwear that brings high standard features such as breathable mesh lining to control and prevent overheating of your feet. The footwear's ability to provide enough air circulation is enhanced by the durable M Select Fresh that prevents accumulation of odor-causing-microbes.
Meanwhile, the lug patterns provide an unprecedented stability in all conditions of hiking. They also enhance the comfort of your feet as well as providing enough traction in dry and wet surfaces. So extreme temperatures found a challenge with these hiking shoes. Moreover, these shoes provide a zero-drop trail, thus improving your ground sensitivity. They are also lightweight with 2.1 pounds.
Related: Men should not feel overlooked by the manufacturer of these minimalist shoes because the Merrell Men's Running Shoe is just a perfect choice for them. It offers great similar features as the female version. Only the design is male oriented.
Merrell Women's Barefoot Trail Running Shoe
Weight: 15.7 ounces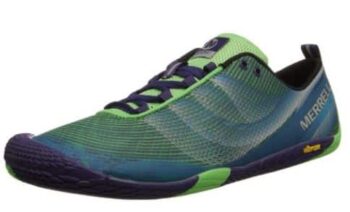 Dimensions: 12 x 8 x 5 inches
Specific features: Synthetic fabric; rubber sole; zero heel-to-toe drop; zero cushioning; barefoot style with breathable mesh lining; microfiber soft footbed; TPU with lace closure.
Best use: Hiking in semi-technical trails
Merrell Women's Barefoot Trail Running Shoe brings you a zero cushioning and a zero heel-to-toe drop to ensure that have a maximum ground feeling when hiking in them. There are furthermore protective on your feet with microfiber soft footbed lined. The soft footbed ensures that you have a great comfort and, in addition, protects your feet against sharp objects that could press hard against the outsole.
The manufacturer has a trademark of a durable M Select Fresh designed to prevent any buildup of moisture and sweat in your shoes. The microbial agents disrupts the microbes responsible for odor in your shoes. By achieving this, the durable M Select Fresh keeps your minimalist shoes fresh at all the times regardless of how hot the temperatures are.
The shoes' traction is boosted by the lug patterns that ensure that your feet remain stable in all hiking conditions. Either you hike on wet or dry surfaces, a great traction will be provided.
Related: Merrell Women's Running Shoe is also a great choice made of a textile leather and a rubber sole. It also gives you a great foot protection, but with an integrated EVA footbed.
Merrell Men's Minimal Trail Running Shoe
Weight: 5 pounds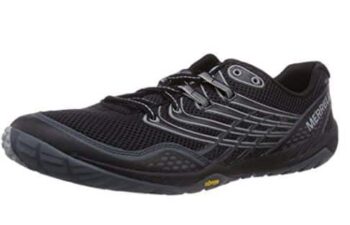 Dimensions: 14 x 10 5 inches
Specific features: Rubber sole; synthetic fabric; zero heel-to-toe drop; 10.5 mm stack height; lightweight trail runner; Omni-fit lacing system.
Best use: Trail hiking/running
Merrell Men's Minimal Trail Running Shoe has all the attractive features of a minimalist range of hiking shoes. It is, among others, light weight with a zero-drop from the heel to the toe to afford you a great ground feeling. On the other hand, the Vibram grip sole provides a good traction to enable hiking in all surface conditions.
To ensure maximum reduction of moisture, the shoes are crafted with synthetic TPU and a mesh lining for breathability. And the Merrell Omni-Fit lacing system will increase the mobility of your feet while at the same time ensuring a proper fit. If you hike in the darkness, the shoes' reflective materials will be visible. Furthermore, the shoes's TrailProtect pad ensures that rocks and sticks do not cause blisters on your feet.
Related: Inov-8 Bare-XF Training Shoe is also a great deal of a minimalist hiking footwear with zero heel-to-toe drop and an excellent traction feature. But it is more of a barefoot than a minimalist fitness. Nonetheless, it is a great footwear for a great ground sensitivity.
Merrell Men's Ultra Trail Running Shoe
Weight: 6.2 ounces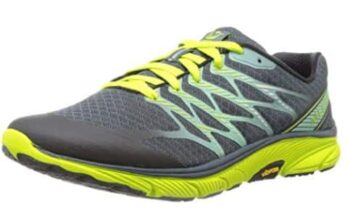 Dimensions: 11 x 6 x 6 inches
Specific features: Imported synthetic fabric; zero heel-to-toe drop; mesh lining and no-sew protective toe; synthetic sole; reflective materials for night-time visibility.
Best use: Trail hiking
Merrell Men's Ultra Trail Running Shoe is for barefoot runners or hikers. It has a good cushioning to survive impacts in long distance travels and for softer landings. It further provides a complete foot contact, so the ground feeling is not compromised with this bare access ultra footwear.
The durable M Select Fresh feature provides a full functionality of odor reduction should your feet overheat, and mesh lining helps in getting rid of perspiration. And the UniFly midsole provides more stability and cushioning to your feet to survive hard surfaces when hiking. Furthermore, the M Select GRIP offers a competitive traction whenever traversing on slippery terrains.
Beneficial to the wearer are natural strides and softer landings because the shoes are supple enough. Their breathable upper molds also offer a great feel of this minimalist/barefoot hiking shoes.
Related: Alternative to these barefoot hiking shoes are Merrell Men's Running Shoes. They are made of a synthetic sole, and feature M Select Fresh and M Select GRIP the same as these offers. Just a different color from the same manufacturer.
Vivobarefoot Men's Running Shoe
Weight: 5.8 ounces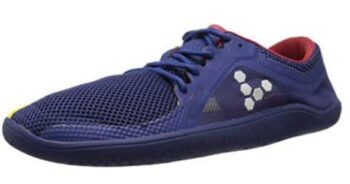 Dimensions: 3.5 x 8 x 5 inches
Specific features: Available in black/charcoal color; rubber sole; features a V-web; imported textile/synthetic.
Best use: Hiking in well-groomed trails.
With Vivobarefoot Men's Running Shoe, you are assured an effective breathable construction to ensure that your feet do not suffer from overheating, and enough air circulate while hiking. Meanwhile the ultra-thin sole, with its flexibility, ensures that you have an unsurpassed ground sensitivity to effectively boost your running speed. The shoe is also made to be traction-active by the grip of its outsole. Moreover, with a light weight of 5.8 ounces, it is bulky-free minimalist shoe most desired by runners and hikers alike.
Related: The manufacturer also offers Vivobarefoot Men's Stealth 2 Walk Shoe with a nylon mesh, HI-VIZ reflective PU, V-mesh breathable upper and a PRO5 patented ultra-thin technology.
Merrell Men's Bare Running Shoe
Weight: 4 pounds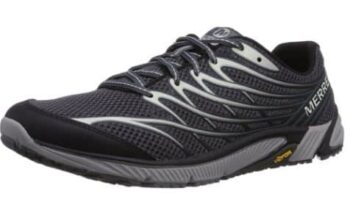 Dimensions: 12 8 x 4 inches
Specific features: Rubber sole; TPU/Mesh lining; M BOUND energy-returning midsole; zero drop trail runner; synthetic side overlays; reflective materials.
Best use: Hiking on well-groomed trails
Merrell Men's Bare Running Shoe brings you the comfort you need with the extra cushioning on rough and hard surfaces and long distances. Its zero drop enhances a great ground feeling when hiking with these minimalist shoes. The interior sole provides stability and flexibility of your feet when wearing Bare Access 4.
These shoes are furthermore competent in eliminating too much sweat when your foot perspires in hot weather conditions. Moreover, the microbes take control of odor-causing bacteria to ensure that you continuously feel fresh with no nasty smells. On the other side, traction is boosted by lug patterns and rubber compounds to grip well in slippery surfaces.
Related: If you anticipate running in rough terrains and harsh temperatures, Merrell Men's Trail Running Shoe can be a good fit for you. It takes you high off-the-ground and offers a great insulation.
The aforementioned compiled list of the finest minimalist hiking shoe models guarantees you to find the best footwear with a great ground sensitivity. While selecting your desired pair, take note of the customer reviews to check with previous wearers that what makes them more pleased with the shoes and what discourages them.
But note that everyone has his or her own preference of these hiking shoes in relation to the types of terrains to traverse on.
Wrapping it up!
We have narrowed your search in a hunt for minimalist hiking footwear for your next expedition. We reviewed the shoes we regard as the best in offering a great ground sensitivity as it the main purpose of purchasing these products. Moreover, the reviews sought to emphasize the critical factors to consider before buying the shoes to ensure that you've acquired the best on the market.
Have we left any minimalist footwear you feel is also great? Share with us below. If you have any questions as well please get hold of us.