Whether you are camping, hiking, or backpacking, there can always be a level of danger when it comes to wild animals. Some people choose to take along a rifle for safety in case they find themselves being charged at by a bear. Having a rifle handy will allow you to shoot from a distance, and give you the upper hand.
When it comes between you and a big wild animal, you need to make sure that you win no matter what. So, it is important to find the best backpacking rifle for your needs.
The thing about backpacking rifles is that they are all different and they have various features that make each of them stand out on their own. You will want to look into what accessories it has as well as the type of mod, action, caliber barrel and muzzle, to name a few. All of these are important when finding the best backpacking rifle for you.
In this article, we will show you several reviews of the best backpacking rifles on the market today, as well as things to look out for when buying a rifle for the purpose of staying safe as you enjoy nature.
| Product Name | Caliber | Optics | Action | Barrel Length |
| --- | --- | --- | --- | --- |
| Ruger 10/22 Takedown | .22 LR | Scope base and scope mounts | Blowback operated semi automatic | 16.1 in |
| The Ruta Locura | .22 LR/SR | KSA054 mil dot quick focus | Single shot, manual bolt action | 16.8 in |
| Survival 22 LR | .22 LR | None | Single shot | N/A |
| M6 Scout | .22 | Scout Scope | Bolt action | 18.25 in |
| Henry Lever Action | .22 | Drilled for the scope to be added | Repeating | 18.25 in |
| Henry AR-7 Survival | .22 | Grooved for a scope, purchased separately | Semi-automatic, blowback | 15.9 in |
| Browning BLR Takedown | .22 | Grooved for a scope, purchased separately | Lever | 22 in |
| Aero Survival | 10 mm | 9.5 inch optics rail, model M1913 picatinny | Semi-automatic, blowback | 16.25 in |
Features To Consider Before Buying
The specifics on these rifles are what make them stand out. Be sure to know what you are looking for when it comes to a rifle's specification so that you get the rifle that is perfect for you. Besides the manufacturer and the model, here are some things to keep an eye out for.
Action
This refers to the piece that handles the ammunition, or the way that the piece works. There are a few types of actions, being Single Action, Double Action, Bolt Action and Break Action. The action your rifle has, will either be a single shot or repeating shots.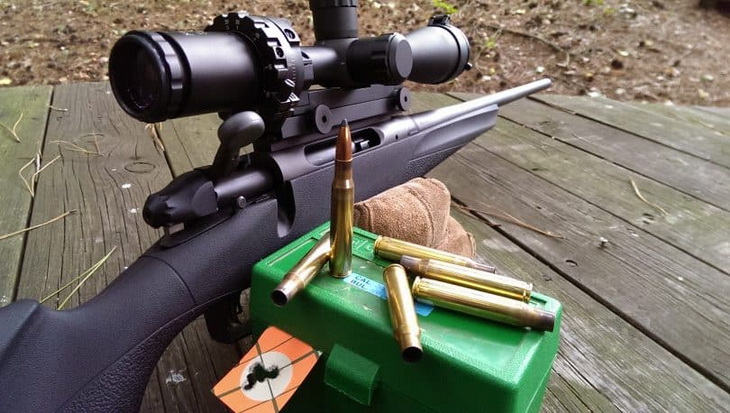 When you are dealing with a single shot rifle, you have to take your aim seriously, where if you have a rifle that repeats its shots over and over, you can assure a hit because several bullets are coming out quickly.
Single Action – This refers to the simplest type of mechanism, which releases the hammer to make the rifle go off. Nearly all rifles use single action.
Double Action – This refers to the combination of both mechanisms, being the hammer and the sear. The hammer will be cocked and also sets off the sear, thus doing "double" the action.
Bolt Action – This feature refers to the action of the rifle's bolt that is manually operated by closing and opening the barrel with a handle.
Break Action – This one refers to the action of the barrel(s) hinging and rotating to allow the barrel to be exposed, thus allowing the cartridge to be loaded, or unloaded.
Caliber
The caliber is the inside diameter of a gun barrel. This is also known as the bore.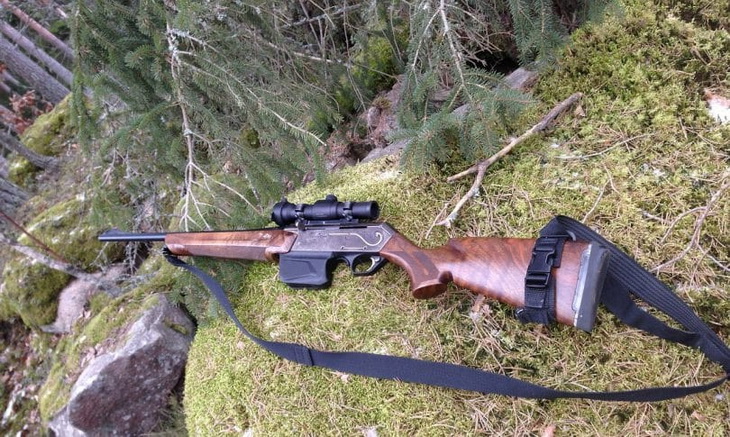 The bigger the caliber, the more power the bullet will have and will be capable of stopping a bigger animal, thus the safer you will be.
Barrel
The barrel is the longest portion of the gun, where the bullet can shoot out of the tube, through the metal, and released into the object in which it was meant for. The longer the barrel is, the more precise your shot will be and lesser the chances to miss the target.
Muzzle
This refers to the end of the barrel, where the bullet will exit. This is important as it influences the power of the force that goes back to your shoulder after the shot.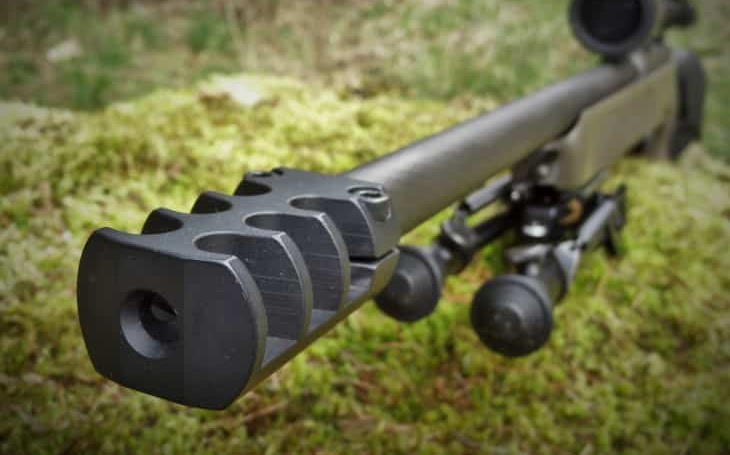 So, in order to avoid having a painful shoulder after shooting, talk with your salesman and ask him to recommend you the muzzle that maximally "kills" the impact of the shot.
Recoil Pad
This is a piece of rubber, leather or foam that allows you not to feel the impact of the kickback from the rifle going off. This reduces the impact on you and allows you to keep your eye on your target.
Optics
Optics are the points at which you can see your object. This can include a telescopic rifle, for example, that allows you to scope in on your prey and precisely aim.
Capacity
This is the space in which the ammunition can fit. For example, some firearms can hold a handful of bullets, while other firearms can hold full magazines.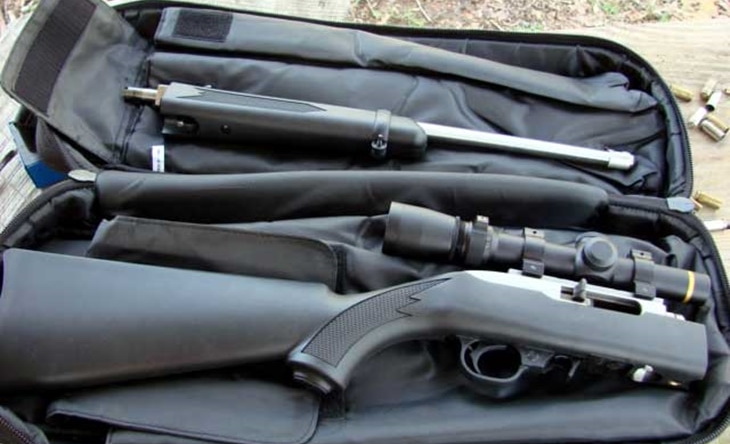 This is one of the most important features for your safety as it can be the difference between life and death in situations where the animal is too close to you and you don't have the time to reload the rifle.
Accessories
You will want to consider accessories for your rifle such as rails, fore ends, rail covers, slings, sling mounts, and other items to make your rifle more personalized.
It all depends on what exactly you plan to use the rifle for, also what type of cartridge you need to buy, and if it's a heavy rifle and the accessories make it even heavier.
Top Backpacking Rifles Reviews
Consider the rifles in these reviews when you are researching for a backpacking rifle. These are some top-notch rifles and some of the most popular ones on the market. At least, these reviews will give you an idea of what you may like in a rifle.
Ruger 10/22 Takedown
Price: $350 – $450
Action: Blow back operated semi automatic
Caliber: .22 long rifle
Optics: Combination scope base, scope mounts
Barrel length: 16.1 inches
Overall length: 34.62 inches
Accessories: Scope base, lock, high and low comb stock modules
Description: This rifle is highly popular and it is easy to see why. This rifle is convenient, has a reduced weight target barrel. This version is a blow back operated semi automatic that uses a rotary box magazine that that can be removed. The barrel is made of blued alloy steel and is fitted with aluminum on the sleeve, and has a thin profile.
Compatible with Weaver style scope accessories, the safety is a round button in a cross bolt behind the release of the magazine. To separate the rifle in half, you can unlock the bolt and take out the magazine. Use the take down lever and twist the barrel assembly and pull it out. Do the reverse in order to get it back together.
This rifle is sensitive to ammunition and works great without any issues. You could see an increase in your accuracy, and there is a Lite barrel version made of this rifle if you like everything to be factory packaged. Overall, this rifle is not very heavy, has a great platform, a threaded muzzle, and many features that will ensure that it works as it should.
PROS:
Quick separation of forend and buttstock
Weighs less than 5 lbs
Impact and abrasion resistant trigger housing
Reassembly returns firearm to zero
CONS:
When the distance gets larger than 50 yards, accuracy decreases
Related: The Hoppe's U22B Cleaning Kit, is the ideal kit to buy with this rifle. Make sure you clean it properly after every day of use.
The Ruta Locura 
* Note: This is a kit and not a full, complete rifle. We will give the specifications of the rifle in which it was meant for, the Keystone Arms Crickett Youth Rifle.
Price: Approx. $225
Caliber: .22 short or long
Optics: Ksa054 mil dot quick focus scope
Barrel length: 16.8 inches
Overall length: 30.5 inches
Description: A pack rifle kit, or PRK, is not a full rifle. It is a type of conversion kit that will help to lessen the heaviness of a Keystone Arms Crickett rifle for kids. This replaces the barrel and stock of the rifle, and it saves just over a pound of weight. Made with fiber on the outside, it is also made of aluminum in the barrel liner.
If you have never installed a PRK, you can find a local gunsmith to do so. However, if you have the knowledge, It can be an easy task to take on.
The kit itself comes with a barrel and a stock. You must already own a Crickett or Chipmunk rifle in order to take advantage of the kit. Of course, there are different pack rifle kits you can purchase, we will give you the information on the Basic Tube Stock PRK below.
The PRK weighs under a pound and can be easily stored. With a length of 32 inches once put together, it is only 20 inches long when it is broken down. It has a 1:16 twist with a .223 diameter in the groove. Other kits have the same specs, but they vary with things like the storage caps, and weight.
PROS:
It is very lightweight
Converts your rifle into a down pack rifle
CONS:
Works only with Crickett or Chipmunks
Related: The LimbSaver 10019-P Recoil Pad is a good protection to have on any rifle. With the PRK Kit, just add the Limbsaver and have a lightweight easy to handle rife.
Survival 22 LR 
Price: Approx. $425
Action: Single shot
Caliber: .22 LR
Optics: None
Barrel length: Not listed
Overall length: 33 inches
Accessories: Fishing pole package
Description: This rifle is well known for being a great survival rifle, and is the lightest and fastest in the world of its kind. It packs down to about half of its length, which is both space saving and weight saving. Made of aluminum, you can tell a huge difference in the light weight, but it is still considered a powerful rifle of its kind, and has parts made of steel.
The barrel is made of a fiber for long term use and the butt stock tube is also made of fiber composites. Users love that it comes with a fish pole package! The rifle is incredibly accurate and you can add on some accessories to jazz it up, such as a laser, trigger guard or a scope.
Priced just right, you will not be disappointed in how great this rifle is. Accurate, long lasting, light weight and fast are just a few adjectives used by owner who love this rifle! It is similar to the AR 7, which is also a great survival rifle, to give you an idea of what it is like. But users swear by the Pack Rifle .22 LR for their survival needs!
PROS:
It assembles quickly
Lightweight
CONS:
Comes without optics, not really needed in this classic rifle, but some prefer rifles with optics
Related: The LimbSaver AirTech Recoil Pad is a good item to purchase with any rifle. Reduce up to 70% the recoil, protect yourself for better hunting trips.
M6 Scout 
Price: $650 – $1000
Action: Bolt action
Caliber: .22
Optics: Scout scope
Barrel length: 18.25 inches
Overall length: 32 inches
Accessories: Carrying case with strap
Description: This weapon is like a rifle and shot gun put together. The M6 Scout Rifle comes in a standard model and another model that is used by the government, namely the Air Force. The trigger guard is removable and it is simple, not having a butt stock or a forearm. Made from sheet steel, the barrel can be removed as well. This rifle holds .410 shells and can hold 15 .22 caliber cartridges.
The M6 Scout rifle has a barrel that is mounted above another barrel, which is called the over under design and it connects with a hinge pin that can also be taken out. The thing that makes this rifle stand out is the squeeze bar trigger which is used by the Air Force, and there is no trigger guard for their version, either. The civilian version does have what you need, like a safety and an extractor, and it is an accurate rifle.
When taken apart, you can easily fit it in your pack and enjoy nature. They are not currently being made commercially, but you can find them second hand in gun shops. If this fits your needs, you should definitely pick one up!
PROS:
It's one of the best for hunting purposes
Ideal to be easily carried around anywhere
Related: The Condor SINGL-P Rifle Case is a good case where you can keep your M6 Scout in. Protect the rifle from dust, or from getting dirty somehow with this case.
Henry Lever Action 
Price: $300 – $400
Action: Repeating
Caliber: .22
Optics: Drilled for the scope to be added
Barrel length: 18.25 inches
Overall length: 34 inches
Description: Users love Henry Lever action rifles! They feel like their weapons are a work of art when it comes to shooting. Henry Lever makes many types of rifles, all are Western looking, and have a smooth discharge. Their rifles have tubular magazines that can be loaded quickly and simply.
They come with side ejections, rear sight that is adjustable, hooded front signed, and even a hammer safety. They include grooves that are drilled for optics, like a scope, to be added if you wish. Most Henry Lever rifles are .22 caliber, .357 Magnum (or .44 Magnum), and can shoot between 5 and 17 rounds.
Overall, users have given the majority of their rifles 5 stars due to how easy it is to use and disassemble them. They are classic looking rifles that have power and accuracy, plus you are getting a bang for your buck! Do you want another great reason to purchase this rifle? It is made in the good old United States! The hard part is choosing which rifle you like best!
PROS:
Incredibly smooth lever actions
Elegant walnut stock
CONS:
The tubular magazine seems to give some trouble to some
Related: The HRAC YYMTA Gun Case fits all Henry Rifles, ideal to carry your rifle anywhere.
Henry AR-7 Survival 
Price: $300 – $350
Action: Semi automatic, blow back
Caliber: .22
Optics: Grooved for a scope, purchased separately
Barrel length: 15.9 inches
Overall length: 35 inches
Accessories: Two 8 round magazines
Description: A polymer stock comes with this rifle in which the rifle, when disassembled, can be stored It is waterproof.. This rifle is loved by backpackers because of the simplicity of the rifle and the fact that is has a blade front sight, will not corrode, and it includes an adjustable rear sight.
The recoil pad can be taken out, too. This rifle is light in weight and will fit right in your pack. You can also add as much ammo as you like because everything is so light to carry. It is loved because it has great accuracy, even over a long period of time.
The receiver of the rifle is made with a coating that will protect it, making it waterproof and weatherproof. In the grooved area of the receiver, you can add your own scope, or other optics to enhance the rifle itself. This rifle includes a rate of twist at 1:16 and has a pull length of 14 inches. You can buy it in two types of finishes, which are the simple Black version, or the Camouflage version. Moderately priced, you will wonder how you ever lived without it!
PROS:
Compact and easy to transport
Teflon coated barrel for corrosion resistance
CONS:
You have to purchase the scope separately
Related: The Hoppe's BoreSnake Rifle Cleaning Kit is a great thing to have with this or any other rifle. Keep them clean for them to work as you want.
Browning BLR Takedown 
Price: $1200 – $1400
Action: Lever
Caliber: .22
Optics: Grooved for a scout style scope, purchased separately
Barrel length: 22 inches
Overall length: 42 inches
Accessories: None listed
Description: This model of takedown rifle is fast and easy to use! It can separate into two pieces, making it a cinch to store in your pack. It only take a few seconds to put it back together! This model is a scout style, and is tapped for mounting various optics, such as scopes. You can take the barrel off for storage use, as well.
The trigger is made of alloy and is gold plated, with the trigger guard material being made of steel. It is a little pricey, but you get a lot from it if you are an avid gun owner. The length of the pull is 13.75 inches and the recoil pad is made of polymer. There is not a pistol grip cap, but the magazine is detachable and it has a twist rate of 12 inches. It is a bit heavier than some rifles used for backpacking, comes in at 6.8 pounds. Users love it because it can hold 4 magazines, among its other features.
PROS:
Separates into two pieces, easy to take apart and put back together
It can hold 4 magazines, not many rifles can do this
Related: A good flashlight such as the J5 Tactical V1-PRO Flashlight, is a good item to have alongside a rifle, especially if you plan to hunt at night or in darker days.
Aero Survival 
Price: $700 – 900
Action: Semi automatic, blow back
Caliber: 10 mm
Optics: 9.5 inch optics rail, model M1913 Picatinny
Barrel length: 16.25 inches
Overall length: 29.5 inches
Accessories: Child safety lock
Description: This rifle model is known for the ability to remove the barrel and convert the caliber changes with ease. It comes with two finishes, which are the Tiger Pink color and the Tiger Green color. Users love that this rifle is dependable and they enjoy shooting it.
They love that they can store it in their pack by detaching the two pieces, and it is a breeze to maintain. Some users have said that they have trouble with the barrel coming loose, which is what causes it to not be as accurate. However, it is great with various types of ammunition, so there is no problem there!
Users do like that there are no gas tubes or piston, which can sometimes break or get plugged. The rifle is not too heavy and it is strong despite that. Users say that it is balanced and the trigger is simple to use. This is definitely an interesting rifle that you will fall in love with once you have it!
PROS:
This is a smaller rifle, lighter and easy to handle
Great for beginners
CONS:
Expert shooters might prefer a 10 mm rifle
Related: The ASR Barrel Threading Service is a good accessory to buy alongside this rifle, as it is exactly for any ASR or ASP Barrels. It works with the 9mm ASR Barrel.
Wrapping Up
These backpacking rifles are top of the line when it comes to doing what they do best. With the many features and accessories, you are sure to own a great weapon in which to defend yourself if needed. Rifles can be the key to living or dying in the wilderness if a large animal, such as a bear, tries to attack you.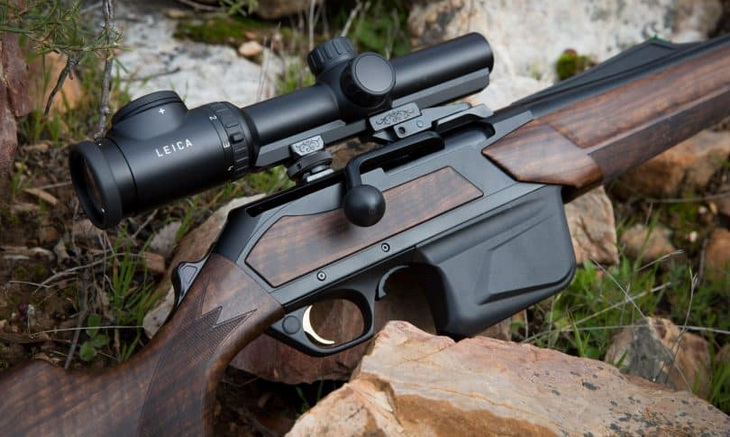 Always keep safety in mind when using a rifle, and know the laws in the area about rifles that can be used for backpacking, hiking or camping. An informed weapon owner is a smart weapon owner.
What types of rifles do you own? What makes them so great? We would love to hear your thoughts on the subject! Tell us about your story, or even the laws of your land when it regards rifles for this reason. Leave your thoughts in the comments below!