What is a white gas stove and why do you need one for your next camping trip?  Well, first answer these two questions: do you enjoy a comforting cup of warm coffee in the morning after sleeping on the hard ground?  How about devouring a nice hot meal at the end of a long, arduous day when the night brings a crisp new chill in the air?  Did you answer yes to one or both of the above questions?  If you did, then you'll need a camping stove.
White gas, or the generic name for different brands of camp stove fuel, is a liquid petroleum.  White gas provides fuel for portable camping stoves.  Small but mighty, these tiny stoves can produce a lot of energy, quickly boiling water and heating up food.
You can theoretically achieve the same results from a good ol' fashioned fire, but that requires tremendous skill, scavenging for resources, practice and patience… lots of patience.  A white gas stove just requires a few turns of a handle, a match, and voila!  You have heat!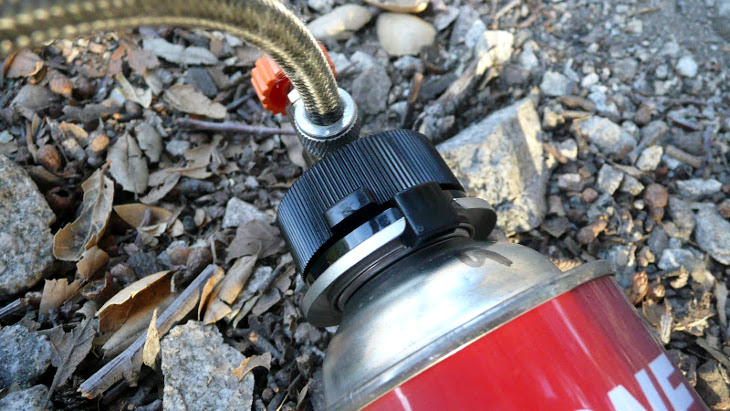 Burning white gas is a much more environmentally friendly option, as it burns cleaner, vaporizes at minimal temperature, doesn't produce smoke, and has minimal odor.  They are reliable little appliances that any adventurous spirit should own. This article will illuminate the pros and cons of seven different stoves.
We go into detail about their function, dimensions, and reliability.  We hope this article will provide you with a comprehensive buying guide that assists your next white gas stove purchase, thereby exponentially improve any camping, hiking, hunting, or backpacking experience.
Here are the seven products we will be discussing at length in this article:
Things to consider before buying
There are a number of different styles and options when it comes to white gas stoves and burners.  Getting a solid stove that will last for years to come is important, and all of these reviewed stoves should hold up to that standard.  But there are some other factors to consider before making the decision- how many people are you planning on using the stove for?
Do you often go out with just one other person, with a big group, or solo?  Do you need it to fold up real small and be ultra-lightweight, or do you prefer something a bit more substantial?  Here are some additional features to consider before purchasing:
Size
How big of a stove are you looking for?  Do you want something that folds up into an almost impossibly small portable stove?  Or is that not as big of an issue for you?  When buying the stove, also keep in mind you'll need to have fuel to make it work.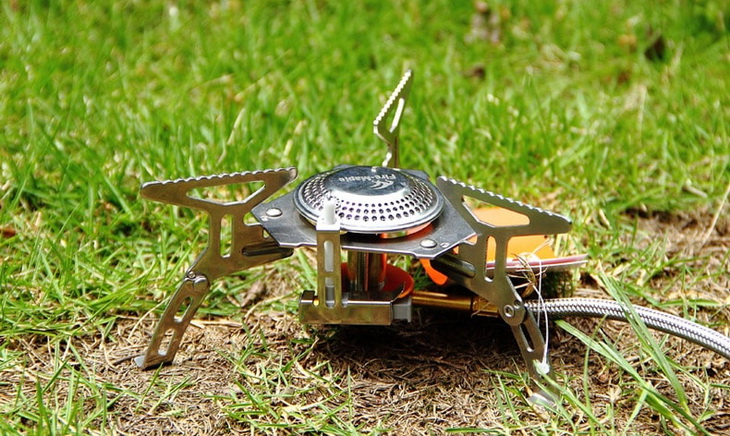 How much fuel can you bring?  How big can the fuel tank be?  These are all questions that must be answered, and differ from person to person, from you, the buyer. Decide if you need a stove that you will use for long backpacking excursions, or something that can just be carried around in your car for weekend camping trips.
Weight
Weight is crucial when planning a backpacking trip.  Every ounce matters, and some of these stoves differ by mere ounces… which really can make all the difference.  Lighter weight stoves do not necessarily mean less sturdy, but you may be looking for something with a bit more weight to it than others.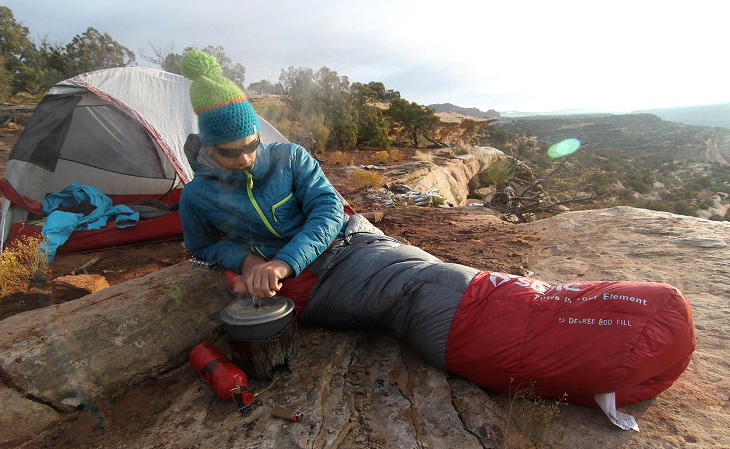 All of the products listed here will weigh in at just under one pound, up to two pounds. While that may not seem like a big difference, when you are loaded with a heavy pack, even the smallest of weight can really make the trip go from painful to painless.
Boil Time
While all of these stoves boast rapid boil times, some are definitely faster than others.  The time given for each of these stoves is calculated by how long it takes (in minutes and seconds) to bring one liter of water to a bubbling boil. Other factors will of course alter the boiling time, including wind and outside temperature.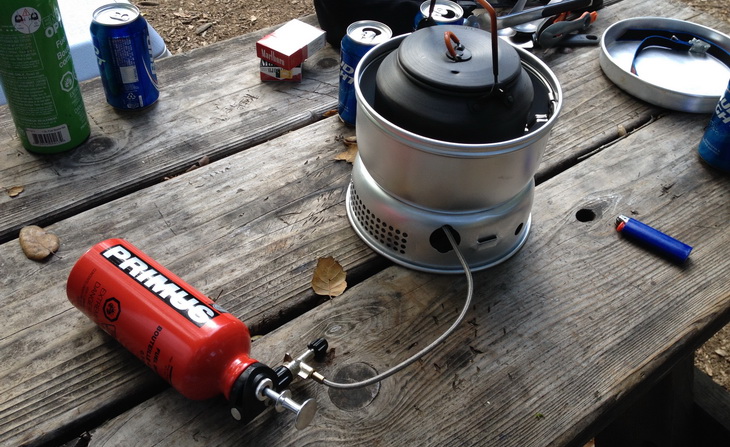 If you are having difficulty finding a spot to hide from the wind, even though many of the products come with wind blockers, they are not fool proof.  Mother nature will still have her say.  Temperature is another one.  If the water is frozen, if the boiling vessel is very cold, and if the outside temperature is extreme, the water will still boil, it just may take a little longer than advertised.
Price
The last thing to always consider is price.  How much are you willing to spend for quality?    Again, this question can only be answered by you, the consumer, and differs on a case by case basis.  We just want to ensure you get the most for your money, and the best quality stove at that.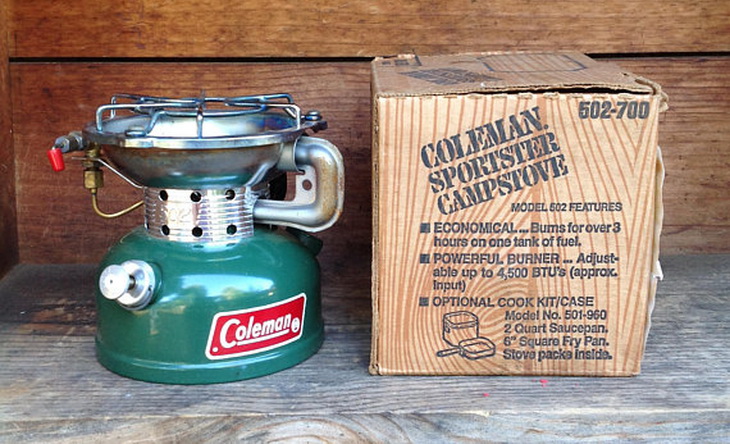 There are hundreds, thousands even, of different white gas stoves on the market.  If you are looking to save some money, you can look into buying used stoves.  These products are extremely durable, and will last a very long time with proper care.  If you are lucky, you may find a really good deal on a stove that was well taken care of.
Best Products on Today's Market
Let's get burnin'! Here is our list of all-time favorite white gas, or propane fueled stoves:
Primus Omnilite Ti 
Price: Approx. $168
Weight: 2 lb
Dimensions: 6.8 x 4 x 8.5 inches
Burn time: 100 minutes
Boil time: 2 minutes and 40 seconds
Specific features: Titanium, gray in color, super lightweight, durable, folds into a small, compact and easily portable stove, no ignition, works with multiple fuel sources.
Best use: Camping trip for 1-2 people
Description: The Primus Omnilite TI Stove is the most advanced stove ever made by this manufacturer. The durable, lightweight features of this camp stove burn almost anything except for water, folds into minor size, and incorporate all that you require for a great dinner with the exception of the food.
This stove is designed to handle demanding environments and situations. This stove is greatly dependable and vigorous, yet smaller, lightweight and fuel-efficient.
The output of this stove has been customized for the new era of fuel-productive pots with a warmth exchanger. The windscreen and pot bolsters are created with titanium and which therefore make the stove extremely sturdy and lightweight. OmniLite Ti works with gas, petrol/gasoline, diesel, paraffin/kerosene, and even jet fuel. Utilizing the different control handle, you can customize the flame to the warmth you need, even if you are putting on gloves.
PROS:
Highly dependable product
Lightweight and compact
Fuel-efficient
Easily customizable heat level
CONS:
Bottle of fuel doesn't fit back in the bag with the folded-up stove
Considerably more expensive than other portable stoves
Related:  If you want to go all out on your Primus Omnilite Ti Stove, consider purchasing the Primus Omnilite Ti Stove with Silencer for a bit of an additional price, but for the added benefit of the silencer.
Coleman Sportster II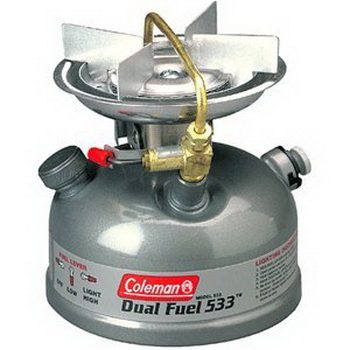 Price: $65 – $75
Weight: 1 lb
Dimensions: 7.38 x 7.38 x 6.55 inches
Burn time 2 hours
Boil time: Varies, roughly under 5 minutes
Specific features: Stainless steel portable camping stove, all season strong technology burns in all temperatures, five-year warranty, filtering funnel included with stove, dual fuel technology runs efficiently on Coleman liquid fuel gasoline.
Best use: Backpacking, multi-night camping, or hunting trip
Description: The Coleman Sportster II Stove is a fully-adjustable stove which is easy to operate even if you never tried these types of stoves before in your life. This stove serves as a basic addition to your camping cooking gear, that is there to cook your morning, afternoon and evening meals on the single burner, in any climate condition.
The surface for cooking is sufficiently compact to fit inside a backpack, together with the rest of your camping or hiking gear, yet huge enough to allow you to cook a camp meal without a problem and quite quick (it takes some 5 minutes to get the meal to boil).
Furthermore, this white gas stove gives you the choice of utilizing unleaded gas or Coleman liquid fuel. It is also ideal for outdoors, hunting and even in instances of emergency situations. It features a built-in pot bolster and wind protection. The filter funnel features 1.1 half quart fuel limit.
PROS:
Folds up very tiny
Lightweight and very compact
Contains handy fuel funnel
Portable and good for backpacking
CONS:
Complaints of being weighty for being so small
Limited fuel container
Related: Was one flame not enough?  Have more people in your camping party or would like to boil your coffee and cook your eggs at the same time?  Well then, you might like the Coleman Guide Dual Fuel Stove
Coleman Exponent  
Price: Approx. $75
Weight: 1 lb
Dimensions: 6.1 x 6.7 x 4.5 inches
Burn time: Dependent on fuel type and capacity
Boil time: 4.1 minutes
Specific features: Stainless steel burner, serrated pot bolster, wind resistance technology, inbuilt cleaning needle, 2640 watt output.
Best use: Camping or backpacking trips
Description: The highly versatile, extremely durable, and well received Coleman Exponent Stove is an amazing stove for backpacking and camping trips. It is a powerful stove with an inbuilt wind resistance system and runs on unleaded petrol or Coleman fuel, and it also features an inbuilt cleaning needle to enhance a minimal maintenance from your side.
It has a force of 2640 Watt which is quite plenty, while the 3 swing-out legs create a large stable surface for cooking and make the stove sufficiently compact to be used with almost all cook kits.
The Reflex Technology of this stove requires no priming, which is decreasing the time from start-up to total ignition. It requires a low field support, due to an inbuilt cleaning needle. This stove is made with a durable and strong material, and it also features a serrated pot bolster and a stainless steel burner. Definitely a white gas stove worth checking out.
PROS:
Inbuilt cleaning needle
Super light weight
Compact
Price is comparable to other stoves
CONS:
Wind blocker isn't as effective as competing brands
Related: If you trust the Coleman brand to be your outdoor cooking companion, then you will also trust their fuel. And you have a good reason for that because, for example, their Coleman Premium Blend Fuel is made from the highest quality materials and definitely the best choice for your stove's fuel.
MSR Whisperlite 
Price: Approx. $75
Weight: 1 lb
Dimensions: 6 x 8 x 8 inches
Burn time: 110 minutes (or 1.8 continuous hours)
Boil time: 3.5 minutes
Specific features: One piece stainless steel stove, very stable and fuel efficient, wind blockers, sturdy three-legged set-up, fuel pump and stuff sack included, fuel bottle not included.
Best use: Backpacking or long camping trips
Description: The MSR WhisperLite Stove  has something that many of its competitors simply do not- time tested experience.  Over twenty years, in fact, of field tested technology with reviewers supported updates and modifications resulting in a highly efficient, extremely durable and moderately priced portable camping stove.
The MSR WhisperLite has come into existence thanks to the feedback from its many thousands of users.  The MSR company has done exceptional work constructing their products to fit their consumer's needs, and this stove is no exception.
The 1-piece, marked stainless steel leg components enhances durability and disentangles maintenance while likewise diminishing weight. The stainless steel stove will arrive with wind blockers, a fuel pump, and a stuff sack so that everything can fit nicely back into the bag. It stands on three, sturdy legs, and can fold up into a lightweight, and compact little stove.
Consolidated with an accumulation of unobtrusive inbuilt refinements to enhance general effectiveness, this amazing stove will remain the top option for campers looking for a dependable multi-fuel stove. The WhisperLite works with all types of white gas and unleaded fuel.  You can purchase a MSR fuel bottle that is highly compatible with all MSR liquid fuel stoves.
PROS:
Decades of manufacturing and top-notch modification
One piece, easy to assemble and disassemble
Super lightweight and compact
CONS:
Stove does not include fuel bottle
Longer boil time than competitors
Related: If you like this stove, then you will also love the fact that MSR also offers different fuel bottle sizes, making it much easier to choose the bottle based on the type of your trip and the space you will have in your backpack.
Primus Multifuel III 
Price: Approx. $185
Weight: 1 lb
Dimensions: 4.7 x 4.3 x 4.3 inches
Burn time: 70 minutes
Boil time: 3 minutes and 10 seconds
Specific features: Three-legged stove that includes an ErgoPump fuel injection system, a multi-tool, windscreen, and heat reflector all in a single nylon bag, clearly marked fuel jets for ease of set-up, firmly attached to the pot supports to avoid any missing pieces.
Best use: Camping and backpacking trips
Description: The Primus Multifuel III guarantees all four-season workability.  It will travel with you no matter where your destination… or when.  It's a lightweight stove, weighing in at just under one pound, making it a tough competitor in the backpacking world where an extra ounce can really make all the difference.  It takes up very little space when folded up, also making it an excellent option for backpackers.
Its fire burns greatly, even in outrageous conditions ensuring that you obtain those calories in any weather kind. The new pot supports (grid) bolt safely when unfurled and when you are packing up, they fold up neatly away as well.
The jets of this stove are marked for every fuel sort, therefore preventing any form of mistake and the jets are appended to the pot support so they won't disappear. This amazing stove accompanies an ErgoPump, a multi-device, a windscreen, a nylon bag and a heat reflector.
The wind blocker and heat reflector aid in its quick boil time and make it one of the more efficient camping stoves on the market.  The Multifuel lives up to its name by being a compatible compact stove that works well and efficiently with all types of fuel: gas, petrol, kerosene, diesel, jet fuel… the list goes on.
PROS:
Very lightweight
Works in all weather
Works with any fuel type
CONS:
Does not include fuel
It is very pricey
Related: When cooking in the great outdoors, it doesn't matter if your stove is good or not when you are using it in high-wind areas. Therefore, to take full advantage of your high-quality stove, we suggest checking out this windscreen from Clickstand. It will definitely make cooking in the wind possible.
Nova Optimus 8016276  
Price: Approx. $150
Weight: 1 lb
Dimensions: 8 x 13 x 17.5 inches
Burn time: Up to two hours and thirty minutes of continuous, maximum output
Boil time: 3 minutes and 30 seconds
Specific features: Minimal pack-sized stove complete with self-cleaning aluminum pump, build in cleaning needle, folding flame control, stable structure, built-in windshield.
Best use: Big partied backpacking or camping trip (more than two people)
Description: Used by amateurs and self-proclaimed professional backpackers and campers alike, the Nova Optimus 8016276 Stove has really stepped up to the plate in answering the demand for extremely compact, lightweight, yet powerful white gas stoves. It is the standard for multifuel expedition stoves of today. This amazing stove has cooked a large number of meals in the camping field and has turned into a most loved stove among serious campers.
This stove features a patented fast-priming burner, self-cleaning aluminum pump, and an inbuilt magnetic cleaning needle. These features guarantee unwavering quality and usability in all conditions.
The jet multi-fuel technology gives versatility all through the world. On account of the collapsible turbine formed pot bolster, a folding fire regulator, and new stuff sack, the pack size is compact. Regardless of the small arrangement, this stove offers strength for vast estimated pots. So go out and get cooking!
One last bonus is the extra parts that are automatically sent with every purchase.  It's a great sense of security know that if, and hopefully only if, something went wrong or got lost (though the self-cleaning aluminum needle is magnetic, so the loss of that is less than likely) you'd have the spare parts to get the stove up and running again.
PROS:
Comes with extra parts in case of emergency or wear
Long burn time
Lightweight and compact
Magnetic cleaning needle so you won't lose it!
CONS:
Fuel bottle not included
A bit pricey, but comes with more features and extras than other stoves
Related: If you plan on using this stove for camping with your family, then a fuel bottle that the kids can't open should definitely be a part of your gear. We can recommend the Optimus UG0MME Fuel Bottle.
Trangia X2  
Price: Approx. $180
Weight: 1.2 lb
Dimensions: 7.6 x 7.6 x 4.3 inches
Burn time: Varies
Boil time: 3 minutes and 30 seconds
Specific features: Manual ignition burner; kit comes with a burner, pump, 0.6-liter fuel bottle, 2 jets, and a cover.
Best use: Minimalist camping or backpacking trip
Description: The Trangia X2 Multifuel Burner is a perfect stove for the minimalist, or someone who has their own cooking apparatus already, and does not need to invest in a stove that has it built-in.  It can go to any place you need it. It uses a multi-fuel burner that operates on gas, petrol, kerosene, and diesel. The natural option for demanding conditions, for example, winter tours or expeditions!
The burner of the stove comes along with two jets. 0.32 mm is built in the burner and is used for cartridge gas, petrol, and white gas. The jet stamped 28 is for diesel and kerosene.
The stove's cook sets are made to expand heat effectiveness of an un-pressurized, liquor burner, a typically low heat yield stove. Since these cook sets are made for such high warmth proficiency, it likewise implies that they are not intended for stoves with high warmth yield. So, the X2 burner, that has no throttle regulator, could wreck devastation with a Trangia 25/27 at high capacity.
PROS:
Quick burning time
Minimal set up
Lightweight and compact
CONS:
Need additional specific cooking apparatus to use
Pricey for its minimal features
Related: If you are a fan of this product, you might also want to check out their bottles of other sizes as this will allow you to choose the one that fits your backpack better and doesn't take much of the free space you need for the rest of the gear.
Wrap Up
Did this article spark any desires to grab your gear and head to the mountains?  We hope so.  We also hope that you learned a thing or two about the many nuances of portable stoves, as well as the many benefits of owning one.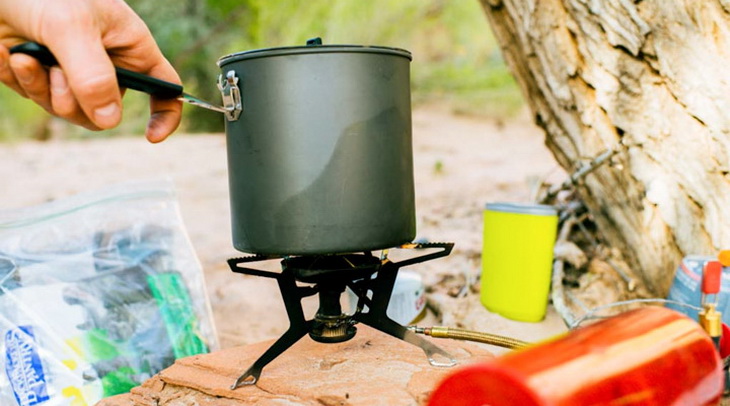 Now that you know how to pick them and which models are the best on the market, go through the product reviews once more and check which one has all the features you need or is at least the closest one to it. Which ever one from our list you choose, we are certain that it will definitely not be a bad choice.
If you have a stove of your own that you just couldn't imagine living without, tell us about it in the comments section below!  Feel free to leave us any questions or stories of your own, we love hearing from our readers!