Whether you are a person who enjoys adventures, likes hiking, walking, or camping, or perhaps you are an individual who likes being prepared in the event of a calamity, or you are just a survivalist, having the Best Tactical Flashlight is something that should be part and parcel of your life.
These kinds of devices can be used for various applications and by different professionals, including law enforcers, fire safety officers, and wildlife rangers, to carry out their duties during the night and even during the day when sunlight is not sufficient.
The flashlight is a useful device to carry around. There have been significant advancements in this industry over the years with the inception of the LED technology leading the way. Smaller torches (synonym for flashlights) have been developed that produce high illumination and needing less energy to function.
Today, torches are produced with high standards, with most of them being waterproof, water resistance, and shock proof. Due to the nature of their materials, the gadgets are highly durable, sturdy and rugged. This makes them exceptional when compared to the traditional torches preceding the tactical flashlights.
Our Top Picks
In this article, we are going to go over some tactical flashlights and show you reviews of several of them so you can choose which one will work best for your needs!
Features to Consider Before Buying
There are a lot of gadgets on the market, and it may be daunting to decide which one would be suitable for your personal needs. Before making any decisions concerning these devices, it is essential to think about some considerations.
First, think about the amount of illumination you would require. Next, think about the size you will require and the kind of materials you would need your flashlight to have.
Lumens
In addition to the flashlight, any other source of light uses Lumens as the SI unit, but this is something you already know. Now, if you are searching for a gadget to use in tactical conditions, the brightest levels that would be suitable for you, easily fall in the range of seven hundred to two-thousand Lumens.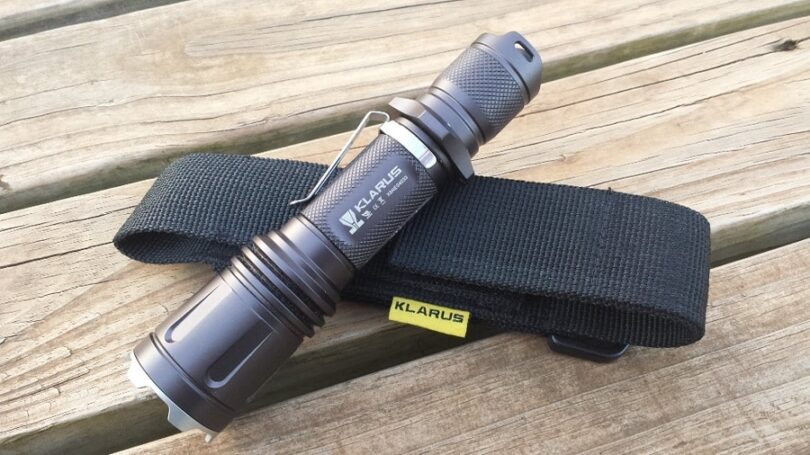 Any value beyond the seven hundred mark is bright enough to give you the desired light output. Professional enforcers such as the police officers as well as those working in the military will readily attest to the 700+ Lumens. Moreover, they would readily agree that this kind of illumination is enough to get their jobs done.
However, if you are planning to acquire a tactical torch for outdoor purposes or other domestic applications, perhaps a gadget rated 900 Lumens will be useful. A range of seven hundred to nine hundred Lumens can still be very useful, but in case you are out camping, cycling, or hiking, you may find a flashlight that is slightly brighter more useful.
This implies a gadget that could be rated up to two thousand Lumens. This is also applicable for torches that are to be used for scenarios of self-defense, such as directing the beam towards the attacker's eyes to turn them away.
Gadget Size
Keep in mind that this is a tactical scenario, whether professional or self-defense, you will be utilizing the tactical flashlight along with other tools and accessories like the rifle scopes, earmuffs, or even shooting glasses. At this point you realize that the size of your torch matters.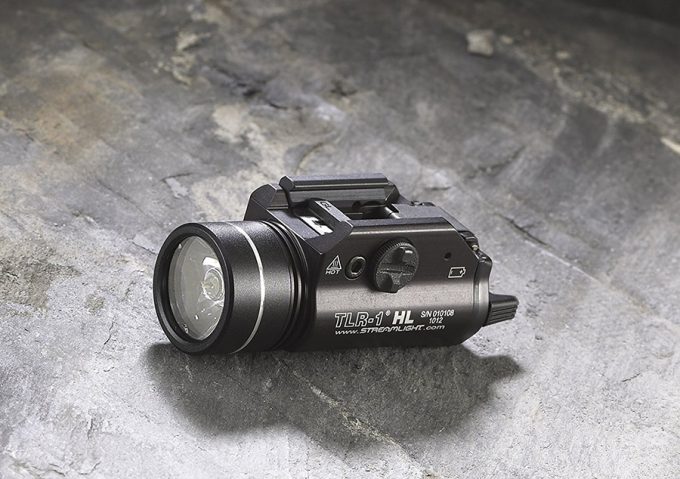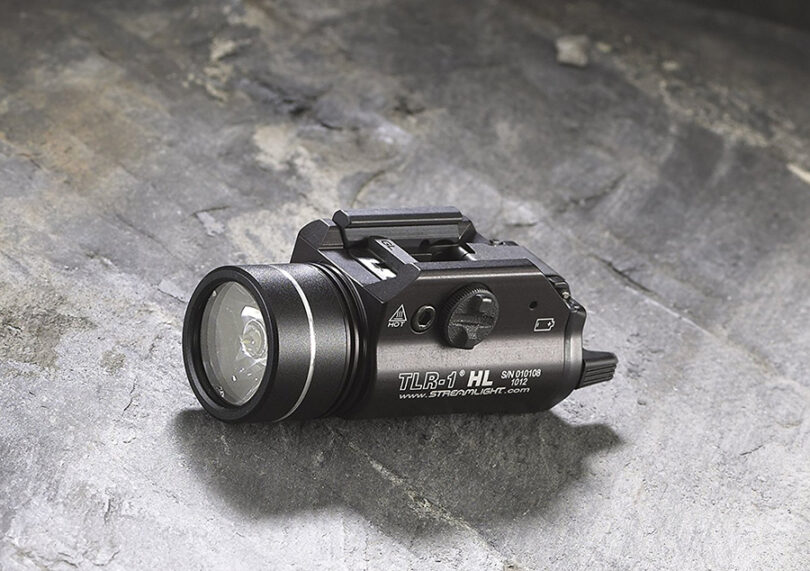 Fortunately, when designing the tactical torches, most manufacturers make the gadgets compact and small enough for you to carry around. Although there are a few that are a little bit heavier than others, it is imperative to choose one that has the weight that will not hinder your outdoor activities.
Surface Material
The material the torch is made of is also significant. There are heavy-duty plastic varieties and stainless steel components that are used in manufacturing flashlights.
However, most torches are made from anodized aluminum; aircraft-grade in quality, and reinforced to make the device highly durable and to protect them from natural elements such as dust and rust. There are those made from titanium, but these tend to be costly.
Top Product Reviews
Here is a list of some tactical gadgets available in the market. It is safe to say that the devices mentioned below meet all the considerations highlighted above. Perhaps you might identify a flashlight that you can use to find your way around, among the ones on our list.
Fenix Tk35 Ultimate Edition Flashlight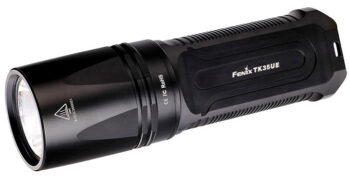 Price: Approx. $140
Lumens: 2000
Battery: 2 18650 rechargeable batteries
Specific features: Smart battery charger, dual tail button switch
Best use: Outdoor adventures, hiking, camping
Description: The Fenix TK35 Ultimate Edition Flashlight is one of the best gadgets you would enjoy having when out on your camping expeditions. Although you get a maximum brightness output of 200 Lumens, having this flashlight at its lowest setting is still sufficient to help you find your way around the dark mountains or forests.
The package is accompanied by some great accessories which include a smart battery charger among others, but it is definitely the seven operational modes that will impress you the most – Low, Eco, High, Medium, Strobe, turbo, and SOS.
One great advantage of using this tactical flashlight is that the power of its beam does not only remain in the two thousand Lumen output, but also in a 1050 feet distance that it covers, giving you a minimum of 100 yards at full brightness. If you are looking for maximum power and lighting, this is what you get with the FENIX TK35 2000 Lumen.
PROS:
Seven operation modes
Smart battery charger
CONS:
Some do not like the orange reflector
Can have switch problems
Related: You will need Lithium batteries for this, so check out Panasonic NCR18650B Super Max Batteries, that work great!
Nitecore P36 Cree Mt-G2 Flashlight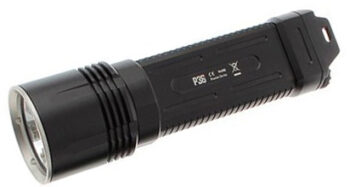 Price: Approx. $100
Lumens: 2000
Battery: 2300 mAh, 3.7 v li-on rechargeable batteries
Specific features: Impact resistance to 1.5 meters, direct use to turbo/ultra-low, waterproof in accordance with IPX-8, HAIII military grade hard-anodized
Best use: Outdoor adventures, hiking, camping
Description: In most cases, when a flashlight is 2000-Lumens bright, there are high possibilities that other areas will be compromised. However, the LED gadget from NITECORE defies this trend, because it also provides a descent surrounding lighting.
Powered by the authentic NITECORE batteries, the Nitecore P36 Cree Mt-G2 Flashlight will enable you to pass through the darkest places, and if it happens to fall, a distance past meter and a half, is what is required to at least scratch the flashlight.
With this gadget, the control of the gadget's temperature is excellent, which aids in saving energy, making it comfortable to hold. On the downside, the NITECORE 2000 Lumen tends to heat up more than other models from its category, but this is not something that should make you change your mind about this model.
PROS:
5 special modes
Mineral glass lens, anti reflective coating
CONS:
Costly, though under $100
No battery charger
Related: If you want an entire Fenix kit that comes with everything you need, you can check out the FENIX RC40 LED Flashlight.
Streamlight 69260 Tlr-1 Flashlight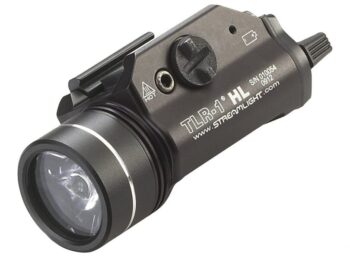 Price: Approx. $150
Lumens: 800
Weight: 4.2 ounces
Dimension: 3 x 3.39 x 3 inches
Specific features: 2-3 V Cr123a lithium batteries, waterproof to 1 meter for 30 minutes, serialized for positive identification
Best use: Outdoor adventures, hiking, camping
Description: This flashlight weighs 4.18 ounces, but it will provide you with 1.25 hours of running time when on their CR123A batteries. It offers a large beam that lights up a large area so you will be able to identify what or who is nearby.
The C4 LED provides 12,000-Candela maximum beam intensity and the TIR optic creates a focused beam with optimum peripheral lighting.
The nature of its size and design enables you to attach it conveniently and safely to your firearm. It is a durable flashlight that will last their multiple rounds while maintaining great functionality.
On the downside, its strobe light mode seems a bit challenging to select, which might make you feel as though it is completely non-functional.
However, if you are fine with giving up five percent accuracy on the target you are aiming at, at about sixteen feet away, the Streamlight 69260 TLR-1 would certainly be one of your best choices.
PROS:
Several models to choose from
Includes strobe feature
CONS:
Costly
Some have issues with the strobe light
Related: There is a remote that can fit the Glock, such as the Streamlight TLR 1&2 Contoured Remote.
Solaray Pro Zx-1 Flashlight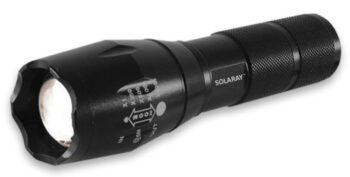 Price: Approx. $30
Lumens: 1200
Weight: 4.9 ounces
Dimension: 6.2 x 1.1 x 1.5 inches
Specific features: Different lighting modes, water resistant aluminum body, premium tail switch
Best use: Outdoor adventures, hiking, camping, security
Description: The Solaray Pro Zx-1 Flashlight weighs about 5 ounces and packs an amazing punch when it comes to performance and power output.
We cannot be certain about the claims of 1200 Lumens, but this gadget is effective to give you the desired illumination. The tactical flashlight from Solaray features five modes – High, Medium, Low, Strobe, and SOS.
The device is powered by 18650 3.7v batteries that come included. The owners of this flashlight model claim that with a flashlight from Solaray, you get a brilliant output and maximum performance.
PROS:
Ultra bright
Memory Light Mode
CONS:
Lens can scratch easily
You have to cycle through multiple stages to get to Flashlight Mode.
Related: Solaray makes their own batteries like the SOLARAY 18650 Batteries, that will work with this model perfectly.
Vizeri Vz230 Tactical Flashlight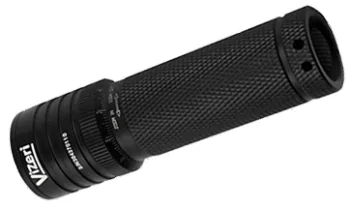 Price: Approx. $50
Lumens: 230
Weight: 3.7 ounces
Dimension: 4.2 x 1.1 x 1.3 inches
Specific features: Most flexible power options, 5 modes, military grade aluminum, water resistant to a depth of 3 feet
Best use: Outdoor adventures, hiking, camping, security
Description: When you receive the Vizeri VZ230 Tactical Flashlight, put some batteries inside and be ready to be perplexed by its powerful beam. You will wonder how this compact package could cram so much power, as well as admire how it feels in your arm.
Attach the diffuser and see how the concentrated beam scatters like the lantern. Experiment with its modes and memory features and discover how efficient the gadget works.
Besides its enviable quality, what sets the Vizeri apart from its competitors is the fact that it possesses a zoom focusing option, and is still IPX-7 waterproof. A good number of waterproof gadgets have a fixed focal length where a single beam is forced to fit almost all applications.
It's like acquiring a camera without the zoom feature and expecting it to deliver awesome pictures in all situations. Because of its quality, light brightness, and feature, there is no doubt that you will love using the Vizeri.
PROS:
Solid product
Broad lighting
CONS:
Case is expensive, sold separate
Diffuser is separate also
Related: A battery extension tube can be purchased for this product made by Vizeri; Vizeri LED VZ230 Lithium Battery Extension Tube.
Streamlight 75458 Stinger Flashlight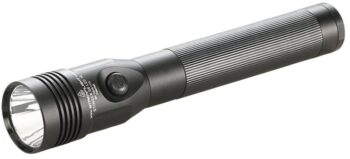 Price: Approx. $170
Lumens: 640
Weight: 2 pounds
Dimension: 3 x 8.85 x 3 inches
Specific features: C4 LED technology, IPX4 water resistant, LiMH battery rechargeable up to 1000 times, 1-meter impact resistance tested
Best used: Outdoor adventures, hiking, camping, security
Description: Perhaps not the best tactical gadget for the law enforcers, but this is very well suited for your outdoor adventures whether it is hiking or camping.
With a beam coverage of two hundred and ninety-seven meters, the product offers 640 Lumens to help you with your night illumination needs. It weighs about two pounds, but the flashlight makes up for this weight with an amazing compact size. Additionally, the Streamlight 75458 Stinger Flashlight is very durable and will provide countless hours on a single charge.
The battery of the flashlight is amazing, in 2 folds; it enables an output of up to 4 hours and it is also durable, accepting up to 1000 recharges. Additionally, it is accompanied by a charger that makes it possible for you to simultaneously charge your spare battery.
The solid brightness and excellent battery life make the Streamlight 75458 Stinger one of the best lightning gadgets to own.
PROS:
water resistant
can be charged 1,000 times
CONS:
Not for tactical use
Batteries do not last long
Related: A holster for this model can be purchased, the Streamlight 75927 Black Nylon Holster, which works great!
Eagletac G25C2 Mk II Flashlight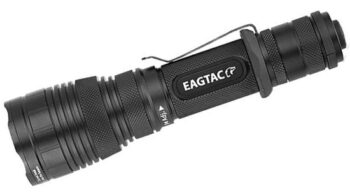 Price: Approx. $130
Lumens: 1180
Weight: 4.8 ounces
Dimensions: 1.55 x 5.9 x 1.55 inches
Specific features: Maximum throw of 380 yards, runtime of 90 hours,
Best use: Outdoor adventures, hiking, camping, security
Description: A tactical flashlight is not just another flash, nor is it just a brighter flashlight. It is the type of gadget you would entrust your military personnel, the one you would trust to function outdoors; during a clear night under cloudy skies, or in a storm after the sunset. Tactical flashlights are powerful gadgets, and the EagleTac G25C2 MK II Flashlight is one of these powerful devices.
This one is waterproof, extremely bright, durable, very light, and easy to use. Additionally, it has an excellent battery life, and an amazing look, if this is a feature you would like to have.
Not many devices on the market outperform the MKII, and the ones that do are not really necessary for those with black-ops missions.
PROS:
Beam distance of 295 meters
Waterproof
CONS:
Not the best quality
Can have wiring issues, defective
Related: Universal chargers exist, so you can charge your flashlight. Check out one like the NiteCore-i2-V2014 Universal Intelligent Charger.
Streamlight 88040 Protac Flashlight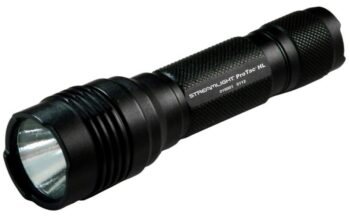 Price: Approx. $130
Lumens: 1180
Weight: 5.6 ounces
Dimension: 1.37 x 5.25 x 1.45 inches
Specific features: 3 different operation modes, waterproof, C4 LED technology for extreme brightness
Best use: Outdoor adventures, hiking, camping, security
Description: With seven-hundred and fifty Lumens of blinding light, the Streamlight 88040 ProTac Flashlight is one of the brightest ProTac models in this series. This device offers the latest in LED power technology and three different user programs.
The combination of output from C4 LED and its small size result in high-performing tactical light for its size. Weighing just 5.6 ounces, it is powered by two CR123A batteries, and is waterproof. It is one of the most ideal gadgets to have in your outdoor escapades.
PROS:
Max throw of 380 yards
Can run up to 90 hours
CONS:
Poor method of output adjustment
Wiring issues may happen over time
Related: A more trusty and less pricey, flashlight could be one like the SureFire G2X Series LED Flashlights , which has a tough body and LED lights.
Concluding Thoughts
The flashlights reviewed in this article are meant to be hand held, although there are some that can be mounted on your weapons, making it possible for the gadget to illuminate the potential target. Most of them can also be tied with wrist straps making them easily accessible.
You can find certain devices which are suited for security, hiking, military, law-enforcement, or search and rescue missions, or you may just require one for illumination while on your journey back home.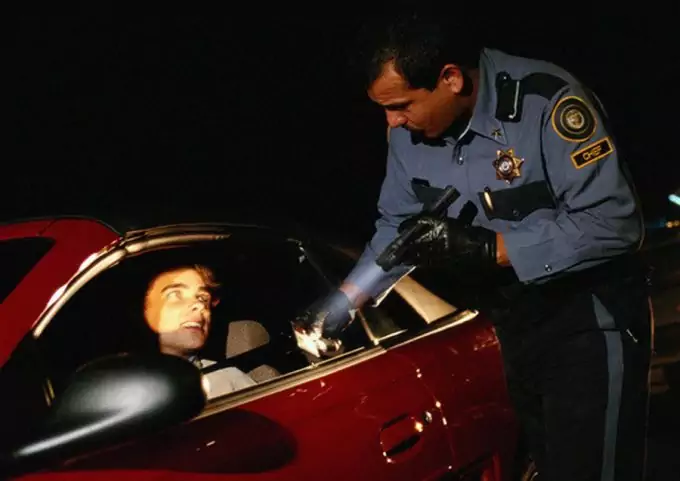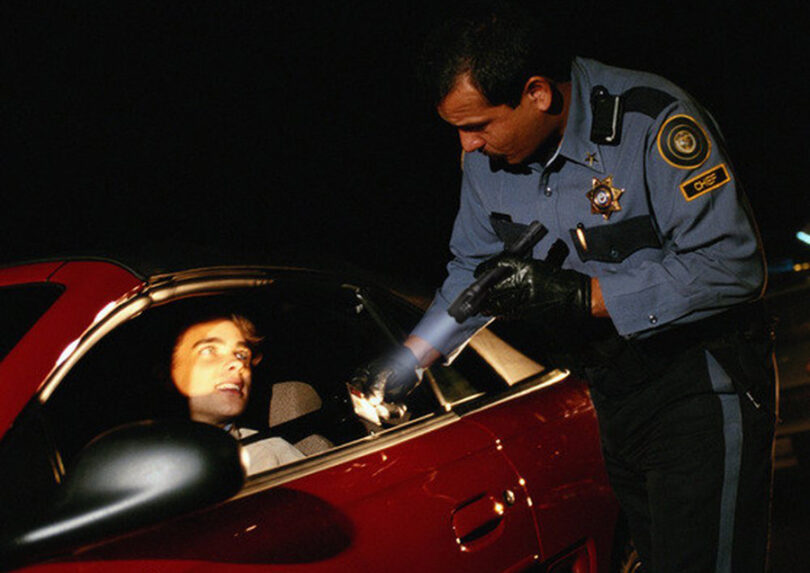 Whatever the reason for using a tactical flashlight, whether for personal protection, for use at work, or just to assist you with the day to day errand when other sources of light are inadequate, the devices listed above are certainly among the best to consider.
Do not forget that the kind of work you are doing or the tasks you are undertaking will determine the type of gadget that will be useful to you. Hopefully, the gadgets we included in this review will guide you to find the right flashlight.
In all these, it is imperative to remember that even the best tactical device within illumination of 2000 Lumens is only as efficient as it can remain within these levels. In the end, an excellent flashlight is all about maintaining high levels of brightness for extended periods.
So, which products or models do you think deserve to be included in the above list? And which products would you settle for when hunting for the right tactical flashlight? Feel free to leave your views on the comment section of this page.