Are you tired of looking for sandals and only finding frilly ones that have no tread? Are you ready to learn about hiking sandals? We are about to show you a whole new world. Wearing open shoes allows your feet to breath, no matter where you are or what activity you are doing. It goes without saying that the most regular hiking shoes are often boots, but sometimes, women prefer to give their feet some ventilation by hiking in sandals. Searching for the best hiking sandals for women might get frustrating as there are so many brands and styles out there.
If you are thinking of backpacking in the summer or in any other warm weather and want to allow your feet some fresh air, then you should think about adding some hiking sandals to your gear instead of boots. Unlike the regular hiking shoes, sandals are lighter and often more stylish. They are the perfect choice for hiking in hot weather.
It is important to note however that not just any sandal will be fit for the hiking. That is why it is important that before you buy the sandals, you know exactly what to look for and why. This article is going to show you the important features of hiking sandals and even give you some reviews so you can begin looking for a pair that works for you!
Our Top Picks
Features to Consider Before Buying
Now that you have decided you want to go hiking in sandals instead of boots, you need to know what features to look out for so you can give your feet all the comfort and support they need.
Shock Absorption
A good hiking sandal is built with shock-absorbing material in its sole to protect your feet from any strong impact.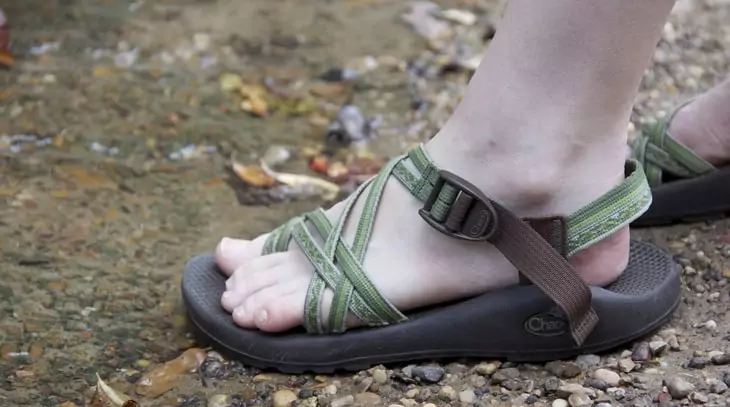 Sandals designed for use in the wildness should have good shock apportion otherwise your feet will feel every impact against the rough terrain.
Coverage and Toe Protection
Many hiking sandals come with a closed-toe design to shield your toes against rocks and other unsafe encounters. If you are going to be hiking in a rocky or generally rough terrain, then you should give consideration to buying closed toe sandals instead of the open toe ones.
If your terrain is relatively smooth, however, then you can wear open toe sandals with less coverage over your feet to give them all the aeration.
Arch Support
A good hiking sandal should come with good arch support to give your foot maximum contact with the shoe. Without arch support, the middle part of your foot is often left hanging which becomes uncomfortable in the long run.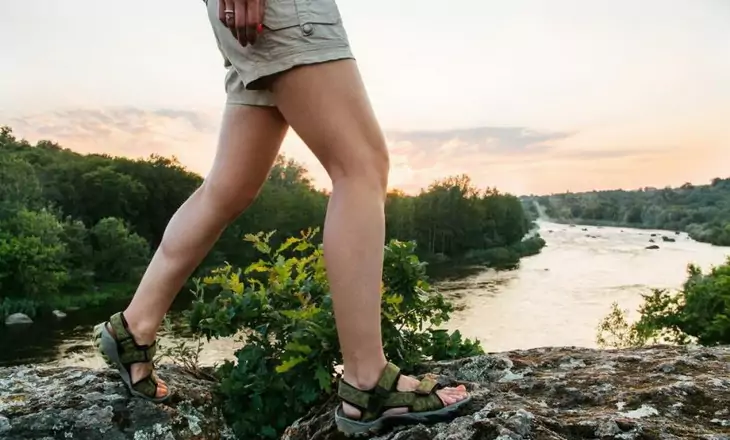 If you are buying ordinary walking sandals, it might be ok to get them with no arch support, although doctors still advise against this. When it comes to hiking, however, you are going to be on your feet for hours so they need excellent arch support or you hike will very soon get uncomfortable.
Traction
Just like any other hiking shoe, choose sandals whose soles have excellent traction. When hiking on uneven terrain, any small slip is dangerous and might have very adverse results.
The shoe you chose must have the ability to firmly grip onto the surface and much as possible. Sandals with Vibram soles have the best traction and are therefore the ideal choice for hiking.
Straps
Buy sandals that have solid straps. Firm straps ensure that your feet stay secured in the sandals for stability.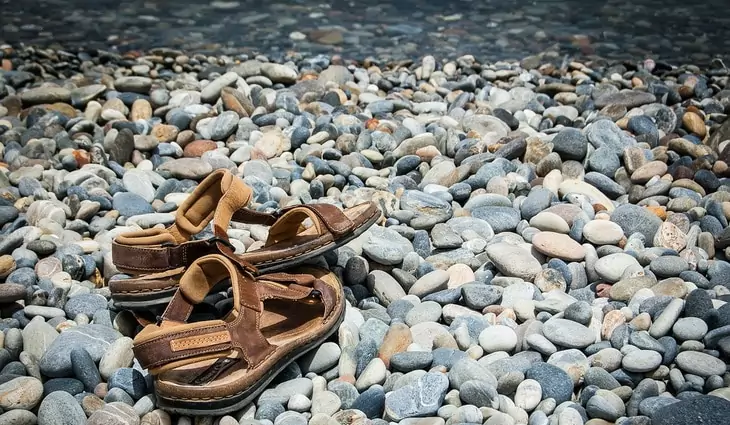 The straps come in different styles to suit the different designs, but the bottom line is that they should hold your feet firmly in the sandals and they should be strong enough to withstand the rough nature of outdoor life.
Waterproof
Consider getting sandals that are waterproof. Even though sandals are a lot easier to dry than boots, still they are a tad uncomfortable when wet. Hiking in waterproof sandals ensures that even when you cross streams or encounter rain, your feet will be dry soon after.
Activities and Terrain
Finally, give great consideration to the type of terrain and activities you have planned. The rougher the terrain and the tougher the activities, the stronger and more covering your sandals should be.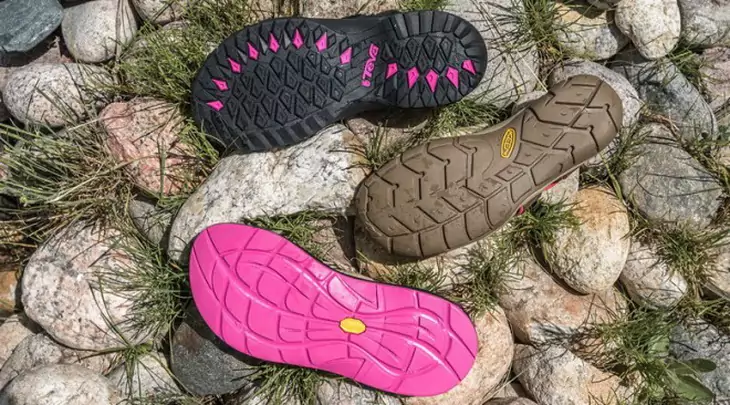 Activities like mountain climbing will definitely require Vibram-soled sandals for maximum traction while a simple day hike can use sandals with less traction
Top Products on Today's Market
There are countless brands and designs of hiking sandals in the market and each comes with its advantages. The trick in choosing the ideal one is in knowing which sandal is the right fit for you and for the terrain.
Keen Whisper Sandal
Price: $60 – $115
Weight: 3 lb
Dimensions: 11 x 7 x 7 in
Specific features: Closed toe, leather, bungee lace capture system, hydrophobic mesh lining, arch support, machine washable
Best use: Hiking, camping, ultralight backpacking, walking, outdoor adventure
Description: The KEEN Whisper Sandal is a comfortable and sturdy hiking sandal made for outdoor life. If you want to go hiking in a sandal that allows excellent aeration but at the same time gives good arch support, then KEEN's Whisper Sandal will be a good choice for you.
The machine washable polyester upper is made with Aegis Microbe Shield to reduce odor and the foot bed is made for maximum comfort with a design that matches the natural curve of the foot to give better arch support. The sandal's bungee lace capture system allows you to secure your foot in the sandal and adjust it to your preferred fit.
One other thing that users liked is the fact that they can find this hiking sandal in a range of color options, and the sandals are very comfortable against the foot, and they enjoy the bungee lace capture system and mesh lining.
PROS:
Many colors to choose from
Comfortable, made of leather
Rubber out sole
CONS:
Fabric can come loose
Stitching isn't the greatest
Expensive for some
Related: Grab a new pair of hiking poles before you hit the trail. The KingCamp Hiking Poles are under $40, made of carbon fiber and is great at shock absorption.
Clarks Tuvia Melon Sandal
Price: $40 – $100
Weight: 3 lb
Dimensions: 12 x 8 x 4 in
Specific features: Closed toe, synthetic sole, single-pull bungee lacing, contoured foot bed, versatile traction
Best use: Ultralight backpacking, walking, riding
Description: The Clarks Tuvia Melon Sandal is a sturdy closed toe hiking sandal designed for hot weather hiking. The sandal is made with a sporty style designed for sturdiness and comfort in the great outdoors.
It is made with a bungee lacing system for fast and flexible lace up and a versatile rubber sole with good traction on rough or slippery terrain.
The strong material, closed toe design and sporty workmanship make it ideal for outdoor adventures. If you are in the market for a sandal that has great toe protection, good traction, and excellent aeration then this would be a good one for you.
The sandal, however, does not have arch support so if you are planning on a long hike, you might want to consider an alternative sandal with arch support. Overall, users agree that this is one great pair of sandals that are comfortable to wear and come in some great colors and has a nice design.
PROS:
Affordable
Many color choices
Nice foot bed
CONS:
No arch support
Not super sturdy
Shoe feels hard
Related: The Mardingtop Hiking Backpack is a great backpack to have while hiking. It is under $40 and comes in a variety of colors and users say it is comfortable to wear all day.
Northside Burke II Sandal

Price: $20 – $40
Weight: 2 lb
Dimensions: 12 x 8 x 4 in
Specific features: Protective rubber toe cap, synthetic sole, mesh lining, bungee lacing system, cushioned footbed, pull-on loops
Best use: Hiking, camping, ultralight backpacking, walking, boat riding
Description The Northside Burke II Sandal is the ideal sandal for summer backpacking and general hot weather outdoor life. It is designed to offer safety and comfort for all outdoor activities including, backpacking, camping, boat riding and all other fun adventures.
The sandal allows for maximum ventilation so your feet stay aerated while its great rubber toe protection allows you to move in coarse terrain with less worry of injury.
Its sole offers good traction on slippery ground and the bungee lacing system allows flexibility for a perfect fit while at the same time ensuring quick lace up. Should you have to walk through streams or move in the rain, this sandal allows you to enjoy the water and then dry out very fast.
If you want some fun in the sun with a comfortable sandal, Northside's Burke II Sandal is an ideal choice for you. At this price range, you can't afford not to try these sandals!
PROS:
Closed toe keeps out debri
Many colors to choose from
Affordable
CONS:
No half sizes available
Not girly enough for some
Can irritate the feet
Related: If you decide to wear some light socks with these sandals for extra protection, the Cushion Hiking Crew Socks are a 4 pack for under $20 and made from cotton and polyester.
Teva Toachi 2 Sandal

Price: Approx. $100
Weight: 2 lb
Dimensions: 12 x 8 x 4 in
Specific features: Open toe, synthetic, rubber sole, drain frame T-technology, Shoc pad heel, EVA midsole, arch support
Best use: Hiking, camping, ultralight backpacking, walking, summer backpacking.
Description: The Teva Toachi 2 Sandal is designed for those who want to allow aeration for their feet. Its open toe design allows your feet to enjoy the outdoor breeze to the maximum. The sandal comes with a contoured footbed to give your foot a firm hold and arch support to ensure maximum contact between your foot and the sandal.
The combination of the contouring and arch support ensures that you hike in comfort and with stability. The blend of a contoured footbed, Shoc Pad heel, non-slip spider rubber outsole, and arch support makes this one of the best choices of women's open toe hiking sandals.
It is an ideal choice of hiking sandal if you want to give your feet maximum aeration. Be careful, however, if you are hiking in rough terrain or if you are likely to encounter insects and snakes on the trail. The very open nature of the sandal means minimal protection for your feet.
PROS:
Adjustable heel
Forefoot straps
Stylish
Related: While hiking, you may have to get fresh water for yourself. The Sawyer Mini Water Filtration System will filter your water and allow you to quickly get clean water. It is simple and easy to use, and packs in your gear nicely.
Chaco Yampa Sandal

Price: $70 – $100
Weight: 3 lb
Dimensions: 12 x 8 x 4 in
Specific features: Adjustable buckle closure, arch support, jacquard webbing double straps, LUVSEAT PU footbed, Vibram outsole, synthetic sole, machine washable
Best use: Hiking, ultralight backpacking, summer backpacking, walking, riding.
Description: The Chaco Yampa Sandal is a great pick for an open toe hiking sandal for women. This sandal comes with a non-marking Vibram outsole designed for maximum traction, making it ideal for hiking on slippery ground. Its straps have adjustable buckle closure, which allows you to adjust the tightness of the straps for a perfect fit.
It comes in a beautiful strappy nylon design made for those who like their sandals to come with a blend of simplicity and style. This is a sturdy sandal designed for maximum foot aeration, strong traction, great arch support, and style. Like with all open toe sandals, however, care should be taken while hiking in rough terrain to avoid injury.
Overall, users like these sandals because of the design and simple style that is classy and easy to slip on. The strap is easy to adjust as well, but these sandals aren't meant for harsher terrain. Coming in a variety of colors, you are sure to find a color you like so you feel cute while on the trail.
PROS:
Several color schemes
Stylish
Simple shoes
CONS:
Expensive
Not a lot of tread
Not a lot of protection from debris
Related: Keep your head protected while hiking with the Mazo Camping Hat as it comes in many colors and offers a wide brim for protection.
Merrell Lattice II Sandal

Price: $60 – $120
Weight: 0.2 lb
Specific features: Leather, microfiber soft foot bed, breathable mesh lining, durable traction out sole
Best use: Hiking, camping, ultralight backpacking, walking
Description: The Merrell Lattice II Sandal is a beautiful sandal designed for maximum aeration and freshness. The sandal comes with a sporty webbing style of nu-buck leather straps with a quick-release ankle buckle.
The Breathable mesh lining allows for maximum freshness while the combination of a Microfiber soft foot bed and Remember Me Foam foot-cradling gives your foot support and comfort. It is designed with a durable traction outsole for maximum grip on slippery trails.
Be careful, however, if you are on a brushy or rocky trail as this sandal does provide much cover and has no toe protection.
You can find these sandals in many colors including Taupe, White, Fuchsia, Black and Atlantis. Users like the choice of colors as they can match with their gear or outfit. While the price is a little high for some, users do enjoy the quality that comes with these hiking sandals.
PROS:
Lots of color choices, nice design
Footbed comes out
Stable
CONS:
No half sizes
Fabric comes apart
Straps do not stretch
Related: If you are concerned about sun damage, the Vapor Apparel UPF 50+ Long Sleeve is a nice shirt that is UPF 50+ rated and costs around $20. You also have your choices of colors.
Hi-Tec Waimea Falls Sandal

Price: Approx. $50
Weight: 2.5 lb
Dimensions: 12 x 8 x 4 in
Specific features: Synthetic, EVA foam midsole, synthetic sole, moisture-wicking lining, perforated faux-leather straps
Best use: Hiking, riding, camping, walking, summer backpacking.
Description: The Hi-Tec Waimea Falls Sandal is designed for long hot day hiking with a lot of open space for maximum ventilation and moisture-wicking lining to keep your feet dry, fresh and comfortable.
Its adjustable hook-and-loop straps allow for a perfect fit while the EVA foam ensures that the foot is cushioned against any impact on the trail.
This reduces stress on the foot and allows for maximum comfort. It is ideal for all outdoor activities and will keep your feet fresh and comfortable on long trails.
This sandal is the perfect choice for you if you intend to go hiking in the summer, but be careful and stay away from areas with too much brush and rocks as the sandal has minimal cover and no toe protection.
In the end, users like these hiking sandals for the design style, earthy color tones and the low price. They are comfortable and have a decent amount of tread as well.
PROS:
Affordable
Comfortable
Stylish
CONS:
No bright colors
Too much space for debris to enter
Related: Keep your eyes protected from the sun while hiking. The Gamma Ray Sunglasses are under $10 and are UV rated. Plus, they are polarized and comfortable.
Wrapping it Up
There are various types of sandals that are built for hiking and general outdoor life that would make great additions to your hiking gear. If you have a chance, try the sandals on before purchasing them to see how well they fit. However, in this day and age, this is less likely as we all turn to online shopping for its convenience.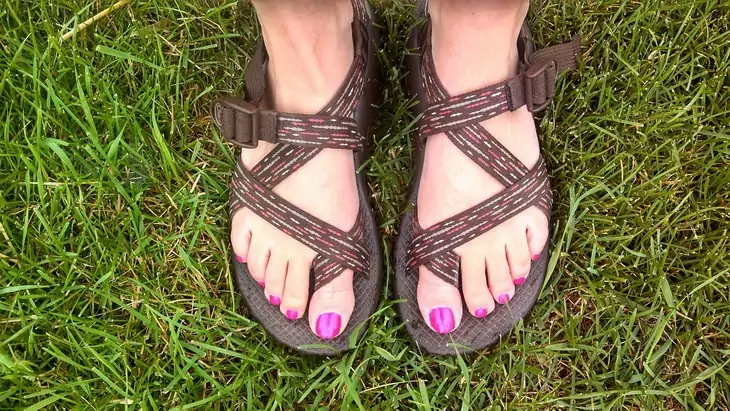 In the more likely case of purchasing the sandals online, research the product features and read reviews to see the opinions of others about that particular product. Their views will be priceless in giving you a general impression of the sandals you want to buy.
Most importantly, be sure of the terrain before choosing to go hiking in sandals. The safety of your feet should take priority over anything other consideration.
We hope that you found our article useful and that you will share it with friends that also might appreciate it. Furthermore, if you think that we left out something important, feel free to leave a comment in the comments section below.