Long outdoor trips in extreme conditions always require proper body hydration. Whenever drinking water is not readily available in the environment, you should be able to have the most convenient way to carry it with you. Bottles and bidons can serve the purpose, but these new bladder packs may be a much better option. Best hydration bladders keep the water fresh, regulating its temperature, making it easy and convenient to carry, use, and refill.
Activity sports such as hiking, mountaineering, and scouting require a proper and a steady water supply for the body. Over the day, a person undergoing such activities will lose a significant amount of body water through sweating and evaporation. The longer we stay active, the greater the water loss is over the specified period.
While in many conditions bottles are too thick, inappropriately located, bulky and hard to reach, bladders stay fixed in their backpack compartment, equipped with a hose and a mouthpiece, letting you drink hands-free. And they do not take much volume when empty, unlike bottles.
The fact that you do not have to stop, get the bottle out of the compartment, unscrew it and get back – all of which often requires you to do some other tasks, such as releasing the backpack to reach the compartment – is basically behind the idea and invention of hydration water reservoirs.
Our Top Picks
Features to Consider Before Purchasing
Personal hydration products are defined by several important considerations which define the best use and fit for every such item. Below are the most important things you need to take note of before deciding on which hydration pack you want to buy:
Size
Most bladders come in three sizes: one, two or three liters. One liter is 33.8 ounces or a bit more than a quart of liquid. Note that this design is meant to properly allocate the weight of drinking liquids you carry by yourself, so you feel the lowest possible burden. In fact, as you carry that weight on your back, you almost can't feel much of a difference when you have it full and when it is empty. Not only that larger volume of water can last longer, but it will also be much harder to heat excessively in heat or freeze in winter conditions.
So, the three-liter option would provide the best hydration overall, but note that your decision on the hydration pack sizing is primarily based on the activity. While large volumes are best for recreational hiking, intense activities which involve running or climbing will require lighter options.
There are models with volumes greater than three liters, too. But even if your activity is low-intensity, as is hiking, you should first try with a 3L one. However, you're not required to fill the reservoir entirely. You should determine your average water consumption per hour of a particular activity, upon which you make a decision on the reservoir size and its usage.
Weight
How much a hydration pack weight is paramount in choosing the best hydration pack? A heavy pack definitely will not work in the sense that it weighs you down on your journey or your outdoor adventure. A good hydration pack should be lightweight as it can be. A good example of the weight of the best hydration pack is 1.11 pounds.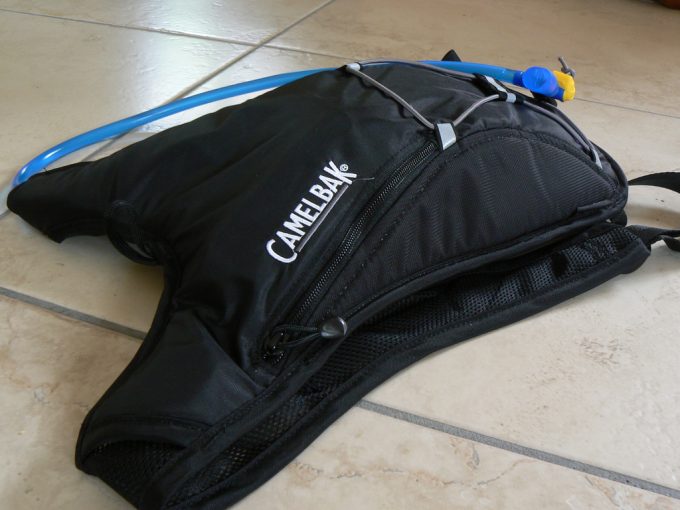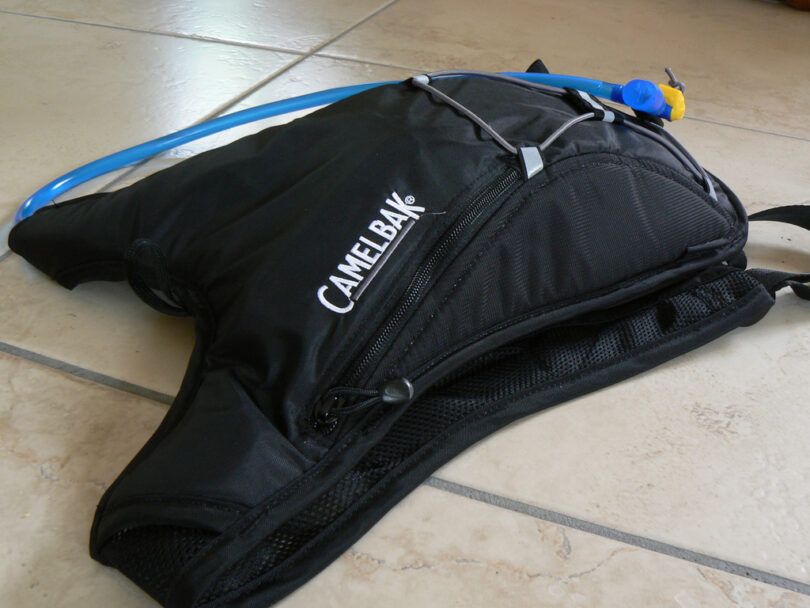 You might find other packs that weigh more than that, but we believe a good pack should not weigh more than 2.3 pounds. Anything above that does not qualify to be called the best hydration pack. So, when choosing a hydration pack makes sure to consider the weight because it will be very useful for your outdoor adventures.
Reservoir Profile
This property is vital when you buy a bladder and a hydration pack separately. There is a difference in reservoir width and profile when filled. Bladder-compatible hydration packs come with a reservoir sleeve which determines the dimensions you need. If not already mentioned in the prospect, sleeve dimensions and volume should be learned from the seller so you can separately order a bladder without the need to wait for your pack to arrive.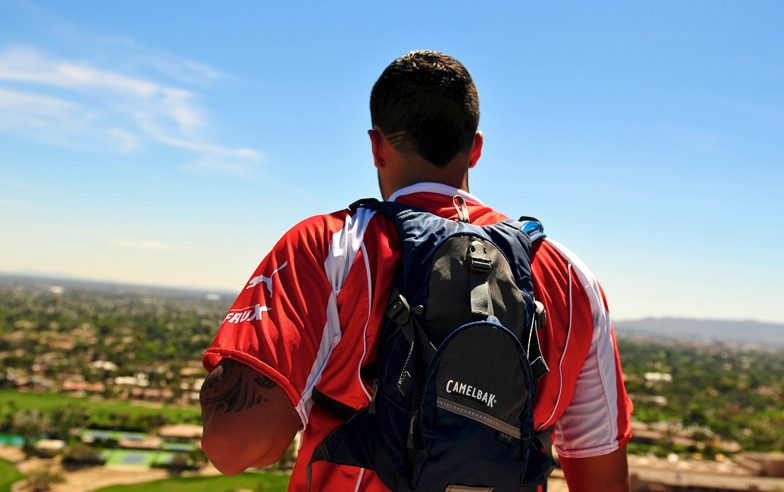 Note that most hydration packs for which bladders are sold separately are tailored for a standardized reservoir size, and many of these have a bladder model recommendation you should choose. If the pack vendor recommends a certain model that would be the best option, it means the manufacturer used that model for testing.
Hoses and Valves
The hose is a duct which connects the reservoir with the bite valve (mouthpiece) and transports the water from it to your mouth. While most hoses connect to the reservoir using a quick release mechanism, you need to pay attention to the quick release orientation.
Most quick release valves on reservoirs are orientated vertically, but there are some horizontally oriented, too. This is what you need to check when buying a bladder separately from a hydration pack. Otherwise, the hose would be improperly directed and sustain environmental pressure, shortening its lifespan significantly.
On the other side of the hose is the bite valve (a.k.a. The mouthpiece) with which you suck the water or any other liquid which is in the reservoir. There are certain variations in the size of the mouthpiece valve. Larger valves can provide you with more water, but these require more effort when sucking the water from the reservoir.
Bladder Closure Types
Another important consideration is the type of closure on the reservoir. This is the most sensitive part of the whole system and determines its quality. There are three main types of reservoir closures:
Zipper with Slide Lock: This is a secure option which allows you to easily refill the bladder and quickly lock it with a sliding rod.  This option gives you instant access to drinking water whenever you find a source of it. Also, mouth type of opening is the easiest for thorough cleaning of the reservoirs
Fold-Top zipper with slide lock: This feature evolved from the one above. The difference is that the zip top needs to be folded before the rod is applied to it. That provides additional security in some extreme conditions where it is expected that your hydration pack will sustain a considerable amount of mechanical pressure.
Screw Cap: Screw caps in most hydration reservoirs are very broad and easy to quickly open and close. If properly designed, these caps can be very secure and tight, though you may have a problem when it's cleaning the reservoir is needed.
Storage
A proper hydration pack offers a plenty of storage tailored to fit certain stuff, such as the phone, GPS navigator, Swiss army knife, food, towels and other things. The type of hydration pack you choose depends primarily on your activity and needs while in the wild.
Hydration packs can come with a bladder included with it, without a bladder, but with recommendations for certain types of bladders and those which come as "compatible with any bladder/reservoir" of certain dimensions. Furthermore, hydration packs can differ by the amount of storage.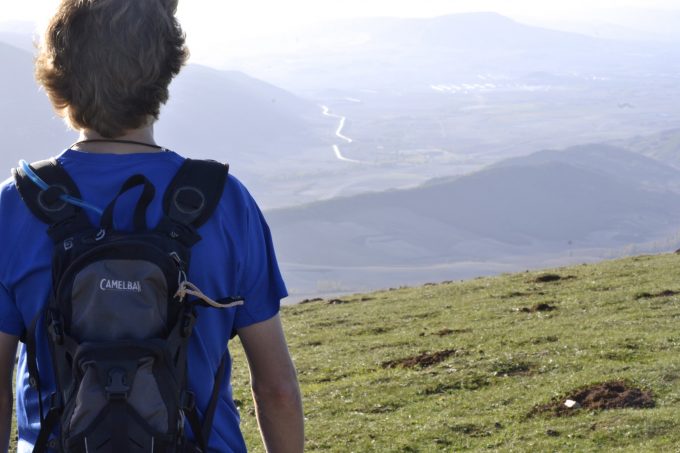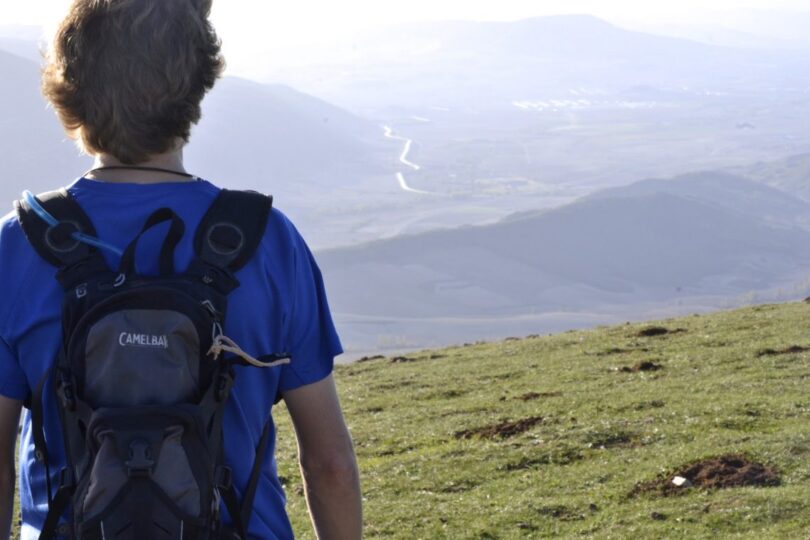 Some packs are compact and don't offer much space beyond what is needed to carry a reservoir and some accessories in a couple of pockets. Others are full-size backpacks which are accustomed to carrying bladder reservoirs and provide room for many other items, even large ones.  These are not much different than classic backpacks; just the presence of a special bladder rack or a reservoir makes it defined as a hydration pack rather than just a backpack.
The Best Products on the Market
The market of hydration packs and bladders is expanding, and there are many models from various less or more renowned manufacturers of outdoor gear. The following are some of the most popular among hikers:
Camelbak Classic 
Price: Approx. $53
Weight: 0.79 pounds
Dimensions: 3.5 x 7.5 x 15 inches
Specific features: Twist cap closure, a small pocket, 34 in. shoulder strap length, exterior zipper pocket.
Best use: Hiking, cycling, running, climbing, ideally if the activity takes no more than several hours.
Description: If you are into shorter trips which does not take much time or requires additional effort, the CamelBak Classic Hydration Pack is simply ideal for you. It comes as an ultra-lightweight, water supply which fits tightly to your body thanks to an additional chest strap.
There is a small pocket, which is enough for keys and documents but not much more. The zippered pocket can also be used to store your phone and small cameras. But, it is not big enough for a large camera.
It is not a good idea to have it with yourself on long trips, but it will save your stamina if used in running or intensive cycling. It is not the largest reservoir around, but is still much larger than most bottles.
The CamelBak Classic Hydration Pack is an amazing choice for you because of its unique features. It also keeps you hydrated throughout your outdoor adventures.
PROS:
Comfortable
Reliable
Perfect for short rides
Exterior zippered pocket
Lightweight
The hose comes off for easy cleaning
Holds enough water
CONS:
Has only one zippered pocket
Drink hose is too short
Related: On your outdoor adventures, water is essential. Therefore, if you want to keep your hydration system clean and fresh, you can also buy the Camelbak Max Cleaning Kit to keep your water clean and fresh.
Platypus Duthie 
Price: $80 – $140
Weight: 1.75 pounds
Dimensions: 2 x 9.5 x 19 inches
Specific features: Zip closure, magnetic hose retention with multiple options for hose routing, racks for large items such as helmets and pads, eyewear pocket, two pump sleeves.
Best use: Hiking, camping, prolonged activities.
Description: If you want to carry virtually everything you need in a hydration backpack, you need a Platypus Duthie Hydration Pack. Despite looking bulky, its empty weight is great for what it contains. The reservoir is Platypus Big Zip, perhaps the best-selling bladder in the world.
In total, there are 7 liters, which is fair enough for all your outdoor necessities and even more. The 7 liters it can hold should be enough even for long hikes or for adventures that takes several days to complete. It should also be enough for cyclists who are in a competition or riding for fun as the reservoir is big enough to accommodate a lot of water.
Waist and shoulder strap hold it firmly to your torso, but the Float Air back panel will prevent your back from sweating. A plenty of other pockets in various places will always let you conveniently access whatever you brought with you.
PROS:
Ample storage space
Carry system for face helmet
The pack works with an extensive range of body types
Long-track sternum strap
Lightweight
Smart hydration pocket
FloatAir back panel
Unique design
Related: You should consider getting this Hydration Tube Covers Pack  to keep your water at the right temperature.
Osprey Raptor 
Price: Approx. $114
Weight: 1.8 pounds
Dimensions: 9 x 9 x 20 inches
Specific features: Zip closure, floating top pocket, zip organizer pocket on the side, lid lock attachment for helmets, blinker light, removable pouch, eight pockets overall.
Best use: Hiking, cycling, camping, prolonged activities.
Description: Despite being made particularly for cyclists, the Osprey Raptor Hydration Pack is widely used among hikers and other outdoor hobbyists. But, the main objective of the manufacturers is to produce a hydration pack for cyclists.
This is thanks to its large 3-liter reservoir and plenty of storage options. For perfect fit and connection to your body, there is a stretch harness, and a hip belt.
The hose of this Osprey pack is routed, and the mouthpiece end can be attached to the waist belt. Many pockets are tailored for cyclist needs, but since cycling requires many accessories to be carried, such as tools, removable lights, tire repair sets and other, there is a plenty of small pockets everywhere.
This pack is the best for those who do cycling beside hiking. Since it's made for a high-speed activity, assume other quality seals and a longer lifespan than some other hydration packs.
PROS:
Floating top pocket
Lid lock attachment easily carries bicycle helmets
Lightweight
Numerous pockets
Comes with a blinker light
Removable pouch
Zip closure
Longer life span
CONS:
The material is fragile
Expensive
Related: For cyclists, you might need to know your bike's tire gauge on your adventure. Check this Topeak SmartGauge Digital Gauge as it is great for determining the gauge of your bike's tire.
Salomon Agile 
Price: approximately $80
Weight: 0.7 pounds
Dimensions: 22.8 x 15.8 x 19.7 inches
Specific features: Zip bladder closure in a zip compartment, breathable back panel
Best use: Running, speed cycling, short hikes, scouting.
Description: The ultra-light Salomon Agile Hydration Pack  is stripped of any pockets, utility compartments, knobs and other gimmicks. If you don't like to hear the jingling of many stuff from the backpack and want it to be as light as possible, then the Salomon Agile2 is the perfect pack for you.
Why carry many things if your leisure activity is not demanding and not particularly long? If you are on an adventure that is relatively short, then you don't need to bother yourself about a huge hydration pack as the Salomon Agile2 is the best in this type of situation.
If you're looking for, just a bladder pack, this one will perfectly serve the purpose. The hose is routed properly and if you still need to bring some little things with yourself, the keys or an energy bar, it can still be placed in the main compartment and shoulder straps, where the phone bag is located.
PROS:
Lightweight
Breathable back panel
Zip bladder closure
Multiple compartments
Harness construction
Spacious
Related: On your cycling adventure, you should consider getting this Fox Racing Elbow MTB Guard to protect your elbow from injuries while riding.
Camelbak M.U.L.E. 
Price: $75 – $200
Weight: 1.11 pounds
Dimensions: 2 x 10.5 x 19 inches
Specific features: Wide twist cap reservoir closure, low-profile bladder,  three interior slip pockets plus three exterior pockets, large bite valve mouthpiece.
Best use: Hiking, biking, camping.
Description: This premium, professional-looking CamelBak M.U.L.E. Hydration Pack is one of the largest packs in the market.
A plenty of pockets may, however, dupe you into filling them all, but if you do it and fully fill the reservoir, it may be a bit excessive, and it will give too much pressure oo your shoulders.
Waist and shoulder strap hold it firmly to your torso, but the Float Air back panel will prevent your back from sweating. A plenty of other pockets in various places will always let you conveniently access whatever you brought with you.
If you opt for this pack, carefully choose what you bring with you. The pack is lightweight itself, so those who bring what they will use won't be hit by that.
Everything else about this is great. Although it has a twist cap closure, there is a special cleaning kit which comes as included, making it as easy to as clean as it had a zip-closed reservoir.
PROS:
Comes with a wide twist cap reservoir closure
Low profile bladder
Multiple pockets
Large bite valve mouthpiece
This pack can hold up to 11 liters of liquid
Lots of internal space
The water bag is high quality, flexible and durable
Related: One of the annoying aspects of cycling is your bike breaking down on your outdoor activity. You should consider getting this Crank Brothers B003Y Bicycle Tool to repair the little faults your bike might have on your journey.
Evoc Fr Lite 
Price: Approx. $120
Weight: 1.11 pounds
Dimensions: 22.05 x 10.63 x 2.76 inches
Specific features: Advanced back protection, shock protection for luggage, bladder hose routing,
Best use: Biking, camping, hiking, climbing.
Description: The advanced back cooling solution which also protects sensitive cargo inside is the main advantage of Evoc FR Lite Hydration Pack  among similar packs. This one is made of extremely durable ballistic ripstop nylon fabric which justifies its somewhat high price. This pack comes in two sizes: 9L and 10L and is ideal for activities taking place in hot conditions.
This pack has got a plenty of special purpose pockets for phones, maps, tools, eyewear, which is defined by the need of cyclists. So, you don't need to worry about where to keep your valuables because there are many storage pockets in the Evoc.
This is another release which appeals to people who are both into cycling and hiking, but prefer packs which need bladders to be bought separately. This pack's major weakness is its waist belt, which is too wide and thick, making it not quite comfortable for prolonged wearing.
PROS:
Advanced back protection
Durable
Lightweight
Shock protection for your luggage
Bladder hose routing
Ideal for hot conditions
CONS:
The waist belt is too thick
Not suitable for long journey
Related: For total comfort and complete control of your bike, you might want to consider getting these Fox Reflex Gloves on your adventure.
Nathan Fireball 
Price: Approx. $72
Weight: 1.6 pounds
Dimensions: 14 x 15 x 4 inches
Specific features: Two 12 oz bottles in pockets on front shoulder straps, two belts – for waist and chest, feature pockets, hose routing with front waist belt knob,
Best use: Running, sprint, road biking, downhill biking, roller skating, short or long hiking.
Description: Minuscule and virtually inconspicuous, the Nathan Fireball Race Vest is a customizable pack after that carrying a 1.5L bladder you need to buy separately, this pack comes with two light bottles, allowing you to have in total up to 75 Oz / 2.2L of water storage.
Alternatively, you can have enough fresh water in the reservoir plus isotonic and energy carb drinks in these bottles. This pack is the best for those who do cycling beside hiking. Since it is made for a high-speed activity, assume other quality seals and a longer lifespan than some other hydration packs.
Having both a waist and a chest belt makes this pack a champion when it is about sticking to the body, thus making it ideal for high-speed activities such as road and downhill cycling. It can also find a use for hiking and cross country activities unless your trips are unusually long.
PROS:
Lightweight
Insulated speed hot flasks
Expandable zippered pocket
Spacious phone pocket
Has a reflective trim for greater visibility
Durable
Has both waist and chest belt
CONS:
Not suitable for very long trips
Related: Riding on a bicycle to your outdoor destination is an amazing experience yet very dangerous, this Fox Flux Helmet is an excellent way to protect yourself from unexpected accidents.
Deuter Compact 
Price: Approx. $135
Weight: 2.27 pounds
Dimensions: 19 x 42 x 21 inches
Specific features: Women's only hydration Pack, compatible with 3L hydration bladders, two zipped pockets in the hip wings, detachable waterproof rain cover,
Best use: Hiking, cycling.
Description: The Deuter Compact Hydration Pack is the perfect companion of every highly active woman eager to spend a whole day on foot or a bike. Thanks to its Pull-Forward band, it sticks tightly to the torso.
The back panel is both keeping the back ventilated and provides shock resistance for what is in the pack. The surface has certain reflective areas which increase safety and night visibility. What we don't like is the fact it may be too large and heavy for smaller and less prepared women.
Waist and shoulder strap hold it firmly to your torso, but the Float Air back panel will prevent your back from sweating. A plenty of other pockets in various places will always let you conveniently access whatever you brought with you.
If you opt for this pack, carefully choose what you bring with you. The pack is lightweight itself, so those who bring what they will use won't be hit by that.
PROS:
Comes with a detachable waterproof rain cover
Lightweight
Snap-on Closure
Durable
Reflective areas for safety and visibility at night
Shock resistance for the pack
CONS:
For women only
Too large and heavy
Related: Many things can occur during your adventures, it is advisable to go with an extra pair of everything, including these RaceFace Nelson Locking Grips for your bike in case the current one comes off.
Wrapping it up
Proper hydration is essential for most sports activities, and hydration bladders are relatively new stuff meant to replace large and inconvenient means of hydration such as various bottles. However, now it is clear to you that not every bladder is good for you.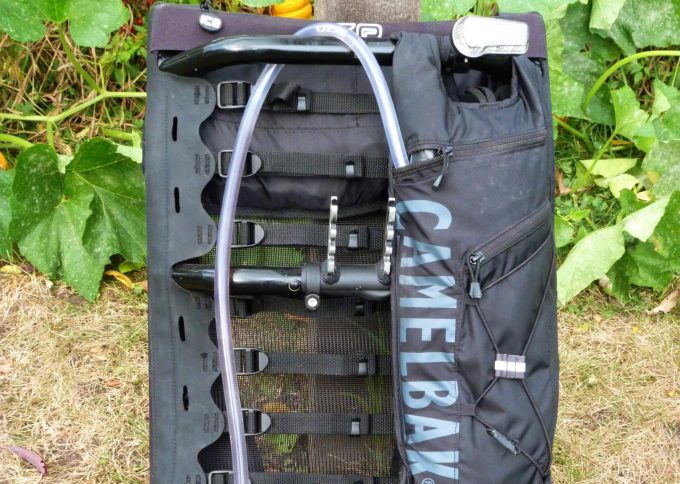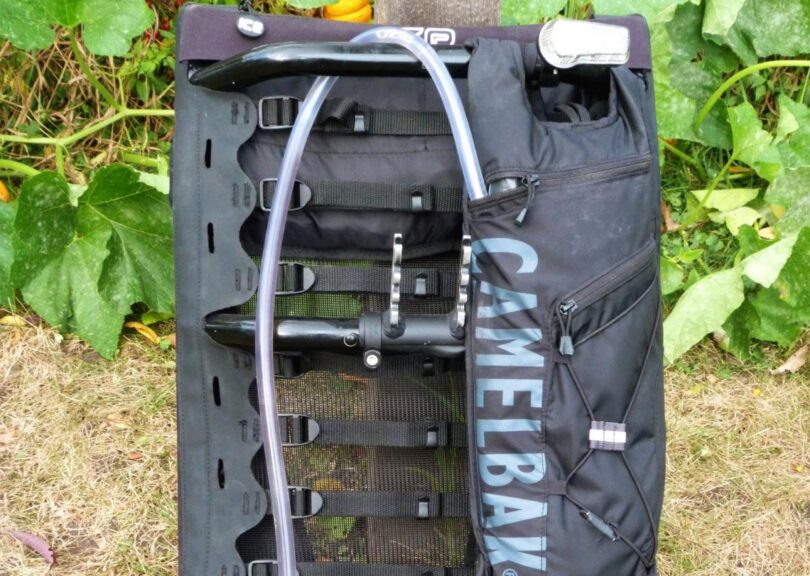 Models from above represent a cross section of the best available market options depending on your activity levels, duration, gender and specific needs for luggage. Each of these hydration packs has its pros and cons, and the right choice depends on your activity habits.
Remember that if you opt for a hydration pack without a bladder, it would be best to ask the seller to recommend one for assuring compatibility. If a bladder is included in the model of your choice, make sure it is available as sold separately as a replacement if the original one gets broken or compromised.
We hope this article helped you better familiarize with hydration packs and bladders and solved some of your dilemmas so you can now make a good buying decision.