Finding the best pocket knife sharpener is not as easy as you might first imagine. You cannot just go to your local department store, pull a knife sharpener off the shelf, pay for it, and go home to start sharpening your knife, all the while expecting that you bought the top-of-the-line knife sharpener for your needs.
Well, you could do all the latter, but it really would not get you very far. In fact, in order for the pocket knife sharpener to be useful to you at all, the one you choose has to cater to your specific knife sharpening needs.
Unless you are incredibly lucky, you will not pull the exact knife sharpener you require off the store shelve without giving your purchase and consideration or forethought. After you read this article, you will be equipped with enough information to go out and successfully purchase your own pocket knife sharpener.
We are going to go discuss several features you should know about before you make a purchase. Also, we will go into some reviews of some of the best pocket knife sharpeners on the market, which will show you what products are out there for purchase now.
Features to Consider
Now, we are going to share with you the features to look out for when purchasing a brand new pocket knife sharpener. See below for a handful of important features.
Gut Hook Sharpener
The gut hook is a feature commonly preferred by the avid outdoors-man and hunter since it is a semi-circle shaped hook fixed into the spine of a pocket knife. The hook is used for skinning or slicing prey and for the purposes of the field dressing wild game.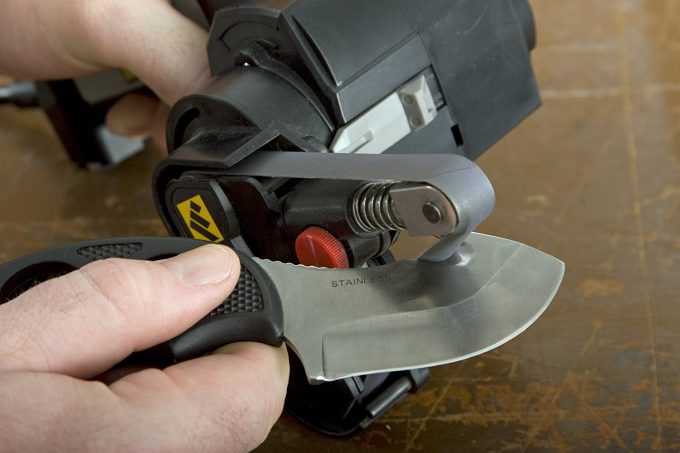 The gut hook is often difficult to sharpen, but some pocket knife sharpeners include a gut hook sharpener, unique in its design, so you can sharpen the hook to a nice, sharp edge.
Carbide Blades
These blades are used for honing a straight knife's edge to perfection.
Tapered Diamond Rod
This long rod, narrows in width until it tapers to a small tip. The rod has a special diamond texture for sharpening a blade's edge, but this tool is used for sharpening the smallest spots, and corners of a gut hook as well.
Ceramic Stones
These stones are exceptional for cutting serrated edges. Often times the stones are reversible and replaceable, so you can extend the use of your knife sharpener.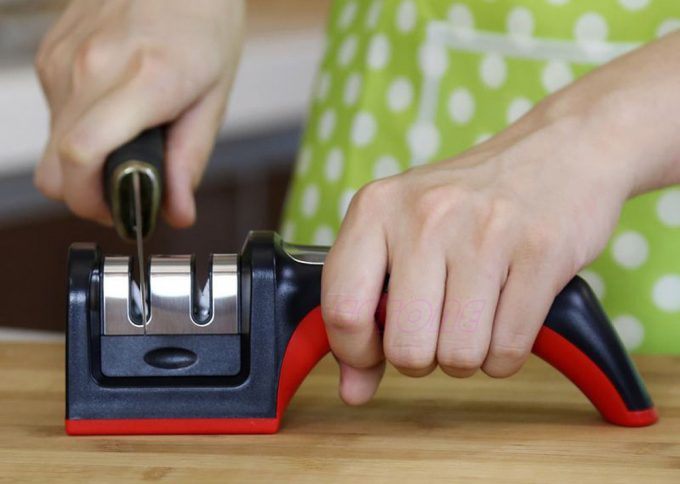 Rubber Molds and Grips
These features are typically added to a knife sharpener to improve the grip or to make the sharpener rest steady against a flat surface.
Top Product Reviews
This is the portion where we show you some of the top pocket knife sharpeners on the market and give you all of the details you need to know in order to be informed before you purchase. See below for several pocket knife sharpener reviews for your consideration.
Smith's PP1 Pocket Sharpener
Price: Approx. $7
Weight: 1 oz
Dimensions: 3.5 x 1 in
Specific features: Carbide blades; tapered diamond rod; ceramic stones; and stones and blades are reversible as well as replaceable.
Best use: Sharpening gut hooks, standard, and serrated blades, and for use by outdoors-men, hikers, fishers, hunters, cyclists, and more.
Description: Smith's PP1 Pocket Sharpener is available at a price of around $7 per pocket knife sharpener. You can also buy a two-pack set for some $20, but this really does not lead to additional savings since you can buy two separate sharpeners together for about $15 plus tax and shipping.
The sharpener features carbide blades so you can easily set a knife's edge, and the sharpener is made in a way that it is good for sharpening gut hooks and serrated blades. This sharpener will even sharpen standard blades to a fine edge. The gut hook sharpener folds into the unit when you are not using it.
The sharpening angles on the unit, are preset to ensure quality sharpening results. The carbide blades and the included ceramic stones are both replaceable and reversible to maximize the use of the pocket knife sharpener. A lanyard hole makes for ease of transport.
PROS:
Carbide blades
Various uses
Lanyard hole
CONS:
Buying 2 pack costs more
May eventually show signs of rusting
Related: Smith's CCKS 2-Step Knife Sharpener selection makes for an apt alternative to the above mentioned knife sharpener. The units host both crossed ceramic rods for sharpening a knife's edge and crossed carbide blades for the ease of edge setting, with pre-set angles for the perfect edge every time.
Spyderco TriAngle SharpMaker
Price: Approx. $60
Weight: 1.8 oz
Dimensions: 10 x 10 x 1.5 in
Specific features: Two sets of ceramic stones made of high alumina; highly portable; DVD and instructional leaflet included; two fine grit stones; two medium grit stones
Best use: For sharpening punch, officials, darts, awls, and flat edges as well as serrated blades.
Description: The Spyderco TriAngle Sharpmaker is priced at around $60. Only the highest quality materials go into making this imported knife sharpener. The manufacturer also tests the quality of the unit to ensure its durability before they sell it to consumers.
The sharpener comes with a set of ceramic stones made of high alumina, and the unit is excellent for sharpening darts, awls, edges, and plains. It is also good for sharpening punches and fish hooks.
The base is made of ABS plastic and includes a lid and the entire unit is self-contained so that all components snap right into it. This makes the unit ready for travel and increases the portability of the knife sharpener.
The base of the sharpener has special drilled portions so you can bolt it to a countertop or to a table and set it up as a permanent attachment in a workshop or a kitchen. The neck sharpener also comes with a DVD on how to use it as well as an instructional leaflet.
PROS:
Able to be bolted down
High quality materials
Ceramic stones with Alumina
CONS:
More costly than others
Not good for larger knives
Sharpening rods may break over time
Related: You can also opt for the Spyderco Tri-Angle Stone – Ultra Fine. The product is tested for its durability and quality, and it consists of high quality ceramic, ultra fine sharpening triangular rods delivering a maximum sharpness to every blade it sharpens, whether straight or serrated.
Accusharp 001 Sharpener
Price: Approx. $7
Weight: 0.3 oz
Dimensions: 5.5 x 0.8 x 2.2 in
Specific features: diamond-honed tungsten carbide; serrated knife sharpener; full-length finger guard
Best use: Sharpening serrated edges, knives, machetes, and other sharp cutlery. Ideal for kitchen use
Description: The AccuSharp 001 Sharpener is priced at around $7. The low price makes the knife sharpener incredibly affordable as it has an entry-level pricing. This unit is really an all-purpose knife sharpener featuring diamond honed tungsten carbide blades and a safety hand grip so you are not cut when you are sharpening the knives.
The sharpener is quick and easy to use, accurate, and it renews the edge of the blade expeditiously. This knife sharpener can be successfully used to sharpen serrated knife blades as well as machetes, axes, and cleavers.
The unit is also capable of sharpening a number of alternative tools used for cutting. The handle has an ergonomic design to ensure secure grip and safety when sharpening a weapon. This knife sharpener has a full-length finger guard as well, so the fingers remain protected while it is in use.
The unit is guaranteed not to rust or to corrode and it remains easy to clean and maintain. The exterior of the sharpener is visually appealing and it is available with a matte finish.
PROS:
Low cost
Carbide blades
Ergonomic design
CONS:
Mostly for kitchen or home use
Not for intense outdoor use
Does not really serrate
Related: If you find you like the AccuSharp brand, but can't get the AccuSharp 001 Knife Sharpener, AccuSharp Diamond Pro 2 2-Step Sharpener is of equal quality and price affordability. The unit features both coarse and fine rods, is made of durable materials, and only requires light pressure to get that ultra-find sharp edge.
Accusharp 029C Sharpener
Price: Approx. $13
Weight: 1.8 oz
Dimensions: 9 x 4 x 0.9 in
Specific features: Fine and coarse knife sharpening blades; diamond tapered rod; flat diamond stone; sharpening groove; pocket-sized design; textured finger grooves; short groove on the diamond rod for tip sharpening; rubber inlays
Best use: Kitchen use, sewing needle sharpener, fish hook sharpener
Description: The Accusharp 029C Sharpener is priced at around $13. The unit comes with fine and coarse sharpening blades to cover serrated and plain edge knives. The retractable diamond tapered rod that comes with the unit is used to dealing with deep serrations.
The flat retractable sharpener allows for smooth sharpening on a continuous surface. To sharpen pointed objects there is a sharpening point included. The finger grooves on the unit are textured to allow for a greater degree of traction when using the unit.
There is rubber inlays fitted to the bottom of the knife sharpener, which contributes to additional stability when the unit is in use. This knife sharpener's diamond rod is exceptional for sharpening both fishhooks as well as sewing needles and any other tips that need honing.
This pocket sized item also has a retractable flat diamond stone, which is great for those who need more surface while sharpening.
PROS:
Coarse and Fine blades
Retractable rod for serration
Pocket sized
CONS:
Not coarse enough for knives with thicker blades
Metal shavings may gather in the sharpening area
Related: The Accusharp 028C 4-in-1 Knife and Tool Sharpener in Blaze Orange makes an excellent replacement or alternative option for the knife sharpener mentioned-above.  The unit has coarse and fine blades for your knife sharpening needs; a retractable diamond flat stone, and a diamond tapered rod for those difficult to sharpen situations made easy.
Lansky PS-MED01 BladeMedic
Price: Approx. $9
Weight: 4 oz
Dimensions: 8.3 x 3.2 x 0.3 in
Specific features: One pack, dual pack, or tri-pack availability. For the purposes of getting into the nooks and crannies of a serrated edge. Durable tungsten carbide blades. Diamond tapered rod.
Best use: Plain and serrated blades. Household use.
Description: The Lansky PS-MED01 BladeMedic knife sharpener is priced at around $9 per unit. You can order the sharpener in packs of one, two, or three. The sharpener has a special rod for purposely sharpening serrated knife edges to the smallest degree of perfection.
Get a finished edge that is extra razor-sharp with three or four strokes on the ceramic sharpening rods included with the knife sharpener. Within four strokes you will restore a blade by sharpening on tungsten carbide blades of the highest quality.
The unit allows for the speediest maintenance and reconditioning of a pocket knife. With its diamond tapered rod, also used for sharpening and getting into the small grooves of the knife's natural shape, sharpening difficult curved blades is a breeze.
The maker of this knife sharpening option boasts their product to be one of the best sharpening options available. People are calling the knife sharpener the "first respond-er" for any and all kinds of necessary field repairs and on the go fixes. Metal carbide blades are excellent for sharpening plain edges too. Finally, the diamond taper in the ceramic strip is for serrated blades.
PROS:
Rod is diamond tapered
Ceramic sharpening rods
Can serrate
Price is low
CONS:
Diamonds on the rod can wear off over time
Company does not replace any products
Can not apply too much pressure while sharpening
Related: The Lansky QuadSharp Carbide/Ceramic Knife Sharpener is available with a blue exterior. It is an excellent alternative when in need of a knife sharpener with multiple angles, including 17, 20,25, and 30: This diversifies your knife sharpening abilities and the use of the product. It comes equipped  with a ceramic polishing bench stone conveniently built into the unit.
Accusharp 017C Sharpener
Price: Approx. $10
Weight: 8 oz
Dimensions: 4 x 6 x 1 in
Specific features: Manufactured out of diamond coated stainless steel materials. Finished and polished. Rubber feet. A rubber mold grip included. Light pressure sharpening function. Coarse and fine dual ceramic rods included. Pre-angled coarse diamond rod (part of the dual system). Award winning structure. All steel types sharpened. Brushed aluminum exterior. Lanyard hole.
Best use: Kitchen use.
Description: The Accusharp 017C Sharpener is priced at around $10. The unit is made of diamond coated stainless steel to lend to its durability and to ensure it is free of corrosion or rust. It is also easy to clean and maintain. The Accusharp 017C pocket knife sharpener has rubber feet to ensure it remains steady when in use.
The fine and coarse diamond sharpening rods are pre-angled to allow you to sharpen, refresh, and polish the blade of a knife with ease. Only requires just a bit of light pressure for sharpening. Brushed aluminum finish on the body of the sharpener makes it easy to care for and visually appealing. The designer of the set is Osbourne.
PROS:
Price is low
2 ceramic rods
Rubber molded grip
Portable
CONS:
Easy to lose
Edges are not honed as fine as others
Some say that it does not sharpen the best
Related: Accusharp is a leading name in the knife sharpening industry, and the excellence of the line includes the Accusharp 334CD Two Step Knife Sharpener. The tool is equipped with a number of innovations, including a white ceramic rod for fine sharpening and dark ceramic rod for coarse sharpening. The two stage tool has just the right angles to sharpen your knife's edge to perfection. The convenient lanyard lends to the unit's portability.
Benchmade 983903F Sharpener
Price: Approx. $25
Weight: 3.79 oz
Dimensions: 10 x 8 x 3 inches in
Specific features: 30 degree angle or a 60 degree inclusive angle; small; keychain size, light, portable. V-notch included along with a honing area.
Best use: Outdoorsman, hunting, camping, fishing, adventure, and everyday tasks
Description: If you were to decide to buy the popular Benchmade 983903F Sharpener model, you can get the keychain sized unit for as little as $23.00 to $24.00.
What you get for your money is well worth the investment though, as you end up with a steel blade upgrade made of high carbon CPM-S30V: An exceptional metal material lending to the strength of the knife and the blade's long term longevity, even after repeated sharpening.
The Benchmade 983903F Sharpener is an option the manufacturer often packages with its superior knives. The sharpener has a 30 degree angle, otherwise known as a 60 degree inclusive angle to ensure an easy time honing a fine edge. Point tips and fish hooks can be sharpened with the V-notch on the unit.
PROS:
Gray G 10 handle
Made in the USA
Axis Assist opening
CONS:
So small, it can be easy to lose
Hard to find
Pricier than others
Related: The Benchmade 580 Barrage Assisted Opening Knife with Benchmade Sharpener is only one reason to get the Free Benchmade Sharpener that comes with the package. You get an excellent knife with a durable handle, corrosion resistant blade, and a sharpener to keep it honed to perfection at all times, all in one set.
Lansky LKDMD Sharpening Kit
Price: Approx. $60
Weight: 1.6 lb
Dimensions: 10 x 9.8 x 1.7 in
Specific features: Four types of hones; and 70 grit extra coarse diamond hones; a flip over knife clamp; color coded hones and finger grooves; guiding rods for every hone; four pre-configured angles; honing oil, large knife clamp screws, and a custom made carrying box for the entire kit.
Best use: Everyday use. Sharpening knives for indoor and outdoor use
Description: The Lansky LKDMD 4 Sharpening Kit hosts a price of around $60. The knife kit is equipped with different hones for different types of sharpening needs; the hones with the kit include 600 grit fine diamond, 280 grit medium diamond, and 120 grit coarse diamond hones. The knife clamp is a flip-over unit perfectly engineered with multiple angles.
The hones used for blade sharpening are color coded so easy of identifying the exact tool you need every time; the tools are gray, purple, red, and brown. The hones in this knife kit are equipped with an ergonomic design, which introduces the finger grooved holders feature: An inclusion to ensure your safety when sharpening blades.
Every honing stone comes with a guiding rod. The kit includes honing oil as well, and you end up with a sharpening system featuring controlled angles of 17, 20, 25, and 30 degrees.
PROS:
Includes many types of grit for the perfect sharpening experience
Multi angles, flip over knife clamp included
Storage case included
CONS:
Some say knife holder does not hold
Not good for narrow blades
Clamping is not adequate
Related: The Lansky Ultra Fine Sharpening Hone with Yellow Holder is an excellent alternative to the Lansky product mentioned above, and is ideal for honing all the knives in your household. You get a finished edge on blades hosting a straight edge and the honing of the blade makes the knives cut with incredible ease.
Concluding Thoughts
When it comes time to shop for a pocket knife, you have a lot to think about before making an investment. After considering how you will use the knife, you need to give some forethought as to the type of sharpener you want, the size of the sharpener, and the features you can benefit from when using a sharpener to extend the longevity of your pocket knife.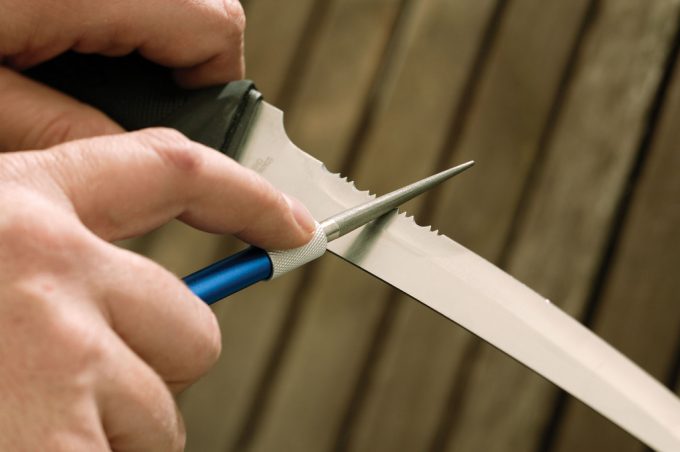 Have you used any of the reviewed pocket knife sharpeners? If so, what are your thoughts? If not, what pocket knife sharpener do you use?
Please tell us all about your sharpeners in the comments section below! Also, please remember to share this article on social media to get more people aware of these pocket knife sharpeners!