Did you know that up to 70 percent of people sleep on their side? Chances are you do too! Those who are side sleepers, are too familiar with the notion that bedding can make all the difference. From your pillow, through to your duvet, through to your mattress – if it's been specially designed for side sleeping, then you're bound to get a much better night's rest.
But what if you're out and about in the wild on a camping or hiking trip? You can't just take the family bed with you, so what do you do? To help you get the most out of your next adventure (a good night's sleep = more energy during the day = getting more out of your adventure), we've written this article with reviews of the best sleeping pads for side sleepers.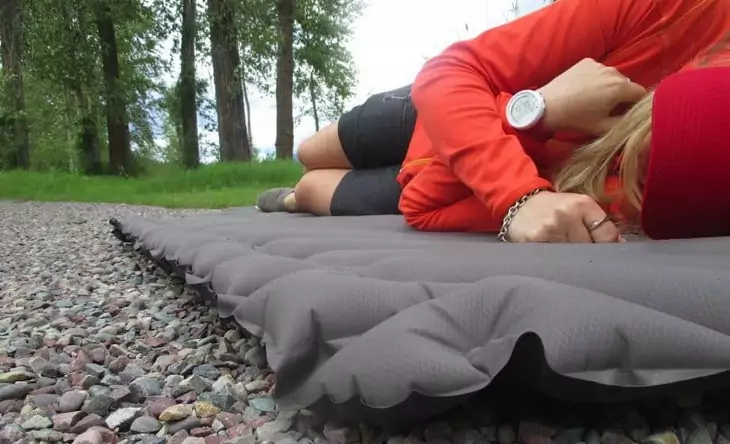 Choosing a sleeping pad that's perfect for you is going to be a little tough, but definitely achievable. There is a vast range of options on the market today with many of them meeting all the requirements that a side sleeper has. And if you toss and turn during the night – no worries, there are pads with side barriers too! How you sleep, should never be a detrimental factor in terms of your enjoyment when camping or hiking and staying the night.
The pads on our list had been carefully selected to provide you not only with comfort and warmth, but with fast pack up and down time too. But wait, we're getting ahead of ourselves. Let's first get into a quick synopsis of all the factors that really matter when choosing your sleeping pad.
Our Top Picks
Features to Consider Before Buying
Sleeping pads can be used in a range of different settings/circumstances and for a wide variety of different purposes. Some people will want to send there's off with the kids to school camps, and others will want to take them along on serious adult hiking expeditions.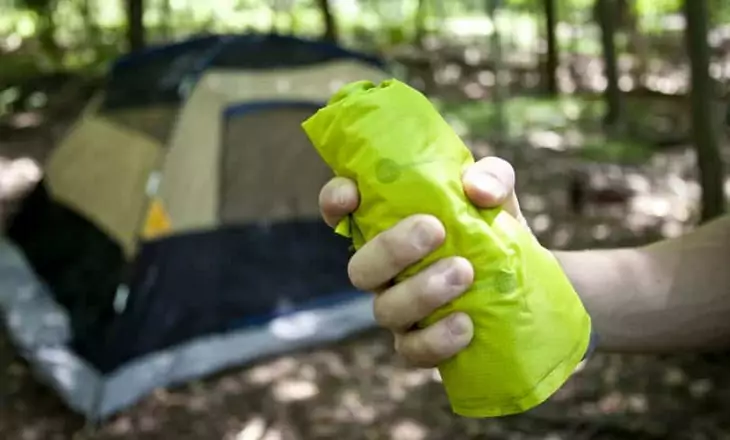 Whatever you intended it for, chances are your pad is going to be taking quite a beating over its lifetime. So, it's important to get one that has all the specifications needed to survive along with you over time. Here's a quick list of what to look out for when you're looking at buying a sleeping pad.
Weight
Most sleeping pads out there have little to no cumbersome weight. It's important to get one that will be able to be effortlessly carried on your back, from one location to another – especially if you're going on long hiking treks. Go for one that's in the less than 2 pound category, to ensure it doesn't weight on you too much.
Comfort
There are two main types of sleeping pad – the big comfy cushiony ones, that suit people who want to stay in one place on their camping trip for a while. And, the lightweight, easily portable ones lacking in comfort, but making up for it in ease of use, for people who like to move around a lot (e.g. hiking trips where you spend every night in a different place).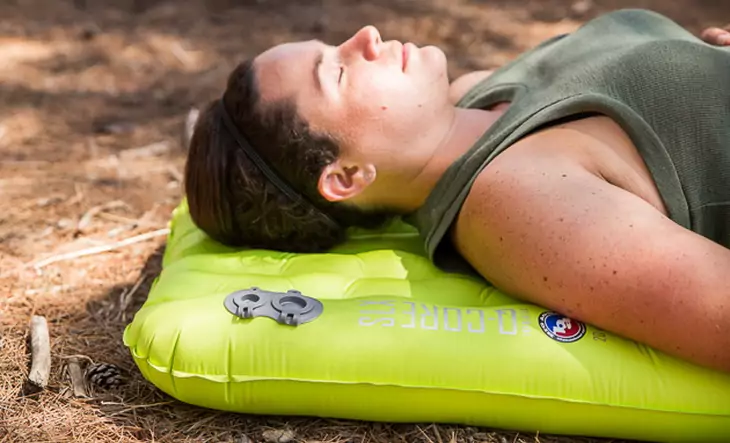 Regardless of which type of user you are it's important to make sure that the pad you choose is comfortable for you personally to get a good night's rest on. Different people have different requirements, but in general side sleepers will need extra padding because some parts of their body sink more heavily into a mattress than others. As opposed to back sleepers, where their body weight is evenly distributed in pressure across their body.
Size
Size often directly correlates with weight, but not always. Consider how much space you have in your pack for a pad, and then choose a model that rolls up accordingly. Most pads will come with compatible carry bags, and many are the size of a large water bottle, when properly rolled. Portability is important, so make sure your pad works with your current gear setup for camping and hiking.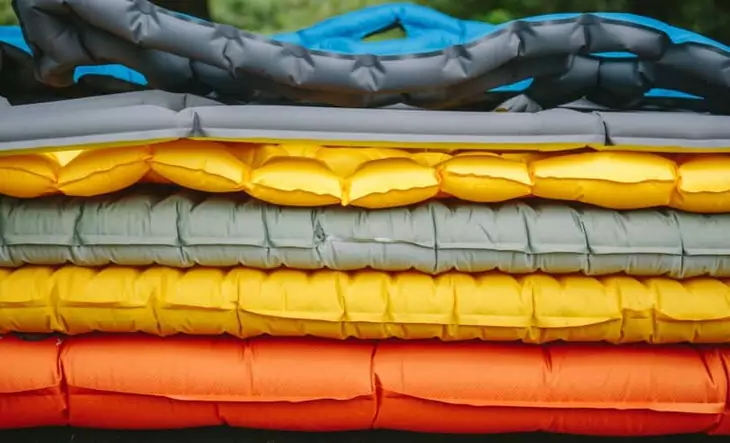 So, there you go, that's a brief summary of the key things to keep in mind when you're in the market for a new sleeping pad. Often you'll get what you pay for, so it may be worth forking out just a little bit more in order to ensure that you end up with a high-quality item.
The specifications of that item will change drastically, depending on the situations that you're intending to use your pad in. So, to each their own. But, here is our list of the best pads out there for side sleepers. We're sure there'll be one to suit everyone in this list as it's broad in terms of specifications reach.
Durability
This is the defining factor as to whether a pad is worth getting or not. If you're going to be spending money on something, then it had better last for more than one trip! A good measure of how durable an item is, is whether the manufacturer gives a warranty on it.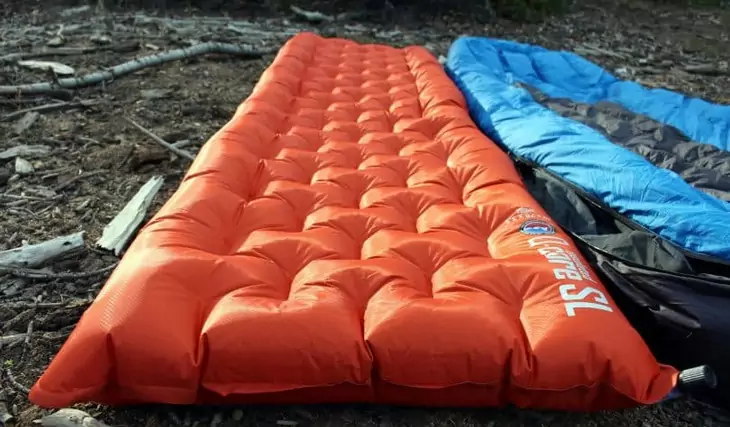 Another simple test is to check out the fabric on the exterior of the sleeping pad. Is it waterproof? Abrasion resistant? Tear resistant? Those are all good keywords to look out for when you're in the market for a durable pad. Measurement that you may want to think about opting for a higher end device.
Warmth
This is a worth thinking about factor, when you go to buy a sleeping pad, especially if you're going out into colder conditions. Warmth is usually indicated by the insulation R-value of a pad.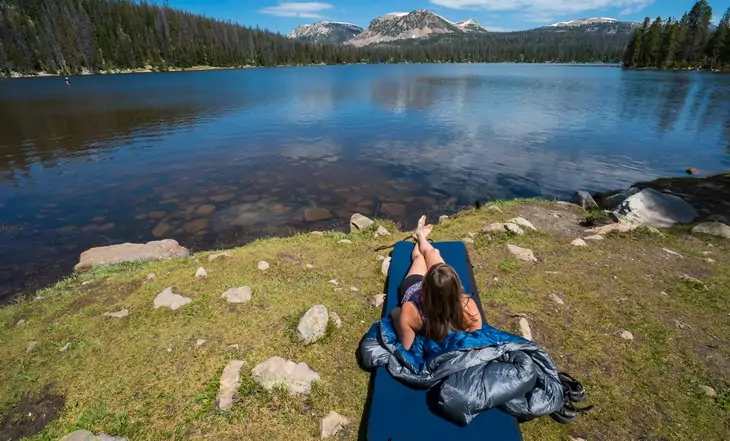 The higher the R value the more likely that you're going to be nice and toasty at night on top of your pad. R-values 1.5+ are considered good for colder weather when it comes to pads.
Setup
You're going to be setting this thing up more than once, so make sure it's not going to cause you an undue amount of hassle. Get a pad that's either got automatic inflation with a built-in pump, or has been specially designed to only require a few breaths to inflate.
Aesthetics
There is such a huge range of sleeping pads out on the market today, that you can easily find something that meets both the practical requirements, you're looking for, and that suits your personal taste buds. You'll probably be using this pad for quite some time, so it's worth getting something you like the look of in terms of color and general design.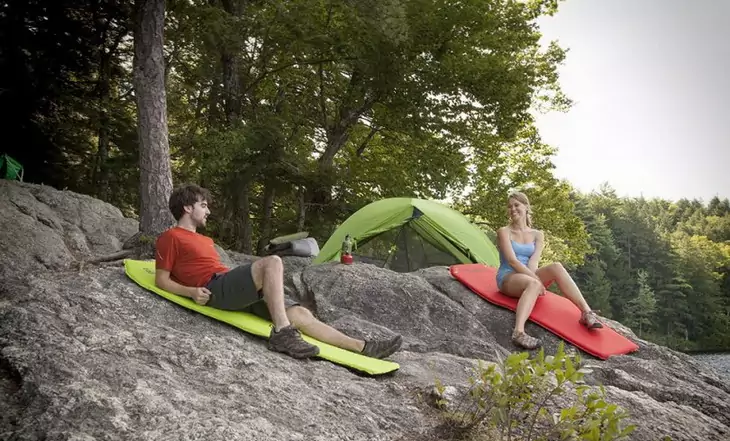 If you're giving this pad as a gift to your family members or friend (especially if they're children), then maybe going for one of the zanier crazy color schemes could be fun. You don't want to strain yourself at the end of a very tiring day just trying to set up your bed! Most high-end options on the market today, have been designed for easy setup, which is great. It's always nice when designers listen to what the customers want.
Top Product Reviews
We have now reached the point in the article where you can review several sleeping pads that will work for side sleepers. We hope you can find the one you are looking for here, but if not, you will be confident that you can choose one that works for you!
Therm-A-Rest Trail 
Price: Approx. $70
Weight: 1.76 pounds (Regular), 2.45 pounds (Large)
Dimensions: 1.5 x 20 x 72 inches (Regular), 1.5 x 25 x 77 inches (Large)
Specific features: Easy setup, lightweight
Best use: General camping and overnight stays
Description: The Therm-a-Rest Trail Mattress provides you with 2 different sizes to choose from – regular and large. This is incredibly useful because everyone knows you don't want your feet sticking off the end of the bed at night! The pad also features a self-inflating mechanism that means it isn't difficult to set up for camp at the end of a long day.
We like that the creators of the Therm-a-Rest have given these practical considerations, some thought, as the length of the pad and ease of setup are crucial factors for any pad's convenience ratings. In terms of warmth, the pad has been created for 3 season use.
So, you'll find the R value of 3.4 is able to be used in most conditions. Clearly, this won't be your first choice for extreme weather conditions like snow, but it is a great option for all round campers, who live in a mildly temperate country.
PROS:
Comfortable
Versatile
Packs down small
CONS:
Over time they can deflate faster
Some say it is large when carrying it
Related: For extra head comfort, consider the Therm-a-Rest Pillow as it comes in many colors, is affordable and comfortable! You will be able to sleep better through the night, having some cushioning from the sleeping pad and pillow!
Exped MegaMat 10 
Price: $190 – $230
Weight: 5.5 pounds
Dimensions: 35 x 9 x 7 inches
Specific features: Comfortable, durable
Best use: Extra indoor sleeping space
Description: We are big fans of the Exped MegaMat 10 Sleeping Pad. This pad is perfect for use in bush cabins or in outdoor bungalows. You'll find the firm compact nature of it making it easy to store in cupboards, both vertically and horizontally. The bright red color scheme means it will never go missing either
Providing a very comfortable and enjoyable night's sleep, this pad uses flat valve technology with shallow valves to inflate. The manufacturers have cleverly created it with special sidewalls to improve the overall feel of it.
Definitely a great option for side sleepers because of its sturdy construction, and we recommend this pad to anyone looking for a nice indoor option. The biggest plus is the stretch tricot fabric, along its top, which is easy on any skin that may become exposed to it. Users like this sleeping pad because it is self-inflating and has a foam block core!
PROS:
Two stand out colors
Self-inflating, with mini pump
Extra width
CONS:
Pricier than others
The air pump is not the best
Related: If you need a new sleeping bag, consider the Sierra Designs Frontcountry Sleeping Bag as it is versatile as well as adjustable! You can also slide in your sleeping pad so you get the most comfort and warmth from both!
Alps Mountaineering Featherlite 
Price: $45 – $100
Weight: 1.2 pounds (Regular), 1.5 pounds (Large)
Dimensions: 72 x 20 x 3.5 inches (Regular), 77 x 24 x 3.5 inches (Large)
Specific features: Lightweight, easy-packing
Best use: Backpacking and overnight hiking trips
Description: The minimalist size of the ALPS Mountaineering Featherlite Air Pad, makes it perfect for taking along on trips, where you need to carry it on your back or shoulders. It'll stuff easily into your backpack and will also add very little weight, at a mere 1.5 pounds for the largest pad option.
That the pad comes in two sizes, is definitely a positive feature, and the built in easy inflation pump further serves to appeal to backpackers and those who have to set up camp afresh every night. It's a quick and easy pad to set up, take down and transport.
On the downside, it's not really the Hilton in terms of comfort, so it's up to you what you value the most. It's certainly decent enough, so if you're not picky and appreciate simplicity, then this might be the pad for you! Uses like the pad because it packs down small and is easily inflated.
PROS:
Packs down small
Found in 2 sizes
Comfortable and easy to inflate
CONS:
One color
Noisy when moving around
Related: If you are in the market for a new tent, the ALPS Mountaineering Lynx Tent is great for one person and is affordable! The tent fits one person, just like your sleeping pad, which is great for those solo ventures!
Wacool NG7U 
Price: Approx. $25
Weight: 2.2 pounds
Dimensions: 72.8 x 23.6 inches
Specific features: Comfortable, durable
Best use: Wet weather tent stays
Description: This Wacool Self Inflating Sleeping Pad is a perfect option for wet weather camping. If you're planning on going for a trip near a lake or in humid conditions, then this is the ideal pad for you. It has a non-slip waterproof skin, which means it'll be easy to wipe down and preserve if it gets a bit wet on your travels.
The WACOOL is also well designed in terms of comfort, having been given a one-inch inflated thickness, which is considered the perfect spot between comfort and packing density. It's no five-star hotel bed, but it certainly does the job of a rough and durable sleeping bed well.
It's packed size is a mere 13 x 6 x 6 inches, which should fit into almost any backpack. Finally, we'll also mention the automatic inflation valve attached. Altogether, this is a very convenient and fit to purpose little pad that will serve campers well in all weather conditions.
PROS:
Affordable
Comfortable
Durable materials
Includes inflatable pillow
CONS:
Takes a while to inflate
Some of them can form a bubble on the pad
Related: A new sleeping bag can be a great way to enjoy the outdoors. The Abco Tech Sleeping Bag is under $40 and great for all seasons! With this sleeping bag, you will be warm, and the pad will help you with cushioning, plus it has the included pillow!
Big Agnes Insulated Air Core Mummy Pad
Price: Approx. $100
Weight: Various, from 1 pound through to 2.1 pounds
Dimensions: Various, from 4 x 4 x 12 inches through to 6 x 6 x 12 inches
Specific features: Comfortable, durable
Best use: Winter camping trips
Description: The Big Agnes Insulated Air Core Mummy Pad is admirable in terms of both functionality and comfort. This pad combines the convenience of easy and quick inflation, due to its l-beam construction with the durability of a lightweight 70D nylon top and bottom cover.
The cover is designed to prevent rips so that you can go rough – even sleeping out on open ground under the stars won't be too much for this pad to handle. It's got a decent level of comfort built in as well with special PrimaLoftTM Synergy insulation for warmth and a great 3.25 inches of blown up loft
We think you'll notice that the insertion of larger air chambers on the outside of the pad, give it a nice cradling affect around your body as you doze off. A definite contender in terms of comfort, we think anyone going on a colder weathered trip, would do well with this pad. It comes in a range of sizes too!
PROS:
PrimaLoft insulation
I-beam construction
Affordable
CONS:
Can spring a leak
Ridges are uncomfortable
Related: The Big Agnes APUMPB7 Pad Pump is light in weight, and can be used for a dry sack, pillow and more! Store your sleeping pad in here and be worry free about dirt and scuff!
TNH Outdoors Premium  
Price: Approx. $45
Weight: 2.2 pounds
Dimensions: 15.9 x 9.8 x 6.5 inches
Specific features: Easy setup, comfortable
Best use: Cold weather camping or hiking
Description: Many campers and hikers love the TNH Outdoors Premium Sleeping Pad. Its high R-rating and super convenient auto-inflation function, make it perfection for high end campers. Use it on your long hikes, to give yourself a welcome break at the end of the day.
The R-rating of 4 is very high for the sleeping pad industry, and we like that this has been achieved without adding any undue weight to the overall construction.
The main thing to note with this pad is its creator's environmentally friendly approach to manufacturing. TNH Outdoors is well known for caring about the environment and this resonates well with anyone who enjoys camping in the wild. Our native environment is worth taking care of, and you can help support a company that does just that, by choosing to buy your sleeping pad from TNH Outdoors. Their high quality pad makes it totally worth it.
PROS:
Affordable
Comfortable
Easy to inflate
CONS:
Not as comfortable as it should be
Narrow
O-ring valve can come unseated
Related: The OutSmart 1OJ98 Camping Pillow is a great camping pillow that is under $15 and is inflatable and easy to carry around. The extra padding from the pad and this pillow will give you comfort through the night!
Klymit Static V  
Price: Approx. $52
Weight: 1.25 pounds
Dimensions: 4 x 9.25 x 4 inches
Specific features: Portable, comfortable
Best use: Out in the bush on long trips
Description: This dynamic Klymit Static V Sleeping Pad is ideal for ground, cot, or even hammock sleeping, out in the wild. The cleverly designed V chamber construction has been made to give any sleeper a comfortable night's rest.
For those who toss and turn a lot, this pad comes with side rails to help ensure you stay safely on the pad throughout the night.
Super lightweight and incredibly portable, the Klymit Static V folds up to about the size of a water bottle. This means you can easily fit it back in your pack the next morning when you're ready to scale the next leg of your journey.
A great adventurer's companion, this pad comes highly recommended. And it's available in a whole range of colors too! Users like this for the nice colors, affordable price, and the fact that it is comfortable compared to other pads. It is light weight and easy to use when it comes to inflation and deflation.
PROS:
Affordable in price
Comfortable to sleep on
Comes with a patch kit and a stuff sack
CONS:
Can get holes in it easily
Must inflate again each day
Related: The Trekology W5LYEN Pillow is a great camping pillow that is under $15 and great for neck and lumbar support if you need it. This is a great partner with this sleeping pad for those who experience back pain from sleeping on harder surfaces.
Wacool Air Core 
Price: Approx. $30
Weight: 3.4 pounds
Dimensions: 15 x 7.3 x 5.4 inches
Specific features: Comfortable, durable
Best use: Family camping or hiking trips
Description: You can take your family camping almost anywhere, with the Wacool Air Core Sleeping Pad. This sleeping pad allows you to move around at night, without falling off it because of its extra-large surface area. We like the idea of a pad that uses an air core tubular design to create a lightweight camping item that is more compact and comfortable than traditional air mattresses.
Furthermore, this great sleeping pad gives you all the convenience of a regular air mattress, without the need to use human breath to inflate it! The integrated foot pump, allows users to quickly set up their nightly sleeping spot, at the end of a long day of adventuring outdoors.
In addition to its convenience factor, this WACOOL pad is also extra durable – using Diamond Ripstop fabric to encase its outside and protect it from tearing. A pad that you can truly take anywhere, this would be great to give to active family members for a birthday or as a Christmas presents.
PROS:
Affordable
Large but compact
Has an air tube system
CONS:
Can be hard to pump air at first
May have to make your own cuts to get air flow in successfully
Related: The WACOOL Inflatable Travel Camp Pillow is a great travel pillow that comes in a few colors and is under $10. You can take this anywhere from camping, hiking to an airplane and experience the most comfort and padding while you are roughing it outdoors!
OutdoorsmanLab Ultralight 
Price: Approx. $50
Weight: 0.92 pounds
Dimensions: 3 x 5.6 x 11.1 inches
Specific features: Comfortable, portable
Best use: Children's school camps or holiday camp
Description: You can send your children almost anywhere with the OutdoorsmanLab Ultralight Sleeping Pad. This sleeping pad gives them a little something to do when everyone else is setting up their pads for the night, but not too much.
Inflated with just 10 to 15 easy breaths, and deflated in seconds – your child won't be the last one on the bus! It's both a safe and fun option coming in 3 colors (orange, green and blue) with an insulation R-value of 1.3.
The range of colors means you can give one to each of your kids and the best part is they can't destroy these. These pads are made from high grade ultralight Ripstop 20D nylon, with a TPU coating.
In other words, they're not only waterproof, abrasion proof and tear resistant – they're resistant to all the things your kids might throw at them. They also come with a handy packing bag, to keep them in as well, so they won't get left behind. Definitely worth it if you have any side sleeping children.
PROS:
Affordable
Ultra compact
Air support design
CONS:
Not enough support
Not the best quality materials
Not comfortable for everyone
Related: This OutdoorsmanLab Sleeping Bag is a great sleeping bag for men or women, and it is ultra-light and compact! It will go nicely with this sleeping pad because everything is so light, yet comfortable to sleep with!
Concluding Thoughts
So, now that you have seen all the options out there on the market in terms of sleeping pads for side sleepers, we think you'd have to agree that it's possible to be comfortable just about anywhere. With everything from cold weather pads with high insulation R values, right through to all season pads made for light packing and quick setup – this list is a sure-fire way to ensure you get the right pad for your next adventure.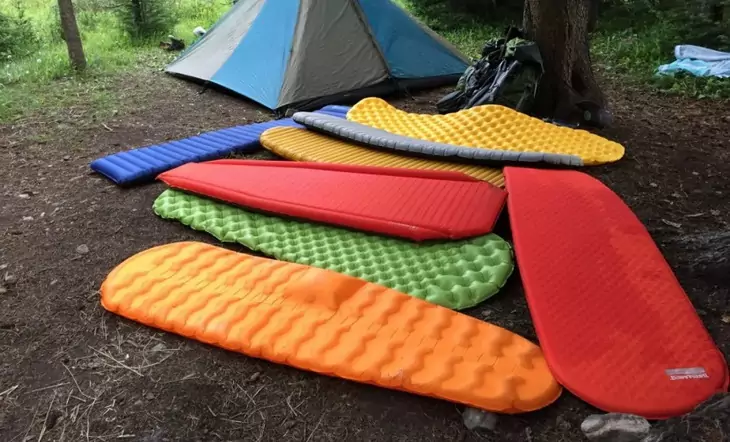 Sleep is an important part of re-energizing your body so that you can enjoy the day out and about. Don't skimp on your pad – rather get one that will last for years to come. It's both the more environmentally friendly and more financially sound option.
If you have a faithful old pad that's served you well for years, let us know in the comments below. It's always nice to know what brands are upholding their promises long term.