Surely, no one can say no to high quality sleeping bags for outdoor adventures. Without sleeping bags, any multi-day outdoor adventure could be fruitless and miserable. There are plenty of sleeping bags to purchase, whereby some are down-filled and others are synthetic. You probably know how relatively expensive the down-filled sleeping bags are when compared to the synthetic ones.
We have therefore decided to bring you the most affordable synthetic sleeping bags, to match your constraint budget. Not only are they affordable, but they have great features not present in other materials. Now read through as we unfold the best synthetic sleeping bag for you. But, it's imperative to get yourself familiar with the critical considerations that are prerequisite to choosing the best sleeping bag. Like other outdoor apparels, sleeping bags come with various competitive features.
Even though, some features like temperature rating, waterproof, and warmth seem common, they differ in measurements. We will discuss some critical considerations below that will help you pick the best synthetic sleeping bag among hundreds.
Our Top Picks
Features to Consider Before Buying
Among other considerations, we've chosen the warmth, waterproof, temperature rating, comfort, and weight of the synthetic sleeping bag. We know that some may consider the affordability as the main factor for choosing the best sleeping bag.
Warmth
In general, sleeping bags do not create warmth at all, but help retain your body heat. The fibers of the sleeping bags help trap the body heat as long as possible so that you can feel warm throughout your sleep. That's why almost all sleeping bags have insulation materials to help retain heat and provide you the best warmth. The synthetic sleeping bags are engineered to resemble the characteristics of natural insulating materials such as Down in providing the best warmth.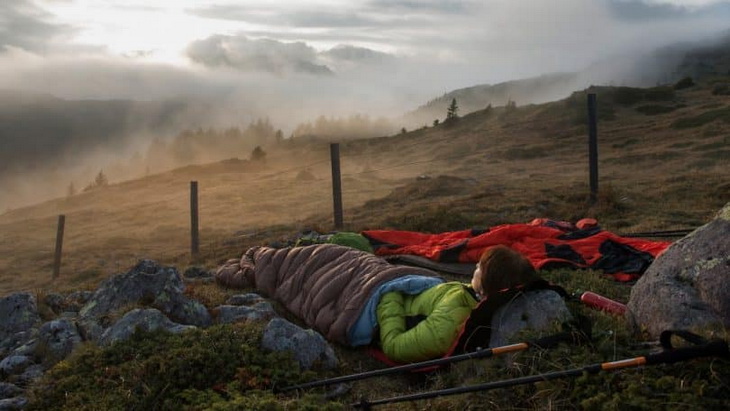 It is thus important to assess the sleeping bag's strength of the insulating material used. Some are filled with the Gore-Tex, eVent or HyVent as the insulating fibers and each has a strength. A tip of advice, the interior space of the sleeping bag plays a significant role in your warmth. That being said, larger sleeping bags may not be as efficient as the small ones in retaining maximum heat. It may take long before you get warm because of the larger area.
Temperature Rating
The temperature rating is also a critical consideration that helps you understand if a typical sleeping could be suitable for your camping destination. Before choosing a certain temperature rating, you have to observe the climatic fluctuations of your preferred destination. Choosing the wrong rating may compel you to take additional layers of blankets just to survive the freezing temperatures.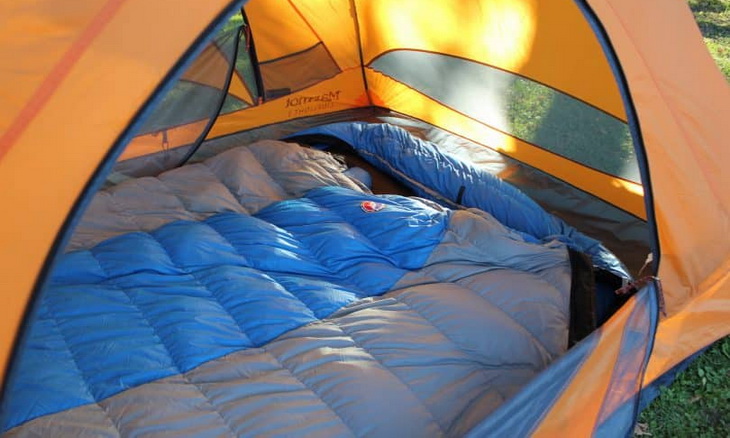 Some sleeping bags may rate between 15 degrees to 35 degrees Fahrenheit for spring, summer and fall vacations. For winter vacations you will need a different set of ratings. Supplementing your sleeping bag with a sleeping pad for warmth is another way of boosting the temperature rating. We do encourage that because some locations can puzzle you with their temperature fluctuations. Rather stay prepared for any inevitable climatic condition.
Weight
Synthetic sleeping bags are generally bulky and heavy-weight compared to their natural counterparts. Nonetheless, there are still some great deals of weight out there. Having a sleeping pad, sleeping bag, and the backpack imposes lots of weight tension in your body. The remedy is to look for light-weight synthetic sleeping bags for a minimalist hiking adventure.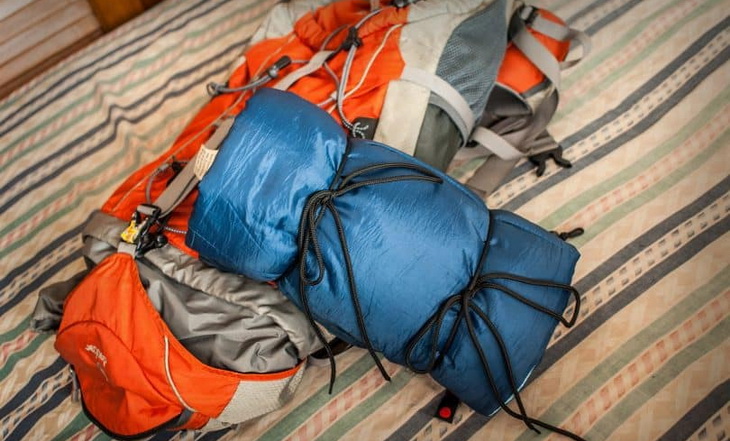 It is also helpful to map out your hiking trajectory to see if a heavy weight gear will not have a negative impact on you. For example, ascending summits require minimalist sleeping bags. All you need is a balance between warmth and weight. With regard to synthetic sleeping bags, the heavier the warmer. Only a few can mimic the inverse proportion of Down-filled sleeping bags where lightweight bags are the warmest.
Comfort
The concept of comfort in synthetic sleeping bags is actually subjective. Many people perceive comfort in various ways. For example, having a larger sleeping bag in which you can freely stretch your legs can be viewed as the best comfort by some, whereas others view comfort as having the tightest sleeping bag that retains heat fast.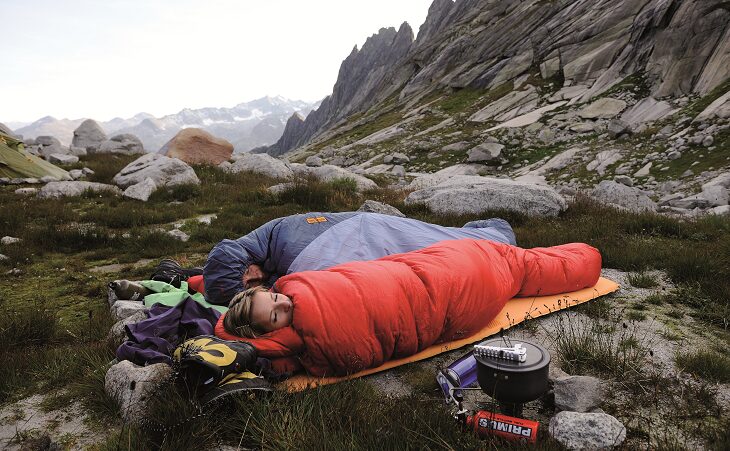 In our view, as long as the sleeping bag has a proper fit, an ample foot box, the best waterproof, and other features, it is comfortable. The comfort and the advantage of sleeping bags is that they can still keep you warm and dry even when damp. They also dry fast if it had rained on them.
Water Resistant
The DWR (Durable Water Resistant) coating has become the standard coating of many sleeping bags due to its ability to repel water in case it rains on the sleeping bag. The water drops will just roll on the fabric without being absorbed.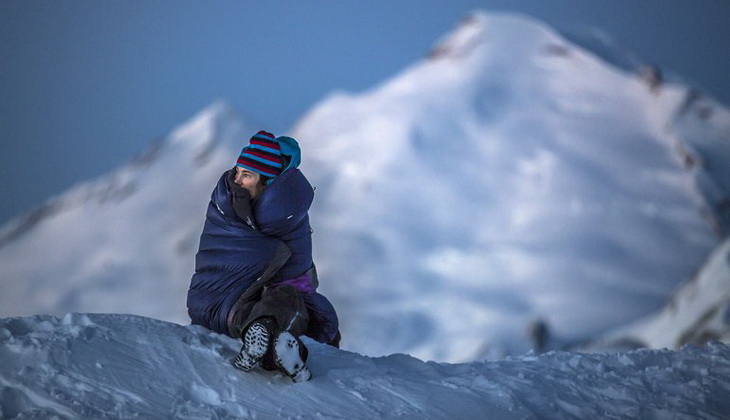 Even if it gets absorbed after the coating has deteriorated, some sleeping bags have excellent waterproof linings that can prevent penetration of water into the bag. The advantage of the DWR is that it can be restored if you notice that it is no longer effective. Having this coating on your synthetic sleeping bag helps a lot.
Other Accessories
In addition to the aforementioned considerations, some sleeping bags have additional accessories that also play a pivotal role in the overall functionality. For instance, a hood is a great addition to provide warmth to your head.
Otherwise, you will have to wear a cap to compensate for that, more especially if the sleeping bag does not extend to your head. Also worth considering is the availability or amount of zippers is also a good addition because they will help retain heat.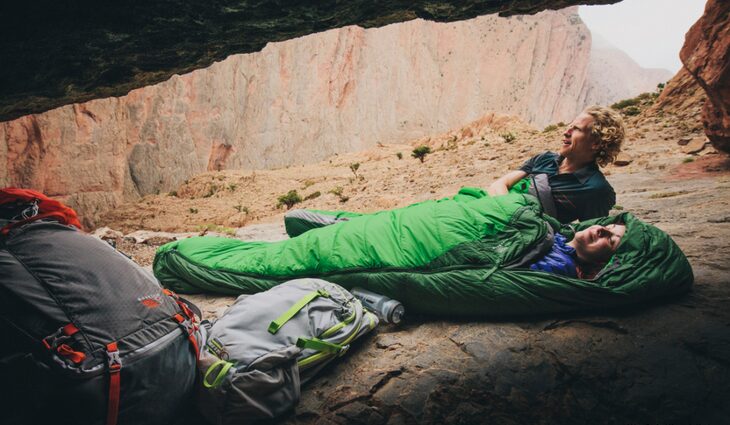 With this comprehensive evaluation of important features, we can now assess the sleeping bags reviewed hereunder, and then make an informed decision about our preferred choice. It is also worth considering to assess your destination for hiking in line with these features.
Top Product Reviews
You will now read about the top synthetic sleeping bags on the market. Look closely at the features for each sleeping bag so you can be sure to get everything you need out of one that you purchase!
Nemo Symphony  
Price: Approx. $260
Weight: 7.6 lb
Fits up to: 6 ft 4 in
Specific features: Made of nylon, fits 25-inch pads, maximum 16 L volume in a rectangular cut style, shell fabric and foot box made of 40D nylon ripstop, lining fabric made of 30D nylon ripstop, temperature rating of 25F.
Best use: Backpacking, camping, hiking
Description: The Nemo Symphony Synthetic Sleeping Bag has all the characteristics of a perfect sleeping bag with comfort, warmth, weight and water resistant in place. The shell is coated with DWR (durable water resistant) to repel water whenever camping in the wilderness
Moreover, it has a maximum volume to offer you mobility while sleeping in it, to resemble your bedroom bed's space. With a temperature rating of 25F, you can survive a variety of weather fluctuations in fall, summer, spring and early winter. If you want to bolster the warmth to your body in the freezing temperatures, you have to pair the synthetic bag with a 25-in sleeping pad.
To some customers, the bag's large volume is a downside because there seem to be cold spots. This might be attributed to their failure to choose the right size. Align your body size with the size of the sleeping bag. Otherwise mate with the sleeping pad to alleviate the occurrence of the cold spots.
PROS:
Roomy
Good for tall people
Sturdy and durable
CONS:
Too big for some
Pricier than others
Related: The Nemo FILLO Pillow is a comfortable pillow that you can take camping with you! It comes in one size and costs about $50. Match this with your new sleeping bag for the most comfortable night outdoors you can have!
Kelty Tuck  
Price: Approx. $70
Weight: 3 lb
Fits up to: 6 ft
Specific features: Thermal-comfort hood, therma-pro synthetic insulation, suitable for fall, summer and spring, stuff sack included
Best use: Camping, hiking, backpacking
Description: With the integrated ThermaPro synthetic insulation, Kelty Tuck Sleeping Bag is able to retain warmth for you to withstand the cold outdoors. It is capable of keeping you dry and warm with the Thermal-comfort hood included.
So there's no need to put on a cap when sleeping in this sleeping bag. And your feet will be kept warm by the natural fit foot box. The temperature rating of this sleeping is 22F, so you will survive the outdoor adventures in the spring, summer and fall. The sleeping is furthermore compressible to fit in the included stuff sack for ease of travel wherever you go. It is also available in two sizes, regular and long size.
The regular size measures 6ft with the total weight of 3 pounds and stuffed size of 8 x 13 inches. The long size measures 6ft and 6 inches with the total weight of 3 pounds and 3 ounces and stuffed size of 8 x 13 inches.
PROS:
Affordable
Great for 3 seasons
Thermal hood
CONS:
Difficult zipper
Shoulder area is narrow for some
Related: The Klymit Static V Lightweight Sleeping Pad is a comfortable sleeping pad that comes in various colors and is under $60. Sleep comfortably on the ground with a sleeping pad that will not hurt your back! Having a little padding in your sleeping bag won't hurt!
Slumberjack Latitude 20  
Price: Approx. $60
Weight: 3.14 lb
Fits up to: 6 ft 6 in for the long version
Specific features: Slumberloft synthetic insulation, temperature rating of 20F, off-set construction of two layers to prevent cold spots, flip-over hood.
Best use: Backpacking, hiking
Description: The Slumberjack Latitude 20 Sleeping Bag, comes with a temperature rating of 20F to help you tolerate the cold nights outdoors. It keeps the cold elements out to let you enjoy the excursions.
More heat is retained by the Slumberloft insulation to keep you cool and dry irrespective of how cold the environment is. There's no need to worry about the cold spots because the sleeping bag has an off-set construction of two layers to account for that.
The collar of this sleeping bag continues to retain heat from the neck and the shoulder area while your feet find comfort in the Trapezoidal foot box. This sleeping bag is available in many sizes. Just make sure that you choose the right size because the bigger size may be slow to keep you warm.
Overall, users like the comfort, temperature rating and the price. The flip over-hood is nice and the bag is light in weight.
PROS:
20 F temp rating
Light in weight
Two layers
Related: If you need a great camping pillow, the TETON Sports 1018-P Pillow is under $20 and comes with a stuff sack! This can come in handy when you need extra comfort for your head, though this sleeping bag is padded enough for the rest of your body.
Coleman North Rim 
Price: Approx. $50
Weight: 0.09 lb
Fits up to: 6 ft 2 in
Specific features: 100% polyester, features a comfort smart technology for durability and comfort, temperature rating of 0F to 10F, more ventilation through the bottom zip.
Best use: Backpacking, camping, hiking
Description: Coleman North Rim Sleeping Bag is made of 100% polyester material to enhance its durability and provide comfort when sleeping in it. If you want ventilation when the temperatures have gone up, you can unzip the bottom of the sleeping bag to let enough air circulate. The company has its ComfortSmart technology that is specifically engineered to bring you comfort.
The cold spots are being eliminated by the off-set quilt construction in the bag while the chest baffle helps retain heat and the foot box keeps your feet warm and dry. Almost all the characteristics of a perfect sleeping bag are found in this mummy-shaped bag. Your head will be wrapped in a semi-sculpted hood to give it warmth.
For packability purposes, the stuff sack is included. But, do not store the sleeping bag in the stuff sack for a long time because it might damage the insulation. In case you notice any defects, the company has a 5 year warranty against this product.
PROS:
Affordable
Includes stuff sack
Low temp rating
CONS:
Zipper is difficult
Hard to stuff, take out
Narrow
Related: When camping at night, you may need some light. The Lighting Ever 3200001 Headlamp LED comes with 3 AAA batteries and is under $10. Nobody wants to get out of their comfortable new sleeping bag to use the restroom at night. This headlamp can ensure you see where you are going so you can quickly get back to your warm sleeping bag.
Outdoor Vitals KUNMI 
Price: Approx. $60
Weight: 2.2 lb
Fits up to: 6 ft 6 in
Specific features: Ultra compactable, lifetime limited warranty, can be paired to make a double sleeping bag, temp rating of 35F, durable and reinforced zipper, made of 40D 300T ripstop nylon.
Best use: Hiking, camping
Description: Outdoor Vitals KUNMI Sleeping Bag is a great companion for your 3 season hiking in the wilderness given the occurrence of inclement temperatures. It comes with reinforced zippers to help retain heat when sleeping in it.
The sleeping can be paired to make a double sleeping bag. Simply buy a blue (right hand zipper model) and the orange (left hand zipper model) sleeping bag and integrate them. With the double sleeping bags you can survive even the freezing climatic conditions.
For your ultralight hiking endeavor, this sleeping bag can be ideal for you. The weight and warmth have been balanced to give you the most lightweight sleeping bag than competitors do. The temp rating of 35F will let you enjoy your outdoor stay without exposing your body to the harsh temperatures. It is also ultra-compressible to 10 x 7 inches for your packing purposes from one place to another.
To repel water, the sleeping bag features the VitalDry DWR coating for your convenience. This implies that if your camping tent has some leaks during the night while sleeping, you won't be affected by that because the DWR coating will repel the water drops. But be reminded that the coating fades with time, and might need to be replenished/re-coated/restored. The company has also provided you with the sleeping bag care guide.
PROS:
Warm and comfortable
Durable, reinforced
Lifetime limited warranty
CONS:
Weak zippers
Not super warm for some
Zippers do not lock
Related: If you need a great sleeping pad, the OutdoorsmanLab Ultralight Sleeping Pad is under $50 and is compact and light in weight. This will work great with your new sleeping bag if you have some back issues while sleeping on harder surfaces like the ground.
Slumberjack Latitude 0 
Price: Approx. $75
Weight: 4 lb
Fits up to: 6 ft
Specific features: Mummy-style sleeping bag, temp rating of 0F, slumberloft insulation, 2-layer offset construction to prevent cold spots, foot box for ample space, shell made of polyester hex ripstop and lining with polyester taffeta.
Best use: Hiking, backpacking
Description: The Slumberjack Latitude 0 Sleeping Bag brings you the comfort you need with the slumberloft insulation. Its contoured flip over hood helps keep your head warm and prevent heat loss. Meanwhile the 2-layer offset construction reinforces warmth and eliminate the cold spots. With all these features, your outdoor adventures will forever be priceless and memorable.
The polyester taffeta inside the sleeping also plays its role in retaining more heat. It also acts as the waterproof. If it's too hot inside, you can use the zipper to let some air circulate in the bag.
And with the foot box included, your feet have enough room for mobility. Also noteworthy among these features is the anti-snag zipper protection with which you can prevent heat loss with its draft tube. You can actually find this bag in regular and long sizes. The regular size weighs 5.2 pounds and the long size weighs 5.5 pounds. The height for the long size is 6.6 ft and for the regular is 6 ft.
PROS:
Affordable
0 F temp rating
Two layers
CONS:
Sleeve is not the best
Zipper is hard to use
Strands of thread stick out
Related: If you are looking for a great stuff sack that compresses, the ALPS Mountaineering O0GHI Stuff Sack is just over $20 and comes in various sizes. Your load will be lighter because both the sleeping bag and this stuff sack pair together perfectly to keep your light weight gear compressed so you can tote it easier.
Ledge Sports Featherlite  
Price: Approx. $60
Weight: 3.4 lbs
Fits up to:  6 ft 2 in
Specific features: 250T ripstop shell, continuous filament fiber fill, softech II 210T liner with YKK zippers, T-8 compression sack.
Best use: Hiking, backpacking
Description: Ledge Sports FeatherLite Sleeping Bag is built for ultralight hikers, campers and backpackers with a weight of 3.4 pounds. It is also compact to pack in its included T-8 compression sack to move from one summit to the next.
The shell and the lining fabric ensure that you stay warm in any location while the YKK zippers helps keep cold air out and prevent the heat loss.The bag earns praises from customers with its compact design and quality. Its temp rating of 20F helps you survive the harshest temperatures.
Users who have slept in this sleeping bag love the various colors, the low price, and the design. They also like how compact it is, and the weight is super light! Users also like the durable fabric and the amount of warmth they get when sleeping. Overall, users would recommend this sleeping bag for friends or those who are in the market for a new synthetic sleeping bag.
PROS:
Large
Durable materials
Continuous filament fibers
CONS:
May not work down to 20 F
Too thin for some
Related: The Therm-a-Rest ProLite Mattress is a light mattress pad that will keep you comfortable when sleeping outdoors. It's under $70 and comes in two colors. Use the mattress with this sleeping bag so you can feel the comfort of home while outdoors.
Suisse Sport Everest 
Price: Approx. $25
Weight: 4.85 pounds
Dimensions: 19 x 12 x 10.9 inches
Specific features: Temperature rating of 0F, suitable for cold weather, double layer offset construction, full chest baffle prevents drafts, draft tube and drawstring hood.
Best use: Backpacking, hiking, camping
Description: Suisse Sport Everest Sleeping Bag is one of the best synthetic sleeping bag ideal for cold weather conditions. It has a temp rating of 0F to efficiently keep you warm in the wilderness. Its insulation is excellently designed to retain your body heat and prevent any heat loss through the fabric.
You can use this sleeping bag for alpine hiking or winter camping trips without suffering from any cold spots because of its double layer offset construction. More warmth is made possible by the full chest baffle and the drawstring hood to cover your head.
The exterior and interior polyester lining boosts the lifespan of this sleeping bag. If you want to pack the bag, the stuff sack can help you pack it compressed. Those who have used this sleeping bag like the affordable price, the low temperature rating of the bag, and the amount of warmth and comfort that they get while they are sleeping.
PROS:
0 F temp rating
Double layer construction
Full chest baffle
CONS:
Drawstring is not strong
Zipper is flimsy
Hard to stuff in a sack
Related: The Intex Inflatable Camping Mattress is a nice inflatable mattress that has a built in pillow! For under $10, you can get a nice waterproof mat to sleep on. This way, you won't have to worry about your sleeping bag and mat staying wet for long.
Concluding Thoughts
We have come to the end of our synthetic sleeping bags guide. All these sleeping bags are characterized by the critical features we've mentioned at the start of our reviews. Please note that even if a certain sleeping bag has durable fabrics it needs to be cared for to lengthen the durability. Some sleeping bags come coated with the DWR and if not cared for, it can degrade prematurely.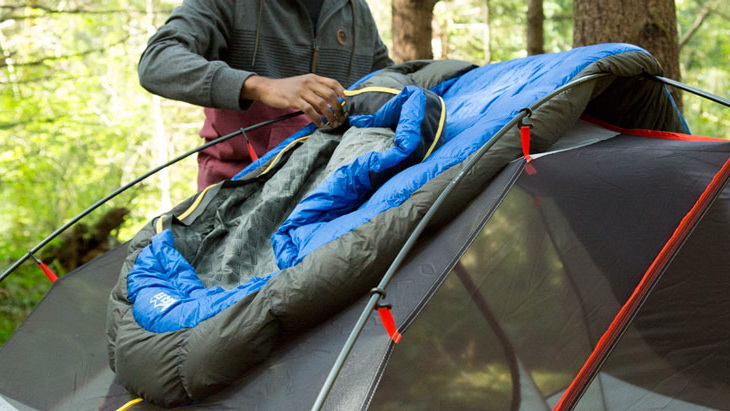 That being said, ask for the care guide from the manufacturer in question. Others may be machine washable while some have limitations. When storing the sleeping bag, it's advisable that you do not store it compressed into its stuff sack because it might impact its insulation.
The stuff sack is essentially designed to pack the bag when moving from one place to another. You can store the sleeping bag hanged onto your wall. So, we have provided you the most affordable synthetic sleeping bags that you can choose from. These were picked on the basis of having great features such as comfort, warmth, waterproof, water resistant, and the best temperature rating.
We have also provided you with the related products such as the sleeping pads/mats that you can pair with the sleeping bags in order to have a great combo for outdoor adventures. The final step is yours to take, and now that you are armed with the right knowledge, we are sure you will make the right choice. Any synthetic sleeping bag that you have used before? Please share with us how it treated you in the harshest weather conditions. If you have any question we will be glad to respond to them.