If you're an active hiker or survivalist, you know by now that hatchets and camping axes are necessary tools, not only to be used for survival purposes but also proven to be convenient for camping purposes and emergency situations. In other words, compared to other tools like knives, the tools like the best camping hatchet you can grab, are known to provide many significant advantages in an outdoor wilderness and camping conditions.
If you're into camping and hiking, especially wilderness trips, you should be aware by now that getting the best hatchet for camping will help you be prepared for any kind of scenarios. Not to mention, camping hatchets can be used for chopping wood, splitting logs and other utilizations for camping grounds.
However, there are many great hatchets and axes on the market these days. It's really hard to choose the right one. Therefore, in this article, you will find the best choices for camping axes and hatchets available on the market today.
But before the article dives deeper, you'll need to understand the characteristics that will help you choose the best for you. Any hatchet and axe manufacturer can claim to offer the best hatchets, but few features set the best ones from the others.
Features to Consider
Here we are going to show you the characteristics you need to be informed about before you go buying a camping axe. See below for all you need to know!
Size
If you're a frequent camper, you probably know that a well-balanced backpack not only provides durability and support, but is also designed to be convenient so you can take anything out from the backpack with ease. With this in mind, the hatchet's size is an equally important factor to be considered before you purchase one.
For example, if it's too big, there are chances that it won't fit into your backpack and even if you strap the hatchet on the exterior of the backpack, there are chances that it will slip off, which can create an inconvenience for you.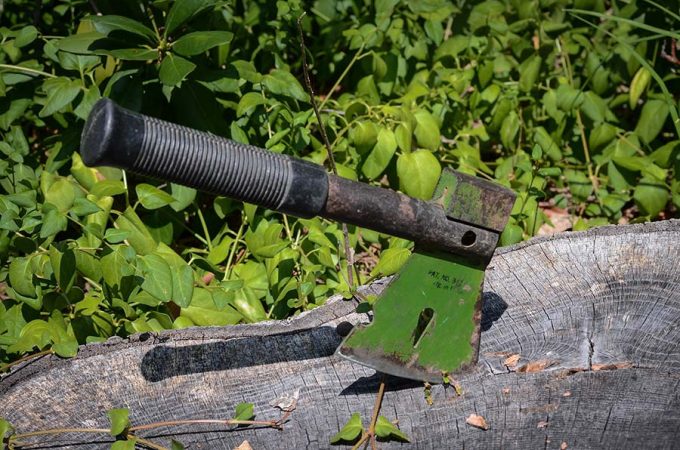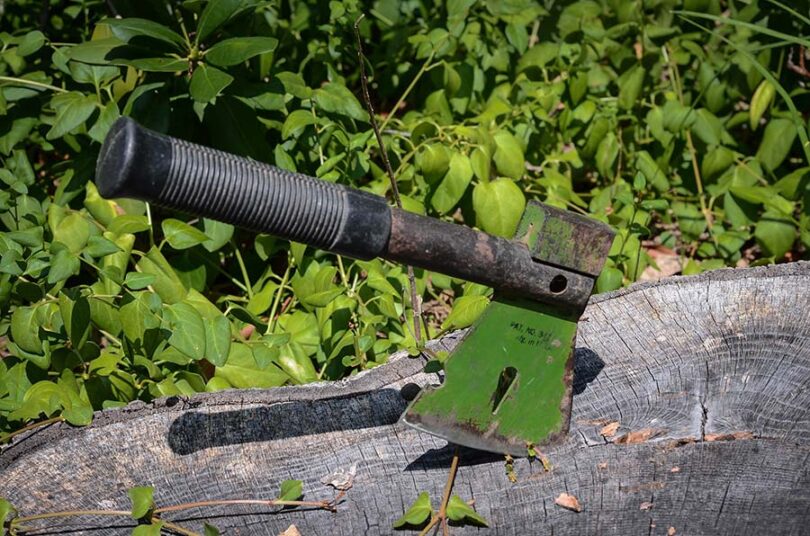 Thus, it is crucial to know the size of the hatchet. After all, if you want to choose the best one for camping, you must consider the comfortability of your carrying, and how the it feels in your hand.In fact, question yourself if you can manage the size and weight of the hatchet in your hands. After all, you're going to be the one carrying it.
Weight
Just like the size, weight is a significant factor when it comes to choosing the right model you can carry. In other words, the bigger the hatchet, the heavier it is, but here's the catch; with a more ponderous hatchet, the strength of its force will make any cutting process much quicker. In contrast, with a lighter, smaller hatchet, the bear itself, will be very comfortable for you to carry, but it will take more time to cut any wood.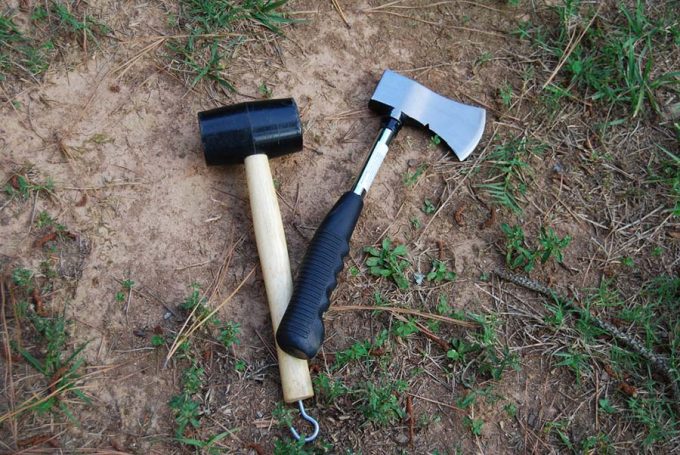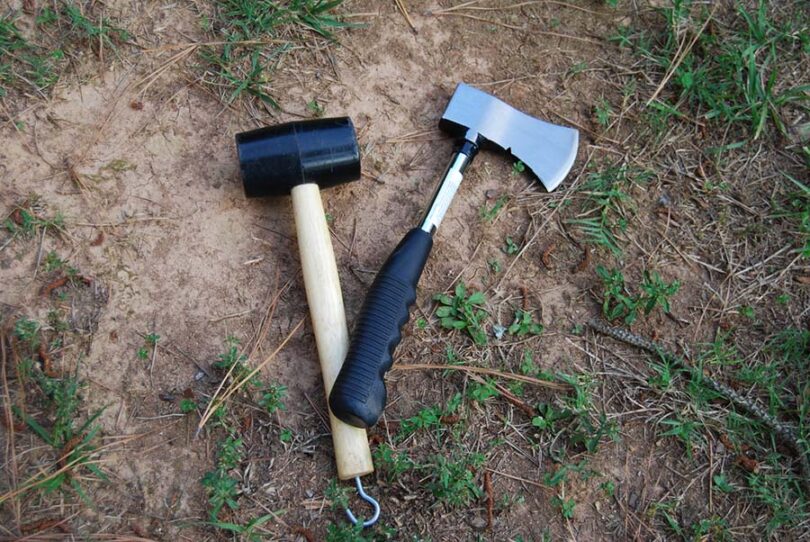 If you're planning to carry it with you in your backpack for your camping expeditions, then consider bringing a lighter one. On the other hand, if you're driving to a campsite or leaving your axe in a cabin, then find a heavier one, as its hacking outcome is more suitable for chopping wood and hunting.
Durability
This factor is vital when it comes to choosing the best model. You want a blade that is sharp for at least 6 months and doesn't get dull easily. Moreover, the handle of the hatchet shouldn't rust or dry out quickly.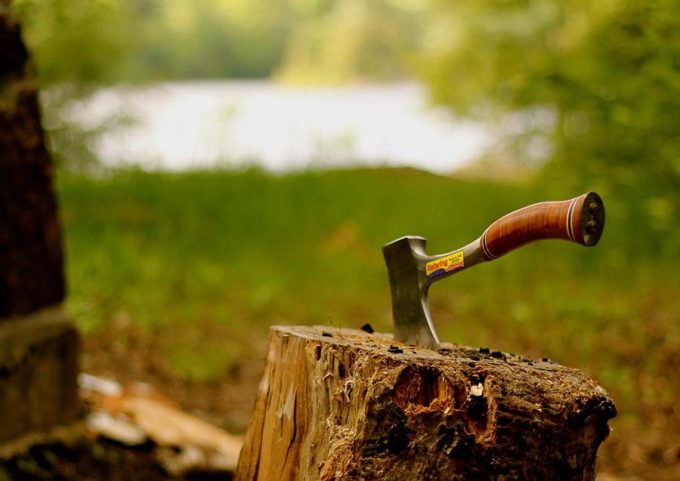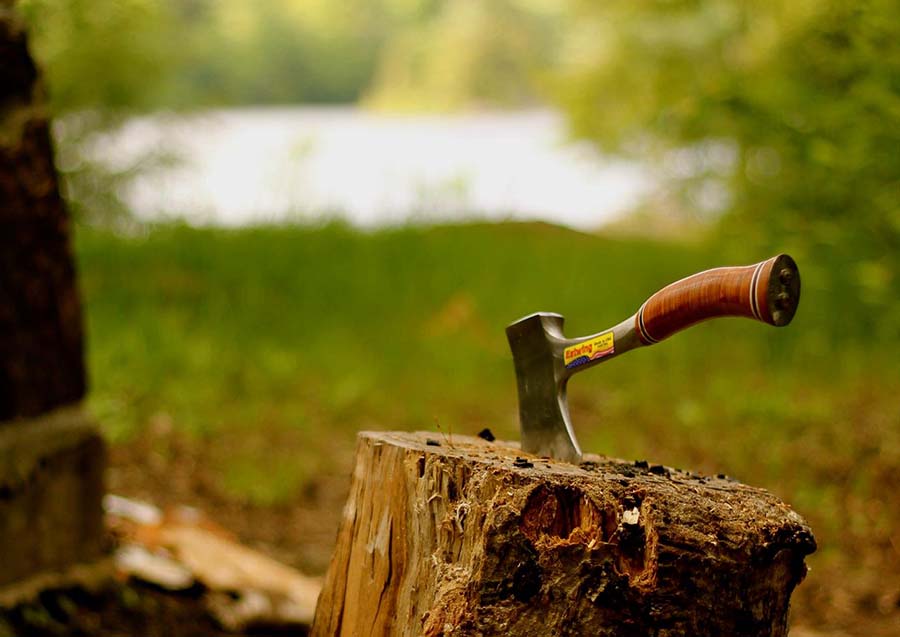 In other words, consider a hatchet that can last even in the harshest weather. Above all, the key to choosing the right hatchet is estimating the amount of time it is going to be used for outdoor purposes.
Functionality
When it comes to choosing the best hatchet for camping, get one that not only provides multiple function purposes, but also provides a non-slip, comfortable grip, that will provide better in-hand control. When it comes to survival in camping grounds, the functional skills must be equally excellent as the product quality.
Price
This factor is pretty obvious, as you probably know already, if you want out outstanding results in handy works and performance, you need to spend a little more than the usual for it. That is to say, don't hesitate for a moment if you can afford it, as it will be worth your money.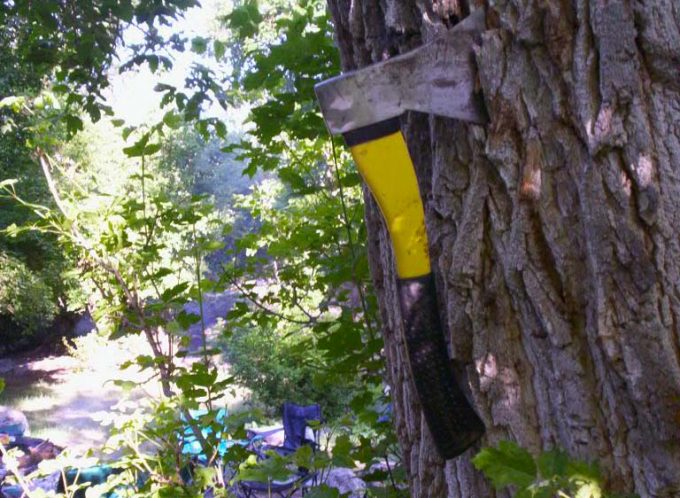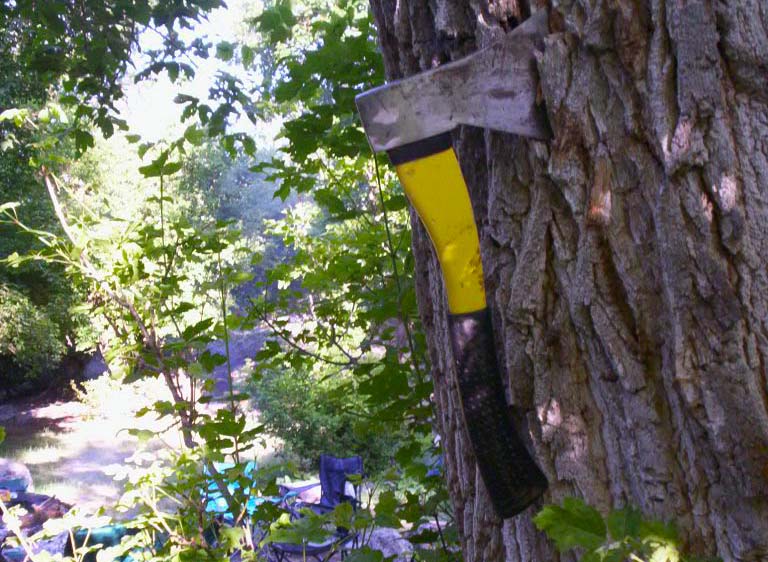 Nonetheless, for those who are on a budget and considering purchasing cheaper axes, well, don't fret. Half of the products mentioned in this article are promisingly affordable. On top of that, these axes are manufactured from well-trusted brands, which ensures excellent functionality and outstanding craftsmanship in detail.
Top Product Reviews
Now we will go over the top product reviews for camping axes. Here, you can get a feel for what is on the market currently and maybe find various characteristics you like more than others. Read on to see the reviews!
Gransfors Bruks 420 
Price: Approx. $130
Specific features: 19 In hickory handle, leather sheath
Weight: 2.2 pounds
Dimension: 21 x 11 x 3.1 inches
Best use: Cutting up sticks and limb wood
Description: When it comes to all Gransfors Bruks hatchets, the Gransfors Bruks 420 Forest Axe is one of the most popular choices. This one comes with a thin blade and a long handle, which provides powerful chopping power. It is known to be practical if used for splitting small sticks and cutting limb wood. It comes with 3 ¼" face, 19 "hickory handle and grain-leather sheath.
This product has many great reviews as it is known for its simplicity in form and high durability performance. First, the blade itself is very sharp, and as a matter of fact, the sharpness can last up to 6 months. In other words, you don't really need to sharpen it very often. Second, the hatchet is not only easy to be carried, but also proves to be pleasant when you're using it.
The design of this product shouts convenience and grip accessibility. Moreover, the size is just right as it is not too big or small, which is handy in situations when it comes to handling quick chopping and any kinds of cutting maneuvers. Not to mention, this product will not be a nuisance as it is light in weight.
The only downside to this product is that the price is a little steeper than the average, but to be honest, if you can afford it, then this is the one, as this product is definitely recommended to be one of the best camping axes among the others.
PROS:
Long handle
Durable
Light weight
Related: You may want to pick up some Norton B000I1A Sharpening Stone Oil because it allows for smoother sharpening and it gets rid of metal chips.
Columbia 2725 
Price: Approx. $105
Specific features: Since piece for balance, molle equipped
Weight: 1.9 pounds
Dimension: 17.2 x 7.2 x 1.5 inches
Best use: Splitting, chopping, shaving wood
Description: The Columbia River Knife and Tool are designed to be useful not only for tactical usage, but also for simple labor, utility tasks. The blade is styled to be flat, with axe edge front with a spike.
The blade material is made of Sk5 carbon steel coated with black powder. Overall, this product is designed to be a multipurpose tool that is not only convenient but also useful for campers and backpackers.
If you're looking for a product that is not only known for its liable features, but also for the excellent, characteristic functions, then this might be the one for you. You will find that the Columbia 2725 River Knife is convenient for chopping wood and combat situations. This product comes with a spiked rear end, which can be used to pry and dig. Moreover, the handle itself adds grip security and comfort, which allows you more free and in-control movement.
At the same time, the weight of this product is light, but don't let that fool you, as it is robust and durable, which provides exceptional strength and force capacity when it is being used. The only downside of this product is the price. Again, if you can afford to buy it, then this product is definitely one of the top recommendations, as you will find the Columbia River not only well balanced in regards to structure hold and functionality, but also easy to use.
PROS:
75 in length
One piece allows for better performance
Buckled strap on sheath
CONS:
Costly
Can break over time
Related: If you do not have a sharpener, the Lansky 3289 Dual Grit Sharpener is easy to use, can be used anywhere, and can be used with all types of blades.
Husqvarna B004Wj 
Price: Approx. $70
Specific features: Single bit axe, versatile, has leather cover
Dimensions: 7.52 x 9.84 x 26.5 inches
Display weight: 2.7 pounds
Best use: Chopping wood, tree felling
Description: The Husqvarna B004WJ Multi-Purpose Axe is hand forged in Sweden. Comes with hickory wooden handle and leather sheath to protect the edge when it's not being used, this product is known for its simplicity form and unique hand-made design.
If you're looking for a product known for its power cut, then don't look any further as the Husqvarna curved wooden handle, guarantees excellent and fast power cut, for any chopping knacks.
This multi purpose axe is suitable for limb logs, small-scale tree felling, branch trimming and clearing bushes. In other words, this model is definitely perfect for camping grounds.
The only downside of this model is that it's a little heavier and therefore, the head balance shifts a little when you're using it. Nevertheless, it's a sharp axe, suitable for cold weather, camping grounds, and backpacking. Above all, this product has excellent positive reviews, which points out that this model is definitely one of the best models on the market.
PROS:
Great price
Long handle
Hickory shaft
CONS:
Can break
Bad grinding work on edges
Related: If you are working outside, you may consider a holster so you can be more hands free when you are not using an axe. The Review Outdoor Gear Handmade Hatchet Holster will hold your axe and is made with leather.
SOG F09N-CP 
Price: Approx. $55
Specific features: 2.4 inch blade, stainless steel cutting edge
Weight: 1.6 pounds
Dimensions: 12.5 x 6.3 x 1 inches
Best use: Chopping, cutting wood
Description: The SOG F09N-CP Hand Axe is designed not only for chopping and cutting wood, but also to be used for survival tactics in the wilderness. In other words, this model is designed uniquely and simply to perform its best in the wilderness, whether if it's being used on the camping grounds or as a preparedness tool. Moreover, the blade's steel is 420 stainless and designed slimmed.
This product is known for its light weight and excellent construction design, which makes this hatchet handy. The light weight makes its grip, easy and comfortable to move around,  but, the handle is a bit rough, which can be uncomfortable for those who are new to using an axe for cutting and chopping wood.
The blade is subtle compared to the others, which can be convenient for precise fine cutting. Overall, this axe is basically somewhere between a survival tool and a proverbial hatchet. Above all, this product is the cheapest, and for those who are on a budget, it is definitely recommended, as it is light in weight and small for convenience purposes.
PROS:
Not too expensive
Fits in your backpack
CONS:
Some say it is not large enough
Related: If you are looking for more than just an axe, Sog makes entire sets, like the SOG 9000985 Camping Kit which has not only an axe, but a saw and entrenching tool.
Estwing E3-Ff4 
Price: Approx. $30
Specific features: One piece, nylon grip, strong steel
Weight: 4 pounds
Dimensions: 14.2 x 5.8 x 1.5 inches
Best use: Wood splitting
Description: This highly durable, blue, and easy to use Estwing E3-FF4 Wood Splitting Axe "Fireside Friend" is known for its strongest construction steel, forged in one piece. It comes with 2 -3/8 inch cutting edge and an exclusive Nylon vinyl shock reduction grip.
Known for its high leverage and excellent power, for easy wood splitting. In other words, if you're looking for one big swoop in splitting, then this product is definitely recommended.
Not only that, according to many positive reviews, this product is, so far, one of the best wood splitters. Considering how small the size of this axe is, it cuts through the wood like butter and its functionality is not only efficient, in regards to the balancing force of the blade, but also comfortable to be used. Above all, the weight, the dimensions of this model, and the blade shape, make it a sharp durable one-purpose axe.
PROS:
Great price
Nice blue color (also comes in black)
Can use for years
CONS:
Handle is too long
Some say it feels slippery
Related: Since you will be cutting wood, having a split wedge can be helpful. The Estwing E-5 Cutting Edge  weighs 5 pounds, is under $20 and forged in the USA.
Kershaw 1018 
Price: Approx. $30
Specific features: Drop forged, light weight
Length: 11 inch
Weight: 14.5oz
Best use: Split, cut wood
Description: Made with drop forged high carbon steel, this product is known for its unique features. It comes with a non-slip Krayton handle and a handy sheath that protect the blade when it is not being used. The affordable Kershaw 1018 Tinder Personal Axe is not only light in weight, but also uniquely designed to be compact.
Furthermore, this sturdy axe is drop forged in a single piece, which strengthens the durability of the metal's grain structure. It splits the logs and woods easily, even though the size is small.
Lastly, the balance is great, and the sizeable limit makes it easy for anyone to use. In other words, if you're looking for an axe that can fit into your backpack, then this product is definitely recommended. The only downside to this product is that this axe is that it is not made in the USA, but it is 100% high-quality,Kershaw material.
PROS:
Great price
Works well
Light weight and easy to carry
Related: If you are out camping with your axe, you could consider carrying a camping knife. The Kershaw B014SK7 machete/camp knife is just over a pound and has a 14 inch blade.
Gerber 22-41420 
Price: Approx. $35
Specific features: Forged steel, gator grip, durable
Weight: 2.7 pounds
Dimensions: 18.5 x 7.2 x 1.9 inches
Best use: Chopping, cutting wood
Description: This multipurpose axe comes with a forged steel head, which strengthens the blade's durability and striking force. This product is slightly different from the others, as the glass-filled nylon handle magnetically hides a blade saw for easy and secure transport.
Also, the Gerber 22-41420 is installed with Gator Grip handle material that provides comfortable, easy grip in any conditions. Known for its straight body design, this product lacks the curves grip, which is common among hatchets and axes. Just like the others mentioned in the article, the Combo Axe II is small in size.
However, the weight is a little heavier compared to the others, and therefore, the force of weight shift doesn't bring a lot of power when it comes to logging splits. Nonetheless, this axe is suitable for chopping branches and splitting sticks for a campfire. Above all, there's a hidden blade saw that proves to be useful where the axe lacks off.
PROS:
Affordable
Durable and can easy to use
Gator Grip lets you hold on to the axe comfortably
CONS:
Handle can break
Core does not go up to the head of the axe
Related: You may consider an entrenching tool with your axe in case you need to dig anywhere. The SOG F08-N Entrenching Tool is reasonably priced, light in weight, and folds up to fit in your backpack.
FISKARS X11 
Price: Approx. $40
Specific features: One handed use, lifetime warranty
Dimensions: 2 x 7 x 20 inches
Weight: 2.18 pounds
Best use: Splitting little logs
Description: The Fiskars X11 Splitting Axe is designed to be easy and quick when it comes to splitting one-strike splits of small to medium sized logs. It comes with an ultra-sharp blade with a low-friction coating, and the handle itself is made from FiberComp, which is stronger than steel and won't break easily.
This product is known for its great results for camping purposes. It is uniquely designed to have the same physics in strength and impact like an aluminum bat. On top of that, the X11 Splitting Axe has superior assault force even though the weight of this model is very light.
Furthermore, the low friction coating and a beveled edge on the axe head, reduce chipping for a cleaner wood split. Not to mention, the price is affordable, which is perfect for those who are not looking to spend a lot of money and are looking for a reliable and high-quality camping tool.
PROS:
Comes in various sizes
Affordable
Lifetime warranty
CONS:
Steel is not that hard
Anti stick coating does not last
Related: If your axe needs sharpening, the Fiskars 78616984J Axe and Knife Sharpener is affordable, has a safety guard, and includes a lifetime warranty.
Concluding Thoughts
To conclude, all of the users are impressed with the quality, functionality and the craftsmanship of all the axes mentioned in this article.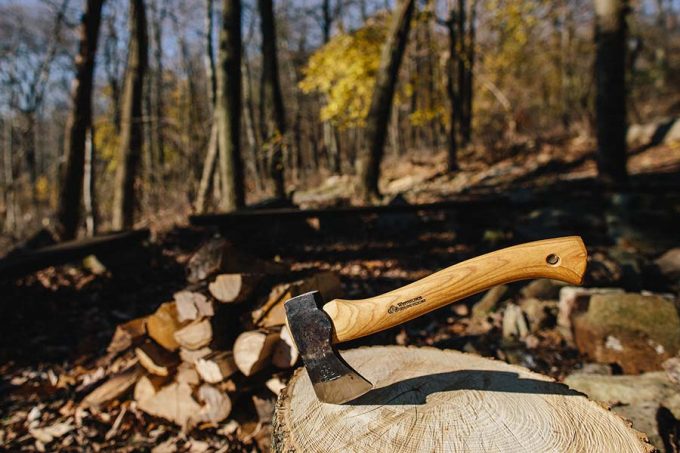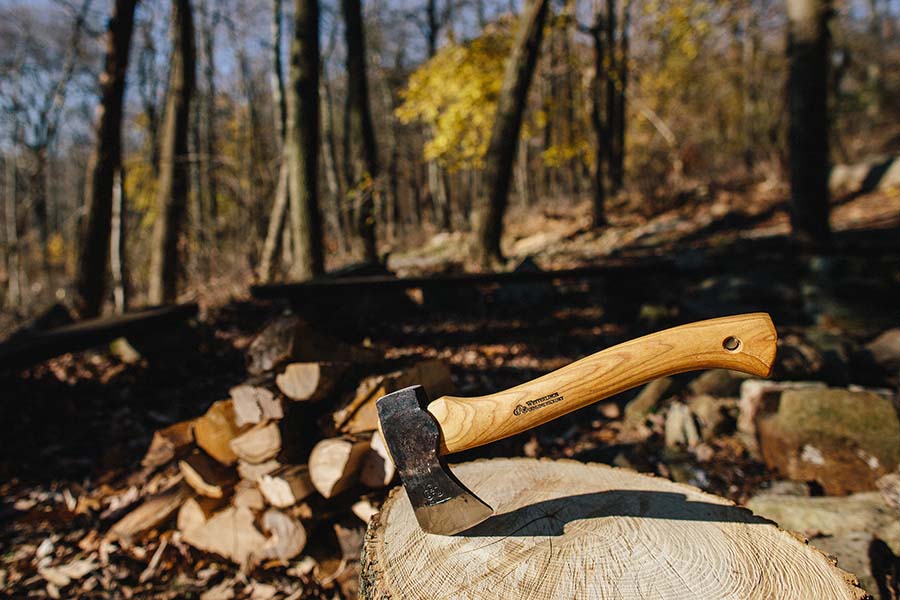 The list above introduces you to high-quality axes, which provide you with an option to choose for yourself, depending on your budget and the amount of usage. Given all these points, it's entirely up to you to choose the model, based on your preferred options.
What did you think of this article? What type of camping axe do you use and what do you love about it? Leave your thoughts, ideas, and more in the Comments section!