Finding the best activity tracker can be difficult because there are so many on the market that offer various features that are appealing. However, it is important to decide which features are right for you and your activity level. For example, you can find ones that track your health, sleep, and more!
In this article, we are going to deliver to you many options to consider when it comes to activity trackers, and finding one that fits your lifestyle. That way, you will not get more than you need, or spend more than you want to. You can simply find something that works perfectly in your favor.
We are going to go over many features to look into while searching for a brand new activity tracker. Knowing what you want can help you narrow it down to a few options that will make it easier to choose. We are going to also give you several reviews on activity trackers so you can see what is available now and what they offer.
Our Top Picks
Features to Consider
Here, we are going to show you the most important aspects of activity trackers so you know what to keep an eye out for when you do go shopping for one. Some features may be more important than others to you, so keep that in mind when looking at prices.
Monitors Health
When it comes to an activity tracker, many users are looking for something that not only does the basic functions of tracking steps, but will also track their heart beats, monitoring heart health, counting calories, and tracking food intake. This helps you to not only stay on an exercise routine, but to also track your food intake and watch how your body functions.
Tracks Sleep
Many activity trackers provide a sleep cycle analysis, which shows many things about how you sleep. For example, you can see how long you slept as well as how many times you woke up during the night.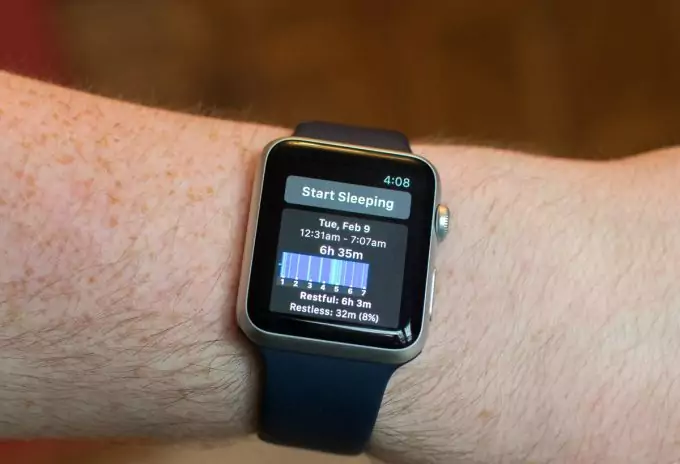 This information can be helpful when determining any sleep disorders. You can always talk to your doctor, who may look further into any concerning sleeping patterns.
Kid Friendly
You can find kid friendly activity trackers on the market that makes exercise and outdoor activities more fun for your child. These trackers give your kids, points for each, daily target they make. The results can be viewed on any device for Apple or Android, which helps you track how active your children are.
Smart Phone Syncing
Finding an activity tracker that will sync information to your smart phone, or even through an app, will help you keep track of your data over time, allowing you to view different patterns of activity. This also lets you view your data whenever you want to, without having to use a computer and connecting your tracker to it.
Waterproof
If many of the activities that you like to partake in make you sweat a lot or involve being in the water, then you definitely should look into something that is waterproof.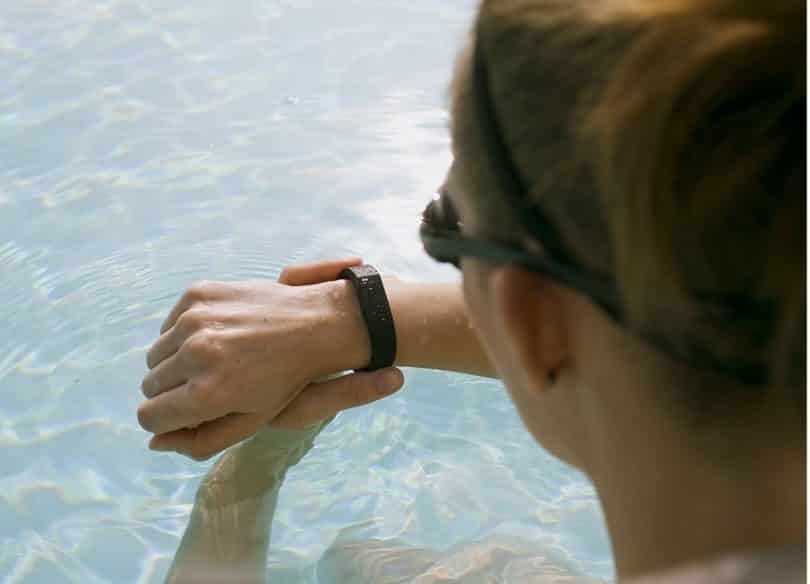 You do not want to ruin your brand new activity tracker when you go swimming. Find something you can go under water with, and can sweat hard with.
Price
Price may be an important factor for many people, so finding something that has the functions you want, at a great price is key. There are many activity trackers that are affordable and have many great functions. But if you are looking for something that has all of the latest technology, as well as advanced functions, you can pay over $100 or $200 easily.
Top Product Reviews
Below, we have put together some of the top product reviews for activity trackers that are currently for purchase now. These activity trackers have a variety of features, functions, and displays, so by checking out what they can do, they will show you what you can find out there. Maybe one of these trackers will be yours in the future!
Timex Ironman HRM Watch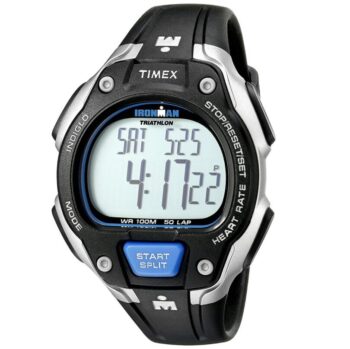 Price: Approx. $280
Weight: 2.1 oz
Color: Black with silver face
Strap material: Leather
Water resistant: Yes up to 50 meters
Specific features: Recovery heart rate timer, Includes an indiglo night light, displays caloric burn and percentage of max heart, .
Best use: Indoor or outdoor exercise
Description: Timex is a popular name in watches. Chances are, you're already familiar with it and its quality. According to Timex, Timex Ironman HRM Watch is essential as a training companion. It provides comfort and performance, as well as features such as heart rate monitor. It's made particularly for the fitness enthusiast, helping them meet their training goals.
This heart rate monitor has 2 alarms on it and includes a memory for 50 laps that tells you your heart rate per lap. Easy to use at night with the Indiglow light, you can check your heart rate and other results anytime. Also included is an interval timer and workout memory.
You also get a chest strap included with the monitor. The best part about this monitor is that it will not get any interference from other equipment or monitors around you, so you do not have to worry because it has a data protection built in!
PROS:
Comfortable
Lightweight
Big display
Can be worn 24 hours a day
CONS:
Strap might chafe skin if put on too tight
Resets itself on occasion
Some users had a heart rate monitor malfunction
Related: If you find yourself wanting to buy batteries in bulk for this item, you can find a 5 pack of Lithium batteries such as the Energizer Replacement Batteries.
Fitbit Surge Fitness Superwatch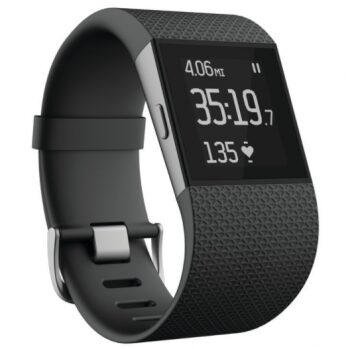 Price: Approx. $200
Weight: 2.7 oz
Color: Black
Strap material: Elastomer
Water resistant:  No
Specific features:  Many GPS features, Monitors sleep, View calls and texts on the watch
Best use: Any exercise except water
Description: Similar to Timex being a household name in quality watches across the board, fitness tracking has become almost synonymous with the Fitbit brand. Fitbit offers a range of exceptional models, including the Surge.
The Fitbit Surge Fitness Superwatch allows you to perform a number of actions such as tracking your workouts and viewing workout summaries. It even keeps track of all day activities including steps, distance, caloric burn, floors climbed and more.
This tracker will show you not only your distance and elevation that you have climbed, but it will let you see your pace and look at different routes to take on your hike! It will give you automatic heart rate specifications and show your heart rate zones.
Not only that, but you can see all your calls and texts right on the touch screen and it can sync all of your data automatically to your laptop and other electronics.
PROS:
Comfortable to wear
The back light is a nice feature
Gets call and text notifications
Accurate tracking
CONS:
Somewhat bulky
Not the best food tracker
No biking mode for exercising
Pricey
Battery, generally does not last a week
Related: If you find this unisex style tracker needs a more feminine touch, you can buy replacement bands that are pink, purple, or any color your heart desires! Check out the bayite Replacement Bands for Fitbit Charge 2 for a variety of colors of replacement bands!
Fitbit Blaze Watch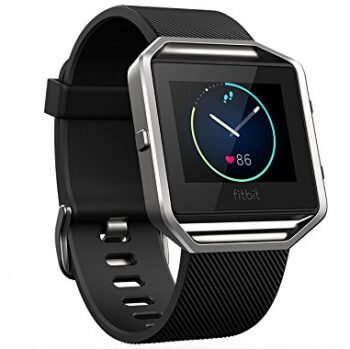 Price: Approx. $150
Weight: 1.4 oz
Color: Black
Strap material: Silicone
Water resistant: Yes, for rain and sweat. Not water resistant for swimming
Specific features: Long battery life, easy to use
Best use: Multisport
Description: Another top performer from Fitbit, the Fitbit Blaze Watch is a water resistant activity tracker. That means it's resistant to sweat, rain, and is splash proof. However, it's not swim proof. The battery life lasts up to 5 days with just a one or two hour charge. It also features a radio transceiver.
This watch is designed to track workouts, monitor your performance metrics, and gauge progress. It features a PurePulse multi sport mode and continuous heart rate mode to enhance your workouts. It's also customizable, so if you like a device with a wide range of capabilities that can match your style, this is the watch for you.
The great thing about this watch is that it will automatically sync your data to over 200 types of devices and will do so wirelessly. You can use it with iOS, Android and Windows, as well as Bluetooth 4.0. You can sync to a computer as long as you have an internet connection and a port for USB plug in.
If you do so on a mobile, you must be within a 20 foot range to sync. Another good thing is that if you have an old computer with old versions of Windows, like Vista, you can still use this tracker to sync to it, as well as Mac OS X 10.6 and up, plus older iPhones and iPads. It will also work on older versions of Android, too.
PROS:
All day activity tracking
5 day battery life
Includes music and alarms
Gives you call, text, and calendar notifications
CONS:
Does not include GPS
Battery life is not the best
Pricey
May need to replace band after a while
Related: If you want a screen protector for your FitBit, look into the CAVN HD Clear Tempered Glass Screen Protector. Another accessory you may be interested in is the Fitbit Blaze Charger Charging Stand, which lets you set your tracker on it to charge easily!
Samsung Gear Fit Watch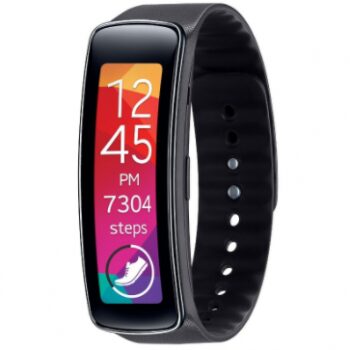 Price: Approx. $40
Weight: 0.96 oz
Color: Black
Strap material: Silicone and rubber
Water resistant:  Yes, but not for water sports
Specific features: 24 hour wear, personalized motivator for fitness
Best use: Multisport except water sports
Description: According to Samsung Gear Fit Watch is the first curved and super amoled wearable device for those with active lifestyles. It allows you to enhance your fitness with real time coaching and heart rate monitoring, all while maintaining style and connectivity.
The always-on activity tracking keeps track of your activities over the course of the day.  The dust and water resistance also comes in handy for any adventure you might want to go on. Another activity watch with style in mind, you can customize this device with interchangeable bands and screens.
The best part of this smart watch is that it gives you a personalized fitness motivator, as well as real time coaching so you stay motivated and reach your goals! You can easily change or try out the various functions that include Quick Reply to text messages, Alarm Control, and Call Rejection with Messages.
Besides those functions, you can receive calls, texts, and emails plus use various apps with this watch. It is compatible with many Samsung devices, including the Galaxy S5, Galaxy S4, Galaxy Note 10.1 and several others. Plus, they are working on making it able to sync with other Samsung devices in the future!
PROS:
Software works well
Thicker case for protection
Thin and comfortable to wear
Ability to receive notifications, emails, and texts
CONS:
Some users had trouble with the battery
Some users say it will not work with Gear Fit application
Expensive
Some users had their battery die after a few months
Related: Some users like to purchase additional accessories for their activity tracker, either for protection or for style. For a great screen protection, you could check out the ArmorSuit MilitaryShield Screen Protector for Samsung Gear Fit. If you like different bands, you can look into the Replacement Bands & Metal Clasps for Samsung Galaxy Gear Fit.
Withings Pulse O2 Activity Watch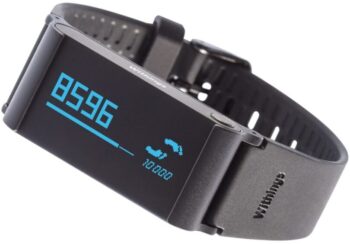 Price: Approx. $100
Weight: 0.28 oz
Color: Black or blue
Strap material: Leather
Water resistant:  No
Specific features: Tracks steps, elevation and more, sleep monitoring, quick charge
Best use: Multisport except water sports
Description: The Withings Pulse O2 Activity Watch isn't a waterproof or sweat proof watch, but it does have other features that make up for that. Some of those features are activity tracking of steps, elevation, distance, running and caloric burn.
It has a couple of options that allow you to attach it to your belt or clothes using a clip, carry it in your pocket or bag. The heart rate monitoring allows you to regularly measure your rate and keep track of your resting heart rate's history, so you can determine if you are improving your overall fitness level. It also integrates with more than 150+ apps.
Additionally, you can keep up with your friends and family using leader boards and unlock achievements and earn badges. This tracker charges fast, only taking 1 to 2 hours to fully charge from empty. When you turn it on after charging, you will have to hold down the power button for several seconds to turn it back on.
PROS:
Monitors many health aspects
Fits comfortably with rubber strap
Tracks sleep and gives you data
Includes alarms
CONS:
Not for use in water or for vigorous sweat
Sensors can malfunction
Not good in humidity
Some users trackers died shortly after purchase
Related: For those that like to have an actual blood pressure monitor that connects with Apple or Android products, look at the Withings Wireless Blood Pressure Monitor for Apple and Android. You can also find a scale gives you a full body analysis that works with your tracker like the Withings Body Cardio – Heart Health and Body Composition Wi-Fi Scale.
Polar Ft4 HRM Watch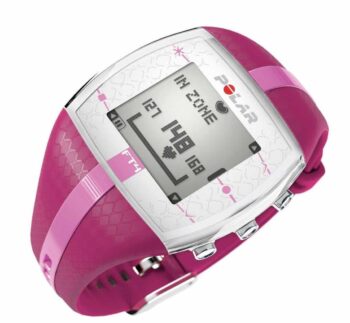 Price: Approx. $60
Weight: 1.1 oz
Color: Purple with pink, black with silver, green
Strap material: Polyurethane
Water resistant:  Yes, up to 30 meters, but you can not press the buttons while under water.
Specific features: Measures heart rate, has smart calorie feature, can connect with gym link.
Best use: Monitoring heart rate
Description: For the fitness or outdoor enthusiasts that want simple, basic features such as heart-rate based metrics monitoring, Polar FT4 HRM Watch is the watch you need. While it doesn't measure heart rate itself, it does measure steps taken. The Polar FT4 displays when your fitness is improving based on your heart rate, as well as letting you know how many calories you've burned.
Based on 30 minutes of training a day, it has 12 months of battery life. It keeps track of your heart rate while in the water too. As you can see, this tracker is simple, with a strong emphasis on heart rate based activity tracking.
If you enter your personal data, you can use the Smart Calorie feature which will tell you how many calories you have burned. Included with the package is a chest strap, which is required, for an accurate monitoring of the heart rate. The chest strap is soft and will work with your body for comfort.
PROS:
1 year battery life
Works in water
Counts calories
Easy to keep clean
Works for long term use
CONS:
Must use a chest strap for accurate heart rate monitoring
Pricey
Some users have had the battery die within a year
Must clean after each use
Had to get the case off of the transmitter
Related: If you are looking for extra batteries for this activity tracker, you can buy them in bulk like with the CR2025 Energizer Lithium Batteries, or if you are looking for a Heart Rate Monitor with a fitness tracker, you can check into the Polar H7 Bluetooth Heart Rate Sensor & Fitness Tracker.
X-Doria Kidfit Activity Watch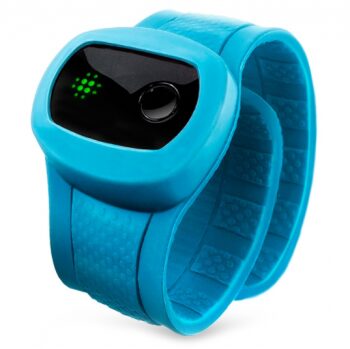 Price: Approx. $40
Weight: 1.8 oz
Color: Many to choose from
Strap material: Silicone
Water resistant: Splashproof (IPX3 rated)
Specific features: Designed for kids, PIX3 splash proof rated
Best use: For constant use by kids
Description: The X-Doria KidFit Activity Watch is a fitness and sleep tracker for children, ages 5-13. It helps encourage kids to play and move around, as well as get enough rest at night. It features a one-size fits all wristband and is IPX3 splash proof rated. It includes a daily activity target that is customized for each child and scored out of 100 points.
This watch is ultimately designed to motivate and encourage children to reach their sleep and activity goals. It comes with built in goals, or you can set custom goals for your child. It even comes with a free app, available for Android and iOS.
Since the tracker does not give you the results on the device, you will have to check it on your Apple or Android device. The bracelet itself is a slap bracelet that is comfortable around your child's wrist and is secure enough to sleep with. Overall, this tracker gets kids excited for exercise.
PROS:
Has goals the kids can achieve
Motivates kids to be healthier, get better sleep
Slap cuff design
Easy and comfortable for kids to wear
App is easy to use
CONS:
A little bulky
Not for use if your child is sweating a lot or in the water
Can not edit goals for individual needs
It does not sync to devices
Related: There are many activity trackers on the market that are aimed at children. You can own one in various colors with various functions, like the LeapFrog LeapBand Activity Tracker. You can also find wireless trackers for kids like the iBitz Kids Activity Tracker.
Concluding Thoughts
The watches listed here are all great options. However, take a look at other brands and more reviews on the ones listed here before you make up your mind. Also keep in mind some common misconceptions about activity watches and trackers.
Some might seem like great deals because they promise a lot of functionality, but keep in mind, that depends on what you'll be doing. Despite tracking bursts of activity, some watches cannot record advanced metrics from some sports and activities.
For example, if you're swimming or dancing, you might only get a report on your heart rate, caloric burn or movement. Not an actual breakdown of your performance. So if you're looking for a very specific breakdown of your activities, try to find a watch that specifically states that.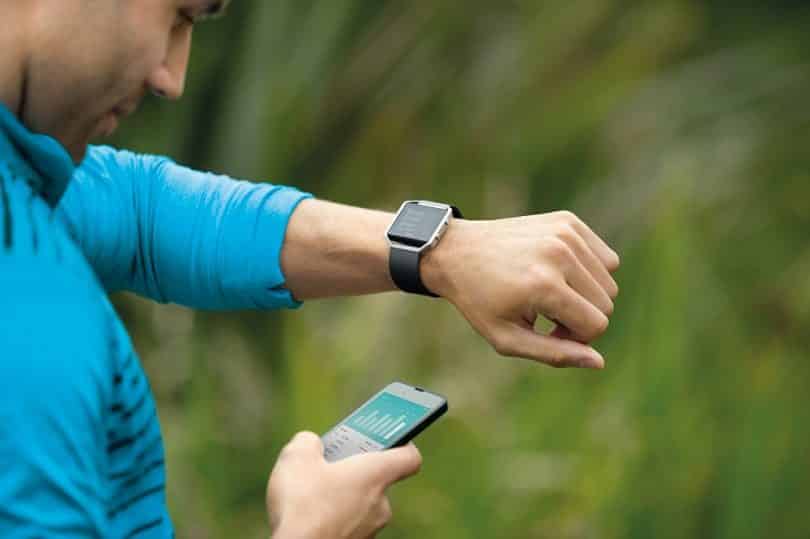 Something else to make note of – two primary areas of focus for a majority of activity and fitness watches are sleep tracking and steps taken. These are great features, but the data provided isn't always accurate. The reason it's difficult to assess accurate data is because the metrics recorded are often estimates.
Technology has come a long way, but until GPS tracking becomes the standard in fitness and activity tracking, use your watch as an aid in motivation instead of an accurate monitor.
What activity tracker do you use? How well does it work for you? What attracted you to it and how does it compare to the ones we have reviewed? We would love to know what you think! Please tell us about your tracker and your story below in the comments section!