You have to agree with us that it can be hard camping out in the wilderness and leave your food in the camp but find out later that the bear had enjoyed them. No matter how secure your camping tent is, the creature can tear it apart and get to your food as long as it smells them. Hanging them on a tree is also not a viable solution.
The best solution to the bear-bound wilderness is to purchase the bear canister that will safeguard your food and at the same time safe more food for multiple days. These canisters are made with tough constructions and are available in many designs.
Heading to any outdoor excursion without a reliable bear canister is a risk of exposing your food to the animals when you are off the camp. Note that the canisters can also protect against other animals in addition to the bears. The market has a broad range of bear canisters and it might be overwhelming to an uninformed person to pick the best.
In this article we reviewed 5 best canisters we deem indispensable for every hiker out there. Because it can be challenging to pick one, we have highlighted things to consider before buying. Also important is the table below that seeks to highlight the key differences of the canisters we have reviewed later on.
Our Top Picks
| Product Name | Specific Features | Weight | Capacity | Price |
| --- | --- | --- | --- | --- |
| BearVault | Transparent polycarbonate, extra wide lid | 3.4 lb | 700 cubic inches | Check price on Amazon |
| Counter Assault | Locking lid, high visibility polymer blend, made in the USA | 3.1 lb | 716 cubic inches | Check price on Amazon |
| Lighter1 Lil' Sami | Transparent polycarbonate, integrated pot and lid, screw locking closure | 2.55 lb | 305 cubic inches | Check price on Amazon |
| Udap No-Fed-Bear | Super strong polymer, 32-page safety booklet, nylon carrying case | 2.4 lb | 545 cubic inches | Check price on Amazon |
| Backpacker Cache | High impact plastic, seals out food odor, rounded edges | 3.4 lb | 600 cubic inches | Check price on Amazon |
Things to Consider Before Buying
Like any other product, you need to make a purchase of something you are well-rounded with, especially when given a whole range of products that look virtually the same with features. The bear canisters have one thing in common – that is to protect your food against the bears. But they are not made the same.
Some are clearer while others are colored, and each has cons and pros for whichever design there is. We have highlighted a few yet important aspects to consider before buying any canister.
Weight of the Canister
First, let's consider the all-important weight.  Since you are most likely carrying everything you need into the back country on your back, the lighter the weight of the canister the less you'll have to worry about carrying.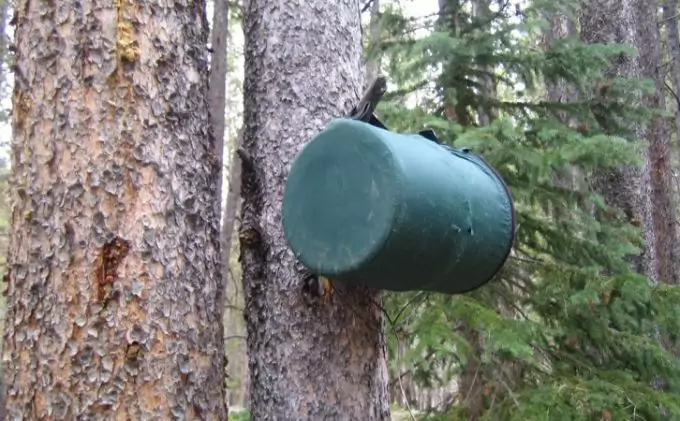 The thing to remember is that as you get lighter there is also less material to keep your food safe.  Go to light and a bear will have no trouble getting through.
Material of the canister
Materials will go along with the weight.  Most canisters are made from some type of high strengthen plastic.  Some others are made of carbon fiber.  While these provide more strength, they will also double or triple the price of the canister.
Another consideration for material is if you can see through it.  While being able to see into the canister will let you know how much more food you have left, there are some that feel a bear may recognize the look of human food and know to go after it.
Capacity
The capacity of the bear canister is also an important aspect because you want to make sure that it fits almost all the food you will need for the duration of your outdoor stay.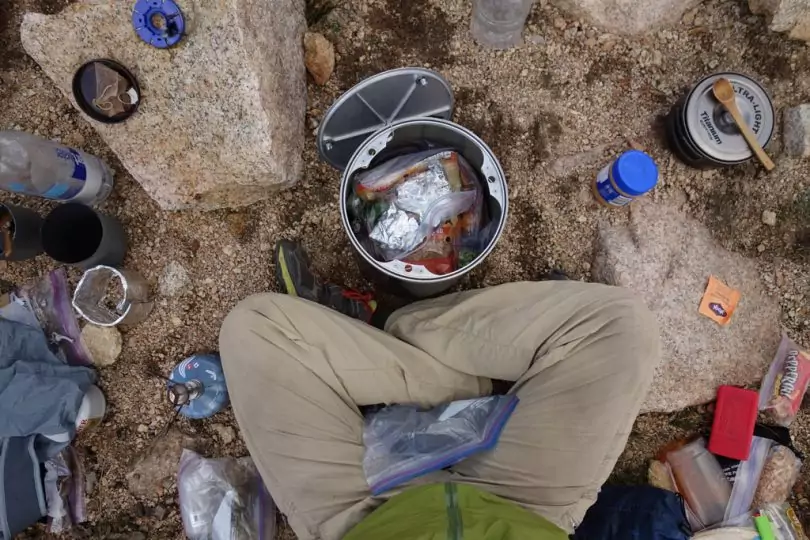 That being said, you must be attentive to the liter of the canister in line with how much food you would like to travel with as well as the budget.
Other features
The other features may include the appearance of the canister. A transparent canister allows you to easily see the amount of food left or to see if you haven't packed particular food. However, it can also attract the bears at the sight of nice food in the canister.
On the other hand, a colorful bear canister confuses the animal to not know the contents. Again, if the animal drags the canister to the wilderness, it will be easy to spot it if it is a colorful object. With these features in mind, you must be ready to go on shopping. Take a look at our handpicked bear canisters below.
Best Products on Today's Market
Now that you know what the most important features are, it's time to check out the best products on the market and see which one, perfectly fits your personal needs.
BearVault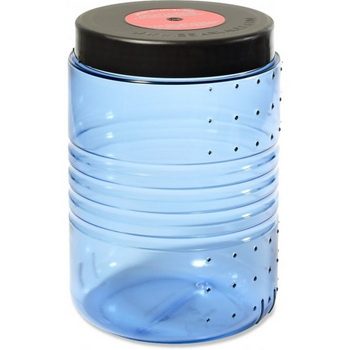 Price: $60 – $90
Weight: 3.4 lb
Item dimensions: 14 x 9 x 9 inches
Specific features: Transparent polycarbonate, extra wide lid
Best use: Backpacking, camping, rafting
Description: The BearVault is a solid choice for anyone that is headed out to spend time in a bear country.  It has the space to store food for a week long trip strolling through the woods while keeping it safe from those large animals at night.
The polycarbonate material is a see-through to give you an idea of how many foods you have left and what kinds of things are left for the rest of your trip.  The top unscrews without the need for any special tools.  One thing that some reviews have mentioned is that in order to make sure that lid is on tight enough, it can get to be extremely tight and hard to open up in the winter.
Upon opening the canister, you will find that this one spots a nice large 7 inch opening that will allow you to easily put things in and out with ease.  This is a very popular model that you will see quite often when you are out in the woods.
PROS:
A large capacity of 700 cubic inches
Made from rugged materials
A lightweight design of less than 22lbs, so it won't feel bulky when filling it with food
Available in different sizes, 400 cubic inches can hold food up to 4 days, while a 700 cubic inches can hold up to 7 days.
A large opening to fit food well
CONS:
A transparent polycarbonate material can attract the bear
If the container gets dragged by the animal, it may be hard to detect it due to the colorless appearance
Related: When getting into the bear territory, it is advisable to alert them of your presence with the Frontiersman Bear Bell to reduce the risk of attack. So protect yourself and your food. The bell has been proven to be effective in deterring the bears, and it is lightweight.
Counter Assault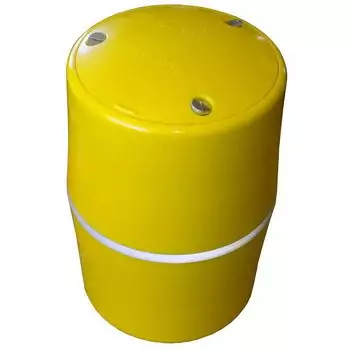 Price: $75 – $85
Weight: 3.1 lb
Item dimensions: 14.13 x 9.5 x 9.5 inches
Specific features: Locking lid, high visibility polymer blend, made in the USA
Best use: Camping, backpacking
Description: If you are looking for a bear canister that a number of experts in the field have gotten behind, then look no further than the Counter Assault. It has been certified by the Interagency Grizzly Bear Committee and the Sierra Interagency Black Bear Group.  And more so it also meets the US Forest Service specifications.
If it gets a thumbs-up from all of those groups, then it should make it through whatever your adventures may be.  With a storage capacity of 716 cubic inches it can hold even food for a hiker for a week long trip.
The special polymer blend is made to keep the bears on one side, and your food on the other. The high visibility yellow will keep this canister easily spotted if you need to track it down after a bear has rolled it away from camp to play.
The lid of this canister is screwed down at three points to keep it secure. It does mean though that you will need to have some kind of tool to ensure that you are able to open it up when you are hungry. The opening is also quite large, letting you put in some more bulky items than may fit in other containers.
PROS:
The canister is large enough with a total volume of 716 cubic inches, to store as many foods as possible to survive a week in the wilderness
The yellow color is bright enough to spot the canister should it get rolled down in the wilderness by the creature
The lid is screwed securely to deter any possible attack by the bear
Made of durable polymer that the bear claws will not tear apart
The opening is wide enough to easily store food
CONS:
The lid locks tightly, it might be hard for your companions, especially kids, to unlock it unless you have a special tool, designed to unlock with ease when you are starving
Related: To reduce of carrying this bear canister with hands, we recommend the Bear Keg Food Container Carry Pack to easily travel the canister. The carry bag is affordable and black in color. With its zip, it will help you remove the food without unpacking the canister along the way.
Lighter1 Lil' Sami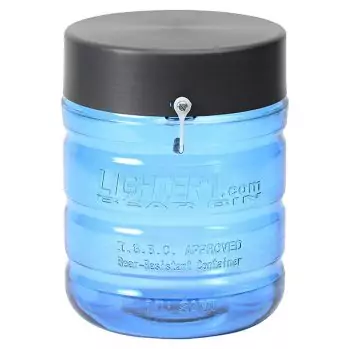 Price: $90 – $100
Weight: 2.55 lb
Item dimensions: 7.6 x 7.5 x 10.7 inches
Specific features: Transparent polycarbonate, integrated pot and lid, screw locking closure
Best use: Backpacking, hiking
Description: The Lighter1 Lil' Sami has been individually approved by a number of different National Parks, including Yosemite, Sequoia, Denali and Rocky Mountain.  The 305 cubic inch capacity holds enough for a hiker to last for about 3 days.
While many canisters just use a lid that is made of the same material as the rest of the canister, this one features an integrated pot and lid.  This means that you will not need to carry an additional pot.  It can boil about 4 cups of water, which should be more than enough for a single hiker.
This pot forms the lid, supporting the canister and becoming a vital part of the locking mechanism. It uses screws to lock the lid down, but many reviewers have mentioned that these screws do no need a special tool to open it up.
Some have mentioned though that those same screws can end up rubbing on other objects in your pack, so you will need to be very careful with what goes where when it is time to pack out.
PROS:
Tough polycarbonate material that will survive the bear attack
Comes with the lid that screws securely and tightly so there is no chance of the bear making a way into the canister
305 cubic inches of volume, for food for up to 3 days
Approved by several national parks
A lightweight design even if you have packed food to capacity
CONS:
Relatively expensive canister close to $100
Transparency of the canister can lead to the bear attack when it sees food inside
One needs a special to open the lid when tightly closed
Related: it can be a mission unaccomplished to fit this canister into your normal backpack with lots of stuff to take to the back country. In that regard, we recommend the Bear Keg Food Container Carry Pack to hold the canister easily. To avoid the transparency, you can even store the canister with this black bag even though the bear can tear it up easily should it smell the food inside.
Udap No-Fed-Bear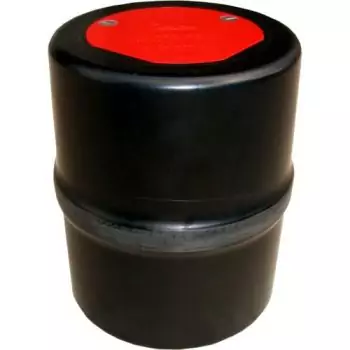 Price: $60 – $70
Weight: 2.4 lb
Item dimensions: 8 x 8 x 10 inches
Specific features: Super strong polymer, 32-page safety booklet, nylon carrying case
Best use: Backpacking, rafting
Description: The Udap No-Fed-Bear has been tested by experts and has been found to be highly resistant.  This is another canister that will require a coin or some other type of tool to lock and unlock using the screws on the removable lid.
This one has been designed for the solo hiker, its 545 cubic inches can hold enough food for 3 days, possibly 4 if you go lightly and aren't over packing your food supply.
The canister is black and sports a red lid, but as the black color has a habit of blending into the night and shadows, a wise consumer might want to add something like reflective tape to aid in finding this in the middle of the night for a snack. It is still a great canister to pick if you have a smaller pack and is definitely worth the consideration.
PROS:
Tough nylon carrying case that will protect against bear attack
Locks tightly to diminish the chances of the bear getting a way in
Large canister to carry food for 3 days
A black color deters the sight of the bear to the food
Affordable canister under $70
CONS:
The black color may be hard to spot at night unless you put some reflectors on it
The volume is not enough if you plan to camp for a week in the wilderness
Related: To be able to carry this bear canister, we recommend the No-Fed-Bear Bear Proof Canister Case. It is a quality case, black in color with some white prints to be able to spot it in low light conditions. You may even opt to store the canister in this case unless it gets torn by the bear.
Backpacker Cache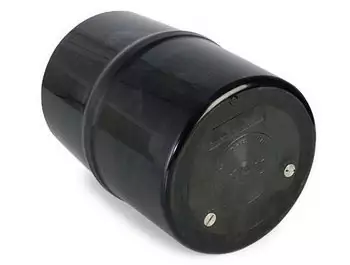 Price: $55 – $70
Weight: 3.4 lb
Item dimensions: 8.8 x 8.8 x 12 inches
Specific features: High impact plastic, seals out food odor, rounded edges
Best use: Camping, rafting, backpacking
Description: While the Backpacker Cache canister may be on the heavier end of the bear canisters that we have highlighted, once you pick it up you will be relieved by the tough and the brawny feel of it. Its opening is only 5.5 inches wide, so it limits how big of an item you can cram in. Meanwhile, the design allows you to stuff a good deal of food into this container.
Its 600 cubic inches is enough for food for 6 days for a single hiker or it could serve as the perfect weekend bear canister for a couple.
While a number of reviewers have commented that this was a bulky canister the rounded edges of the design, do make it easier to slip back into your pack when you are striking camp and setting off for the next location.
With its smooth sided design, there is nowhere to attach a d-ring or hook to, if you wanted to do an added layer of safety and hang this container from a tree. However, there is an available case that would make that task much easier if desired.  And as another black case, you may want to add something to bump up the visibility.
PROS:
5 inches wide opening, to let in more foods
Secure lid to protect against the possible entry of the bear
Black color that obstructs the bear's sight
Seals the odor of the food
Relatively affordable bear canister
CONS:
It is bulky, especially when full with food. It may be ideal for a minimalist hiker
The black color may be challenging to spot at night unless you put some reflections on it
Related: This bear canister has a green carrying case which you can purchase at low prices. The case has the straps with which you can attack it on the shoulder for ease of travel. So get the Backpacker Bear Cache Carrying Case.
Wrap Up
There you have it, five amazing picks for the best bear canister on the market today. Just think of how annoying raccoons can be if you don't store food properly. And as a last tip on what should go in, don't forget your toiletries.  Bears have been known to trash backpacks just because someone left a tube of toothpaste in it.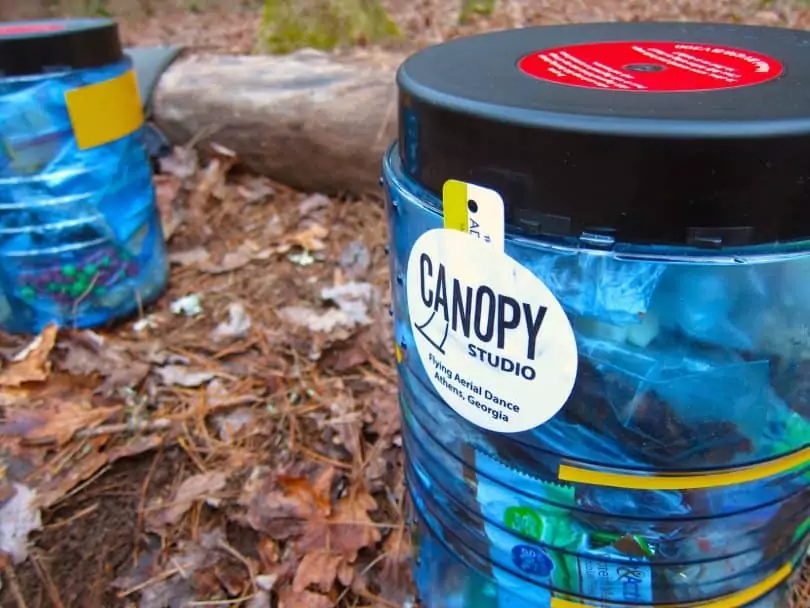 There is no need to fear going into bear country for a few nights. While you head out to the back country just remember to keep your mind focused. Whichever canister that you've selected will do its job and keep your food stuff safe from both large and small critters.
With the best canisters we reviewed, we are hopeful that you will be able to pick one when given the pros and the cons to take into account. The table at the beginning will give you a glimpse of the differences between these indispensable bear canisters.
Have we covered the best canister that you know? Please leave a comment we will love your suggestion. Also, please share this article, to get the word out about making wise choices in bear country and to help people use these bear canisters reviews to select their own best canister.