Backpacking sleeping bags are an essential requisite when are looking to go out on a camping or hiking expedition. A distinct advantage associated with having a practical accessory for your tour is that you will be able to sleep comfortably during the night and wake up feeling fresh and rejuvenated.
No one would love to remain awake during the evening and remain docile the following day. The best sleeping bag for backpacking should be one that is versatile, comfortable and durable to help you survive your multi-day trips. Durability is important, particularly if you intend to use your bag in several camping and hiking seasons as you will not have to purchase a new one.
The most significant feature you need to consider when looking for backpacking accessories is weight. Sleeping bags should be lightweight and easy to carry around without creating any nuisance while packing or unpacking.
If you spend a significant part of your time outdoors, it is advisable to make sure you have all the necessary accessories to keep you warm while in your night tents. Since sleeping bags are an investment and a one-time payment, it's advisable that you buy something that is of excellent quality, even when the price may seem high.
Our Top Picks
Features to Consider Before Buying
Sleeping bags are the most significant components of the camping gear kit. A comfortable and warm bag will allow you to have an excellent sleep, and a wonderful night's sleep makes it possible for you to do well on your hike the next morning. In an outdoor expedition, sleeping bags are the most important accessories that can keep you warm.
Therefore, for any hiking or camping enthusiast, selecting the right bag is arguably the best way to minimize the weight of their kit. For that reason, there are a number of features you need to consider when looking to buy a backpacking sleeping bag for your hiking tour. These are:
Type of Insulation
When it comes to sleeping bags, the high-performance ones are made with down or synthetic insulation. The synthetic kind is best for use for extended trips where wet climatic conditions are involved. These materials are usually less compressible, heavier, and less comfortable compared to the down kind. The synthetic bags can be used in places where the opportunities to hang the bag to dry are limited.
For its weight, the down insulation provides significantly more warmth, is more compressible, more durable, and more comfortable compared to the synthetic insulation. However, its Achilles heel is moisture. Manufacturers have identified that the down sleeping bags are not suited for conditions where they can get wet. Down's insulation value and its loft amount decrease when it gathers moisture.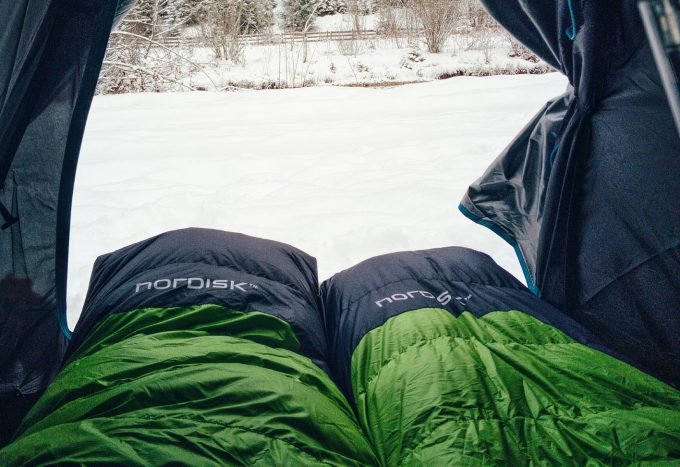 It is advisable to prevent this bag from getting moisture and when that happens, make sure that you get the opportunity to dry them out if they become soaked. Nevertheless, for most situations, down insulation will give you the greatest performance for your multi-days trips where packed size and weight are a huge concern.
Fabric
Unlike the insulated jackets, these bags are less often exposed to rough conditions which could tear their fabric. Therefore, quality sleeping bags employ very lightweight materials. Some materials that are used on the outside weigh about 1 oz per square yard.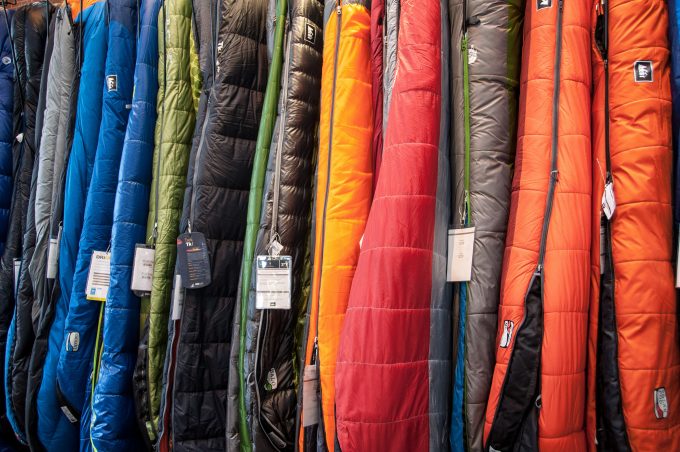 Most top rated backpacking bags, use very similar fabrics. Bags that are relatively cheaper, use heavier fabrics compared to the lightweight ones which are very comfortable.
Hood
Most backpacking sleeping bags are fitted with a hood which can be drawn around the head during cold weather. The hood is an essential feature, since you often lose heat through the exposed part of the body. The lower and cored body, can be covered by an insulation, but the head can be left in the cold without a hood.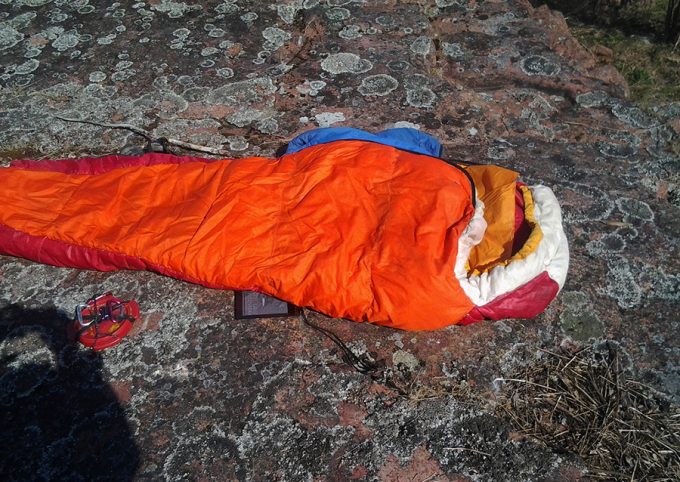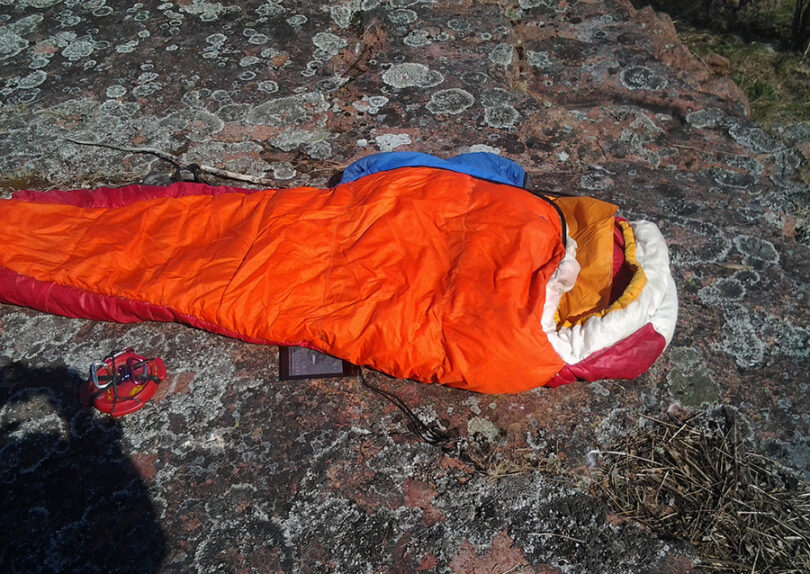 Since these components vary in comfort, it is important to first get inside the bag you want to buy and tighten the neck baffle and the hood fully. Can you breathe? Is it possible to change position or turn over without suffocating? Try out different sleeping bags to see if the right criteria are met as hood designs vary significantly.
Temperature Ratings
This is an essential factor when it comes to selecting a sleeping bag for your backpacking tour. The rating you select highly depends on where you will be going and what the kind of temperature you will be exposed to when sleeping.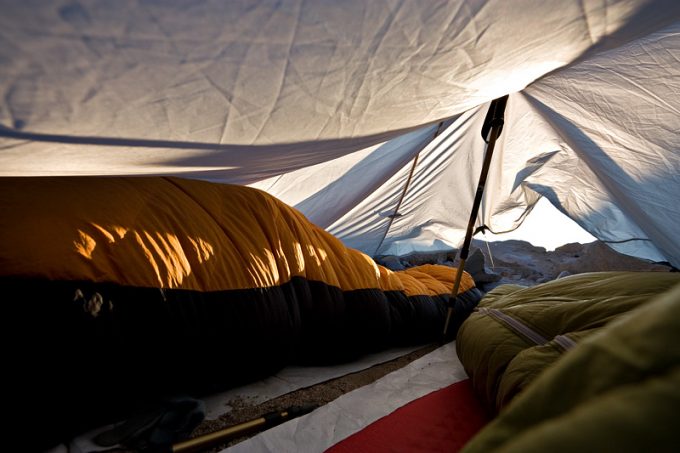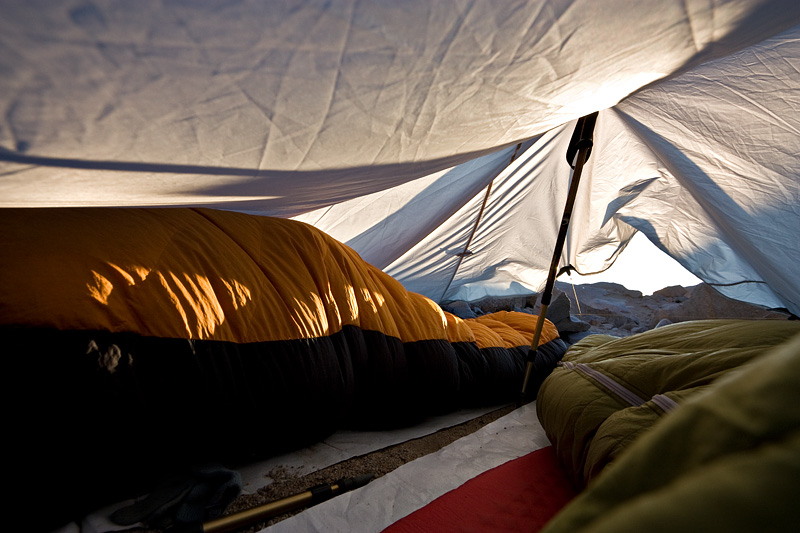 A bag for camping in the backyard of your house during the summer will have different requirements than a bag you would select for scaling the Everest. For that reason, know your needs and choose a sleeping bag that would be suitable for your intended application.
Top Product Reviews
Kelty Cosmic 
Price: $150 – $180
Weight: 2 Pounds
Dimensions: 0 x 62 x 78 inches
Specific features: 2-way double sliding zipper, form-fitting hood, Water resistance 550-fill Dridown,
Best use: Hiking, camping, backpacking, survival
Description: The Kelty Cosmic Sleeping Bag now features an exceptional warmth of the 550-fill hydrophobic DriDown which is designed for higher performance. This implies greater defense from moisture and faster drying in wet and cold conditions.
The bag is versatile enough for use in three seasons, with amazing features such as the top draft collar and a comfortable hood. This sleeping bag is under $200, so it is pretty affordable if you are looking for a really good sleeping bag that gives a great performance.
Users like this sleeping bag because it is light in weight, water resistant and is comfortable to sleep in! The hood fits around your head so you can keep in the heat and stay warm all over. Overall, users enjoyed this sleeping bag and would recommend it to their friends! This accessory is a no brainer for people who love outdoor adventure and love being outside in the snow, rain, or shine.
PROS:
Thermal comfort hood
Locking zipper
Bright colors; Paradise Blue with Twilight, and Dahlia with Grape Juice
CONS:
Not waterproof
Can be a little snug
Related: Some backpackers like to have a pillow that they could rest their heads on at night. With the Therm-a-Rest Pillow, you can get a great night's rest and not wake up with a stiff neck!
SIERRA DESIGNS MOBILE 
Price: Approx. $250
Weight: 3.05 Pounds
Dimensions: 18 x 14 x 14 inches
Specific features: Zipperless arm ports, draft prevention, ventable center zipper, 30d polyester ripstop, 600 fill duck dridown insulation,
Best use: Hiking, camping, backpacking, survival
Description: At one point, you have had to withstand the agony of crawling out of your sleeping bag during a cold night. Nobody likes it!
The Sierra Designs have developed a solution for this by creating the cozy and comfortable Sierra Mummy Mobile Sleeping Bag, which is one of the most innovative bags on the market. The Sierra Mummy is a garment style accessory which you can wear while walking around your camp area. While this is not the only bag that has leg and arm ports, it is definitely one of the well-designed accessories on the market.
Weighing approximately three pounds, this sleeping bag is filled with about 23 oz of the lofty 800 fill DriDown. Tbag is designed such that you can move with it from one point to another while cooking, making tea, and doing any other thing that hikers and campers undertake for survival.
PROS:
3 season bag
Mummy shape is comfortable
Arm ports have no zippers
CONS:
Not easily packed down
Material feels slippery
A little pricey for some
Related: Mattress pads are important because they keep you off of the harsh ground, and the Therm-a-rest NeoAir Mattress, works great and is great for 3 seasons, too!
Suisse Sport Alpine 
Price: Approx. $50
Weight: 5 pounds
Dimensions: 9.8 x 10.9 x 16.3 inches
Specific features: Double-layer offset quilt construction, soft polyester lining, mummy shape
Best use: Hiking, camping, backpacking, survival
Description: Equipped with 3 pounds of Hollowblend MicroTekk Z1 fill with synthetic insulation, the Suisse Sport Alpine Sleeping Bag keeps you warm at the lowest temperatures.
The comfort range runs from 5 to 40 degrees as influenced by other factors like wind, absence of tents, wearing light clothing and absence of ground cover. The fill makes this bag the best choice for camping during the winter and for alpine hiking trips. To make it even more interesting, the bag incorporates a double surface offset construction which prevents the fill from clustering thus getting rid of icy patches when you are sleeping.
And to ascertain that the wind has no chance to get in while you are sleeping, Suisse Sport is fitted with a drawstring hood and draft tube. Users enjoyed this bag because the mummy shape seems to keep the heat in better and is more comfortable than a rectangular bag, plus it is highly affordable!
PROS:
Comes with compression sack
Great for cold temperatures
Includes drawstring in the hood and the draft tube
Affordable
CONS:
May be too heavy for backpacking
Might be a little snug
Zipper can snag
Related: While backpacking, you might need a little light when it gets dark. The Lighting EVER 3200001 Headlamp, can help you when you need just enough light to cook or get dressed!
Coleman North Rim 
Price: Approx. $50
Weight: 3.75 Pounds
Dimensions: 12 x 12.35 x 17.1 inches
Specific features: 100% Polyester with fill 100% polyester, 60 ounces of coletherm insulation, coleman's comfortsmart technology, stuff sack storage
Best use: Hiking, camping, backpacking, survival
Description: The Coleman North Rim is a zero-degrees mummy bag available at an affordable price. It has all the components and features you would expect from any technical sleeping bag.
Its Double-batt, offset fabric construction gets rid of any potential cold spots. A semi-sculpted hood is added to provide you with sufficient warmth on your head. The insulated chest baffle conserves the heat inside the bag's body.
The draft tube which is insulated keeps out chilly drafts and the 2-way zipper is designed to give you maximum ventilation in the case of excessive heat. A stuff sack is also included to help you store your valuables, so you do not have to misplace them whenever to go to sleep.
Those who have used this sleeping bag say that the draft tubes are great and keep the cold air out while they are staying warm inside of the bag. While this bag might be a little heavy, it is highly affordable and comfortable!
PROS:
Coleman Comfort Smart Technology keeps the bag in the best shape so you can use it over and over.
Works down to 0 degrees F
Extra ventilation at the bottom of bag, which can be unzipped
CONS:
A little heavy for some
Zipper does not seem high quality
Does not easily pack down
Related: If you are looking for a basic tent in which to use your sleeping bag, you can look into the Coleman Hooligan Tent, which is made for 2 people (or up to 4 inch other models) that is affordable and easy to use!
Wenzel Windy Pass 
Price: Approx. $50
Weight: 4.25 Pounds
Dimensions: 33 x 3.5 x 84 inches
Specific features: 2-way coil zipper, polyester outer and liner, 3-inch shoulder collar
Best use: Hiking, camping, backpacking, survival
Description: The Wenzel Windy Pass Sleeping Bag is the best backpacking bag to make your winter camping comfortable. This bag features an Omega II fill of hollow and solid fiber, which is rated to zero degrees Fahrenheit.
Apart from that, the bag features other extra watch features such as a tapered base, a classically hooded up, and a self-repairing 2-way zipper. All these combined with the easy stuff gray sack, make this mummy one of your favorites camping accessories. A product from Wenzel, the Windy Pass 0-Degree bag is designed so it can meet the highest standards of versatility, comfort, and durability.
The times of soggy and drafty tents are long overdue, and that is why these accessories are designed with high-quality materials to ensure resistance from moisture and cold. This mummy bag is here to make sure you experience nature with the least amount of hassle. Plus, it is affordable for everyone!
PROS:
Works down to 0 degrees F
3 inch draft tubes
Stylish and affordable
CONS:
Some said the hood is not tight enough
Zipper is not very sturdy
Hard to pack down for some
Related: Sometimes the ground can be too hard to sleep on. You can use the Stansport 4-AirMat Air Mattress, which provides a little inflation, so you are not on the ground, and can have a comfortable sleep!
Ledge Sports Featherlite 
Price: Approx. $65
Weight: 4 Pounds
Dimensions: 9 x 9 x 17 inches
Specific features: T-8 Compression sack, dobby diamond 250t ripstop shell
Best use: Hiking, camping, backpacking, survival
Description: The Ledge Sports FeatherLite Sleeping Bag is built for weight and size restrictions on long journeys. The bag is a regular size accessory that features a premium size fill, to give you adequate insulation during your cold camping nights.
Its design and shape are meant to give adequate space and comfort so you may have to move inside it without compromising on warmth. The Dobby Diamond 250 T Ripstop shell is very durable, as well as the YKK zippers used. The liner is made of SoftTech II, and there is a Continuous Filament of fiber that goes throughout.
Overall, users enjoyed this sleeping bag because is has a nice design, is light in weight, and it is made with quality materials and fabrics that will last over time. Plus, this sleeping bag is pretty affordable, and it comes with a compression sack so you can stuff it down and continue on with your journey.
PROS:
Comes in 3 colors; Blue, Maroon and Orange
Affordable
Durable and comfortable
CONS:
Some say it does not work down to 0 degrees F
Might not be very warm in colder weather
Not as compact as other bags
Related: When you are backpacking or camping, having a camping stove can mean getting a hot meal, or beverage, whenever you want. The Etekcity Ultralight is a great little camping stove that is portable and won't break the bank!
Alps Mountaineering Crescent Lake 
Price: $55 – $100
Weight: 5 Pounds
Specific features: TechLoft + insulation, 210t polyester outer fabric, 210t polyester liner, insulated chest and zipper baffle, standard stuff sack
Best Use: Hiking, camping, backpacking, survival
Description: The ALPS Mountaineering Crescent Lake is a sleeping bag that is designed with a Techloft+ insulation.
The Techloft + insulation is made up of multi-hole staple-length denier fibers with a silicone finish to give you maximum insulation, compactness, and loft during your camping nights. This bag utilizes a two-layer offset construction, which can be referred to as a bag within a bag.
The mummy shape, as well as the contoured shape, helps in locking the heat and keeping you warm during the chilly nights out. The Alp Mountaineering Crescent Lake Bag is an excellent backpacking bag to carry along on your hikes as it will not take up much of your space. Stylish and affordable, this mummy style sleeping bag will keep you warm through the night with all of the insulation inside! Plus, you can get it in 3 different sizes; Regular, Long and Wide.
PROS:
Affordable and good looking
Tech Loft + insulation to keep you warm
Comes in 3 sizes
CONS:
Zipper may snag
May not work down to 0 degrees
Does not pack down well
Related: When you set up your tent, you may consider getting a floor saver, which makes the life of your tent go longer. You can find the ALPS Mountaineering ALPFS-9 Tent Floor Saver in many sizes and at a price that won't break your budget.
Teton Sports Trailhead 
Price: Approx. $52
Weight: 2.9 Pounds
Dimensions: 3.94 x 31.89 x 87.01 inches
Specific features: Breathable, soft, double-brushed liner, foot box design, lightweight mummy-style bag, longer and wider size
Best use: Hiking, camping, backpacking, survival
Description: The TETON Sports TrailHead is a mummy bag that is designed to give you comfort and minimize the weight of your backpack during a hiking or camping escapade.
Wider and longer than most mummy bags, this one has a soft, breathable liner, as well as an extended foot box with sufficient space for your toes.With the presence of two zippers, it is possible to operate the bag from the top or bottom. The presence of the safety Velcro tab ensures the bag remain closed while the zippers are taped with anti-snag design.
There is also an interior pocket that allows you to store your keys along with any other valuables so you will not have to look for them when you wake up in the morning. The innovative PolarLite insulation helps in keeping you warm, although the whole bag is light and thin.
The 32 by 87 inches (at widest points) offers leg room and shoulder while the foot box design allows you to lie comfortably with your toes up. The zipper pullers on the outside and inside of the bag are excellent features as they allow for easy closure.
PROS:
Lightweight
Liner breathes well
Full length zipper
CONS:
Some say it does not feel proportioned
You may feel cold before the temp hits 20 degrees F
Related: Many outdoors people love to take pillows with them for comfort. The Trekology B01LW5 Camping Pillows is easily inflated (and deflated) for those on the go!
Concluding Thoughts
The information provided above will guide you in making an informed choice when looking to buy the best sleeping bag during your backpacking tour. Today, the market is filled with numerous accessories that can be used in outdoor activities making it quite impossible for one to choose the best accessories.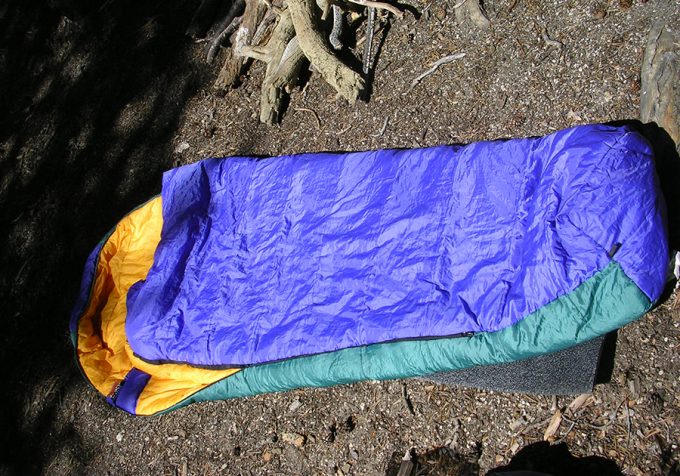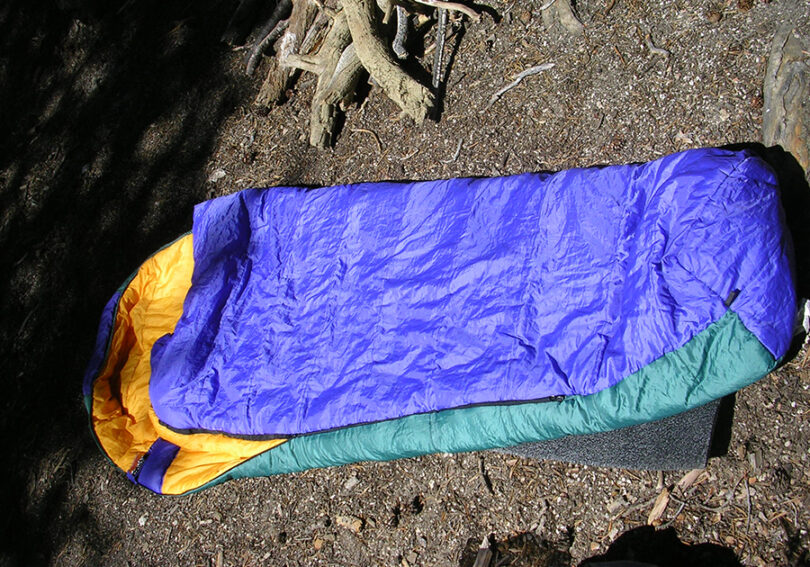 When it comes to sleeping bags, the balance between price, height, and weight is unique to every backpacker, so it is important to be certain about these aspects before buying one. This guide provides information that will help you pick a bag with the features you are looking for.
So, do you have an idea of the bag you will be purchasing for your backpacking tour? Do you think other bags deserve to be in the list above? Post your suggestions and opinions in our comment section.