We have all been there. You are hiking and the weather gets rainy, or you come across some high water and don't want to ruin your new hiking boots. You should have bought some gaiters before you left!
Every seasoned hiking enthusiast would probably narrate to you about the indispensable protection of gaiters to keep your boots, feet, and your pants safe from snow, ice, pebbles, sand, debris or any other unwanted object in your shoes.
It doesn't matter whether you traverse on a well-groomed traction or on high-steep mountains with the rough terrains in your favorite countryside, you need the best gaiters. We have endeavored to provide you the best hiking gaiters that are the best matches for your hiking adventure.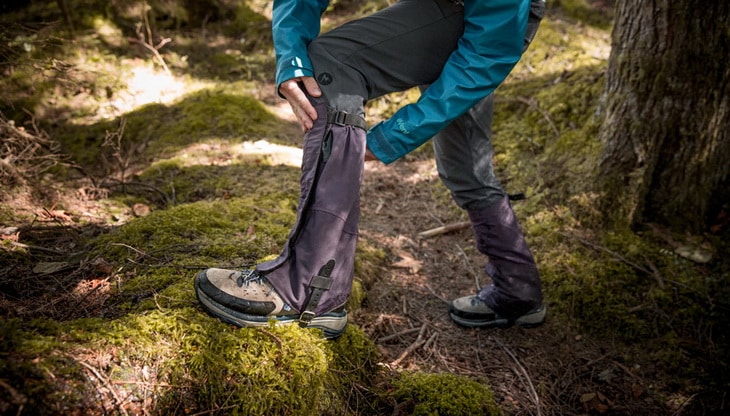 Meanwhile the market provides us with a wide variety of gaiters for hiking and, as thus, it's always a confusion for newbies to have the best gaiter suitable for them. Note that not all gaiters are made the same with all the functionalities and fabric materials that we need.
For this reason, we have made a great collection for the most amazing gaiters in this article and have also given you tips on what to look for when purchasing these essential tools for your outdoor activities.
Features to Consider
It can be so disappointing to have substandard gaiters that are effective to your expectations. The reasons for this are often attributable to wrong choices or simply the lack of knowledge that what to look for. You must bear in mind that a certain outdoor activity may call for a different gaiter.
For instance, gaiters for alpine climbing may not be suitable for hiking because alpine gaiters need to be heavy in weight, whereas the one for hiking needs to be as light as possible but not compromising any of its functions.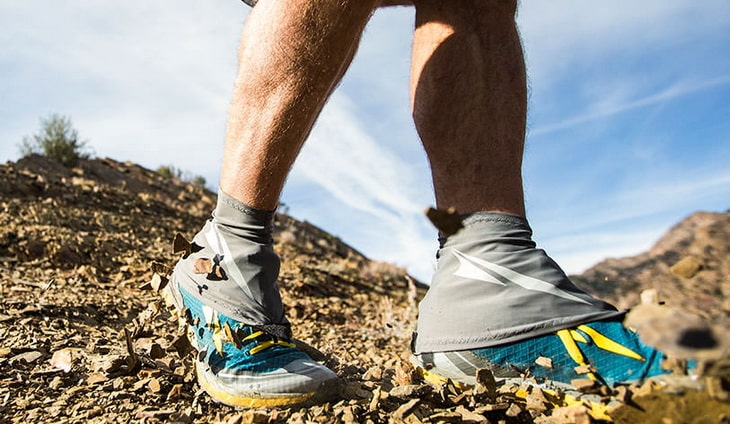 Having mentioned that, you need to know what you should be looking for in a gaiter and when are you going to use. With this knowledge you will never go wrong.
We will explore the characteristics of the best gaiters that include water resistance, breathability, durability, ease of attachment, windproof, and the comfort. Because of varying manufacturers, not all gaiters may have all these features. Let's have a look at these features.
Breathability
This is certainly an important feature that every gaiter should preferably have to take control of the inescapable sweat that emerges underneath your feet. Take into account a thick gaiter with no breathable membrane that how much heat is being created.
Your boots could end smelling beyond what the nose can take due to the lack of breathability. The moisture of your sweat needs to be evaporated through a breathable fabric.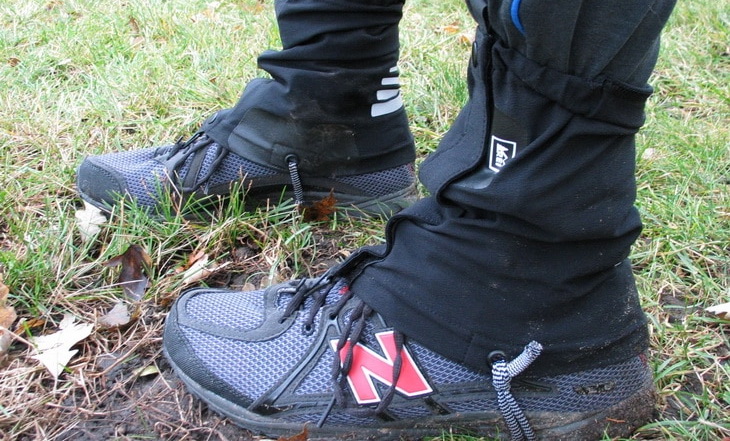 Some gaiters, for example, are made of GoreTex and other with eVent fabrics that are the best in ventilation to eliminate the buildup of moisture. This being said, you need to prioritize breathability when purchasing gaiters because it enhances comfort regardless of how many days will you be putting such gaiters.
Even on dry days, breathability plays a good role to get rid of sweat, and you may not see the need to ditch out your protectors due to unbearable heat.
Water Resistance
It might seem practically impossible to get rid of a ubiquitous substance such as water amid heavy downpours in the wilderness but technology supersedes. Failure to protect the inside of our boots leads to a regrettable damage.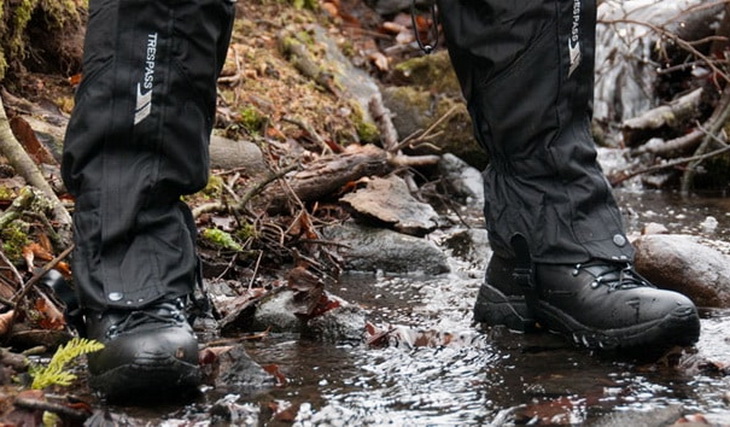 Fortunately gaiters do very well in shedding water off so that your hiking boots do not get dampened with water. The fabric material used in designing these gaiters plays a predominant role in water resistance. Water resistance is therefore a foremost preference when deciding about the type of the gaiters to prevent any water damage.
Weight
As highlighted above, weight is also an essential characteristic that should be taken into account when buying gaiters. Having bought heavy weight gaiters may prompt you to take them off in long distances of traveling due to the unbearable weight that obstruct movement.
It is therefore important to take the weight into account. There are lightweight, durable products some of which we have exclusively brought to you hereunder.
Durability
Durability is a common language for hikers and everyone prioritizes it. Some never mind the expensive prices as long as the product is reasonably and provably durable because the non-durable materials are a waste of money.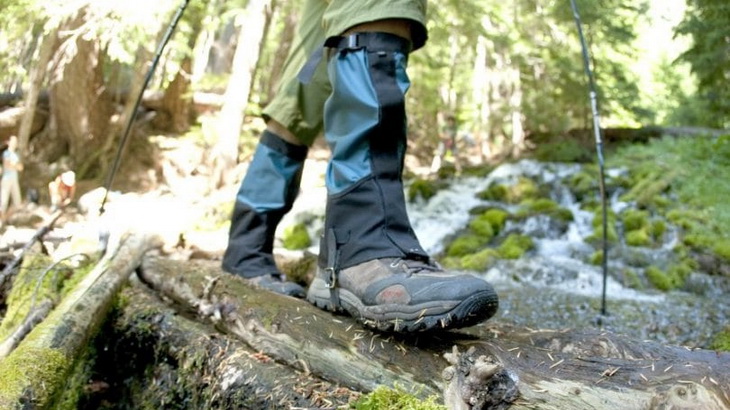 As hikers, all you want is a product that is equally durable and light in weight without any indispensable feature compromised. The best solution of durability is to assess the materials used in constructing these products and compare accordingly.
For instance, some gaiters have 3 layers of Gore-Tex to enhance durability whereas others are made of nylon or eVent. Also important to observe is the quality of the instep strap as it helps determine the durability of the gaiter.
Ease of Attachment
Surely you have seen other models prompting the wearers to take off their gloves in cold weather conditions to re-fasten them, or to take off their hiking boots before fitting them in.
Moreover, they will have to fiddle their pants in before putting the boots again. Is that something you'd love? I doubt not. The ideal and most preferable gaiter should be the one with the ease of attachment.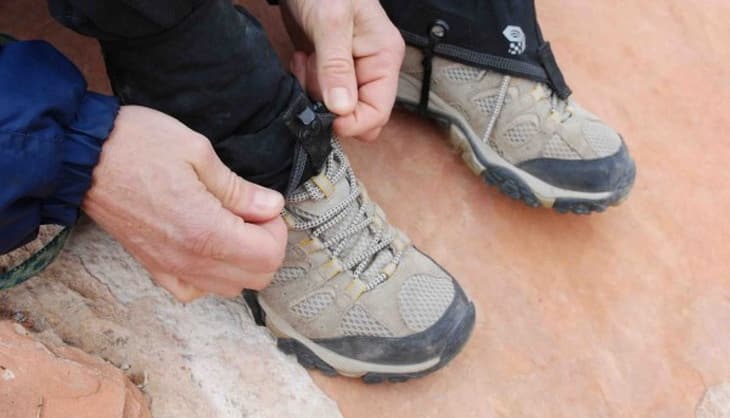 Some gaiters, for example, use buckles whereas others commonly use the Velcro enclosure to enhance the ease of attachment. With this in mind, check the method of attachment employed by a certain product. Other possible methods include the shoelaces, but then they can get loose when hiking in rough terrains.
Quality of Debris Protection
One of the main functions of gaiters should be the most remarkable and quality protection against the debris so as to avoid causing blisters to your feet. Depending how one walks, our feet may be prone to the debris along the way if no gaiters are put on.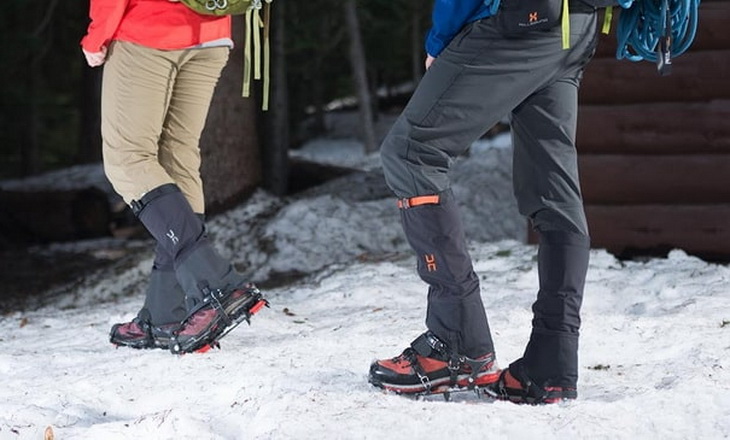 The quality of protection can be reinforced by the quality of the enclosure. To reiterate this, the gaiter need to give a proper and a tight fit at the bottom while also assuring you a tight seal at the top to prevent any entry of debris.
Having opened your eyes with these features, we are confident that you are better positioned to choose the best gaiter for your hiking expedition. Let's now consider our collection of the best products on the market and see how enticing they can be.
Top Product Reviews
We have now come to the section of this article where you can explore various hiking gaiters and see what sets them apart from the others. We hope you can find your next pair of hiking gaiters here! Happy shopping!
Berghaus Yeti Attak Gaiters
Price: Approx. $60
Weight: 1.14 lb
Dimensions: 17 x 9 x 4 in
Specific features: Has a replaceable SKYWALK rubber, secure and safe fit by the front zip, forefoot strap and loop-fastened storm flap, made with Gore-Tex shell
Best use: Hiking
Description: With a Gore-Tex shell featured in Berghaus Yeti Attak Gaiters, you are assured a more durable and water resistant gaiter. It is made to keep your feet warm and dry at all times, regardless of circumstantial temperatures exposed to. The shell is also made to be breathable to keep as much moisture out of the boots as possible so that you don't have to take the gaiters out.
The front zip provides a great and a secure fit coupled with the hook and loop-fastened storm flap. Meanwhile the forefoot strap enhances durability and a snug tightening. The manufacturer has not disclosed any info about the weight, which we know it forms part of our decision making process when buying these products.
Those who have purchased these gaiters enjoy the comfort of them while wearing them, as well as the waterproof feature. They are durable and won't leave your feet and legs feeling sweaty. Priced just right, users say that these gaiters will stand the test of time because of the durability.
PROS:
Affordable
Waterproof, durable
Breathes well
CONS:
Only comes in green
Not a lot of tread
Related: If you find yourself in the rain while enjoying your gaiters, you will want a rain jacket to stay dry. The Road Toad Rain Jacket  is under $20 and not only breathes well but it is waterproof.
Heroneo NWPB6 Gaiters

Price: Approx. $6
Weight: 3.5 lb
Dimensions: 15 x 9.4 x 5.5 in
Specific features: Waterproof front zip, ease of attachment by Velcro and zip, breathable fabric, adjustable elastic band and snap fastener, available in black color.
Best use: Hiking, camping, backpacking
Description: The HeroNeo NWPB6 Gaiters impress us with its high quality of waterproof, breathability, weather resistance and durability. Its fabric is sure to keep insects and pebbles from entering your boots while preventing your feet from blisters. And in case you sweat because of more heat generated by your feet, the fabric's breathability will take control of eliminating the moisture.
A proper fit is further assured by the adjustable elastic band and the snap fastener. Then for more comfort of wearing this protector, you will be using the front zip and the Velcro enclosure.
The zip is also waterproof to shed every single drop away. This gaiter is indeed a great companion for hikers and other outdoor activists wanting to protect their feet against the inconvenient small particles and water in the boots.
Users like these legging gaiters for going through snow while trekking. They are not pricey by any means and they can fit into your gear pack without added weight!
PROS:
Affordable
Waterproof
For trekking through snow
CONS:
Elastic can pop out
Do not breathe well
Related: While out hiking, you may find a need for a flashlight. The Binwo Super Bright Flashlight has 5 modes of light, is rechargeable and has a wrist strap attached.
Mountain Hardwear Scree Gaiters

Price: Approx. $40
Weight: 0.19 lb
Dimensions: 14 x 8.5 x 5 in
Specific features: Synthetic material, reflective material for nighttime visibility, boot attachment through the Grommet holes 91% nylon and 9% elastin.
Best use: Hiking
Description: With 10.25 in tall, Mountain Hardwear Scree Gaiters are sure to cover your legs tightly and securely to keep debris and water clear from your feet. They are made of a high quality air-permeable stretch synthetic fabric known for its abrasion resistance.
This air-permeability ensures that only a minimal moisture is kept in the interior while keeping your feet dry and warm. The fabric is supple enough not to obstruct your movement in anyway, regardless of which terrain you are traversing on.
For overnight hiking, these gaiters are made with reflective materials to increase visibility. And for under-arch attachment, these products come with Gommet holes.
For under $40, this pair of gaiters gives you the length you need with some great tread, as well as a strong nylon material that won't let water inside. Overall, users like the gaiters for these reasons, plus they are black in color and have grommet holes for easy attachment.
PROS:
Affordable
Tall for deeper waters
Lightweight
CONS:
Elastic doesn't expand enough
Lose compression over time
Related: If your weather conditions are a bit chilly, having some Merino wool socks will keep your feet especially warm. You will love the design of the D.E. Merino Wool Socks and the fit as well as the absorption of sweat!
REI Alpine Light Gaiters

Price: Approx. $60
Weight: 0.31 lb
Dimensions: 19 x 10.25 x 5 in
Specific features: Relatively shorter than majority of gaiters, effective rain and debris protection, breathable and waterproof, 500D durable nylon for abrasion resistant
Best use: Hiking boots
Description: The REI Alpine Light Gaiters, as the name implies, are light gaiters suitable for long travels. They are relatively shorter than other gaiters in here, but competitively effective.
They are furthermore competent in keeping rain and snow out of your boots for a comfortable outdoor hiking adventure. All these properties are attributed to the waterproof and breathability features designed.
The hooks and the buckle ensure that these gaiters are snug fit to keep your feet comfortably warm, but at the same time allowing a better evaporation of sweat moisture. And to improve durability, these products are abrasion resistant. Please note that these gaiters come in varying sizes for women and men.
Some of the other great features that users have enjoyed include Hypalon instep straps wrap underneath the shoes and the straps adjusted with the buckle, snug fit by the hooks and shock cord, 1.5 inch hook and loop used as front closures.
PROS:
Great at evaporating moisture
Adjustable
Durable, abrasion resistant
CONS:
Some users state that this is expensive, while others love the higher quality
Comes in one color choice
Related: For those sunny days, the Hippih Outdoor Cap can protect you! Not only is this hat adjustable but it is also waterproof and has UV protection!
Outdoor Research Crocodile Gaiters

Price: $60 – $80
Weight: 0.85 lb
Dimensions: 20 x 9 x 2 in
Specific features: Front closure secured by the bottom shear tab, lightweight, durable, abrasion and water resistant, plastic boots fit well in a larger circumference, made of 70D 100% nylon on the upper leg, made of Cordura 1000D inner leg and boot.
Best use: Hiking/camping
Description: The Outdoor Research Crocodile Gaiters, as reflected in the name, is a durable gaiter for those prioritizing durability more. This durability is further seen in its instep strap with an additional tap to hold the front opening.
The other impressive features are its light weight, abrasion resistant and waterproof. These are made to ensure your survival amid cold temperatures and rainy days in your hiking destination.
And in case you wear the plastic boots, this gaiter can also be worn due to its larger circumference, which is accommodated by the length of the plastic boots. What users like the best is that these gaiters have the height needed to stay extremely dry.
You can choose from two colors, which include the standard and always classy black, or a red chili and black color. The nylon material is durable and the bottom closure is easy to attach and get on that trail!
PROS:
Made of durable nylon
Waterproof
Abrasion resistant
CONS:
Pricier than others
Both color choices include black
Related: You can use the Black Diamond Crampon Bag to store your gaiters or crampons while you are out on the trail. This bag is durable has a zippered enclosure, plus its under $20!
Rab Latok Alpine Gaiters

Price: Approx. $50
Weight: 3.3 lb
Dimensions: 19 x 10 x 3 in
Specific features: Made of an eVent waterproof shell, synthetic material, ankle area made with the tough robic nylon, stretch Watergate fabric rear panel.
Best use: Hiking
Description: The Rab Latok Alpine Gaiters features an eVent waterproof fabric material as its outer shell. eVent fabric is renowned for its breathability, thus providing a sufficient ventilation. You will certainly withstand the outdoor's cold days when wearing this rugged fabric material.
The ankle area is made of a tough nylon to enhance its durability while the front closure features a zipless Velcro. The under boot strap is clothed with the rubberized abrasion resistant material.
Users who have purchased these gaiters, state that they keep water out, are easy to attach with the loop at the bottom, and stay zipped during the hike. The material keeps your legs warm without sweating and the fabric is durable in the outdoors.
While these gaiters only come in the standard black, you will enjoy wearing these from the comfort, dryness and ease of use alone. Users state that while these gaiters are a little more expensive, they didn't mind the extra cost because of the quality they were receiving.
PROS:
Waterproof
Durable nylon fabric
Easy to attach at the bottom
CONS:
Pricier than others
Only one color choice
Related: While outdoors, you might find yourself in the dark when you need to cook or use the bathroom. The Black Diamond ReVolt Headlamp will help you see and you can choose your color! It is powered with LED lights and has 130 lumens of output.
Wrap Up
In addition to the tips given above with regard to what to look for when buying these gaiters, we advise you to read through the customer reviews in order to get a glimpse of how these products served them.
Customers have voiced out their encounters, so this will help you in decision making whether to continue with the purchase or institute a remedial action.
If you're going to stay long outdoors, we advise you to buy at least two pairs of gaiters. A prolonged wear may end up with unpleasant smells especially if the gaiters are not breathable enough to get rid of the sweat moisture. Having two pairs will enable you to wash the other pair while wearing the other.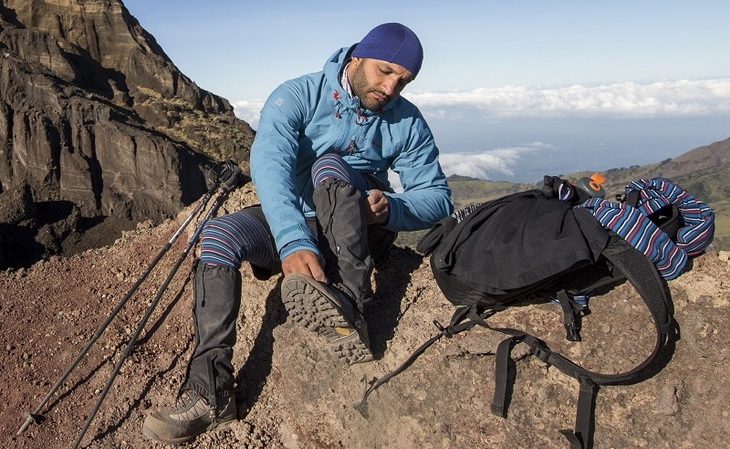 We have done our best in bringing you the most effective and protective gaiters on the market. As you have seen in our reviews, these gaiters are renowned for the waterproof, breathability, and durability properties, although differ from a quantitative perspective.
Nonetheless, they are all great companions for your hiking excursion. Even our related products are carefully chosen based on optimal performance as your protectors.
Have we left a certain product you reckon to be the best too? Please leave a comment in the comment section hereunder.