Perhaps is that time of the year in which you frequently visit your favorite camping site, but your tent has worn out or you just need a new camping tent for yourself or your family. The bottom line is that no one likes to overspend on camping tools notwithstanding the sophisticated features that the tools might have.
It is, however, unfortunate that the majority of customers end up spending exorbitant fees unknowingly on buying new tents after being lured by powerful salesmen out there. Nonetheless, we cannot blame the salesmen since they are doing their work. The best thing we can do right now is to educate you about the best cheap camping tents found on the market.
Finding the cheapest tent could be an absolute breeze if you know the typical tent you need when looking at various factors. The fact is that tents vary in designs, dimensions, comfort, weight, materials, constructions, and convenience.
The list could be longer… That being said, wise outdoor enthusiasts should take these factors into consideration to help narrow down the search for a cheap camping tent. Deciding on the best tent to buy can be similar to buying a new house. The tent is like your mobile house which you expect to have all needed and necessary features but at affordable costs.
It is beyond doubt that novice buyers get confused more in deciding about which best tent can be purchased at cheaper prices. This article has made a good collection of the tents that are relatively affordable and are accompanied by top-quality features in line with your needs.
These tents are discussed below. But, before we delve into these tents, let's help elaborate on the important factors aforementioned that could help you in your decision-making for the best affordable camping tent.
Features to Consider Before Buying
These factors vary from one person to the other. Nevertheless, we have selected the important and common ones to consider and these include the size, the purpose, the construction, the materials, seasonal usage, and the capacity of the tent.
Size of the Camping Site
The size of the required tent is determined by the number of people whom you will travel with to your outdoor excursions. An individual traveling is not a problem. You can easily select a portable one that is very affordable. But traveling with family members or friends requires a spacious tent to rest at night.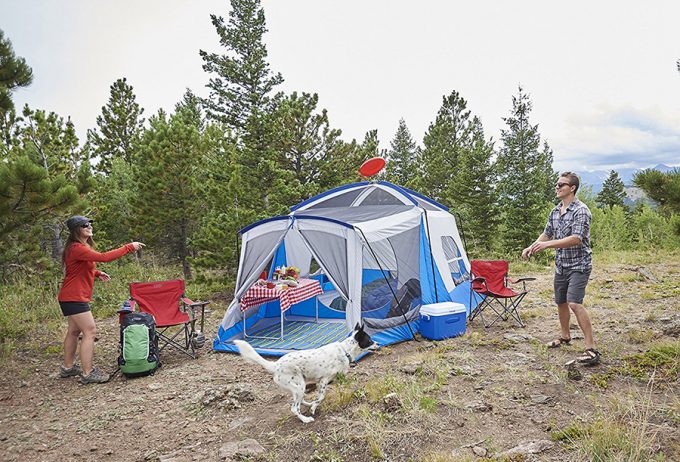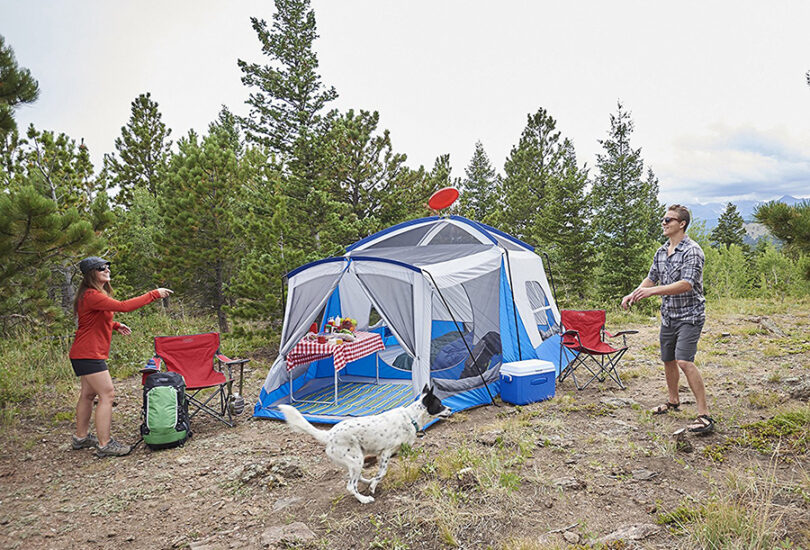 Therefore you have to consider the number of people before purchasing the right one. Some models come with room dividers to give you privacy in case you dwell with many people. These dividers can also partition the tents into dining and bedrooms but they are removable.
If you need more space at night, then you can easily remove them because some people do not like cramped rooms when sleeping to prevent, for example, muscular cramps. Others like tossing and turning the whole night and as such it would be inconvenient to have a small space allocated for sleeping.
However, the larger the tent the more costs incurred in purchasing a camping tent including the extra accessories.
Seasonal Usage of the Tent
The prices of tents also depend on seasonal use. For instance, camping tents frequently used in summer, spring and autumn are called 3 season tents whereas the ones frequented in mid and late winter are called 4 season tents. Relatively, the 3 season tents are cheaper, whereas 4 season ones are expensive, predominantly due to materials used in their construction.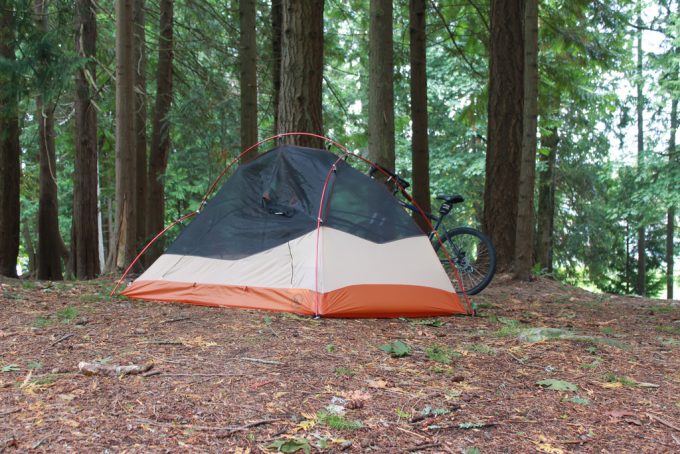 You have to plan around this consideration as well. When considering 3 season tents, you will want the ones with enough ventilation to prevent sweltering conditions. Large mesh panels, double doors, and windows are often featured in these tents to provide sufficient airflow as well as to prevent entry of bugs and other wild insects into your living room.
Bear in mind that features differ from one manufacturer to the other and often these are determinants of how costly is the tent. On the other hand, 4 season tents come with added features to keep your living space warm amid harsh weather conditions, thunderstorms, heavy downpours, and strong winds.
3 season tents are not made to withstand the troubles experienced in winter. There's no enough ventilation in 4 season tents, but nonetheless, windows and doors are provided. A rain fly and other heavy materials are included in these tents to protect them from being destroyed in those weather conditions.
The majority of the tents on the market are, however, 3 season tents, mostly because of the fact that many people are accustomed to traveling frequently in spring, early autumn and summer.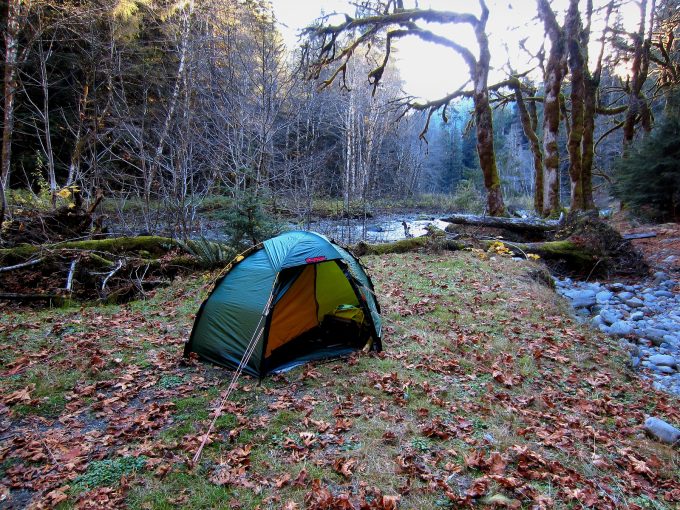 It is unlikely that many consider going out in winter. But in case you do, you should take into account additional costs of purchasing a sturdy camping tent to withstand such harsh weather in winter.
Construction Materials
These materials also have an effect on the costs of the tents. A thorough inspection is important to check if the tent meets all your needs. The floor and the roof should be sturdy enough to not allow seepage of water in case it rains. In some tents, the floor is off the ground to prevent this seepage.
The roof can come in a cabin style to provide more space than the tent with a dome style. The dome tents have the sturdy roofing to shield the tent from being weighed down by heavy rainfalls. The center of the tent has enough space. The other consideration is the poles used in constructing these camping tents.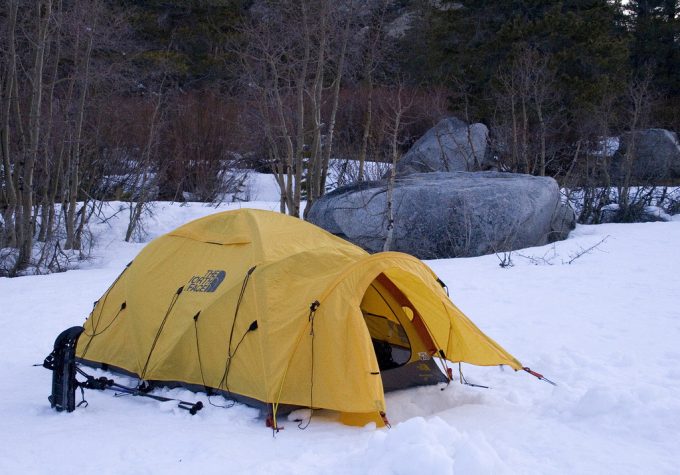 Quite often the tents come with fiberglass or aluminum made poles. The costs do vary depending on the types of poles. However, you shouldn't considerate the costs only, but the sturdiness of your tent as well. Aluminum poles are relatively stronger than fiberglass poles. Fiberglass poles can break out in strong winds.
The Purpose of the Tent
It is also noteworthy to consider your purpose when purchasing the tent. While thinking about the purpose, ask yourself some questions such as the frequency of using the tents, the locations you will travel to, the comparison of costs of buying a camping tent to living in hotel rooms, the transport to be used to carry your tent, etc.
These questions could also have substantial effects on the costs. For example, if you are not going to use the tent frequently, it will only be reasonable enough to purchase a relatively cheap one with fewer accessories.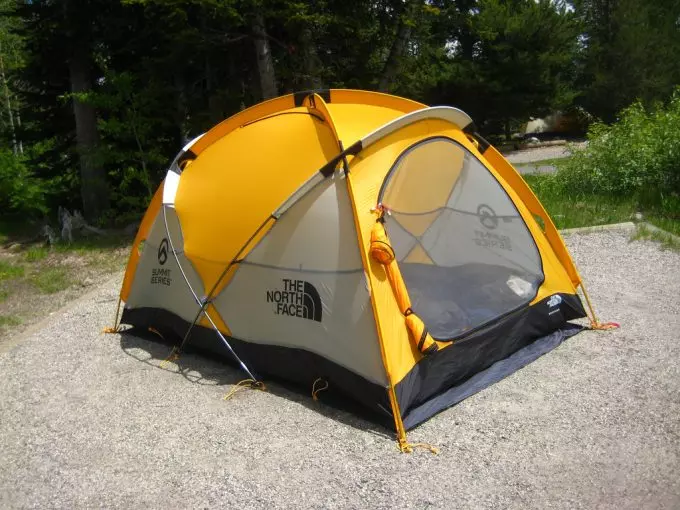 Furthermore, if you do not have a transport like a van to carry your tent, then you need to consider buying a lightweight one. The same cannot be said if you are purchasing a huge tent for the whole family of, say, 10 people. Extra costs will be incurred to buy a big camping tent and, moreover, transport arrangements will need to be done as well.
There are many factors to account for when buying the best camping tents that are affordable. With the ones aforementioned, you can now narrow your search when looking at the tents discussed in this article. It's now taken you through the best camping tents we believe are relatively cheap on the market to help you save more money for your outdoor adventures.
Top Product Reviews
We have arrived at the part where you get to check out the top products on the market! Here, you will learn about various camping tents and what their features are. Then, you can successfully choose the right one for you!
Semoo Family Cabin Tent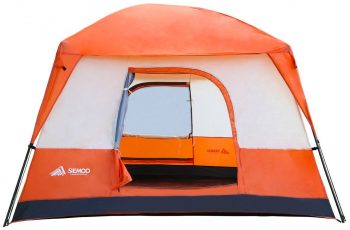 Price: Approx. $130
Weight: 26.4 lb
Dimensions: 94.1 x 94.1 x 71 inches
Material: Polyester
Specific features: Materials used are polyester with polyurethane coating, fiberglass poles and a polyethylene for the floor.
Best use: Rainy weather
Description: With this Semoo Family Cabin Tent for camping, you can bring along 4 people because it can accommodate 4-5 persons. It is a 3 season family tent featuring 2 doors for sufficient ventilation in hot weather conditions.
The large mesh windows and vents also provide much-needed ventilation to the occupants of the tent. The hooped rain fly frame helps in rainfall protections. The tent comes with fiberglass poles that are sturdy enough to withstand mild winds.
Durable polyester with waterproof coating and a rugged polyethylene floor are used as construction materials in this cabin style camping tent. Also attractive is the enough height for taller adults to stand while in the tent.
The inner space is large enough to sleep comfortably without having to be confined the entire night. Its fiberglass frame is shock-corded. It is also an absolute breeze to set up the tent and also to carry it in a portable bag.
PROS:
Made for 3 seasons
Durable fabrics and poles
Waterproof coating
CONS:
Some said water got inside
Instructions were unclear
Related: If you are out camping, you may consider taking a flashlight with you. The Fenix Flashlights FX-PD35TAC is made of stainless steel, has a tactical operation mode, and is 1000 Lumens.
Suisse Sport Yosemite Tent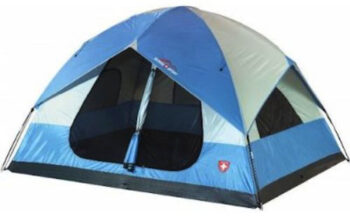 Price: Approx. $85
Weight: 13.65 lb
Dimensions: 120 x 72 x 96 inches
Material: Polyethylene
Specific features: Removable room dividers, double d-shaped doors, sleeping capacity of 4 people
Best use: Camping in good weather
Description: Planning to go out in summer, spring or fall, this Suisse Sport Yosemite Tent can be your best fit. It comes with D-shaped doors for enough airflow and comes with removable room dividers to partition the tent into two rooms.
Four people can comfortably camp in this tent and get more ventilation through the mesh windows and ceiling. The room dividers add privacy when traveling in a group of 4. You can be able to bath without others being forced to exit the tent. The other room can also be designated to put foods while the other for sleeping needs.
The windows are zippered and three in total. The tent is lightweight with 13.65 pounds. At under $100, this tent is a steal, and it comes in 2 colors; Blue with Grey and Blue. It is stylish, durable and has mesh windows and ceiling! This tent is highly loved by users for its price, style and more!
PROS:
Under $100
Mesh windows and ceiling
Stylish
CONS:
Zipper will leak in bad rain
Pole sleeves can get holes in them
Seams can come apart
Related: While camping, you may find that a tent kit can be very handy. The Coleman Tent Kit includes a mallet, steel tent pegs and a hand broom with a dustpan. All of this comes in a mesh bag at an affordable price.
COLUMBIA Dome Tent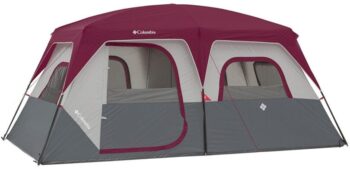 Price: Approx. $200
Weight: 24.7 lb
Dimensions: 168 x 912 x 96 inches
Material: Omni-Shield
Specific features: Fits 2 queen air mattresses, fabric is light and dries quickly
Best use: Rainy weather camping, windy weather
Description: The Columbia Dome Tent, available in red or gray, is just one of the largest affordable tents to accommodate 8 family members or friends. The tent is well suited for 3 seasons, excluding the winter's harsh cold weather conditions.
Two queen air mattresses can fit in the tent for 4 people to share each bed. It is also spacious to avoid a cramped sleeping place that could result in hurtful muscular cramps. More ventilation is enabled by the 6 large windows and wide doors designed. You will almost have the same feeling as if you're at home while outdoor.
The tent can be partitioned into two with its included room dividers. It features, among others, Omni-shield water and stain repellent materials. Its Omni-shield fabric is not affected by water. In fact, the Omni-Shield fabric will dry up to 5 times faster that other fabrics that are not treated with this repellent that also repels stains!
PROS:
Fits up to 8 people
Room dividers
Priced just right
CONS:
Zippers can be a pain
Ventilation is not the best
Related: While camping, you surely need a source of light when the night comes. The Etekcity 2 Pack Portable Outdoor LED Camping Lantern comes with batteries and will collapse down to a smaller size. Under $20, this 2 pack of lanterns have 30 LED bulbs that will last a long time.
Mountain Trails Grand Pass Tent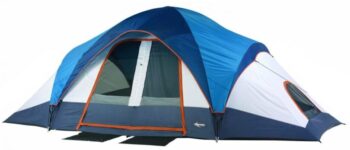 Price: Approx. $120
Weight: 21.1 lb
Dimensions: 76 x 216 x 120 inches
Material: Nylon
Specific features: Shock-corded fiberglass frame, polyester windows, mesh roof vents
Best use: All weather camping
Description: This 10-person Mountain Trails Grand Pass Tent has a 170 square foot area that is large enough for 10 people to rest comfortably. It can be set up with a breeze using its pin and ring system and its shock-corded fiberglass frame.
It is designed to waste no more time in erecting it. The occupants will enjoy a mind-blowing airflow through the D-shaped doors crafted on the back and the front side. The large mesh roof vents, as well as the windows, provide more ventilation in the tent.
For a cleaner environment of stay, the tent comes with welded polyethylene floor and mud-trapping mats. If you want an added privacy, from your group of co-travelers, there are room dividers to partition the tent.
Furthermore, no amount of a downpour shall spark fear in you because of the include rain fly for protection while in the tent. Duffel wraps around the rolled tent and easily attaches with elastic bands.
PROS:
Fits up to 10 people
Stow N Go Duffel system
Easy setup
CONS:
Can leak at the seams
Not waterproof
Related: If you want some padding between you and the ground, the Intex Classic Downy Airbed is an affordable air bed that is inflatable. It is easy to inflate and deflate, and its highly comfortable!
Wenzel Klondike Tent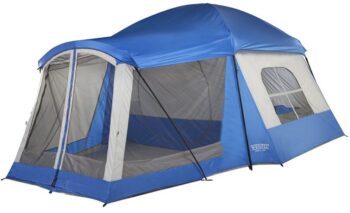 Price: Approx. $200
Weight: 15.9 lb
Dimensions: 78 x 132 x 192 inches
Material: Polyester
Specific features: Front awning, 3 season tent, Mesh roof vents
Best use: 3 season camping
Description: The family of 8 or co-survivalists can find a peaceful rest while camping in the Wenzel Klondike Tent. It features a sun and weather protection feature to help you camp calmly and comfortably. It comes with a front awning that provides a camping porch to protect against weather, sun, and rain.
To provide you with more ventilation, the tent comes with mesh roof vents, a door, and windows. These windows can be zippered at any time to prevent the entry of insects. If you travel the tent can be fitted in a portable carry bag for convenience. The tent is categorized under 3 season tents that are feasible for summer, autumn and spring seasons.
They often come with a lighter weight and lighter materials than 4 season tents. For fitting 8 people, this tent is spacious and even has a screened in porch so you can keep the bugs out! You can find this tent in Blue or Gray colors, and users love how easy the setup was!
PROS:
Porch
Zippered windows
Mesh roof vents
CONS:
Tent pins can come loose
Rain fly is dark colored, attracting heat
No space for electric cable to come through
Related: If you are in your tent and need light and maybe a little bit of air flow, then the Image Portable LED Camping Lantern with ceiling fan is for you! This lantern and ceiling fan combination is under $20 and will keep you cool while allowing you to see what you are a looking for!
CORE Dome Tent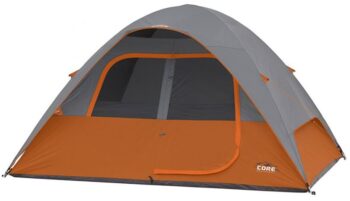 Price: Approx. $100
Weight: 15.9 lb
Dimensions: 132 x 108 inches
Material: Polyester
Specific features: Space for electrical cord access, core h20 block technology, water repellent
Best use: All weather camping
Description: Planning to have great outdoor excursions with your 5 friends? CORE Dome Tent grants you the opportunity for all of your friends to fit in. The 6 of you can share two queen air mattresses. The tallest can tolerate a center height of 72 inches. The tent comes with the H20 Block Technology and an adjustable ground vent.
You and your friends can enjoy the outdoors without the prospect of a downpour with the included rain fly to protect you. The door and the window seals are resisting the rain seepage into the tent. More ventilation is provided by the mesh windows and the ceiling. The tent is kept cooler by the ceiling's ability to expel hot air.
This tent is water repellent, has an electrical cord access spot, and includes a panoramic mesh windows and ceiling! For under $100 this is definitely outdoor camping luxury at its finest!
PROS:
Sleeps 6
Gear loft with lantern hook
Has pockets inside for storage
CONS:
No privacy
Not for beach camping
Somewhat tight with mattresses inside
Related: When camping you will need a first aid kit in case anything goes wrong. The Lifeline 85-Piece Large Hard Shell First Aid Kit is under $20 and has 85 pieces inside, and it can clip on your backpack so it won't take up extra space inside.
Semoo Family Dome Tent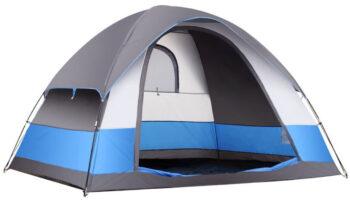 Price: Approx. $75
Weight: 9.35 lb
Dimensions: 94.5 x 118 x 70.9 inches
Material: Polyester
Specific features: Fiberglass pole and pockets for ease of storage, rain fly size of 94.5 x 118 x 70.9 inches
Best use: Camping, leisure, hiking
Description: This is yet another popular cheap 3 season tent that can be occupied by 5 people while camping. Semoo Family Dome Tent is a lightweight family dome tent with dimensions 94.5"L x 118"W x 70.9" H. The tent protects the dwellers from rain by its hooped rain fly frame.
You can then rest assured that no water leakage into the tent to destroy your valuables or to wet your camping gear. An ample ventilation is provided by the D-shaped (half-moon like) door, windows and large mesh vents. People can set the tent easily with the shock-corded fiberglass frame.
More materials used in constructing this tent include polyester with polyurethane coating, fiberglass, and polyethylene for the floor. This tent has big mesh roof vents and windows so you will have plenty of ventilation. Not only that, but the price is right around $75 so you can't beat the price for a 5 person tent!
PROS:
Fits 5 people
Light weight
Mesh roof vents and windows
CONS:
The zipper is not of the highest quality
Related: If you want an affordable air bed that comes with pillows, the Intex Classic Downy Airbed Set is the product that will work! It comes in a queen size and can support up to 600 pounds!
Sundome Tent
Price: Approx. $72
Weight: 16.1 lb
Dimensions: 144 x 120 inches
Material: Polyester
Specific features: Flashlight loop on the ceiling, zipped electrical access port to run AC power
Best use: 2 or 3 season camping
Description: Available in navy or green colors, the tent can be occupied by 6 people on their camping adventures. Sundome Tent has a center height of 72". Its hooded fly provides protection from rain and gives more ventilation into the tent through the large window in the front.
Ventilation is furthermore enhanced by the mesh roof vents. The large door is used for entry and exit. Furthermore, it comes with durable polyester coated fabrics on the fly and the walls. It also has a pocket for storage as well as the electrical access port and ground vent.
You can find this affordable tent in two colors; Green and Navy. The flooring is made to be strong with 1000 D Polyethylene, and the tent poles are made from fiberglass to be durable as you camp! Users like this tent because of the low price, amount of space, and easy setup process!
PROS:
Affordable
Spacious
Fire retardant
CONS:
Only sleeps 2
Only comes in 2 colors
Fabric can rip
Related: For extra durable seams, you can buy Coleman Seam Sealer which makes the seams waterproof. It dries fast and is ready to use right out of the can!
Concluding Thoughts
Campers need to be vigilant of safety precautions when dwelling in their tents. It is important that no matter how sturdy the tent could be to not make any fire in the tent. Even if you brought some portable stoves, it could be adversely dangerous. The tent could burn or you could suffer from carbon monoxide gas which is often noiseless and odorless.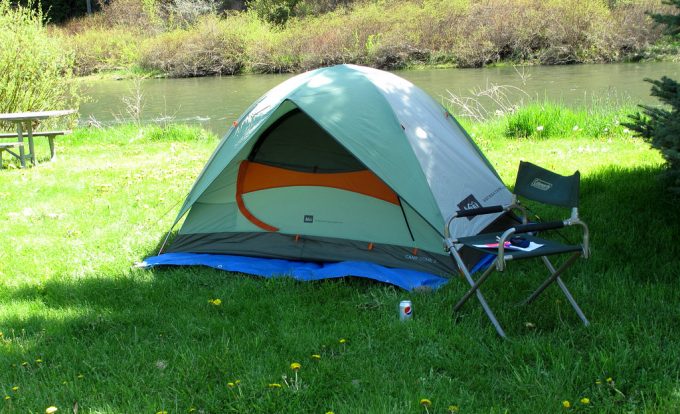 When striving to buy a cheap tent on whichever tent you chose, check the customer reviews to see which tent has little or no inconveniences at all. As highlighted earlier on, buy the tent based on the purpose of use. Please note that the more accessories you need are the higher the costs of purchasing.
Our aforementioned cheap camping tents will surely narrow your search. These are the notably cheaper tents found on the market with top notch quality, un-compromised. Simply make a checklist of the features that you want to make your camping adventure a breeze and then buy accordingly.
It will be worthless to buy an expensive tent with extra accessories that you will never use anyway. We hope that our article helped you in making the right decision, and if you have more questions, or think that we left something out, feel free to leave a question or a comment in the comment section below.