Outdoor expeditions can work up some appetite, and despite what your outdoor objectives are, you will need to carry with you some cookware so as to make hearty and sustaining meals. While you may need to change your menu, your kitchenware packing list, even the low-fuss meals need some kind of utensils such as a container, mug, or cup. Having the best cookware material can make your outdoor experience one you would love to remember.
There are some many options to choose from when it comes to camping cookware. Whether its composition, style, or special features, your choice of cookware can be customized to fulfill your needs. Choose the right cookware material to enable your cooking to go smoothly when you are out camping. This will help offer a great menu beyond the usual hot dogs or dehydrated meals.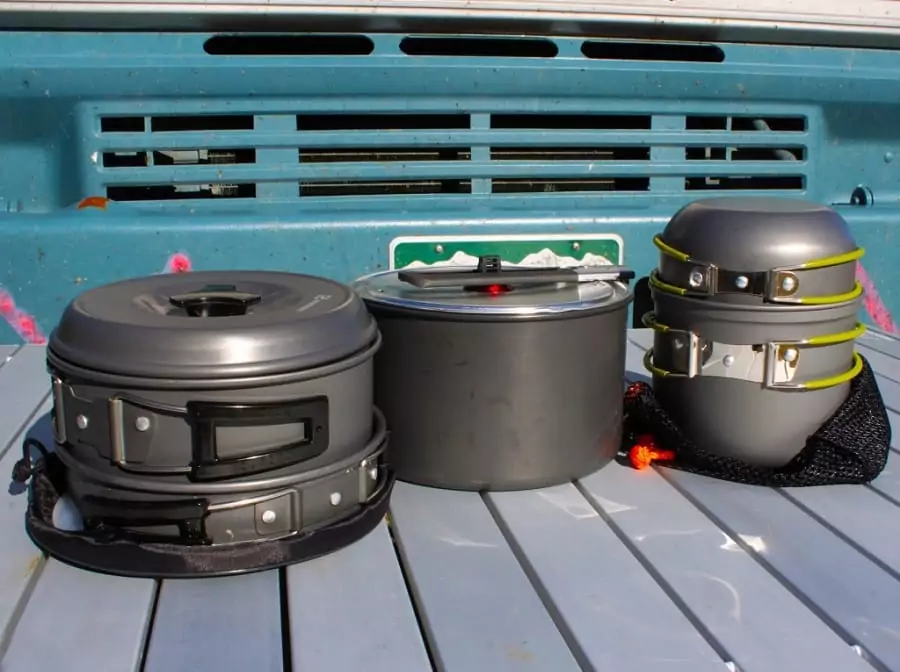 So you may ask; which cookware is the best? Truth be told, this question has no right answer. However, to help you make a decision, here are a number of materials you may need to consider when acquiring your camping cookware.
Stainless steel
Aluminum
Carbon steel
Hard Anodized Aluminum
Encapsulated Bottom
Tri-Ply/Multi-Ply
Cast Iron
What You Need To Consider When Choosing Your Cookware
Obviously, cookware for camping is not limited to one design, as there are a lot of components which create a well-rounded cookware. From cups and utensils to pans and pots, here are a number of guidelines to help you choose the right cookware for your camping trip.
Size
You will need to consider what your needs are depending on the number of campers who will accompany you on your tour. You will also need to consider what you will be carrying (if you are on a backpacking trip), and the kind of food you will be preparing while on your trip. These factors will help you determine the right size for your pans, pots, and cups.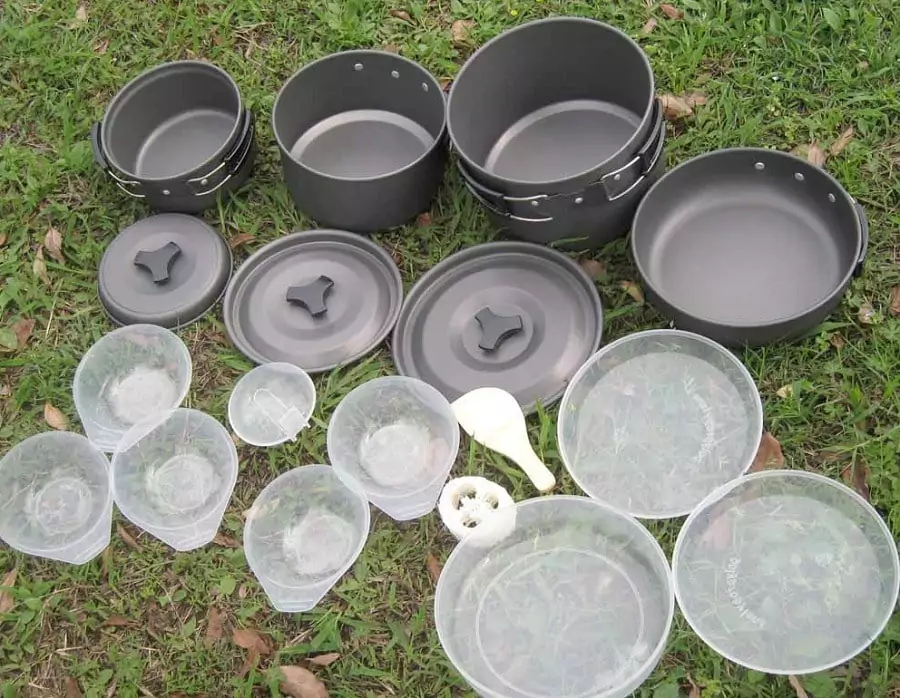 Next, you'll need to figure out what your needs are in relation to how many campers you'll have with you as well as what you're willing to carry along (if you're a backpacker), and what type of food you plan to prepare. All of these factors will help determine the appropriate sizes for pots, pans, and cups.
A rule of thumb is to remember that the biggest pot in your list should hold about a pint for every backpacker in the party. If you are planning to cook a dehydrated meal for two, then a single pot should be enough. Nesting pots are suited for large camping nets.
Weight
While car, family, or casual campers might not be concerned with weight, hikers and backpackers will be. Titanium will provide the lightest option, so you would want to consider this if you are on a backpacking tour. However, when you are considering long extended, but stationary trips, your best bet would be the cast iron materials.
Cookware Materials: What You Need To Know
Material
Guidelines
Pros
Cons
Plastic
Not suitable for use over the fire. They are perfect for storage and utensil
Affordable, lightweight & Non-abrasive
Can retain food flavor or smell
Cast iron
Durable and heavy
Extremely durable
Not suitable for backpackers due to heavy weight
Stainless steel
Harder and durable than Aluminum. Problems with heat distribution
Lightweight, Durable, Scratch resistant
Uneven heat distribution
Aluminum
Lightweight material that oxidizes over time
Affordable, Lightweight
Dents, and scratches with ease

Will oxidize

Hard-Anodized Aluminum
Similar to traditional aluminum but has high resistance to oxidation
Long-lasting, lightweight, resists oxidation
Can still dent with ease
Titanium
A lightweight option. Titanium is resilient and durable
Resilient, durable, ultra-lightweight
Costly, uneven heat distribution
Non-stick coatings
Durable and good heat distribution. Heavier than uncoated aluminum, but comparable to stainless steel
Clean up is easy

Even heat distribution

Can emit harmful fumes

Scratches easily

Heavier than uncoated parts
Cookware Interior Materials
Nonstick
This is the interior part of the cookware. Nonstick elements make it possible for you to cook your meals without extra fats or oils, and the food practically slides from the pan onto your plate. Its finish maintains the effectiveness of the pan for a great length of time.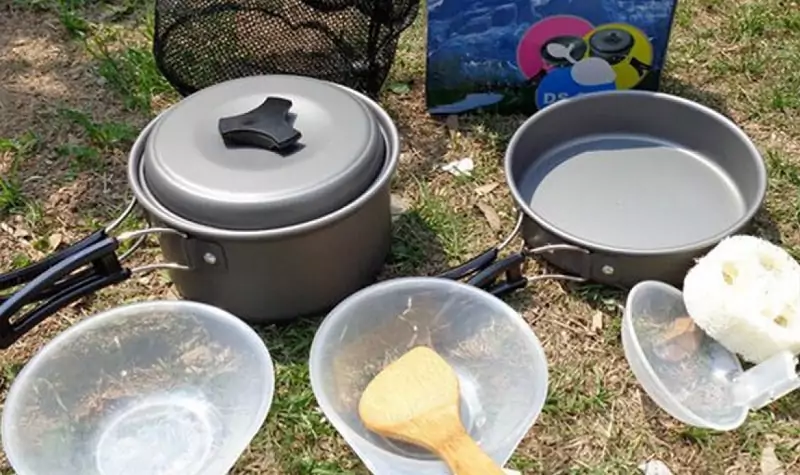 The non-stick is also dishwasher safe. This type of cookware is suitable if you are in need of hassle-free cooking.
Stainless Steel
The good thing about these components is that they are able to maintain their shiny beauty despite the duration you intend to use it. It is chip and scratch free and is also safe for use. With a stainless steel kitchenware, you can cook any kind of food without having to worry about the adverse reaction.
Metal Safe Nonstick
This element likes all kitchen tools except knives. This component makes utensil more durable compared to the standard non-stick. To maintain their durability aspect, you will need to cook over medium heat.
A Look At Some Of The Cookware Materials
Stainless Steel
This material is well-known for its durability, rust-resistance, and ease of care. Stainless steel is the most popular component that is utilized by both professionals and home kitchen today. It is incredibly food-safe, does not react with the acidic component, and does not have any chemicals which could get into your food.
While this component is appealing and easily transitions from the cooktop to the tabletop. However, there are times when stainless steel can be a bad heat conductor.
To combat this, they are often made from tri-ply construction. This component is oven, dishwasher, and broiler safe, and its magnetic properties made it compatible with induction cookers.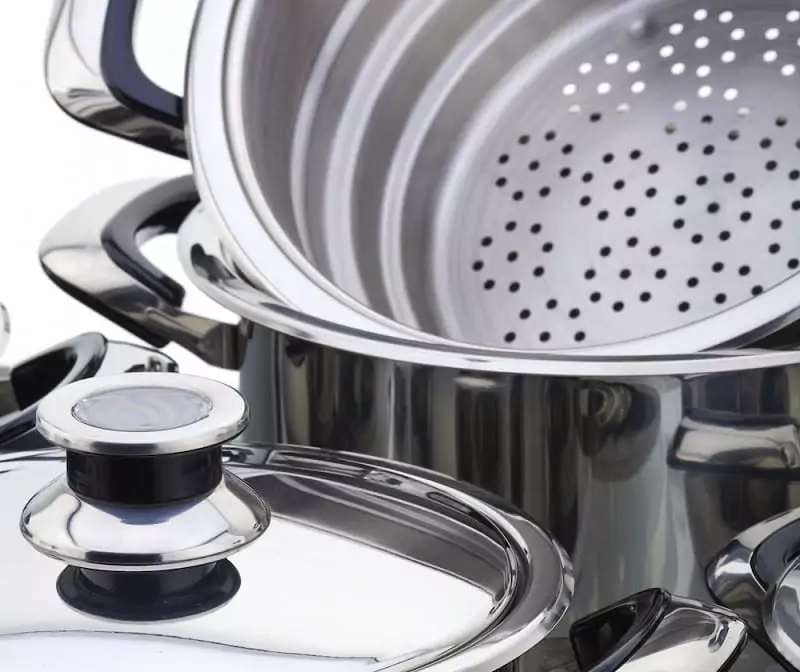 The 18/10 or the 304 Grade stainless steel usually offers a more appealing sheen and is resistant to rust and corrosion due to its combination of chromium (18%) and nickel (8-10%) composition. Higher levels of nickel allow for workability so as to prevent cracking during the process of manufacturing.
Moreover, a greater content of nickel increases the luster of the cookware. Nonetheless, this grade of stainless steel is pricier compared to other stainless steel materials.
Alternatives include the 18/0 or 430 Grade stainless steel that contains eighteen percent chromium and a small amount (negligible) amount of nickel; and the 14/1 or 200 series which is made up of fourteen percent chromium and mainly manganese instead of nickel.
When it comes to comparing prices, the 18/10 is the most expensive. This is followed by the 430 Grade and finally the 200 series.
Tri-Ply/Multi-Ply
This type of cookware combines the grace and beauty of the stainless steel with the powerful properties of copper of aluminum. Try-ply implies the bonding of three different metal layers. These are made up of two stainless steel layers on the outside and a single layer of copper or aluminum core.
To neutralize the slower cooking speeds of the stainless steel cookware, tri- OR multi-ply core allows for uniform and rapid distribution of heat across the pan, ensuring the food cooks evenly.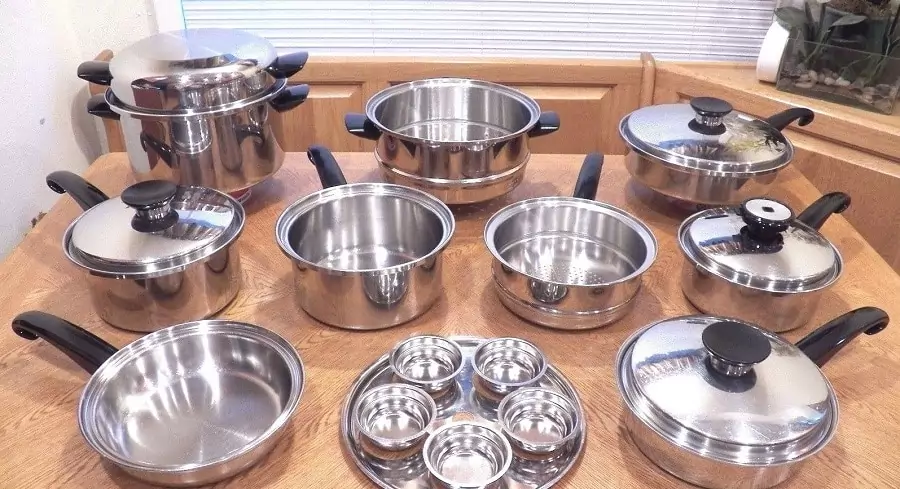 Moreover, the magnetic features of the stainless steel make it possible for the pan to be induction-stove compatible, creating a cookware that is versatile and can accomplish any cooking task.
Aluminum
The aluminum is the workhorse and staple for the professional kitchen. It is lightweight, easy-to-maintain, highly heat-conductive, and reasonably priced.  Alongside copper, aluminum is the most heat-conductive of materials as the stainless steel transmits heat rapidly and is very responsive to changes in the cooking temperatures.
As such, this material adapts well to every culinary technique from gentle simmering to high-heat cooking. If well taken care of, aluminum is easy-to-maintain; nonetheless, since it is a softer material, it can warp or dent easily compared to any other cooking materials.
Therefore, when evaluating aluminum products, you need to consider their thickness so as to take care of the daunting problems. Apart from that, aluminum can react with alkaline, acidic, or sulfuric contents.
Avoid using metallic utensils with aluminum pans as they can damage or scratch the surface. Read the use-and-care instructions given by the manufacturer; many times, aluminum cookware are not dishwasher safe. Lastly, aluminum is non-magnetic, and for that reason, they are suitable for use with induction cooktops.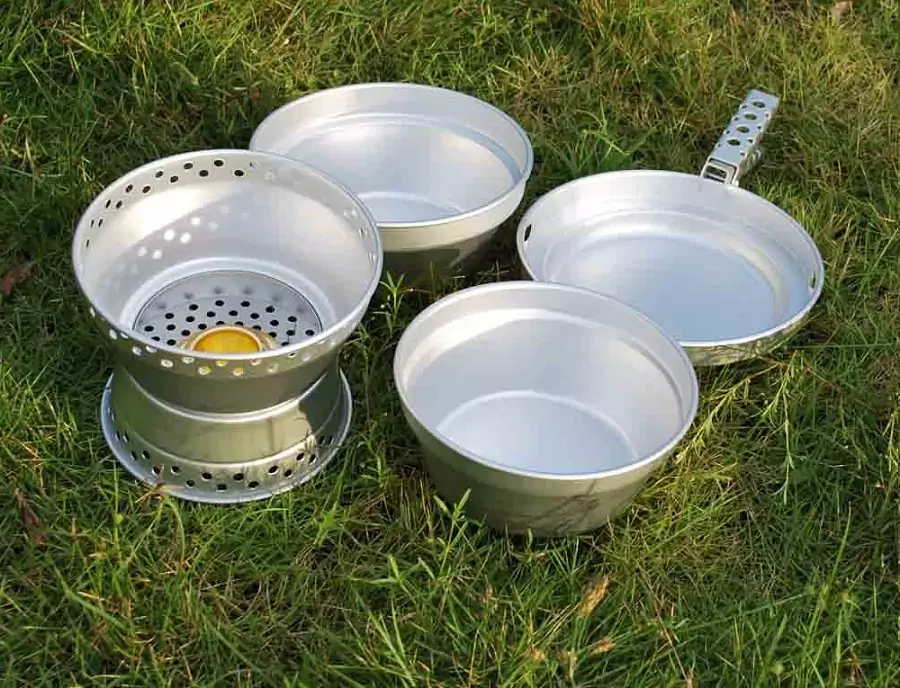 Aluminum can also work for the culinary artists and the kitchen newcomers. There are a lot of aluminum that are coated using ceramic or non-stick to enable an efficient distribution of heat. Additionally, the coatings are included to enhance the aesthetic and of the cookware and make them more appealing to the eye.
In the world of cooking, there are basically two kinds of aluminum – 3003 and the 1100 Grade. Due to their light yet durable properties, it is often a versatile material, especially because aluminum can be deep-drawn.
Moreover, the material accepts different kinds of non-stick components, making it versatile and efficient as well. The 30003 Grade aluminum embodies the high-end of aluminum cookware spectrum as it offers high strength and serves extremely well in daily cooking applications.
The 1100 Grade aluminum material is the softest and cannot be hardened through heat. For that reason, this cookware is less expensive compared to other aluminum grades and are an economical solution for affordable bakeware, cookware, or other cooking items. Unfortunately, nonetheless, it may scratch or dent easily that any other materials.
The 30054 Grade Aluminum can be found in commercial cookware. It is much more durable compared to 3003 Grade and is usually utilized in high-quality commercial bakeware, cookware, and other kitchen equipment applications.
Encapsulated Bottom
As an alternative to the tri-ply construction, the cookware with encapsulated bottoms allows for an affordable cookware, but with a similarly enhanced performance like the real tri- or multi-ply products.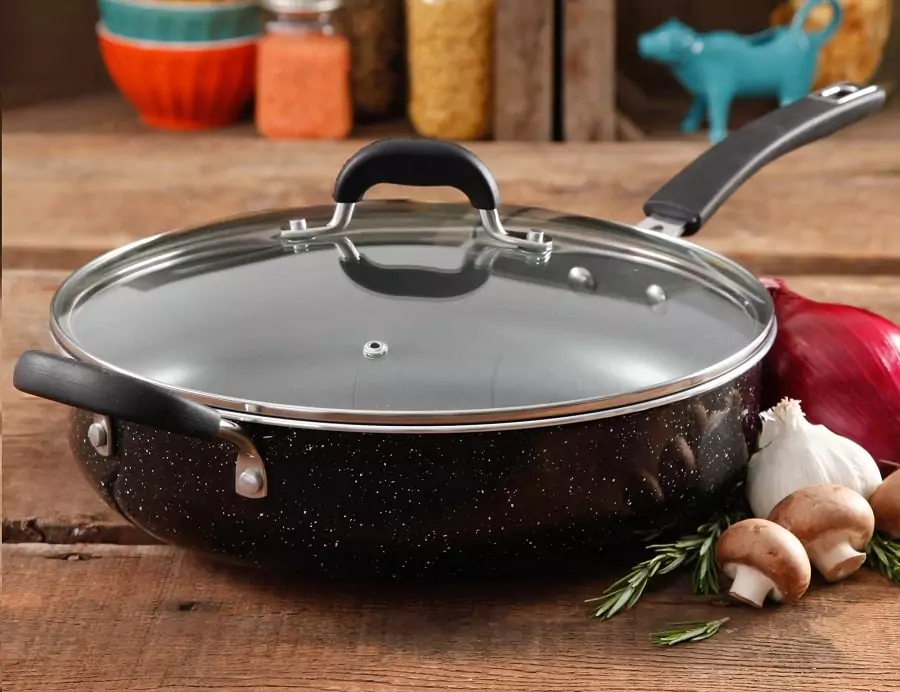 This item is made up of a similar tri-ply construction (an aluminum core sandwiched between two strata of stainless steel). The encapsulated bottom is ideal for the novices.
Pans and pots with this option can still provide the numerous benefits offered by stainless steel construction, and an aluminum core for speedy and even heat distribution, but less costly than the traditional tri-ply products.
Cast Iron
This material has enjoyed some longevity in the kitchenware industry, which is unmatched – for centuries cooks have relied on cast iron as the base material by which they prepared their meals.
Today, this material i experiencig some Renaissance in popularity, producing not only the old-style bare black pre-seasoned skillets which are commonplace but also the incredible statement components of enameled cast iron cookware.
Consider by some to be the most reliable and durable cookware; cast iron can be passed down to different generations, and each generation's utilization of the material further improves flavor which becomes "seasoned" into this material.
The new cast iron cookware retains heat for an extended period of time and is able to heat evenly when used the right way. However, it is a slow heat conductor and creates hot spots when they are heated fast.
Since the pieces of cast iron are cast as a single metal piece (including the handle), this implies that the entire piece of cooking material could become too hot to handle if they are left to heat for too long.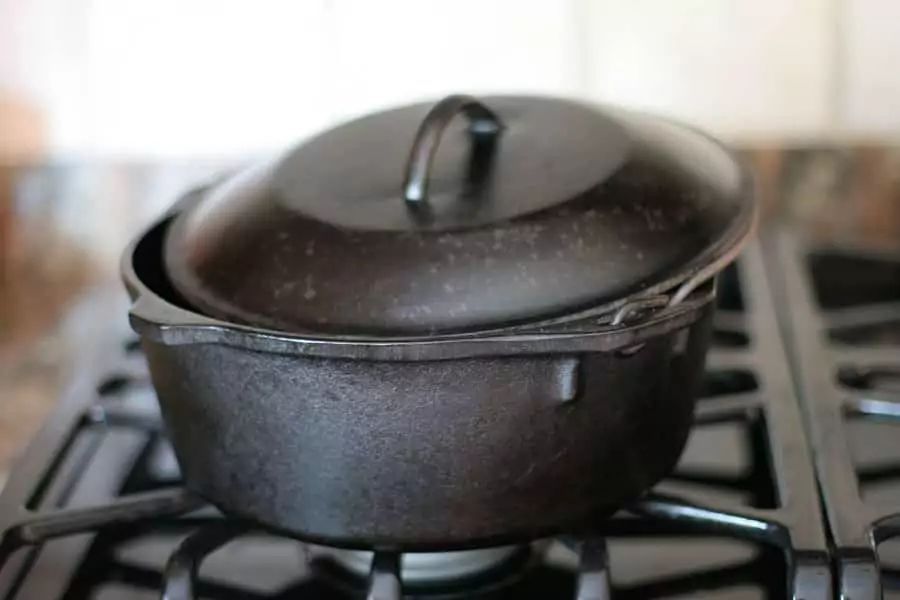 Cast iron is a versatile material and is compatible with almost all cooktops including the induction stove. It is an excellent cookware for frying, browning, searing, or sautéing, and can tackle other tasks such as slow cooking, stewing, pot-roasting, and braising. Nevertheless, in exchange for its versatility, cast iron requires high maintenance.
The new bare cast iron often comes pre-seasoned for the non-stick, but with time, they need to be re-seasoned. You should remember that if cast iron is not well seasoned, it could easily react with alkaline and acidic ingredients.
The colorful enameled cast iron is a recent trend that has been incorporated to this material's popularity. These attractive pieces not only offer the amazing performance of traditional cast iron but is also a decorative component to your kitchen counter or tabletop. Another advantage of this material is that it does not need seasonings and, therefore, require less maintenance.
Cast iron cookware starts as a mixture of different metals which are melted into cast iron and poured into sand mold casts to create the unique appearance.
After that, seasoning is used to prevent corrosion and rust – generally, seasoning is made up of soybean oil and vegetable – and finally the material is taken to an ultra-high heat stove to bake the oil and create a black sheen of the non-enameled cast iron cookware.
Hard Anodized Aluminum
Hard anodized aluminum is the subset of aluminum and is an exterior layer that is applied to the aluminum surface. The material is tremendously durable; through a finishing process, the aluminum transforms into a different material which is stronger than steel.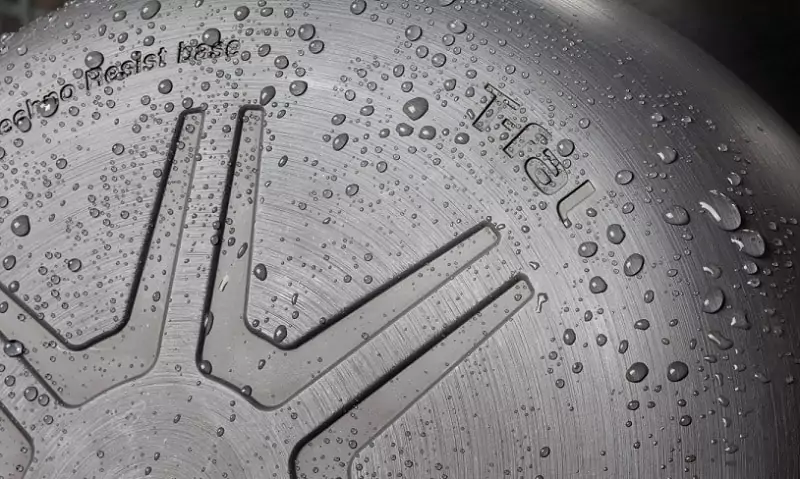 Naturally, the hard anodized aluminum is non-stick and very easy to clean. However, do not use this material in a dishwasher.
Carbon steel
This material is commonly used in commercial applications. Given its resemblance to cast iron cookware, the carbon steel should be able to gain a following. Some people even consider cast iron and carbon steel to be quite interchangeable.
The thermodynamic properties of carbon steel resemble that of cast iron, making the skillets of carbon steel perfect for searing steaks and crisping chicken. Carbon steel is suitable for outdoor applications as it's able to withstand abuse.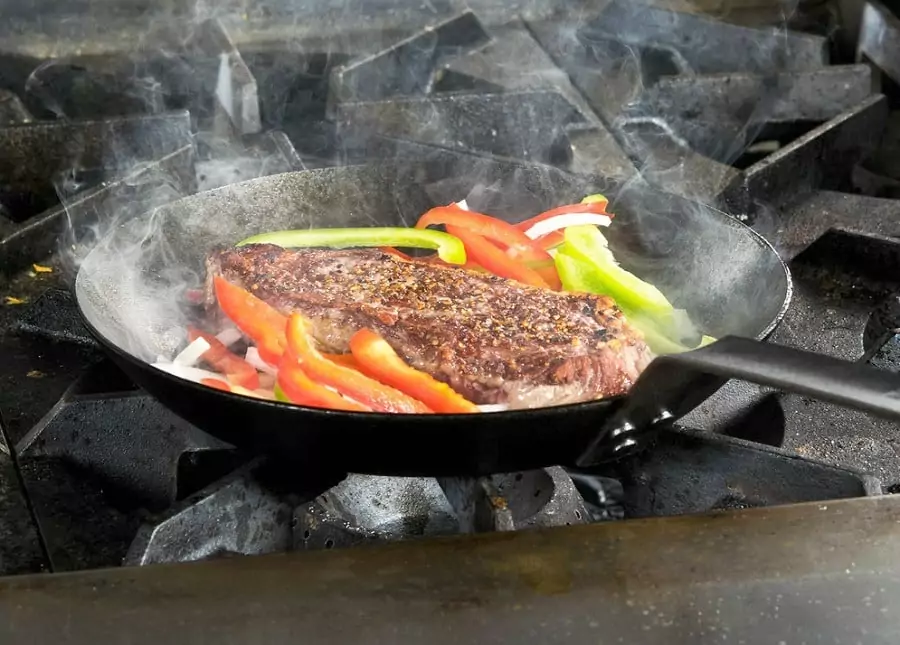 However, to retain its excellent performance, the material requires seasoning like cast iron does. Nonetheless, with the right seasoning and maintenance, carbon steel is able to take on the non-stick properties and last for an extended period of time. One other thing you will need to note about this material is that it takes a while to heat up, a similar aspect to that of cast iron.
The differences between cast iron and carbon steel are form-related. The cast iron is usually heavier, and its skillet sides are more vertical compared to those of the carbon steel. This aspect makes the skillets of cast iron suitable for shallow-frying or baking cornbread.
Carbon steel, on the other hand, has sloped sides, an aspect that makes them solid sautéing tools. Its light-weight makes the skillets of carbon steel easier to carry and shake, allowing their contents to move more constantly.
Bottom Line
The best all-around cookware tools are those constructed from cast iron and stainless steel. More possible, the stainless steel cookware will have their core made of copper and aluminum as these are excellent heat conductors.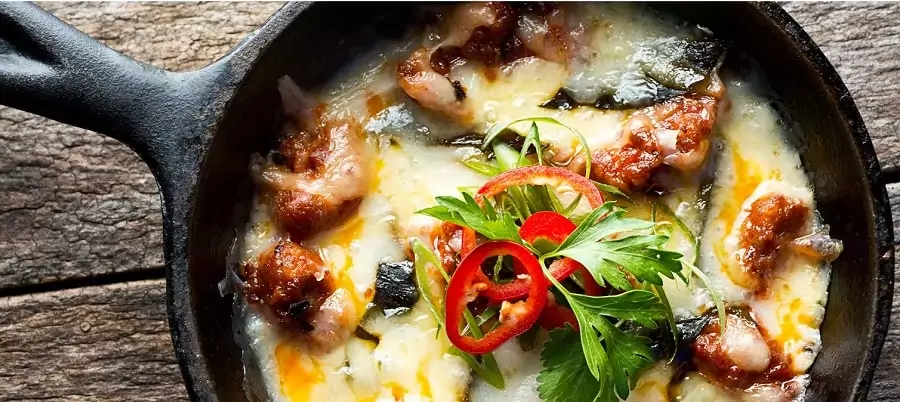 While it is not recommended to utilize cookware with copper or aluminum as their surface, stainless steel with cores and bottoms consisting of these two materials are acceptable. This is because if you do not excessively scrub your stainless steel cookware, aluminum and copper won't come in contact with the food.
Another recommended material is cast iron. Even if some iron leaches from the surface of the cookware into the food, this is not a deal breaker as people easily include iron onto their diet as an addition to their mineral intake.
So, did you find this article informative? Please let us know by posting in our comment section. We will be more than happy to hear from you.