How many times were you in need of better and safer tent during your camping trip which doesn't necessarily require flat ground? Has maybe the idea of above-ground shelter crossed your mind? In that case, searching through some tree hanging tents might be the thing for you.
Spending the night in the forest in these tents is the best way to stay protected from the elements, the wildlife and most importantly, annoying bugs walking on the ground (and in your shelter). Unlike a normal tent, the tree-hanging tent offers much better protection from snakes, wildlife, and insects. Another benefit of this above-ground shelter is the time saved for finding a flat ground to pitch the tent. On top of that, they're usually smaller and lighter to carry around.
Finding the right tent takes a lot of time and effort – that is why we have come up with this article. We have explored the most important features and created a guide which can help you save your time and make the right decision. We have also added a list of products that might interest you.
Our Top Picks
Things to Consider Before Buying
There are many tents of this type on the market and every one of them is different. Some are more spacious and some have more interesting forms, but however, there are few essential factors that need to be considered before buying a tree-hanging tent.
Weight
There is this generally accepted saying in the outdoor industry "Light is right". It is extremely important that the used materials for production are lightweight materials that can offer good durability. The tent is certainly the heaviest part of the camping equipment – therefore, it's essential to pay huge attention to the weight of your tent.
However, when buying a tent you must also consider the durability of the materials – and there is a balance between these two – the materials and the weight of the tent. Lighter tents are most likely made of more sensitive materials that cannot offer the same durability as heavier tents.
When discussing the weight, you must also know the three types of weight described on the websites. The packaged weight is the whole weight with every part of the gear.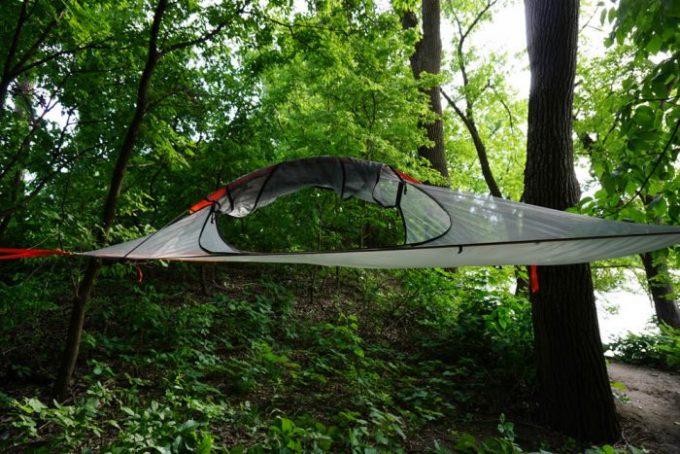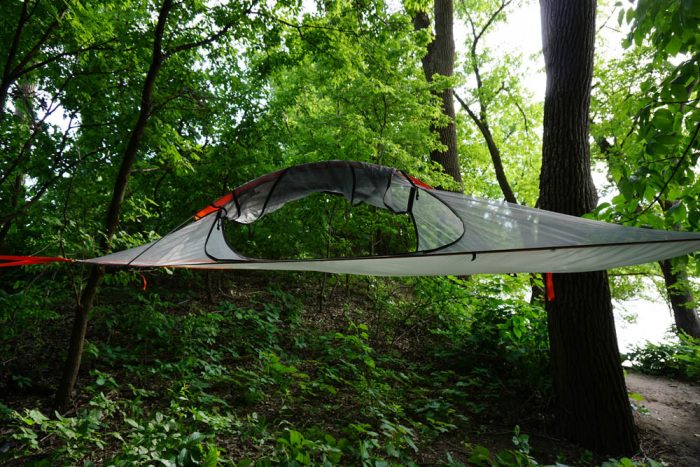 Second, is the trail weight – the lightest full set-up. Here are not included parts as the rain cover, the stuff sacks, and the packaging. At the end comes the fastpitch weight- only the tent.
Material
With today's advanced technology, many materials are combined in order to offer more safety and protection from the elements. Staying warm and dry in the tree-hanging tent is certainly not a problem even in a pouring rain.
Usually, today's tents are made of polyester or a combination of polyester, nylon, and oxford, which allows better water resistance and the rain covers ensure safe and dry above-ground shelter.
The quality of the material is also very important. If the tent's material is weak, the tent will start ripping soon and thereby, it's no longer a shelter.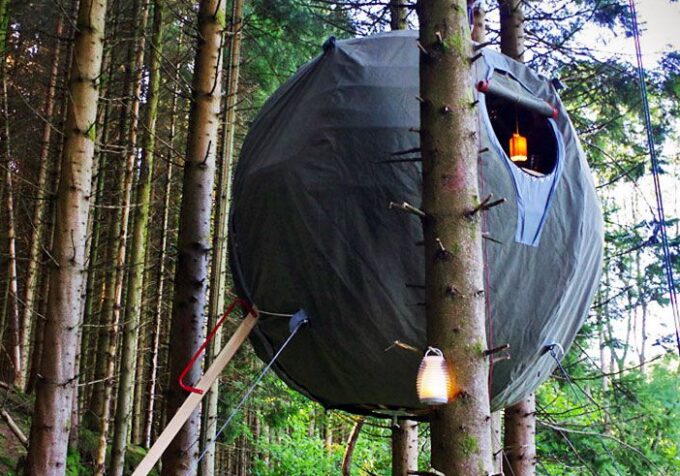 However, it does not mean that if the tent is made of lightweight material, it easily loses its quality – with the advanced technology and the combination of high-quality materials the tent can serve a long time.
Size
A tree-hanging tent cannot offer the same size and storage that a normal tent does – but it does offer the same comfort and more safety. Actually, these types of tents are made for maximum three persons. The majority of them usually provide shelter for two persons.
The size of the tent affects also its weight. The bigger the floor space, the heavier the tent. However, the tree-hanging tents provide enough floor space for people and gear.
Internal Storage
The internal storage is the part reserved for backpacks and gear. Although the internal storage of the tree-hanging tents is much smaller in comparison to normal tents, the comfort is not excluded.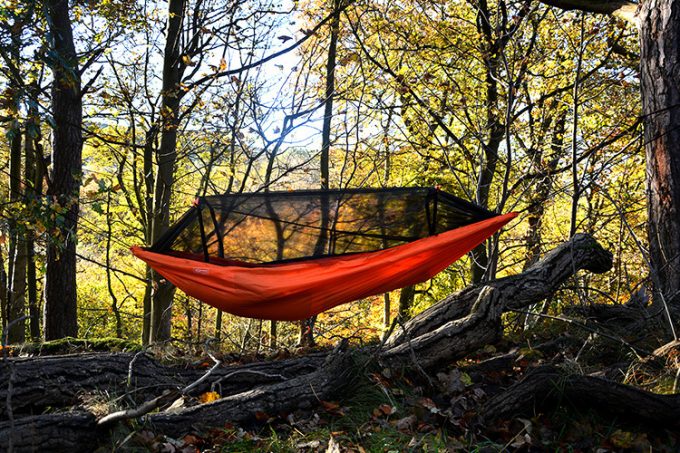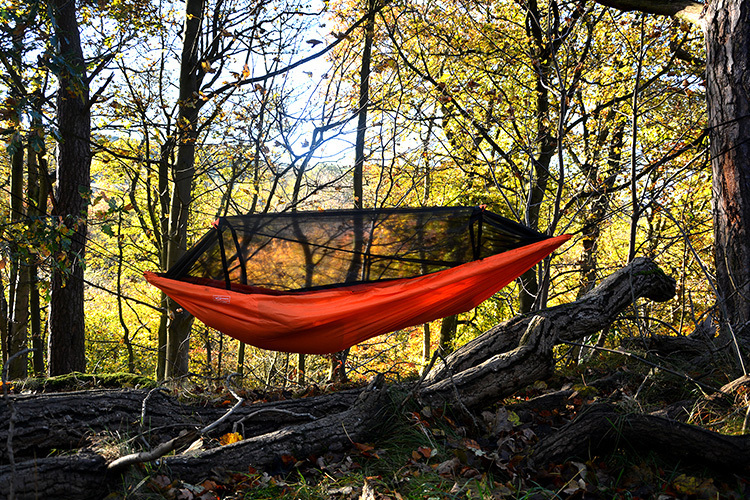 When spending the night in an above-ground shelter, the gear cannot be left outside. That is why the chosen tent must also offer enough internal storage space for the essential gear.
Durability
As already mentioned above, the tent's durability is in connection with the materials. However, lightweight materials are also durable – important is the quality of the combined materials.
When looking for a durable tent, you should look for use of lighter weight materials that have high degree durability and of course not an exaggerated price. The best sign for the tent's durability is its seasonality.
Best products on Today's market
Now when we have pointed out the most important characteristics and you know what to look for, take a look at the list of the best products on today's market.
Uboway Triangle Hanging Tree Tent
Price: Approx. $210
Dimensions: 9.84 x 9.84 x 3.28 feet
Weight: 7.71 pounds
Specific features: Lightweight two-person shelter, intelligent design for spacious accommodation, the waterproof top allows airflow, easy to set, strong, micro insect mesh roof, UV-resistant polyester fly and with no ecological footprint
Best use: Camping, hiking, backpacking, climbing, and hunting
Description: The Uboway Triangle Hanging Tree Tent is a lightweight two-person above-ground shelter which offers comfort and safety in various outdoor activities. The tent should be easy to set and the adjustable frame of webbing straps allows the tent to be pitched fast on the trees.
The intelligent construction of the tent offers shelter for the campers as well as their gear. Also, the strength of this tent allows you to store your gear, backpacks, and food inside.
The tent can hold up to 882 lbs. That should be enough for most people. For the set-up of this treehouse, you will need only one ratchet – so that's how you save on weight.
The included waterproof top should protect you from the rain and at the same time, allows some excellent ventilation. The UV- resistant polyester fly keeps you, your gear and food protected from the sun.
This treehouse comes together with an enclosed insect mesh roof which should ensure a good night sleep while enjoying the sounds of nature nearby.
On top of that, this tree-hanging tent is environmentally friendly and offers an ecological shelter without harming the nature. The combination of materials used for its construction satisfies the eco-standards.
PROS:
Adjustable frame for webbing straps
Waterproof top
UV-resistant polyester fly
Insect-repellant mesh roof
Ultralight
CONS:
Too big of a size (both folded and unfolded)
Not so spacious
Related: The Uboway Camping Hammock should provide a safe and comfortable shelter for various outdoor activities. It comes with a rain cover which keeps the campers and the gear dry and allows good airflow, while the mosquito net ensures protection from insects. The combination of quality lightweight materials and strong materials created a hammock that weighs only 3 pounds but holds up to 440 pounds.
Apache Naki Tree Hanging House
Price: Approx. $200
Dimensions: 8.51 x 10.4 x 10.4 feet
Weight: 8.05 pounds
Specific features: Lightweight portable treehouse, easy set-up, premium hammock straps with a built-in ratcheting system, waterproof top, tensile strength, insect-repellant mesh roof
Best use: Camping, hiking, backpacking, and hunting
Description: The Apache Naki tree-hanging tent is made of lightweight materials that ensure a safe and pleasant camping during your outdoor activities. This portable family treehouse should be easy and fast to pitch almost anywhere in a solid group of trees.
With its two doors, this treehouse offers an easy entrance – both for adults and children. This tent system consists of premium hammock straps and also a built-in ratcheting system that should provide you with decent quality.
This tent is constructed with premium straps with a tensile strength that allows for holds up to 880 pounds, which should be ideal for two people and their most essential equipment. As far as the durability is concerned, the premium materials used for it should give you a tree-hanging tent for the years to come.
The tent comes together with two more parts – the waterproof top and the enclosed mesh roof. The waterproof top allows the campers and the gear to stay dry even in a pouring rain providing at the same time enough airflow. The enclosed mesh roof keeps the insects away providing you with a quiet and safe shelter during night and day.
PROS:
Lightweight
Tensile strength
Insect-repellant mesh roof
Waterproof top
Relatively cheap
CONS:
Cannot be set-up in dense forest
Low height tent
Related: Sometimes you just want to go in your backyard or in the nearest forest and take a break. To make your outdoor rest more enjoyable you can carry the Apache Outdoor Nylon Camping Hammock with you. This lightweight hammock for two ensures a relaxing day in your backyard or in nature with an easy setup. The parachute nylon material, which is the strongest form of nylon, guarantees the durability. The hammock's ropes are made of quality materials that promise pleasant outdoor activity.
Tentsile Connect Suspended Tree House Tent
Price: Approx. $450
Dimensions: 8.85 x 13.1 x 13.1 feet
Weight: 18.6 pounds
Specific features: Two- person extra comfortable above-ground shelter, very easy to set-up, premium quality materials, waterproof polyester rainfly, tear resistant insect mesh roof, tensile strength and the fire resistance meets US CPAI-84 Canadian FR16
Best use: Camping, hiking, and backpacking
Description: Tentsile is a well-known name in the outdoor industry and they guarantee quality and durability and their Tentsile Connect Suspended Tree House Tent is not an exception. The premium quality materials combined with additional water protection promise to keep you safe from predators and groundwater.
This easily portable two-person treehouse offers safety and extra comfort for the campers. It also should be very simple to set it up – the set-up should take you only 15 minutes, more or less.
This tent is constructed of high-quality materials that add both to the strength and to the durability of the tent. This treehouse has four internal pockets for your gear, which might not be enough for people who prefer tents with more storage. However, the good part is that it can hold up to 880 lbs.
The waterproof polyester rainfly protects you and your gear allowing excellent ventilation in the tent. Thanks to the tear resistant insect mesh roof, you can enjoy your summer nights in the woods. Additionally, the fire resistance of the treehouse meets the US CPAI-84 & Canadian FR16.
PROS:
Premium quality materials
Very simple set-up (15 minutes)
Tensile strength
Waterproof polyester rainfly
Tear resistant insect mesh roof
Fire resistance
CONS:
Heavier than other tree-hanging tents
More expensive
Related: To stay warm in a tent you must have a good sleeping bag. The Abco Tech Envelope Sleeping Bag keeps you warm and it's ideal no matter the season. This bag can be used not only for outdoor activities but also for traveling. The lightweight components make it easy to transport and the waterproof design keeps you dry. On top of that, it's easy to be cleaned and can even be machine washed! The 100% polyester lining is skin-friendly and the polyester on the outer side gives durability to the bag.
Skysurf Triangle Double Hanging Tree Tent
Price: Approx. $250
Dimensions: 10.49 x 10.4 x 8.52 feet
Weight: 8.04 pounds
Specific features: Lightweight, quality compounds, waterproof top, insect-repellant mesh roof and easy to pitch
Best use: Camping, hiking, hunting, and backpacking
Description: The Skysurf Triangle Double Hanging Tree Tent is made of quality compounds that offer safety and durability for your outdoor activities. This type of materials allows you to transport your treehouse easily and might be a good choice for anyone looking for a light tent.
The elevated tent construction gives you a cozy and safe above-ground shelter. Having three hammock straps, this tent should be easily pitched on the trees. With its waterproof top, the tent gives you warmth and safety even in bad weather conditions.
A nice addition is the waterproof top that not only keeps you safe from rain but also gives you cool airflow in the tent. Another excellent feature is the enclosed mesh roof that helps you enjoy your stay in the forest without the annoying insects.
The capacity of this treehouse is two people. The recommended load for this tent is 550 lbs. This is actually enough for two people and the essential gear. However, be careful not to overload the tent – take only necessary gear inside and place the gear so that you have a balance in the treehouse.
PROS:
Quality compounds
Easy to pitch
Waterproof top
Enclosed mesh roof
Lightweight
CONS:
Strength – holds only up to 550 pounds
Not cheap regarding the characteristics
Related: An essential part of the camping gear is the tent. To protect your tent from the elements you need a suitable rain cover. The Skysurf Pro Fly XL Rain Tarp provides protection for normal tents and it can also be used as a shelter during rain. The quality nylon of the tarp is great at keeping the water away. However, you can also use the tarp as a protection of the sun during your summer trips and thanks to its weight, you can carry it everywhere.
TreePod Original Hanging Treehouse
Price: Approx. $200
Dimensions: 5 x 5 x 7.5 feet
Weight: 10.2 pounds
Specific features: Medium weight, very simple to set-up and use, cozy and safe, durable water-repellent material, UV-coating, original and interesting form, fun for kids.
Best use: Camping, backyard relaxation and a suitable play space for children.
Description: If you are looking for a tent you can set up without much fuss and hard work, then the TreePod Original Hanging Treehouse is the right choice for you – but it also might happen to be the perfect play space for your children. Coming in four different lively shades, this treehouse should be ready in minutes!
This treehouse has a unique attractive design and a combination of high-quality compounds. The tent's material is treated with water repellent and thereby offers a dry sleeping or playing space. An additional important advantage is the UV-coating that should offer both you and your children a decent protection from the blazing sun.
Although a one-person treehouse (for sleeping), this tent offers enough room for the children to have fun. However, it might not be ideal to take on longer hiking and camping trips, as you're very likely not going to have plenty of room in it.
But if you're looking to get something to your kids, then this might be it. The perfect hideaway for children has also windows and nets to keep the annoying insects away. The maximum load for the tent is 500 pounds. However, this should be enough for one person or two or three children.
PROS:
Simple set-up
Water-repellent fabric
Insect net
UV- coating
Relatively cheap
CONS:
Medium weight
Load of 500 pounds
Related: If you are not a treehouse lover or simply want to place your TreePod on your lawn the TreePod Stand is the perfect solution. This portable treehouse-alternative is always ready – plus it's ideal for your backyard decoration. You no longer have to look for the perfect tree to hang it – simply place it on the ground. Its construction of durable steel and quality materials guarantee you a long-time use. This TreePod is suitable for every age – a perfect hideaway for kids and a cozy getaway for adults.
Tentsile Stingray Suspended Tree House Tent
Price: Approx. $650
Dimensions: 4 x 15 x 15 feet
Weight: 19 pounds
Specific features: Unique elevated 4-season design, spacious three-person shelter, waterproof rainfly, enclosed tear-resistant insect mesh roof, tensile strength, simple set-up, fire resistance meets USA CPAI-84 & Canadian FR16
Best use: Camping, hiking, backpacking, and hunting
Description: The Tentsile Stingray Suspended Tree House Tent is a spacious and comfortable treehouse constructed for three people and might as well be perfect for recreation.
It could be a roomy and cozy accommodation for all campers – and the bonus parts are the sizable pockets for the gear. This strong treehouse is perfect for two adults and a child along with the camping gear.
The unique elevated four-season design promises durability and safety from elements, wildlife, and bugs. With its unique and simple design, the tent can be pitched easily almost anywhere you want. The required time to set it up is only 15 minutes.
Being a three-person shelter, this treehouse is incredibly strong – it holds up to 880 pounds! Also, it has two other excellent protections- waterproof rainfly and tear-resistant insect mesh roof. With its waterproof rainfly, you no longer need to worry about the weather – you and your gear are safe.
On top of that, the tear-resistant insect mesh roof protects the campers from the bugs while letting them fully enjoy their nights in nature.
PROS:
Spacious – designed for three people
Easy set-up
Waterproof rainfly
Tear-resistant insect mesh roof
Tensile strength
Related: The Tentsile Trillium Treehouse Hammock has the same excellent reviews as their tent. This hammock offers accommodation for three people and it might be the most hardcore tree-hanging hammock on today's market. This hammock can be used for adding extra sleeping space for other campers or also for adding space in the tent. The required time for hammock's set-up is only 8 minutes. Additionally, this three-people hammock holds up to 800 pounds. It is perfect for outdoor activities protecting you from wildlife and elements.
Wrap Up
The tree-hanging tents are the perfect companion for every outdoor lover – no matter for which sport. With their unique design they offer enough space for the campers and their gear – in the same, they add to safety and protection.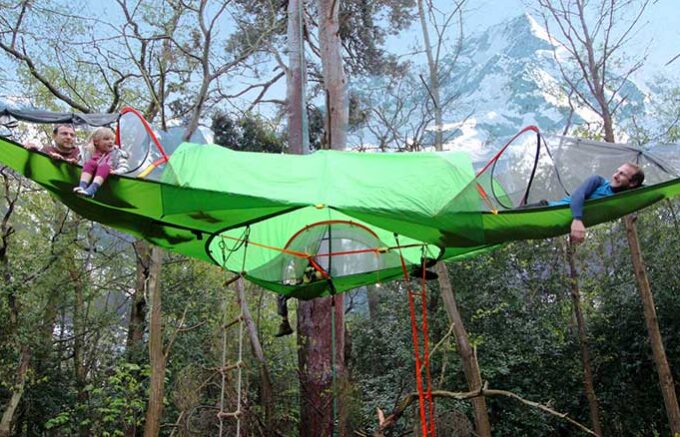 Every outdoor lover certainly has a normal tent at home, but camping in a tree-hanging tent is a completely new experience. Not only they offer better protection and more safety for the campers, but also they offer more fun for both children and adults.
Bearing in mind all these characteristics of the tree-hanging tents, you can easily make a decision when buying a new tree-hanging tent. With this extensive guideline, you can easily find your perfect treehouse and prepare for your next adventure.
Also, feel free to let us know which one is the perfect choice for you in the comment section below – we would be happy to hear back!