Whatever kind of hike you'll be tackling next, you'll want to be prepared for the weather, the terrain, and the many unexpected situations you could encounter on the trail. The following hiking essentials will help you navigate, stay dry, handle emergencies, and much more. One of the exciting elements of hiking is exploration—discovering new views, traveling new trails, pushing yourself to wrestle with new challenges.
However, exploration is one thing and getting lost is another. Whether you're navigating a trail for the first time or following a favorite trail that you're fairly sure you could hike blindfolded, you should have the gear and the knowledge to stay on the trail and headed the right direction.
Faintly marked trails, quickly falling darkness, or a wrong turn can leave you lost in the wilderness unexpectedly, but tools as simple as a flashlight or a compass can help you make your way home. Getting home safely begins before you even step onto the trail. Good preparation begins with having—and packing—the materials you will need if you get lost.
Don't leave your flashlight at home just because you think you'll be back long before dark. Instead, make a point of putting it in your pack. The time you need it, may be the time you least expect to use it. You should also make sure you know how to use the gear that you're packing.
A compass is a valuable tool—if you know what to do with it. Get familiar with how your gear works before you get on the trail so that you don't spend precious time in an emergency figuring out which button to use to turn your headlamp on or how to line your compass up with your map.
In this article, we are going to discuss the hiking essentials, and give you some reviews of products that you will need when you decide to hit the trail. These products range from headlamps to medical kits. Think of what items you need most and then go from there.
Important Things to Consider 
The basic tools of a light and a compass will go far to help you avoid becoming lost and find your way back to the trail if you do lose your way. A compass, unlike electronic navigation tools, doesn't use batteries, so it won't die suddenly and leave you stranded in the woods.
Although many compasses have intricate design features, a simple, inexpensive compass is also effective when you need to keep yourself headed toward home. A headlamp has the functionality of a flashlight, but with the added benefit that you can still use your hands freely. Many headlamps have an adjustable beam type, brightness, and beam distance, making them useful for a variety of tasks.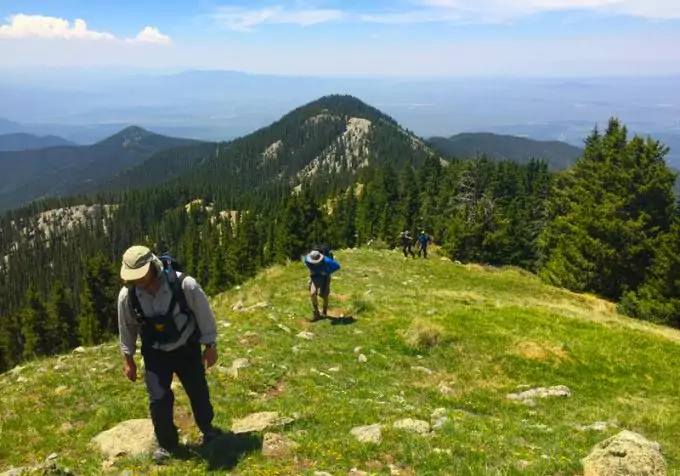 You could use a bright, spotlight type beam to identify the creature making noise in the bushes, while a wide, dim beam might be perfect for washing up dishes after a supper in camp. Often, headlamps have a red light for night hiking that provides illumination, but won't ruin night vision. Read on for some information on how to be prepared and protect yourself while outdoors.
Protect Yourself from the Sun, Wind, and Cold
Another set of hiking staples are items designed to protect you from the elements. These include jackets, sunscreen, emergency blankets, and similar gear. You'll probably use some of this gear on every hike—sunscreen, for example, is both a summer and a winter necessity for keeping your skin healthy. Other gear, such as an emergency blanket, can be literally lifesaving in situations where unexpected storms or an unanticipated night in the woods leave you cold, wet, and susceptible to conditions such as hypothermia.
When choosing a jacket for hiking, keep in mind that you'll likely be wearing it in rain, wind, and anytime you need an extra layer of warmth. A lightweight jacket can be a permanent, unobtrusive item in your backpack, whether you think you'll need it on a particular hike or not.
When choosing a rain jacket, you have the option of buying waterproof or water-resistant. Both will provide protection from the rain, but a waterproof jacket is designed to hold up against heavy, long lasting rain, while a water-resistant jacket will eventually soak through in a heavy downpour.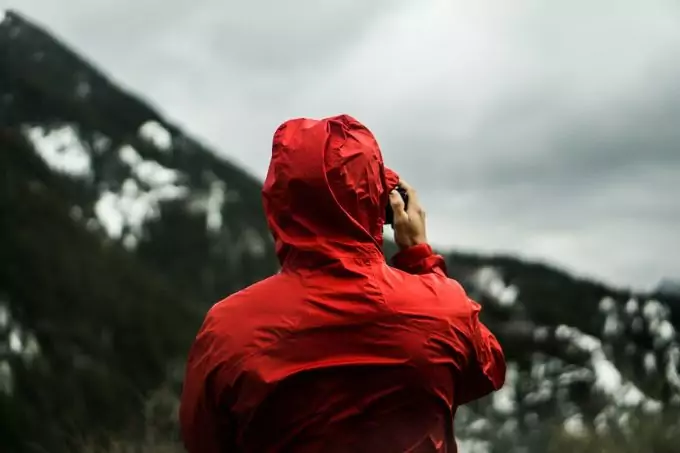 The same principle holds for wind resistant and windproof jackets. Jackets designed for hiking often have vents to help you regulate your temperature (by unzipping a vent to let cool air into the jacket). They should also have some degree of breathability. This allows the moisture caused by perspiration to escape, allowing you to keep up a hard hike in the rain without becoming soaked on the inside of your rain jacket.
A necessity for hiking any time of year, sunscreen should be included in your pack anytime you set out on the trail. You should slather sunscreen on exposed skin before you start your hike, and continue to reapply throughout the day as sweat and other factors combine to make your original layer less effective. When you buy sunscreen, check the label for a high SPF (or sunburn protection factor), for a broad spectrum label (meaning it works against multiple kinds of rays), and for sweat resistance.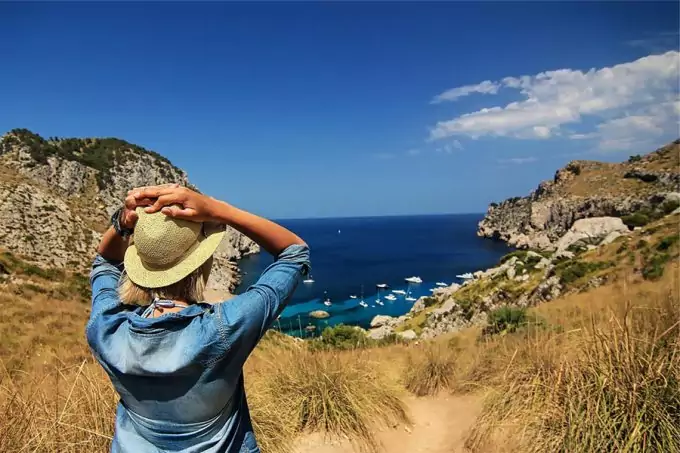 Consider also whether you want to use a chemical or mineral based sunscreen. Chemical based sunscreen works by absorbing UV rays, while mineral based sunscreen reflects UV rays. While chemical-based sunscreens are more readily available, mineral based sunscreens may be helpful for people with sensitive skin.
If you find yourself spending an unexpected night in the woods, an emergency blanket can be crucial for keeping you sheltered from the wind, rain, and cold. You should look for one that's lightweight enough to toss in your pack anytime you head out.
Prepare for Emergencies
For injuries on the trail, as well as normal scratches and blisters, a basic first aid kit is indispensable. Your first aid kit should be tailored to your needs and your trip. You can pack lighter for a solo trip or a day hike, while you'll want to include more of commonly used items like bandages if you're packing for a group of hikers or for a multi-day trip.
Always check the items in your kit before setting out for your hike. Look for expired medications and items that you used last time you were out and now need to replace. When you're on the trail, make sure your kit is easily accessible and that everyone in your hiking group is aware of where you've packed it.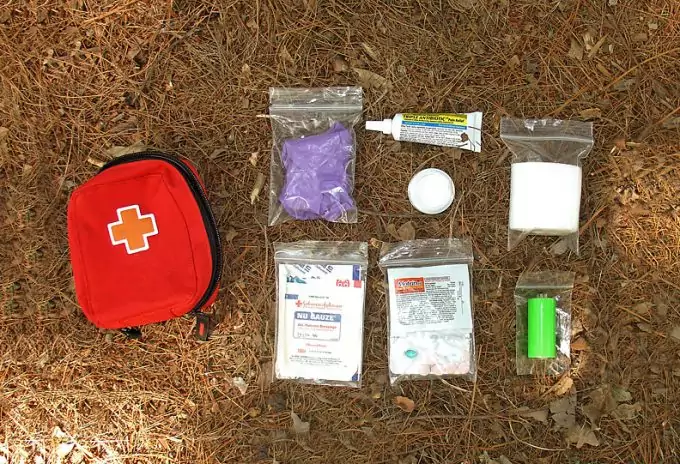 If you become lost or injured, a simple hiking whistle, can give you an easy and effective way to summon help. Hiking whistles are intentionally loud, and the high-pitched noise will carry farther than the sound of your voice. Furthermore, you'll need less energy to keep blowing the whistle than you would need while shouting long enough to attract attention.
Survive in the Wilderness
Among your most valuable tools when you're keeping yourself alive in the wilderness, are fire starter, a tool to clean your water, and a basic knife. The warmth of a fire and the morale boost that comes from cooking a hot meal are two benefits of being able to make a fire.
Carrying a small fire starter when you go hiking is an easy way to ensure that you'll be able to keep warm in an emergency or enjoy the warmth of a fire at the end of a long day's hike. Remember that when you're in the back country you should only use fire pits that you find, rather than building your own.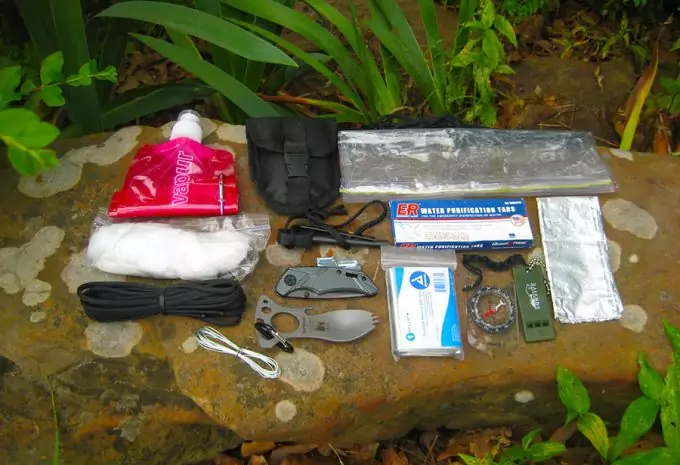 Water is necessary, but it's also heavy. Carrying all the water you need for a trip could be overwhelming or even impossible, depending on the length of the trip. Fortunately, you can choose from many helpful tools that clean the water you find along the trail, allowing you to refill your water supply as you hike.
For cleaning water, you can choose from a water filter or a water purifier. If you're looking for an ultra-light, inexpensive option to carry in your pack at all times, chemical purification (a chemical that you add to the water you've collected) is a great option.
On hiking trips, a knife can come in handy at any moment, so you should keep one accessible. The tasks you'll be using it for will likely be small, but important—cutting up tinder for a fire, opening a package of food, or shaping moleskin to put over a blister. Your knife should be lightweight but durable enough to withstand regular use during the trail and to hold up in an emergency.
Top Product Reviews
Now that you have come this far, check out the top product reviews below for various hiking essentials before you go on your next hiking adventure!
Suunto A-10
Price: Approx. $20
Weight: 0.02 lb
Dimensions: 0.3 x 3.3 x 7.2 in
Specific features: This lightweight compass is made from plastic. It has a fixed declination correction scale.
Best use: Less populated places outdoors
Description: Users of this Suunto A-10 Field Compass say it is simple to use but sufficient for basic hiking needs. The needle rotates smoothly and finds north quickly and with accuracy. The compass is especially good for beginners who are just learning to use a compass.
Light in weight, this clear colored compass is one sized and is made of durable acrylic that is scratch resistant. It includes the two zone system for accurate readings and it has a fixed declination correction scale. This compass is also jewel bearing and has dual scales for inches or centimeters.
The compass fits nicely into your palm and can be attached to the lanyard that it comes with so you can carry it around your neck, hands free. You can take this compass anywhere, from the mountains to the hiking trail, you can feel confident that you will find your way if you happen to get lost, with the capable navigation that this compass gives you.
PROS:
Affordable
Light weight
Two zone system
CONS:
Instructions included with the compass are reportedly minimal
Have to adjust declination each time
Related: While you are outdoors, you may need a lantern when it comes to seeing at night while you try to cook or set up for bed time. The UST 30-Day Lantern  is affordable, water resistant, and lasts 30 days!
Dermatone Mini Tin 
Price: Approx. $10
Weight: 0.3 oz
Dimensions: Unlisted
Specific features: This mineral based sunscreen and moisturizer is designed to protect vulnerable areas like the face from wind, cold, and sun.
Best use: Extreme weather, hot or cold
Description: Users say this Dermatone Mini Tin Face Protection SPF 30 is a perfect lip balm that keeps your lips from becoming chapped or sunburned. It is also great for touching up a previous layer of sunscreen, especially since it comes in a small, portable tin.
This Dermatone product contains zinc oxide, which gives you protection from the sun. It helps to guard against the wind and frostbite as well. It moisturizes the skin and does not feel greasy. It smells good and will not come off if you begin to sweat.
The container may be hard to open initially and may melt a little if it is put in hot temperatures for too long. You should try to keep it in a cool, dry area. You can use this in any kind of weather, which is what users like best about it. Those with sensitive skin reported that it worked well and did not clog their pores or make them break out. Overall, users absolutely do love this product.
PROS:
Under $10
Comes in a small tin
Protects from wind and frostbite, too
CONS:
Some buyers say that the tin isn't completely liquid-proof, so the sunscreen can melt and leak in the heat.
If it gets on your tongue, it does not taste too well.
Related: While this is a face protection, you may consider some lip balm for lip protection. The Dermatone Medicated Lip Balm is a 2 pack that has SPF 23 and helps protect against cracking or sunburn lips.
Marmot 41200 
Price: Approx. $75
Weight: 12.8 oz
Dimensions: 26 x 17 x 2 in
Specific features: This 100% nylon jacket is water and wind proof.
Best use: In inclement weather
Description: This Marmot 41200 Jacket small size when packed means that it fits conveniently in a pack. Users also liked the cord on the hood that can be adjusted to keep out the rain. It is breathable and lightweight, with durable seams, zippers at the armpits for ventilation, and a hood that collapses into the collar when not needed.
Made from all nylon, this jacket has a zippered enclosure, DriClime lined chin guard, and is made from Marmot NanoPro waterproof fabric that breathes well. Users like this jacket because it is a great value for what you pay. It packs down easily and the hood stashes right into the collar!
Users also like it because not only does it shed water, but it keeps the wind from getting inside and it fits comfortably. Some users did state that the waist is a little baggy, but overall users loved this jacket and would recommend it to family and friends!
PROS:
Comes in a variety of colors
Affordable
CONS:
Some buyers reported that the interior coating on the jacket became delicate after minimal use.
No interior pockets
Related: If you want to include some pants that will keep your legs dry, try the Marmot B00Q75Q Pant, which are a best seller and goes well with other Marmot products!
Black Diamond Spot 
Price: Approx. $40
Weight: 3.2 oz
Dimensions: 2.25 x 1.5 x 1.25 in
Specific features: This versatile headlamp has multiple brightness and beam settings, including a red light mode for night hiking.
Best use: Outdoor uses while hiking or camping
Description: Users of this Black Diamond Spot Headlamp appreciated the excellent flood and spot light features and the brightness of the beam. The headlamp is also compact and lightweight. It also has a power indicator that shows whether the battery life remaining is high, medium, or low. This headlamp is also protected from water damage.
This headlamp has Triple Power LED, and Single Power White, and Red, LED, which give off 200 Lumens of light on the maximum setting. You can go from dimmed lighting to full power with the PowerTap technology that works simply.
With the red night vision mode, you can use various settings, like strobe light, and can do so without going through many settings. Also included is a power meter that has 3 levels that show how much battery you have left over. Overall, users like the price, the ease of use, and night vision mode with this headlamp. Since this is the latest version, it is updated to work better and more simply. Just don't forget to add in 3 AAA batteries.
PROS:
Affordable
PowerTap technology
Night vision mode
CONS:
The band tends to be slippery and loose easily.
Users report that learning how to cycle to certain settings can be confusing at first.
Related: If you need a light that is bigger and brighter, try the Coleman CPX 6 CSP70 Spotlight, which has night vision, a 7.5 hour run time, and is durable.
Adventure 0125-0290 
Price: Approx. $20
Weight: 7.2 oz
Dimensions: 10 x 7.5 x 3 in
Specific features: This portable first aid kit includes a selection of bandages, medications, and basic tools, all contained in a waterproof bag. The kit is designed for up to four hikers on a trip four days or shorter.
Best use: Hiking, camping
Description: This kit is lightweight (only 12 ounces) and compact enough to stash easily in a backpack. Users say it is durable and sufficient for basic emergency care. For those who are unsure of what to include in a first aid kit, this removes the guess work.
However, the Adventure 0125-0290 Ultralight and Watertight Medical Kit also includes room for more experienced hikers to add items they know could be useful on the trail. There is a two stage waterproofing for the bag to keep items dry, and it has a water resistant zipper. The bag is only 12 oz so it can be put in your backpack or even your pocket so you can have it on hand in case someone needs anything.
Included are medications, bandages and more items you need in a first aid kit. This kit is well liked because it fits in your bag easily and has the essential items needed when camping or hiking.
PROS:
Affordable
Water tight
Comes in various sizes
CONS:
Some buyers found that their kits were missing items, or included expired goods, so make sure to take inventory of the kit before setting out.
Some people also found that the waterproofing on their kit wasn't enough to protect the contents in the rain or when the kit was unexpected immersed in water.
Related: If you are hiking or camping outdoors, you will not only need a medical kit, but also a way to purify water. The LifeStraw LSPHF017 is a water filter that is affordable and works well to give you clean, drinkable water.
Light My Fire Swedish 
Price: Approx. $15
Weight: 0.04 lb
Dimensions: 1 x 3 x 5.88 in
Specific features: This works when wet and will continue to spark for approximately 1,500 strikes.
Best use: Camping, backpacking
Description: The Light My Fire Swedish Fire Starter produces a spark that is over 5,500 degrees F and it works when it gets wet. Lasting for up to 1,500 strikes, this fire starter is light in weight and can be used in emergencies, too.
Easy to use in any weather, this product is highly dependable and used by many outdoors men, from fishermen to hunters, to campers and even survival experts. The striker is made of stainless steel, while the fire steel is made from magnesium alloy.
For the best spar, put it at a 45 degree angle and give it a hard scrape. Those who have used this product stated they used it to not only light butane stoves, but also tinder to start a fire. Users say you do need practice to get it to spark up at first, but you will soon get the hang of it soon enough.
PROS:
Buyers of this fire starter find that it produces consistent strikes.
Affordable
Easy to use
CONS:
Large size is not as big as users thought
The motion of striking can take some time to learn, so practice before leaving home.
Related: If you are going to light fires to cook your dinner, you may need the TOAKS Titanium Pot. It is made from titanium, has a 25.4 oz capacity and works well when cooking or boiling water.
Survive Outdoors B01BHJ9 
Price: Approx. $15
Weight: 3.8 oz
Dimensions: Unlisted
Specific features: This emergency bivy protects against the elements and reflects 90% of body heat back into the shelter.
Best use: Emergency use, survival
Description: This Survive Outdoors B01BHJ9 Bivy is inexpensive, but perfect for an emergency. It is compact and easy to stow in a hiking pack. It is light weight (3.8 ounces) and bright orange for visibility in a rescue situation.
The bivy is made from polyethylene, which is tear resistant and it has sealed edges that block rain, snow and cold from getting inside, as you try to stay warm. SOL makes this product in various count sizes, so if you need more than one, you can find a 2 pack, or even a higher count.
This bivy uses HeatSheets fabric, which makes the product not only waterproof, but windproof, too. Users say it is small enough to take in their backpack and it really does a great job at keeping you warm under an emergency situation.
Affordable, you really cannot afford to go without this product. While you may get some condensation inside, remember, this is not an insulated sleeping bag, it is used to keep you alive. It can easily be dried out by the fire without issue.
PROS:
Tear resistant
Affordable
Stuff sack included
CONS:
Not made with any padding, so you must gather leaves or other debris to make padding
Because the bivy isn't breathable, some users said they felt condensation build up inside the bag during a night of use.
Related: In some survival situations, you need to make sure you stay warm and can signal for help. The SOL Scout Survival Kit will help you do just that, by including products that can help you stay alive until you can get to safety.
Fox 40 Pearl 
Price: Approx. $10
Weight: 1 oz
Dimensions: 2 x 1 x 1 in
Specific features: This 90-decibel whistle is audible over noise such as the wind. It is designed for emergency and survival applications, as well as other functions.
Best use: Indoor use and outdoor use for safety reasons
Description: This Fox 40 Pearl Whistle is durable and has no moving parts or other features that could stick or break.
It comes in various colors, from black to blue and pink to purple, so you can find the color that you like best. These whistles are used in sports and in emergency situations. They also have a design that makes it less shrill.
Under $10, this whistle can get the job done easily, when you need sound to get someone's attention, whether it be for sport or for safety reasons. Users say that it has a clear sound that does not pierce the ears. They like that they can choose a color that they like and will stand out so they can find it easily.
Users did say it should come with a lanyard, but you can purchase a durable one by Fox. Overall, this whistle is a great quality product that gets people's attention and can be of help in various situations from fun to severe. Users who have this whistle say they love the brand and their quality products across the board.
PROS:
Great for the old and young
Clear and distinct sound
Well sized
CONS:
Not lanyard included
Although the whistle is loud, some users say it is not as loud as other versions of the Fox 40 whistle and requires considerable effort to blow at a high volume.
Related: Since this whistle does not come with a lanyard, you can buy the Fox 40 B01J0DZ Lanyard, which is made by Fox and will fit this whistle accordingly. It is affordable and comfortable around your neck.
Victorinox Swiss 
Price: Approx. $15
Weight: 0.74 oz
Dimensions: 2.25 x 0.354 in
Specific features: This 2.5-inch knife packs seven different tools—a blade, nail file, screwdriver, scissors, key ring, tweezers, and toothpick.
Best use: Everyday use indoors and outdoors
Description: This Victorinox Swiss Classic SD Knife functions well, but some users say it is too small for them to use comfortably. It is versatile enough to perform a variety of basic tasks during your hiking trip.
This knife has 7 functions and comes in virtually any color you can think of. It fits right in your pocket for everyday use and can be great for camping, hiking, or even at home use. This knife is made from stainless steel and has a Lifetime Guarantee attached to it.
Small and lightweight, this is a nice addition for when you need to pull out a splinter with the tweezers, or file down a broken finger nail. Users state that they love this product and for those who use the blade often, it only needs to be sharpened every few months. Overall, users love this knife and recommend it to those who need a knife with multi tools. Users did also say that this knife will last for years to come!
PROS:
It is made from stainless steel and designed for convenient everyday use.
This knife's small size lets you carry it in an accessible pocket or on a key chain without noticing the weight.
Affordable and durable
CONS:
Small
Some parts may come off over time
Related: Over time, you will want to replace the toothpick in your knife. The Victorinox VIC-38413 Knive is the refill you can purchase so that you can have the same quality product that you know and love.
Katadyn Micropur 
Price: Approx. $30
Weight: 0.8 oz
Dimensions: 9.2 x 5.7 x 0.6 in
Specific features: These tablets effectively kill all microorganisms in water, without leaving a strong aftertaste. Each tablet purifies up to 1 liter of water.
Best use: Camping, backpacking
Description: According to users, these Katadyn Micropur Tablets purification tablets – package of 30 truly taste alright. In addition, they are lightweight and easy to use, making them perfect survival gear.
Not only are these tablets approved by the EPA under the purifying test standards, they fight against all types of microorganisms to give you the safest water possible. Each tablet will clean 1 liter of water, and it tastes good and leaves no chemical taste behind.
Users have said that it does taste good with no aftertaste and while it does take 4 hours to treat the water, but it will give you clean, refreshing water in the end. Another good thing about this is that you can add flavored powders to your clean water.
When you are hiking, camping, or just find yourself in a survival situation, you will be glad you have these. They have a long shelf life and can fit in your backpack with ease, and you will have a peace of mind knowing you can have clean water any time.
PROS:
Works against all types of microorganisms
Affordable, comes in various sizes
CONS:
The tablets take up to four hours to purify water, so planning ahead is a must.
The chemicals in the tablets can cause harm to exposed skin if not handled with care.
Related: Nas-co N-B01449WA Survival Water Bags will work when you need clean water in an emergency. They can come in 36 oz packages and are leak proof. They can be frozen or left at room temperature for ease of use.
Concluding Thoughts
Where ever you're headed on your next hike, remember to prepare for emergencies, unexpected situations, and the basic needs that you'll have on the trail. Preparedness takes forethought, but it doesn't have to be elaborate.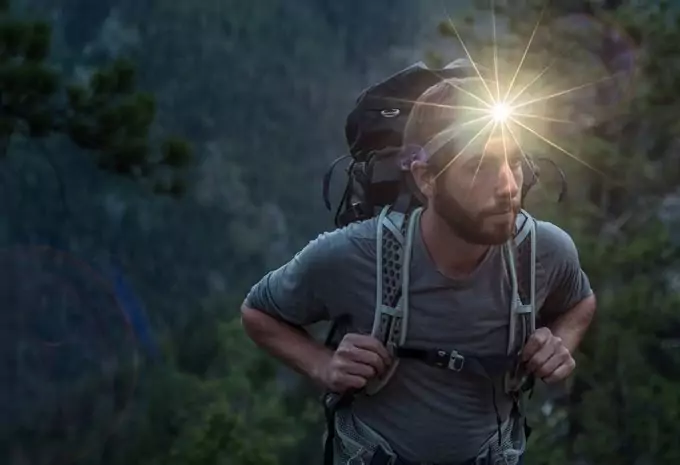 Simply create the habit of tucking a few light weight pieces of essential hiking gear into your pack each time you set out on a hike. That way, you'll be able to enjoy your adventures while knowing that you're ready for whatever comes your way.
If you feel the need to share some of your experiences or to point out to something we missed, feel free to leave a comment in our comment section below.