You do not have to be a hiker to want excellent shoe traction. To provide trail runners and hikers superior grip, a lot of companies are beginning to employ sticky rubber on their outdoor footwear.
This aspect among others, makes the hiking boots suitable for their application, although some features may vary depending on the design and brand you are using. This article will provide a guideline for selecting the best hiking gear, along with a review of the best backpacking boots available on the market.
Tips & Tricks every hiker needs
When designing the hiking boots, most manufacturers put into consideration aspects such as insulation and breathability. Your feet have thousands of sweat glands, which is the reason why manufacturers are always searching for a better way to ensure ventilation is maintained through their fabric uppers and leather.
For a long time, waterproof shoes have been criticized for causing the feet to sweat, but the invention of Gore-Tex Surround Technology has turned things around. The Gore's membrane is certainly waterproof, although some feel that it does not have ample breathability.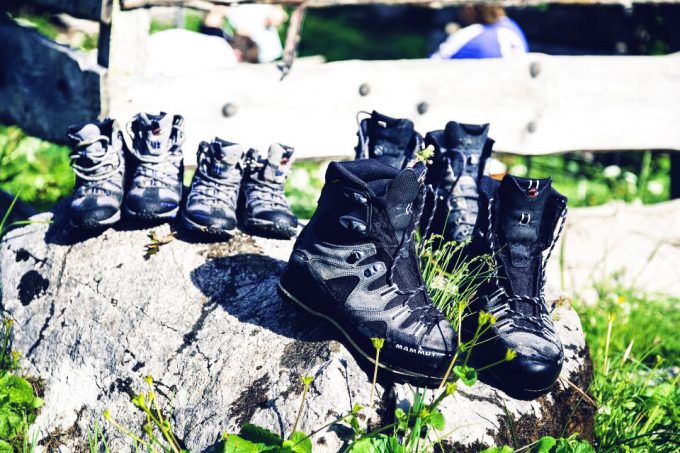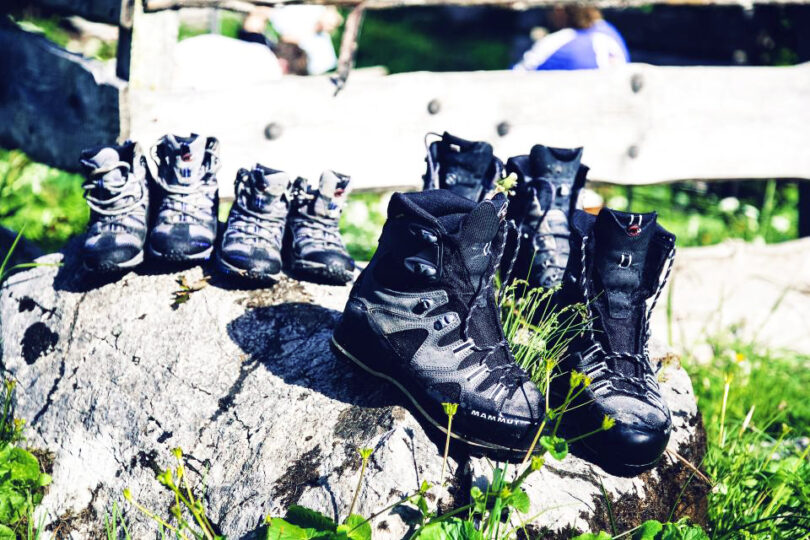 For the membrane to begin letting sweat escape, a certain amount of heat needs to accumulate inside the boot to establish a temperature differential which drives the movement. The Surround Technology establishes an active way for pumping out the heat more efficiently and faster.
When getting your boots for the first time, it is imperative to try them with socks on. If you are going hiking or camping, you will need to wear the boots with socks, which adds cushioning and temperature control. In addition to that, socks can be moisture-wicking as well as anti-bacterial.
You can also decide to trek in your sock liners to create a moisture wicking effect and add comfort to your gear. Since the hiking socks are heavier than the regular ones, it is imperative to wear them the first time you are trying your boots so as to ascertain whether or not they are a perfect fit.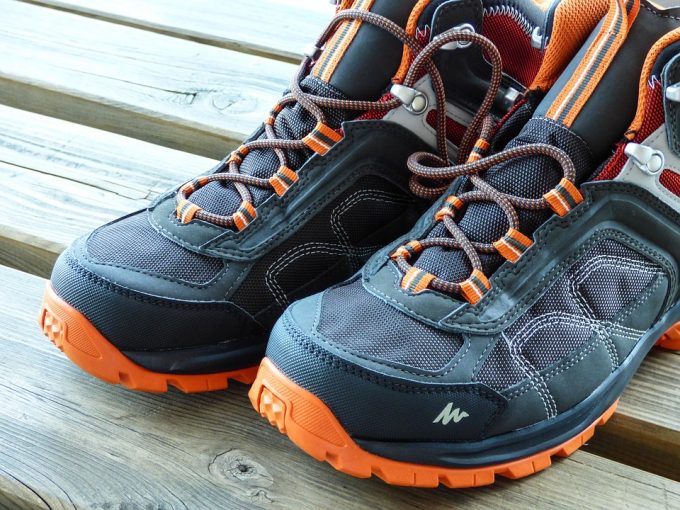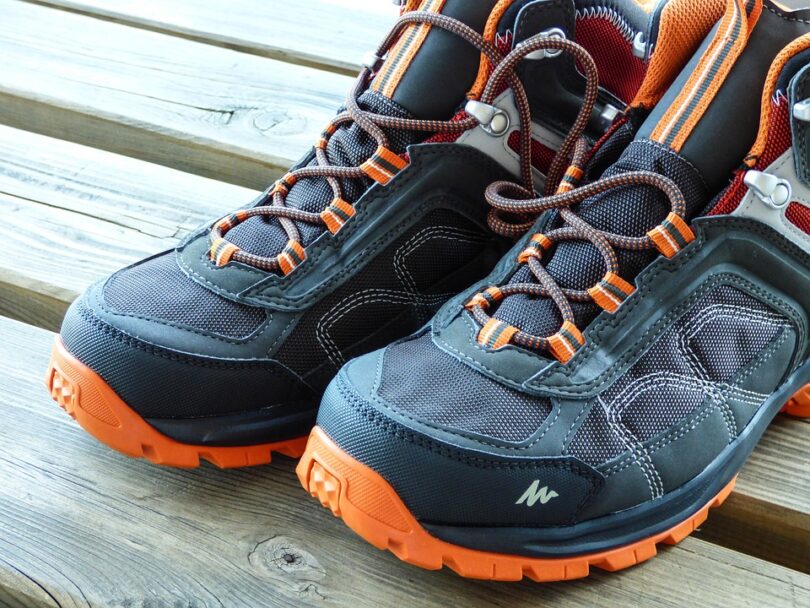 The longer you will be hiking, the greater will be the demand on your feet and body, and for that reason, you will need support from your hiking boots. A longer trip often involves carrying a heavier backpack, requiring more boot support both around the ankle with the heel support and under the feet with a sturdy midsole.
In all these, the most essential aspect you need to remember is the weight. Despite the benefits a durable boot offers, lightweight hiking shoes have some advantages too. For instance, a lightweight boot can save you about 100grams to 200grams every time your foot moves, so you will be able to save some energy over your hiking period.
Our Top Picks
| Product Name | Lining | Weight | Sole | Best Use | Price |
| --- | --- | --- | --- | --- | --- |
| North Face Fastpack II | Gore-Tex waterproof membrane | 1 lb | Vibram rubber | Wear to work, casual wear, hiking, travel, going out | Check price on Amazon |
| Salomon Quest | Gore-Tex waterproof protection | 2 lb | Contragrip sole | Outdoor adventures, mountaineering, survival, via ferrata, backpacking, | Check price on Amazon |
| Salewa WS MTN | Gore-Tex Performance Comfort membrane, | 3 lb | Vibram Alpine | Outdoor adventures, backpacking, survival, hiking with snowshoes, camping | Check price on Amazon |
| Asolo Fugitive | Gore-Tex liners | 2.12 lb | Asolo's TPS sole | Travelling, backpacking, survival, hiking, camping | Check price on Amazon |
| Arc'teryx Bora | Gore-Tex | 2.19 lb | EVA | Trekking, backpacking, hiking, camping | Check price on Amazon |
| Oboz Beartooth | B-Dry membrane | 3.8 lb | Removable BFit Deluxe | Outdoor adventures, backpacking, survival, hiking, camping | Check price on Amazon |
| Vasque St. Elias | Gore-Tex waterproof construction | 3.46 lb | EVA | Outdoor adventures, backpacking, survival, hiking, camping | Check price on Amazon |
| Asolo TPS 520 | Gore-Tex waterproof | 3.31 lb | Asoflex thermoplastic insoles, Vibram outsoles | Trekking, backpacking, survival, hiking, camping | Check price on Amazon |
| Zamberlan 996 Vioz | Gore-Tex lining | 3 lb | Rubber Sole | Mountaineering backpacking, survival, hiking, camping | Check price on Amazon |
Features to Consider Before Buying
As a hiking enthusiast, looking after your feet is one of the most significant things you need to do. Selecting the best boots can be quite confusing, especially if you have no idea what you need to consider. Choosing the right gear can mean a whole difference between a painful and a comfortable hike.
Unlike with purchasing normal boots, where aesthetics is usually a great factor, hiking boots need to be selected for a purpose. It is essential to consider various aspects such as the terrain you will be trekking, your hiking season, and the shape of boots. Other essential factors to consider include:
Waterproof Materials
The Gore-Tex inner lining is important as it helps maintain warmth and keep your legs dry. The leather uppers (around the ankle) and the rubber lowers (around your foot's bottom) will assist in keeping wet snow and water out.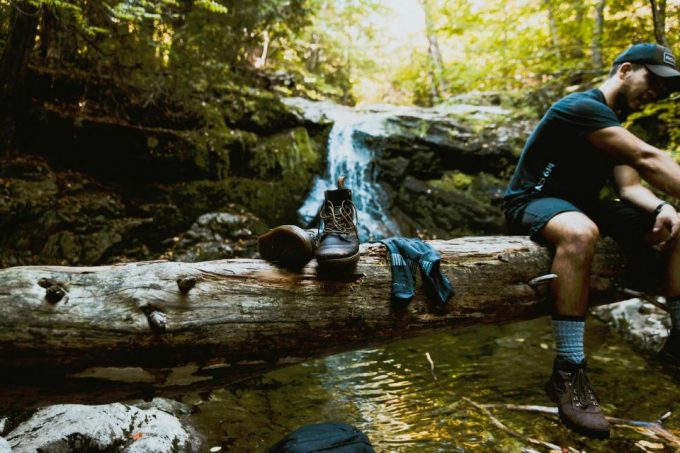 When choosing your hiking boots, you should consider picking the ones with Gore-Tex waterproofing as these are best for use in cold weather backpacking.
Outsole
This is probably the first thing you need to consider when purchasing your hiking boots. This is a rubber strip or TPR along the boot bottom that features a tread. The patterns of the tread will vary depending on the boot you purchase, but all will serve the same purpose.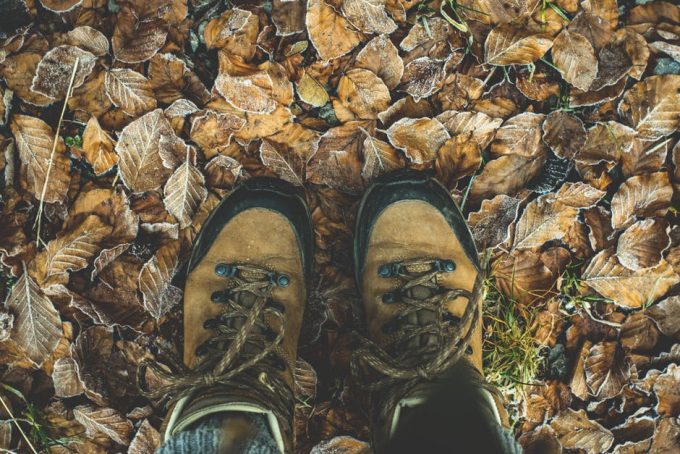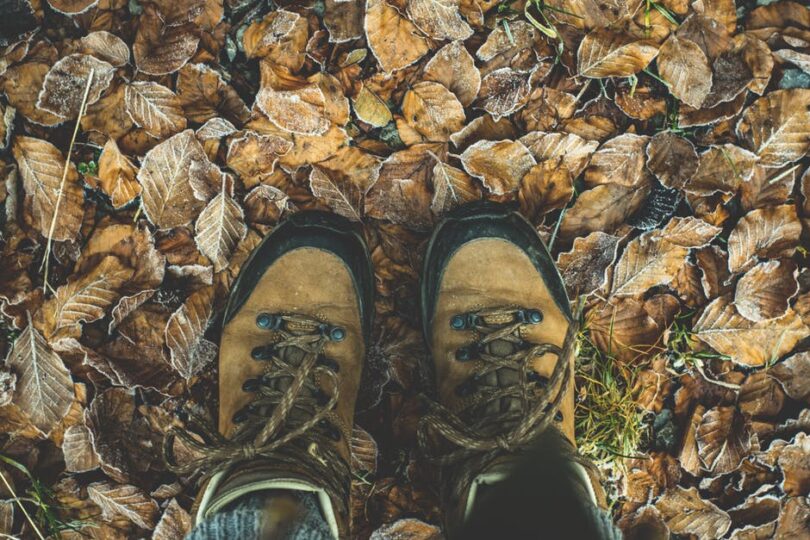 If you are trekking in mud, the chunkier patterns are the best, while the shallow tread will be well-suited for a rockier terrain. The Vibram is usually the most popular brand that most people prefer. For a long time, it has been a symbol of quality, but this is not to say other sole brands will not be suited for you.
Insulation
There are many kinds of insulation materials available on the market today. One common insulation material used for hiking gears is Thinsulate. This material, in addition to others such as Zylex, wool, and polypropylene offers warmth without providing bulkiness. When considering this aspect, try to choose boots with: Four hundred to five hundred grams of insulation, Double-layer insulation for cold hikes.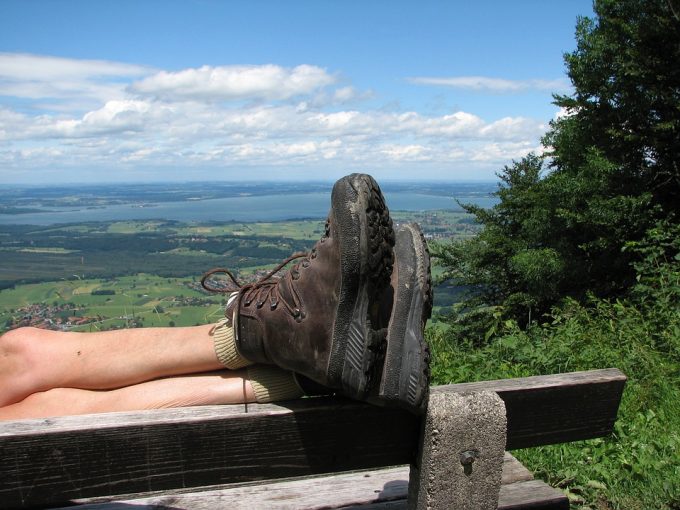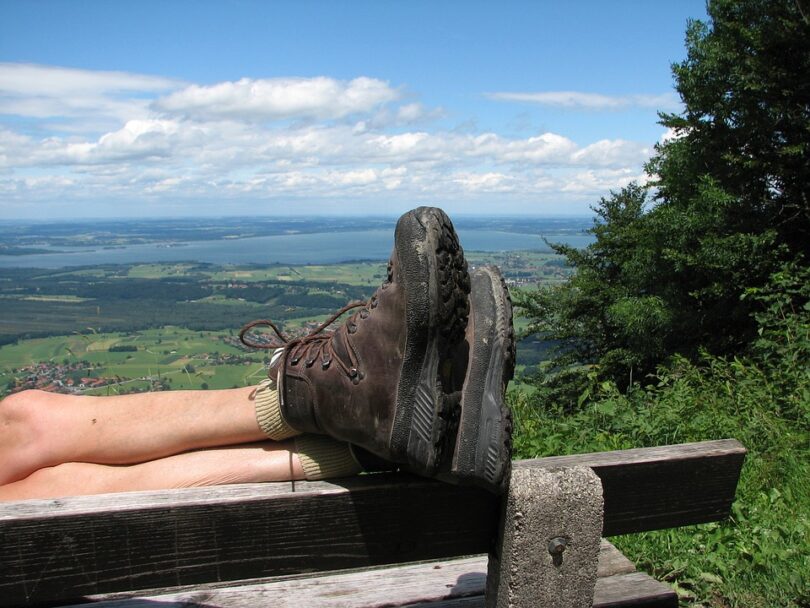 A single one has one insulation layer normally provided by inside materials, while a double layer boot has both the inner and the outer insulation. A single layer is fine for a basic hike, but in the case of extreme winter camping and hiking, consider the double layer style.
Right Cut
Hiking boots usually come in different styles including high-cut, mid-cut, and low-cut, and each boot has its benefits. If you are considering to go winter hiking, choose a boot that is mid to high-cut as these will be able to support your ankles during the treacherous winter terrains and help in keeping water and snow out.
Breathability
With heavy insulation and thick waterproof materials, some backpacking boots are not as breathable as they are supposed to be. Breathability affects internal moisture and comfort, making it a significant feature.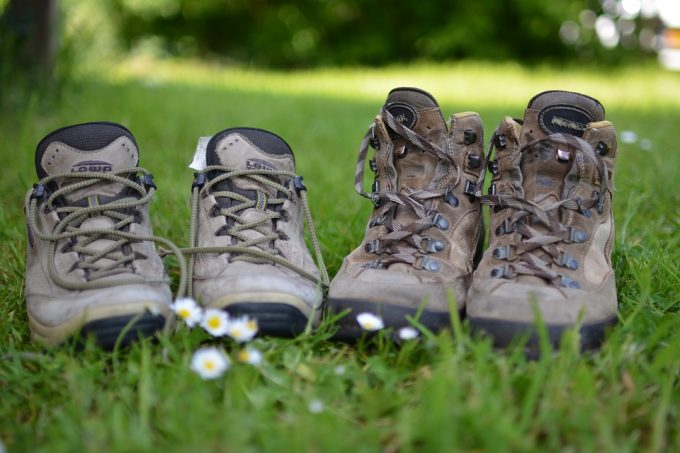 Be sure your shoes are made from one of the materials below to ensure moisture protection and exceptional breathability:
Nylon
Gore-Tex
Split-Grain Leather
Top Product Reviews
The hiking season is fast approaching, and that means hikers and backpackers are hoping to retire an old set of hiking boots, while some of them thinking about investing into their first set of boots.
Searching for that great pair can be pretty much daunting, and which is the reason we tried to disclose the best performing boots available. Ranging from intensely high-tech boots designed for scaling mountains to section level options designed for your normal day-climb, our rundown of the 9 best hiking boots will present something for everybody. So get out there and check them out!
North Face Fastpack II 
Price: Approx. $160
Weight: 1 lb
Specific features: Gore-Tex waterproof membrane, fabric-and-synthetic, rubber sole, Vibram rubber outsole, reinforced toe cap protection
Best use: Outdoor adventures, backpacking, survival, hiking, camping
Description: The North Face Fastpack II Boot is a lightweight and protective shoe that is designed to endure hardpack terrain. The Gore-Tex waterproof hiking shoe is designed with entrenched cables for the mid-foot support and an improved Ultra Protect Cradle Guide for reliable support.
In appearance and performance, this boot closely looks like a high top trail trekking shoe. It is a great boot if you like a close fit shoe. True to its name, the North Face Ultra Fastpack II Mid GTX is a shoe you should always consider when going on an ultralight backpacking tour as it offers an excellent ankle support and is also a light gear to have.
This backpacking boot is targeted soundly at backpackers and hikers that do enjoy going light and fast. The flexible sole is greatly comfortable and good for carrying light stuffs. The lacing system is likewise striking for its supporting system that embraces the foot cozily to the sole.
PROS:
Well made
Comfortable
Quality material
Practical
Durable
CONS:
There is a slight discomfort due to the extra-hard fabric linking the tongue to the backpacking boot
Related: Do you want a pressure relief insole for your boot? If yes, then you can check out the New Balance IPR3030 Insoles. The insole was designed by a team of pedothists and doctors to enhance body alignment and balance.
Salomon Quest 4d 2 
Price: $175 – $230
Weight: 2 lb
Dimensions: 16 x 12 x 5 inches
Specific features: Gore-tex waterproof protection, synthetic sole, updated salomon contagrip outsole, molded EVA ortholite removable footbed,
Best use: Outdoor adventures, backpacking, survival, hiking, camping
Description: From the ground up, the Salomon Quest 4D 2 Boot is a high-performance gear that you would love to have for your backpacking adventure. Stable enough for a harsh terrain, Nimble enough for trekking, and strong enough for rugged surface these boots eat up the miles. Its Contragrip sole offers excellent grip across various surfaces on and off the trail. Its 4-D Advanced Chassis offers great torsional stability and foot support.
Its uppers combine various materials which are supportive and flexible at the same time. Additionally, it has an excellent lacing system and a solid ankle support to give you a peace of mind when moving down the steep slopes.
Its advanced chassis offers the base which propels the Salomon Quest GTX to the top for stability. While wearing this boot, you will feel more than confident jumping around the barricades and moving over muddy trails with hanging roots. Additionally, the combination of substances Salomon utilizes for ankle collar are firm and comfortable.
PROS:
Long lasting comfort
Great size
Durable
Great lacing system
Decently light
Supportive
CONS:
The exterior parts take time to dry totally
Not so suitable for trail running
Likely occurrence of foot fatigue in case you are carrying a heavier load
Related: if you want a high-performing waterproofing wax for your boot, then you can check out the Nikwax 4A2 Waterproof Wax.
Salewa WS MTN 
Price: $160 – $370
Weight: 3 lb
Specific features: Gore-Tex, HDO Sport E-tip gloves, 360-degree rubber Rand, Gore-Tex performance comfort membrane, climbing-style lace closure
Best use: Outdoor adventures, backpacking, survival, hiking, camping
Description: You will find everything you require to get into the wilderness with the Salewa WS MTN Boot for women . These are serious hiking books with the alpine-inspired design fitted with the Gore-Tex waterproof membrane to provide you with the breathable performance you would require when getting into the remote areas.
Their upper parts are made of wear-resistance Cordura and thick suede, and a full-wrap rubber is used for the reinforcement. The shoes are fitted with Salewa's 3F EVO system designed for ankle protection, while allowing mobility for an easy hike.
The Vibram Alpine soles will perform exceedingly well on rocky, rugged terrain, but that is not to say they will not handle smooth section of trail easily.
Looking like a blend between an alpine boot and an approach boot, this backpacking boot is designed for harsh conditions and rough trails. The boot has a defensive rand that enfolds around the whole lower area of the boot for complete isolation from snow, rock and other trail flotsam and jetsam.
PROS:
Stout mix of an alpine and approach shoe.
lightweight
Great support
Amazing performance on rocky landscape
Stability
CONS:
Not everybody will like the runs warm and stiff build.
Related: Do you want comfortable, soft, vast diameter bootlaces? If yes, then you can check out the Greatlaces B06X1 Boot Shoelaces. Comes in standard lengths for all backpacking boots.
Asolo Fugitive 
Price: $190 – $250
Weight: 2 lb 2 oz
Specific features: Water-resistant split-grain leather, Gore-Tex liners, Gore-Tex membrane
Best use: Outdoor adventures, backpacking, survival, hiking, camping
Description: Today, the Asolo Fugitive Boot is probably one of the most sought out boots on the market. Its ability for use during backpacking, hiking, light mountaineering, 4 season trekking, and 3 season glacier travel make it one of the most versatile shoes to own. Although they are not specifically crampon compatible, they work best with strap on crampons. They are also waterproof and offer an excellent break in.
With the Asolo Fugitive GTX, you can travel on your backpacking tour thanks to their versatility and comfort. Although they have an average weight of 3 Pounds, the boots offer excellent traction and support with their outsole, and their ultra-secure lacing system helps in minimizing heel lift.
The linings of the boots help to keep the bone of your feet dry on wet days. Their low-profile aspect makes your hike so comfortable that you will think you are using sneakers for your trek. Once you decide to use these boots for your backpacking tour, you old clodhoppers will be left to collect dust in the closet.
PROS:
Durable waterproof leather
Great fit
Exceptional design and performance
Perfect for extreme landscapes and all climate.
Highly functional lug sole
Support
Stability
Traction
CONS:
There is possibility that the layered sole will peel off due to exposure to outrageous temperature changes
Low breathability
Related: If you want good and affordable insoles for your backpacking boot, then you can check out the Superfeet Heritage Insoles. These insoles offer proficient-grade orthotic curve support and solace for your feet.
Arc'teryx Bora 
Price: $260 – $280
Weight: 2 lb 3.1 oz
Specific features: Durable water repellent finish microfiber, EVA midsole, custom 3-D toe and heel protection
Best use: Outdoor adventures, backpacking, survival, hiking, camping
Description: Going on an outdoor expedition or an extended hiking trip? The Arc'teryx Bora Backpacking Boot got you covered. This versatile technical gear features rugged seamless uppers, Adaptive Fit Liners, and custom Vibram outsoles that make it possible for you to traverse rugged terrain and unstable conditions confidently.
Born in the Coast of the Canadian wilderness, the Arc'teryx is a high-performance technical boot that offers the support and protection to enable you to engage in your hiking escapades confidently. This is meant for women looking for technologically advanced boots to maneuver through the rugged terrain and changing conditions. You can never go wrong with a pair of Bora Mid GTX boots.
This backpacking boot never dissapoints. The Arc'teryx Bora 2 are certainly among the best outdoor gears produced by the Vancouver-based brand. The boot accompanies an effectively separable tongueless liner that is produced using a breathable nylon monomesh insulation that keeps you chill and dries quick. It is quite possible for you to even change out liners depending on climate and conditions (i.e. a warmer liner for cool climate, a more breathable liner for hot climate).
PROS:
Highly comfortable and functional removable liner
High-class comfort and protection
Great waterproofing and insulation from the hard external shell
Good breathability
CONS:
Expensive
Overkill for most hikers and easy terrain
Related: Whether you want to glue your backpacking boots for a tough day hiking trip or day's work, the Boot-Fix B00Q3ID Shoe Glue can amend your boots!
Oboz Beartooth 
Price: $220 – $230
Weight: 3 lb 13 oz
Dimensions: 12 x 8 x 4 inches
Specific features: Removable BFit Deluxe insole, BFit lacing system, BDry membrane, Non-marking carbon rubber outsole
Best use: Outdoor adventures, backpacking, survival, hiking, camping
Description: The Oboz Beartooth Hiking Boot can be regarded as "old school" rough and tough boots which are loaded with new technology. The armored uppers combine the leather, rubber, and a man-made textile that is lined with a waterproof membrane. Its support is derived from a midsole and a stiff outsole coupled with molded heel counters, and its soles are well lugged.
Lacing of the boot combines a heavy duty metal hardware and an instep strap attached to the heel counter. The availability of loops is the back help pull the laces on. Inside the boots lies a removable insole which features forefoot and heel cushioning. These shoes are designed with serious intentions, and they are relatively thick compared to some mid-season trail sneakers.
It takes some effort (both twisting and bending) to flex the boots by hands. The Beartooths are clearly designed to offer significant stability and support. The construction looks clean and neat. They are assembled using stitching and glue, making the boots appear neat and gapless. Although some stitching appears beneath the insole, it does not seem vulnerable and risky to wear as there are no sharp edges.
PROS:
Overall a great choice
Less expensive
Reasonably priced
Well formed
Amazing supports
Highly comfortable whether in cold or warm weather
Moisture wicking for insulation against heat
CONS:
Possibility of sore spots on the arches or ankles due to the slight intense supports
Related: if you want standard bootlaces that guarantee comfort over the instep, then you can check out the Greatlaces Kevlar Boot Shoelaces. A polyester shoelace garnished with Kevlar stitching guarantees a reliable and long-lasting boot lace.
Vasque St. Elias 
Price: $140 – $190
Weight: 3.46 lb
Dimensions: 12 x 8 x 4 inches
Specific features: Gore-Tex waterproof construction
Best use: Outdoor adventures, backpacking, survival, hiking, camping
Description: The Vasque St. Elias Backpacking Boot has numerous features you may find suitable for your backpacking adventure. The boots' upper construction give it its amazing look.
The shoe uses a high-quality leather with minimum seams while the molded rubber toe cap adds to its unique features. The tension of the thread and the leather trimmings lead to an upturned edge which protects the thread of the seams from abrasion.
On the downside, manufacturers have identified that the synthetic material used in the ankle collar could easily be scuffed by sharp rocks and sticks. Nonetheless, the use of the material creates comfort at the ankle and helps in saving weight. Appearances can be deluding with the Vasque St. Elias boots. What may resemble a leather clunker from a separation really is a complete present day boot that most people cherish. The blend of support and solace is highly impressive.
With an overwhelming pack on, the EVA padded sole and TPU shank sufficiently offer steadiness and pad for putting on severe miles, but if you are just taking off for the day's hike, the backpacking boot is reasonably nimble and flexible. More, the St. Elias boot is a reasonable value, undermining its main rivalry above by $40 even with its sturdy, nubuck leather mesh.
PROS:
Highly comfortable
Good weight
Durable
Support
CONS:
Quality control problem with Laces and eyelets
Related: If you want good insoles for your backpacking boot, then you can check out the Superfeet Premium Insoles.
Asolo Tps 520 
Price: $240 – $300
Weight: 3 lb 5 oz
Specific features: Asoflex thermoplastic insoles, Vibram outsoles, nylon linings, Gore-Tex waterproof
Best use: Trekking, backpacking, survival, hiking, camping
Description: If you are in need of the most protective, most durable, and the most supportive boots for your backpacking tour, the Asolo TPS 520 Hiking Boots is as close as you can get. If you are in need of support and protection, but do not require anything heavy, the Asolo TPS 520 boots are an excellent option to go with.
These shoes provide the most amount of protection and support for your feet. Its ankle support rises, so high onto your ankle as the nylon shank offers underfoot stability. These boots will hold up to long hikes and heavy loads you subject them to.
Numerous hikers swear by full leather, full length, tough hiking boots for hiking. The full grain leather encompasses and secures the Gore-Tex waterproof membrane layer and once softened up, the boots will carry out their task for years. In general, there are loads of positives about this hiking boot that makes it to be a great choice.
PROS:
Waterproof
Comfortable
Warm in the winter
Great ankle and arch support
Ideal for heavy stuffs over long distances
Good looking!
CONS:
Expensive
Heavy
Extremely warm in the summer
Related: if you want a good waterproofing gear that can protect the leather of your boot form sun, snow, rain and salt, then you can check out the Atsko Sno-Seal Original Leather Protector.
Zamberlan 996 Vioz 
Price: $250 – $280
Weight: 3 lb
Dimensions: 14 x 14 x 6 inches
Specific features: Zamberlan airsystem padding, high resistant treatment hardware, rubber sole, 2.6 mm thick leather
Best use: Outdoor adventures, backpacking, survival, hiking, camping
Description: The Zamberlan 996 Vioz Boot will give you protection and comfort for the long haul and by "long haul," it means they will offer you the extended durability you deserve for your long trek and 4-season hikes.
The boots are a masterwork of performance and comfort, with features which make it an all-day, all-week comfortable gear. Its Gore-Tex lining offers breathability and utmost protection, while its Microtex moisture-wicking collar lining made from nylon helps in controlling excess moisture.
The Zamberlan Flex System allows your ankle to move forward securely without compromising support. The padded sole is built with polyurethane for expanded rigidity and hence the boot offers awesome solace when you are conveying a heavyweight backpack or climbing on technically difficult rough trails.
This backpacking boot offers awesome comfort and performance. It is intended for long hiking trips and also for mountaineering on steep rough trails. The boot has a durable and tough upper made of waterproof full-grain calfskin. The Gore-Tex lining beneath the leather upper guarantees that your feet remain dry on wet terrain and in rainy weather.
PROS:
Great stability
Traction
Support
Quality materials
Durable
Highly comfortable
Related: if you want a gear that can make you backpacking boot last longer and remain comfortable even in outrageous conditions, then you can check out the Obenauf's LP Boot Preservative protects leather.
Concluding Thoughts
Now that you know how to choose the right boots for you, and that you know which of the models are the best on the market, we hope that making the right choice will be much easier. Take another look at the models we reviewed and see which features best suit your personal needs so that you can make the perfect choice.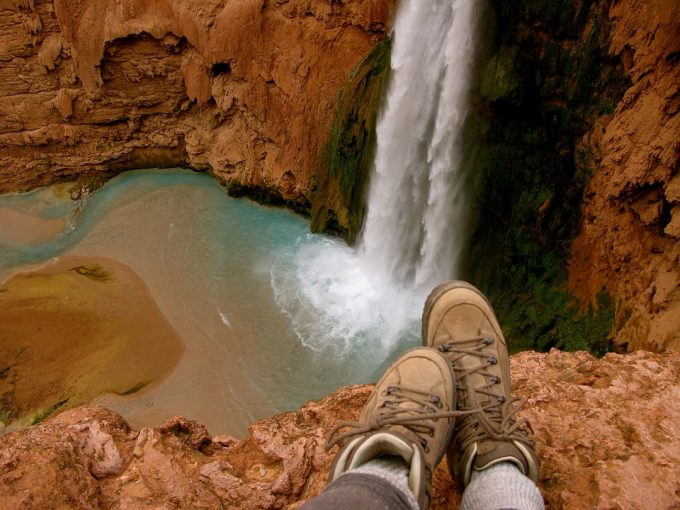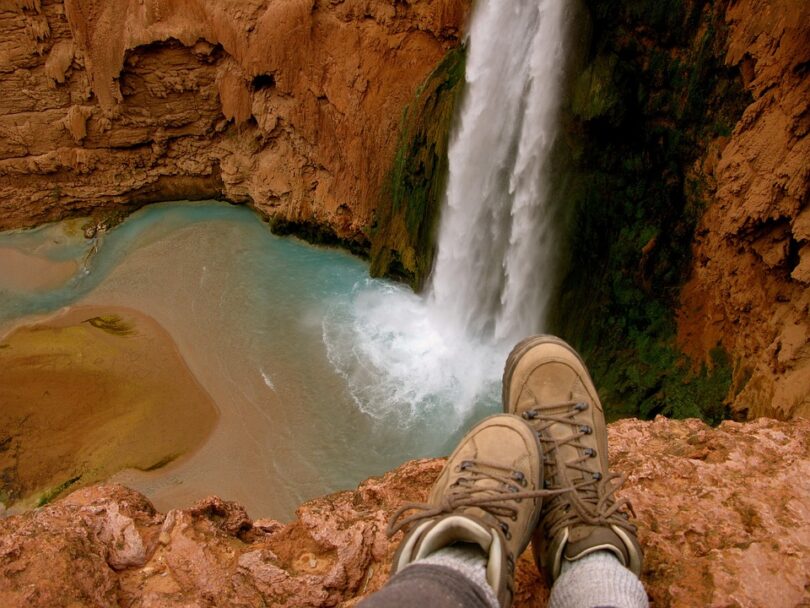 On the other hand, if you already bought any of these boots for backpacking or fast packing in rough terrain or sloppy conditions, you could share some of your experience with them with our readers, in the comments section below. Also, you could let us know if  your backpacking team members have problems matching your pace? Thanks for reading and e will be more than glad to hear from you!