Choosing the best hiking gear improves your overall outdoor activity experience. Pants are an essential part of your hiking arsenal and should, therefore, be selected carefully. There are different types of hiking pants all of which try to give the best experience in hiking.
While choosing the most suitable hiking pants for, there are several factors that you need to put into consideration. In this review, we will look at those features and also focus on the best convertible pants on the market today.
Different people might be looking at different features while choosing hiking pants. In this case, various types of pants, have distinguished features, all depending on user needs. The available hiking pants on the market give you a wide range of user options. These include: multi backpacking trips, mountain climbing, car camping, rock climbing, traveling and day hikes among other purposes.
Now, we are going to show you the important features that you need to know about convertible pants. After that, you can peruse several reviews so you can find the right pants for you!
Our Top Picks
| Product Name | Weight | Material | Color | Price |
| --- | --- | --- | --- | --- |
| Columbia Silver Ridge | 14.4 oz | Nylon | Various | Check price on Amazon |
| PrAna Stretch Zion | 19.2 oz | Nylon, Spandex | Charcoal, Mud, Dark Khaki | Check price on Amazon |
| Marmot Cruz | Unlisted | Nylon | Slate Grey | Check price on Amazon |
| KUHL Renegade | Unlisted | Nylon, Spandex | Khaki | Check price on Amazon |
| PrAna Sage | 17.6 oz | Nylon | Coal, Cargo Green, Mood Indigo, Dark Khaki | Check price on Amazon |
| EMS Cargo | Unlisted | Nylon | Fossil, Grey, Neutral Grey, Tarmac | Check price on Amazon |
| White Sierra | 3 oz | Nylon | Caviar, Bark, Dark Sage, Stone, Deep Lichen Green | Check price on Amazon |
Features to Consider Before Buying
Hiking pants are categorized into different categories depending on their design. One of the main features that you look for while purchasing hiking pants is the design. The available types include:
Fitting
Best hiking pants shouldn't either be too tight nor too loose. Too tights pants will be restrictive and might also cause chafing on the legs.
Mobility
Hiking pants with articulated knees offer higher mobility than any other type of pants. (This fact makes convertible pants stand out among other designs).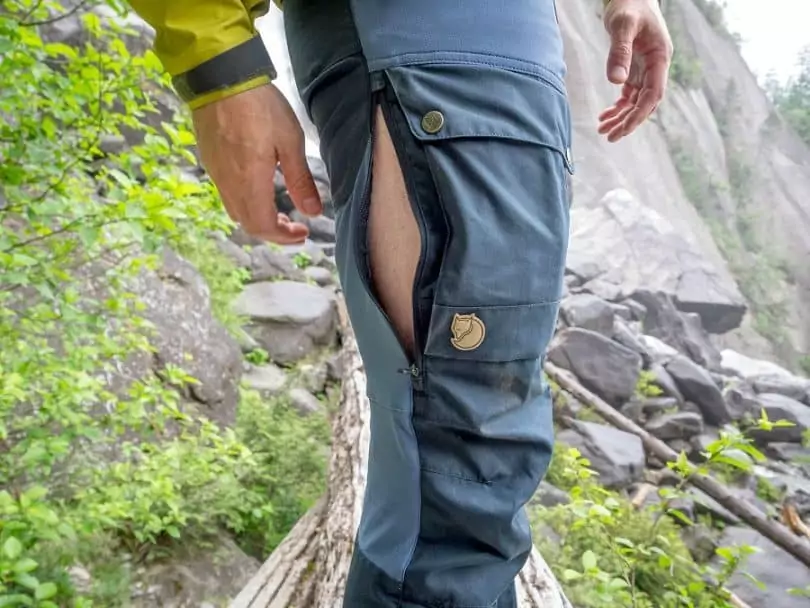 Pants made of a stretching material are also useful for mobility reasons.
Weather Protection and DWR
It might sound obvious, but best hiking pants should be able to protect you against any for form weather. They should be durable and water repellant to keep you dry all the time. Hiking pants should also offer high breathability to ensure your skin stays fresh and not "cooking" from the heat as you move.
Climate and Destination
It is necessary to consider the type of weather in the area you will be hiking. This information will help you the perfect pants for the occasion.
Some of the climatic factors that you need to put into consideration are:
Temperate Weather
If you are hiking on high elevated areas or during spring and fall, the climate is likely to get cooler at times. Pants that can give your legs protection against the wind are the best option in this case.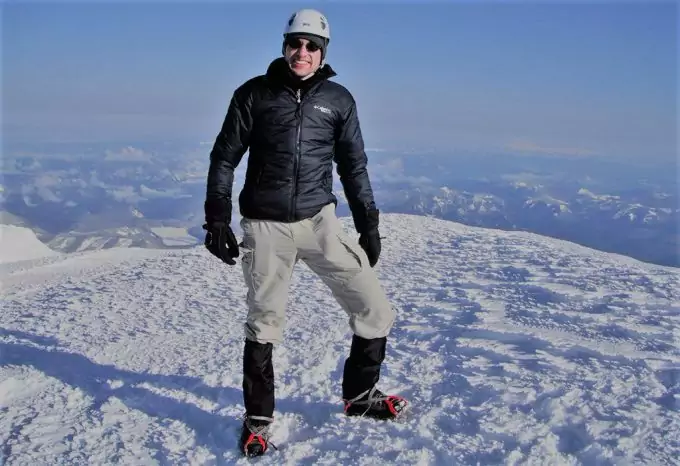 Other days might be hot within the same environment requiring you to just roll-up your pants. In this case, convertible pants might do just well, but roll-up pants will do better.
Hot and Dry
This kind of weather you will experience while hiking in the desert or during the summer It's a bit tricky to choose hiking pants for this sort of weather. The heat might tempt you into overlooking on the pants and go for shorts.
On the other hand, you will need to protect your legs from thick bushes as well as hot sun and harsh wind. Once again, the convertible pants become the best option hiking pants.
Wet
If you are hiking in areas that are wet or the weather forecast predicted, it's going to rain, rain shell pants are highly recommended. You don't want to get into a position that you are all drenched.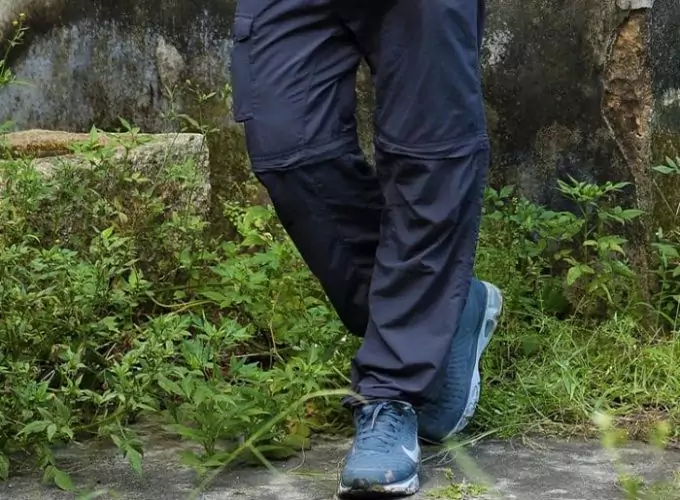 That might bring you health problems. Pants with high water resistance and the dry rate will be better to consider.
Protection from ultraviolet rays
Hiking pants should have the ability to protect you from the harsh rays of the sun. When hiking during summer or in rather dry areas, consider wearing pants instead of shorts. Convertible pants, especially, are a perfect choice since you can create a vent by unzipping halfway if the weather gets too hot.
Color
It's okay to overlook color when buying an outdoor garment and choose pants depending on personal taste. The truth, however, is that the color you want can profoundly determine how you feel while hiking in different conditions.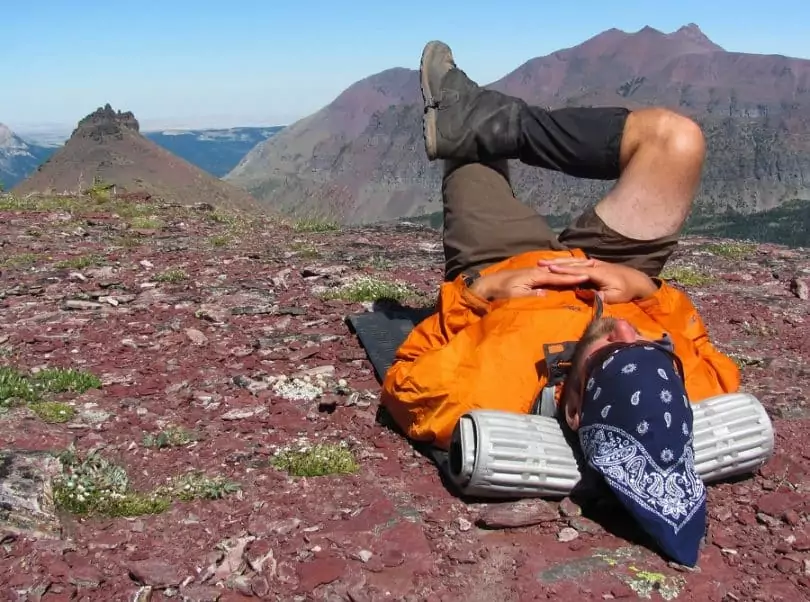 While walking in cold areas or during cold seasons, black and other dark colors are preferred. White, gray, beige, and other light colored pants are preferred while hiking in tropical areas or during summer.
Top Product Reviews
Now that we know the general features to look for in a good pair of hiking pants, we are going to look at one particular category; best convertible pants. Many hikers prefer these pants due to their versatility nature. They have a zipper slightly above the knees, which allows you to convert into shorts at will.
Shorts can be very helpful when the weather gets scorching. In case it's hot, and you are in the bushes where you fear of getting tears from thorns, you can just create a vent by unzipping the pants slightly. In case the legs of your pants get dirty, you can easily remove the lower part; remain with shorts as the other part dries up.
Convertible pants have many pocket options making, but they are not without cons. To make them into shorts, you have to remove your shoes, which make it a little tiring. Some of the best convertible pants options that you can buy for your outdoor activities include the following you will see below.
Columbia Silver Ridge Convertible Pants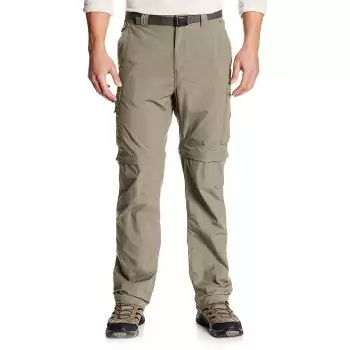 Price: $30 – $103
Weight: 14.4 oz
Color: Various
Specific features: Made of 100% nylon, lightweight, best for warm weather, variety of colors and sizes, side cargo pockets, omni-wick advanced evaporation technology, inexpensive
Best use: Hiking, camping
Description: Columbia Silver Ridge Convertible are the lightest and thinnest convertible pants you can buy. These features make them the best choice pants for keeping cool in warm climates. They are also inexpensive, making the perfect option for anyone who is on a tight budget.
They also come in a wide range of colors, and sizes are giving you more choices to choose from depending on your needs. Plus, these pants have zipped legs that let you convert them in a flash, and they include Omni-Shade UPF 50 sun protection.
Unfortunately, these pants miss the most important feature; versatility. Despite being convertible, they have rather too tight legs, which will give you a headache when removing. These pants are also a little flimsy, made of rather weak material and have poor water resistance.
It would be better to add a few more bucks to purchase a pair of pants that offer you maximum comfort during your outdoor activities.
PROS:
Side cargo pockets
UPF 50 sun protection
Affordable
CONS:
Somewhat flimsy
Not the best in rainy weather
Related: The Columbia Silver Ridge Long-Sleeve Shirt comes in many colors and is a comfortable and lightweight shirt that you can wear outdoors, as it comes with sun protection.
PrAna Stretch Zion Convertible Pants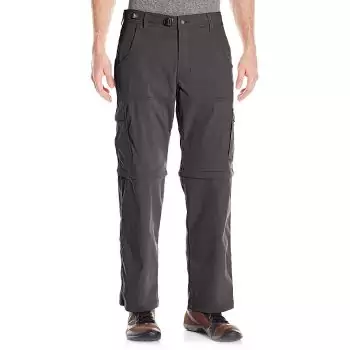 Price: $45 – $95
Weight: 19.2 oz
Color: Charcoal, mud, dark khaki
Specific features: Durable water repellent, 97%nylon and 3% spandex, quick dry stretch nylon performance fabric, all weather finish, great pocket options
Best use: Hiking, backpacking
Description: PrAna Stretch Zion are the best go-to pair of convertible pants whether you are looking for something casual for sporting, traveling or involving outdoor activities.
The nylon material with spandex weave increases the mobility of these pants. This factor makes them the best pants for traveling, hiking, rock climbing or backpacking.
They also have a long underwear fit underneath which makes them keep you warm during cold weather. Prana Stretch Zion pants are readily convertible into pants in case it gets hot.  They are highly durable and have many zipped security pockets.
They have a tug on the waistband to help you adjust the size accordingly. They are not waterproof, but they are light fitting to allow the waterproof shell to fit over them. They also have high breathability capability which makes them the right pants to wear during hot hiking days.
Overall, these pants are affordable as well as comfortable, which is what users like the best!
PROS:
Quick dry
Has DWR treatment
Affordable
CONS:
Size zipper can be difficult
Wearing a holster an rub away the fabric
Related: The Darn Tough Merino Wool Socks come in various colors and cost around $20. They are made of all wool and are made to not slip or bunch.
Marmot Cruz Convertible Pants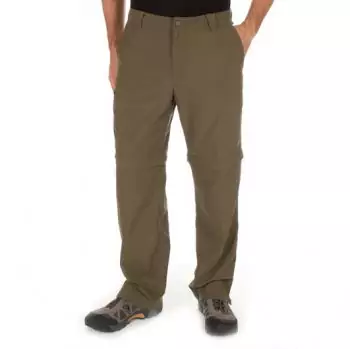 Price: Approx. $60
Weight: 14 oz
Color: Slate gray
Specific features: 100% nylon weave with a DRW, snap closure, a waistband with belt loops, made with ultraviolet protection, abrasion resistance, quick-drying, and wicking
Best use: Hiking
Description: Marmot Cruz Convertible Pants are lightweight and are the best choice for hiking expeditions. They come in different sizes, making it easy to find a perfect fit. These pants are easily convertible into shorts and are also highly durable.
They are easy to dry and with a DWR feature making them suitable for hiking in areas with high moisture.
These pants have zippers at the leg hem which allow you to pull off the pants over your boot, easily. This feature improves on the pants versatility considering many people who rather wear shorts than convertible pants that they have to remove their shoes to convert.
To improve on their mobility feature, Marmot Cruz Pants have a gusseted crotch. For comfort, these pants have a brushed polyester tricot line along the waist.
At about $60, these pants are affordable and are a great deal for how comfortable and nice these pants are. For the money, this pair is definitely one to look into!
PROS:
Made of all nylon
Abrasion resistant
Quick drying
Related: The Marmot Eldridge Short Sleeve Shirt is made of rayon and polyester and has UPF 20 sun protection. Plus, it is soft, durable, and has a single patch pocket.
KUHL Renegade Convertible Pants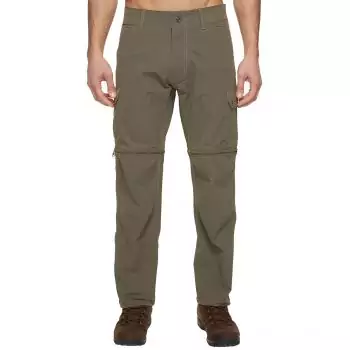 Price: Approx. $100
Weight: Unlisted
Color: Khaki
Specific features: Durable water resistance feature, UPF protection, articulated knees, free ryde waist which helps accommodate athletic body, lightweight, quick-drying and wicking, wrinkle resistance
Best use: Hiking and casual wear
Description: KUHL Renegade Convertible Pants are lightweight, which makes them perfect for hiking. You can easily convert into shorts with their well-hidden zipper just slightly above the knee. In case you get wet as you are hiking, with these pants, you assured of fast drying up.
They easily stretch which improves on their mobility and especially when walking. They are also very durable, making you stay for long without going to look for another pair.
The waistband is made to wick away moisture, allowing your waist to stay comfortable. These pants also have a DWR treatment that keeps water away, and they are abrasion resistant, so you do not have to worry about fraying.
The best thing about these Kuhl pants is that they are protected from the sun with UPF 50. This means you do not have to worry about your skin while wearing these pants, as the sun will not burn or harm you.
PROS:
UPF 50 sun protection
Compartment pockets
Abrasion resistant and quick drying
Related: The People Socks Merino Wool Antimicrobial Crew is a 4 pack of socks that are made of wool and are anti microbial. They are also shaped cushioned in the foot bed.
PrAna Sage Convertible Pants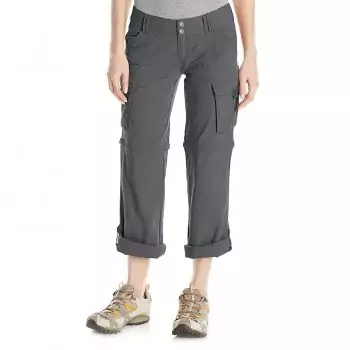 Price: $55 – $90
Weight: 17.6 oz
Color: Coal, cargo green, mood indigo, dark khaki
Specific features: Durable water repellent finish, side cargo pockets, back flap back pockets, rip stop nylon with spandex for stretch, straight legs, relaxed fit
Best use: Hiking and traveling
Description: PrAna Sage Convertible Pants are the best hiking pants for women. They have zippers above the knee to help easily convert into shorts.
They offer high breathability which makes the perfect choice for a hot day. They are also a lightweight, which means you do not have to worry about them lagging you down when hiking.
The big cargo pockets are an added advantage with these pants. They are also highly durable with high weather resistant capabilities. However, their main shortcoming is that they are a bit tight around the leg zipper which makes them uncomfortable.
PROS:
Stretch performance
Quick drying
Affordable
CONS:
Not form fitting
Runs small
Related: The Teva Women's Hurricane XLT are comfortable footwear that are made of textile and shock absorbing. They are also odor resistant.
EMS Cargo Convertible Pants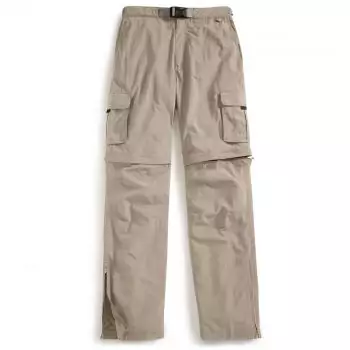 Price: Approx. $40
Weight: Unlisted
Color: Fossil, gray, neutral gray, tarmac
Specific features: 100% nylon, converts to shorts, two cargo pockets, two back pockets with hook-and-loop closure, rugged belted waistband with quick release buckle
Best use: Hiking, traveling
Description: EMS Cargo Convertible Pants are made with water repellent material. They are also highly durable and can withstand harsh outdoor conditions. They are quite affordable compared to other convertible pants.
With a rugged belted waistband, it is easy to adjust the size depending on the level of comfort. They are zippered slightly above the knee making them easily convertible. These pants also have a zipper at the bottom, which makes it easy to convert into shorts without necessarily removing your hiking books.
Overall, users like these pants because of the pockets and the pocket closures as they can store their items safely, without them falling out. The pants come in 4 colors; Fossil, Tarmac, Grey and Neutral Grey, and the pants are made of all nylon material.
Affordable, users like these convertible pants because they are durable, have a water repellent treatment and other great features, but did not break the bank.
PROS:
Made of durable nylon
Back pockets have Velcro closures
Hook and loop closures on cargo pockets
CONS:
Only 4 color combinations
Related: The Columbia Sportswear Bora Bora Booney II Sun Hats is made of all nylon material and has UPF 50 sun protection with an adjustable chin strap.
White Sierra Convertible Pants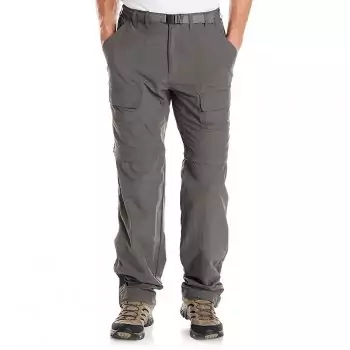 Price: $28 – $60
Weight: 3 oz
Color: Caviar, bark, dark sage, stone, deep lichen green
Specific features: Weaved nylon, belted, secure cargo pocket and back pockets, elastic fit side, adjustable leg opening
Best use: Hiking
Description: White Sierra Trail Convertible Pants are readily convertible into shorts and vice versa depending on the immediate need. They also have a zipper along the leg to allow easy slip off over your shoe.
The secured cargo and back pockets offer an excellent solution for storing on-the-go essentials. The elastic waistband with a removable belt makes these pants, comfortable and adjustable depending on your needs.
They are also lightweight and offer a 100% UPF sun protection. Incorporated with a water resistant material, these pants dry quickly.
White Sierra Trail Convertible pants have a rip and stick adjustment tabs around the ankle, which allow you to securely fold the pants to keep them from getting dirty.
You can take your choice of colors; Caviar, Dark Sage, Bark, Deep Lichen Green, and Stone. Made from all nylon material, these pants are comfortable and water repellent, which is what those who have purchased these pants love.
PROS:
Affordable
Several color choices
UPF sun protected
CONS:
Some do not like the mesh lining in the pockets
Flare out at the bottom
Stitching may not be the best
Related: The KEEN Targhee II Mid WP Hiking Boot  come in several colors, are made from leather and textile in the USA and breathe well!
Wrapping It Up
While looking for hiking pants, the factors explained above are crucial to observe. Always remember to purchase pants that will withstand months of roughness, can handle extra belt weight and that can dry quickly.
Best pants should be versatile to help change in different weather conditions accordingly. Do you think we missed any of the great products out there? If so, please let us know in the comments section below.