You love hiking, but you think it is too expensive to purchase hiking gear, including a rain jacket. Or to spend less and save money, you think you can get by with your everyday jacket as you venture into the wild. Sure, things can be expensive these days. However, there is no need to compromise economy for quality. When you are in need of this kind of gear, it is imperative to remember that the best rain jacket is one that is versatile, durable, and comfortable, yet breathable.
Rain jackets are windproof and offer better waterproof capabilities than the soft shells, but aren't as comfortable or breathable. As the name suggests, rain jackets are the best outer gear when you are out in the rain. Their face fabrics are bonded to membranes which give them their performance properties, but the fabric is not very flexible.
Therefore, rain jackets are used mainly for weather protection and not comfort. Most of these outfits lack lining, so it is best to put them on over a merino mid-layer or a fleece during cold conditions.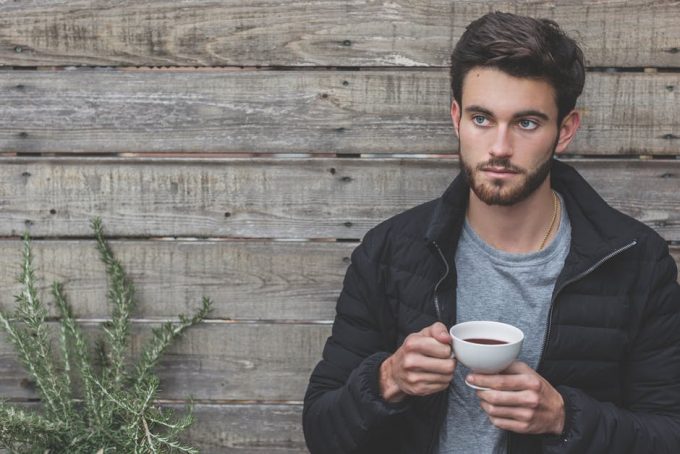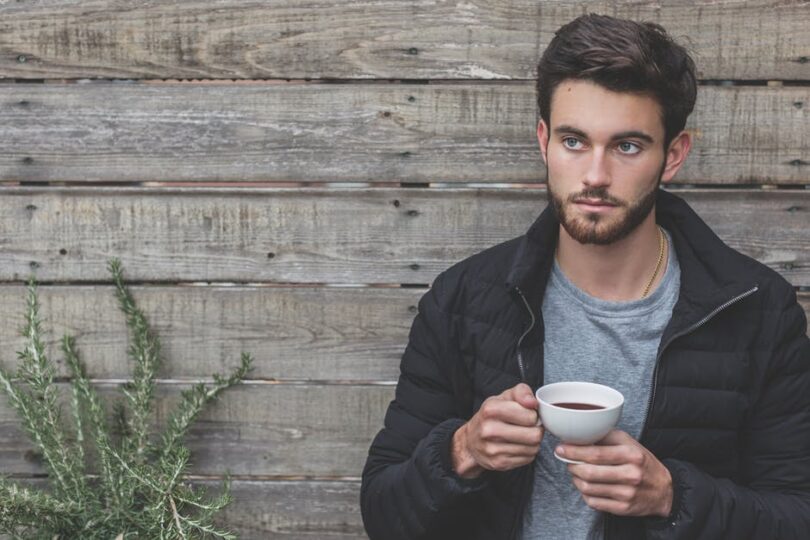 Today, the rainwear industry has progressed to unimaginable standards, with companies competing to provide the best products for their clients. You can easily spend about $200 on a rain jacket that is compressible yet can keep you dry throughout the rainy weather. With a blessing of choice comes a curse of a decision. Where at one point it was easy to get the only product out there, now we must go through a sea of technological innovation and information to ascertain whether or not a jacket is worth an extra buck.
If this already sounds too much, then you probably have an easy decision to make – get the cheapest option and hope it does the work. But, if your favorite activity involves the threat of rain on a regular basis, and you do not intend to recreate your past experiences with your backpacking trips, then the best option would be to go for a quality rain jacket that can serve you perfectly during rainy conditions while outdoors. 
Our Top Picks
Features to Consider Before Buying
Below are many features for you to consider before you purchase your next rain jacket. You want something durable and something that will keep water off of you. Read on for more information.
Durable Water Repellent
Most outdoor gears, including all breathable and waterproof rainwear, have durable water repellent finishes. When the outer fabric of a jacket is water repellent, liquid beads up and rolls off. You should note that this aspect is not similar to water-resistant, which is the fabric's ability to inhibit the penetration of water. Often overlooked after purchase, the maintenance of a DWR finish is important if you expect your jacket to continue working its magic.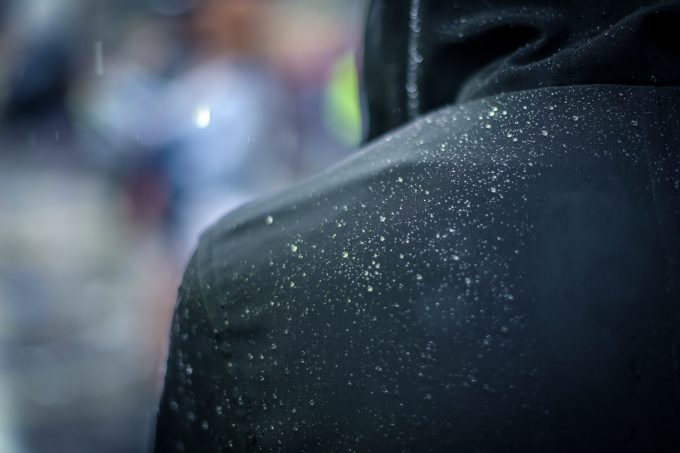 Once the DWR wears off, the surface fabric of the jacket gets wet. Its underlying coating or membrane will keep the fluid out, but the soaked surface will slow sweat and vapor movement to the outside. The sticky lining will cling to the skin, making it feel as if the jacket is leaking.
Amazingly, the DWR finishes utilized today depreciate faster than the older ones. Thus, re-applying the DWR treatment regularly should be your jacket maintenance routine. When the wet surface gives you cold spots, or when the rain stops beading up, it's time for you to reapply the DWR.
Hard Vs. Softshell
With the current advances in material technology, it is practically difficult for most individuals to differentiate these two. However, you can think of the "hard shell" as a jacket that is constructed from a breathable/waterproof membrane, while the "soft shell" is a jacket that goes without it. Yes, this does mean a soft shell will not be fully waterproof, but the jacket will offset this aspect with greater breathability.
What you need to know is that two things get you wet while you are outdoors – sweat and rain. An old rubberized slicker such as that worn by fishermen is a hundred percent waterproof. However, immediately after wearing one and doing something – like walking – you will become sticky with sweat and, soon after, completely soaked through with the rain slicker. This material also offers a hundred percent barrier to water vapor and sweat that try to escape your body.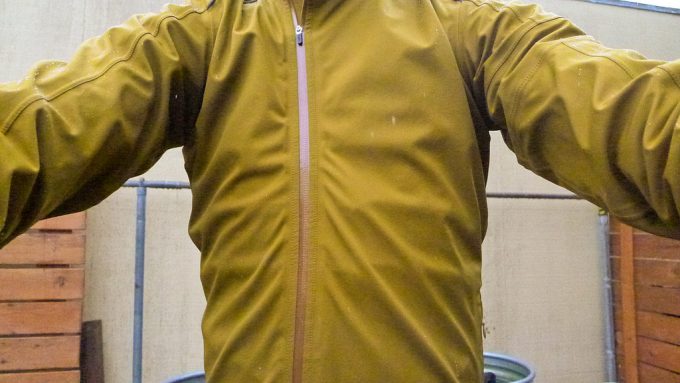 Therefore, you will need a jacket to not only keep the water out, but also to allow it to escape your body. In misty or light rain conditions, this can be well-handled by the softshell, since they are capable of maximizing breathability and keeping out light precipitation.
The same applies to strenuous activities, where the small breathability aspect of the hard shell might make them impossible to put on, or in below-freezing situations, where you do not need to worry about water ingress as it's frozen. Nonetheless, faced with anything heavy such as steady rainfall, you will require the hard shell.
Waterproof Vs. Water-resistant
A jacket is waterproof when its fabric and water resistance is enough to keep out the rain. Although firms disagree on test standards, what you need to know is that a waterproof jacket can stand up to severe rain conditions.
Waterproof/breathable: This kind of jacket keeps the rain from coming into contact with your skin while moving sweat to the outside. If you are planning to take part in a strenuous activity, this would be an aspect worth considering as perspiration and precipitation can soak you. If you need to keep out the rain while standing or sitting around, jackets that are waterproof and breathable will do just fine.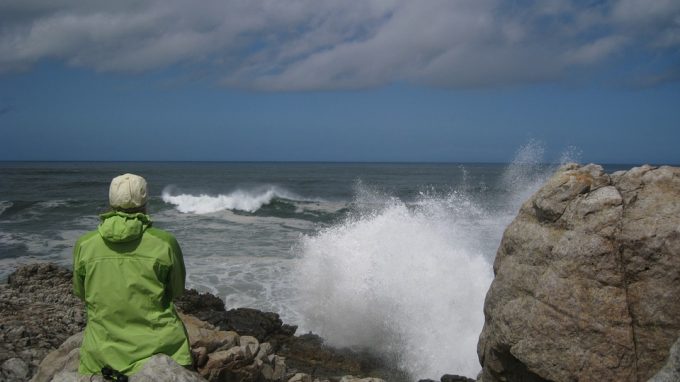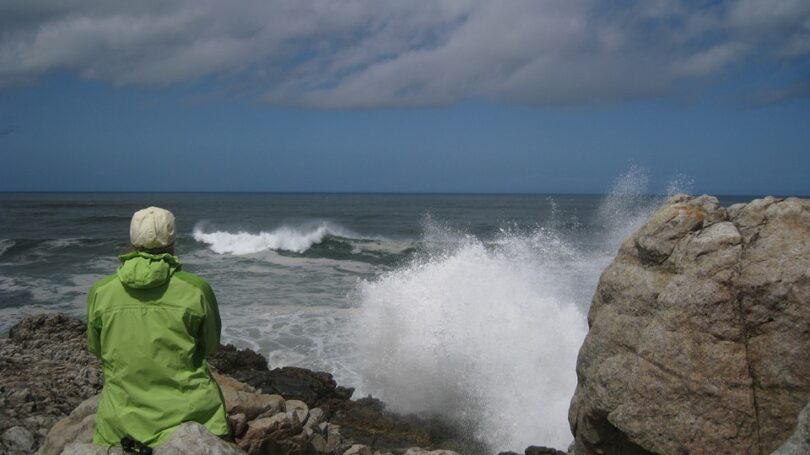 Water-resistant: This kind of rainwear can handle light rain for a short period, for instance, the featherweight jackets and the windbreakers. If precipitation lingers and begins coming down, sideways, water-resistant gears will not be effective.
Hood Design
Most designs have adjustments or brims on the back and sides to fine-tune their opening size. Jackets that come with these designs are usually intended for casual wear. Some rainwear comes with hoods which zip off at the collar. Hoods are meant to prevent your head from getting wet and also protect it from the wind.
Packability
A jacket that is ultra light and non-bulky is usually easier to pack compared to a heavier one. A few jackets are designed with pockets that double as storage pouches.
If a rainwear has this feature or is sold with a stuff sack, then it falls within the "packable" category. This feature is crucial for your backpacking plans.
Coatings
If you want to consider costs, a rainwear with coatings would be ideal for you. Nonetheless, if you decide to pick this jacket, you need to remember they are less breathable. This implies that sweat, which is naturally produced, will leak out to the jacket instead of evaporating. This will result in a wet skin as the jacket gets soggy from the inside.
Top Product Reviews
We are now going to go over several reviews of the top rain jackets on the market. This will help you see what materials are used, how the jacket breathes, and many more features.
MARMOT 41200 
Price: Approx. $75
Color: Various
Weight: 13.1 oz
Dimensions: 26 x 17 x 2 inches
Specific features:  Nylon ripstop 2.2 oz/ yd, waterproof, marmot nanopro 2.5-layer coating
Best use: Hiking, camping, survival, emergency
Description: The Marmot 41200 Jacket  is well known for its amazing features. It is a comfortable 2.5-layer shell that has well-built components. The NanoPro technology breathes superbly, and the cuffs, pit zips, and hood function are designed and fitted to your expectations.
The jacket stuffs into a pocket easily making it easier to bring along in your backpacking venture. This well-featured and affordable rain wear is an excellent choice is you are looking for a do-it-all gear. Furthermore, it  will keep you dry on your backpacking trip, and the NanoPro coating technology will give you the breathability aspect you need during your hike.
You will be able to choose your favorite color, as there are over 25 color options! From blue to orange, to gray and black, you can find something that looks great on you! Not only is this jacket made of nylon, but you can stuff it inside of its own pocket for storage!
PROS:
Many colors to choose from
Affordable
DriClime Line chin guard
CONS:
Some of them tear at the lining
Come larger than anticipated
Related: Marmot also makes pants that are waterproof so you an keep your legs dry while you are outdoors! The Marmot B00Q75Q Pant are made of all nylon, and has an elastic waist for comfort.
PATAGONIA ALPINE 
Price: Approx. $200
Color: Various blue hues, black hues, and gray
Weight: 7.1 oz
Specific features: Fully taped seams, h2no performance standard shell, helmet-compatible hood, elasticized cuffs, bluesign-approved fabric, stowable chest pocket
Best use: Hiking, camping, survival, emergency
Description:  Stuff yourself in a barrel and roll it over the falls, or simply stuff yourself in the Patagonia Alpine Jacket and send it up the wall you have been observing from the valley floor.
A light rainwear, the Patagonia Alpine disappears when you attach it to the harness, and then mysteriously zips up to shed precipitation and wind when the weather decides to take a turn on you. This jacket has a DWR treatment to provide you with extra treatment, as well as a coated zipper, to lock out the moisture trying to find its way in.
The Patagonia is made of a 30D nylon fabric which is durable and strong enough to withstand scratches and scuffs of hiking, and it can stuff into its chest pocket for simpler carrying so you can traverse with ease. Users like that the jacket is durable and blocks the wind really well. While it is a little bulky, it does do a great job of keeping you dry while outdoors.
PROS:
Packs down small
Wind barrier
CONS:
Bulky
Expensive
Does not breathe as well as others
Related: Patagonia also makes backpacks that you can take on your hiking trip. The Patagonia Refugio Pack 28L comes in an array of colors, is made of synthetic materials, and has dump pockets, among other features!
Arc'teryx Beta Lt  
Price: $300 – 525
Color: Various
Weight: 1.4 Pounds
Dimensions: 3 x 11 x 16 inches
Specific features: Helmet compatible stormhood, #3 watertight center front zipper, highly breathable gore-tex pro shell
Best use: Hiking, camping, survival, emergency
Description: The Arc'teryx Beta LT Jacket offers an excellent amount of weather protection as other Arc'teryx jackets. Its Gore-Tex Pro membrane is a waterproof technology is meant to keep you dry, and its storm hood provides a great face and head protection with or without the helmet.
It has a slightly shorter waistline compared to the Alpha FL, but this does not prevent the jacket from providing you with the breathability necessary to keep you dry during the stormy weather.
The jacket weighs about 1.4 pounds for an average size. This figure is remarkably light for a Gore-Tex membrane of high quality, but is still heavier compared to other lightweight rain-wear. Additionally, the Arc'teryx Beta LT does not come with a stuff sack like most rain jackets. This jacket comes in many colors of the rainbow and more, including Basalt, Stellar Orange, and Vermillion. Users like the Gore-Tex Pro Shell and other great features, though this jacket is pricey for many people.
PROS:
Breathes well
Many colors
Helmet compatible storm hood
Related: Arc'Teryx also makes other products, such as hats, that can keep your head warm while you are out hiking in colder weather. The Arc'teryx 5681 Bird Head Toque comes in several colors, is affordable, and made with Merino wool.
Rab Firewall  
Price: Approx. $300
Color: Black, Amazon (blue)
Weight: 1.3 Pounds
Dimensions: 23 x 20 x 4 inches
Specific features: Pertex shield + 3l (100% nylon), 2 way YKK aquaguard front zip, helmet compatible hood, new pertex shield+ 3l fabric with stretch
Best use: Hiking, camping, survival, emergency
Description: The Rab Firewall Jacket features a modern design with many components that are suitable for your backpacking needs. It features a shield 3L fabric and a stretch helmet-compatible hood to protect you from the rains.
Other features of the Rab Firewall Jacket include AquaGurad front zip with a dual internal storm system, and a 2 YKK AquaGuard zipped chest pockets with drains. These jackets are suitable for your backpacking trips, making them an essential gear for your camping or hiking escapade.
If you are thinking about getting a rainwear for a trip to an unpredictable, Rab Firewall Jacket would be an excellent choice to go with.
The jacket comes in two colors, Amazon (blue), and Black, and it has AquaGuard YKK zippers on it for the best zipping experience at each of the zipping points. While it is expensive, this is one product that you can invest in because it will last a long time.
PROS:
Durable zippers
Great hood
Perfect for camping
CONS:
Expensive
Only comes in 2 colors
Related: Rab makes many types of jackets, and the Rab Ascent Jacket is for the colder months. It is made of duck down and nylon and will keep you warm as you hike in the cold!
Mountain Hardwear Plasmic Ion Jacket  
Price: Approx. $100
Color: Thunderhead gray
Weight: 11.5 ounces
Dimensions: 16 x 14 x 2 inches
Specific features: Dry.Q EVAP dry-wicking technology, 70D nylon face fabric, center-front aquaguard VISLON zipper
Best use: Hiking, camping, survival, emergency
Description: Enjoy your outdoor expeditions with the Mountain Hardwear Plasmic Ion Jacket. This rainwear is a lightweight, breathable/waterproof jacket that features the Mountain Hardwear's technology.
It is designed with an internal lining that helps to wick out moisture from the jacket. It's lightweight and attractive price places the jacket at the top of the hierarchy when it comes to a great three-season gears.
Due to their lightweight, the Mountain Hardwear jackets are a perfect choice if you expect a lot of rocks and potential abrasion risk. A good look at one of the best-selling rainwear, its 2.5-layer shell adds the Dry.Q® EVAP dry-wicking capabilities with an extra styling, so it's excellent for both indoors and outdoors.
Made for backpacking and hiking in wet and cold environments, with 70D nylon face material which is wind- and water-resistant, the Mountain Hardwear is lightweight but will not back down from abrasions and cuts. Its modern style separates it from a normal shell, while its distinctive hard face pocket brings it forth as a Mountain Hardwear authentic.
PROS:
Affordable
Fabric is light but durable
Zipper keeps out wetness
CONS:
One color
Has big yellow fabric over the chest
Related: The Mountain Hardwear Castil Casual Short come in several nice color, are made of nylon and are great for being outdoors. Affordable, they are also made to repel water.
NORTH FACE STINSON 
Price: Approx. $80
Color: Various
Weight: 11.9 oz
Specific features: Seam sealed construction, Brushed chin guard lining, pit-zip vents, adjustable velcro® cuff tabs, hem cinch-cord
Best use: Hiking, camping, survival, emergency
Description: Designed for everyday excursions and back country storms, the North Face Stinson Rain Jacket is a water- and windproof hooded jacket that is meant to protect you from the rain throughout the year.
Its breathable Dryvent™ 2.5L soft-shell surface is finished with a coating which eliminates the need for mesh linings. It is made with nylon on the shell and a polyester lining.
Users loved this jacket because it was affordable, light in weight and it was great for warmer months when its a little chilly. It kept them dry and warm, and it breathed well. They liked the elastic cuffs and that it stows in the pocket!
Overall, users did love this jacket and rated it highly, and said they would recommend it to others. With features like the fully attached hood, HyVent fabrication, being waterproof, and is highly durable, it is no wonder that those who purchased this jacket loved it so much.
PROS:
Under $100
Comfortable
Stylish
CONS:
Material feels like it crinkles
Some say it was too pricey for being so simple
Related: When the weather is colder, the The North Face Minna Beanie will come in handy. Affordable, this comes in many bright colors, and has an elastic closure.
Black Diamond Dawn Patrol
Price: Approx. $300
Color: Black
Weight: 1.1 Pounds
Dimensions: 23 x 16 x 1 inches
Specific features: Adjustable, helmet-compatible hood, water resistant, materials: 95% nylon, 5% elastin, zippered chest pocket, two internal drop pockets
Best use: Hiking, camping, survival, emergency
Description: A minimalistic soft shell rain wear, the Black Diamond Dawn Patrol Softshell Jacket utilizes Schoeller stretch-woven shell (soft) fabric to cater to the demands of the fast-and-light alpine hikes.
The NanoSphere Technology enables the ultralight shell to shed water during an unexpected rainy weather. The jacket has a helmet-compatible hood which assists you to fight the wind, cold weather, and spin drift, making it possible for you to concentrate on the hike.
Users say it is great for skiing and outdoor sports and more. It won the Outdoor Gear Lab award for Top Pick for Skiing due to its ability to breathe and resist water. The jacket also feels nearly windproof and users say that the price is really the only thing to complain about. However, this jacket is one of the best on the market, so paying more should be expected. Great for mountain use, this jacket can work in various degrees of weather.
PROS:
Durable and stretchy
Zippered chest
Water resistant
Related: Since you are already outdoors, you may consider doing activities that require more gear. The Black Diamond Couloir is a harness that has 2 gear loops and a quick release. It does not weight much and it packs down into a sack for storing.
Helly Hansen Kirkwall 
Price: Approx. $125
Color: Various
Weight: 2.2 Pounds
Specific features: Full stretch pu rain fabric, removable belt, 100% polyester, welded on pockets, front storm flap
Best use: Hiking, camping, survival, emergency
Description: Functional and fashion-forward as well, the Helly Hansen Kirkwall Rain Jacket is designed to meet all your needs during a rainy day.
Its retro design will add class and style to your wardrobe, while the Helly Tech performance keeps you comfortable, confident, and dry during the heaviest downpours. Waterproof, windproof, and breathable, this jacket will keep you dry in wet, stormy conditions.
Users liked this product because of the many colors, price, and that it keeps them warm and dry. Many say it is not only comfortable, but very stylish, and they say it fits true to size. Users also state that this is one jacket that can be used for a long time, and it will never go out of style!
Overall, it is agreed that this is a great jacket, and while some say it can run small, most users are happy with the size they ordered. You can confidently wear this jacket outdoors in the rainy, gloomy weather!
PROS:
All polyester
Storm flap
Lined hood
CONS:
Hood may not fit everyone
Can tear at some points
Related: If you will be out in the rain, you can consider the Helly Hansen Midsund 2 Rain Boot as it has a rubber sole and a 1 inch heel. Affordable, you can choose from several colors and designs!
Sierra Designs Hurricane 
Price: Approx. $125
Color: Various
Weight: 15.2 ounces
Specific features: Waterproof breathable membrane, 2-layer, durable nylon/poly face, dwr finish, simple underarm vents, zippered hand pockets
Best use: Hiking, camping, survival, emergency
Description: Designed for styling, performance, and improved comfort, the Sierra Designs Hurricane Jacket is an excellent backpacking gear you would love to have around.
Its waterproof rating makes it exceptional and its other features – lay-Flat Hood, Fully-Lined Body, and Pockets with a Purpose – adds to the comfort it provides. It is a rainwear you would enjoy putting on during the storm due to its breathability and waterproof features.
Some users say this jacket runs a little small, so you may consider buying a size larger. While it is a good value, and it is well made, there is no storm flap or extra zippers. Users did say that it provides great protection and that they like the button down front. The color selection was nice, and the jacket is really light in weight, and is overall comfortable, with the perfect length for the sleeves. Overall, users loved this jacket.
PROS:
Breathes well
Many colors to choose from
Ripstop nylon shell
Related: You may consider some pants that will keep you dry while you hike or backpack. The Sierra Designs Hurricane Pant are made with 40 D nylon rip stop and have zippered pockets and an elastic waistband.
Concluding Thoughts
Figuring out the right rain jacket can be quite complicated. While remaining dry is the ultimate goal, features such as ventilation can make a great difference in the everyday use of the jacket. Knowing what factors to consider can give you an idea of what your ideal rainwear looks like enabling you to pick the right jacket for your backpacking venture.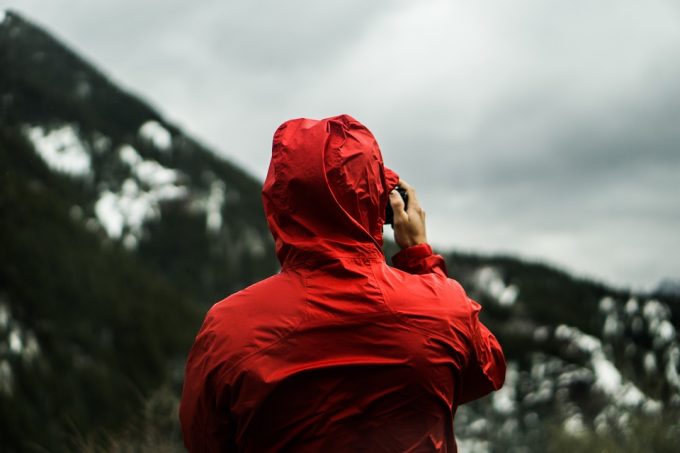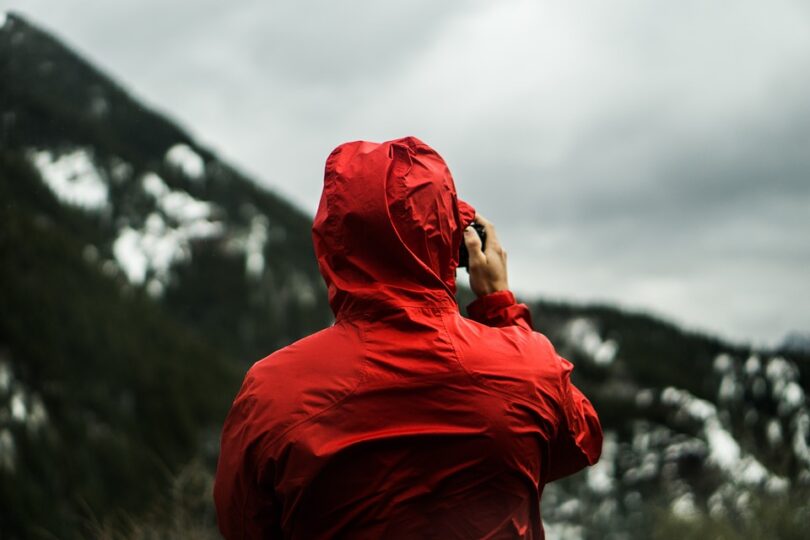 So, did you find this guide useful? Feel free to post your observations and opinions is our comment section. Our hope is that this article has helped you to narrow down to the jackets that meet your expectations. If you are still uncertain, you can share your suggestions below and we will be ready to respond.