Nobody wants to find themselves in a situation where they need an emergency radio. However, there are inevitable circumstances when you need one for survival, such as getting lost in the woods or being trapped in an unexpected storm.
An emergency radio can be considered as one of the most significant items in your survival kit. The challenge that you will face now is to get the best emergency radio among the rest. The emergency radio is crucial when you are blocked or isolated from the rest of the world, without electricity and all connections are cut.
Updates will be released and news will always be broadcasted, so it is important to be well aware of what is happening around you. The radio will keep you informed of whether the rescue team is coming and when they will arrive at your location.
Our Top Picks
Things to Consider Before Buying
You cannot get any emergency radio with the belief that it will do everything you need. Not all radios available in the market are developed equally. There are some features of certain radios not present in others, while some are equipped with extras. Keep track of the relevant details so you will be able to make an informed decision about which one to choose.
NOAA Broadcasting and Alerts
Consider the capability of the radio to receive broadcasting and alerts. If you are not in need of a local radio channel or anything similar, this radio would be more than enough for you. Some expensive products that can tune in to the other frequency bands can be very useful if you have need of it.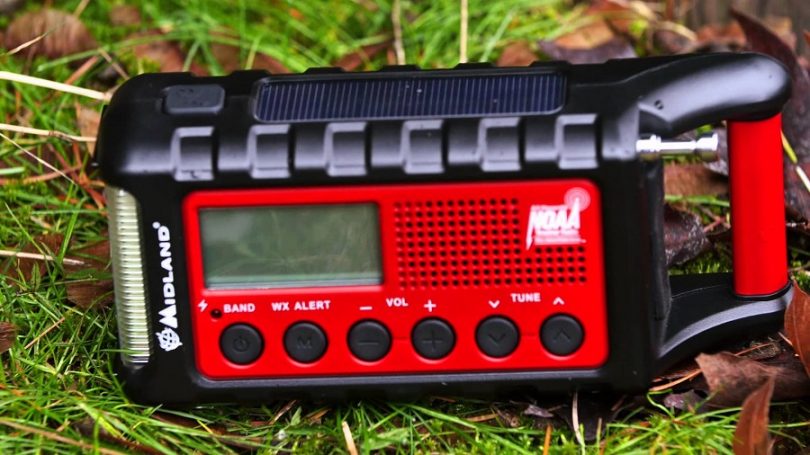 Find radios with specific labels such as "NOAA NWR All Hazards" and "Public Alert." These are the two most popular standards that are also competitive with each other. They also indicate that the radio can receive local alerts and broadcasts.
Specific Alert Message Encoding (SAME)
This indicates your capability to specify criteria to receive alerts for certain areas. You may want to receive alerts for your country, state, or city.
Support to Various Sources
Your selected radio must be able to support a variety of power sources as it consumes power rapidly and you may find yourself with a discharged battery hours since the start of any disaster.
Choose radios that support the use of an AC outlet, as well as battery charging. You should know that some radios support the solar panel charging, which can be regarded as a great concept when solar energy is available in your area.
Features and Add-Ons
Some of the add-ons and extras of emergency radios can be luxurious, while others are very beneficial; it all depends on your use. This can include radios with multiple power supply outlets and are useful in charging cell phones, computers and tablets. Solar panels can also be plugged in to recharge the radio.
Best Products on the Market
The ideal emergency radio has to work wherever you are during a crisis. Favor models that are high-performing as far as range coverage, signal reception and battery life are concerned. You should try as much as possible to avoid radios lacking specialized features.
We have picked for you the most recommended models in the market. These radios are equipped with the best features that you can think of, and without further ado let's get on with the reviews.
Eton FRX5 Weather Radio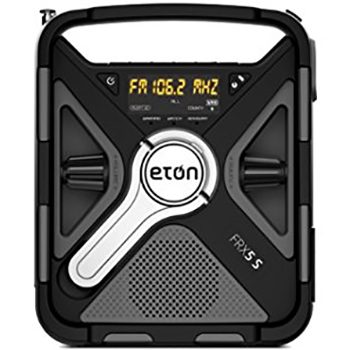 Price: Approx. $70
Weight: 1.4 pounds
Dimensions: 2.3 x 5.8 x 7.1 inches
Specific features: FM, AM, NOAA Weather band, NOAA and S.A.M.E. Weather Alerts, 5V 2.1A, USB output to charge other devices, digital tuner and display, high-efficiency solar panel that recharges internal battery in 5 hours, rechargeable lithium battery
Best use: Emergency conditions like natural disasters, weather alert, source of information and entertainment
Description: The Eton FRX5 Weather Radio from has everything you need to stay powered, keep informed and be entertained when power and other amenities are out. This radio is suitable for natural disasters or any threat associated with an incoming storm.
Its FM, NOAA and AM radio is equipped with a digital tuner to pull in local stations for an automatic emergency weather alert broadcast as reported or life-saving information. Its emergency system SAME technology allows you to input a unique code for your local area and get visual warning messages and audibly alerts when bad weather comes close.
Designed similar to a tank, it can survive, water, dust and rain, and keeps shining through the night with its adjustable light and more focused flashlight. Although some customers complain about the difficulty in reading the buttons found underneath its handle, many still consider it as an excellent radio that has efficient overall performance.
PROS:
Rechargeable lithium power guarantees continuous operation
High efficiency solar panel for recharging the internal battery
Keeps you entertained and informed by receiving AM/FM/NOAA weatherband
Digital tuner & display
Weather alerts keep you informed of the weather conditions
Hand crank power
The rugged design is IPX4 splashproof
CONS:
Labels and operating buttons are tiny
Rechargeable batteries are irreplaceable
Related: You should buy this radio along with the following items: Supply Cord Adaptor Charger and LifeStraw. The adaptor is quite handy for charging the radio, and the LifeStraw is necessary for drinking water in the wild.
Grundig S450DLX Deluxe Radio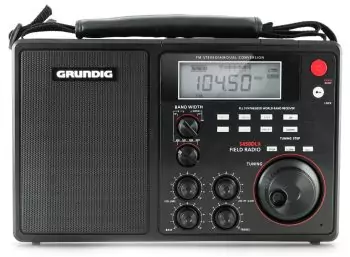 Price: $140 – $400
Weight: 3.6 pounds
Dimensions: 3.9 x 12.2 x 7.6 inches
Specific features: AM/MW, FM, SW, MCU Control and large LCD backlight display, individual MW 500 Ext./GND socket for ground and external antenna for MW sensitivity improvement, strong anti-interference, lower distortion, high sensitivity and low background noise, 50-station memory
Best use: Emergency conditions, weather alert, news, source of information and entertainment
Description: Superior FM/AM and international, shortwave and exceptional value are the primary features of Grundig S450DLX Deluxe Radio. It is powered by 6 D-cells using dual-conversion super heterodyne circuit design for long play time.
Events and news from across the globe and superior reception of your local FM and AM stations will be received. The radio is great for AM DXing enthusiasts. Its built-in sleep timer automatically turns off the radio; saving your battery in the instance you fall asleep.
It can also wake you up considering its dual alarm featuring snooze, sleep and wakeup functions. This device is perfect for operations at night with its handle that makes it very comfortable to carry.
You can adjust its full range speaker to control its treble and bass to your own preference. You may also fashion any loop antenna to get good AM reception. Be mindful though, as its frequency tuning tends to drift, making the radio vulnerable to external interference and noise.
Another negative feature of the device is the intermittent function of its bandwidth switches as time passes. Many users still consider GRUNDIG S450DLX AM/FM/Shortwave as the best radio for emergency purposes.
PROS:
It has continuous frequencies that range from 1711 to 29999kHz
Equipped with a micro controller unit as well as an LCD backlight display
A memory of 50 stations, each having 10 presets
Lower distortion and background noise
Strong anti-interference and high sensitivity
CONS:
Drifting of frequency tuning
Bandwidth switches stop and start at irregular intervals with age
Related: Other accessories that you can buy with this product are: Sangean ANT-60 Short Wave Antenna and Kaito T-1 Radio Antenna. We recommend these antennas for improving the reception and performance of your radio.
Kaito KA500 Emergency Radio

Price: Approx. $50
Weight: 1.8 pounds
Dimensions: 10.5 x 5.8 x 3.2 inches
Specific features: Various colors (yellow, red, black, green and blue), uses 3 normal AA batteries, solar panel, dynamo cranking power, USB port, built-in rechargeable pack
Best use: Emergency conditions, weather alert, news, transportation, outdoor events, source of information and entertainment
Description: The Kaito KA500 Emergency Radio is equipped with a revolutionary design and versatile functions, making it an ideal companion designed for outdoor activities, traveling and emergency preparedness. The radio provides you with varying methods of powering off itself, such as its AA batteries, built in chargeable Ni-MH battery, dynamo hand crank, which provides power and recharges its built-in battery.
Its internal generator recharges its internal replaceable Ni-MH battery pack to power itself, reading lamp and flashlight. You can use this radio in receiving extensive broadcasting that includes FM, shortwave, AM and NOAA weather stations.
Its distinctive 180-degree adjustable solar panel helps maximize its exposure to sunlight in order to power it up or to charge its internal Ni-MH batteries. The solar panel of the device powers itself and also charges its built-in batteries.
Most users note the efficient performance of its light and can tune in in a local station, which may be difficult to pull as well. The majority still refers to Kaito KA500 as a good emergency radio for those who are average users. Among its standard accessories are a user manual, earphones, and bonus different adapter tips to charge select models of Samsung, LG, Nokia and Motorola phones.
PROS:
Heavy duty design engineered from water and impact resistant ABS material
A suitable radio for outdoors, office and home use
High sensitivity reception
The inbuilt speakers deliver crisp and loud sound
It can function as an emergency mobile battery charger
The radio has a wide-ranging coverage of frequencies for alerts and entertainment
Six-way powered emergency radio
CONS:
The batteries have a low charge holding capacity
Related: Kaito also retails an AC Adaptor and T-1 Antenna for the Kaito series radios. We recommend the AC adaptor for efficient charging and the T-1 antenna for better reception and performance.
Midland ER310 Emergency Weather Radio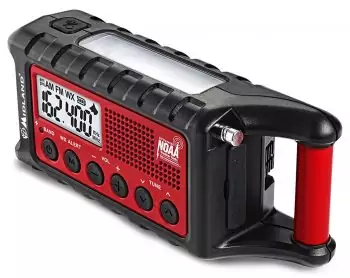 Price: Approx. $60
Weight: 1 pound
Dimensions: 9 x 2.8 x 6.5 inches
Specific features: Equipped with FM, AM, NOAA Emergency radio, solar power panel, ultrasonic dog-like whistle for the search & rescue teams, SOS flashlight beacon, replaceable rechargeable Li-ion battery that has USB output intended for portable device charging, 130 lumens cree LED flashlight
Best use: Emergency conditions, weather alert, news, transportation, outdoor events like camping and hiking, source of information and entertainment
Description: The Midland ER310 Emergency Weather Radio serves as a valuable tool for any emergency situation. This radio keeps you informed when your area is struck by a severe weather or civil emergency and alerts the search and rescue team about your whereabouts.
It can be powered through a hand crank, rechargeable lithium-ion battery or a solar panel to make sure that its function will last long. It can also be operated via power from six AA batteries, which can be considered as its back-up power option.
The Cree LED flashlight can serve as an emergency beacon that tends to flash SOS in its Morse code. Its emergency signal is beneficial in letting outdoor enthusiasts know the most accurate weather forecast for their activities.
Some users of this tool recommend its manufacturer to make it water resistant, as it will be imperative during storms. It should be workable and functional during strong winds with sprinkles of rain so you will be able to receive important weather updates.
PROS:
Ergonomic and user-friendly design; buttons are large and labels are visible
Integrated with solar power panel
Morse code is flashed by the SOS flashlight beacon
Rechargeable and replaceable 2600 mAh lithium battery
Charges portable devices through the USB output
CONS:
It is not integrated with S.A.M.E Code Tech
Tight battery fit
Related: This Midland Consumer radio is normally bought together with the UST 30-Day Lantern. We recommend this product since it will illuminate your night and you can still use the radio to recharge the lantern.
Sangean MMR-88 Emergency Radio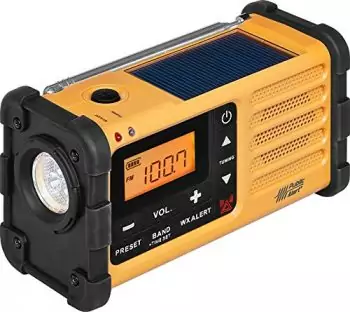 Price: Approx. $50
Weight: 13.8 ounces
Dimensions: 6 x 2.7 x 3.3 inches
Specific features: DSP Digital FM, AM, WX Tuner, bright backlit LCD display, 19 pre-sets (a mixture of AM/FM), public alert certified, USB A to Micro B cable, hand strap
Best use: Emergency conditions, weather alert, news, travel, outdoor activities like camping and hiking, source of information and entertainment
Description: You'll never have to worry when a storm is approaching, as the Sangean MMR-88 Emergency Radio allows you to listen to news, radio programs and music while keeping you safe with updated weather alerts and forecasting.
The emergency radio is a public alert certified radio that provides you with severe weather warnings. You can safely carry the radio with you, and comes with a built-in adjustable LED flashlight and a loud emergency buzzer. It is user-friendly and very versatile, since it is compatible with media players and USB devices.
There are different options of charging this radio, such as solar and hand crank, and USB-compatible devices can also be charged with supplied USB A up to Micro B Cable. It has been suggested to have more mounting options to improve its solar power charging capabilities while hiking.
The more significant selling point of this radio is the replaceable rechargeable battery. Of course, the original battery is not as efficient as you would have imagined. In actual fact, you may want to replace it sooner than later.
PROS:
The radio is Public Alert Certified for delivering weather alerts
Bright backlight LCD display
Mixed AM/FM with 19 presets
AM/FM/WX DSP digital tuner
Comes with useful accessories, including hand strap and A to B micro USB cable
CONS:
The original battery has poor charge holding capacity
Related: The items that are frequently bought together with this radio are LifeStraw and Survival Spark Magnesium Survival Fire Starter. These accessories are recommended for a survival situation.
Tecsun PL880 Digital Radio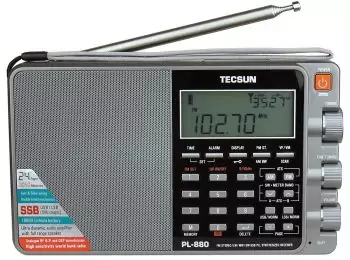 Price: Approx. $160
Weight: 1.1 pounds
Dimensions: 7.6 x 1.3 x 4.5 inches
Specific features: PLL synthesized digital dual conversion receiver, single 18650 lithium ion rechargeable battery with built-in charger, 4 and 5 selectable bandwidth filters on Single Side Band (SSB) and AM and single side band receiver with its 10 Hz tuning step, full coverage that includes longwave, AM/FM and shortwave with SSB, 24-hour alarm clock, sleep timer up to 120 minutes, ear buds, carry pouch, USB cable.
Best use: Emergency situations, weather alert, news, travel, outdoor activities, source of information and entertainment
Description: The Tecsun PL880 Digital Radio provides features that are not available in other radios within the price range and size. The radio comes with excellent ergonomics, as most of its functions are available at the press of a button. It has an extensive range of filters on SSB and AM. The single-supplied rechargeable battery offers lasting life.
Its sturdy carrying case has a dedicated pocket for its operating manual. TECSUN PL-880 also has drawbacks, such as lessened audio fidelity, and the use of an uncommon rechargeable battery. The battery charger seems to be noisy on short wave and medium wave if you are listening while it's charging.
However, beyond the drawbacks the radio is a highly sensitive receiver. For every 10 dB signal to noise ratio the radio has 1 Microsoft sensitivity specification. You will also admire its selectivity with exceptional noise filtering. Apart from the amazing receive the radio has a solid feel.
PROS:
Longwave/shortwave and AM/FM coverage
Built-in charger and a rechargeable battery
A very efficient receiver that has matchless selectivity and sensitivity
Sleep timer and 24-hour alarm clock
CONS:
Lessened audio fidelity
Uncommon rechargeable battery
Related: The accessories that are frequently purchased together with this radio are Sangean ANT-60 Shortwave Antenna and The WorldWide Listening Guide. The antenna will improve your radio reception, and you can use the guide for easy operation of the radio.
C Crane CCRadio-2E Radio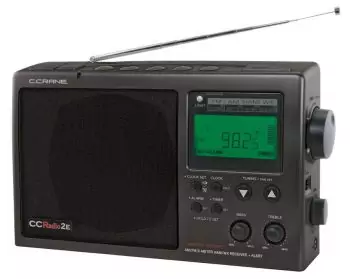 Price: Approx. $170
Weight: 5.4 pounds
Dimensions: 11 x 4 x 6.5 inches
Specific features: Emergency radio with state-of-the-art AM reception that has a built-in twin-coil ferrite antenna, provides alerts on the weather band, FM and 2-meter ham band, lifesaving information about natural disasters, sleep timer, display light, headphone jack, 5 single touch memory presets, alarm, clock
Best use: Emergency situations, weather or emergency alert, news, travel, am dxing receiver, outdoor activities like camping and hiking, source of information and entertainment
Description: The C Crane CCRadio-2E Radio aims to strengthen weak signals and deliver accurate audio. The AM performance of this radio is attributable to its patented traditional FM reception and Twin-Coil Ferrite AM Antenna, which is considered to have exceptional in terms of its ability in bringing a clear weak station.
You can adjust its audio for warm and accurate voice rendition as well as good musical performance. This device is selective and sensitive with internal and external antenna. It has a weather alert and band with 2-meter Ham band. However, it does not have external FM antenna input.
Some of those who have used this radio note that its twin coil ferrite antenna is not that effective when compared to the other decent shortwave radio. The overall performance of this radio is described by many users as wonderful.
You should not pay attention to the few faulty features that most users have reported based on the performance. Basically, there are more than one variable that impact the performance, such as local interference (computer networks and TV signals).
PROS:
The radio's AM reception is remarkable
Ergonomic and portable design
2-meter ham band delivers useful info on natural disasters
Reliable and long battery life
Equipped with handy features, such as display light, headphone jack, sleep timer, alarm and clock
The weather band delivers NOAA government distributed alerts
CONS:
Frequency input is an issue, you have to press the UP/DOWN buttons
FM antenna performs poorly
Related: This radio has been bought together with other numerous accessories, but we mostly recommend antennas for better signal reception. The popular ones are Terk Indoor AM Antenna and Sangean ANT-60 Short Wave Antenna.
Sony ICF-SW7600GR Receiver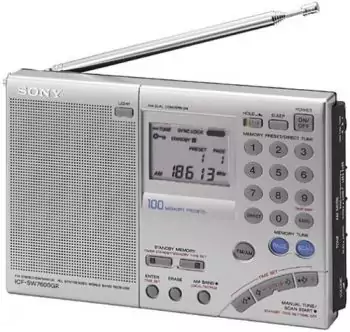 Price: Approx. $200
Weight: 1.4 pounds
Dimensions: 7.5 x 1.2 x 4.8 inches
Specific features: MY-memory tuning that scans and memorizes as much as 100 frequencies, a PLL digital tuner that receives MW/AM, FM, longwave, shortwave, World clock as well as dual clock function and built-in timer, label presets in six alphanumeric letters, 4 tuning methods that includes manual, preset, scan and direct
Best use: Emergency situations, weather or emergency alert, news, travel, outdoor activities like camping and hiking, source of information and entertainment
Description: The Sony ICF-SW7600GR Receiver has been proven by its users to have a solid performance on all its bands. The radio features a very simple design 100 easy to use memory scan-abled presets.
It has the most operational synchronous sideband of portable device that offers you with single sideband reception using its USB/LSB switch. Its sleep timer can be turned off, while its adjustable attenuator and tone switch to provide superb functionality.
According to some users, the radio has a mediocre audio through its internal speaker, does not have automatic tuning storage, its keys wear out as time passes, has a single bandwidth, and more expensive than other radios.
There is also a difficulty in using its sideband fine tune wheel with precision. The complaint regarding its warbling audio when sync detection circuit is used on AM can be easily fixed as the problem is caused by dirt in the SSB fine tune pot.
Most of its users are still convinced on the great performance of Sony ICF-SW7600GR AM/FM Shortwave based on its price range. In fact, many have the same sentiment that this brand of radio is well worth your financial investment.
PROS:
Ergonomic and user-friendly design; control buttons and digital display are highly visible
PLL digital tuner does effectively receive longwave, shortwave, MW/AM and FM
Alphanumeric dial pad for easy input
Multiple tuning techniques, including preset, scan, manual and direct
Built-in timer, dual clock functions and World Clock
Related: For a longer radio time, especially in cases when you need to hear what is going around you, we suggest getting the Tecsun PL880 Lithium Rechargeable Battery, and the Goal Zero Nomad 7 Solar Panel so that you are powergrid independent.
Wrapping It Up
During times of disaster or survival situation, you will first want to find out what's happening. There's no better way of receiving valuable information on disasters and weather conditions than emergency radios. They remain the most reliable way to learn of what is unfolding. In our modern world, the above mentioned emergency/weather radios fill the unique role.
Did you manage to find the ideal emergency/weather radio in the list we provided? Are you pleased with its features? Do you think it will meet your expectations in the field? Please share your thoughts with us in the comments below.