Binoculars are among the most accessible and most widespread of all optical gadgets and virtually every individual who loves engaging in outdoor escapades owns or should own one of these. The best compact binoculars are almost a necessity for the hiker, hunter, astronomer, boater, sports fan, saltwater fisherman, and experienced traveler.
Hiking binoculars need to be compact and light so they can fit comfortably into your carry-on luggage or pocket. This is the point where a compact roof prism kind comes to mind. Excellent light grasp might be sacrificed for portability, since hiking and travel binoculars are mainly used during the daylight hours.
Magnification should permit handheld viewing as aids to support will be far between (something between seven and ten power would be an excellent choice). A high optical quality will be instrumental in making up for the limited light-gathering ability.
Keep in mind: Compact binoculars from theoptics.org are manufactured to provide a correctly-oriented right side up view. This aspect makes the gadgets ideal for terrestrial viewing, and for locating moving objects up in the night sky. An excellent pair of binoculars is a handy accessory for the hiker, birder, traveler, and nature lover.
Our Top Picks
So whether you intend to get a perfect view of a buck across a canyon or local wild animals in the mountain ranges, the right compact binoculars are often indispensable. We believe this article will serve as a guide for you in getting the right pair for you!
Features To Consider
If you have been desiring to get a new set of small binoculars to supplant your full frame binoculars or an obsolete set of set binoculars, then give careful consideration to the information beneath.
Ideally you will be able to utilize the information beneath to locate your next pair of binoculars without stress, choosing the correct pieces of gear for your particular needs.
Magnification
Every binocular has two numbers written somewhere on the gadget (usually on the surface of the focus wheel or any part of the binocular) – for instance, 8 x 42 (pronounced eight by forty-two) or 10 x 42. The first of these figures is the magnification of the binoculars while the second is the objective lens diameter.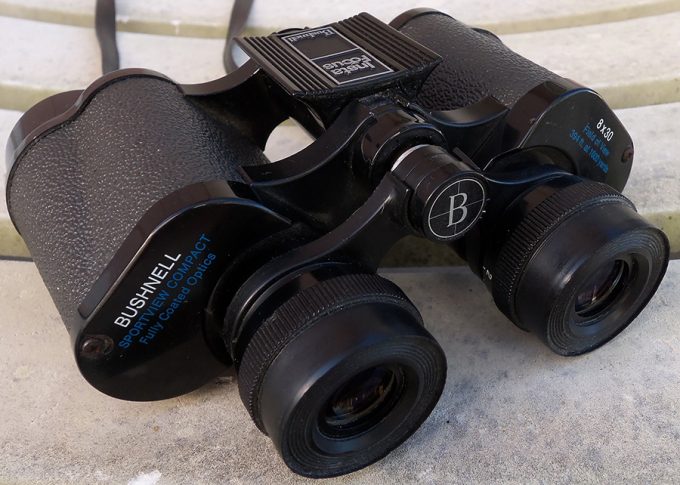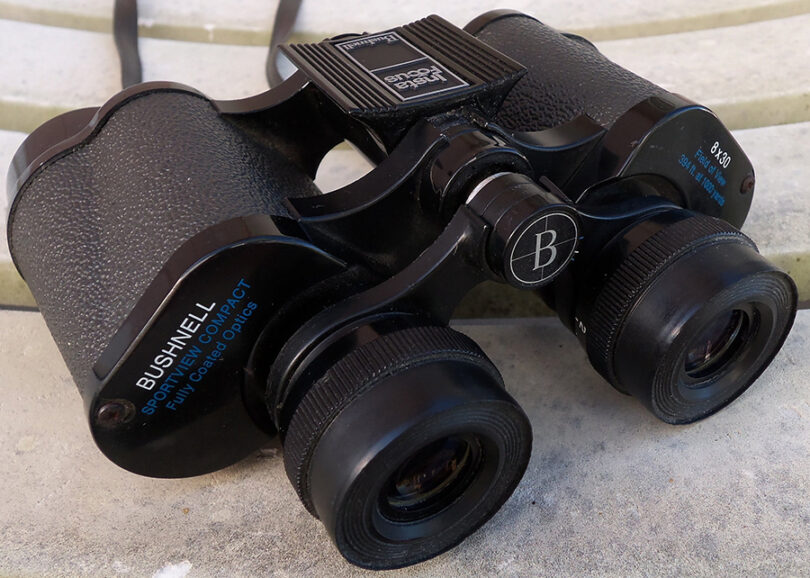 The rating of the magnification lets you know how much bigger the gadget will make objects appear – or from a hiking enthusiast's perspective, how much closer it will get you to your destination. People often assume that a higher magnification is better than a lower one.
It is important to note that this is not necessarily true. While a higher magnification will bring objects closer and increase the detail of what you are viewing, it comes with some tradeoffs which make them less ideal for your adventures.
When looking for a pair of binoculars, it is imperative first to try out different options to ascertain the magnification that will best suit your needs. If you intend to do long distance observations, a higher magnification would be ideal for you.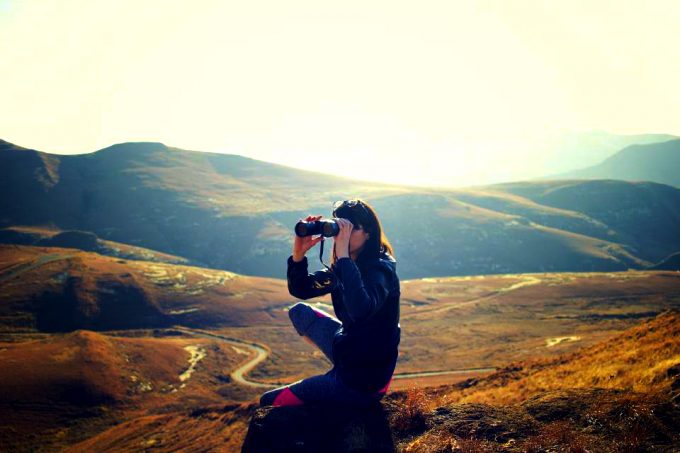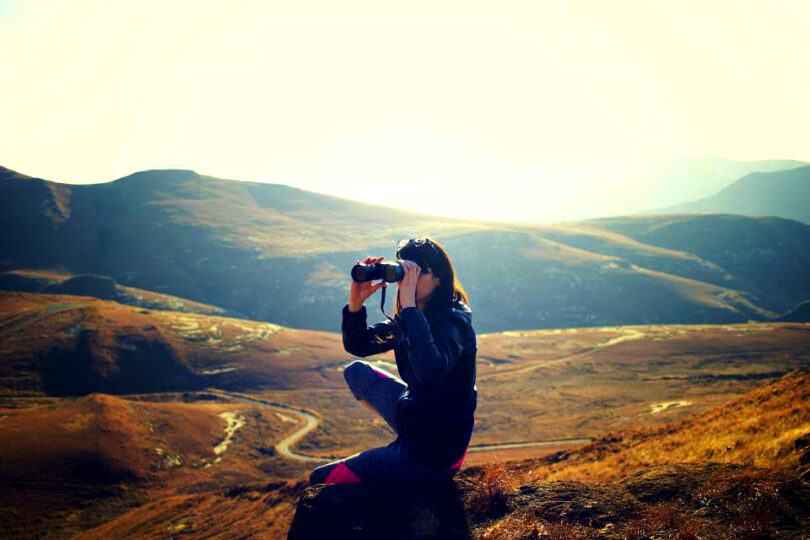 However, if you plan to do a lot of scenery and wildlife watching, or are intending to go on a hiking escapade, a wider field of view such as an 8x magnification may suit you better.
Waterproofing And Sealing
For all your hiking expeditions, you want a waterproof binocular to give you some piece of mind when using the optics across different conditions. Most compact binoculars on the market are waterproof and purged with an inert gas to eliminate fogging and drive out water vapor.
Waterproof binoculars not only guard against wet condition but also ensure sand, dust, and other dry particles cannot get into the binocular. You would want to ensure that the binoculars you purchase are sturdy enough to withstand the rigors of field use. Moreover, it should be argon or nitrogen purged and fully waterproof.
Binocular Housing
Binocular Housing is another critical feature worth having in mind. With these gadgets, durability is important. Most compact binoculars use a high-strength housing which protects and holds the entire system and gives it heft, shape, and balance. The housing typically consists of polycarbonate, Aluminum alloy, and Magnesium alloy.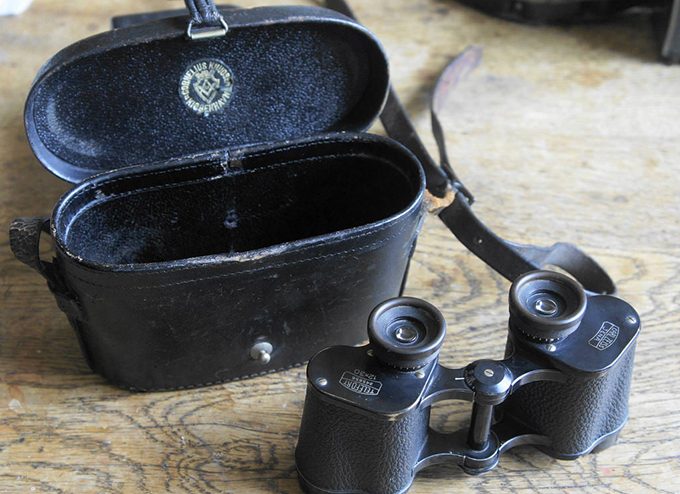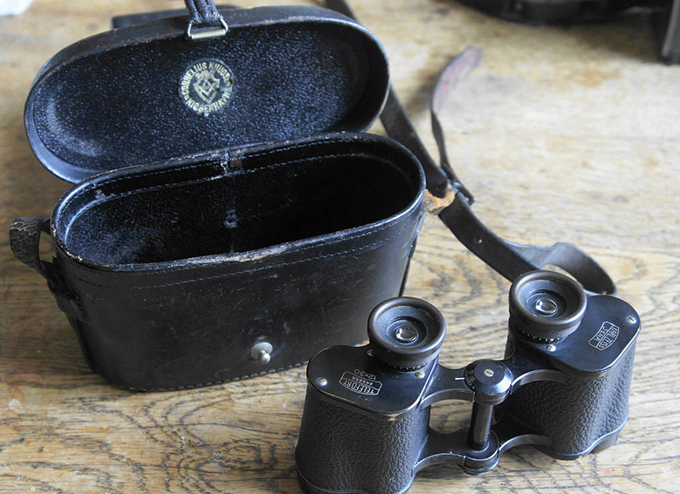 In addition to the above, modern binoculars are made from protective rubber armor to improve grip and protect it from minor impacts. When in a hiking expedition, you would want to acquire a compact binocular that is well-built, strong, and with a firm grip.
Field Of View (FOV)
This is a term that is used in describing the field extent visible when you look through the binoculars. The field of view is commonly expressed as an angle of view or as a measurement of meters. For hiking expeditions, a broad view is suitable as it makes it possible for a person to scan large areas and makes object identification much easier.
An adequate FOV is important, but a super-wide FOV is not necessary as its achievement is attained at the expense of other features that are more critical. It will be reasonable to look for a relatively wide FOV which still offers a high image quality.
Lens and Prism Coatings
Coatings improve the performance of any binoculars. Today, almost all binoculars will have some anti-reflective coating on the air-to-glass surfaces to enhance the transmission of light, enhance resolution, compensate for the aberrations in optical designs, and enhance contrast and fidelity.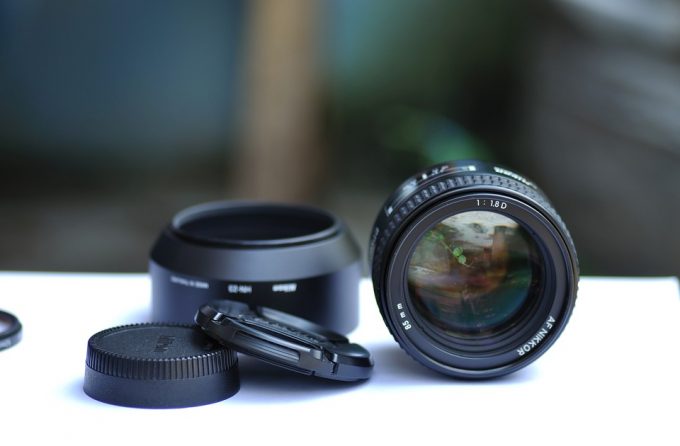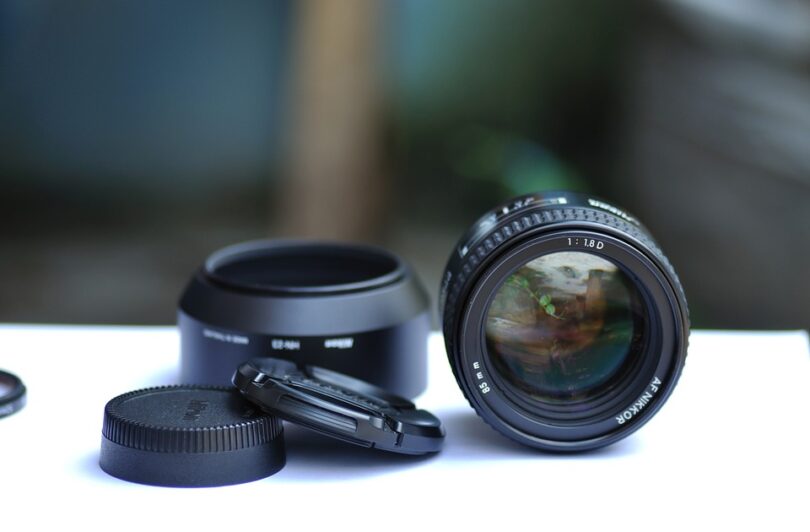 The quality of these coatings varies greatly, but broadly speaking, they are classified according to their quality. Classifications include coated, Fully-coated, Multi-coated, and Fully-Multi-Coated.
When going on a hiking expedition, always pick a fully-multi-coated optics. If you are considering roof prisms, search for the phase corrected prism coatings as well as the silver mirror coatings if your budget allows. If you are shopping in the high-end market segment, look for protective lens coatings to guard the external lens surfaces.
Top Product Reviews
With a broad range of binoculars available in the market, it is imperative to select the best. Now, for one to choose the right gadget, it is necessary for them to evaluate the options available.
The gadgets available vary according to specs and dimensions, and for that reason, before you can decide what to buy, you need to be certain about the features you are looking for in binoculars. The following reviews can be beneficial when you are in need of acquiring a gadget for hiking expeditions.
Alpen Wings ED Binoculars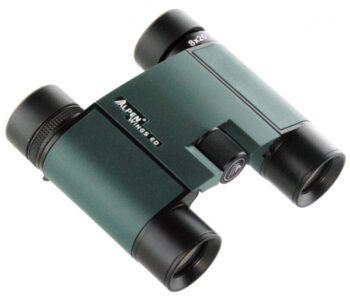 Price: Approx. $400
Weight: 3 pounds
Dimensions: 3 x 13 x 9 inches
Specific features: BaK4 high index glass, waterproof sealed, and nitrogen filled, long eye relief for a wide field view when wearing glasses, open hinge lightweight body design, comfortable neck strap, and a deluxe travel bag, fully multicoated for maximum brightness, alpen's lifetime warranty
Best use: Bird watching, scenery viewing, hiking expeditions
Description: The Alpen Wings ED Binoculars are compact, lightweight, rubber-armored, with stable right-eye adjustment and strong twist-out eyecups.
These gadgets seem to be exceptionally designed. But what is amazing about these binoculars are their light-gathering ability and sharpness. They are simply amazing at their price and equal to the costly gadgets out there.
Overall, you will enjoy using this device. Its minimal weight and double-hinge design makes it comfortable to use. The image is sharp and bright. Focusing is precise and smooth.
Most of the peripheral aspects are simple and functional, with most of them exceeding expectations. On the whole, the Alpen Wings ED Binoculars offer a lot of options including high-performance features at a relatively affordable price.
PROS:
Conveys an ergonomic, lightweight design
Sharp optical performance
Super bright
Amazing ED optics
Superior viewing
CONS:
The edge of the field of view should have been sharper
Transmission could have been much higher
Related: if you are the type that wear glasses while using binoculars, the ALPEN Shasta Ridge Waterproof Fogproof Binocular is perfect for you.
Nikon 7576 Monarch 5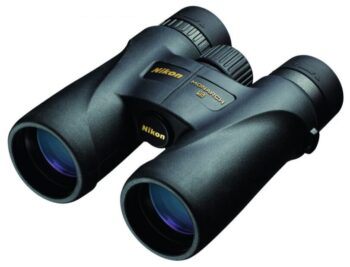 Price: Approx. $300
Weight: 1.3 pounds
Dimensions: 5.7 x 5.1 x 2.4 inches
Specific features: Turn-and-slide rubber eyecups, flip-down lens caps, smooth central focus knob, extra-low dispersion ed glass for a clearer, sharper and brilliant field of view, fully-multicoated eco-glass, waterproof and fog proof, rubber armored body
Best use: Bird watching, scenery viewing, hiking expeditions
Description: The Nikon 7576 MONARCH 5 binocular is built with Nikon extra-low dispersion glass lenses to give you a clearer, sharper, and an excellent field of view. The state-of-the-art optical components provide high-contrast views.
With a Dielectric High-Reflective Multilayer Prism Coating, this device will give you exceptionally accurate and clear color themes, as well as natural looking images.
The availability of MONARCH 5 in different specs of 12×42, 10×4, and 8×42 will give the user three magnification options to choose from.
The gadget employs Nikon's high-eye point feature to give you long eye-relief and a clear field-of-view.  A long eye-relief ensure you get sufficient space between the eye cups of the binoculars and your face, creating the comfort needed even when you are wearing eyeglasses.
Built for extreme usage, the Nikon 7576 MONARCH 5 8×42 Binocular is O-ring sealed, and Nitrogen filled, making it completely fog proof and waterproof. A rubber-armored coating gives the gadget its durable character and ensures a firm grip during dry and wet conditions.
PROS:
100 percent waterproof and fog-proof
Provides greater reflectivity
Lightweight, tough, with a rubber-insulated body
Has long eye relief
Has completely multi-coated lens for splendid and clear pictures.
Greater light transmission.
CONS:
Low quality lens caps
Lens caps can tumble off easily
Related: If you need a binocular that conveys impressive ergonomics and image quality, you can check out the Nikon 7548 MONARCH 7.
Celestron 71404 Trailseeker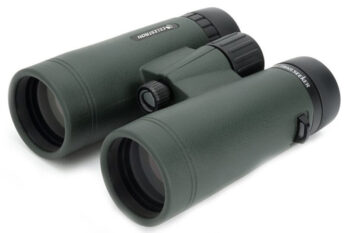 Price: Approx. $200
Weight: 1.4 Pounds
Dimension: 5 x 1.8 x 4.9 inches
Specific features: Magnesium alloy body, bak-4 prisms with dielectric and phase coatings, fully multi-coated optics, extremely wide field of view, 6.5' close focus
Best use: Bird watching, scenery viewing, hiking expeditions
Description: The Celestron 71404 TrailSeeker binoculars offer high-level outdoor performance for hikers, hunter, and birders. This superb optical quality gadget is available at an economical price.
The Phase and dielectric layered BaK-4 prisms greatly increase the transmission of light via the prism system for unchallenged views and image quality. Compared to other binoculars within its price range, the TrailSeeker provides the user with a better close focus and a wide field of view.
The magnesium alloy frame is lightweight, robust, and fully waterproof, making it suitable for use in any weather condition.
PROS:
Durable magnesium compound case
Waterproof and nitrogen filled
Lightweight and convenient
Extremely Wide field of view
Incredible performance in low light
Amazing design
Comparatively cheap price
CONS:
The binocular comes only in green color
Related: if you are a beginner or intermediate user and you want a feature-packed and affordable binocular, you can check out the Celestron 71332 Nature DX Binocular.
Athlon 113004 Midas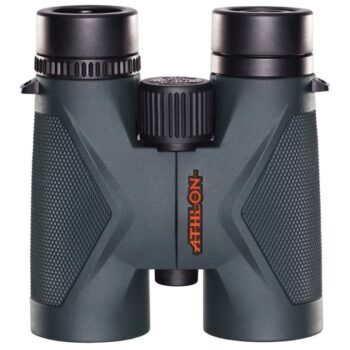 Price: Approx. $290
Weight: 1.6 pounds
Specific features: ED Glass for clearer and sharper images, esp dielectric coating for accurate color reproduction, advanced fully multi-coated lenses for true color and optimum brightness, argon purging for thermal stability and waterproofing, phase corrected prisms for a higher resolution
Best use: Bird watching, scenery viewing, hiking expeditions
Description:  The Athlon 113004 Midas binoculars are slim and light thanks to their magnesium chassis. With High Definition Glass lenses, high-quality BaK-4 prisms, Advanced Fully multi-coated optics, the Midas binoculars offer maximum light giving you brilliant color fidelity.
The shockproof, waterproof design, as well as the rubber armor, are all incorporated for use in any weather condition. No matter the situation, this gadget offers a clear outlook. Other enhancement designs include the XPL Lens coating that guards the exterior lenses against dust, scratches, and anything else from Mother Nature.
The Midas binoculars are smooth and comfortable in small hands. They are sturdy without being unwieldy. The focusing is easy and smooth. Additionally, they are very bright in low light.
PROS:
Huge 50mm target lenses assemble a gob of light.
Gripping the edge of the casing makes them convenient to grab and prevent any slipping
Great build quality
CONS:            
Glass comes up short.
Target side lens tops are basically useless.
Related: if you are looking for a high quality model in similar price range, you can check out the Athlon 113003 Midas.
Vanguard Sprit ED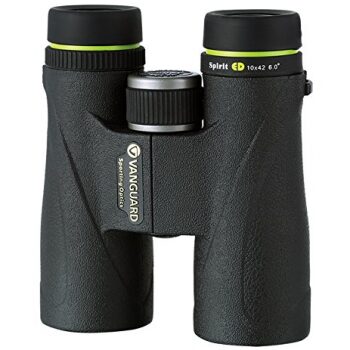 Price: Approx. $200
Weight: 1 pounds
Dimension: 6.4 x 8.8 x 3.2 inches
Specific features: 100% fog proof and waterproof, ed glass for superior color reproduction, two stage twist out eye cups with extended eye relief, fully multi-coated lenses and bak4 phase-coated prism, advanced lens coatings, lightweight, ergonomic design with large, precise focus wheel, a premium lifetime warranty, 10x magnification, objective lens diameter of 42mm, 6 degree viewing angle, 314ft/100 yards field of view, 9.2 feet near focus, 16 mm eye relief
Best use: Bird watching, scenery viewing, hiking expeditions
Description: The Vanguard Sprit ED binocular boasts a remarkable ninety percent light transmission! This implies brighter colors, brighter sight picture, and vivid details.
In short, with the Spirit Binoculars, you see the natural image as it is. All this is experienced is a lightweight, comfortable package that is always ready for a tour into the mountains.
The Premium ED glass limits the dispersion of color enabling more natural image to reach your eyes. The P2 phase coating is specially designed to give you a true color reproduction and enhanced image clarity.
PROS:
Very portable
Lightweight yet powerful construction
Great ergonomics
Great list of optical features
Splendid, clear view with amazing sharpness
Good low light performance
Great general field of view
CONS:
Very aggressive focus
Adjusting the image can be distracting, particularly while panning
Sometimes a bright "radiance" impact shows up around the outskirts of the round field of view.
Related: if you want a binocular that gives high performance features at a reasonable price, you can check out the Vanguard Endeavor ED 1042 Binocular.
Bushnell Legend Ultra HD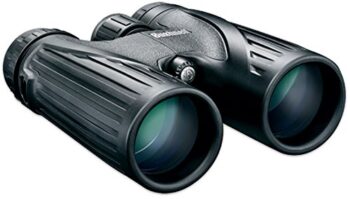 Price: Approx. $200
Weight: 1.54 pounds
Dimension: 8.75 x 9.25 x 4.25 inches
Specific features: Ultra wide band coating, ed prime glass, rainguard hd water-repellent lens coating, long eye-relief, ultra wide field-of-view, waterproof and fog proof, locking diopter, soft touch grips, includes soft carry case, a microfiber bag, and a neck strap
Best use: Bird watching, scenery viewing, hiking expeditions
Description: The Bushnell Legend Ultra HD binocular is possibly the best system of binocular made in this optics class.
The Legend Ultra-High Definition has 3 key components that make it amazing; the Extra-low Dispersion Glass that produces a high resolution image, an Ultra Wide Band Custom Coating that gives you the brightest light by coating every lens individually to maximize light and the RainGuard HD.
The Legend ultra-HD also provides an extremely wide field of view which enables easy viewing of moving objects. It is also streamlined and lightweight.
PROS:
Highly durable
ED prime extra-low dispersion glass
Works in all situations
CONS:
It takes time to sight
The carrying case is somewhat large
Related: if you are the type that do spend time on the water and you need a waterproof binocular, you can check out the Bushnell H2O Waterproof Binocular.
Carson 3D Series HD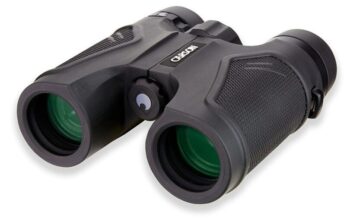 Price: Approx. $270
Weight: 1.44 pounds
Dimension: 5 x 5.5 x 2 inches
Specific features: ED glass, hd optics, rubberized armor coating, waterproof and fog proof, 8x magnification with 42mm objective lens diameter, includes a binoarmor deluxe carrying case, shoulder harness, neck strap, and lens cloth
Best use: Bird watching, scenery viewing, hiking expeditions
Description: The Carson 3D Series HD binoculars combine an HD optical coating and ED glass to provide you with the clearest and brightest image possible.
The 3D Series Binoculars with an ED Glass is suitable for use as a birding or hunting binoculars. A Rubberized armor coating makes the gadget rugged and shock proof. The O-ring seal and the Nitrogen purge make them fog proof and waterproof.
The exactly placed thumb grooves, all over the lightweight body, and "just right" body ergonomics makes the Carson 3D Series HD Waterproof Binoculars perfect for hiking, bird watching, or hunting expeditions. It is also suitable for sporting events and other outdoor activities.
PROS:
Ergonomic thumb grooves
Waterproof and fogproof
ED glass focal points
CONS:
Edge resolution could be much better
A bit costly
Related: if you want a portable binocular for your hiking, birding, camping activities, you can check out the Carson Vp Series Full Sized And Compact Binoculars.
Carson VP Series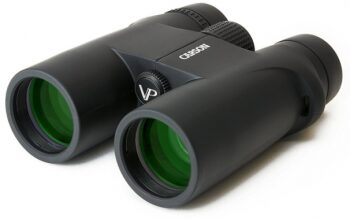 Price: Approx. $150
Weight: 1.55 pounds
Dimension: 5.0 x 5.75 x 2.0 inches
Specific features: 8x magnification and 42mm objective lens diameter, a field view of 393 ft. at 1,000 yards, 17mm eye relief, 6.6 feet minimum focus distance, fully multi-coated and phase coated, fog proof and waterproof, backed by carson's warranty
Description: The Carson VP Series binoculars are high-quality gadgets for a great value. The Carson VP Series all waterproof and fog proof, phase coated, and comes in full and compact size to meet all your needs.
These stylish and sleek binoculars feature the BaK-4 Prisms, and multi-coated optics for sharp, crisp and crystal clear viewing.
This choice of binoculars is suitable for hiking, camping, birding, concerts, sporting events or any outdoor activities.
Each of the VP Series comes included with a neck strap, a pouch, a lens cloth and lens cover. The Carson No Fault, No Hassle Warranty ensures that your binoculars are repaired in case they are damaged.
PROS:
Compact
Versatile
Powerful
Affordable
CONS:
Overpowered unless accompanied with good solid rest, base, tripod
Require bright light
Related: Do you want a similar manufacturer's product? If yes, then you can check out the Carson 3D Series HD Waterproof Binoculars
Concluding Thoughts
The world of compact binoculars is huge and always evolving. No matter what you may be using them for – from hiking expeditions to a night at the opera to comet watching to hunting on mountain ranges – there is something for every individual.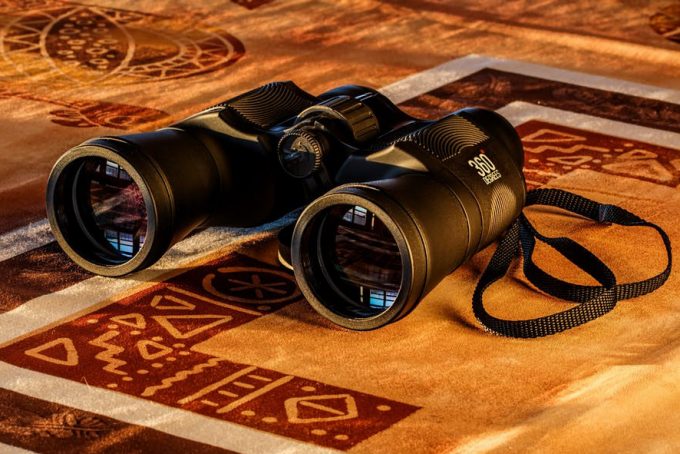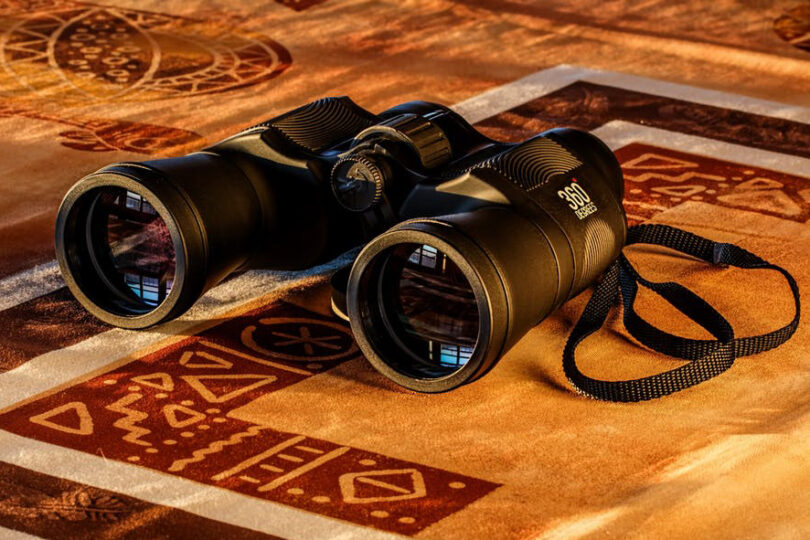 After making your selection, do not forget to pick the right accessories to enhance your viewing experience and transform a good view into a perfect one.
In all these, it is important to remember that the best compact binoculars are those that fit your budget, offer crystal clear image capabilities, and are an excellent match to the application intended for the new binoculars.
Now that we completed our review, is there a great product that we missed? We're looking forward to your comments and adventure stories related to binoculars.