Are you thinking about purchasing the best cooler bag you can find, for your next camping trip or football tailgate? If yes, you are in the right place! For those who didn't know, cooler bags have a wide variety of uses from picnics to hiking, to road trips and much more.
However, depending on what you're using it for, you might need it to have certain features specific to you. Cooler bags can be used for keeping food cold or hot, but are most often used for keeping both food and drinks cold.
Depending on how many people you're hosting at your tailgate, or how many days you will be camping without access to fresh ice, will determine how big a cooler bag you need or how good the insulation needs to be to keep your ice cold for more than a few hours.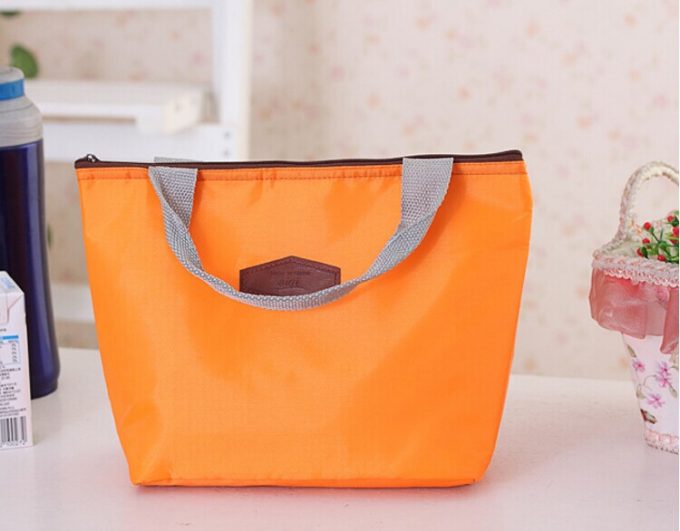 Take the time to consider what your cooler bag uses will be before you start shopping. Now, since you are reading this, it is obvious that you want to choose the best model, but with so many on the market, it can be confusing and overwhelming to sort through them all, right?
Well, we did the research for you and found the best cooler bags, highlighted their useful features, and summed up the product descriptions for you to help you make your decision about which cooler bag is best for you. Not sure which features are most important?
We outlined them for you. Can't find the weight or dimensions of a specific cooler bag? We scoured websites to find that information. The best cooler bags are listed here; all you have to do is pick one.
Our Top Picks
Features to Consider Before Buying
If you frequently enjoy outdoor activities and sporting events, then you might be considering the purchase of a cooler bag to take with you to keep food and drinks cold. Cooler bags are useful for hiking, camping, picnics, tailgating, family travel, and much more.
Before you purchase a cooler bag, it's important to consider some key features that might be important to you, or most useful for your specific needs. If you'll be using your cooler bag outside, then portability and insulation are probably most important to you.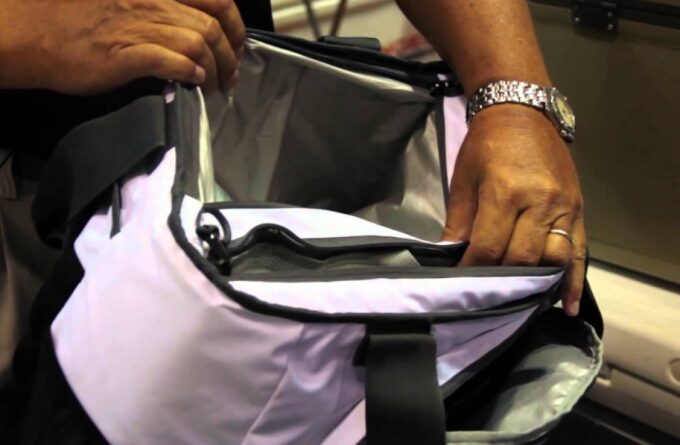 For frequent tailgaters and road trippers, dimensions and leak protection might be a priority. Consider what you'll be using your cooler bag for and consult our list of important features before making your cooler bag purchase.
Weight
With all of the added contents, you'll be putting into a cooler bag (ice, cans of drinks, food, etc.), you want to select a cooler bag that is light in itself. Heavy cooler bags add unnecessary weight, making a cooler bag less portable, especially if you need to carry it yourself.
Dimensions
The dimensions of a cooler bag are important to consider so that you choose a cooler bag of the right size for your needs. Will you be using it only for yourself for a day out fishing or is it for transporting drinks and food to a tailgate for 20 people? Consider what you'll be using it for and select the appropriate size.
Portability
Consider how portable your cooler bag is before making a purchase. Cooler bags aren't regular cooler bags with wheels and handles that you can easily pull around. You will likely have to carry it yourself and want it to be lightweight and comfortable.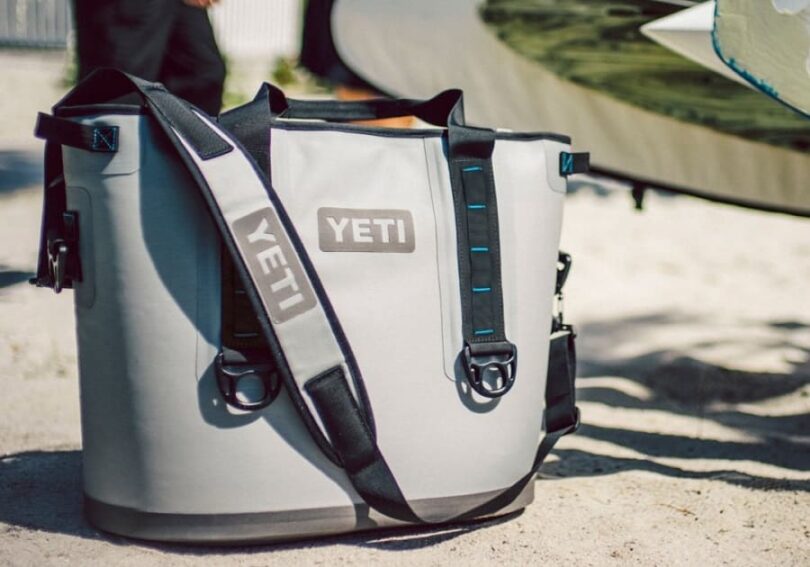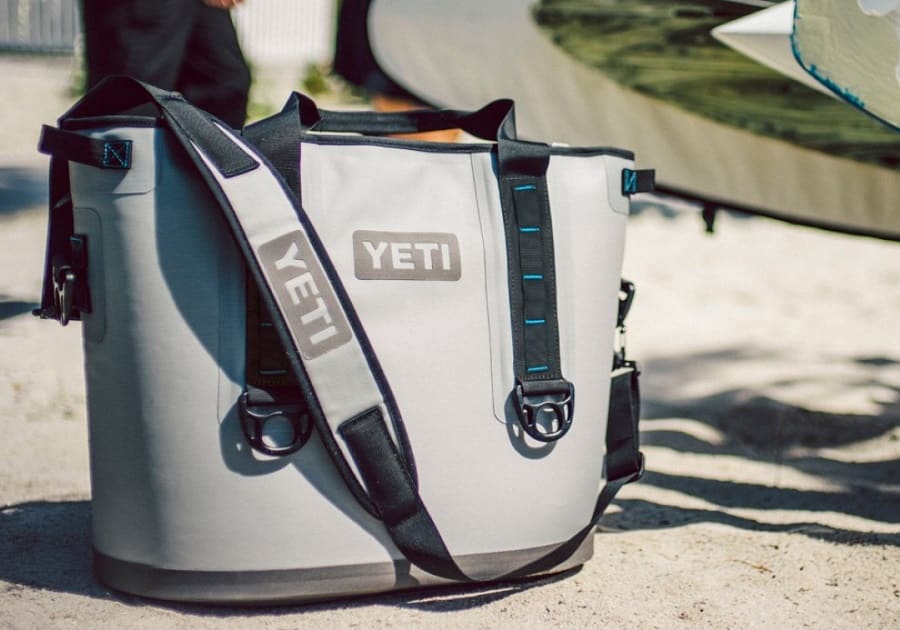 Look for elements like an adjustable strap, padded strap, and how hard the outside of the cooler bag is. A softer bag and padded strap will make a cooler bag much more comfortable if you are carrying it over your shoulder.
Durability
Depending on what you will be using your cooler bag for, you need to consider how durable it is. Will you be simply putting it in the back of a car to take to tailgates or will you be transporting it through rough conditions on hikes or using it for several days at a time while camping.
You want your cooler bag to be durable to outside conditions like the weather and rough ground. Also consider the durability of the inside of the cooler bag. Select a bag with a liner that won't tear easily when exposed to ice or sharp objects like bottle caps and food containers.
Leakproof
Your cooler bag will be used mostly to keep food and drinks cold, so it's important that your cooler bag is leak proof.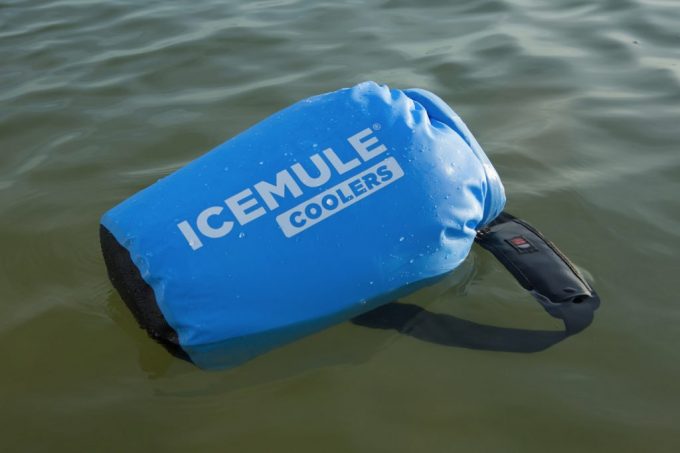 You don't want ice melting and spilling out through the zipper or a thin liner so read reviews and product descriptions to determine if a cooler bag is really leakproof before purchasing.
Is it easy to clean?
You'll be constantly filling your cooler bag with drinks and food that can spill on accident, which means you'll have to clean it regularly. Choose a cooler bag that is easy to clean based on features like the size and the kind of liner used. Larger coolers will be easier to clean and removable liners make clean up a breeze.
How long does it hold the ice?
If you will only be using your cooler bag for a few hours at a time at a tailgate or sporting event, then this might not be an important feature for you to consider.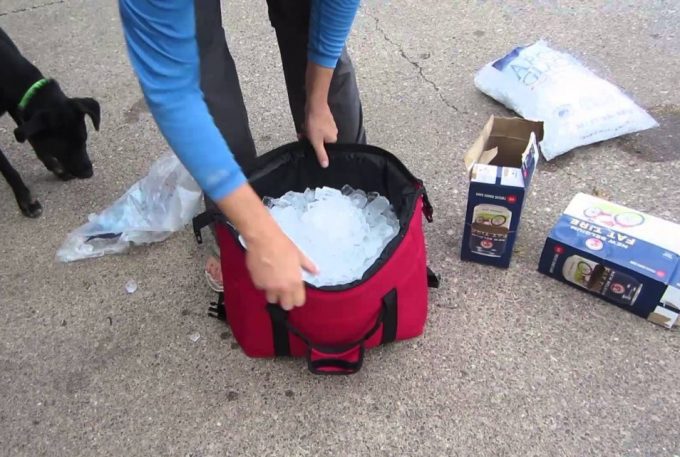 However, if you will be using your cooler bag for several days at a time on a hiking or camping trip without regular access to fresh bags of ice, then you need a cooler bag that can keep ice cold for more than a few hours.
Insulation
Insulation makes a big difference in how well your cooler bag will keep food and drinks cold or hot. Choose a cooler bag with good insulation technology that will keep food and drinks cold for more than just a couple of hours and read reviews to determine how good the insulation really is as compared to the product description.
Warranty
A warranty isn't a necessary feature but it's certainly an added benefit if your cooler bag comes with a warranty, especially if you purchase an expensive cooler bag. Accidents happen and normal wear and tear can make liners and insulation less effective over time, so consider what protections you have against these kinds of damages.
Top Product Reviews
Now the fun begins! Here are several reviews for you to look into when you are in the market for a cooler bag. Look at all of the features these products have and decide which are the best for you and your adventures!
Yeti Hopper Portable Cooler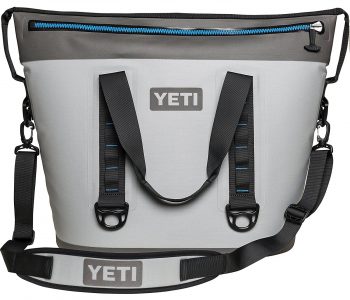 Price: Approx. $300
Weight: 9.9 lb
Dimensions: 24 x 19 x 13 inches
Specific features: Leak proof, dryhide shell, hydrolok zipper, keeps ice cold for days
Best use: This is best for hikers and campers who enjoy rugged adventures and need to carry a cooler with them for foods or drinks.
Description: The Yeti Hopper Portable Cooler is 100% leak proof and features a puncture-resistant DryHide Shell to keep your cooler safe, in the most rugged conditions.
The Hydrolok zipper will keep the cold in, and the heat out, to keep your ice cold for days at a time without having to replenish it, a huge benefit for anyone who will be hiking or camping for several days. This cooler can haul 20 pounds of ice or 18 cans with a recommended 2:1 ice to content ratio.
This Yeti cooler comes in two colors; Fog Gray with Tahoe Blue and Field Tan with Blaze Orange. Both are stylish and easy to use and include straps and zippers for attaching items or just throwing it over your shoulder to carry.
Users love this portable cooler because it is not only stylish and good looking, but it is light in weight and easy to carry due to the straps.
PROS:
Easy to carry
Light in weight
Puncture-resistant
CONS:
Expensive
Zippers can be hard to use
Related: The Yeti Ice will work as an added measure in keeping your food or drinks cold for a longer period of time. Plus, it's break resistant!
Mojecto Large Cooler Bag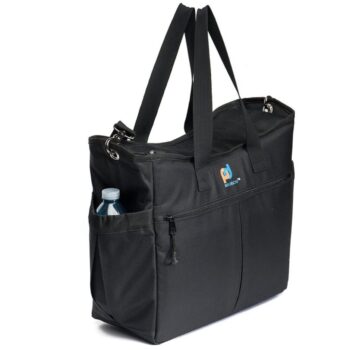 Price: $30 – $40
Weight: 2.2 lb
Dimensions: 15 x 12 x 9 inches
Specific features: Lifetime warranty, thick foam insulation, easy to clean, includes extra liner
Best use: Mojecto's large cooler bag is best for taking to sporting events, the beach, a picnic, hiking, camping, or traveling. It's made of heavy-duty materials to protect it in any outside conditions.
Description: Enjoy a lifetime warranty with Mojecto's Large Cooler Bag. This lightweight and portable cooler bag is made of heavy-duty materials that are fade-proof, tear-resistant, and uses thick foam insulation to keep the cold in.
It also includes two replaceable heat-sealed liners and strong double zippers and stitching for durability. There are two separate insulated compartments inside for organizing and storing items separately.
If the original liner gets damaged use the extra replacement liner and easily remove the original liner for easy cleaning. This cooler bag is not intended for open ice, which can damage the liner. Use ice packs or ice gels designed for cooler bags to keep your drinks and food cold.
Users like this cooler bag because of the several pockets in which they can put smaller items, including dual mesh pockets. The shoulder straps are anti slip, which helps when carrying it, plus it is very affordable!
PROS:
Affordable
Several pockets
Shoulder straps
CONS:
Seams may fray or come apart
Zipper can break after long term use
Related: Keep your food and drinks just a little bit cooler with the Fit & Fresh Cool Coolers Slim Lunch Ice Packs. This set of 4 slim ice packs is great for any cooler!
AO Soft Canvas Cooler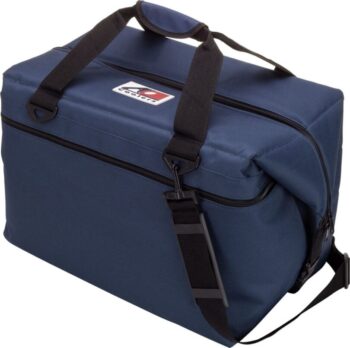 Price: Approx. $60
Weight: 3.3 lb
Dimensions: 14 x 7 x 12 inches
Specific features: Soft-sided cooler, removable shoulder strap, convenient side pocket, leakproof liner.
Best use: This soft canvas cooler from AO can hold ice for 24 hours in the heat up to 120 degrees Fahrenheit. This cooler is best used for boating, fishing, sporting events, picnics, and other outdoor activities requiring ice to stay cold for a long time.
Description: AO's Soft Canvas Cooler features soft sides and a removable and adjustable strap for easy carrying. With a 24 can capacity and the ability to keep ice cold for up to 24 hours, even on hot days, this is the perfect cooler bag for all of your outdoor adventure needs.
Use the side pocket to store dry items kept safe by the leak proof liner. This cooler bag has twice the insulation of other soft sided coolers and a resilient liner that won't be damaged by impact or tears.
You can also find this cooler in other sizes from 12 can capacity up to 48 cans. Plus, you can find it in one of several colors from Navy to Red to Black.
Users like this cooler because it really keeps your items cold, does not leak, and great as a soft sided cooler. Plus, you can store ice in it for a couple of days!
PROS:
Several colors and sizes to choose from
Affordable
Large inside
CONS:
Clip can break
Strap can tear off
Related: The Cooler Shock Mesh Zipper Bags will not only enhance the performance of the cooler, but they are also insulated and are under $10!
Icemule Coolers Classic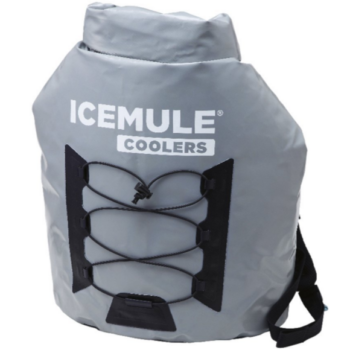 Price: $50 – $70
Weight: 2.8 lb
Dimensions: 16 x 10 x 10 inches
Specific features: Leak proof, keeps ice cold for 24 hours, padded back straps, rolls up to save storage space
Best use: This is a perfect everyday cooler designed for toughness and high performance in any conditions.
Description: The Icemule's Classic Cooler is considered the world's most portable high performance cooler. This leak proof cooler keeps ice cold and intact for up to 24 hours and includes a padded back strap for easy carrying.
With a 20 liter or 18 can capacity, this cooler offers the combined portability of a backpack with the performance of a hard cooler. Icemule coolers have a patented insulated dry-bag design that will float in water and rolls up to save storage space when not in use.
Users who have purchased this cooler love it, and have even purchased 2 of them because not only do they block out leaks, but they do not give off any condensation at all! Plus users like that you can inflate the shell so your items are getting extra insulation!
Overall, users are in love with this cooler and would recommend it to their friends and those who are in the market for such a cooler.
PROS:
Inflates for more insulation
Affordable
No leaks
CONS:
Air valve is not designed well
Hard to clean for some
Related: The READY to USE Cooler Shock come in a mid size, are ready to use, and have non toxic ingredients.
Norchill Cooler Bag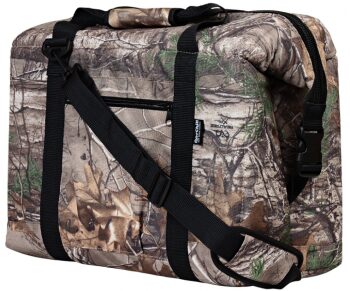 Price: $50 – $55
Weight: 4 lb
Dimensions: 10 x 18 x 12 inches
Specific features: Dual-temp insulation, unbreakable zipper, shoulder strap, 2 year limited warranty
Best use: This cooler bag is best used for camping, hiking, boating, tailgating, concerts, or other outdoor activities where you need to keep food and drinks hot or cold.
Description: The Norchill's Cooler Bag features a dual-temp insulation system to keep food and drinks hot or cold. Fold down clips allow compact storage and the attached shoulder strap makes it easy to carry. The "gator skin" liner pulls out easily for cleaning and doesn't leak. In combination with an Ice pack, it will keep your drinks cold without a problem.
The heavy duty, unbreakable zipper, allows you to carry up to 24 cans or 5 pounds of ice, and is protected by a 2 year limited warranty. With a tear-resistant nylon shell and puncture-resistant gator liner, we mentioned, this durable cooler bag will fulfill all of your portable cooler bag needs.
Judging by the user reviews, it can hold the ice for up to two days, which is really amazing. Also worth mentioning is that this model comes in more sizes, but keep in mind that the bigger it is, the higher is the price.
PROS:
Can be used for both keeping the food hot or cold
Comes in various sizes
Affordable
CONS:
Bigger versions are more expensive
Related: It can be hard to find what you need at night in your cooler. The Coghlans Cooler Light will help solve that problem and for only about $9.
Coleman 16-Can Soft Cooler
Price: Approx. $11
Weight: 1.9 lb
Dimensions: 11.02 x 11.81 x 7.87 inches
Specific features: Mesh side pockets, easy to clean, removable liner, anti microbial protection
Best use: This cooler bag from Coleman is perfect for picnics, BBQs, camping, tailgates, and sporting events where you want a lightweight and easy to carry cooler for keeping drinks and food cold.
Description: The Coleman's 16-Can Soft Cooler is a unique cooler bag offering a soft outside for easy carrying and hard plastic liner to protect the inside contents.
This cooler bag gives you the option to remove the hard plastic liner for packing flexibility and the adjustable shoulder strap offers carrying comfort. There are two mesh side pockets and a front zipper pocket for extra dry storage. The flexible liner is easy to clean and provides excellent antimicrobial protection to resist odor, mold, and mildew.
Those that have purchased this soft cooler like it because of the affordable price, choice of colors, and the fact that it holds up to 16 cans. Not just that, but the liner is removable and flexible, it is easy to clean and there are pockets for storage of smaller items.
With this cooler, you can enjoy may days outdoors with cool, refreshing beverages anywhere you go!
PROS:
Affordable
Easy to carry along
Flexible liner
CONS:
Straps can snap
No handle
Related: The YETI Rambler will keep your beverages, ice cold or super hot, over a long period of time, no matter where you take it!
Concluding Thoughts
If you read through our important cooler bag features and our list of the best cooler bags on the market right now, then hopefully you've reached a decision about which cooler bag is right for you. What you're using your cooler bag for and how long you will be using it for each time will help determine which cooler bag best matches your needs.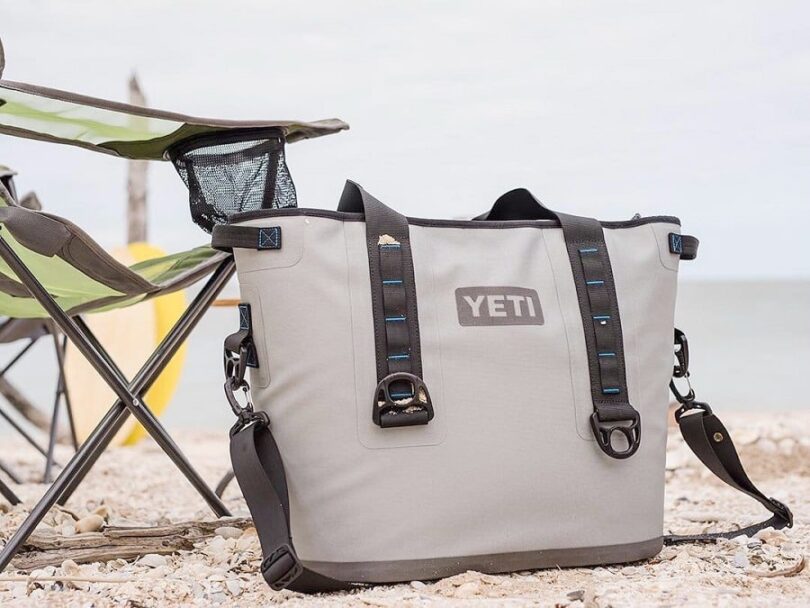 If you still haven't decided which cooler bag is best, review our list and start narrowing down your options. Always consider specific features, usefulness, and the general product descriptions and reviews. We've selected cooler bags for a wide range of individual uses, so that everyone can find the perfect match!
Do you think we missed any other great cooler bag products? If so, please let us know in the comments so that we can improve our list. We love hearing from you, so voice your thoughts on the best cooler bags out there!