Technology moves so fast today that a normal human will have a difficult time keeping up with the latest and greatest of their favorite items, let alone everything else that is on the market. One of the newer forms of technology that is starting to become budget friendly is Solar Chargers. Solar Chargers allow friends of the outdoors to keep electrical accessories and devices charged even when they are miles away from the electrically charged modern world.
Solar Chargers use mini solar panels to create a battery that can used to charge everything from your cell phone to battery powered light sources and more. Today we will go over how to pick out solar chargers and we will show you the best solar chargers on the market. Solar Chargers give the outdoorsmen (and women) the freedom of keeping to themselves while always being able to be connected when they need to be. In today's world there are few items that can be as beneficial as a Solar Charger.
A solar charger will give you a peace of mind that few items can do. With a solar charger you and your family can take a great camping trip and with the help of a solar charger you can have the peace of mind of knowing that the safety net of your cell phone will always be there.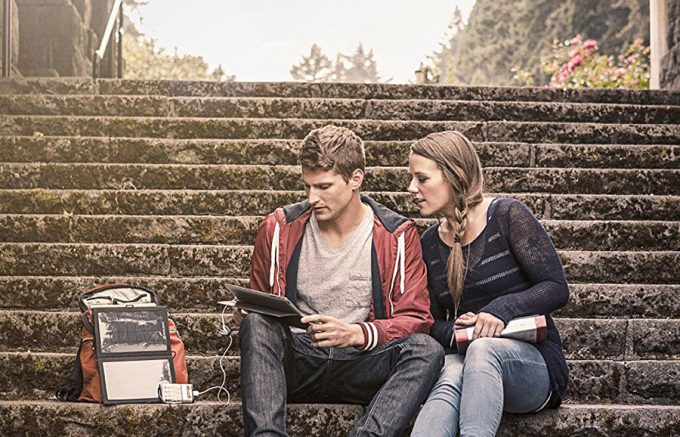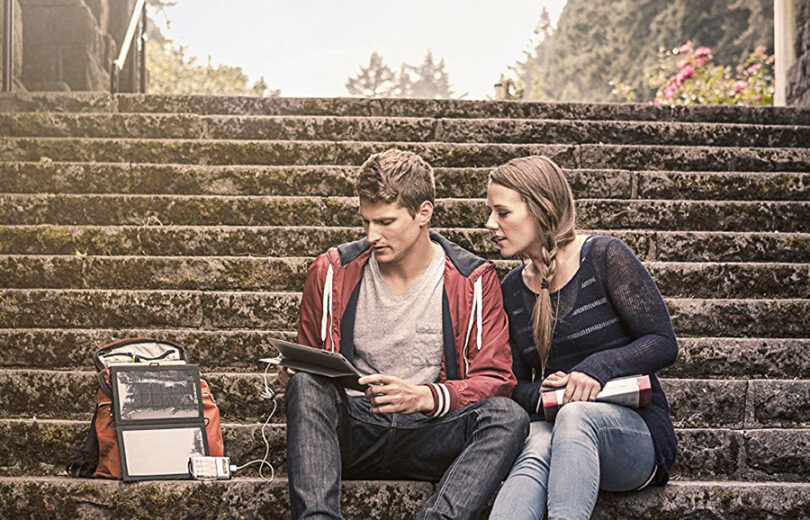 If you are looking at purchasing a Solar Charger, there are literally 100s of different items on the market that are available for you to choose from. Each solar charger is good for different things, so the biggest and highest price model might not even be what you need!
The number one thing to look for in a Solar Charger is reliability, whichever model you decide to go with you want to make certain that it is reliable and will not let you down when you are out in the field. We will go over eight of the best solar chargers on the market today, to help you pick out the perfect solar charger for you.
How Do They Work?
Without getting too technical, solar chargers run by absorbing the energy of the sun and storing the energy in battery packs that can then be used to charge other devices. While there is a lot more that goes on behind the scenes that is the basic understanding of how it works that you need to know.
However, there are a few terms and features you need to understand before you go out and purchase yourself a solar charger.
When it comes to power, there are two very important terms you want to know before you purchase your first solar charger: watts and output power. Wattage is the unit of measurement that determines electrical power.
When looking at solar chargers, you want to make sure that you do not choose any solar charger that is under 5 watts. Most phones can be charged with only 5 watts, but if you have any more modern phone, tablet, or other device you will need a higher wattage in order in order to charge them.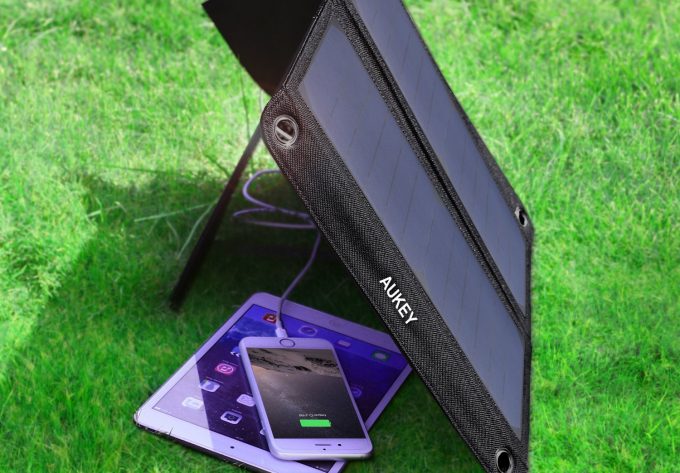 If you plan on using any device other than a phone with your solar charger I recommend nothing less than 12 watts, whereas if you are just looking for a phone charger, the lower watts will work just fine.
Output power is to determine how quickly devices will charge while using your solar charger. The higher then output power the quicker the charging. Ideally you want to get a charger that has a 2.1 amp voltage, this will allow for fast charging with iPads, smartphones, and the like.
Make sure to check the specifications for your device and insure that the output power is 2.1 amps at a minimum.
The final thing to note is the type of solar panels you are purchasing. Solar Panels come in three different designs: CIGS, MonoCrystalline, and PolyCrystalline.
Most solar chargers today are CIGS designed. CIGS are more flexible, lighter weight, and are significantly cheaper than any other type of solar panel. For these reason alone, you should be on the lookout for CIGS solar panels, rather than the other options.
The fact of the matter is that Poly and MonoCrystalline panels will not work for a potable application when compared to CIGS.
With the technical specs out of the way, it is time to get into the juicier features that solar panels offer you.
Most Important Features
With so many Solar Chargers on the market, it is difficult for consumers to figure out which charger will be the best for them, and with how quickly technology changes, keeping up with what is coming out is almost impossible.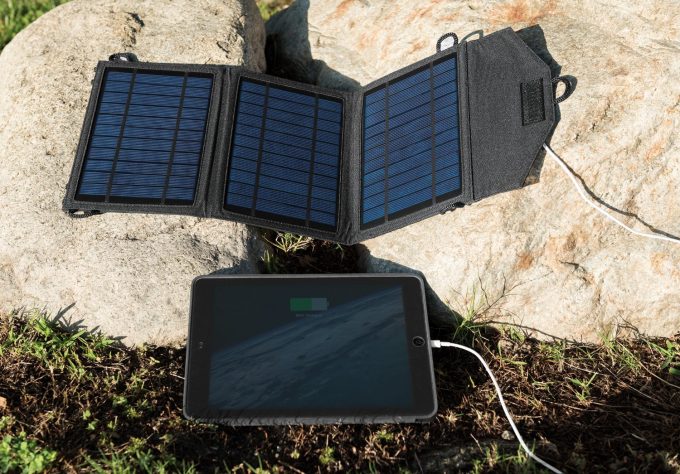 The good news is there are certain things you can look for to make your decision easier to no matter where you go to find your Solar Charger. When you are purchasing a Solar Charger, you need to consider a few different features when you are looking into them.
Reliability: The last thing that you want is your Solar Charger to go out on you in the middle of nowhere leaving you high and dry. Reliability can be measured in different ways, but the most important metric for reliability is other consumer reviews. Even if the manufacturer tells you it last forever, it is always better to hear it from customer reviews.
Battery Life & Charging Capabilities: Besides reliability, battery life and charging speed are the next two most important things to look for. Ideally you should aim for a 10,000 mAH battery or higher, but a 6,000 mAH is acceptable as well. Also look for solar chargers that feature fast charge capability, as this will allow your phone to get charged up as quickly as possible.
Size: When purchasing your solar charger, you want to consider what you will be using the charger for. Will you be using at as an everyday device, for camping, for hiking, or just for emergency preparedness? This needs to be taken into account and consider what size is acceptable for you.
Cost: Solar Chargers can get really expensive. If you are looking to purchase a solar charger for emergency situations, then you may not want to go for one of the cheaper units, whereas if you are just looking for a basic portable charger you can afford to go with a less expensive model.
Whatever you end up deciding to go with, make sure to do proper research on whatever model you decide to purchase, read reviews, check the specifications, make sure that it really is the model that is right for you.
If you find that model, then a solar charger will be one of the best purchases in your life. With all that said, do not worry! We will go over eight of the best solar chargers on the market today, and all the reasons that they will be a great purchase for you!
Top Products of 2018
AUKEY 14W Solar Charger with 2 USB Ports & SunPower Solar Panels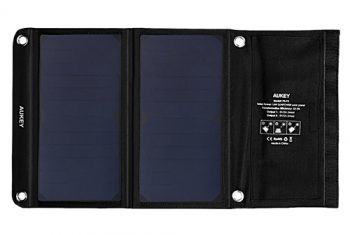 Weight: 1.1 pounds
Dimensions: 11.4 x 4.9 x 0.7 inches
Wattage: 14 watts
Specific Features: Two Panels, Fast Charging Technology, 23.5% solar conversion efficiency.
Description:  The Aukey 14W Solar Charger is an excellent solar charger for multiple devices. If you are a couple who wants to be able to keep your phones charged while going on a long camping trip, the Aukey 14W Solar Charger will be every you wanted and more.
This charger features fast charge technology, so if your phone has a fast charge function, this solar charger will be compatible with it. Due to the higher than normal efficiency rate, this solar charger will charge very quickly under direct sunlight and allow for fast charging than many other models allow.
Extremely lightweight, cost effective, and featuring one of the highest energy efficient designs on the market, this product is an ideal solar charger for couples who love spending time in the outdoors. With the extremely cost effective price point this is an easy Solar Charger to begin with for all outdoorsmen and women.
Poweradd Apollo2 10,000mAh Portable Solar Panel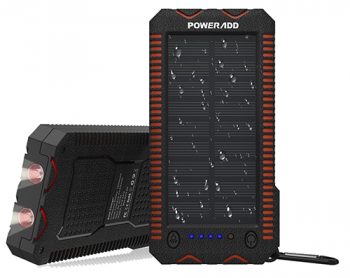 Weight: 9.6 ounces
Dimensions: 5.9 x 3 x 0.6 inches
Specific Features: Small & Easily Portable, Dual USB Output, Easy Storage and Carry, Fast Charging
Description: The Poweradd Apollo 2 is the newest version of Poweradd's popular portable Solar Charger, and features a new significantly higher efficiency rating along with a faster charging for under the sun solar charging.
This 10,000 mAH power supply can recharge the equivalent of an iPhone 6 nearly 4 times, and a Galaxy 6 for 2 and a half charges. For travelers that are wanting a sleek, easily storable solar charger to have as a backup supply, look no further than the Poweradd Apollo2. If you want a very small solar charger to take with you on long hikes where storage space is paramount than this is an excellent choice for you.
Just because the Poweradd Apollo2 is so small and portable, does not mean this charger is going to be a small power boost. With the 10,000 mAH battery and the dual USB 2.1a ports, you will be able to charge up to devices at a time with no issue at all. For everyday use, this is one of the top solar chargers on the market today.
Goal Zero 41022 Guide 10 Plus Solar Recharging Kit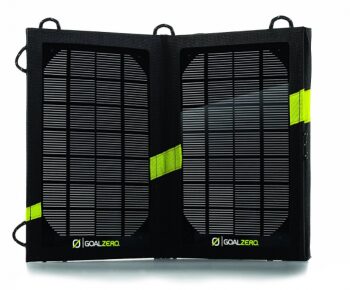 Weight: 1.2 pounds
Dimensions: 6.5 x 9.5 x 1.8 inches
Wattage: 7 watts
Specific Features: Dual Panel High Efficiency Charging Panels, Separate Guide 10 AA/AAA Battery Pack, Direct Charge Phone in 1 hour, Extremely Versatile and Quick Charging
Description: The Goal Zero 41022 is a very powerful and higher end of portable Solar Chargers. With the specialized design, you can charge from the battery pack, or directly from the dual solar panels.
When charging from the dual panels you can get a full charge on a phone in less than an hour. Surprisingly, this powerful solar charger is barely over a pound and is amazingly lightweight.
For those camping trips that last more than just a weekend, this is the solar charger for you. This charger is really excellent for any extended stay or extended duration trips, especially if you plan on camping in the hot summer months.
If you are more of a homebody, but you want to have portable clean energy available for a backyard porch, the Goal Zero is the perfect solar charger for an at home solution.
Instapark® 10 Watt Solar Panel Portable Solar Charger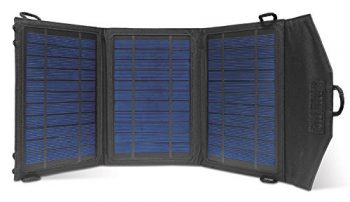 Weight: 1.3 pounds
Dimensions: 6 x 9 x 2 inches
Wattage: 10 watts
Special Features: 10 Watt Solar Panel, Dual USB 2.0 charging ports, Small Form Factor, Foldable Portable Design
Description: The Instapark® 10 Watt Solar Panel is ideal for anyone who is looking for a lightweight emergency preparedness backup for everyday as well as for campers and hikers who are looking for a long lasting back up when going out into the wilderness.
The Instapark's triple panel design allows for easy setup in nearly every situation as well as easy storage and portability.
With its sophisticated design, the Instapark does not need any outside battery pack, and will allow to charge your devices directly from the panels.
For campers that are looking for a low cost, high quality solution to their wilderness charging problem, the Instapark will give any wilderness junky the peace of mind of knowing that their phones and other electronic devices can be charged no matter the situation.
XTG Solar Charger, Compact Solar Powered Back Up Battery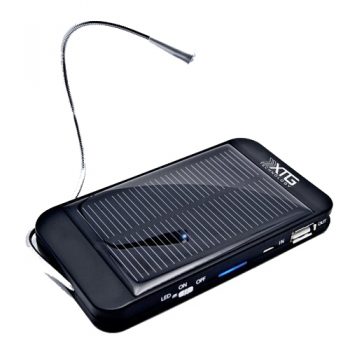 Weight: 3.5 ounces
Dimensions: 2.5 x 0.5 x 4.8 inches
Special Features: Super Compact Rugged Design, 1500 mAH lithium ion battery, Built in LED Flashlight, Suction Cups for easy mounting
Description: The XTG Solar Charger features the smallest design on this list, and is ideal for anyone looking for a solar charger that could easily fit in your pocket or purse.
The XTG Solar Charger comes with two suction cups that can be attached to the panel to fit directly on your car windshield. This feature allows for the device to charge every day as you drive back and forth from work.
The XTG Solar Charge is one of the best chargers on the market for people that are looking for a low cost, small size, and reliable solar charger. If you want to start working on an emergency bag, this is solar charger would fit perfectly in any "Bug out bag" or just for everyday use. If compact and hardy is what you are looking, than the XTG is your charger!
Portable Solar Chargers- 12W BLKBOX Portable Folding Solar Kit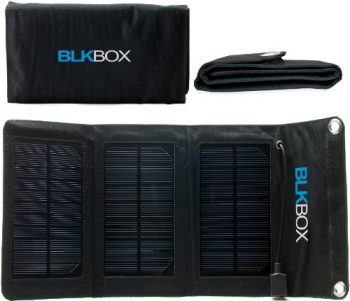 Weight: 1.1 pounds
Dimensions: 10 x 6.2 x 1.4 inches
Wattage: 12 watts
Special Features: Triple Panel 12 Watt Solar Charger, Lightweight and Compact Design, Charge any USB Device, Fast & Efficient Solar Charging
Description: The BLKBOX 12W Portable Solar Charger is one of the highest graded and best portable solar chargers on the market today, and for people who are looking for a high end high powered solar charger.
The BLKBOX is ideal for anyone that is looking for a solar charger that is capable of fast charging any USB device at surprisingly fast speeds.
The Triple Panels allow for the BLKBOX to charge in the sun quicker than most other portable devices on the market. With already installed eyeholes for hanging, the BLKBOX will easily attach to your backpack for daytime charging.
If you find yourself going off on long camping trips, or if you are looking for a solar charger that can be used in emergency situations, the BLKBOX 12W is the solar charger for you.
ALLPOWERS 16W Solar Panel Charger with iSolar Technology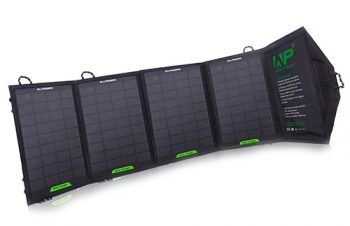 Weight: 1.4 pounds
Dimensions: 9.1 x 6.3 x 0.5 inches
Wattage: 16 watts
Special Features: Quad Panels, Exclusive iSolar Fast Charging Technology, Dual USB Charging, Compact Storage with Built in eyeholes for hooks, 19% Solar Conversion Efficiency
Description: As far as solar chargers go, the ALLPOWERS 16W Solar Charge is one of the highest powered solar panel chargers on the market, and with a low cost price point, this solar charger can make a massive difference if you find yourself needing a backup battery charger.
Anyone who is looking to get a cost effective charger for emergency situations should look no further than the ALLPOWERS 16W Solar Panel Charger.
The ALLPOWERS 16W is a must have accessory for campers or hikers who are planning on going on any long term trips.
With the built in eyeholes, this charger can hook directly to any backpack and charge while you hike. The versatility of this device will give you the capabilities to keep all of your electronics charged and ready to use no matter how deep into the wilderness you go!
Cobra Electronics CPP 300 SP Dual Panel Solar USB Charger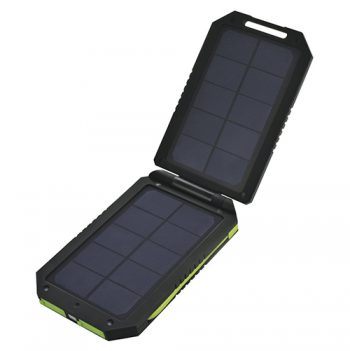 Weight: 10.2 ounces
Dimensions: 0.8 x 3.6 x 6 inches
Wattage: 5 watts
Special Features: Dual Solar Panels, Built in USB Standard and USB Micro Charging ports, Rechargeable via USB or Solar Panels. Illuminated LCD Display
Description:The Cobra Solar Charger is a one of kind style solar charger with a compact dual panel solar array that folds into a miniature pocket size. The Cobra features a 6,000 mAH battery pack that can charge multiple devices with the dual USB ports. If you are looking for a diverse solar charger that can be used at any time of the day, then the Cobra is the solar charger for you.
If you are looking for an everyday charger for keeping your phone or tablet charged, then the Cobra Solar Charger is the charger for you.
If you need a compact long term solar charger for long term boating or water trips, this device will fit perfectly in waterproof casing will last long enough to charge your phone 2-3 times before needing to recharge.
Wrap Up
Solar Chargers can be one of the best devices you will own in your life, but if you do not purchase the correct one, it may end up being more of a headache than any sort of help.
Do not let yourself be swindled by under performing products, always make sure that you read product reviews, compare the specifications, and more importantly know what you are looking for and what you want in a solar charger.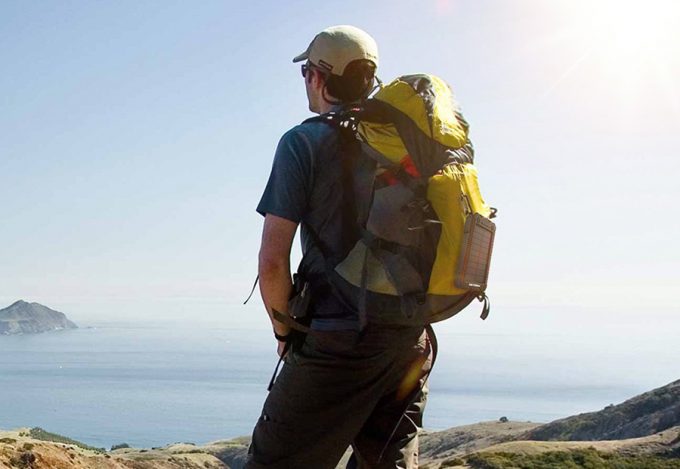 By now you should have a good grasp on what you should be looking for in a solar charger. No matter if you want a solar charger for camping, boating, hiking, everyday use, or for emergencies you should be able to find your perfect solar charger. And if you follow the recommendations we have given you, you will have no problem finding the exact Solar Charger that you are looking for.
While this may be the end of our list, technology moves so fast that by the time you have finished reading this article a new solar charger has probably come out! If you have a new Solar Charger, or if you think that we missed a top of the line Solar Charger, let us know in the comments below! We love to hear from you!