If you will be spending most your time hiking and camping this year, then it is imperative to ensure you have all the right gears and accessories to keep you dry and warm. When looking for the best ultra-light sleeping bag, it is important to know what features you will require so as to make your night comfortable and memorable.
The ultra-light sleeping bags are warm, lightweight, and padded to provide insulation and protect you against the cold when trekking, camping, or against any other aspect that may affect your sleeping when outdoors. There are various sleeping bags on the market, each with their particular merits and demerits. Finding the right gear will depend on various factors, which we will look at in this article.
Also, when camping, it is important to have the necessary gear and accessories to keep warm and dry. Things become tough when it comes to choosing your sleeping bags since it's the bags you will be sleeping in during your camping nights. As a result, you need to acquire the best quality sleeping bag if at all you will be staying in cold areas. In case you get a better bag, you will have an advantage to your adventures outside.
Factors to Consider Before Purchasing
Weight
A lightweight sleeping bag is the best for intending or established hikers. The sleeping bag you want to purchase must not be heavy. A heavy bag slows you down on your travels. The weight is crucial because the bag will easy to carry on your adventures if it is lightweight but difficult if the sleeping bag is heavy. The loads you will carry are heavy enough so the bag must be very light in weight.
Temperature Ratings
Temperature ratings give you some general ideas about gear performance and are essential for comparing different sleeping bags. However, there are so many things that influence how warm you feel when sleeping: how much you have eaten, hydration, humidity, fatigue, dampness, and wind.
Think about your camping location; will it be exposed or sheltered? Will altitude be a factor to consider (approximately, for a thousand meters elevation, you will experience a 10-degree drop in temperatures)? Additionally, think about the season you will be spending your night outside.
The temperature ratings provided by product manufacturers are often based on standard lab tests, and many situations are realistic for most people. If you are an individual, who tends to sleep cold, choosing a warmer bag would be an ideal choice. You can also use a sleeping pad that has a higher thermal rating.
Insulation
Insulation is a factor that affects the warmth of a bag, but other aspects such as the shape, how it's sewn, and the features included creating an enormous impact on how warm a bag feels.
Synthetics
The plastic thread, either short pieces or continuous long filaments, fills these bags. Many sleeping bags have a mix of thick and thin pieces, as smaller threads, plug empty spaces and efficiently capture warm air, while the strands that are thicker offer loft and durability.
Down
Downs are made up of various plumes –tiny pods of feathery filaments which line the underside of the waterfowl feathers. Down is harvested from geese and ducks prepared for sale. The down fill also contains feather fibers and some feathers. The quality of a down does not rely on the type of bird but rather its environment. Birds usually respond to cold situations by developing warmer and fluffier down.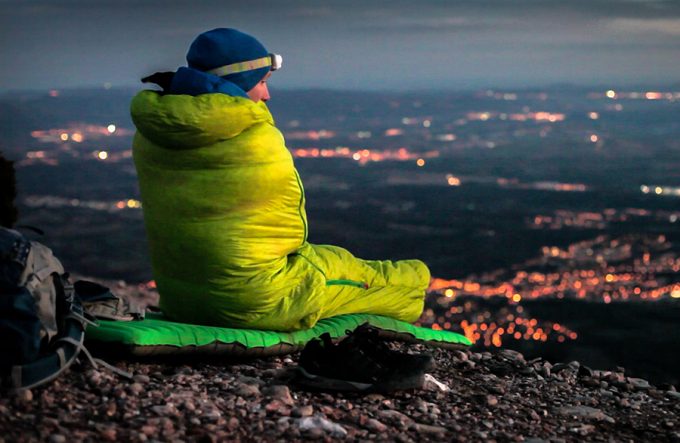 Gray or white down offer the same performance, but the white one is more expensive since it can be utilized with colored of translucent materials without showing. Fill power is an excellent indicator of quality.
It is expressed as the total number of cubic inches displaced by an ounce of down. A higher fill power offers more warmth for the same weight compared to a lower one.
750-850 is excellent
600-700 is good
500-550 is ok
Liners
The liner of a bag provides a great way for you to sleep more comfortably. The liners may add some degree of warmth, but most of them are designed to wick liquid and keep your bag clean. Therefore, liners require washing less often.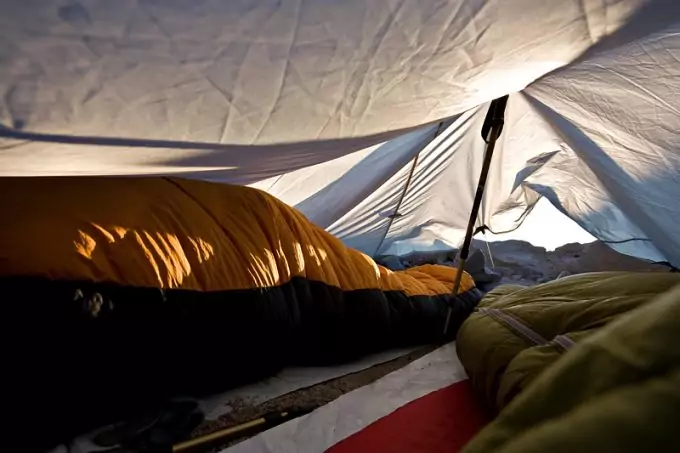 The vapor barrier liners are used in temperatures that are below freezing. They move condensation point outward to avoid the accumulation of moisture inside the bag and were especially helpful for long journeys and extended trips where drying them out might be difficult.
Loft and Volume
Loft and volume are industry-standard measurements which make it possible for you to compare various sleeping bags. Loft measures how puffy a sleeping bag is. If two bags come with the same kind of fill, shape, and features, the one with a greater loft would be warmer.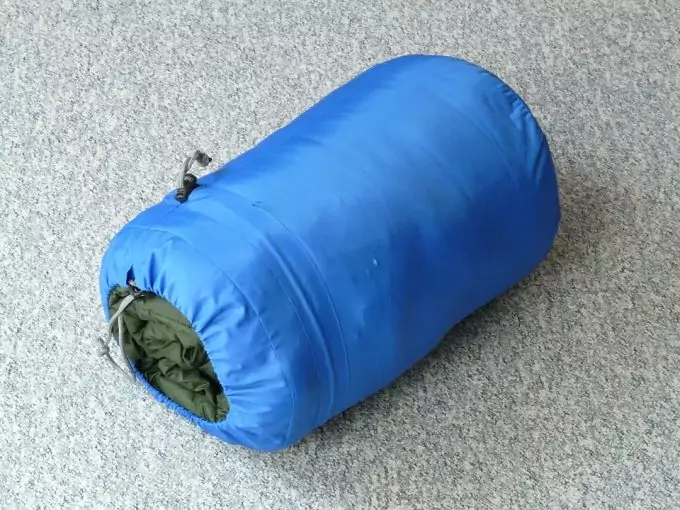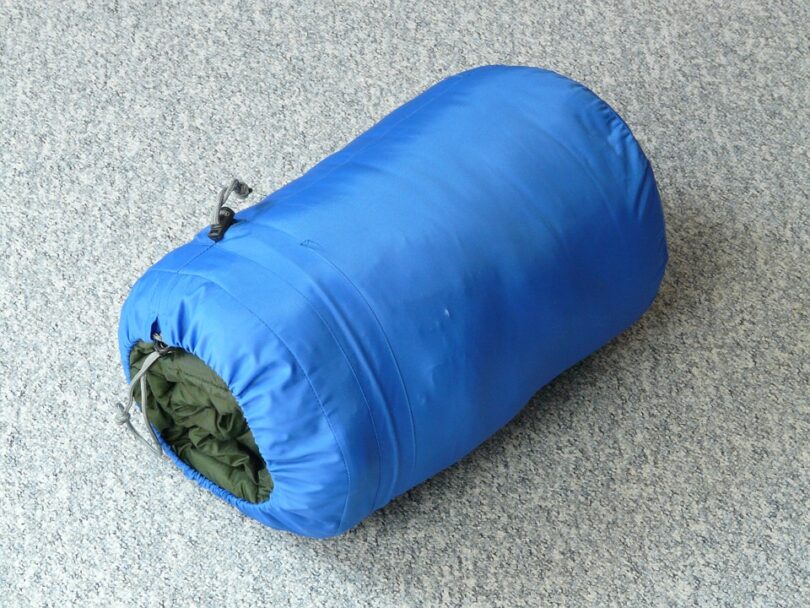 Volume measures how small a bag is after it has been stuffed into a cylinder using a given amount of pressure. You may be in a position to pack the bag smaller than the stated standard, but if this happens, make sure you shake it out thoroughly and give it some time to recover its loft before going to sleep.
The Best Products on the Market
After doing extensive research on the best ultra-light sleeping bags, we have selected the few we believe are the best on the market today. Below are the best products on the market today.
Teton Sports Trailhead 
Price: Approx. $51
Weight: 2.9 pounds
Dimensions: 87 x 32 x 22 inches
Specific features: Double-brushed liner, breathable, survival rating is +20 degrees, foot box design, interior pocket zips
Best use: Survival, hiking, outdoor adventures, backpacking
Description: Finally, a mummy bag engineered for weight reduction and comfort. Wider and longer than most bags, the TETON Sports TrailHead Sleeping Bag  comes with a soft, breathable liner and a wide foot box with space for your toes.
Unzip from the bottom or top with both the exterior or interior zipper pulls such that when the hood is cinched, it is still possible to close it all the way. The safety Velcro tabs ensure the bag remains as closed as possible.
The zippers are taped with an anti-snag design which is made from Acetal resin to withstand extreme pressure and temperature, so they are durable and lightweight.
The soft, interior zip pockets make it possible for you to store your wallet and keys, so you do not go through the hassle of searching for them in the morning. The bag also includes a 6.75" x 13.5" drawstring stuff sack.
PROS:
Lightweight
Comfortable
Has enough room
Wide foot box
Breathable liner
Zippers come with anti-snag design to withstand pressure and harsh weather condition
Interior pockets
Limited lifetime warranty
CONS:
Does not fit a very tall individual
Related: Check out this Lighting EVER Headlamp, it will come in handy when night falls.
Mountain Hardwear Hyperlamina 
Price: Approx. $250
Weight: 2 pounds
Dimensions: 17 x 16 x 13 inches
Specific features: Proprietary welded lamina, synthetic fill type, thermal.q insulation
Best use: Survival, hiking, outdoor adventures, backpacking
Description: The Mountain Hardwear HyperLamina Sleeping Bag  is the highest performance synthetic gear on the market. Its half-length center zip and mapped insulation maximize efficiency. The Mountain Hardwear was designed to be the warmest and lightest synthetic bag on the market.
A lamina construction joins the shell and lining to the Thermal.Q, eliminating potential cold spots resulting from traditional stitching. By mapping various insulation throughout the bag's top, warmth can concentrate where it requires the most – around the core and feet.
The HyperLamina Flame sleeping bag is very light, thereby reduces the weight of your backpack on your outdoor adventures. It also keeps you warm and comfortable even in the worst weather conditions.
The bag is strong and durable, it also comes at a very affordable price which is great for low income earners who wants to use the best sleeping bags on their adventures. A single center half zip, a face gasket, and a performance mummy cut help in optimizing thermal efficiency.
PROS:
Efficient
Lightweight
Warm
Durable
Maximizes thermal efficiency
Thermal insulation
Excellent loft
Limited lifetime warranty
CONS:
The draft collar is a bit loose
Related: You will need to cut something on your adventures, this SE KHK6320 Pocket Knife is ideal for such situations check it out.
Hike & Byke Quandary 
Price: Approx. $130
Weight: 3 pounds
Dimensions: 22 x 14 x 12 inches
Specific features: Heavy duty YKK zippers, 400T rip-stop polyester fabric, grid designed baffles,
Best use: Survival, hiking, outdoor adventures, backpacking
Description: Are you in need of a fifty percent fill and above fifty percent warmth for less cash? Check out the Hyke & Byke Quandary Sleeping Bag.
This sleeping bag saves space and saves weight with its quality duck down filling (nature's light insulator that has the highest warmth-to-weight ratio) that beats the chilly outdoor winter weather. The excellent quality mummy duck down sleeping bag is the lightest and most compressible gear and of good quality available below $130.
The bag has been designed professionally for backpacking, thru-hiking, and camping. It prides in its superior weight-to-warmth ratio and is the ultimate ultra-light backpacking bag for saving weight and space.
The ultra-light Mummy Down Sleeping Bag comes with the top of line 400T Rip-Stop Polyester; grid designed baffles for retaining heat evenly, heavy-duty YKK zippers, 90/10 premium quality filling for extra loft, and an excellent warmth-to-weight ratio. Even with the compression bag, the Mummy weights about 3 pounds and fits up to 6 feet 3 inches tall.
PROS:
Lightweight
Durable
Duck down filling
Saves space
Warm
Limited lifetime warranty
CONS:
Too tight in the shoulders
Related: Food is essential on your adventures, this GSI Cascadian Table Set is good to set yourself nice meal while camping.
Nemo Verve 
Price: Approx. $205
Weight: 4.5 pounds
Dimensions: 20 x 13 x 10 inches
Specific features: 40D Nylon ripstop with dwr, stratofiber synthetic insulation, blanket fold and pillow pocket, drawstring stuff sack, adjustable contoured hood, zippered watch pocket
Best use: Survival, hiking, outdoor adventures, backpacking
Description: The Nemo Verve Sleeping Bag is a verve spoon-shaped three-season backpacking bag that offers generous spaces at the knees and elbows, making it perfect for sleeping on the side.
Fitted with synthetic Stratofiber insulation and an integrated Fold, the Verve gives you an option for regulating temperature, to ensure a comfort that is similar to your bed at home.
The spoon shape allows you to lie on your side with your knees folded up, the blanket flap that comes with the Nemo Verve keeps you warm all night.
With this bag, you will not need to worry about cold nights as it's able to cater to this need. Its ultra-light weight also makes it suitable for all your backpacking adventures as the bag can easily be compressed to a small size.
The Nemo Verve Sleeping Bag is certainly the warmest and lightest gear available under $130 on the market. For all your outdoor expeditions, this bag will be your favorite and the most coveted product on your packing list.
PROS:
Lightweight
Durable
Comes with a blanket and pillow pocket
Adjustable hood
A zippered watch pocket
Warm
Limited lifetime warranty
CONS:
The stuff sack is not too good
Related: When night falls, you will need this Rayovac Virtually Flashlight  to find your way through the darkness.
Western Mountaineering Ultralite 
Price: Approx. $485
Weight: 3.6 pounds
Dimensions: 15 × 11 × 17 inches
Specific features: Compressible, lightweight, high loft, full down collar
Best use: Survival, hiking, outdoor adventures, backpacking
Description: The Western Mountaineering UltraLite Sleeping Bag is an excellent three-season backpacking bag. This UltraLite sleeping bag is suited for high to mid elevations and is warm enough to carry along on a late spring vacation or an early fall tour in the mountains.
While we can appreciate the additional space to throw a jacket on or roll around in other bags, this Ultralite gear is an efficient thermal bag for the average-sized camper or hiker. It is imperative to remember that the fit is an essential component of a warm bag.
You will certainly experience cold spots and interrupted sleep if there is much dead air space in the bag. The twenty-degree Fahrenheit of this bag is conservative.
Soft and high-loft, lightweight components make this Ultralite sleeping bag an inviting place to place your head during the night. Nevertheless, the hip girth and narrower shoulder of the Ultralite make it somehow uncomfortable, but this is not a deal breaker at all! The bag is also fitted with a hood and a top draft collar which helps it score some extra points for an Ultralite backpacking sleeping bag.
PROS:
Durable
Full down collar
Lightweight
Soft and comfortable
It is compressible
High loft
Limited lifetime warranty
Related: In case you lost your way on your adventures, this SE CC4580 Compass  is great to detect the direction you are going.
Ledge Sports Featherlite 
Price: Approx. $70
Weight: 4 pounds
Dimensions: 9 × 9 × 17 inches
Specific features: Hibernate extreme, continuous filament fiber fill, t-8 compression sack, micro denier
Best use: Survival, hiking, outdoor adventures, backpacking
Description: The Ledge Sports Featherlite Sleeping Bag is built for weight and size restriction on extended journeys. Its temperature rating is a measure for experienced campers and hikers who understand the proper use of equipment.
The size, length, and weight of this sleeping bag are for an average-sized individual.
The large upper body makes it possible for you to toss and turn easily in the mummy style bag. If you are tall and large, the ledge ultralight may not be suitable for you. Because the interior of the bag is somewhat hollow which might  not be ideal for tall and large individuals.
The bag has a pack weight of 3.4 lb and a fill weight of 1.5 lb, so it falls in the category of lightweight bags. If you are camping or on a hiking trip, the convenience of portability is taken care of as the ledge ultralight design allows for compression to a smaller size.
PROS:
Roomy enough for you to turn when sleeping
Lightweight
Durable
Warm
Portable
Convenient to carry
Limited lifetime warranty
CONS:
The seams of the stuff sack comes off quickly
Related: When you want to prepare a meal, this Gerber Bear Grylls Fire Starter is great to get you started.
Suisse Sport Alpine 
Price: Approx. $45
Weight: 5 pounds
Dimensions: 84 × 24 × 33 inches
Specific features: Soft polyester lining, mummy shape, double-layer offset quilt construction
Best use: Survival, hiking, outdoor adventures, backpacking
Description: Made from comfortable products, Suisse Sport Alpine Sleeping Bag gets rid of cold spots and retains the heat to levels of 20 degrees. The bag's rating implies it can retain the heat that specific temperature rating.
The bag is equipped with three pounds of Hollow blends MicroTekk Z1fill which are a cozy synthetic insulation that aids in keeping you warm in temperatures that are as low as five degrees. It's comfort range is between forty to fifty degrees depending on various variables such as no tent, the wind, no ground cover, and light clothing.
The fill makes the Suisse Sport a suitable choice for winter or chilly fall camping, or for hiking trips when you are ready for an ascent. This bag also incorporates a double-layer offset quilt that prevents its fill from clustering, getting rid of any cold spots when you are sleeping. And to ensure the wind does not get in when you are sleeping, the bag adds a draft tube and a drawstring hood.
Other essential features include a polyester lining for comfort, a light compression sack for your transportation needs. A heavier compression bag may be required for ultra-compact backpacking.
PROS:
Lightweight
Polyester lining for comfort
Comes with a light compression sack for transport
Durable
Enough space to accommodate tall people
Limited lifetime warranty
CONS:
Zippers come off quickly
The temperature rating is false
Related: In case you need to dig something out on your adventures, check out this SOG Entrenching Foldable Spade. It is lightweight and won't be too much of a burden to carry with you.
Wrapping It Up
We hope this ultralight sleeping bag guide can help you enjoy your extended trip with the least worry about the cold night. Although there are so many sleeping bags on the market, choosing one that is effective and within your budget can help you enjoy your nights outdoors.
You can also do more research on these items and compare various features so you can be confident that the choice you are making regarding the ultralight sleeping bag is the right one. The temperature ratings, lofts and volume, synthetic and down can vary. This is why it is advisable to look for a sleeping gear that meets your outdoor criteria, so you will not have to feel cold when you are out camping.
So, did you find this guide informative? Is there any tip we did not include in this article? Leave your suggestions and opinions in our comment section. Pins and shares will also be greatly appreciated!