The importance of a solar power is certainly apparent to the majority of people as the best alternative to fossil fuel-dependent energy. Technology has proven the reliability and sustainability of solar energy. It is versatile in that it can be used to charge a large range of electronic devices to the convenience of boat travelers, campers, hikers, and other outdoor activists. The way to leverage on this sustainable energy is through the best portable solar panels.
There are many solar panels, some of which, large enough to be mounted on house roofs for sufficient absorption of sunlight to be converted to heat and electricity for household use. Conventional electricity derived from coal has proved to be cost-ineffective and environmentally damaging. Households have the potential to save lots of money by using large solar power panels as a substitute to charge home appliances.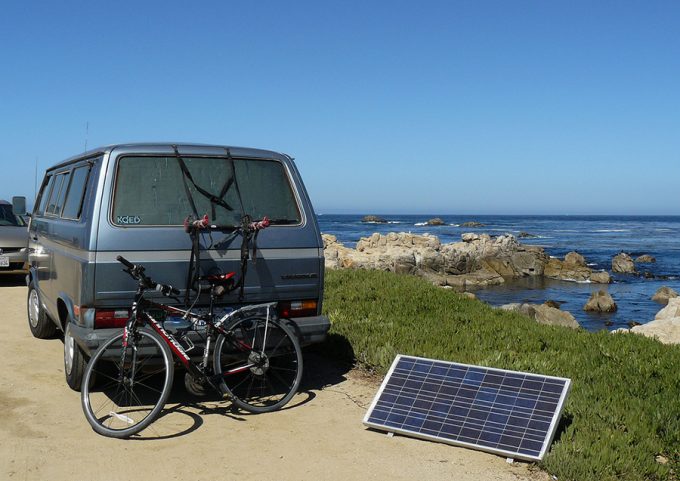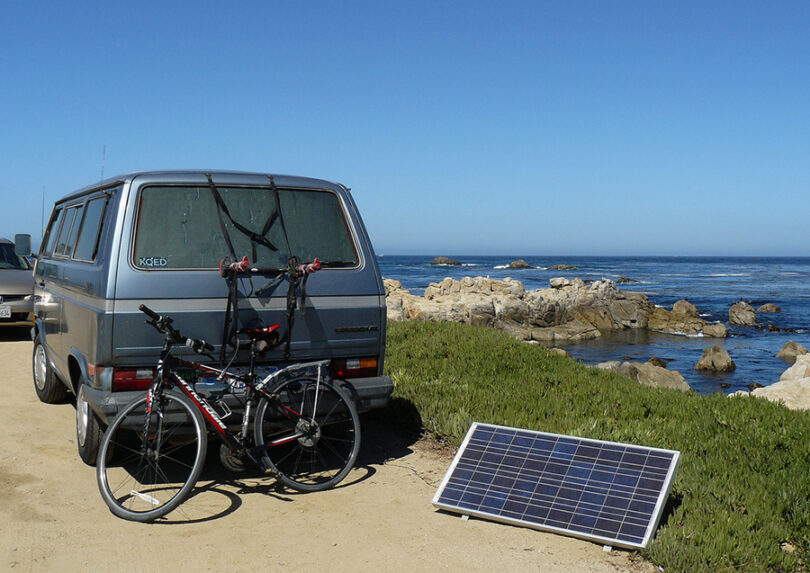 However, it would be too inconvenient for travelers to carry large solar panels for energy consumption everywhere. Fortunately, technology has brought us portable solar panels to be carried to whichever destination of our interests as long the sun reaches out. The need to have these panels need not be overlooked.
Our Top Picks
Features to consider
Many people have various preferences in purchasing products. But for travelers there seem to be common interests in buying solar panels with minor differences in the range of electronic devices to travel with. Of the foremost importance are the portability, durability and light weight of the solar panel for almost all travelers.
No one is willing to be burdened with a heavyweight panel that will inconvenience his or her trip notwithstanding the more power it comes with. When we travel, we take along portable devices that need portable solar panels to energize them. The main considerations when purchasing a solar panel are weather resistant, cost, warranty, compatibility features. These can be highlighted below:
Weather Resistance
As enthusiasts you can travel the world where you come across fluctuating weather conditions, some of which pose danger to the solar panels. The panels that are not weatherproof are susceptible to corrosion resulting from humidity, salt or dust corrosion.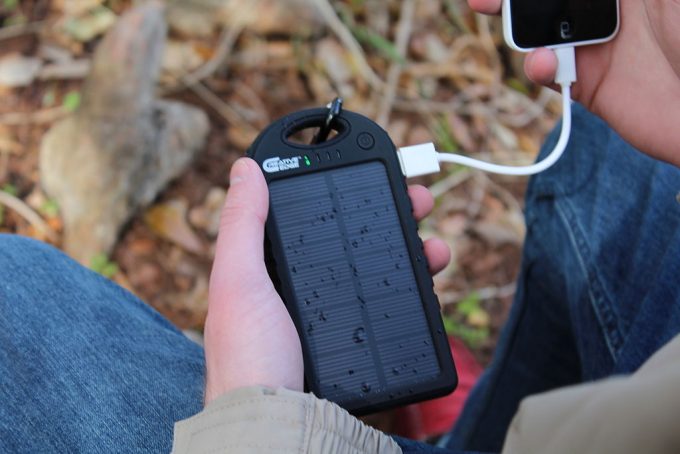 It is therefore important that you look for such features that assure weather resistance to enhance durability of your solar panel. This helps eliminate the hassles of having to replace the panels frequently. Aluminum and glass coated panels, for example, have proven to be weather resistant, meaning they are suitable for any weather condition.
Cost
Cost is another influential factor in the purchase of solar panels. Generally, these panels are closely in relation with the size and supplementary features included. Nonetheless, the cost is often overlooked when the product has all that it takes. Quite often the panels that are inexpensive have setbacks of compromised quality and durability or warranty policies.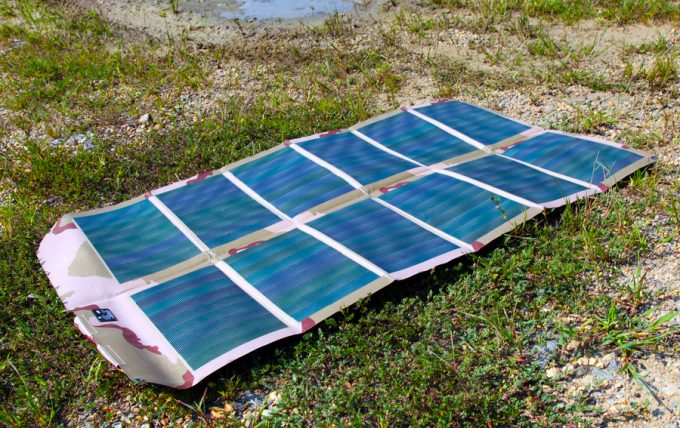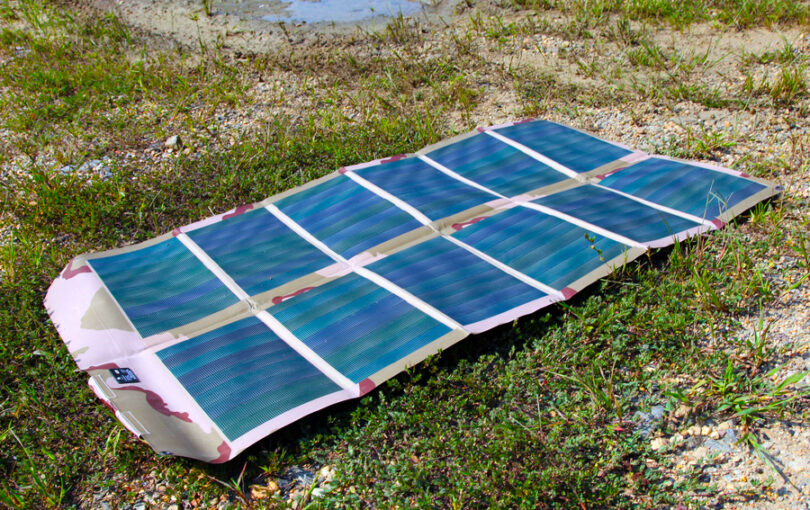 Before buying based on price, check if the panel has all that it takes to make your outdoor activities worthwhile.
Warranty
Every product could be damaged prematurely. This therefore necessitates the need for warranty whenever we purchase solar panels. It could be frustrating when your portable solar system gets damaged during a period of 3 months after purchase and then find out it is not covered by warranty. Many companies provide different warranty lengths.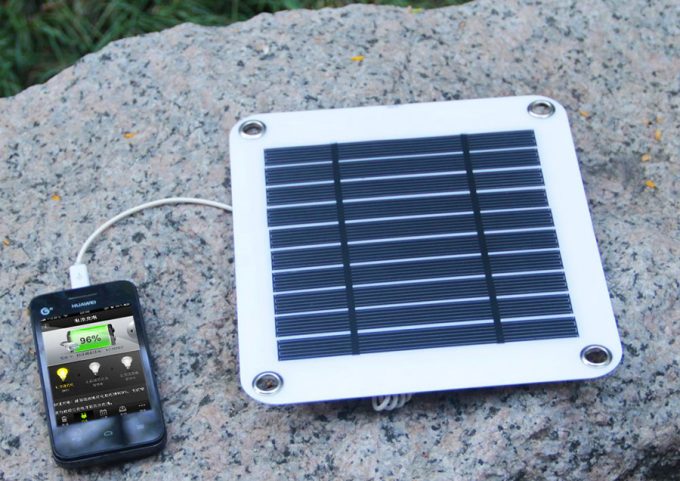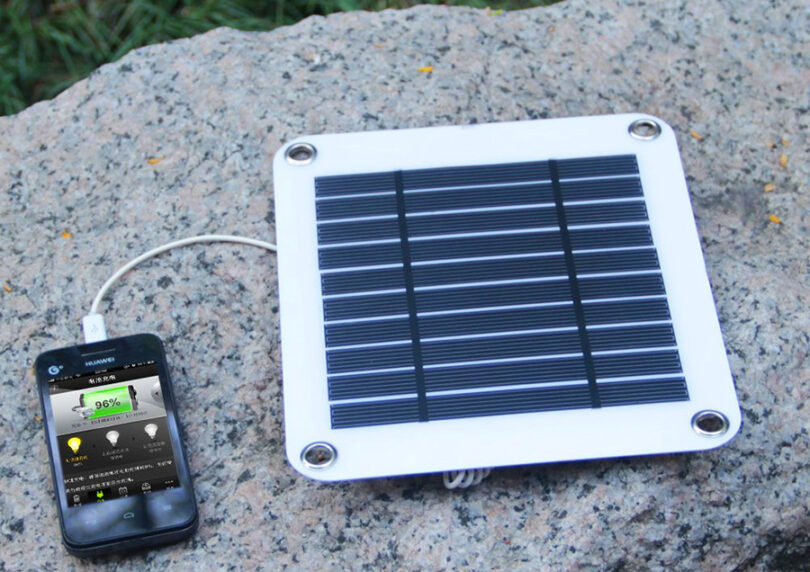 It is therefore reckoned you purchase a portable panel with lengthy warranties, so should the unfortunate of damage strike you, you will be covered. Reasonable warranty lengths are often more than 12 months. Competitive companies, although rarely available, provide more than 36 months of warranty.
Compatibility features
It will be of no use to purchase a product that is incompatible with all your important DC applications. Ensure that all your devices that need replenishment of power are compatible with your most desired portable solar panel.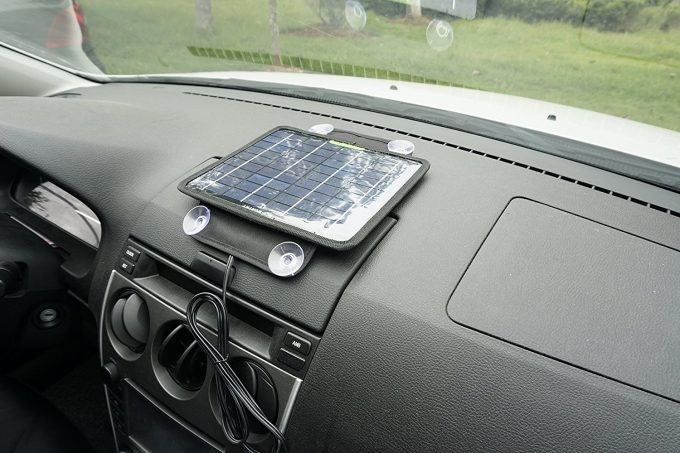 Check if the product has USB ports with which you can easily charge while deriving from the sun. Some panels may have too little power to energize your energy-intensive electronic devices.
Efficiency
There is truly an array for almost all budgets, but always remember that budget-minded items will some sacrifices. For instance, a monocrystalline cluster (usually black in color) of equivalent size can be 18-20% more proficient compared to a polycrystalline array (usually blue in color). So the evaluations may be the same, yet efficiency is less.
Durability
Another feature to consider when getting a portable solar power is the connector quality, durability and style. You'll need to consider the durability of construction, connectors and wiring. Materials are similarly relevant. While you won't discover any gold in some solar power, then you should go for the copper.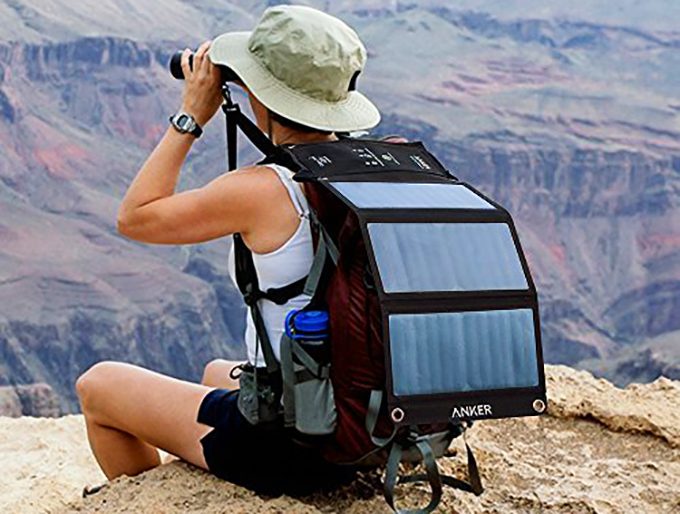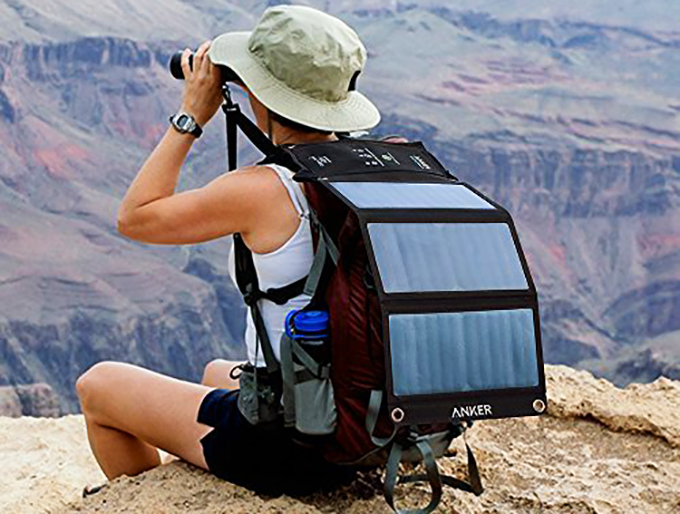 Most budget models usually give up copper for a nickel-plated option in the connectors. However, while nickel is quite conductive and takes care of business, it tends to lose more power than with copper.
Read-Out Displays
While you will not discover highly-refined reporting on the compact solar power arrays, a few models do give an LCD display. This LCD display can provide you with instant data like amps, voltage and even the estimated amps for each hour on a few models. Why is this useful? The essence of solar is to moderate your energy utilization.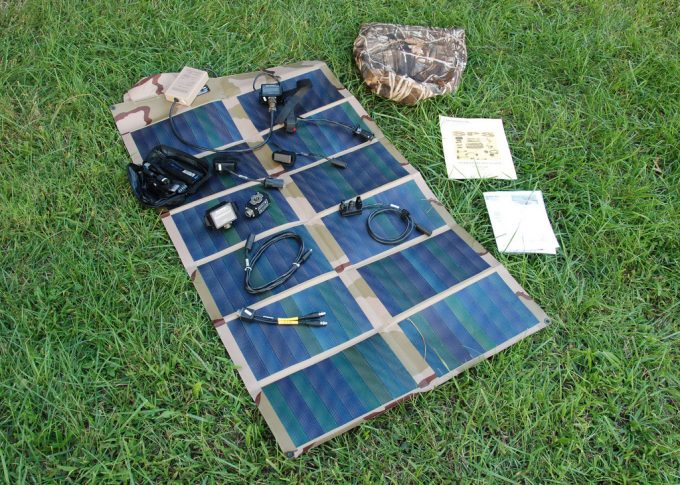 Make use of what you create or even better, use somewhat less. Utilize the excessive power and you will exhaust your batteries, thus leaving you without energy or expecting to use a generator. These types of displays enable you to remain informed and are extremely engaging when you move toward becoming energy cognizant.
Top Product Reviews
There are many portable 100W solar panel kit models on the market today. Of course, a solar panel with 100W power is very nice to give you the opportunity to use a 12V battery under the shinning sun. So with that, we have successfully gathered a list of some fun and extremely efficient solar power kit around. So go out there and pick yours!
Eco-Worthy AM-FP100-1 
Price: Approx. $210
Weight: 20 pounds
Dimensions: 30.7 x 22.1 x 5.1 inches
Specific features: Working current of 5.59a, output tolerance of approximately 3%, temperature range between -40°c and 80°c, temperature coefficient of isc: (010=/-0.01)%/°c, weight of 12.9 kilograms, sla battery voltage of 12 volts, heavy duty aluminum, vop of 17.9v and power of 100w, overcharge protection of 10.8v/29v, maximum charge and load current of 15a
Best use: Camping, hiking, travelling
Description: This Eco-Worthy AM-FP100-1 solar panel is portable and foldable for convenience of use in virtually all outdoor activities. It is certainly ideal for campers, hikers, militants, and other travelers.
It comes with a pre-installed controller and also wired for 12 V batteries charging. It's pre-installed 15 Amp PWM solar charger controller helps protect devices from over-charge, overload, and over-discharge. Users have the comfort of using the panel without worrying about outdoor-influenced corrosions. The aluminum frame helps prevent corrosion from humidity or dust. The panel can therefore withstand snow loads of 5400pa and strong winds of 2400Pa. The other advantage is its light weight and its anti-reflection coated glass.
It is a suitcase-style outline with a durable handle. You can move the kit from a place to the other just by hanging the kit on its hassle-free handle. Once set up, you can unfurl the boards and put it in sunlight to absorb solar energy for boundless power. This portable solar power kit has corrosion-free aluminum outline and exceptionally sturdy legs. To make the kit fit for harsh outdoor usage, the frame is made exceptionally sturdy and it offers a long lifespan to the solar panel.
PROS:
Highly efficient even on cloudy periods
Exceptionally well made, with high-caliber gear
Good wattage
CONS:
Would be good if the sun powered cells pointed inward when folded
The connecting cable is quite short
Legs could be more durable
Related: if you need a top quality solar battery at reasonable prices, then you can check out the Chrome Battery SLA-12V-35AH-T3 solar energy storage battery.
Renogy RNG-F-2X50D 
Price: Approx. $240
Weight: 17 pounds
Dimensions: 13.8×25.6×2.9 inches.
Specific features: Optimal performance in weak light conditions, heavy duty handle, battery clips for a better connection, adjustable corrosion resistant aluminum stand, latches designed for longevity of the solar panels, 10a charge controller with lcd display, protective case and a 10ft tray cable
Best use: Travelling, camping, outdoors
Description: With 30W Monocrystalline solar panels featured in this Renogy RNG-F-2X50D foldable solar suitcase, users can energize a wide range of electronic devices. Your smart-phones, laptops, PDAs, watches and other power-dependent devices can be conveniently charged while you enjoy your outdoor entertainment. These panels' compact design makes them easily foldable and portable. The folded size is 13.8×25.6×2.9 inches.
To help prevent corrosion, aluminum stand is used as a protection. When we travel, we get exposed to different weather conditions from which the panels can be corroded. Humidity, for instance, can be detrimental to the panel. Fortunately, this product is well-protected against corrosion. There's also a charge controller to provide protection for over-charging.
In perfect sun conditions, the board can completely charge a 50AH battery type from 50 percent under 3 hours. It utilizes 100% of the accessible sun power and is good with gel, sealed and flooded battery types. With its customizable aluminum stand, locks and durable handle, this solar Suitcase will make the solar system easy to move.
PROS:
Aluminum body is rust-resistant and light
Great wattage, expandable by including more panels
Simple to install; accompanies well-ordered guidelines
CONS:
Controller is somewhat fragile; it need to be handled with utmost care
It would be better if it had a volt meter
Related: if you want a solar panel mount that can help you tilt your solar panels for you to get all the morning, afternoon and evening sun, then you can check out the Link Solar LS-AL-60F22 solar panel mounting rack.
Windynation SOK-100P-AB1 
Price: Approx. $216
Weight: 19 pounds
Dimensions: 40 x 1.2 x 26 inches
Specific features: 100 watt solar charging kit, versatile applications in boats, rvs, camping, hiking, cabins and much more, adjustable lcd 20 amp solar charge controller, adjustable solar panel mount and mounting fasteners, 40ft 12 awg solar cable that is ul listed, mc4 connectors for wiring purposes, dc to ac inverter, 12v battery, pwm solar charger controller with digital display
Best use: Outdoors, home, travelling
Description: Windy Nation has manufactured a sought-after WindyNation SOK-100P-AB1 solar panel kit that comes with many features. It is adjustable and can be temporarily or permanently installed to provide reliable solar power solution. Included is a PWM solar charge controller, which can be adjusted as well. The LCD screen updates the user about panel status, voltage, battery charge status and DC load straw.
To make your outdoor adventure more favorably enjoyable, you can purchase a complete kit that includes 100W polycrystalline solar panel, 20A LCD Display solar charge controller, 40 ft 12 AWG solar cable, adjustable solar panel mount, user manual and MC4 connectors.
The user is given a 25 year warranty for this product. To help save power, the panel is compatible with batteries such as lithium, AGM, gel and lead acid. The charge controller has a well-disposed interface. It utilizes an LCD display to show the system's amp-hours, amperage, battery temperature, solar produced amp-hours to battery, voltage and DC stack draw, and so on.
PROS:
Simple to extend, simply connect more boards to the kit
Great controller, gives all the data you require at a snappy look
If you are skillful, you can mount and also install it on an RV rooftop in a few hours
CONS:
The kit is heavy
The included wire is quite short; there may be a need to buy some additional cable
Related: if you need an extra cable to extend your wire in order to reach distant areas, then you can check out the Unlimited Solar U-WR8-30FT-MC4 solar panel cable 30 ft.
Hqst 100DB 
Price: $190 – $210
Weight: 5 pounds
Dimensions: 41.7×21.3×0.12 inches
Specific features: 100% el testing, advanced sunpower monocrystalline cells in a thin plastic sheet, durable and high-efficiency solar panel arguably outperforms aluminum and glass models, maximum power of 100 w, maximum system voltage of 600v dc, optimum operating current of 17.7 v, optimum operating current of 5.70 a, dimensions of 41.7×21.3×0.12 inches, open-circuit voltage of 21.7 v and short-circuit current of 6.10A.
Best use: Outdoors, remote cabins, boat
Description: For outdoor survivalists not fond of heavyweight solar panels, here's the lightweight, portable panel weighing just 5 pounds.
It's a HQST 100DB solar system that is designed for non-permanent installations while on the go. Furthermore, it is waterproof, thus making it usable in humidity conditions without a fear of corrosion.
This solar panel can be inexpensively mounted and affixed by adhesives, zip ties, Velcro or grommets. There are drilled holes to allow for secure and fast installations. Moreover, it outsmarts traditional aluminum and glass panels with usage in crowded areas and tight spaces that could be off-limit to them. However, the panel is not bendable, but it is flexible.
This solar panel utilizes enhanced monocrystalline cells that has been laminated into a slim plastic sheet. The outcome is a solar d board that is much more durable and productive than conventional glass and aluminum models.
That being stated, this solar panel kit is awesome for individuals with a smaller spending plan. It's economical, lightweight and reliable. Due to its flexible use, it is a solar panel kit that is worth the price. Ensure that you deal with its metal grommets so as to keep up its appearance.
PROS:
Fast set up
Lightweight
Compact
Good user support system
Great performance; even in low light situation
CONS:
Panel issues
The system requires a more intense controller if you need to utilize extra boards.
Related: if you need a high quality cable connector that ensures a long term durability, then you can check out the RENOGY 5MC4 solar cable connectors.
Crystalline 100F-M12V 
Price: $162 – $170
Weight: 4 pounds and 4 ounces
Dimension: 41.75×21.5×0.0625 inches
Specific features: Output power of 100 watts, optimum operating voltage of 17.8v, optimum operating current of 5.62a, open circuit voltage of 21.6v, mono crystalline solar cell dimensions of 41.75×21.5×0.0625 inches, waterproof mc4 connectors and a 3ft power cable
Best use: Travelling, outdoors, car camping
Description: With Crystalline 100F-M12V solar panel  ideal for boating, camping or hiking, you get 100W of power and 12V Monocrystalline panel that will charge your power banks.
This panel has been proven to successfully convert sunlight into heat and electricity with high efficiency for the batteries to last long on your vacations.
It is a semi-flexible, 4 pounds and 4 ounces light weight and portable solar system designed to be affixed to a rigid surface to avoid flexing. It has 6 grommets 4 of which are on the outer corners while the remaining 2 at the center.
This portable solar power kit is primarily for car campers, RV or charging batteries at a lodge. The output is quite aggressive for charging laptops or cell phones. If want to charge your smaller gadgets, your best choice is buying an external battery, charge it first and then plug in your gadgets to the storage system.
PROS:
Great performance; even in low light situation
Flexible and lightweight materials
High power rates
CONS:
Moderately low efficiency
Related: if you need a solar charge controller to protect the voltage discharge and overshoot, then you can check out the Mohoo B018ICL charge controller.
Grape Solar GS-100-EXP 
Price: $190 – $200
Weight: 21 pounds
Dimension: 42 x 28 x 3 inches
Specific features: 100 Watt of power, high efficiency crystalline solar cells for durability, ease of installation and free of any maintenance, anodized aluminum frame providing weatherproof feature, two diode minimizes power drop
Description: More suited for DC applications such as RVs, LED flashlights, small pumps, maritime boats, and more. Grape Solar GS-100-EXP solar panel kit has a 2 diode junction box for its optimal performance in the solar power provision. 3 more panels can be added to it with additional cables.
This is made possible by its 35 Amp Xantrex charge controller. All necessary cables and connectors are included in a complete kit. The battery is however not included, but a 12 Volt battery is recommended.
This solar panel kit accompanies a pair of polycrystalline solar boards. Other interesting things about this kit is that it has a power inverter. This inverter makes you require only a 12V battery additional to make it a full outdoor solar solution. However, with its great power and proficiency, it is without a doubt a great choice for different applications like boats, RVs and all other little outdoor power employments.
PROS:
Easy to install
Weather resistant system
Charge controller Included
Flexible watt panels
CONS:
Low durability
Panel issues
Related: if you need an extra cable to extend your wire in order to reach distant areas, then you can check out the Channel Islands Electric 052-09483 solar cable connector.
Renogy Monocrystalline 
Price: $196 – $200
Weight: 19.8 pounds
Dimension: 47 x 1.5 x 20.9 inches
Specific features: 100W monocrystalline starter kit, suited for off-grid dc applications, 12v solar panel, 30 a pwm wanderer charge controller, 20ft 10 awg mc4 adaptor kit, z-brackets set, 8ft 10 awg tray cable, negative grounding controller, quiet power production
Best use: Home use, car camping, outdoors
Description: With 100 Watts of power this Renogy Monocrystalline solar starter kit brings a whole range of features to outdoor enthusiasts. Renogy 100 Watts 12 Volts Monocrystalline Solar Starter Kit is best suited for off-grid DC applications such as trailers, boats, cabins, RVs and sheds.
It comes with a 30A PWM Negative Ground Charge Controller, which helps expand the solar system up to 400W. With an 8ft AWG Tray cable you can connect this charge controller and the battery. To power your battery, the panel can charge a 50Ah battery in about 3 hours from 50% if there's sufficient sunlight
This is a great solar starter kit that gives you a high wattage and a snappy charge. This kit is quite easy to install, it does not require a great deal of uncommon guidelines and will attach directly to any battery kind with positive/negative terminals.
It is heavy, however, so you should not expect to drag the solar panels around. The solar suitcase is best concealed in an RV and utilized for broadened stays on the outside. Unlikely you'll have the capacity to run even television's or radios for a long time with the little panel without the battery being discharged.
 PROS:
Highly durable
Can withstand heavy weather
Excellent battery life
High performance
CONS:
A little bit expensive
Heavy
Related: if you want a solar panel mount that can help you tilt your solar panels for easy absorption of solar energy then you can check out the Link Solar LS-AL-60F22 solar panel mount rack.
Sunkingdom 18 V Solar Panel Charger
Price: Approx. $300
Weight: 4.86 Ibs.
Dimensions: 117.1 x 53.9 x 0.3 inches
Specific features: 5% higher efficiency floating voltage 18V charging with MC4 connectors, dimensions 117.1×53.9×0.3 inches and ultra-compact weight of 2.21kg/77.55oz/4.86ibs, 24 hours professional technology support for customers, 12 months warranty, 120 watts of power, limitless power provision, portable compact design, non-radiative and non-pollution, pre-drilled holes in the portable panel for ease of mounting using velcro, adhesives or grommets.
Best use: Camping, remote cabins, homes, boats
Description: This Sunkingdom 18 V Solar Panel Changer portable solar system has an efficiency of 23.5% floating voltage. The panel provides a cost-free, sustainable, reliable and limitless power to power your electric appliances in your outdoor activities.
Unlike the traditional aluminum and glass, solar panels, this SunPower semi flexible solar panel is designed to be durable. The manufacturer supports the customers with an advanced and professional technology support for the optimal performance of this portable solar system
This solar panel kit applies to any event that can be exposed directly to sunlight. When you are enjoying the great outdoors, this solar panel kit will provide free and interminable power supply. The kit, might be much stronger than conventional glass and also aluminum models.
It ends up plainly one of the best solar panel kit due to its high voltage and curved design. Fine, it is designed to charge the 24V batteries kind as it creates a moderately high voltage. Also, it is only a piece of versatile solar panel kit with no accessories included.
PROS:
Superior portability
Endless and free power supply
Excellent performance
Lightweight
Simple to use
Related: if you are planning on extending your solar system further, then you need to check out the Biard 5MCABMC425 cable extensions.
Concluding Thoughts
To sum up, the aforementioned solar panels are portable and flexible enough to be used conveniently by all outdoor survivalists. Not only are they providing sustainable energy, but also providing a free energy that is eco-friendly.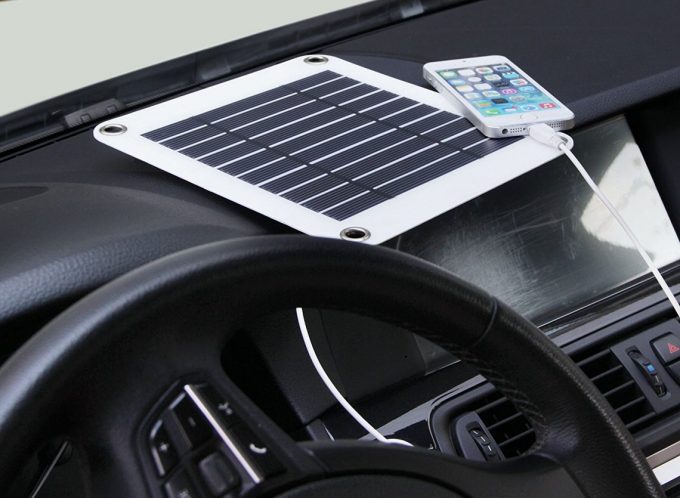 Their mobility makes them preferable alternative energy sources favored by outdoor enthusiasts wanting to replenish their batteries for various types of electronic devices. Carefully navigate through the features to select the best portable solar panels that will fit your needs.
If you found our article to be useful, or you want to share your personal experience with some of the models we included in our list, feel free to leave a comment in the comment section below.