So you love camping, but not that much of a fan of starting a fire every time you need to brew a fresh dose of coffee? If you like to do some exploring  beyond your campsite, do you like stopping every time, getting your mini stove out and completing the above mentioned procedure? If we got you nodding your head and saying "Yes, they are right, I don't like doing all those things, but I do need my coffee and I also need a solution!" all we can say is the best camping thermos you can find on the market!
But, how do you find the best one? There are so many out there, how to be sure the one you get will serve its purpose? You could do a thorough research, compare hundreds of models and read thousands of user reviews, but that would take too much time, right? All you need to know is that there are certain features of each thermos model, that will either suit, or won't suit, your personal needs, and that you need to know which features work best in your case. Once you know that, finding the perfect thermos will be a breeze.
This is where we jump in and save the day. In this article, you will have a chance to get more familiar with the most important features you should keep an eye on in order to choose the perfect model. Also, to make it even easier for you, we have done the research and reviewed the best models the market has to offer. So, just keep reading and you will find the camping thermos you are looking for.
Our Top Picks
| Product Name | Weight | Material | Specific Features | Price |
| --- | --- | --- | --- | --- |
| FIJOO Slim Line | 1.0 lb | Stainless steel | Innovative screw top design | Check price on Amazon |
| G2V Flick Sports | 0.45 lb | Stainless steel | Lid with straw, wide mouth opening | Check price on Amazon |
| Lifesky Insulated | 0.5 lb | Layered stainless steel | Vacuum-sealed. 100% leak proof | Check price on Amazon |
| Stanley Classic | 0.5 lb | Stainless steel | Rust resistant, keeps liquid hot for up to 7 hours | Check price on Amazon |
| Thermos NS100 | 1.1 lb | Stainless steel | Vacuum insulation technology, sturdy handle, one push button mechanism | Check price on Amazon |
| Reduce Hybrid | 0.9 lb | Stainless steel | Super lightweight, designed for hot and cold beverages | Check price on Amazon |
Features to Consider Before Buying
Not all camping thermoses are made equal and not just any thermos will do the job. There are a lot of considerations that go into choosing a camping thermos, and they go beyond its ability to keep your coffee hot, even though this is the most important feature.
There are hundreds of thermoses to choose from, and we will give you the information on what matters most when it comes to selecting one for storing your coffee when camping. Our reviews will focus more on the effectiveness, size, durability and insulation of the camping thermos.
Effectiveness
The effectiveness of a thermos is how well it provides insulation for your hot coffee keeping it warm for hours. When purchasing a thermos for camping, you have to consider how often you will be drinking your coffee.
If you will be taking a cup in the morning and another one in the evening, then a thermos that keeps the heat in for 24 hours will be ideal for you.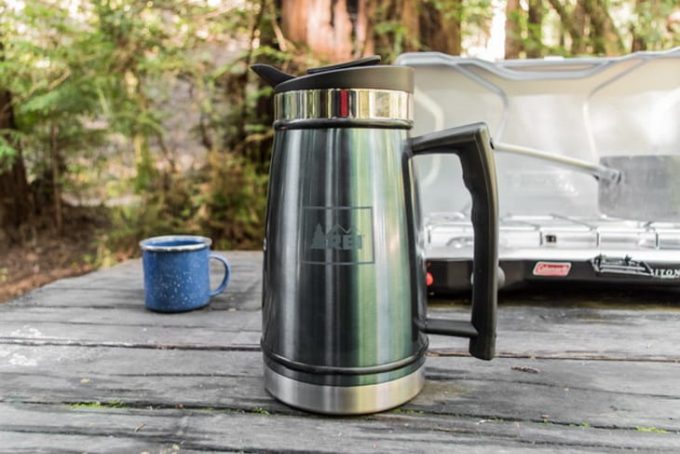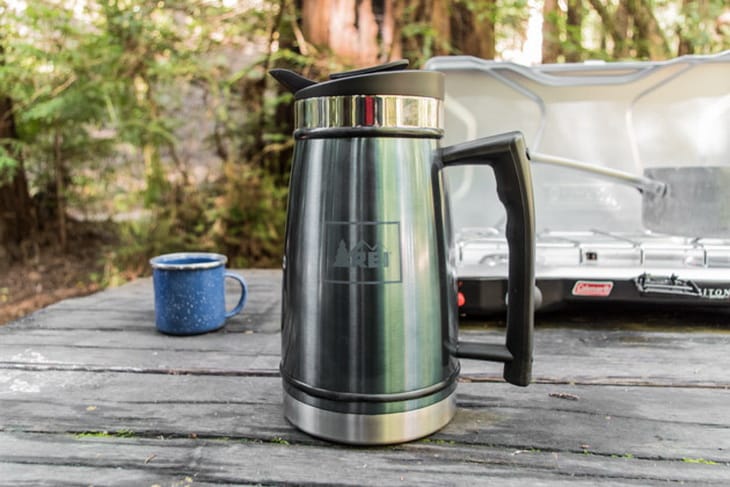 Other thermoses can keep the heat in for only six or twelve hours, so just be sure to keep the effectiveness in mind and take your coffee before it gets cold or buy one that keep it hotter for longer periods of time.
It should also be noted that while they are effective at trapping heat, a thermos is even more effective at trapping cold as well, keeping cold drinks colder for longer.
Cup and Lid
If the thermos comes with a cup, then it should also be efficient at keeping the coffee hot, especially if it has the same construction as the thermos itself. When you pour coffee into the cup, it should be able to keep it warm for a while so that you can be able to enjoy it and take your time sipping.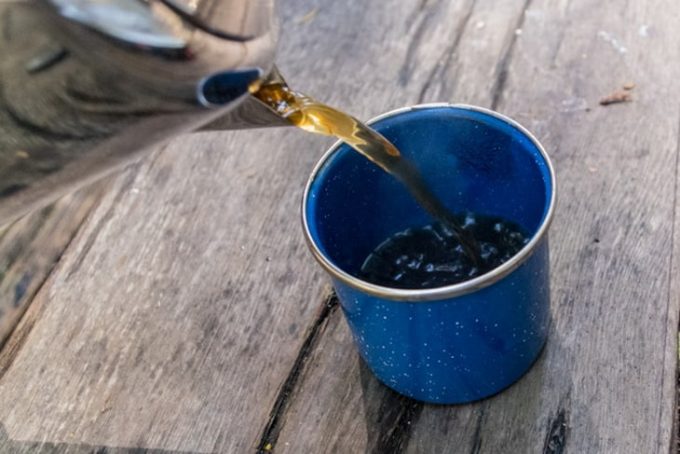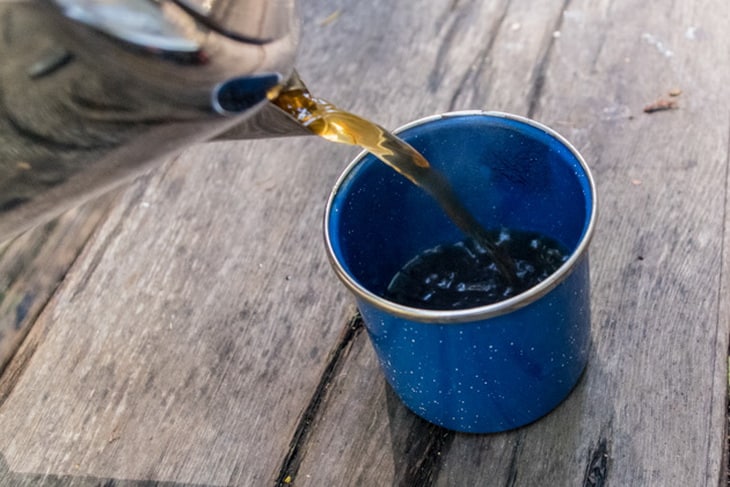 The lid should be effective at sealing in the heat and flavor. It should also prevent spills, be easily cleanable and provide some convenient way to access your coffee (like through a slide top or sipping hole).
Size
A thermos is already bigger than your average drinking bottle due to the way they are constructed, so carrying a 1 liter thermos will be very inconvenient and will weigh down your backpack. At the end of the day, it all comes down to what the thermos is needed for on your camping trip.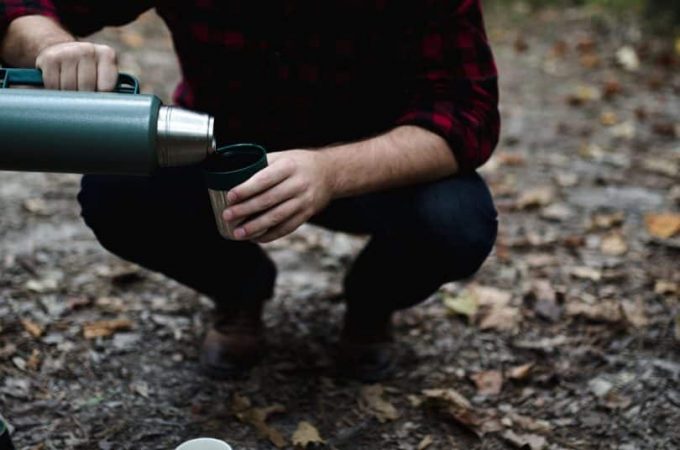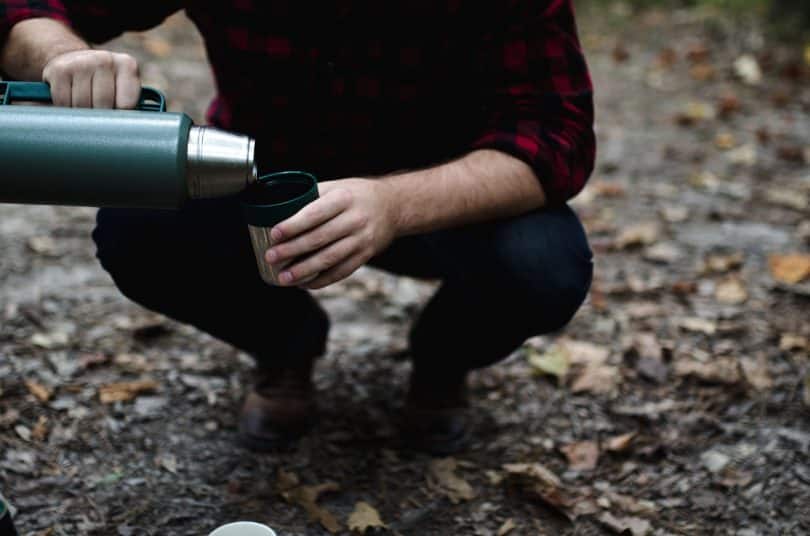 Do you need multiple servings of coffee throughout the day while at the campsite? Then a large 1 liter thermos will suffice; another added benefit of large thermoses is that they can keep your coffer hotter for longer than a smaller one.
On the other hand, if you need to go hiking, rock climbing or hunting on your camping trip, then a portable 16 ounce thermos that is good for a single serve will be ideal to carry around.
Durability
A thermos made from stainless is better suited for camping than one made from plastic or glass – especially glass. A stainless steel thermoses can take a hit or two, making them the most durable option, which is important when performing activities that require a high amount of movement.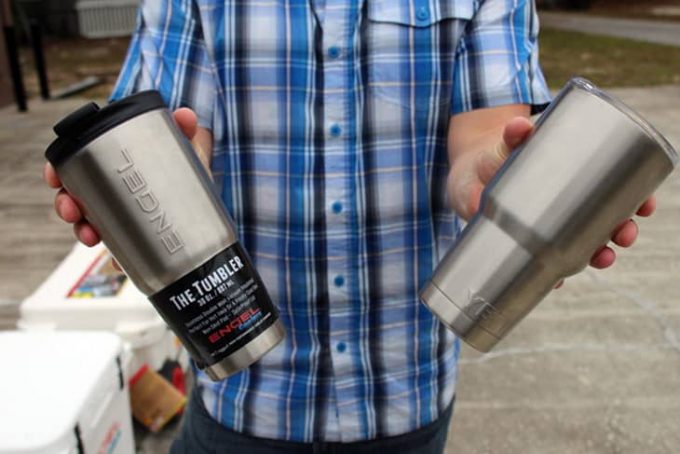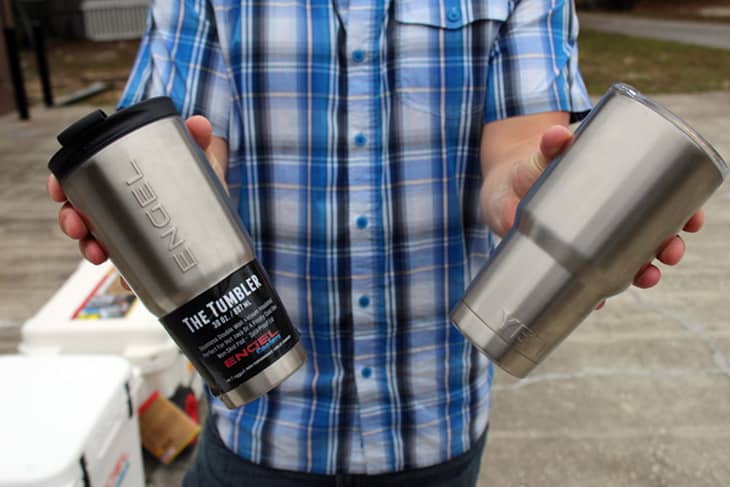 On top of durability, a stainless steel thermos is better at trapping the coffee's heat, highly resistant to rusting and corrosion and easily cleanable by just throwing them in the dishwasher.
Insulation
Another important feature to look out for when buying a thermos is if the insulation is well-constructed. All thermoses are double-layered, whether stainless steel, glass or plastic, and the space between these layers (the void) is what prevents the heat from escaping your coffee, providing insulation.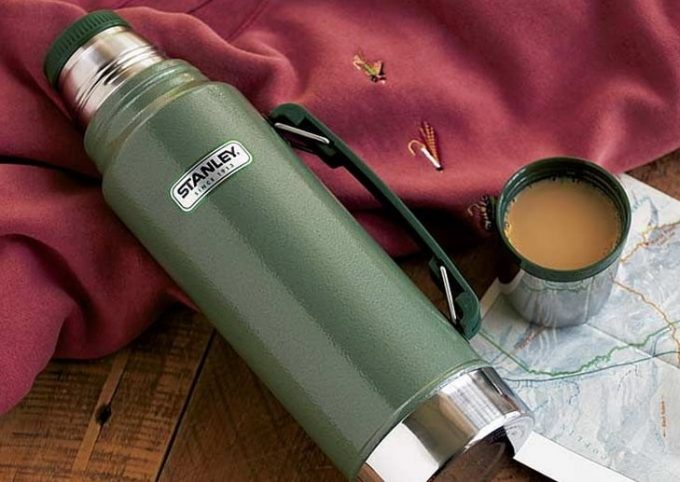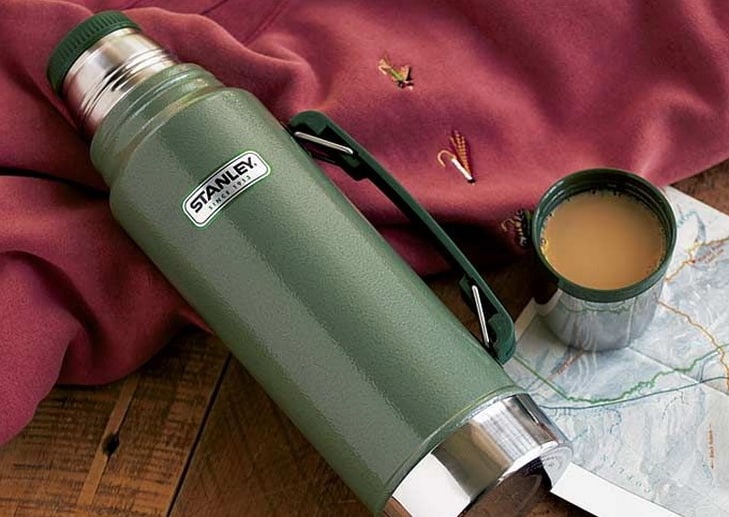 If the insulation is vacuum-sealed, containing little to no air between the layers, then the thermos will offer better thermal performance, regardless of the material it is made from. Those that contain a lot of air between the layers will offer poor thermal performance.
Before diving into the reviews, we thought it was best to equip with this knowledge that will enable you to select the best camping thermos for better enjoying of your coffee. With that said, take a look at the reviews below.
Top Products on Today's Market
In this section, you will have a chance to read the reviews of the best thermos models on the current market, and to make a perfect choice for your next outdoor adventure.
Fijoo Slim Line Thermos 
Price: Approx. $20
Weight: 1 lb
Dimensions: 10.5 x 3.2 x 3.1 inches
Specific features: Food-grade stainless steel, innovative screw top design, dual-layered construction
Best use: Hiking, biking, rock climbing, kayaking
Description: The Fijoo Slim Line Thermos is a suitable companion for people who love to drink coffee before and after intense camping activities. It is built for maximum convenience, with its portable design that can fit into any backpack.
This means you can easily carry it for hiking, biking or even rock climbing. It also comes with a thermos cup, which is also the lid, meaning you don't need to carry any extra cups.
The stainless steel construction (both in the interior and exterior) ensures that the thermos can survive extreme use. The stainless steel doesn't just make the thermos sturdy, it is also free from harmful chemicals and the metallic aftertaste that comes with low-grade stainless steel and plastics.
And when it comes to the most important feature – keeping your coffee warm – the thermos can store any hot beverage at the right temperature for approximately 8 hours due to its double-layered construction.
PROS:
Comes with a thermos cup
The double layered construction helps keep coffee warm for up to 8 h
CONS:
Would be better with a handle
Related: What is the most important thing about a coffee flask? Having the right kind of coffee/fuel inside of it! Brewing up some coffee and taking it on the road is fine, but what to do when you have finished it all? That is where carrying around a couple of Dry Brew Coffee Chews – chewable coffee that hits you in the right way as your cup of Joe would.
G2V Flick Sports Water Bottle 
Price: Approx. $23
Weight: 0.45 lb
Dimensions: 2.9 x 2.9 x 9.8 inches
Specific features: Single-layered, dishwasher safe, wide mouth, lid with straw
Best use: Hiking, biking
Description: We know you are wondering what a water bottle like the G2V Flick Sports Water Bottle is doing on this list, but we have good reasons why you should use this as a camping thermos for your coffee. If the bottle was made from plastic, the single-layer construction would put the bottle at risk of melting or cracking if you poured steaming hot coffee into it.
But, since it is stainless steel, it will not melt or crack on you. Just be careful to let the coffee cool down a bit before touching the bottle to avoid getting burnt, since the bottle will heat up very quickly due to its single layer.
For easier access to your delicious coffee, the bottle comes equipped with G2V's Flick Sports Lid with a straw for easy sipping.
This is a time saving feature, but just be sure not to use the straw with piping hot coffee because the plastic may melt. If you don't want to use the straw, you can simply unscrew the lid and use its wide mouth to enjoy your delicious brew.
The bottle is also dishwasher safe, which makes it extremely easy to clean. The wide mouth also provides easy access to the bottle's inside for thorough cleaning.
PROS:
Lid with a straw
Dishwasher safe
CONS:
Without the use of a dishwasher, the straw is a little difficult to clean out
Related: If you don't want to worry about getting burnt or want your coffee to stay hot for longer periods, then consider getting yourself a G2V Neoprene Bottle. This coffee flask sleeve helps aid the course of heating your beverage, and keeping it that way.
Lifesky Insulated Thermos 
Price: Approx. $15
Weight: 0.5 lb
Dimensions: 3 x 3 x 9.2 inches
Specific features: 100-percent leak-proof, compact design, vacuum-sealed and double-layered stainless steel, can be purchased in a variety of colors
Best use: Hiking, rock climbing, biking, kayaking
Description: The LifeSky Insulated Thermos is perfect for people who plan on moving around during their camping trip, but desire some coffee on the go. The thermos has been marketed as being completely leakproof due to its vertical lid lock that creates a tight seal.
This ensures that you come back from your entire camping trip with no coffee stains from spillage. Its lightweight, compact design makes it easy to carry around and handle.
It has a double-layered stainless steel construction that makes the thermos sturdy and durable. The baked finish on the stainless steel ensures that fingerprints don't make its shiny surface dirty; that way, the thermos always looks clean and smart.
The space between the walls is vacuum-sealed for maximum insulation, giving your brew of fine coffee up to 8 hours of optimum temperature. This thermos also makes an attractive gift and you can choose a color that suits the person you have in mind.
PROS:
100 percent leak proof
Keeps your beverage warm for up to 8hrs
CONS:
Would be improved with the use of a handle
Related: Having coffee in your flask is a rather useless endeavor if you have nothing to drink it out of. The Collapsable Travel Mug is easy to clean and keep in your daybag. Highly recommend.
Stanley Classic Vacuum Mug 
Price: Approx. $25
Weight: 0.5 lb
Dimensions: 3 x 3 x 9.2 inches
Specific features: Easily usable with one hand, rust resistant stainless steel construction,can keep coffee hot for up to 7 hours, easily disassembled and dishwasher safe lid
Best use: Hiking, backpacking, kayaking, biking
Description: The Stanley Classic Vacuum Mug has a button that opens and closes the mug, making it easy to operate with a single hand. This means you can still perform other activities on your camping trip while you are sipping on your delicious coffee. On top of that, it is leak proof, and this prevents you from spilling your hot coffee in case you happen to be the clumsy type or want to carry it in your bike cage.
The thermos is made of high-quality stainless steel that makes it highly resistant to rusting. The thermal lid combined with the dual-layered construction offers great thermal performance, keeping your hot coffee hot and allowing it to retain its flavor for 6 to 7 hours.
This means you can go out for hours knowing that you are moving around with some delicious coffee that is ready to go. Cleaning the lid is easy too. Once you're done using it, just disassemble it and throw it in the dishwasher and it will come out spotless.
PROS:
Keeps your beverages hot for up to seven hours
Leakproof
CONS:
Without a dishwasher, it is a bit of a hassle to clean
Related: Another product you can purchase together with this one is the Stanley Classic Vacuum Insulated Food Jar that you can bring with you on a day-hike and have your lunch still warm when you get on your favorite destination.
Thermos Vacuum Insulated Travel Mug  
Price: Approx. $25
Weight: 1.1 lb
Dimensions: 3.5 x 5 x 8 inches
Specific features: Patented vacuum insulation technology, one hand push button with indicator, sturdy handle
Best use: Camping, light backpacking
Description: The reason why you are reading these reviews is because you hate cold coffee, especially when camping, but rest assured that the makers of the Thermos Vacuum Insulated Travel Mug have you covered.
This thermos uses the patented Thermos technology for maximum insulation, keeping the contents of the thermos hot for 5 hours in its vacuum sealed, double-layered stainless steel construction. Some users have even reported that their hot beverage stayed hot longer than advertised.
The lid of the thermos is an interesting feature. It has a button that you push to open the sip hole and access the contents, and it remains open so that you don't have to always push the button whenever you feel like a sip.
This might cause confusion for some people, since they may not know whether the sip hole is open or closed. All they need to know is that the button turns red when the thermos is closed and the red disappears when it is opened.
The thermos also features a handle, which is convenient because it provides you with a comfortable and firm grim that protects you from accidentally dropping the thermos. The handle is sturdy too, meaning you don't have to be afraid if you're planning on abusing this thermos everyday while camping – the handle can handle it.
PROS:
One hand push button for opening the sip hole
Features a handle
CONS:
Confusion can come from knowing whether or not the sip hole is open or closed
Related: Some people don't like the handle because it compromises portability. This same product has been manufactured without the handle. This Thermos Vacuum Insulated Travel Mug is easier to pack in your daypack and yields the same results.
Reduce Hybrid Bottle 
Price: Approx. $12
Weight: 0.9 lb
Dimensions: 2.8 x 10.2 x 2.8 inches
Specific features: Designed to be used for both hot and cold beverages, made from lightweight stainless steel, has two specialized lids
Best use: Light hiking, backpacking
Description: The Reduce Hybrid Bottle is just what you need if you like to switch between your hot and cold beverages during your camping trip. The stainless steel construction is very lightweight, which means carrying the bottle is not an issue.
When it comes to heat retention, your hot coffee can survive for up to 6 hours, which is perfect for people who drink coffee regularly during the day before it gets a chance to cool off. This is also a perfect fix for those people who prefer making their coffee at home and bringing it on the trail with them, as opposed to brewing up on the trail.
The bottle comes with two interchangeable, specialized lids for your hot and cold beverages, but we are only interested in the lid that best allows you to sip your coffee – what else is a thermos really for anyway. To this end, the thermos has a slide top lid, which is also leakproof.
PROS:
Leak proof lids
Made from a lightweight stainless steel
CONS:
Hot beverages stay hot for up to six hours. Which is less than a lot of the items on this list.
Related: A great addition for your backpacking trip is this portable, stainless steel Carabiner Travel Mug, with an easy to use handle that doubles as a climbing hook so that you can add it to your pack.
Bodum Travel Tea and Coffee Press 
Price: Approx. $25
Weight: 0.7 lb
Dimensions: 3.5 x 3.5 x 9.1 inches
Specific features: Makes coffee on the go, built in plunger, non-slip grip
Best use: Hiking, backpacking, kayaking, biking
Description: To the delight of coffee aficionados everywhere, who also love to take their coffee on the go, the Bodum Travel Tea and Coffee Press truly delivers. This thermos allows you to make and drink your coffee on the go, making it the most time-saving camping thermos on the list.
Don't bother waiting for the coffee maker, just put some ground coffee in the thermos, add piping hot water, seal the lid and be on your way to enjoy your camping activities. After four minutes have passed, push down on the plunger to complete making your delicious coffee.
A thermos of this quality should also be able to keep the coffee hot for long, and it will definitely not disappoint. The coffee will remain hot for hours thanks to its double-layered and vacuum-sealed construction.
Some users actually reported having to open their thermos a few times to let the heat out in order to bring the temperature of the hot beverage down to drinkable levels.
Another useful feature for this cup is its non-slip grip. This allows for a steady and comfortable grip, meaning the thermos won't slip and fall during use and make you pour scalding hot coffee on yourself.
PROS:
The thermos comes with a non-slip grip
On the go coffee maker
CONS:
Built-in plunger may act as difficult whilst packing
Related: The Jasmine Disposable Tea  & Coffee Dripper Bags help you take your coffee and tea on the go. Without the need of barely a thing, these drippers are the perfect caffeine drinker/hikers tools for the trail.
Zojirusushi SJ-SHE10 Tuff Sports Bottle 
Price: Approx. $25
Weight: 2.3 lb
Dimensions: 3.8 x 10 x 4.1 inches
Specific features: Push bottom stopper, thermal cup, collapsible handle, carrying strap
Best use: Camping, picnic
Description: The Zojirushi SJ-SHE10 Tuff Sports Bottle is the perfect thermos for multiple servings of coffee, since it can hold up to 32 ounces and keep it heated for hours. Even though it can carry all that coffee, it is still lightweight, compact, and incredibly easy to store.
The lid has a stopper that makes pouring the coffee a breeze.With the press of a single button, the lid opens, avoiding any unnecessary spills and messes while serving. It also comes with a thermal cup that provides excellent thermal performance.
The handle enables you to grip the thermos better when serving. You can also collapse it and make it lie flat against the thermos when it's time to pack up. If you are going to be moving around during the camping trip, then carrying the thermos is also easy because it also comes with a carrying strap that can be easily detached.
PROS:
Collapsable handle
Carry strap attachment
CONS:
Difficult to wash without a dishwasher.
Related: Making your coffee before you go on your hiking trip or camping adventure is a need to keep you moving, but giving yourself the ability to produce caffeine on the go is a dream come true. The Winterial Percolator Coffee Maker helps you bring your coffee with you.
Wrapping It Up
That is all for now. We have reviewed eight of the best camping thermoses for coffee that we thought would be more than ideal for coffee lovers to bring on their camping trip.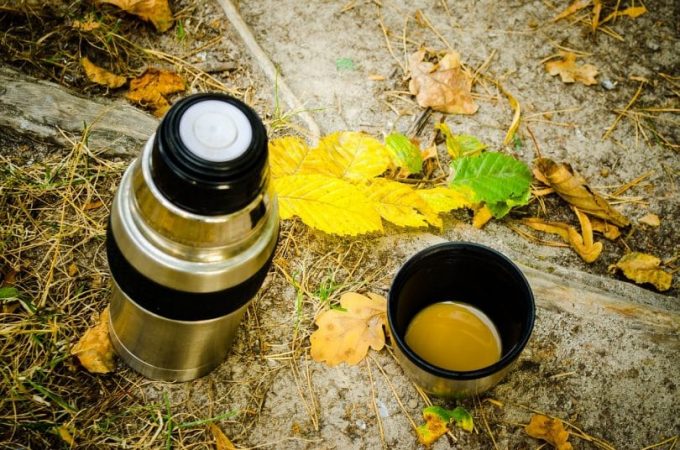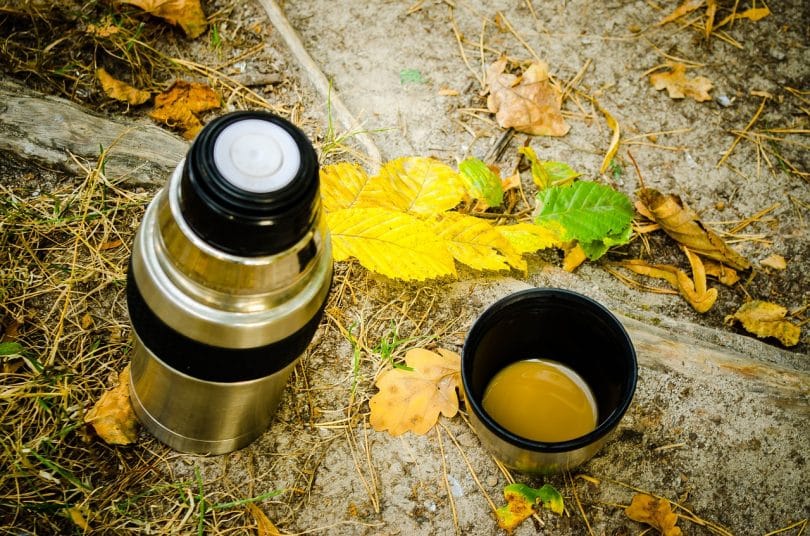 Now that you know how to choose the right one, and after you read the product reviews, you shouldn't have to suffer cold coffee or go through a lot of trouble to make a fresh brew every time you need it.
We have also made sure to mention some related products that will enhance the coffee drinking experience during camping, so put those under serious consideration too.
Now, it's your turn to tell us what you think of the models we reviewed, or if you have one of theme, you can share your experience with our readers. All you have to do is to visit the comments section below, and leave a comment or a question if you have any. Thanks for reading!