As an outdoor junkie you have definitely been in situations when it was so dark and you had trouble navigating the terrain. Did you wish for a more suitable source of light that would help illuminate your surroundings? Only purchasing the best waterproof headlamp can solve such problems.
By using a bright, waterproof headlamp, you will be able to hike through dark trails, use during camp nights, mountain biking, trail running and almost any other outdoor expedition. It is exactly what you need to survive even the darkest of nights. However, finding the perfect model for your needs can be a complicated task, and that's why we want to help you out.
Our review today, includes an ultimate guide to finding the top waterproof headlamp on the market. We will also include a few crucial features which are worth considering when purchasing your headlamp.
Important Features to Consider Before Buying
When choosing a suitable headlamp for your outdoor activities, there are so many factors which can affect your buying decision. We have discussed the major aspects you should be keen on, if you want to purchase a headlamp that works great for your needs.
Light Output
This is the most important feature, as it determines the overall performance of a headlamp. Lumens is the unit used to measure the light output, and it is usually indicated on the packaging. Any headlamp producing more than 60 lumens will provide sufficient light to help you navigate the outdoors.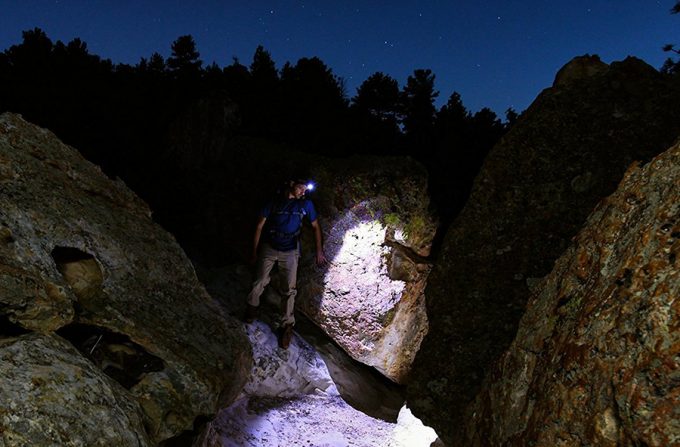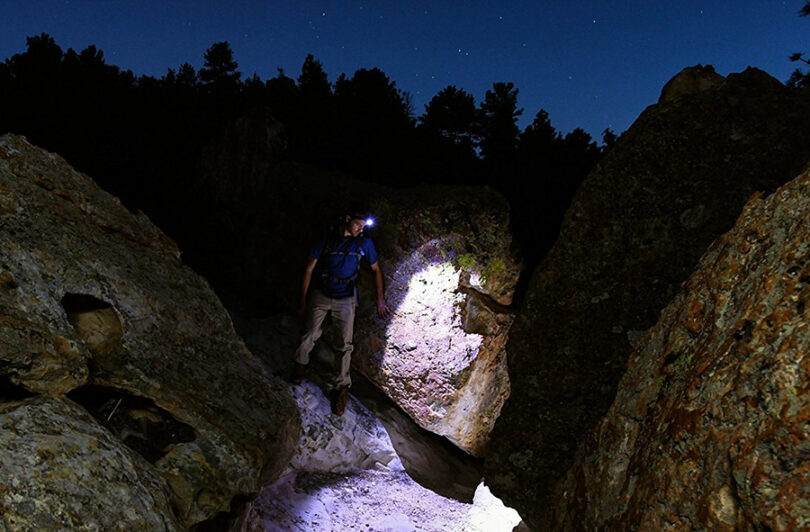 You will find that most lightweight headlamps produce between 30-250 lumens, with more technical brands producing over 1000 lumens. Such headlamps require more hardware and external batteries, which compromises on the weight.
Durability
You do not want to buy a headlamp that stops working after a few uses, garranting you to spend money on another one. Go for one that looks a bit tough; one that does not get damaged if dropped or when it comes into contact with water.
Look out for headlamps with a water resistant ration of IPX4 and up. For a lamp that is completely waterproof and can withstand harsh conditions, go for one with a rating of above IPX7, as it can withstand being immersed in water for about 30 minutes without getting damaged.
Battery Life
Since you will be out there, you need a headlamp with adequate brightness which can provide light for a prolonged period of time without dimming. Keep in mind that most headlamps consume batteries, especially if on full brightness.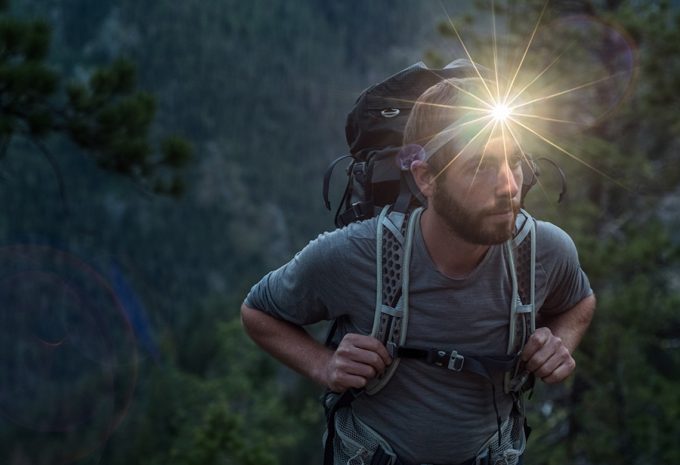 To get an idea of how long a lamp shines, look at the run time, which is usually indicated on the packaging. To be safe, it helps carrying along extra batteries with you in case the ones in the lamp die while you are in the middle of nowhere.
Beam Distance
It is vital that you look at how far the headlamp beam goes, up close and at a distance. To find out the beam distance of a certain headlamp, study the manufacturer's guide. Beam distance is determined by what you will use your headlamp for.
If you will be staying around the camp site, a beam distance of around 30 meters is sufficient for you. However, if you will be using your headlamp for treks, you need a headlamp which can emit light for at least 100 meters ahead.
Weight
Headlamps come in varying sizes and weights. You should opt for one that is ultralight and packs small to allow for easier portability. Headlamps with an external battery pack add to the weight, which makes transportation a little too hectic.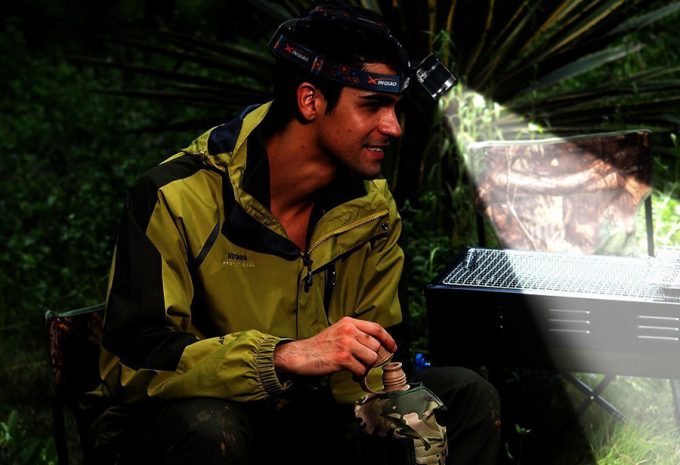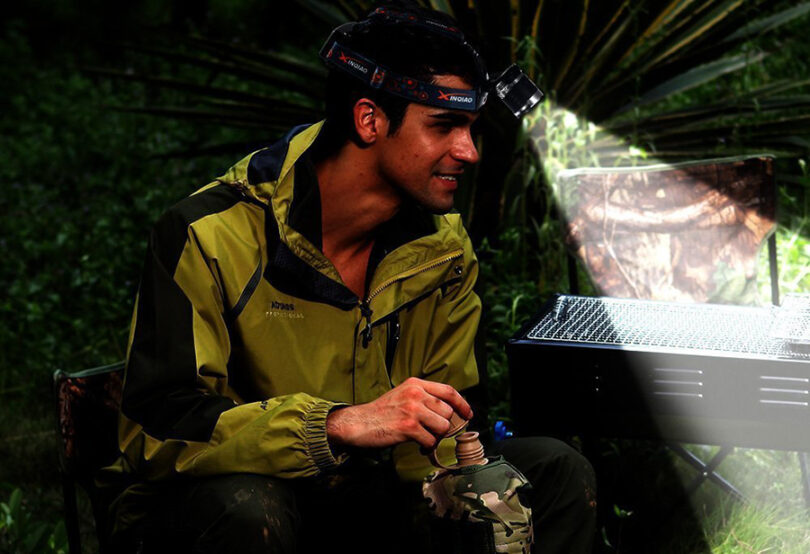 If you won't need to move around so much, the weight may not matter as much because you will not be carrying the headlamp around. We, however, recommend that you still choose lightweight headlamps to ease the overall weight of your backpack.
Additional Features
There are other extra features that are not so necessary, but they sure do come in handy. Go for a headlamp with an ability to tilt light, such that you can direct light in any direction without having to move your head.
Additional straps are crucial to help you tie the headlamp to your backpack or other objects. You should also look at where the on/off switches are located, and how easy it is to activate lighting when you are in a hurry.
Best Products in Today's Market
Below is a comprehensive review of some of the top headlamp brands in the market, with a list of the major features and pros and cons and similar products which you can also consider buying.
Icefox Rechargeable Headlamp
Price: Approx. $26
Weight: 10.6 oz
Dimensions: 4.5 × 3.5 × 4.5 in
Light output: 6000 lm
Specific features: 4 brightness modes, 90 degrees rotatable, adjustable and handsfree, 2 pieces 18650 rechargeable batteries, up to 8 hours working time
Best use: Hunting, cycling, camping, night reading, fishing, adventure racing, caving
Description: The Icefox Rechargeable Headlamp is designed with four working modes, one low light, two mid lights and three headlights, so that you can choose the mode best suited for your needs.
In addition to this, there is an adjustable hands free feature which allows the lamp to swivel down to 90 degrees. The super bright LED lamp has 6000 lumens, which has been powered by two pieces of 18650 rechargeable batteries. The red light located at the back of each battery gains increased visibility from all directions, providing maximum light even in dimly lit areas. The batteries can be replaced if need be.
Icefox headlamp runs for up to 8 hours, when under full charge, and it comes with a lifespan of over 100,000 hours. The design is sturdy and very well made; you can drop the headlamp and it won't get damaged.
Another great feature is the top straps on the head, which hold the lamp in place and prevents it from falling off. You can be assured that your lamp will stay in place even when navigating uneven terrains.
If you are not a fan of very bright light you should consider other headlamp options, especially for use in small spaces like tents since the Icefox emits blinding light, when on high mode. This headlamp is also heavy for transportation over long distances. Another downside is that the rubber membrane covering the batteries starts coming off, unless you secure it with super glue.
PROS:
High durability; lasts long without needing replacements
Four flashlight modes for different situations
Rotatable light; you do not need to turn your head when adjusting
Good and sturdy design
CONS:
Too heavy; limits portability over long distances
Light emitted is too bright for small spaces
Rubber membrane protecting the batteries comes off
Related: To ensure that your headlamp is always on, you might consider buying extra batteries for your trips. The Anglin Rechargeable Battery comes in a pack of four, at approx. $9. They each carry a capacity of 58800 mAh, and are designed with a tough metal stand, and highly elastic empennage for more durability.  
STCT Street Cat Headlamp
Price: Approx. $10
Weight: 1.8 oz
Dimensions: 3 × 2.1 × 2 in
Light Output: 160
Specific features: 5 light modes, lithium metal battery, amperage capacity:1200 mA, adjustable design up to 45 degrees, 160LM LED lights
Best use: Fishing, cycling, dog walking, working, camping, jogging, reading, fixing vehicles
Description: The STCT Street Cat Headlamp is designed to provide you with sufficient bright light, to allow you go about your tasks with ease. It's a waterproof headlamp, hence will not be damaged by splashing water. However, we do not recommend immersing your headlamp in water, as it may stop working.
This headlamp has 160LM LED lights, with a beam distance of about 150 m or 492 ft. The light emitted is bright enough for night walking, or working on poorly lit areas. Moreover, the flashlight is also quite easy to control, with two separate buttons for either the red or white light.
The most notable feature about CREE headlamps is the 5 lighting modes; 3 white light modes to indicate high, low light or flash. The red mode is an indicator for steady on or SOS. It's not as strong as the white mode, but comes in handy during emergency situations when you need to use signals to ask for help.
This headlamp also has an adjustable design that swivels from 0 degree to 45 degrees, thus, you do not have to tilt your head so much when you need light in different directions. Additionally, there is a custom head strap that can fit over a helmet.
PROS:
Adjustable; tilts up to 45 degrees
Waterproof; does not get damaged by water splashes
Custom head strap; you can comfortably wear the headlamp over a helmet
5 light modes ideal for any situation
CONS:
May get damaged if immersed in water
The red light has a beam distance of 1ft and doesn't produce sufficient light
Gives you both high and low modes when turned on
Related: You can never have enough extra batteries, in case of emergency situations. Why not try out the AmazonBasics AAA Alkaline Batteries , which come in a 36 pack, at only about $9? These batteries are suited for both low and high draining devices, and will give you superior performance. 
Flagship-X Waterproof CREE LED Headlamp
Price: Approx. $9
Weight: 2.5 oz
Dimensions: 3 × 2.9 × 2.3 in
Light output: 160 lm
Specific features: CREE XPE LED technology, 160 lumens, 3 watts, 5 lighting modes, adjustable up to 60 degrees, IPX6 waterproof rating, durable, 30 day risk free return guarantee, 12 months limited warranty
Best use: Camping, fishing, running, biking, astronomy, dog walking, construction
Description: This Flagship-X Waterproof CREE LED Headlamp strikes the ideal balance between power, performance, and size. The CREE LED technology delivers a clear, bright light, with a superior intensity, color and performance, lighting up to 100 meters away.
You will also get 3AAA rechargeable batteries with your purchase. You can adjust the headlamp up to 60 degrees easily, without necessarily having to tilt your head. This lamp has an astounding 160 lumens, which are powered by full 3 watts.
Furthermore, the lamp comes with 5 lighting modes, which are both convenient and versatile. The light modes offer 2 independent buttons, for maximum power and dimmed light for reading. The other 3 modes are strobe white, a red light for night vision and strobe red for signals.
You do not have to worry about water damaging your headlamp. The Insane Lamp is rated IPX6, which means that it's fully protected from damage against water jets. Also, this lamp an ultra-light model, with an adjustable and secure headband, fit for both adults and kids. The headband will not loosen up at any point, even when engaging in very vigorous activities.
You may want to look out for the padded back, which can feel a bit uncomfortable. Also, unlike some similar products, you cannot find the buttons just by feel when in the dark.
PROS:
Sturdy construction and design
Separate and adjustable red and white buttons for more convenience
5 lighting modes
Secure and quality headband
CONS:
Uncomfortable due to the padded back
Buttons not easily found by feel in dim light
Red light not as bright as expected
Related: Given that the red light meant for emergencies and night vision is not as bright, you will need a first aid kit to handle minor accidents as you signal for help. The I GO Expedition First Aid Kit is ultra-light and portable, thus, you can carry it along on your outdoor expeditions.
Fox Firefly CREE LED Headlamp
Price: Approx. $19
Weight: 1.6 oz
Dimensions: 1.3 × 2.2 × 1.3 in
Light output: 115 lm
Specific features: 6 lighting modes, waterproof IPX6 certified, 115 lumens, CREE LED technology, red night vision mode
Best use: Climbing, hiking, night photography, camping, running, cycling
Description: This Fox Firefly CREE LED Headlamp is designed to not only provide a source of light, but also guarantees a super wide beam. Another notable feature is the 6 lighting modes, which will offer convenience for different situations.
There is a white beam featuring low, high and middle modes, and a red night vision that has strobe, high and SOS modes. This headlamp will light up so easily in the dark, with its wide angle lens giving you a large area of light. It also allows you to tilt in 3 positions, without moving your head.
The red night vision is designed to allow you to see better at night, while conserving the battery power at the same time. Your purchase will come with two AAA Energizer batteries, and a glow battery case lighting, that will offer a constant light to allow you replace your batteries in the dark.
With the Firefly, you can now get up to 100 hours of burn time, with just 115 lumens of clear and efficient CREE LED light.
What's more? You do not have to worry about using your headlamp in wet conditions anymore. Since its IPX6 certified, the Firefox does not get damaged by water splashes. However, immersing your headlamp in water can cause damage and may need maintenance.
PROS:
Wide angle lens offering super wide beam of light
Constant glow battery feature to provide light when changing batteries
Waterproof; IPX6 certified
Lightweight; easily portable
CONS:
Batteries drain faster than expected
Buttons are hard to operate
Easily damaged if fully immersed in water
Related: You may want to consider buying the Sawyer PointOne Squeeze Water Filter System to ensure you also have access to clean water as you enjoy the great outdoors. You can use your headlamp to get to a water source and fill up your pouch. When you screw the filter directly onto the pouch, just squeeze it to filter water into a bottle.
Aennon USB Rechargeable LED Headlamp
Price: Approx. $15
Weight: 3.2 oz
Dimensions: 3.4 × 2.9 × 2.4 in
Light output: 220 lm
Specific features: 4 lighting modes, adjustable up to 60 degrees, 220 lumens, up to 492 ft beam distance, waterproof IPX4 rating, USB rechargeable, 100% money back guarantee
Best use: Walking, running, hiking, reading, camping, DIY projects
Description: The Aennon USB Rechargeable LED Headlamp is not only powerful and versatile, but also improves your visibility with its bright lighting. The headlamp tilts up to 60 degrees to give you an up close and long distance viewing, without having to move your head.
With the 4 lighting modes, you can be assured of getting the exact level of brightness you desire. The 220 lumens light power gives you up to 492 ft of visibility. Moreover, this headlamp has a waterproof rating of IPX4, meaning that it cannot get damaged from water splashes.
With the USB charging capabilities, you are assured of up to 30 hours of constant light, on a single charge. Each charge takes about 4-6 hours. With this, you never have to buy batteries ever again in your lifetime.
The Aennon manufactures offer a 100% money back guarantee with each purchase. The headlamp is very light, which enhances its portability. Moreover, you will notice that the red light meant for night vision is very bright and more concentered than most headlamps on the market.
You may get disappointed with the light sequence feature, since to get to your preferred light mode, you have to cycle through all the modes. The durability may also be an issue; rubber on the buttons may come off and some of the buttons stop working after some time.
PROS:
IPX4 waterproof rating
You get over 30 hours of constant light on a single charge
Red light for night vision is very bright
Ultra-light and packs small
CONS:
You have to cycle through all modes to get to your preferred one
Low durability; may stop working after a few uses
No indicator for low charge levels
Related: How about purchasing this LifeStraw Personal Water Filter to enhance your preparedness and survival when out there? Just like your headlamp, this filter is ideal for all your outdoor expeditions, and offers you a chance to access clean water, whenever you are in need. 
Totobay 5000Lm LED Headlamp
Price: Approx. $25
Weight: 9 oz
Dimensions: 6.6 × 4.9 × 3.3 in
Light output: 5000 lm
Specific features: 4 lighting modes, 2 pieces of 18650 rechargeable batteries, AC charger, 3 LED beams, adjustable up to 90 degrees, anti-drop and anti-stab aluminum material, water resistant
Best use: Mountain climbing, biking, camping, fishing, hunting, running
Description: The Totobay 5000Lm LED Headlamp is perfect for all your outdoor activities, given that it's portable, durable and water resistant. The 3 ultra-bright LED beams provide you with over 100,000 hours of crystal clear light throughout your lifetime.
This is all powered by two rechargeable 18650 batteries, which are included with your purchase. You can use your wall charger, USB cable, or your car charger to recharge your batteries.
The 4 lighting switch modes offer you so much convenience, as you can adjust to low, mid, high or strobe light depending on the situation. The strobe light offers a flashing light, which also functions as an SOS signal in case of emergencies.
The headlamp also comes with a head strap, which is easy to adjust and can be worn over your helmet for maximum comfort. When it comes to durability, Totobay headlamp has adopted an aluminum and plastic material, which has anti-drop and anti-stab capabilities.
Given its weight, the headlamp can seem a bit bulky, hence may feel heavy on the head. Additionally, the part designed to hold the light is plastic and has no padding. You may have to wear a cap or headband to enhance comfort.
PROS:
Offers bright light as expected
Durable; has anti-stab and anti-drop features
Has additional options for recharging the batteries
CONS:
Uncomfortable to wear; plastic material used, without padding
Not completely waterproof; may get damaged when immersed in water
Bulky; feels heavy on the head
Related: Additional batteries come in handy when your battery drains when outdoors. Try out these Canserin Rechargeable Batteries that come in a pack of four, have a capacity of 5800 mAh, and you can recharge them up to 1800 times.
Hoey LED Waterproof Headlamp
Price: Approx. $12
Weight: 2.6 oz
Dimensions: 2.7 × 2.7 × 2 in
Light output: 180 lm
Specific features: CREE-3W technology, 180 lumens, up to 300 ft beam distance, adjustable up to 60 degrees, IPX6 waterproof rating, ultra-light, 120 days money back guarantee, 12 months warranty
Best use: Hunting, running, working, camping, hiking, cycling
Description: You can trust the Hoey LED Waterproof Headlamp to bring the light when you need it the most, with its 180 lumen LED lights. This headlamp has been designed with two separate buttons, the white and red light, plus a wide variety of other light modes to provide you with maximum brightness.
It also has a 60 degree tiltable body, which gives you light in different directions and you do not have to move. It has an IPX6 waterproof rating, which means that it's fully protected against water splashes or spraying water from any angle.
Another notable feature is the ergonomically designed headband, which stretches easily, and can be adjusted to fit both adults and kids. With the CREE-3W technology, this headlamp provides more light, while utilizing less power, attributing to a longer battery life. You will get up to 45 hours of run time on a full charge.
Furthermore, there are three AAA batteries that are included in your purchase. The manufactures also offer a risk free purchase, with a 120 day money back guarantee and 12 months warranty.
There are a few limitations to buying this headlamp, which include durability concerns. The battery box is made of soft rubber, which loosens up with time, allowing elements into the battery box. The rubber plug used to cover the AC is not well secured and may come off with time.
You may not want to immerse your headlamp in water, as it's not fully waterproof and may end up getting damaged.
PROS:
IPX6 waterproof rating
Utilizes CREE-3W technology; uses less power to provide maximum light
120 day money back guarantee, plus a 12 month warranty
Adjustable ergonomically designed secure headband
CONS:
Not completely waterproof
The rubber on the battery box loosens up and may let water into the box
Rubber plug covering the AC is not well secured
Related: The RoadRunner Reflective Vest perfectly complements this headlamp, as you can wear your vest when out running or walking at night, with the lamp providing the light. This vests goes for about $13, has extra pockets you can store your tiny stuff such as keys and cash and is designed with ultra-light breathable mesh for maximum comfort.
Black Diamond Storm Headlamp
Price: Approx. $55
Weight: 3.2 oz
Dimensions: 2 × 2 × 2 in
Light output: 250 lm
Specific features: Up to 250 lumens on max power, PowerTap technology, IPX7 waterproof certified, dust proof
Best use: Skiing, climbing, cycling, running, camping
Description: The Black Diamond Storm Headlamp is ideal for all your outdoor needs. It is designed with a sealed waterproof housing and PowerTap technology, featuring 250 lumens of power emitted by one Quad Power LED and one Double Power white LED on max setting.
This technology allows you to easily switch between the full and dimmed power, just by tapping the side of the housing. This regulated design ensures that you receive constant bright light throughout the battery life.
The sleek and modern Black Diamond Storm housing is powered by four AAA batteries and three level power meter, that indicates the battery level for 3 seconds after you switch on the headlamp.
Another notable feature is the IPX7 waterproof and dust proof rating, which means that your headlamp is safe from damage, even when in wet or dusty environments. This unit is completely sealed, with a latch opening, and can operate when immersed in 1 meter underwater, for about 30 minutes.
In addition to this, there are red and green single power LEDs designed for night vision. The modes have dimming and strobe settings, which you can easily activate without cycling through the white mode.
You may want to look out for the strap adjustments, which tend to loosen up over time. Wearing the headlamp might also feel a bit uncomfortable, especially if it's for long periods of time.
PROS:
Sleek and sturdy design
Has a battery level indicator
IPX7 waterproof rating
You can easily activate other modes without cycling through the white mode 
CONS:
Has one button; makes it hard to navigate through all features
The headband straps loosen up over time
Uncomfortable to wear over a long period of time
Related: This Princeton Tech Stash Headlamp Case comes in handy when you need to carry your headlamp with you, but do not want to risk damaging it in the process. The case fits the Black Diamond headlamp and headband perfectly.
Wrap Up
As we conclude our review today, we hope that you have gained more understanding on waterproof headlamps. Keep in mind that people have different needs, thus, what suits others, may not work for you.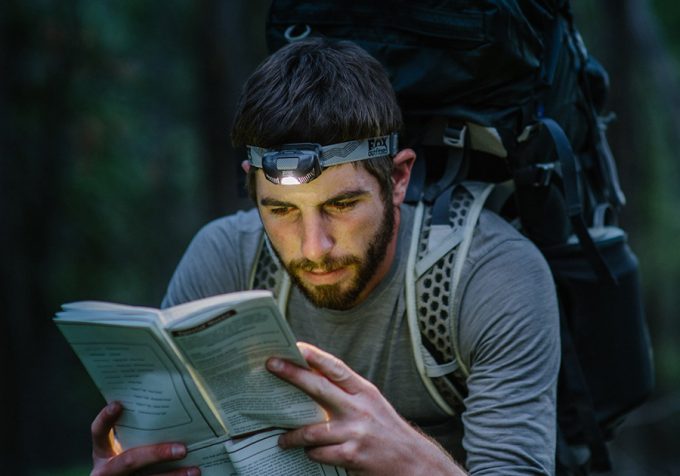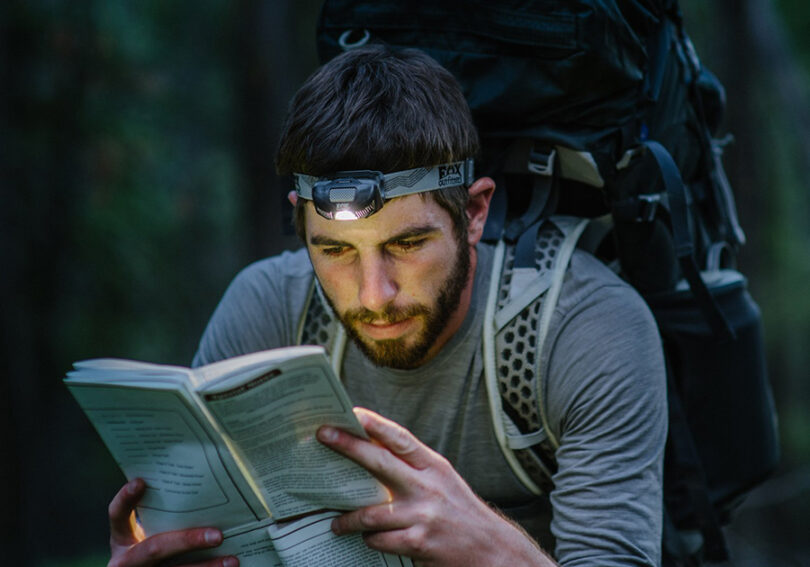 There are many different options out there, and you need to for a headlamp that fits your budget, without compromising on other features, such as the light output, durability, battery life, weight and beam distance.
Do you think that a good waterproof headlamp is an ideal addition to your outdoors gear? We would love to hear your thoughts and any inquiries you might have regarding this review. Feel free to leave your comments in the section below.