If you have had your fair share of time spent in the great outdoors, you'll know that there is no such thing as being over-prepared. As Murphy's Law states: anything that can go wrong, will go wrong. This is especially true if you are outdoors and you're at the mercy of Mother Nature.
When you're heading out, always assume that things will go south and prepare accordingly. With that said, one of the best things that you can add to your outdoor survival kit is an emergency blanket. Having the best emergency blanket that fits your needs might just save your life out there.
An emergency blanket is also referred to as thermal or Mylar blanket which is a thin sheet that's made of plastic and designed to preserve body heat. The primary purpose of this type of blanket is to keep the body warm during harsh weather conditions or any type of emergencies like accidents.
This type of blanket is special due to its extremely lightweight material and can preserve about 90% of body heat by not allowing the warmth radiate away from the body. Emergency blankets are usually large enough to cover most of the body and have high resistance to wind and water.
Our Top Picks
In this article, we are going to go over some of the features you need to consider when it comes to buying an emergency blanket, and we will show you some reviews of the top rated emergency blankets on the market right now. This will help you choose one that is right for you.
Features to Consider Before Buying
Below are some features to consider before you purchase your new emergency blanket. You will want to find something highly durable that will keep you warm, among other qualities. See below for more information about what to look for in this type of product.
Warmth
This is pretty much the primary purpose of emergency blankets. Whether you are outdoors or amidst a natural disaster, the blanket will preserve your body heat by reflecting it back to you. For camping purposes, slide it into your sleeping bag and even the coldest conditions won't get to you.
Signal Device
When you're in a survival situation and waiting to be rescued, every second counts. The highly reflective material of thermal blankets will allow rescuers to spot you easily.
There are even gold-colored versions of these blankets to increase one's chances of being seen in a snowy environment. You can also place it on the ground to create patterns or communicate a message.
Humidity
Emergency blankets are waterproof which means that you can use it to soak humidity. Use it on your tent to keep humidity away and keep you dry.
Drying Clothes
You can't go hiking or camping with wet clothing as it can be lethal. Therefore, it always pays to bring extra clothing. If you need a rapid way to dry your clothes, place your clothing on the blanket and just dry them over the sun. Heat will be reflected back to the clothing which facilitates faster drying.
Collect Rain Water
Want a great way to collect rainwater? You can secure the blanket to create a depression, which you'll use to collect rainwater. This really comes in handy if you're in need of potable water.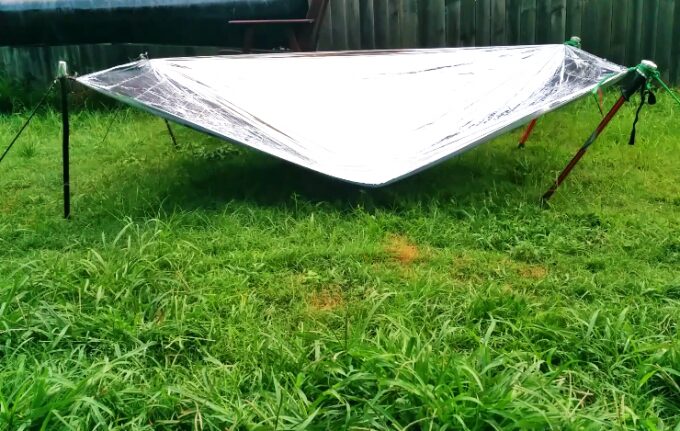 Emergency Shelter
You can't afford to get soaked in the rain while in the woods as it can be dangerous due to hypothermia. Tracing back to its waterproof qualities, you can use emergency blankets to create a makeshift shelter to protect you in case there's a downpour while you're hiking. To make a shelter, simply tie the ends of the blanket to some branches or trees using a rope.
Top Product Reviews
Upon reading the benefits by using emergency blankets, there's a good chance that you'll want to buy one as well. Fortunately, it's not that hard to shop for an emergency blanket provided that you know exactly what you are looking for.
If you are in the market for an emergency blanket and don't know which product to buy, don't fret because we have a list of the best survival blankets to help you out.
Emergency Survival Mylar Sleeping Blanket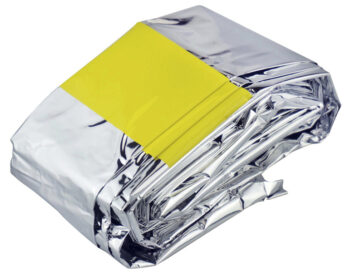 Price: Approx. $5
Weight: 1.6 oz
Dimensions: 84 x 36 in
Special features: Includes Mylar material with Polyester, emergency ground cover, reflector, waterproof and windproof
Best use: camping, hiking, first aid, disaster preparedness
Material: Mylar with Polyester
Description: If you are looking for an emergency blanket with solid quality and reliability, you should take a look at Emergency Survival Mylar Sleeping Blanket. Let's start it off by saying that this thing is huge at 84 inches by 36 inches, which means that it provides great coverage. It should be able to keep you covered even if you're a bigger than average person.
Unlike most thermal blankets on the market, this product actually feels sturdy and won't easily tear. The blanket is windproof and waterproof which makes it perfect for just about any outdoor adventure like camping and hiking. The blanket can preserve body heat up to 90% and should come in handy when camping or during emergencies.
The price to quality ratio is great as well as it only costs $5 for a 2-pack. As far as emergency blankets go, this one's a solid purchase.
PROS:
Reliable
Low price for 2 pack
Large, gives you more coverage
Waterproof and windproof
CONS:
Might be too large for some
Only comes in one color
Related: If you are in a survival situation where you need warmth, you can purchase the Survival Spark Magnesium Survival Fire Starter with compass and whistle, which helps you start fires. It is windproof and resistant to weather. Not only that, but it works up to 15, 000 times!
Vertex Essentials Emergency Blanket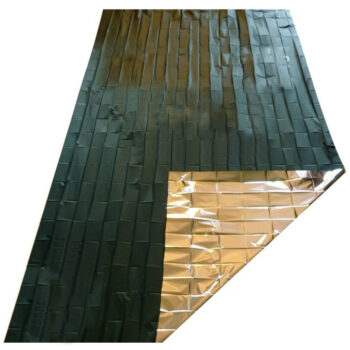 Price: Approx. $16
Weight: 1.75 oz
Dimensions: 82 x 52 in
Special features: 6 premium emergency blankets, Lightweight and compact, emergency use, exclusive free e-book
Best use: Hiking, camping, backpacking, first aid, bug out bag
Material: Mylar
Description: What makes the Vertex Essentials Emergency Blanket stand out is that it actually comes in military green color. The color really looks attractive which sets itself apart from the usual aluminum thermal blanket. If you're concerned that it doesn't have the reflective property of Mylar blankets, don't fret because the design of this blanket is actually reversible.
This product is about 12 microns thick, making it a no slouch when it comes to durability. You can take it with you when hiking, camping or just about any outdoor activities. The blanket is also extremely lightweight and compact so taking this with you during outdoor trips shouldn't be a problem.
The entire package just feels well made with top notch quality. Vertex essentials have definitely created a 5-star product here and you can't go wrong by adding this to your outdoor survival kit. This blanket will definitely keep you warm, and works for many uses!
PROS:
Military Green
Durable and thick
Warm
CONS:
One color only
Not reflective
Large in size, might be too large for some
Related: When in a survival situation, you will not only need an emergency blanket, but you will need clean water in order to stay alive. Using water tablets like the Potable Aqua Water Tablets can help you get clean water.
MCR Medical Thermal Reflective Survival Bags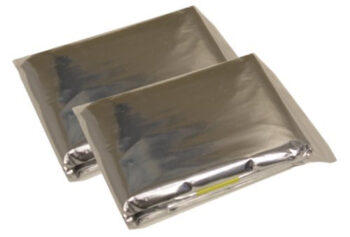 Price: Approx. $40
Weight: 3 oz
Dimensions: 83 x 37 in
Special features: 37-inch opening, tightly folded and packaged, lightweight and versatile, waterproof, helps retain body heat
Best use: First aid, hiking, camping, backpacking
Material: Mylar
Description: The MCR Medical Thermal Reflective Survival Bags are not strictly an emergency blanket per say, but is more of an emergency sleeping bag. However, that doesn't take anything away from this MCR Medical product because it is made from the same ultra-light and durable film as emergency blankets.
It has been specifically fabricated to provide full body coverage when the user is at rest. This total coverage allows maximum body heat retention, which definitely comes in handy whether you are camping outdoors or waiting for a rescue team to arrive.
The folded size is about 5 x 3.5 inches, which means that you can easily slide it into your hiking backpack without the weight and the bulk. The bag is also waterproof and windproof and it should have no problem withstanding even the harshest weather conditions. We highly recommend that you add this sleeping bag into your first aid kit, trunk or bug out bag.
PROS:
Retains heat well
Folds down nicely
Great for many situations
CONS:
More like a sleeping bag
More costly than others
Related: Besides an emergency blanket, you need a First Aid Kit, even if it is small. Using something like the Small First Aid Kit for Hiking, Backpacking, Camping can really help in emergencies.
Titan Two Sided Emergency Mylar Blanket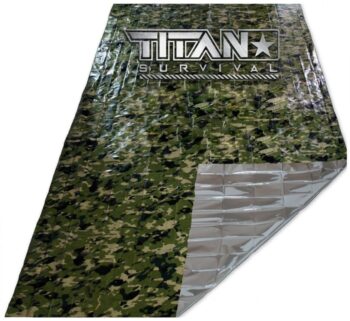 Price: Approx. $20
Weight: 1.75 oz
Dimensions: 82 x 52 in
Special features: Designed for NASA, shrowd camo, best for emergency use, compact design, lifetime guarantee
Best use: Tactical training, hiking, camping, hunting, backpacking, first aid
Material: Mylar
Description: Titan has always been a brand to look out for when it comes to outdoor survival products. So we are hard-pressed to find any reasons not to recommend this company's two-sided emergency survival blanket.
One of the most obvious standout features of TITAN Two-Sided Emergency Mylar Blanket is the Woodland Shrowd camouflage pattern on one side. This helps you blend into the foliage which should be useful when you're hunting.
Even if you're not the military type, you can't help but admire the quality of the camo design in this blanket. On the other side is the usual reflective surface that should help reflect the heat back to your body. The 52″ x 82″ size means that it provides full body coverage and it's waterproof and tear resistant as well.
Another worth noting is the quality of the product which is outstanding. None of that flimsy, cheaply-made thermal blankets that are available in the market these days. It's an easy recommendation for sure.
PROS:
Camo color
2 sided
Large size
Waterproof
CONS:
One color choice
More pricey than others
Related: If you find yourself in the rain, and you need a fire to stay warm, you can find some matches that are waterproof, such as the UCO Stormproof Match Kit with Waterproof Case which can help you stay warm.
Somine Emergency Blanket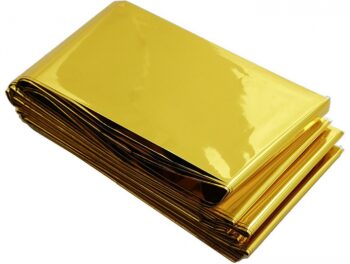 Price: Approx. $10
Weight: 0.7 lbs
Dimensions: 63 x 82 in
Special features: Five premium emergency blankets, emergency use, strong reflection, lightweight and compact, shiny golden color
Best use: Camping, hiking, outdoor survival, disaster preparedness, first aid
Material: Mylar
Description: If you happen to be hiking during the winter months or in snowy areas, you need an emergency blanket that's right for the conditions and we believe this product from Somine, fits the bill. Snowy areas have low visibility.
Thus, the traditional aluminum thermal blanket is not the best option because it can blend with the snow which makes it harder for rescue teams to see you. Somine Emergency Blanket from Somine comes in shiny golden color which of course makes it more visible not just snowy areas but in general as well.
Construction and quality are on point and it can preserve body heat up to 90%. The pack is neatly packed and folded and it won't be a burden during your outdoor trips. Another aspect that we love is the price point. You get the 5-pack for just $9.99 which is a great deal for such a high quality emergency blanket.
PROS:
Less costly
Retains heat well
Gold color is easy to see
CONS:
Not windproof
Comes in gold color only
Related: You might find yourself in a situation where you need more than an emergency blanket to last until you can get help. Using a survival shelter tent can make a huge difference, such as the Survival Shack Emergency Survival Shelter Tent.
Survive Outdoors Longer Emergency Bivvy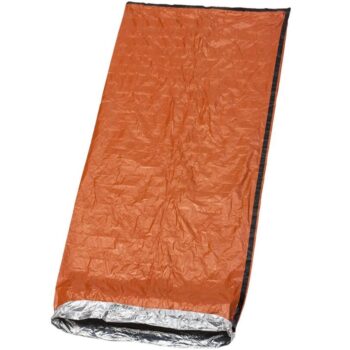 Price: Approx. $12
Weight: 3.8 oz
Dimensions: Unlisted
Special features: Made from tear-resistant polyethylene, sealed seam edges, high visibility orange
Best use: Outdoor survival, camping, hiking, first aid
Material: Polyethylene
Description: Now for something a little bit different, we have a product from Survive Outdoors Longer. Instead of being just a blanket that you wrap around your body, Survive Outdoors Longer Emergency Bivvy can be used as an emergency shelter since it's basically a bivouac sack or bivvy.
It's a mummy bag shape and design which encases your entire body and blocking all the elements outside. With a traditional emergency blanket, cold and wind can still seep through, especially when it's not properly wrapped around the body. With this emergency bivvy, you'll be completely protected which increases your survival chance ten fold.
The bivvy comes with its own small bag and drawstring for easy pack-and-carry. It's really a heavy duty emergency blanket that packs quite a punch. Many customers said that they've even used it on the Appalachian Trail with no hitches. We absolutely love this emergency bivvy and comes with our highest recommendations.
PROS:
Warm
Durable
Tear resistant
CONS:
Only orange in color
Not windproof
Not made of Mylar
Related: Having an emergency sleeping bag is not a bad idea when you are in the middle of nowhere and find yourself needing extra protection. Check into this lightweight, compact sleeping bag: TACT Bivvy Emergency Sleeping Bag by Survival Frog.
Dozzz Foldable Waterproof Camping Blanket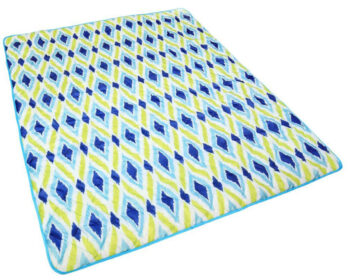 Price: Approx. $20
Weight: 0.2 lbs
Dimensions: 60 x 50 in
Special features: Folds to a compact, easy to carry, popular and classical chevron zig zag pattern, easy to clean
Best use: Camping, hiking, picnic, fishing
Material: Nylon Taffeta
Description: This foldable camping blanket from DOZZZ is more of a family-friendly option instead of being for hardcore outdoor junkies. As you can see, DOZZZ Foldable Waterproof Camping Blanket comes in an eye-catching zigzag design which gives off a family-friendly look.
However, don't think for a second that this is not a high quality product. The backing of the blanket is solid Oxford, which provides great waterproof resistance. Keep in mind that the bottom is actually waterproof while the top is water resistant.
The blanket also has a cotton fill material, making it a very comfortable blanket or even a pillow. At 60 x 50 inches in size, it's not as large as most emergency blankets, but it's only because it serves a different purpose.
Another thing we like about this product is that it's so easy to clean. You can simply throw it into the washer and hang it to dry. If you're looking for a more family-friendly camping blanket, be sure to check this one out.
As far as emergency blankets go, there is definitely no shortage when it comes to the number of selections in the market. Pinpoint your requirements for an emergency blanket and you should be able to buy one that's right for you.
PROS:
Light in weight
Easy to use and clean
Folds up easily
CONS:
More like a camping blanket
Not for extreme cold weather
Made of cotton
No Mylar for warmth
Related: When you go out for lunch or picnic in the wilderness, you can take along a tote that can store all of your food and drinks so you can enjoy a nice meal. Look into this 24 can capacity tote that is stylish and holds all you need; MIER 24-can Large Capacity Soft Cooler Tote.
Concluding Thoughts
As you may have learned from this article, emergency blankets have a wide assortment of uses outside of emergencies. There's a reason why it's considered an essential by many hardcore outdoor enthusiasts.
Make sure to always pack an emergency blanket in your survival kit, bug out bag and car trunk because they will surely come in handy once things go south. Remember the features we went over, with the various uses of an emergency blanket. You want something durable, big enough to wrap around you, and keep you warm.
As long as it is strong and waterproof, you should be fine. You can also find these blankets come in windproof and sand proof versions, as well, so you can be prepared for any kinds of weather.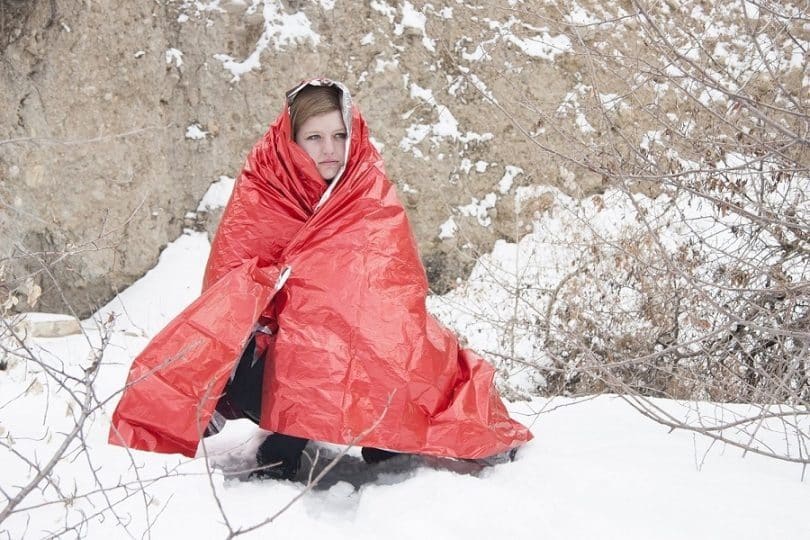 Now that you know what you are looking for as far as features, and you have seen some reviews of various kinds of emergency and camping blankets, you can make an informed choice on which emergency blanket will work in your favor.
With the various materials used, sizes, colors, and more, you are sure to find an emergency blanket that feels like it was made just for you! Taking one along, on any kind of outdoor trip, is a must, as it has so many uses you really cannot afford to leave one at home!
Have you used an emergency blanket before? Tell us your experience about the ways an emergency blanket has helped you in the comment section. Lastly, make sure to share this post in your social media feed to inform people about the usefulness of emergency blankets.