When going out camping, it is nice to have some cold items with you.  Sure, we've all been on those trekking trips where you live only on dehydrated and freeze dried foods.  But it is so nice to be able to take something like milk, cheese or eggs with you.
Perhaps you might even like to have some cold beverages when you get back to your campsite at the end of the day.  In order to keep those foodstuffs cold, you'll need to have a cooler and this leads you to an important choice. Soft sided coolers were made with a variety of straps, often removable if desired to give you a range of options on how to carry them.
They have been targeted to be more mobile so they are made in sizes that you will more easily be able to lift and carry around when taking them to the campsite, tailgate or picnic.  While you may not be able to sit on them, when you are done most will collapse down to a fraction of their size for storage and on the way home.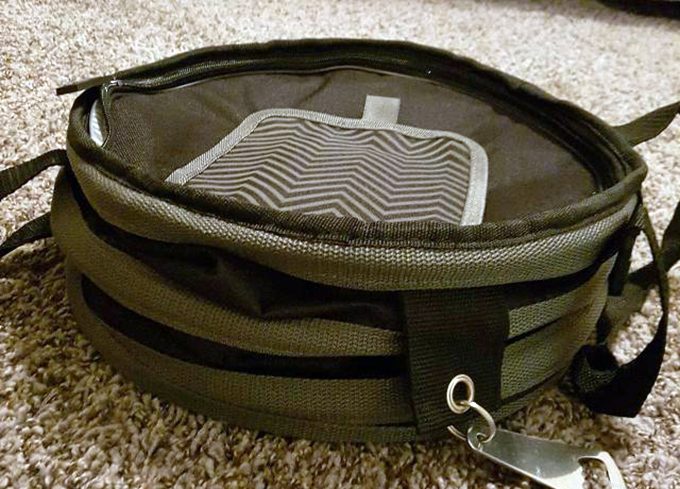 We have a variety of soft coolers on the market and choosing one isn't as easy as it may seem. In this article, we have chosen a few best soft sided coolers that can be the great add-ons to your camping gear.
We highlighted the key differences between these coolers in the table below, and thereafter unfold the most important features worth considering before making any purchase.
Our Top Picks
Things to Consider Before Buying
As with any other purchase, you'll want to look at your intended use and rank which features are the most important.  In this quest for the best soft sided cooler, some things to consider beyond which style appeals to you the most would be size, insulation value, durability and ease of use.
Styles of Coolers Available
There are a few options of style vying to be the finest soft cooler that are available today.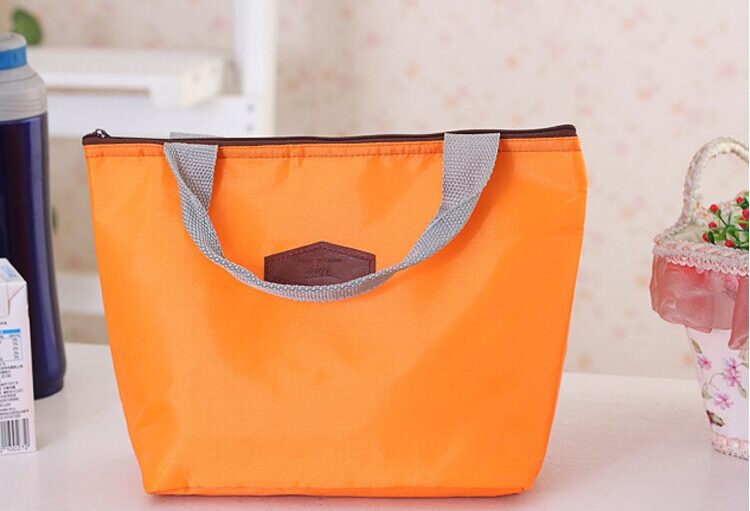 Each will have its drawback and some people will want to select one or the other based on what they feel will work best for their needs.
Shoulder Bag: This tends to be the most popular type of soft side on the market these days. This style can normally hold a fair amount inside while allowing for the cooler to fold into a much smaller area when you no longer need to use it to keep your goodies cold. Also with the strap options you have a couple different ways to carry it, so you can switch it up depending on what else you have to carry to camp.
Lunch Box: This is the bigger version of the lunch boxes that school children carry every day.  These normally will have a shoulder strap similar to the above shoulder bag style, but instead of one zipper in the middle of the top these will have a flat lid featuring a zipper on three sides, opening like a flap.
This allows a nice size opening.  This style frequently spots a removable plastic liner that comes out and makes clean up simple.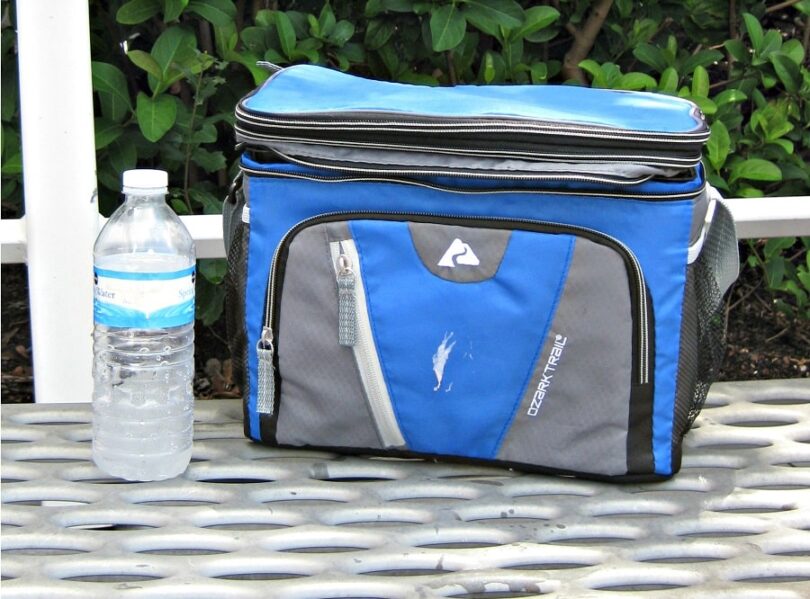 The liner is sometimes a hard plastic, so even empty it will tend to take up the same amount of space as when it is full.
Back Packs: Just like it sounds like, someone had the idea to add insulation to a standard backpack.  With the two shoulder straps, it can make it easier to carry larger loads, though, depending what you have other gear packed in this cooler may mean multiple trips to carry things in.
Size
Manufactures of coolers in this market tend to think of their product as a carrier for canned beverages of about 12 fluid ounces.  They will often times provide size as a number of canned beverages, such as 24 pack, 30 pack, etc., instead of giving a volume capacity in something like ounces.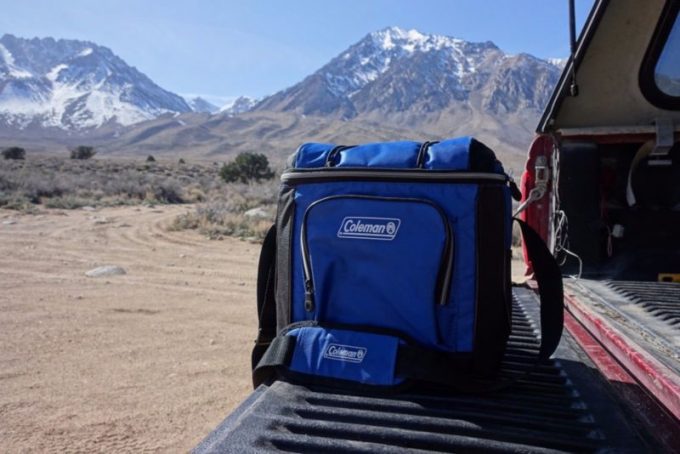 This may end up being better for you to visualize as when you are shopping for what you will be taking on your trip you can take a peek at a 24 pack of cans to see how much space you are working with.
A few things to consider on sizing your cooler, much like a freezer at home, a cooler full of cold items will stay cooler longer than if you have only a few items and a chunk of empty air space.
Additionally, more items mean more weight.  Think about how long you will be gone, how many people you need items cold for and how far you have to lug your cooler. It may be best in the long run to pick up a few different sizes to range different needs.
Insulation Value
The better insulation value, the longer your food will stay cold. As a general rule of thumb, a more expensive cooler will have more insulation value, but it won't always be that way.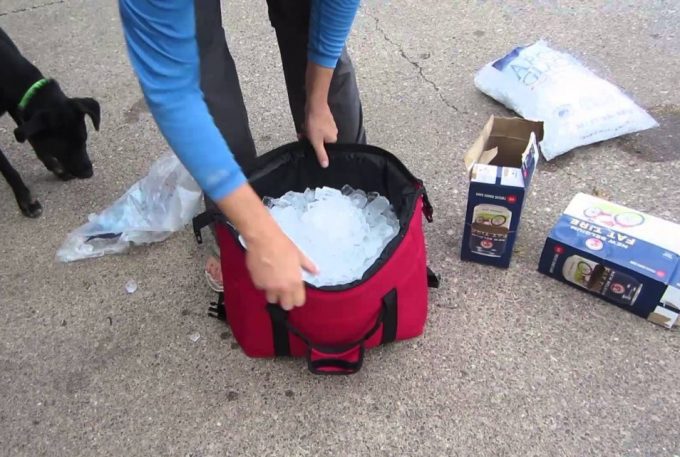 Manufactures don't come out and give you an R value (a measure of how much insulation an item has), but they sometimes will make claims that it will keep ice cool for a certain number of hours.
While this is good for marketing, you don't know any of the variables that led them to get that number.  Ice packs in rather well to fill a cooler, if you don't open it the ice will stay cooler and you don't know the temperature of the room it was placed in for the test.
Durability
Again, what are you planning to do with this cooler?  A stroll through the park with a picnic lunch might be a romantic date idea and an inexpensive cooler can probably take care of you for it. Taking cold food and drinks on an adventure up and down mountain sides might call for something a bit more rugged.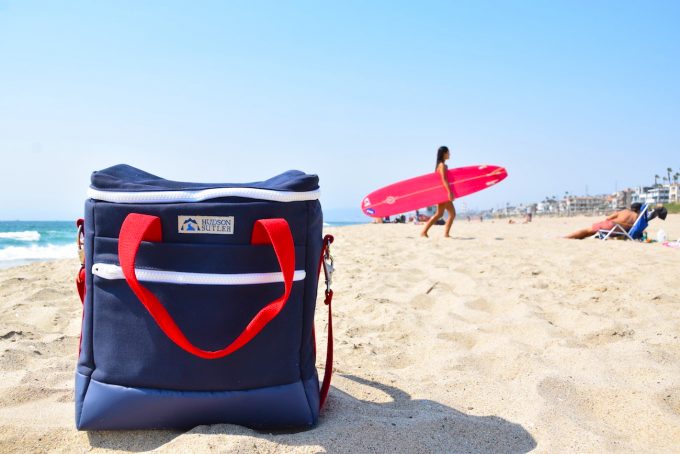 You'll want to take a look at what materials the cooler is made out of. For instance, a heavy rubber or rubberized fabric will be more durable, canvas and nylon less so.
Another way to get a feel of how durable the cooler is, is to simply take a look at the pictures from the manufacture.  While it isn't foolproof, they will tend to photograph it in the uses that they think it will do best in.
Ease of Use
This is a fairly wide consideration.  First off, think about packing and unpacking the cooler.  What items are you most likely to put in and how easily can you get them in and out of the cooler. If the opening is too small, you may struggle with certain items while a large opening could let cold air escape.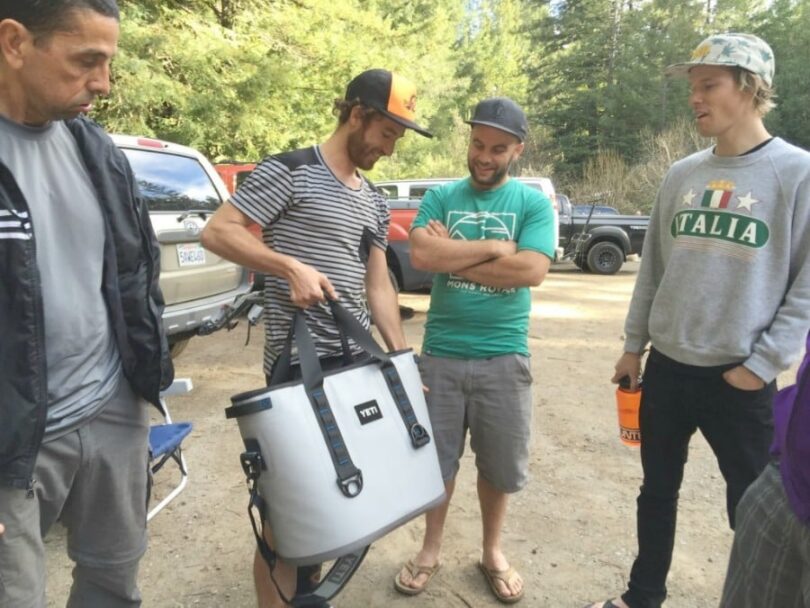 Also, you will need to think about carrying the cooler.  Take a look at how much padding is in each strap, and then consider how heavy the cooler will be. And what is the easiest way for you to carry a cooler; this may very well drive what style of cooler best suits you.
Best Products on Today's Market
Now that we've gone through some important features to consider before making any purchase, we may delve into the reviews of our best picks on the market. For every cooler we have highlighted the pros and the cons as well as the related products to make your purchase stress-free.
Yeti Hopper 30 Cooler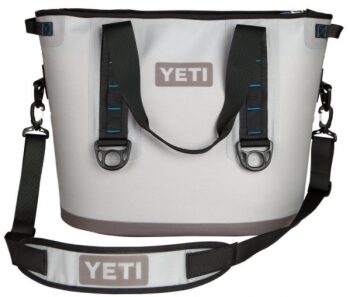 Price: $240 – $500
Weight: 9.9 pounds
Dimensions: 24 x 19 x 13 inches
Specific features: Puncture resistant shell, leak proof material, rugged shoulder strap
Best use: Car camping, tailgates, picnics
Description: As a shoulder style cooler, the YETI Hopper 30 Cooler has tons of space to carry anything you might want to keep cold.  The manufacturer states that it can handle over eighteen 12 ounce cans with a 2:1 ice to contents ratio.
Reviews have mentioned that alternatively you can store 2 to 3 gallons of milk in one with room for ice. The rugged materials make for a cooler that is ready to be taken out on whatever adventure you want to set off on, while still being a great choice to take for a simple picnic.
A few reviews have noted that due to the placement of the zipper the opening may make loading or unloading a bit tricky.
Nonetheless, this soft sided cooler bag is a great choice for avid outdoor campers with its larger volume designed to carry beverages and food especially for longer excursions. Up to 36 cans can all fit in this bag, thus making it accommodating a large group of campers. It is also easy to hold it without any fear of ice leaking through to soak you.
PROS:
A large soft sided cooler that holds about 36 cans of beverages. It can also preserve the freshness of your food for many days in your excursions
Leakproof cooler. So there is no way that you will get wet with the ice leaking through the bag
Puncture resistant shell will not be affected by walking amid thorn trees in the wilderness
The shoulder strap is rugged enough to withstand heavy cans in the bag
CONS:
It is fairly expensive, but worth the price if you are an avid camper especially in dry areas. This price can be compared to normal household fridges. Obviously mobility is the best
9 pounds plus the cans filled to capacity may be a burden to hold for longer trips. It will feel bulkier
Related: To ensure that your beverages and foodstuffs stay longer in the cooler, we recommend the Yeti Ice that works as the ice substitute or addition. You may find the custom shape that reduces the freezing time. It will not be easy for it to break as it is a durable design. It is also affordable so no excuse of getting this add-on item.
Mojecto Cooler Bag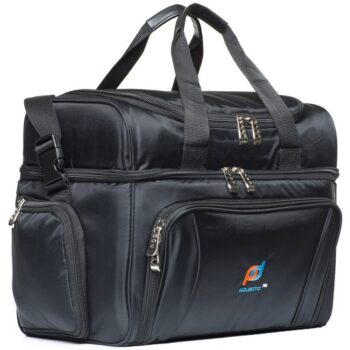 Price: $50 – $100
Weight: 2.2 pounds
Dimensions: 15 x 12 x 9 inches
Specific features: Multiple compartments, double zippers, id pockets
Best use: Camping, picnics
Description: The Mojecto Cooler Bag is a great example of a lunch box style cooler.  Featuring multiple compartments, everything can have its own space, so if there are some items that you don't want crushed you don't need to worry about them.
It also spots a pass through handle on the back, so if you are bringing some rolling luggage with you this cooler and easily connect right to it.  This offering does not come with a shoulder strap.
Some reviews have noted that while the multiple compartments are useful in some ways, in others they are too small to be of use.  The opening to the main compartment, however, is a good size, making loading and unloading quite simple.
The other exciting thing about this cooler bag is its durability because it is made with heavy-duty, tear-resistant 840D polyester. Its high-density thick foam insulation makes the stored items to last as long as possible throughout your camping days. It also has the 2 replaceable heat-sealed peva liners and double zippers to provide maximum insulation.
All its compartments are efficiently insulated to last long. The top insulated compartment features the mesh pocket. The outer shell has extra pockets to store items you do not want to be kept cold. SO it's rare to ever run out of room to store your items in this soft sided cooler bag. Should it get damaged, the manufacturer has promised a limited lifetime warranty, so make use of that privilege.
PROS:
Tear-resistant polyester shell that will last you long when walking near thorn trees in the mountains
Portable and lightweight cooler that you can hold for more miles
It has multiple compartments wherein you can store items separately, especially the ones you do not want crushed by cans
Multiple pockets for extra storage. External pockets help store items that need not be cooled
It is an affordable cooler
CONS:
Although it has multiple compartments, they are small and thus restrict you to store large items.
Related: The non-toxic and BPA free Coolers Slim Lunch Ice Packs are great additions to keep your items cooler. They are affordable. Because the cooler has small compartments, it is advisable to store the food items in small containers such as the Food Storage Container.
AO Coolers Canvas Soft Cooler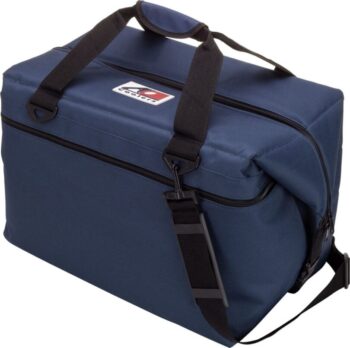 Price: $70 – $90
Weight: 3.3 pounds
Dimensions: 12 x 10 x 17 inches
Specific features: Removable strap, clip down sides, side pocket for dry items
Best use: Camping, tailgating, picnics
Description: As another entrant in the shoulder style cooler, the AO Coolers Canvas Soft Cooler has a few tricks up its sleeve. While many shoulder style coolers will have ends that come out to a point, this one has clips to allow you to snap the corners down, giving the cooler a bit more of a rectangular shape.
This makes storing it simpler, with the tradeoff being – losing a bit of storage space.  The company also claims that this cooler will not sweat so the other items next to it won't get wet.
The manufacture claims that it will hold ice for 24 hours in 120-degree heat and several reviews have stated that while they can't verify that claim they were impressed with how well it held things while cold. Also, many reviewers noted how much room there was in this cooler.
It is a portable cooler bag available in a variety of colors for your convenience. So you can choose whichever color to attend weddings, sporting events, picnics or parties. The removable shoulder strap makes it more stylish.
PROS:
Its guarantee of keeping items cold for 24 hours in a temperature of 120 degrees Celsius
Removable shoulder strap because you can fit another one if this has been torn
Affordable and lightweight cooler bag
External pockets to store dry items that do not need to be kept cool
The clips can turn it into a rectangular shape for ease of storage
CONS:
Can be too heavy if filled to capacity with 36 cans. A minimalist hiker would opt for smaller luggage
The shoulder strap can be subjected to tear if you hold heavy items
Related: Eliminate the need to have the ice with the Zero°F Cooler Freeze Packs. They are reusable packs and are better than ice in keeping the items for a long time. They actually accelerate cooling of your beverages and foodstuffs.
Polar Bear Nylon Line Cooler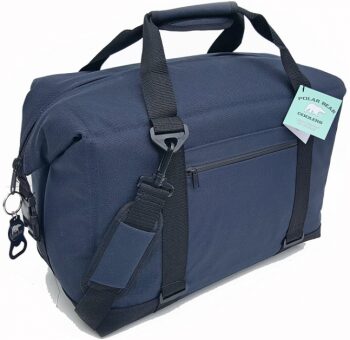 Price: Approx. $100
Weight: 3 pounds
Dimensions: 10 x 18 x 12 inches
Specific features: Leak proof/sweat proof, clip down sides, heavy duty outer shell
Best use: Camping, tailgating, cookout, picnic
Description: The Polar Bear Nylon Line Cooler is a fine example of a shoulder style cooler.  This is another cooler with clip down sides to allow for better storage when full.  Also, when empty it folds down, not quite flat, but still smaller than when it is standing full.
It features a smaller outside zippered pocket to allow for storing some other items that don't need to be kept cold. Several reviews have all commented on the durability and quality of the zippers, though one did note that they are not water tight zippers, so should your ice melt and your cooler be on its side, you may be in for a bit of a mess.
Also, many reviewers have praised this cooler for how well it keeps items cold while using it.  The accompanying shoulder strap is removable but a few reviewers have noted that the real quality of this piece is the insulation in the cooler instead of the strap.
PROS:
Removable shoulder strap that can be replaced if it has worn out or been torn
Extra external pockets for the storage of other needed items that do not necessarily need to be kept cool
Compact and lightweight cooler bag that you can carry for longer distances provided you have stored a manageable luggage inside
The zipper enhances the insulation performance of this cooler bag, thus keeping items more cooler for a long time
Durable outer shell that is not easy to be torn from trees when trekking in the wilderness
CONS:
The zippers are not watertight, so the ice can leak through to wet you if not well positioned. Beware of how you place the cooler. Do not put it upside down by mistake.
Related: It's probably time to say bye to the conventional ice that do not keep items sufficiently long unless you've put more of them of which the resulting weight may not be bearable. The Zero°F Cooler Freeze Packs serve as the best substitutes for the ice. The packs can even accelerate the cooling of your stored items to make them cool for longer days in the outdoors.
Icemule Coolers Pro Cooler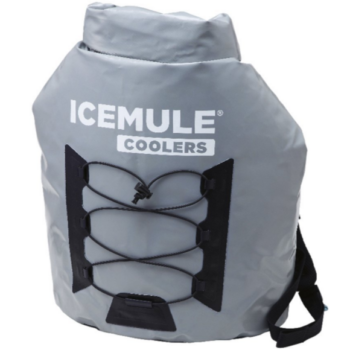 Price: $100 – $150
Weight: 5 pounds
Dimensions: 17 x 14 x 11 inches
Specific features: Dry bag design, padded backpack straps, back padding
Best use: Camping, picnic
Description: If you are looking for a backpack style cooler, the IceMule Coolers Pro Coolers are an awesome choice.  Sporting padding on both the straps and the part of the cooler that will be against your bag it is rather comfortable way to carry your load.
Some reviewers have noted that this design makes it easier to carry heavier loads of cold items around.  One point that has been mentioned by reviews is the lack of a padded waist strap, they have become common in backpacks to help the wearer better manage the load.
The thick, tough fabric and its reinforced stitches make this an easy choice to take on any adventure that you are setting out on. The outer side spots a bungie area to hold some extra gear, but not being a pocket it is aimed more at a picnic blanket than a bottle opener.
The cooler is rated to hold up to 65 pounds of stuff.  One difference to remember for this cooler is that instead of a zipper it has a dry bag style opening.  This means that you will have to roll the top opening of the bag down on itself a few times then clip it shut.
This has the upside of giving you a water tight seal, but it also means that if you overstuff the cooler or put in an item that is too large you won't be able to properly close the top and your food won't stay as cool for as long.
PROS:
Can manage heavy loads because of being a backpack style cooler
Watertight closure so not leaking of ice to wet your back
Durable outer shell that is tear-resistant and leakproof
18 can capacity and 20-liter volume
CONS:
Lack of padded waist strap to make managing loads a cinch and pain-free
Fairly costly over $100
Related: To accelerate cooling, we recommend buying the Cooler Gel Pack. It will also retain the freshness of your beverages and food for a long time better than ice would.
Wrapping It Up
There you have it, you now have all the information that you need to pick what is the best soft sided cooler for you.  Remember that you will need to come up with what you are looking to take your cooler out on and how many people you'd like it to hold food or drinks for.
At the end of the day if you have a range of cooler needs for various activities, it may be a better option to select and keep a number of different coolers than try to find a one size fits all solution that does a poor job for all your needs.
Luckily, being soft sided, these will be able to collapse down for storage when they aren't in use, so that your gear shed doesn't become just a pile of coolers.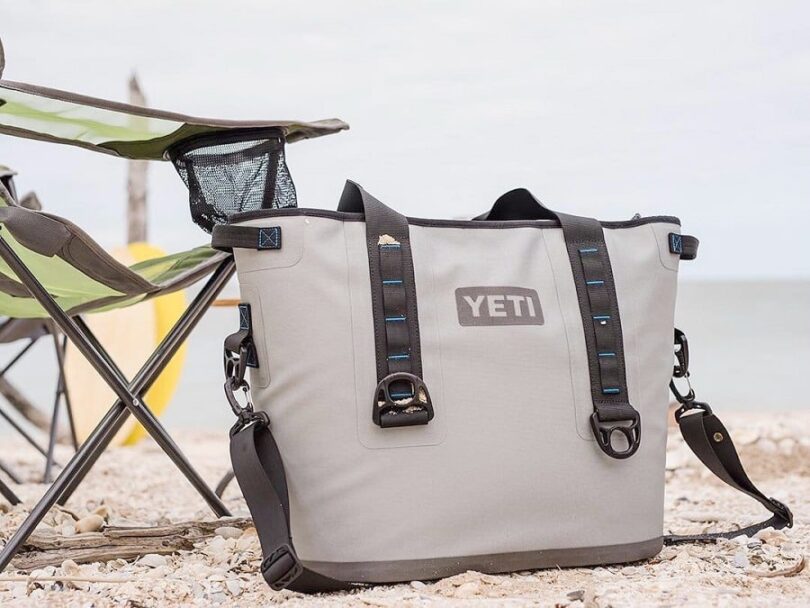 Don't forget that you will most likely have to carry this thing.  There is some wisdom in selecting a smaller sized cooler and going with multiple.  Then on a multi-day camping trip you can place a day or two's worth of food in each cooler.
This will make it easier to carry to the site, but also means that the food for later days has been left in an unopened cooler and will have a better chance at being nicely chilled when it is called for then if it is the last piece or two left in a large cooler that has been opened numerous times over the past several days.
At the end, if you found our article interesting, feel free to share it or leave a comment in the comments section below, we would love to know what you think.