If you are an outdoor enthusiast who enjoys hiking, climbing, or whatever you are best in, you know how fun it is. But, what happens during months when you get cold? The answer is simple – you need waterproof socks! However, finding the best waterproof socks is not the easiest of tasks.
Nobody wants wet and freezing feet ruining the adventure and the right pair for you should keep your feet dry and warm, but also comes with an affordable price. Finding the one pair that suits you best can be a real challenge and fortunately, we've managed to create the right list for you in order to help you in the decision making process.
Don't bail on us yet, because in this article you will find out all the details you need to know regarding the latest top-notch socks. You will read about the general specifics of waterproof socks, as well as get familiar with the top choices on the market. By the end of it, you will know which things you need to consider the most and you will be able to find your perfect match.
Our Top Picks
| Product Name | Outer Material | Membrane | Inner Material | Lenght | Price |
| --- | --- | --- | --- | --- | --- |
| Dexshell Coolvent Mid-Calf | 96% Nylon, 3% Elastane, 1% Cuff Elastics | 100% Waterproof and Windproof Porelle(R) Membrane | 76% Coolermax(R) FX Yarns, 24% Nylon | Mid-Calf | Check price on Amazon |
| Hanz Submerge | Durable nylon/Lycra | HANZ stretchable waterproof, breathable MVT membrane | HANZ wicking liner for moisture management | Over-the -calf | Check price on Amazon |
| Randy Sun Unisex Breathable Hiking | 74% high waterproof nylon, 23% lycra,3% elastane | High performance, lightweight, waterproof and breathable membrane | 64% coolmax,3% lycra,33% elastane | Mid-Calf | Check price on Amazon |
| Waterfly Ankle Length | 98% nylon, 2% rubber | Waterproof and breathable film | 35% merino wool and 65% nylon | Ankle | Check price on Amazon |
| Rocky Men's Gore-Tex | Provides abrasion resistance & long wear | Waterproof and breathable GORE-TEX construction | GORE-TEX waterproof | Over-the -calf | Check price on Amazon |
| Lifemall UMM 3mm Neoprene | Neoprene, anti-slip bottom and tightened velcro buckle closure | Neoprene | Neoprene | Ankle | Check price on Amazon |
| Showers Pass Crosspoint WP Crew | Wear resistant knit | Waterproof breathable Artex membrane | Merino-wool moisture wicking anti-bacteria lining | Crew | Check price on Amazon |
| Sealskinz Mid Length | 91% Nylon, 9% Elastane | Hydrophilic Membrane | 35% merino Wool; 34% Acrylic; 28% Polyester; 2% Elastodiene; 1% Elastane | Crew | Check price on Amazon |
Things to Consider Before Buying
When we think about waterproof socks, the first thing that comes to our minds is diversity. There are new products developed almost every day and each one is better than the previous one. Different manufacturers offer products that vary in materials, color, or in the technology used to produce them.
However, there are few core characteristics that should be considered when buying waterproof socks which contribute to the quality of the socks. No matter the different preferences, here are some factors that will contribute for a better choice.
Waterproofing
This is the most obvious feature and it is the sole reason why this article exists in the first place. Your purpose is to not spend money on low-quality socks that will not sustain the moisture and will leave your feet cold, numb and entirely soaked.
So, it all makes sense, but how on Earth will you know which ones are the best ones without trying them on? In order to make the right choice, it is best to look for multi-layered construction of the socks and by that we mean at least 3 layers.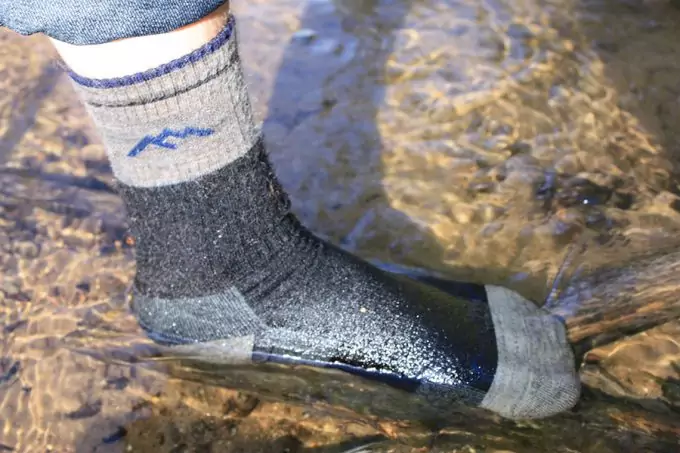 It is ideal if the outer layer is made of nylon or similar durable material, while the inner layer of comfortable material such as Merino wool. The middle layer, or the so-called membrane is the one that enables perspiration to flow out, while protecting your feet and skin from outside water.
A lot of the waterproof socks are being tested before they are being made available to its customers, so make sure that the one you want to buy is tested to a specific rating. A common test for the waterproof feature of the socks is measured by the hydrostatic head and the higher the numbers are, the better.
Comfort
When we say 'comfort' we mean good breathability, protection and cushioning. Maybe you have already found your perfect, waterproof socks, but then you realized they are the definition of pain in the neck. It's a pity having uncomfortable socks, because they come first to the feet and therefore can ruin the whole experience.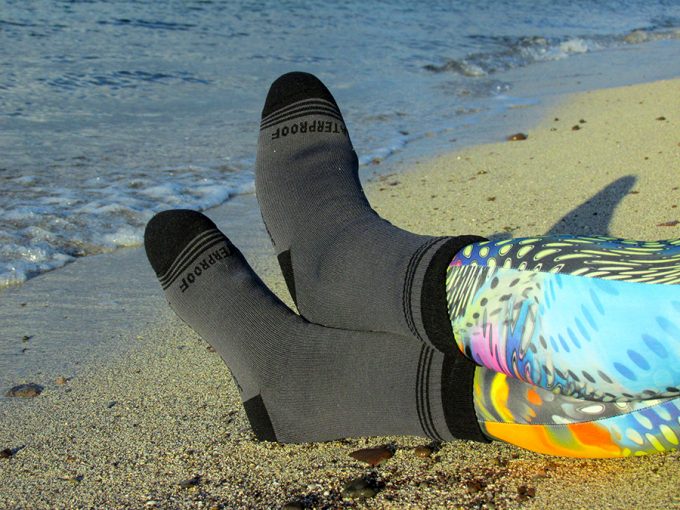 So, even though 'waterproof' is required, 'comfortable' is of outmost importance when buying the socks. Also, if the socks offer a good ankle support and overall support in general, it's a plus.
Activity Type
The type of activity you are engaging into is another important determinant of the type of socks you are going to use. Almost always you know in advance the extent to which you are going to be exposed to water. Sure, you can't control for the rain, but if you plan on going kayaking, surfing, or any kind of water-sport, water is obvious.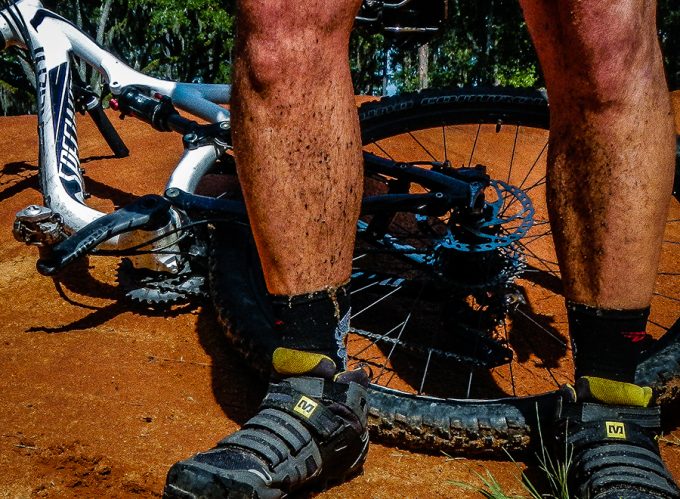 Therefore, you can buy the neoprene Lifemall UMM 3 mm socks for example, which are made especially for these kind of sports. Consequently, it is totally unreasonable to wear them while you're hiking or backpacking for several days.
Overall Fit: Weight, Height and Size
Waterproof socks tend to be thicker than the regular ones due to their multi-layered construction that we described earlier. Since their purpose is to fit slinky to the feet, it is important that they are more elastic and if not, half-sizes are always a good idea.
When it comes to the height, they can go up to the ankle, crew, mid-calf point, etc. This is totally up to you and there is no 'right' or 'wrong' choice, because it depends on your needs for leg and feet support.
Affordability
After you take in consideration all of the abovementioned features, you need to decide on your price range. Waterproof socks are quite more expensive than regular ones and their price depends on the material used, the brand, the type of the activity that they are made for, etc.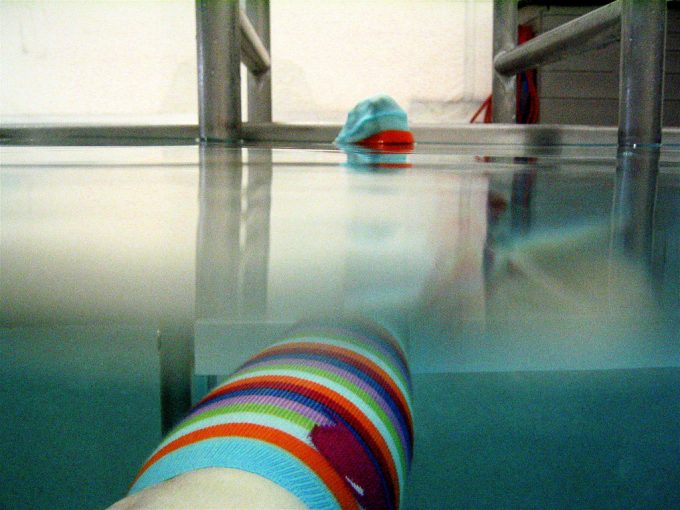 Therefore, you need to straighten out your priorities and decide how much you are willing to spend. If you are a passionate enthusiast and you are often out on the field, then go for it and invest your money in a high-quality waterproof socks. This way, spending a few more bucks will save you the pain of frequently looking for replacements and your feet will stay warm and dry.
Best Products in Today's Market
After having a sneak peek at our picks for the best waterproof socks, it's time that we reveal the specifics for each. Also, having in mind the general characteristics of waterproof socks, we hope that we will genuinely impact your decision and will contribute for the right choice.
Dexshell Coolvent Mid-Calf Waterproof Socks
Price: $32 – $40
Dimensions: S-XL
Specific features: Mid-calf socks, 100% waterproof, windproof, mud proof and dustproof, seamless construction for the highest comfort, cushioned insole
Best use: Daily walking, hiking, cycling, riding and running
Description: Let us kick it with this convenient pair of socks, the Dexshell Coolvent Mid-Calf Waterproof Socks. As a lot of the waterproof socks, these are made of three layers, each of which contributes for the comfort and breathability of the socks.
The exterior is constructed of 96% abrasion-resistance nylon, 3% Elastane and 1% cuff elastics which contribute for high durability, flexibility and of course for the most important part, its waterproof feature.
Underneath the outer layer is the middle layer which is 100% waterproof and windproof Porelle® membrane that allows for perspiration to flow out and in the same time protects the feet from outer moisture. The inner layer is made of 76% anti-bacterial Coolermax FX yarns with a cushioned footbed and 24% nylon. This gives pleasant feeling to your feet, making you feel comfortable throughout any activity.
After looking closely at the layers' construction, we can agree that these socks can withstand a lot of wet conditions, which makes them very desirable for the fellow consumer.
They will fit you to mid-calf, thus giving your feet and legs the required support and stability. They are well suitable for machine washing below 40℃ as for hand washing too. They come in black/aqua blue color and are available in sizes S-XL, making them appropriate both for men and women.
PROS:
Cushioned footbed
Seamless construction
100% waterproof, windproof and mud proof
Great for arduous, wet conditions
CONS:
Can be too warm
Not very versatile
Related: In addition to the Dexshell waterproof socks, we recommend the Dexshell Beanie that will keep you warm during your outdoor adventure. Made of micro fleece liner, this beanie hat is waterproof and windproof and is suitable for rainy, snowy and windy conditions. Dexshell do know how to keep you safe, don't they?
Hanz Submerge Waterproof Socks
Price: $27 – $46
Dimensions: S-XL
Specific features: Over-the-calf socks, high-pressure tested, waterproof, in-cuff seal at top of calf, entirely submersible waterproof socks, stretch-to-fit during all sorts of activities
Best use: Canoeing, kayaking and other water sports
Description: Hanz went one step further than the rest and made the Hanz Submerge Waterproof Socks. They are made of carefully constructed layers that will protect you during periods of paddling in shallow or deeper water.
The inner layer is made of moisture-wicking material that protects, adds reasonable warmth, and it is soft and pleasant to your feet at the same time. The in-between layer is the stretchy, waterproof and breathable MVT membrane, while the outer shell is made of a combination of nylon, lycra and spandex which have a great role in the durability and flexibility of the socks.
As if these socks don't sound good enough already, Hanz added an in-cuff seal at the top of the sock that prevents water from flowing in the inside. They will fit you over-the-calf and with their seamless design they will help you achieve ultimate performance, preventing chafing and blistering.
In addition, each pair of socks is tested under high pressure and the waterproof feature is of high and proven quality.
PROS:
Seamless design
Flexible and durable
Waterproof
In-cuff seal at the top of the socks
CONS:
Odor control
Can be too warm
Related: The Hanz Tap-Knit Touchscreen Gloves is made of the proven waterproof multi-layer construction, but it has an all-over incorporated touchscreen technology that enables usage of your smart devices everywhere on the run under different weather conditions. All in all, these gloves are abrasion-resistant and stretchy with the same seamless and comfortable design.
Randy Sun Unisex Hiking Socks
Price: $18 – $50
Dimensions: S-L
Specific features: Mid-calf sock, waterproof and breathable, moisture absorption, anti-bacterial and reducing bad odor, ultra-light cushion for extra comfort
Best use: Biking, running and walking during warmer seasons
Description: At this point, it is safe to say that these Randy Sun Unisex Hiking Socks may become your new favorite choice for outdoor activities such as hiking, running, biking and cycling.
Why, you may ask. Well, it is simple, just like the socks are. They are waterproof and windproof, but moisture-licking and perspiration porous at the same time. That's all you need for the abovementioned activities in one pair of socks.
By default, they are constructed of three layers in such a way that the outer layer is made of 74% high waterproof nylon which assures their durability and 23% lycra and 3% elastane which enhance the stretch and ensure proper fit to your feet. On the exterior they even have an ultra-light cushion sole for greater comfort.
The in-between layer is always reserved for the breathable membrane, while the inner lining is made of 64% coolmax, 3% lycra and 33% elastane. All of the fabrics have an anti-bacterial function and reduce bad odor.
Another reason to fall in love with these is because they are unisex and come in different colors and patterns, which is not a quite common thing for most of the waterproof socks that we review in this article.
Also, it is safe to wash them in the machine up to 40℃, or hand wash them under normal temperature.
PROS:
Anti-bacterial
Reduce bad odor
Unisex
Stretch-to-fit
CONS:
Can't resist higher exposure to water
Minor feet sweating
Related: Because you are most likely to wear these socks while cycling, hiking and other activities with less exposure to water and higher exposure to sun, we recommend the OXA UV Protection Arm Sleeves. Made of mostly polyamide fiber, these sleeves will protect your skin, absorbing all of the ultraviolet light, keeping you cool and protected from potential external threats.
Waterfly Ankle Length Waterproof Sock
Price: Approx. $26
Dimensions: S-XL
Specific features: Ankle length, waterproof and breathable, unique and durable, elastic
Best use: Biking, hiking, running, cycling, daily wear and other outdoor sports
Description: A lot of consumers swear by these Waterfly Ankle Length Waterproof Sock, making them one of the most popular ones. We can agree with them, because the experts at Waterfly used a good combination of materials in order to achieve comfort, waterproofing and flexibility – all in one.
The exterior is constructed of 98% nylon and 2% rubber, followed by waterproof, breathable and firm membrane. The inner layer is made of 65% Merino wool and 35% nylon. That allows for porous perspiration on one hand, and for protections of external moisture on the other hand.
Also, the so-made three layers' construction enables air to pass freely and as such, these socks can endure rainy conditions, muddy environments, rivers and creeks. But don't let that fool you, because these socks are compatible with warm conditions too and can be a perfect match for biking, hiking or running.
When it comes to external look, they are quite versatile as the Randy Sun waterproof socks and can be found in different colors for both men and women.
Lastly, it is recommended that they are hand washed on normal temperature and naturally dried afterwards, because the exposure to heat may damage the waterproof layer.
PROS:
Waterproof and breathable
Great moisture-licking function
Versatile
CONS:
Potential sweating issues
Cannot be completely submerged
Related: These socks may accompany you in different activities under different weather conditions and therefore we recommend that you always have the Platypus Platy Bottle to keep you hydrated. It can contain up to 67 ounces of liquids and it is highly durable, light weighted and 80% less bulky than any other bottle.
Rocky Gore-Tex Waterproof Socks
Price: $50 – $95
Dimensions: US 5–14
Specific features: 11 inches' socks; waterproof and breathable GORE-TEX construction, elastic, abrasion resistance, long lasting, flexible and not very thick
Best use: Biking, hiking, running, cycling, daily wear and other outdoor sports
Description: Rocky Gore-Tex Waterproof Socks are one of the most expensive pair of socks on the market, but they are worth every penny. They are carefully made by experienced manufacturers, special technology and its majesty, Gore-Tex.
The outer layer is made of a long lasting material that is abrasion resistant and offers great protection for the feet. All of this already sounds so good, but the best part of these socks is the inner lining with the Gore-Tex fabric.
If you are not familiar with Gore-Tex, let us explain – the fabric is manufactured featuring the latest, revolutionary patented technology and as such, Gore-Tex fabric has the highest level of waterproofing, wind proofing and breathability out of all of the waterproof fabrics.
These socks are wearable in different conditions, especially while hiking, cycling, running or any other kind of outdoor activity. They are not very thick and can be easily worn with other shoes, giving you the ultimate comfort.
As most of the socks reviewed here, this pair also comes in two colors only, black and grey. When it comes to the size, they are available in US 5-14, men sizes.
PROS:
Gore-Tex fabric
Abrasion resistant outer layer
Highly comfortable and breathable
Waterproof and windproof
CONS:
Only men sizes
Lack of cushion footbed
Related: The Rocky Terra Suspension Footbed should greatly compliment the Rocky Men's Gore-Tex waterproof socks in such a way that will contribute for an additional support for your feet. It's the best choice if you are on your feet all day, because it offers shock absorption on the heel and cushions the ball of your foot due to the high-cushioned polymer.
Lifemall UMM 3mm Neoprene Water Sock
Price: Approx. $10
Dimensions: S-XL
Specific features: Ankle length, thin neoprene that protects against cold, sharp objects, sand, mud and dust, prevents chafing, suitable for hot and cold days, anti-slip bottom and tightened Velcro buckle closure
Best use: Snorkeling, scuba diving, kayaking, canoeing, surfing and other water sports
Description: These are the socks for you if you are planning to do any kind of an outdoor activity such as kayaking, canoeing, surfing and even snorkeling and scuba diving. The Lifemall UMM 3mm Neoprene Water Socks are designed so that they can withstand complete submerging in the water.
Even though the neoprene layers are thin, they keep the feet warm and protect them from sharp objects and unpleasant muddy and dusty environments. They are suitable both for hotter and colder seasons, always providing suitable insulation. On top of that, the anti-slip bottom and the tightened Velcro buckle closure allow for higher stability and firmness.
One of the things that we are not very fond of is that they are not very suitable with other shoes, because they act like water shoes on their own in some way. Even though that makes them less breathable, it's not a good reason enough for us not to put them amongst our favorites.
They are available only in black color and come in four size, S – XL.
PROS:
Allow complete submerging in water
Suitable for every season
Anti-slip bottom and Velcro buckle closure
Can be used for any kind of water sports
CONS:
Not very breathable
Not really compatible with other shoes
Related: We highly recommend the NeoSport Wetsuits Premium Neoprene Cap. Made of only 2.5 mm neoprene layer, they might be a great addition to your neoprene socks during surfing, kayaking or canoeing. It has an anatomical fit and will protect your head and ears from water and external potential damages.
Showers Pass Waterproof Crosspoint WP Crew Sock
Price: $30 – $40
Dimensions: S-XL
Specific features: Crew sock, long lasting waterproofing, breathable, moisture wicking, anti-bacterial, soggy toe problem solver
Best use: Hiking, running, cycling, hunting and other outdoor activities in the rain
Description: The Showers Pass Waterproof Crosspoint WP Crew Sock might get a special place in your heart. These socks will enchant you with the simplicity of their outer look, while still being able to provide you the comfort you need from the inside.
As any other good pair of waterproof socks, the Shower Pass socks are also made of three layers; they display knitted exterior like regular socks, followed by waterproof and breathable Artex membrane. The inner layer is made of Coolmax fibers that contribute to the anti-bacterial and moisture-wicking feature of the sock.
The overall construction of the socks, especially the light cushion and the compression for warmth, makes them suitable for a lot of everyday outdoor activities, such as cycling and biking. The soggy toes problems that you were used to have will become a part of your past and your feet will stay dry all the time. They are available in black/grey color and chili red – choices of colors that we find extremely likeable and adaptable to everyone's preferences.
PROS:
Moisture-wicking
Anti-bacterial
Knitted exterior
Waterproof
CONS:
Lack of flexibility
Lack of versatility
Related: No matter to which adventure these socks take you, we recommend to combine them with the Uriah Thermal Fleece Compression Leg Warmers. They are also water resistant, keeping you dry, warm and comfortable all the time. They even have an anti-slip band on top and self-locking zipper on the bottom, making them adjustable and more convenient to put them on or off.
Sealskinz Waterproof Mid Length Sock
Price: $45 – $85
Dimensions: S-XL
Specific features: Mid-length sock; completely waterproof and windproof; breathable; elasticated ankle and elasticated insteps for greater support.
Best use: Hiking, running, cycling, hunting and other outdoor activities.
Description: Last, but not least, we represent the Sealskinz Waterproof Mid Length Sock. With their three layers of materials, these are mid-weight and mid-length socks, with elasticated ankle and elasticated insteps that offer the ultimate support for your legs.
Their inner layer is mostly made of 35% Merino Wool and the rest of the materials are 34% acrylic, 28% polyester, 2% elastodiene and only 1% elastane. This mix of materials stands for comfort and high moisture-control and odor-control.
On the other hand, their durable outer layer is made of 91% nylon and 9% elastane, while the membrane is hydrophilic and it is highly flexible, protecting the feet from water, wind and dust.
They are mostly available in black/grey and white color with blue details. Even though they are not made in a big array of colors, they perfectly fit almost every outfit with their simple and neutral combination of colors.
Since Sealskinz are one of the top-notch manufacturers and sellers of waterproof socks in Britain, we strongly recommend these socks. They are most suitable for casual, everyday outdoor adventures and while they can withstand rain, we are not recommending them for activities that require complete submerging.
PROS:
Waterproof and windproof
Comfortable
Overall fit
CONS:
Mostly suitable for colder season
Cannot be fully submerged
Related: We wouldn't miss the chance to recommend another product that goes well with the Sealskinz mid-weight mid-length waterproof socks, so please give us a standing ovation for the Sealskinz Waterproof Ultra-Grip Gloves. These exhibit a 96.5% nylon and 3.5% elastane outer look, while keeping a softer look on the inside with 84% Merino wool. In addition, they even have a chevron printed palm and fingers for firm handling when in wet conditions.
Wrap Up!
Waterproof socks are a must, whether you are planning a hiking trip, a biking tour, a canoeing adventure, or you go for a simple run in the park. They will keep your feet dry and comfortable, which in overall will result in a positive experience.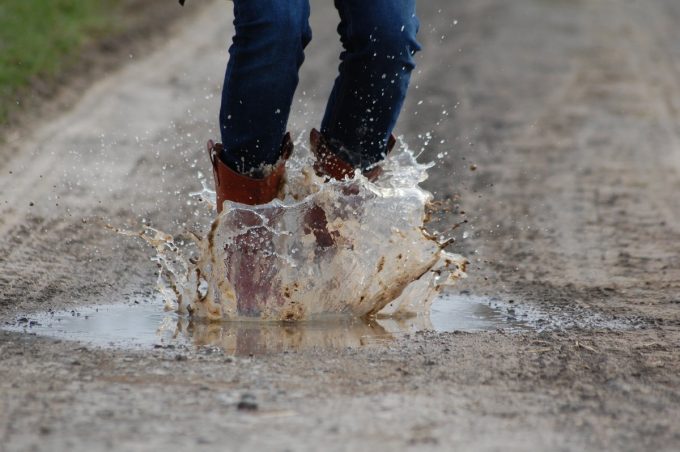 But, with so many products on the market, finding the right pair may turn into a nightmare. Therefore, be sure to consider the most important features of a good pair of waterproof socks that we have outlined in this article and make sure that they will fit all of your needs.
We hope you will find our list convenient and if you have any other suggestions, please leave us a comment in the comment section!