Money, IDs, and cards are probably the most valuable possessions that you will take with you on an adventure. However, how many times have you come back home only to find your wallet soaking wet? If the answer is 'many times', you don't need to worry anymore. Instead, get the best waterproof wallet and protect your stuff from any kind of moisture.
Ideally, a good waterproof wallet will keep your items safe from water but from robbery as well. On top of that, it should be made from materials that are durable enough to last you a while being extremely lightweight at the same time. Since all of that might be confusing, we are here to help you choose the best wallet that will protect them while you carelessly soak them in water with you.
Hence we have created a simple list of top-notch waterproof wallets and throughout the article we will outline in detail all of the features regarding each of them. Also, you will find out the general characteristics of a high-quality wallet and hopefully, you will choose the one that will satisfy all of your needs.
Our Top Picks
Product Name
Material
Dimensions
RFID Protection
Number of Compartments
Price
DEW Travel
Outer coat: durable rip-stop nylon with a zipper made of zinc alloy.
Water resistant coat: 100% premium nylon
9.64 x 1.3 x 5.7 in
Yes
9 card slots
Check price on Amazon
Pelican Sport
Polycarbonate body with ABS latch
4.79 x 0.55 x 2.25 in
No
Dual mesh pockets
Check price on Amazon
FLYMEI Travel
High-density linen/cotton blended fabric with smooth zipper
9 x 1.2 x 5.2 in
No
Multiple slots
Check price on Amazon
Sharkk Aluminum Waterproof
High-quality plastic wrapped in Aluminum coating
3.02 x 0.81 x 4.39 in
Yes
7 card slots
Check price on Amazon
Chinook Waterproof
Abrasion-resistant, transparent vinyl
6.5 x 0.1 x 4.5 in
No
2 easy-to-access waterproof compartments
Check price on Amazon
Zoppen RFID Travel
High-density nylon fabric
24.5 x 2.5 x 12.5 in
Yes
2 passport pouches, 6 card slots, 1 boarding pass pocket, 1 checkbook zipper pocket, 1 mesh pocket, 1 pen holder
Check price on Amazon
OverBoard Waterproof Pro-Sport Arm Pack
Poly-Urethane construction with the Slide Seal System
5.31 x 0.47 x 5.12 in
No
Holds objects up to 4.9-inch high and 5-inch around
Check price on Amazon
Coghlan's All Weather
PVC construction with zip lock closure
6.25 x 0.08 x 4.75 in
No
1 pocket
Check price on Amazon
Things to Consider Before Buying
Nowadays, it is really hard to find a unique product and the market is always saturated with a lot of different variations of a single product that have similar functions and purpose. So is the case with waterproof wallets.
However, different manufacturers have their own signatures according to which their products differentiate and this is the moment when we step in to offer our help in order for you to make the best buying decision.
But, before we delve into our 'special selection' of waterproof wallets, let's check the basic characteristics that each wallet should possess.
Waterproofing
As like for all of the waterproof products that we review, waterproofing is a core characteristic that we look for in a waterproof wallet too. Without this feature, this article wouldn't even exist and your purpose of finding a new wallet would be meaningless.
While it doesn't mean that the product will be completely invulnerable to water, it certainly has a system attached to it that gives it waterproofing features and it's called 'Ingress Protection'. The higher the number on the scale, the better, so if you see a wallet that is rated 'IPX-0' it means that it is not waterproof at all.
In addition, the best waterproof wallets have protective design with features such as watertight zip closures, slide seal systems or clasps. Have in mind that considering all of the waterproofing features, even though may cost you more, will enable you to ultimately enjoy your 'summer fling', no hassle or drama included.
Material
The material out of which the wallet is made of is directly related to the waterproofing and the durability, as well as the overall quality. Waterproofing depends on the material from which the wallet is made of – you should avoid leather or canvas wallets, because, clearly, it will soak all of the water that surrounds it.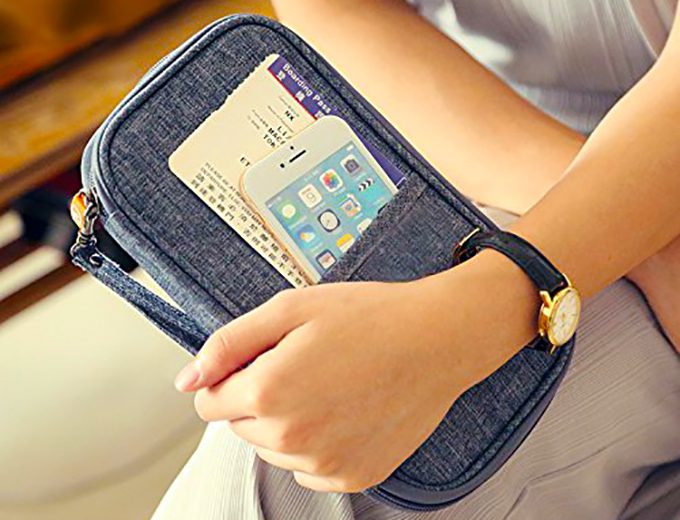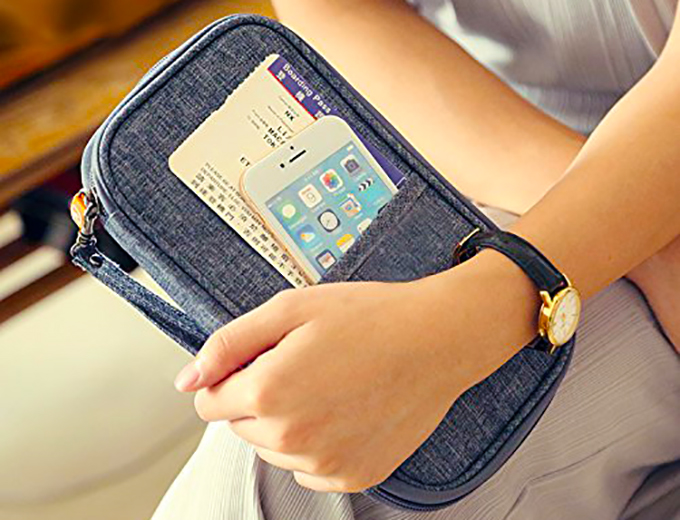 Instead, you should opt for plastic, abrasion-resistant, nylon or aluminum wallets. Most of the wallets are actually constructed of a combination of more than one material for an extra resistance and improved durability.
Size
Size is another important feature. If you are thinking like us, you would like it to be big enough to hold all of your belongings, but small enough so it doesn't bother you and so it's not obvious what it is.
Because being practical and rational always works better, choose a smaller size when buying a waterproof wallet and carry fewer valuables with you. Before making the purchase, make sure your new wallet can fit in whatever pocket or compartment you plan on carrying it.
Security Features
The latest types of wallets usually come with a built-in system called RFID in order to protect you from identity theft. Depending on your budget, you might want to consider spending few more pennies on a wallet with an integrated smart thinking that will shield your stuff from all of the scanning attempts.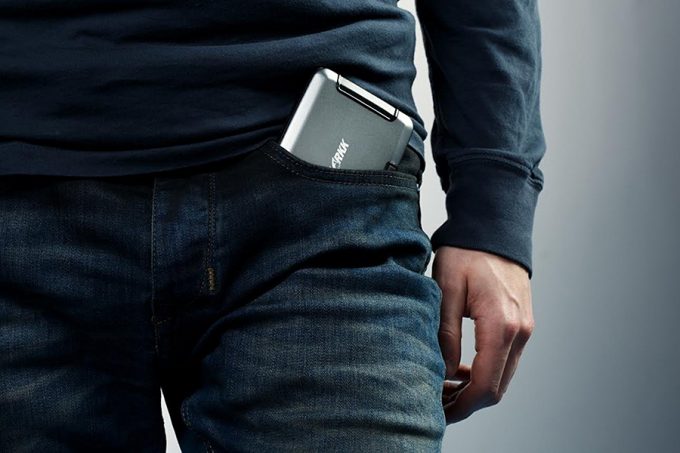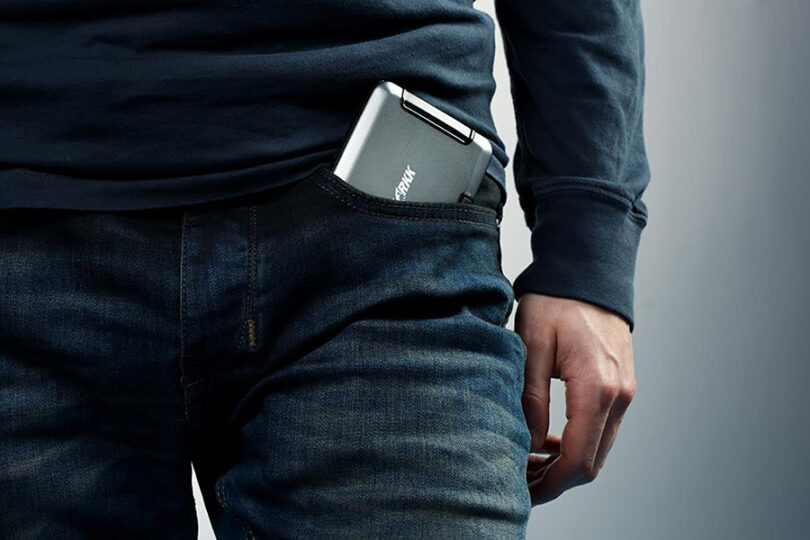 If you are on a more restricted budget though, you may consider wallets made of anti-slash fabrics that are firm enough to resist knife cuts or slashes and damages of any kind. In addition, as we have already mentioned earlier, look for protective zippers, sealed seams, and solid latches.
Durability and Activity Type
Until now we have considered that the wallet you will buy is for water activities and we are probably right since you are still reading this. But, have in mind that if you are looking for a wallet that you will want to use it in other environments than water, then you can even choose a less durable one.
In order to do so, set your priorities straight. If you are spending more time hiking than surfing, then there is no need to buy more expensive waterproof wallet when you can get a simpler one. Not even that it will cost less, but it will still withstand different weather conditions and will satisfy you anyhow.
Best Products on Today's Market
So far, we assume that you have made up your mind on what your expectations of the 'perfect' wallet are and you know exactly what you need. Following your preferences, take a look at the products that we have selected for you and let us help you find your future wallet.
DEW Travel Waterproof Wallet
Price: Approx. $16
Weight: 3.7 oz
Dimensions: 9.64 x 1.3 x 5.7 in
Specific features: 9 card slots, easy to carry and convenient, RFID protection, water resistant, passport holder, fits in a handbag, briefcase, etc.
Best use: Travelling, camping, business trip
Description: First on our special selection list is the DEW Travel Waterproof Wallet. This is a really convenient wallet when it comes to its great design.
It has a lot of space for your valuables that you can place in its 9 card slots, one small pocket, and one larger outer pocket. This wallet can fit your passport, cash, tickets, coupons and even your pen in the special pen slot. It also has one keychain and one removable wristlet strap.
Due to the hand strap, it is easy to carry it around and you can easily release it from your hand whenever you will want to. Also, it can easily fit in any handbag, briefcase, or knapsack and it is suitable for families because it can hold a lot of documents in one place.
In addition, you don't have to worry whether your valuables will be safe because the wallet is made of 100% durable nylon that is waterproof and solid enough to resist any cuts and damages. It also has a zipper of zinc alloy that makes it even more durable and when closed, it will protect your documents from rain, spills and any kind of moisture.
However, its biggest advantage is the RFID built-in system that will protect your personal information from identity theft. This technology is really important for the modern traveler and with this wallet, you can be rest assured that your ID numbers, account numbers, photos and similar information will be well guarded.
PROS:
RFID protection
Waterproof
Passport holder
A lot of space
CONS:
Not submergible
Not suitable for water sports
Related: For your trip to be complete, we recommend the Socko Laptop Backpack with Side Handle that will store your DEW Wallet together with your phone, laptop, notepad and power cables. It has a modern design and it is made of a durable material featuring Velcro foam padding layer for better shock and bump absorption.
Pelican Sport Wallet
Price: Approx. $22
Weight: 3.5 oz
Dimensions: 4.79 x 0.55 x 2.25 in
Specific features: Polycarbonate body, ABS latch, dual mesh pocket, waterproof, crushproof, lanyard included
Best use: For any kind of sports
Description: Compared to its predecessor DEW Travel Wallet, the Pelican Sport Wallet is quite smaller in size, but its safety features shouldn't be neglected.
As such, it is small enough to fit in your pocket but big enough to hold all of your cards within the dual mesh pockets. Though it is not a suitable storage for your passports and similar documents, it has enough space inside for few keys if necessary.
In terms of durability and waterproofing, this wallet has one of the strongest constructions with a polycarbonate body and extremely tough ABS latch. Also, it has an Ingress Protection rating of IP54 that makes is water resistant against splashes of any direction and limited protection against dust ingress.
This wallet is mostly available in black and it comes with a lanyard which enables you to wear it around your neck, shoulders or wrists. You can even hide it underneath your clothes, so it's not visible.
PROS:
ABS Latch
Crushproof
IP54 water resistant rating
CONS:
No passport holder
No RFID protection
Related: Pelican is famous for its toughest creations of coolers and cases and because of that we recommend the Pelican 1150 Camera Case. This case is waterproof and comes with an automatic pressure equalization valve that releases air pressure while keeping the water out. So, if you are an enthusiastic photographer that carries his camera on every adventure, this might be your perfect choice.
Flymei Multifunctional Travel Wallet
Price: Approx. $12
Weight: 3.7 oz
Dimensions: 9 x 1.2 x 5.2 in
Specific features: Multiple card slots, high density/linen cotton blended fabric, durable, stylish, washable, lightweight, multifunctional
Best use: Travelling, camping, business trip
Description: The Flymei Multifunctional Travel Wallet is probably the most convenient one you can get for that price. It is affordable to everyone and even though you cannot completely submerge it in water, it is perfect if you are traveling in rainy weather.
It is made of high density/linen cotton blended fabric with a smooth zipper that does not allow water to permeate. With its characteristics, the wallet is highly durable, water resistant, washable, lightweight and really fashionable.
On the inside, this wallet keeps things in order. It has multiple card slots and multiple pockets that can hold your passport, boarding tickets, cash (including coins), coupons, documents, keys and it even has a side pocket that will fit your phone. It also comes with a detachable hand strap that enhances your hands' movements, making it easy to carry it and making your journey even more enjoyable and comfortable.
It comes in grey and pink color and since it's not that common, it might make it a perfect gift for your closest ones. So, don't wait! Surprise them with this nice and practical wallet.
PROS:
Stylish
Light weighted
Multiple card slots
CONS:
No RFID protection
Not suitable for water sports
Related: If you are a person that really likes to travel, then we know how important safety is to you. For that purpose, we want to introduce you to the Forge's TSA Approved Cable Luggage Locks. These locks may be the best ones on the market today with their easy read dials, alloy body and flexible cable lock. The 3-digit combination is easy to set and will always keep your luggage protected.
Sharkk Aluminum Waterproof Wallet
Price: Approx. $22
Weight: 4.8 oz
Dimensions: 3.02 x 0.81 x 4.39 in
Specific features: 7 card slots, easy to carry and convenient, RFID protection, waterproof, aluminum coating and snap clasp closure, fits in a handbag, briefcase
Best use: Any kind of sports, traveling, camping, business trip
Description: The Sharkk Aluminum Waterproof Wallet is a well-designed product, tailored to the needs of the savvy shopper. If you're looking to get a product you can use both in the outdoors and on your next business trip, you might have the right one.
As a part of the Sharkk brands, this wallet is characterized by their well-known and sophisticated design. It is made of a premium plastic body wrapped up in a firm aluminum shell, featuring a snap clasp closure that will keep all of your cards from falling out and will provide ultimate protection.
The interior is not quite spacious but will hold up to 7 cards and some cash bills if folded multiple times. Even though it cannot fit other documents, keys or your phone, you will be able to put it in any pocket, purse or bag and its slim and nice design might make your heart skip a beat.
In addition to its durable construction, the Sharkk wallet has integrated the famous RFID system for an extra protection. All in all, this one might be regarded as a decent quality product.
PROS:
Aluminum coating
Slim design
Provides ultimate protection
CONS:
No pocket for a smartphone
Cannot be submerged
Related: If you are going away for an adventure, then you will probably need all of your smart devices on point. Therefore, we suggest taking the Ugreen Wireless Quick Charger QC 2.0 with you. It is suitable for iOS and Android devices and it has a universal compatibility in overall. It comes with a safety protection, such as over-current, over-voltage and over-temperature and 12-months' warranty.
Chinook Waterproof Wallet
Price: Approx. $11
Weight: 4.8 oz
Dimensions: 9.64 x 1.3 x 5.7 in
Specific features: 2 easy-to-access card compartments, abrasion-resistant, transparent, light-weighted, waterproof
Best use: Travelling, camping, business trip and other occasions
Description: The Chinook Waterproof Wallet is the simplest wallet on our list. By 'the simplest' we mean that it is made only from an abrasion-resistant, transparent vinyl and it is comprised only of 2 easily accessible card compartments.
Each compartment can hold several cards and maybe some cash bills, but there is no space for additional documents, keys or phone. Before you jump to conclusions about how simple and maybe not useful at all this wallet can be, give it a try first. Imagine how many smaller purses and bags it can be fitted while keeping your ID and credit cards completely dry as like any other wallet would do.
Even though it might not be love on a first sight, this little buddy will do a great job in waterproofing your belongings and you will be able to take it everywhere with you. After all, it should fit perfectly in your pocket, which is what really matters to some buyers!
PROS:
Easy to access
Abrasion-resistant
Light weighted
CONS:
Transparent, anyone can see what's inside
Cannot provide enough protection
Related: We said that the Chinook Wallet is pretty small and consequently, adaptable to any other purse. So we thought why not pair it with the Chums Floating Marsupial? It is slightly bigger, made of visible, bright yellow foam that enables it to float on the water surface. Since it is not waterproof, there is no better timing having your Chinook wallet at hand.
Zoppen RFID Travel Wallet
Price: Approx. $15
Weight: 4.8 oz
Dimensions: 24.5 x 2.5 x 12.5 in
Specific features: 2 passport pouches, 6 card slots, easy to carry, RFID protection, water resistant, fits in a handbag, briefcase, etc.
Best use: Travelling, camping, business trip and other occasions
Description: The Zoppen RFID Travel Wallet might be the most affordable waterproof wallet with RFID protection out there that will always keep your stuff organized and at hand.
It's characterized with durable quality, made of high-density nylon fabric which contributes for the waterproofing of the wallet. In addition, this wallet also has the RFID system and with its blocking function, it will protect your privacy from unauthorized scanning under the frequency of 13.56 MHz.
Because of its convenient design and slightly bigger size, there is plenty of room inside the wallet for storing your essentials, such as passports, tickets, cash, coupons, coins, keys, pen and smartphone. They fit perfectly in the 2 passport pouches, the 6 card slots, 1 boarding pass pocket, 1 pen holder, 2 zipper bags, 1 mesh bag and 1 keychain.
In overall, this wallet has a contemporary look, it comes mostly in black color that gives it a sophisticated look and has a removable wristlet that enables an easy carry-on. As such, the Zoppen Wallet is a great companion of all of your trips and adventures.
PROS:
Worth for the price
RFID Protection
Big number of compartments
Sophisticated look
CONS:
Cannot be submerged
Can be too big for some people
Related: As a complementary product to the Zoppen Wallet, we suggest the Zoppen 6 Set Packing Cubes. This travel organizer set is comprised of 6 packing cubes of various size in order to save space for your luggage and suitcase and one laundry bag and one shoe bag. The set is made of the same durable nylon which is waterproof and each box has a unique outer design with double stitched top mesh.
OverBoard Waterproof Pro-Sport Arm Pack
Price: Approx. $30
Weight: 3.5 oz
Dimensions: 5.31 x 0.47 x 5.12 in
Specific features: 100% waterproof, completely submersible, poly-urethane construction, slide seal system
Best use: All sports and activities, especially those on water
Description: The OverBoard Waterproof Pro-Sport Arm Pack may be a bit overpriced for your taste, but please bear with us. This is THE waterproof wallet you need if you have water sport written all over you. It is similar to the arm-pack that you use while running, but only 100% waterproof and better. When we say better we mean better design, better storage features, and better durability.
It is made of polyurethane and it seals tight on your arm with the Easy Grip surface of the Slide Seal System. While it doesn't have any card slots or passport pouches, it can indeed hold items up to 4.9-inch high and 5-inch around.
Because of its design and construction, it is guaranteed that this 100% waterproof padded Arm-Pack can be submerged up to 19 feet and therefore it is great for surfing, kayaking, canoeing, snorkeling or even just for a regular swim.
We were offset by the price at first, but this one is a keeper and it might become your next guilty pleasure.
PROS:
Completely submersible
Slide seal system
Contemporary design
CONS:
No RFID protection
No card, or passport slots
Related: Just in case if this wallet doesn't have enough space to fit your smartphone along with the cards and other documents, we represent the JOTO Universal Waterproof Cellphone Case. Since it has an Ingress Protection rating of 8, it will protect your phone against long periods of immersion in water and you can submerge it without a care in the world. The case has a clear window on both front and back sides and it features a simple snap and lock access.
Coghlan's All-Weather Wallet
Price: Approx. $5
Weight: 0.32 oz
Dimensions: 96.25 x 0.08 x 4.75 in
Specific features: 1 pocket, PVC construction, waterproof, durable
Best use: Travelling, camping, hunting, fishing and other kinds of occasions
Description: The last product on our list is the Coghlan's All-Weather Wallet. As the name itself implies, it is an adaptable wallet to all weather season, protecting your valuables from any kind of moisture.
It has a simple design and it is constructed of a durable PVC material with a zip lock closure. In addition, it is transparent and it has a single pocket that can fit all of your hunting and fishing licenses, permits, receipts, money, credit cards, IDs and other personal belongings.
As like all of the wallets that we have outlined in this article, the Coghlan's All-weather wallet is waterproof, but we must say that it has weaker protection features than the rest of them. Therefore, we recommend that you expose it to less extreme conditions and be more careful with your valuables if you decide to use this one.
However, if you're looking to get a cheap, lightweight wallet you won't have to worry too much about, then this might be the right way to go. The wallet might be ideal if you're looking to take it to short camping and fishing trips outdoors.
PROS:
PVC construction
Water resistant
Suitable for all weather conditions
CONS:
No RFID protection
Not suitable for extreme conditions
Related: In order to improve the safety of your personal stuff, we recommend buying the RM LifeGoods Roll Top Dry Bag in which you can put your wallet. This bag is also made of durable PVC and it is built to last in extreme temperatures, or climates. It is multi-purpose and it is suitable when enjoying any kind of an activity: canoeing, snowboarding, skiing, fishing, rafting, cycling, etc.
Wrap Up
As you have figured out by now from your outdoor adventures, a waterproof wallet is a necessity if you want to protect your valuables. No matter if you're going on a hiking trip, canoeing, surfing, fishing, rafting, cycling, kayaking, or etc. you need to put your stuff somewhere safe and to not worry if they are destroyed in the end.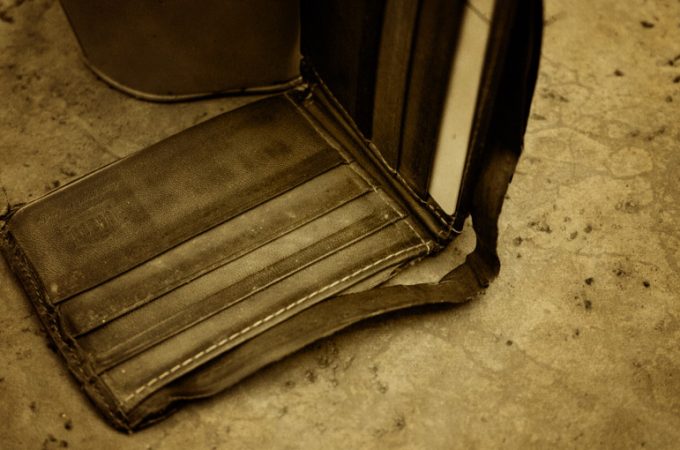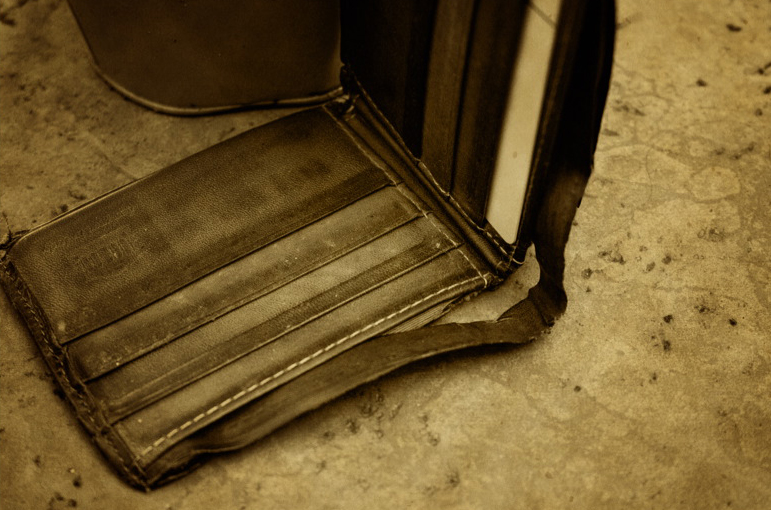 Because a lot of the offered products on the market seem similar at first, you may easily get confused and torn among the choices. In order to save yourself the trouble, be sure to get familiar with the basic characteristics of the best waterproof wallets before making the final buying decision.
We hope that with the list we have provided in this article, we will genuinely impact your decision and you will be satisfied with the product you choose. Also, don't forget to share your ideas and suggestions with us in the comment section below!