Night time adventures might be very fun, but getting lost in the dark is not nearly as fun, right? If you love hiking and spending time in the great outdoors no matter the time of the day, then you need something that will light up your way. That's exactly why you need to find the best rechargeable headlamp there is.
A simple rechargeable headlamp will provide you with light in nature when there is no other source of light. A good rechargeable headlamp should also be lightweight and comfortable so you don't need to pay extra attention on it. But finding such headlamp is not easy as it seems.
That's why we've decided to make a list of rechargeable headlamps with different features and in different price range. You'll be able to see for yourself what fits you the most before you make a decision and purchase one. Here are our thought on the subject.
Our Top Picks
Things to Consider Before Buying
What can be so different from one headlamp to another, you might think before going shopping for one. But when you enter the shop, or even better, open the internet in a search for a headlamp, you'll get stunned by the number of important features you need to know about these gadgets.
One thing is common for all, they're worn on the head and give you the ability to work hands-free in the dark. So what is important and what you need to consider before buying a rechargeable headlamp?
Weight
Some headlamps are lightweight and can be as light as 2 ounces, and some are heavier going over 15. You need to know that weight is not the most important issue in a good headlamp. Both heavy and light headlamps have their advantages.
Lighter headlamps are usually used by runners, so if you're one of them, this is something you'll need to consider before buying. If you're not, then the weight will not be a problem for you because in most cases the difference between 3 and 10 ounces might be meaningless.
However, cavers than need extra luminosity in their activity will have to consider getting something bigger and heavier that will give them more brightness. Cyclists too, because their driving will not effect on the lamp that is placed on their helmet. But, if we're talking about mountain biking then we're back on the lighter options because of the greater head movement.
Battery Life
This is a clear one – longer battery life, better experience. Rechargeable batteries are great because they can be used many times over and over and they're much lighter than alkaline.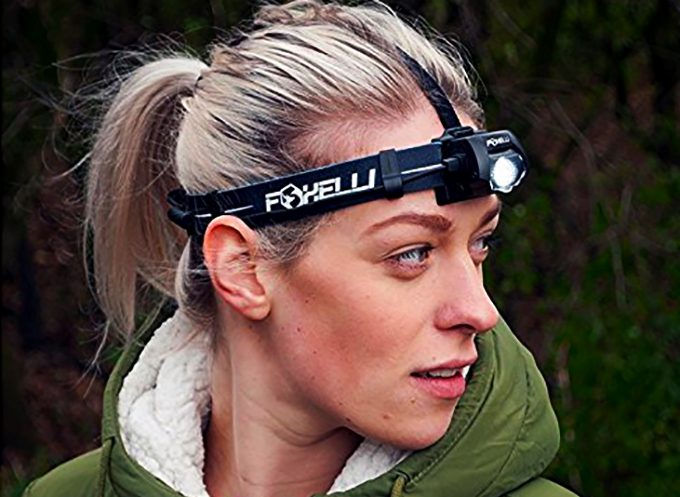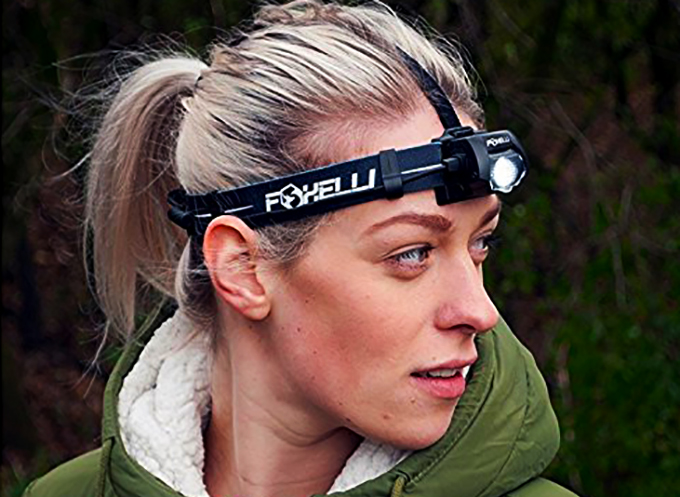 But, will you really need a battery that goes on for days if you use it for reading before going to sleep? Don't spend money on something you don't need. Remember – a longer battery life will add to the price, that's for sure.
Luminous Flux
The luminous flux is the amount of light that the headlamp can produce. It is measured in lumens and more lumens mean more light. However, more light doesn't always mean that it is the best option for the user.
There are lots of headlamps that can produce enough light to play a football game in the field, but before buying, think if you're buying one to pretend that you're a human stage light or you need it for something else. More lumens means more bulbs, and more bulbs mean your headlamp will be heavier and will drain your battery faster.
If you're going jogging or hiking, then you won't need too much light. If you're going to use it for a more steady work, like building your tent at night or go caving where there's absolutely no natural light, then you can afford to carry some extra weight on your head to get more brightness.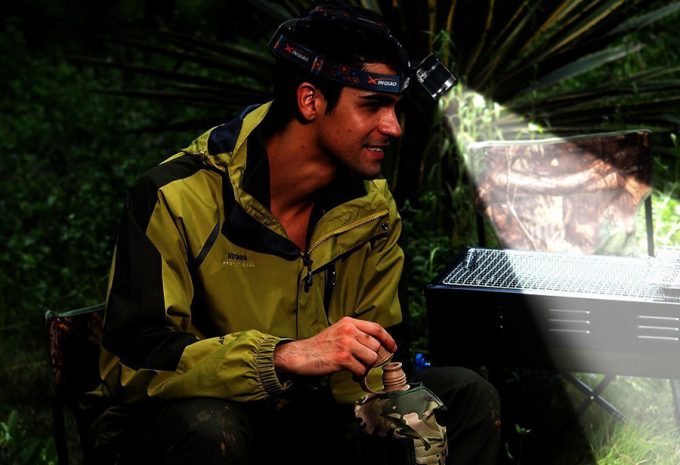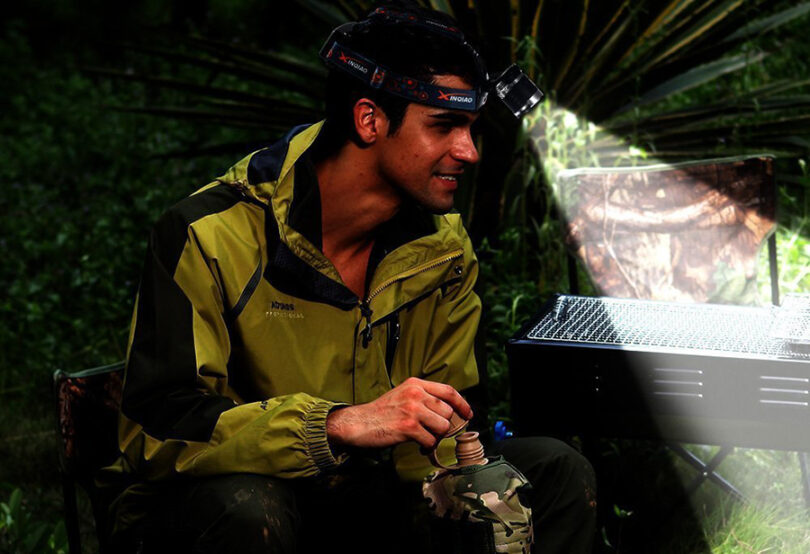 Most headlamps today have LED bulbs. They last longer and spend less energy than any other kind of bulb. That's why they're most widely used in the industry.
Type of Beam
In most cases, the type of beam is actually more important than the light power your headlamp offers. There are three types of beams headlamps offer.
The focused beam, where the beam is focused in one spot. It is better for walking and when you need to see far away in the distance, like where the trail leads.
The flood beam, where there's no focused beam, but more like a dispersed, wide light. It is better for indoor or camp activities or when there are more people around.
Also, there's a wide range of headlamps that offer both flood and focused beam of light. Those are more pricey, of course, but should offer you the best of both worlds just by switching from one mode to the other.
Beam Distance
The real power of a headlamp is in the distance of its light beam. Of course, not all activities require the best of this feature, but if you're hiking, running or biking in the dark, the further you can see the better experience you'll have.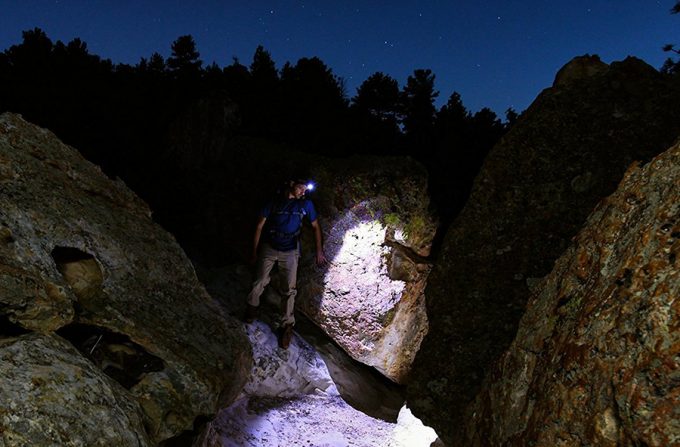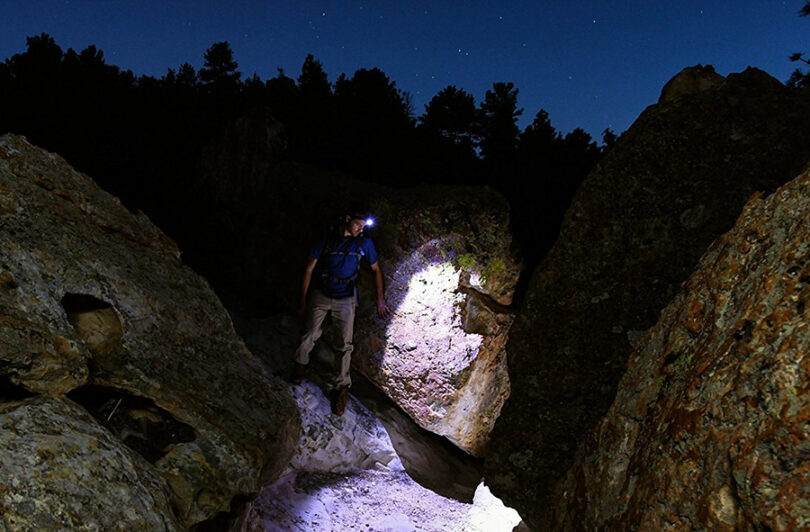 Some headlamps can produce a beam that can make you see even more than 600 feet away. If you really need a bright look in the future, don't feel sorry for the money you'll spend in the moment. Don't save on a headlamp that gives you this opportunity if you really need it.
Time to Recharge
Recharging your battery will not always be possible, so consider batteries that will be able to recharge fast and have more than one source for recharging. Sometimes it is more important to have that light on your head than a cell phone in your pocket, so if there's an option to recharge by a USB cable, that's excellent.
Also, always carry another battery as a backpack so you can switch the old tired one. When you're in nature there is no power source behind every corner, and when the night falls, you'll need every energy source you can find.
Best Products on Today's Market
We know it's complicated to search through the thousands of models on the web looking for the best headlamp. We know because we already did the exact same thing before. Don't waste your time searching, just see what we already found for you. Here are 8 rechargeable headlamps that are worth reviewing:
Foxelli USB Rechargeable Headlamp
Price: Approx. $30
Weight: 4.4 ounces
Specific features: USB recharge option, waterproof, battery durability, comfortable
Best use: Camping, reading, hiking, caving, jogging, long runs
Description: The Foxelli USB Rechargeable Headlamp is a compact and fit rechargeable headlamp that will give you total freedom in your outdoor or indoor activity. It is lightweight, yet still powerful. The battery is placed on the back of the headband and it balances the weight so you'll be sure that the headlamp will stay in its place even when performing some true jarring activities.
This rechargeable headlamp offers five modes of brightness. The ultra bright mode gives you the light of about 280 lumens which is the brightest this lamp can offer. The other modes are maximum, average, minimum and SOS.
The beam can be easily switched from flood to focused, and it has an impressive distance when it is set on ultra bright and focused considering its size. The distance it reaches is more than 320 feet.
The battery is fully charged within 2 hours. When fully charged it can last up to 100 hours. Of course, when you use the maximum or ultra light mode, you can't expect these results, but if you need constant light, these numbers are pretty impressive.
One of the features that are worth mentioning is also that it is waterproof. It will have no problem up to 5 feet deep making it adequate for water activities or at least not worry about getting wet or damaged in a sudden flood.
PROS:
Several working modes
Waterproof
Long battery life
Lightweight
CONS:
The design isn't that great
A bit too expensive
Related: Going in outdoor adventures often means encountering unexpected situations. In these moments, you can find the LifeStraw Personal Water Filter very useful. It weighs only 2 ounces and is able to purify up to 264 gallons without the use of chemicals. On top of that, it fits your backpack and is excellent if you're going ultralight.
Aennon USB Rechargeable LED Headlamp
Price: Approx. $15
Weight: 2.5 ounces
Specific features: USB recharge option, lightweight, light beam distance
Best use: Walking, jogging, hiking, mountain climbing, biking
Description: This headlamp offers excellent brightness considering its size. The Aennon USB Rechargeable LED Headlamp also gives you amazing light distance beam and if that is what you need, you may have a winner. The beam can reach up to 492 feet which is really amazing.
Weighing only 2.5 ounces, this headlamp is one of the lightest on the market. If you wear it over a hat, you won't even notice if it`s there.
It has four modes of brightness controlled just by one click. The brightest mode offers 220 lumens which is pretty good for the size of the headlamp. Along with the weight, it is excellent for running, jogging, and other activities that include the constant motion of the body and head.
The battery is recharged in 4-6 hours and can last up to 30 hours with one charge which is not too impressive. The headband is about one inch and comfortable. Together with the easily adjustable positioning of the lamp, it offers very easy control over it even while running.
The USB rechargeable LED headlamp is also waterproof, but it will not hold much under the pressure of water. However, it will have no problem at all if being splashed or you spill something over it. If you use it indoors, maybe for reading, it offers a red light option.
PROS:
Compact size
Lightweight
Excellent light beam distance
CONS:
Not that great of a design
Takes time to recharge
Related: For those passionate about biking, here's a great biking helmet that might match your headlamp as well. The CCTRO Adult Cycling Bike Helmet comes in a regular size, and the side straps make it a good fit for everyone. It has ventilation holes and is completely aerodynamic. It also has a visor that can be detached by choice and it weighs only 7.9 ounces.
Streamlight Double Clutch USB Rechargeable Headlamp
Price: Approx. $44
Weight: 4 ounces
Specific features: USB rechargeable option, charged by both lithium and standard AAA batteries, lightweight
Best use: Hiking, caving, mountaineering, backpacking, fishing, running
Description: For those that love to have power alternative, this is the right pick. The Streamlight Double Clutch USB Rechargeable Headlamp offers a great option – switching from a lithium battery to a standard AAA battery source.
When the rechargeable battery needs to recharge, and you have no possibility for that, just place in three standard AAA batteries and carry on with your activity. The lithium battery offers up to 10 hours with one charge, but AAA batteries can go up to 18 hours.
This headlamp can produce 125 lumens in high mode and 30 lumens in low mode. It has a spot and flood option, and the greatest distance for the spot option is 269 feet.
The head can be easily tilted for 60 degrees giving the user a great experience while running or doing an activity that requires the beam to be directed in particular direction. The creators of this headlamp gave special attention to the gravity center of the lamp, making it ideally placed. This means the headlamp has great stability.
PROS:
Option for using different battery types
Lightweight & easy to carry
Reliable device
Great beam distance
CONS:
Too expensive
Low lumen power
Related: If you want never to be caught without batteries and light in the wild, here's a pack of standard AAA batteries. The ACDelco Super Alkaline Batteries are 48 in a pack and very affordable. They don't contain cadmium and mercury so you shouldn't worry about health issues. Since they're light, you can carry as many as you might need.
Three Trees Torchlight Sensor Headlamp
Price: Approx. $10
Weight: 2.7 ounces
Specific features: USB recharge option, fast recharge, waterproof, durable, extremely lightweight
Best use: Reading, camping, indoor activities, fishing, running, cycling
Description: If you're trying to find a cheap, but still good headlamp, the Three Trees Torchlight Sensor Headlamp   might be a great choice. It has a motion sensor that allows you to just wave in front of the lamp and switch between modes. It has a red light and an SOS mode.
Being very lightweight, it gives the user a chance to use it for many activities. It weighs only 2.7 ounces and you will literally forget that you're wearing it on your head.
The recharge time is pretty short, only 2.5 hours. After it is fully charged it can work up to 20 hours on the lowest brightness mode, and up to 5 hours in the brightest mode. Considering the money, this headlamp has good value.
Three trees headlamp is also waterproof. It can take heavy rains, and it won't have a problem working in extremely hot conditions too.
The body is mostly made of plastic, and knowing its weight, you can be sure that it won't break if it falls on the ground. That makes it excellent for the price it is offered.
PROS:
Lightweight & waterproof
Motion sensor included
Tilt feature
Good value for price
CONS:
Limited options and working modes
Poor design
Related: Getting caught without power and being unable to recharge the batteries when you most need it can be very frustrating and sometimes even life-threatening. That's why you should always have a backup solution, like the Mercury POW1 Emergency USB Battery. It packs 4 AA batteries and an indicator for the level of recharge.
Icefox Rechargeable Headlamp
Price: Approx. $26
Weight: 10.5 ounces
Specific features: USB rechargeable option, extreme lumen power, durable, waterproof, adjustable, four light modes, zoomable
Best use: biking, climbing, caving, hunting, fishing, camping
Description: If we're talking about a headlamp that has real lumen power, then we're talking about the icefox Rechargeable Headlamp. This product packs three heads with bulbs and an additional red light on the back of the battery holder, offering a total of 6000 lumens which is really impressive.
It has three modes of brightness: low, medium and strong light, and it also has an SOS mode. When set on the highest mode, it provides stunning brightness allowing all activities to be done like it is daytime.
Now, this kind of brightness must waste a lot of energy, right? True, but that's solved with the use of two batteries instead of one like it's usually done in the headlamps industry. That way, the Icefox rechargeable headlamp can run up to 8 hours on a single charge.
Having three heads makes this headlamp a little bulky. It also makes it a little heavier than the competition, but it's a small price that has to be paid for having such great lumen power. However, being bulky doesn't make it unstable on the head.
It is made of aluminum alloy, and it is waterproof. This means that you shouldn't worry about damages.
The 90 degrees rotation control is another option worth considering before buying. With it, this lamp is perfect for outdoor activities, but also for working at home or in the garden while the sky is dark.
One of the most interesting features of this headlamp is the light in the middle that has the option to zoom in and out. That way you'll be able to focus the light exactly where you need it while the other two heads can be set on the standard working mode.
PROS:
Excellent lumen power
Zoom & light rotation included
Waterproof
Durable construction
Different light modes
CONS:
A little bulk thus not making it appropriate for some activities
Light too strong for some
Related: If you're going rock climbing, you may find portions of the trail where you need light. Since your hands will be busy, a headlamp is a must and with the Tontron Comfy Climbing Caving Helmet you can easily wear one and keep your head protected during the climb.
EOTO Rechargeable LED Headlamp
Price: Approx. $20
Weight: 10.6 ounces
Specific features: USB rechargeable option, great lumen power, durable, waterproof, adjustable, zoomable light
Best use: Camping, hiking, caving, fishing, cycling, caving
Description: A slightly cheaper version of the other similar products on the market with these features is the EOTO Rechargeable LED Headlamp. This "machine" has a power of 5000 lumens that will light up the dark space around you without any problem.
It has all the options required to be called an excellent headlamp. The main difference is the lumen section, which this headlamp have pretty much enough – 5000 lumens to be exact. Considering the competition, this is a great bargain for the price.
It has three modes, strong, medium and low level of brightness, plus an SOS mode. You get all the 5000 lumens when all the lights are on.
All this power is packed into two rechargeable 18650 batteries, but it can also work with only one inside. When fully charged it will last up to 2 hours in the brightest mode. If you use less bright mode, the battery can go more hours.
The aluminum alloy is making this product firm and strong. Together with the waterproof feature, it is excellent for all kinds of conditions.
It has a 90 degrees tilt option, and a zoom possibility of the middle lamp so you can be sure that the adjustment you've made will give you the best possible results. It is excellent for indoor use, but also for many outdoor activities too.
PROS:
Great value for the money
Very bright
Strong construction
Waterproof
Zoom & light rotation available
CONS:
A bit bulky
Light too strong and not appropriate if other people are around
Related: For those thin-edged helmets that don't support headlamps, there is a solution: the Petzl Crochlamp Headlamp Clips offer the easy way out. So, instead of buying a new helmet, you'd be able to integrate the headlamp on. The clips are cheap and easy to carry, so you can always have a few in your backpack.
NOPTEG LED Tactical Headlamp
Price: Approx. $16
Weight: 6.4 ounces
Specific features: USB rechargeable option, long battery life, zoom option, waterproof, adjustable, lots of lumens
Best use: Cycling, biking, mountain biking, camping, fishing, climbing
Description: The NOPTEG LED Tactical Headlamp is another headlamp in the series of headlamps that offers lots of lumens and amazing brightness. This little beast gives you more than 1800 lumens in its highest mode making your outdoor activities in the dark outstanding.
Responsible for the brightness are two rechargeable 18650 batteries that will provide you with light for 30 hours in its most economic mode. The batteries will be charged in 4 hours which is not the fastest time on the market, but it's worth the wait considering the 30 hours of life after the batteries are fully charged.
It is mostly made of aluminum alloy and it is waterproof, which means you don't have to worry about durability and the chance of getting destroyed. The waterproof feature means the headlamp will be protected from heavy rain or sudden flood, but it's not made for diving.
The lamp has an excellent rotation feature. It can be tilted for 180 degrees and set to 4 different modes giving you different brightness and type of beam. Add the zoom option to all this, and you have a remarkable headlamp that is very cheap for what it offers.
PROS:
Bright
Long battery life
Zoom & adjustable focus
Waterproof construction
CONS:
Long recharge time
Short distance beam
Related: The Blackjack Helmet Accessory Strap Retention System will help you keep that headlamp right where you need it. It weighs less than 2 ounces and can be used with all sorts of helmets, hard hats included. You can place a bulk order and get four different items or order only one, depending on need.
Akale LED Rechargeable Headlamps
Price: Approx. $10
Weight: 2.5 ounces
Specific features: USB rechargeable option, motion sensor, 2 standard and 2 UV light modes, lightweight, waterproof, adjustable.
Best use: Walking, hiking, jogging, hunting, fishing, biking, climbing, camping.
Description: This is another compact and lightweight rechargeable headlamp. The Akale LED Rechargeable Headlamp is very lightweight and is excellent if you want to travel without too much weight.
There's a number of possibilities when it comes to adjusting the position of the lamp, the amount of light and the type of beam. In maximum brightness, it gives you a light of about 220 lumens and in this mode, the battery will last about 5 hours. In the most economical mode, the battery can run up to 10 hours. The battery will recharge in 4-6 hours which is kind of too much considering the run time when fully charged.
The headlamp can be rotated for 60 degrees, and the headband is also adjustable. Switching between modes is one button away, so all this makes the headlamp very compact and useful for different kinds of activities. It's great for running, climbing, and other jarring activities.
Unlike most other models of this class, the headlamp we're talking about here offers two UV light modes. The UV light mode is very different from the white light and can come in handy in some situations. If you think this feature can help on your trips or work at home, you'll be happy to have this lamp.
This headlamp is also waterproof. Heavy rains and sudden floods will not damage it. Being very lightweight also allows it to fall on the ground without damaging which makes it pretty durable.
PROS:
Lightweight & waterproof
Different types of light
Motion sensor included
CONS:
Not very bright
Short battery life
Related: Make sure you're safe while doing your outdoor activities in the dark. Keep protected from traffic or make yourself more visible with this BSeen LED Running Armband. It has a battery life of 50 to 70 hours, it comes in a package of two bands, and one size fits all.
Wrap Up
It's very important to know what you're going to use your headlamp for. If you're planning to go caving you'll have to choose a headlamp with lots of lumens, but if you're planning something like jogging or mountain hiking, then choose a headlamp that is lightweight and comfortable.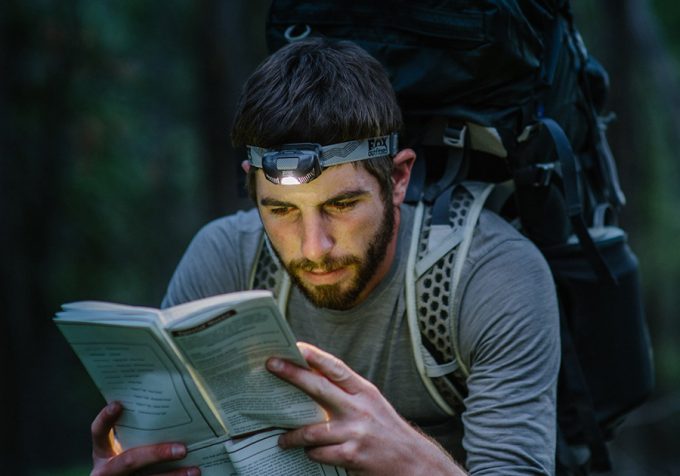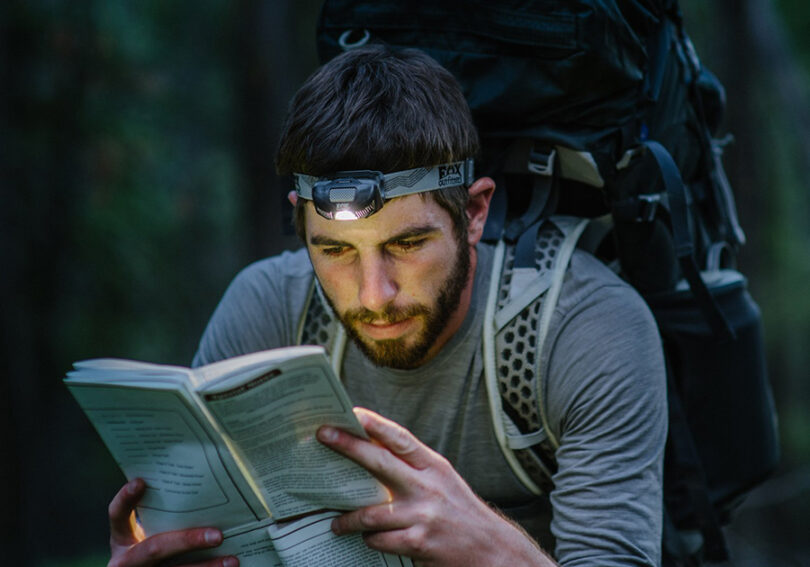 Another thing you'll surely consider – is the battery life. The longer the better of course, but do you always need your rechargeable headlamp to go without stopping for days? If you use it for indoor purposes or gardening, then you'll always be able to recharge it at home – so why spend top dollars on a feature that you'll never really need.
So to wrap it up, make sure you buy the right piece that fits your needs. If you need more features mentioned above, then don't be sorry for the money, a good headlamp can be a lifesaver. Know any great headlamps that should've made the list? Let us know in the comments!