Today, the market is filled with many flashlight bulbs, with some lasting longer than others. Most flashlights that are considered to be the best have LED bulbs that provide the right amount of illumination. These kinds of bulbs are preferred by many due to their longevity as they are able to last for approximately 100,000 hours when on their run time.
However, the light emitting diode bulbs are suitable for applications that require soft lighting and short-range illumination. What is amazing about the Best LED Flashlights is that you never have to worry about frequent bulb replacements as this option has been well taken care of.
These gadgets are known to provide greater efficiency compared to the incandescent bulbs used in other flashlights. While a traditional bulb may give an average of 6 hours of continued lighting, the LED lamp averages about 50,000 hours.
For people who use their flashlight regularly at night, the LED torch can offer a longer lamp life as a result of their lower energy consumption. The LED flashlights have a sturdier construction when compared to any other kind of flashlight bulbs.
Our Top Picks
Their housing is made of plastic making them resistant to vibrations, high temperatures, and impact of drops. In this article, you will learn about the main features of LED flashlights, and we will show you some reviews of products that may entice you!
Features to Consider Before Buying
Flashlights are a vital tool to have around at all times. With their usefulness and application, you would want to ensure you select the right LED for your camping, hiking, or emergency needs.
However, not many people know what factors to consider when they want to buy their LED flashlights. Here are the important features you need to have in mind.
Flashlight Modes
Most flashlights found in the market offer at least three different lighting modes – High, Medium, and Low. There are some, which will also have a Turbo mode, a feature that is excellent for a burst of brilliant light. The lighting modes offered by the LED flashlights are measured in Lumens.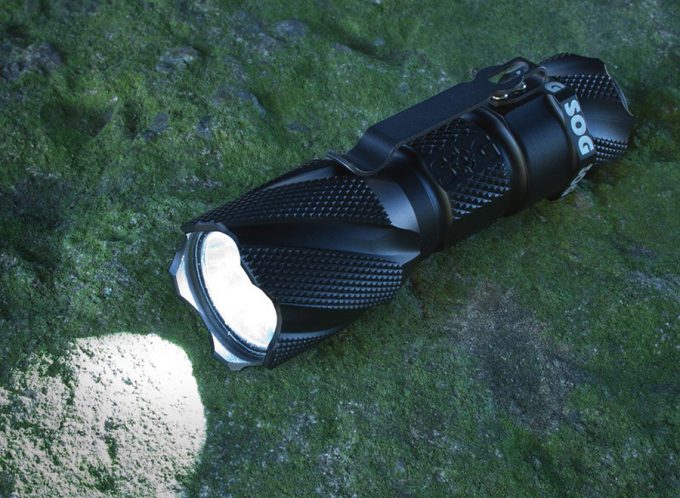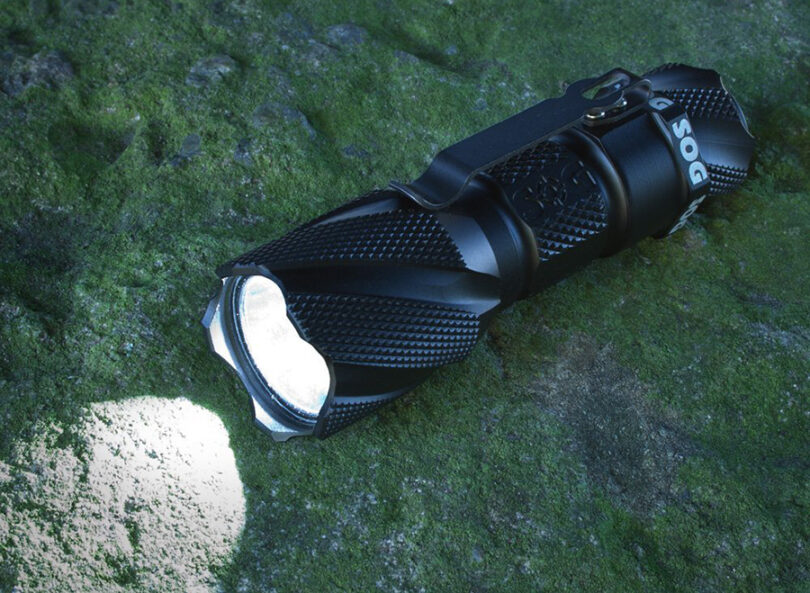 The Lumen output usually dictates the amount of illumination offered by a flashlight. In an average eight-hundred Lumen gadget, "moonlight" level could be the start of the mode display. The Low-Level mode will be in the range of 10 to 30 Lumens, the medium will be 100-200 Lumens, while the High mode will be 600 Lumens and the turbo at 800.
Depending on your needs, it is imperative to determine the kind of illumination you desire before making a purchase. As seen, different LEDs have different illumination capabilities.
The Variable Ring Control
The variable ring is a component surrounding the flashlight's surface. This feature makes it possible for an individual to regulate/select their most desirable brightest levels depending on the need and situation.
Adjusting this ring slowly and smoothly decreases or increase the degree of illumination from the predefined mode to the lowest or highest setting. The function of this ring is synonymous to the wall-mounted dimmer switch. SOS and Strobe, could also be included in the ring.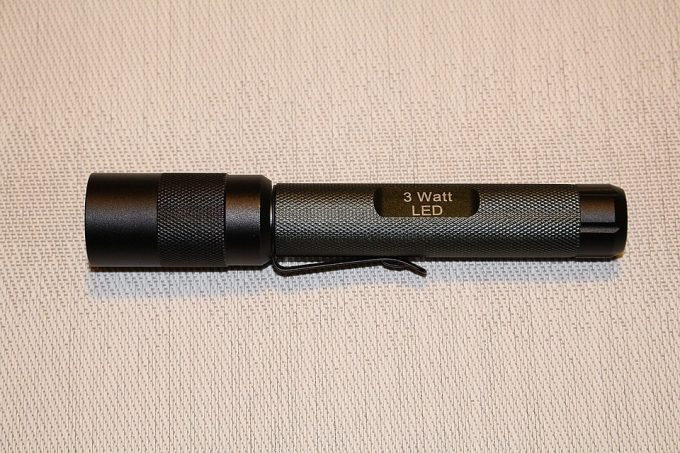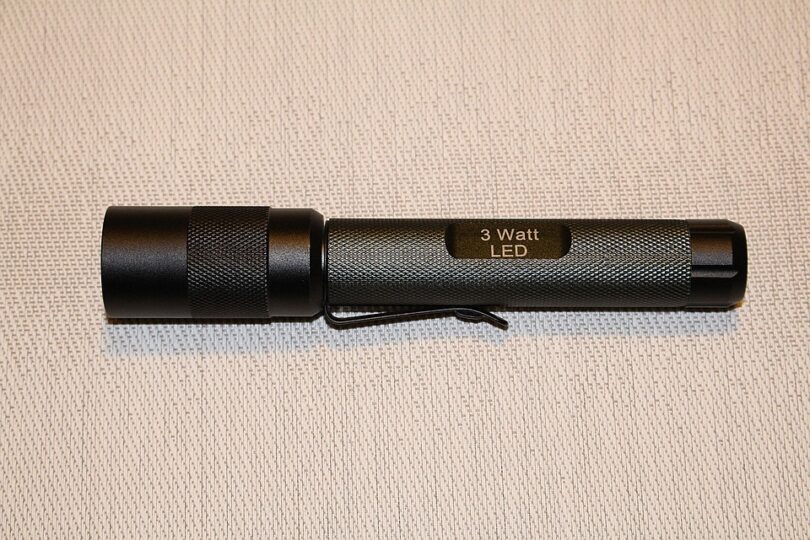 When in need of an LED torch with an easy mode regulation, having this component in your gadget will provide you with your desired feature.
Battery Availablity
The type of battery the flashlight uses can make a significant difference. There are a variety of options available including disposable, renewable or rechargeable batteries. The disposable kinds, are the AA, AAA, C, and D standard batteries found in the stores.
The main advantage of the disposable is their large power output and availability. The rechargeable type is lithium ion, inbuilt batteries which are easily charged using an AC/DC adapter or USB connection.
Waterproofing and Shock Resistance
The greatest advantage of the emergency or tactical flashlights is their durability. This is a useful feature as the products can accidentally be dropped or exposed to water. These two elements are used to measure durability through a water resistance and impact resistance score.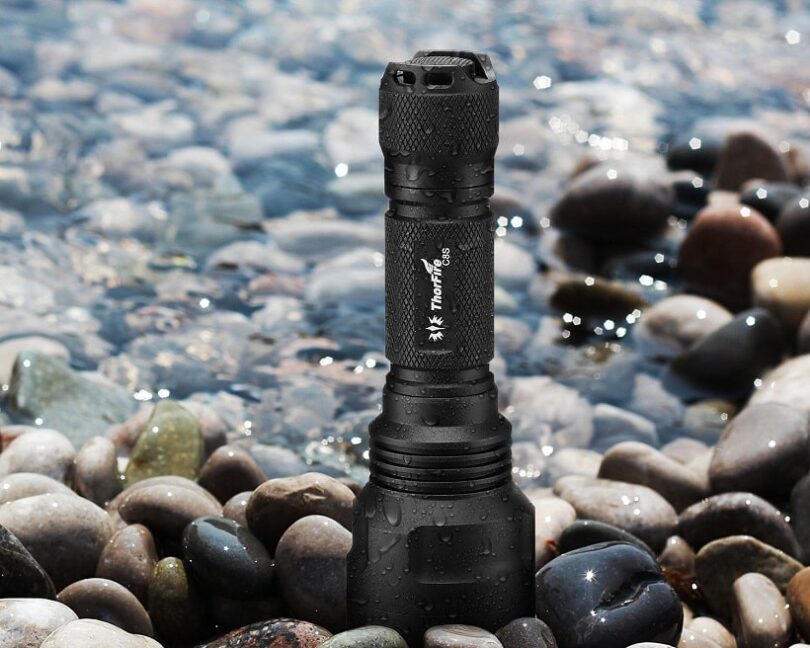 With the latter, the gadget is dropped several times from the specified height, and its performance assessed. If it's still functional, the product passes the test and is given a particular impact-resistant rating. For the water resistant feature, it becomes a little bit intricate.
Water resistance uses the IPX rating system in determining how long a device can be submerged in water and still remain functional. IPX4 implies that the device is able to resist water splashes from all angles while an IPX7 rating means the device can remain functional after being submerged a meter in water for 30 minutes.
A rating of IPX8 implies that the flashlight can withstand being submerged in water for four hours. It is, therefore, imperative to determine which ratings will be suitable for your application. For those using their flashlights for fishing, an IPX4 rating may be useful.
Top Product Reviews
Now we have come to the part where we will review several LED flashlights so you can get a feel for what is on the market. Read on for reviews, and we hope something will catch your eye!
SOG Dark Energy
Price: Approx. $50
Battery: CR123A
Weight: 6.4 ounces
Dimensions: 1.2 x 3.8 x 1.2 inches
Specific features: Anodized class II, type III aluminum, water resistant to a depth of 1 meter, R5 LED Bulb, 4 operation modes
Best use: Self-defense, security, hiking, camping, survival
Description: The SOG Dark Energy flashlight, CREE LED Technology is a unique product which was designed to feel and look different. From Cree Technology, the DE-01 is the brightest LED flashlight of its kind and incorporates the LED bulb with a textured aluminum reflector and a polycarbonate lens of optical grade.
The maximum output for this product is 188 Lumens and an 80-minutes run-time while at 100% brightness. It was designed with an on/off switch which offers four different lighting modes.
These lighting features include a strobe, a low (40% brightness) for extended use so that you don't have to worry about being in the dark, a full-on (100% brightness) for moments when you want to see clearly as it was daylight, and a momentary-on. Additionally, you will not have to worry in case the SOG Dark Energy is exposed to water as it is IPX-7 protected so even during the heavy rain falls, your flashlight will keep shining without a problem.
PROS:
Cool White Cree R5 LED bulb
Several operation modes
Can go up to 30 minutes in 1 meter of water
CONS:
Small
Clip might not stay in place
Related: You will need some batteries, such as the DL123A Duracell Ultra Lithium 8 Batteries-CR123A, for this flashlight. You can buy this one in an 8 pack.
Sunwayman V11r Cree Xm-l U2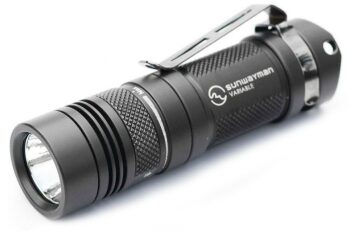 Price: Approx. $60
Battery: CR123A
Weight: 1.73 ounces
Dimensions: 0.91 x 3.3 x 0.91 inches
Specific features: Beam distance of 130 m, digital sensor magnetic control, 500 Lumens, 50,000 hours lifetime
Best use: Self-defense, security, hiking, camping, survival
Description: The Sunwayman V11R Cree XM-L U2 flashlight is a revolutionary EDC gadget. It is a versatile model that can run on a 16340 battery or a CR123A cell.
The outstanding aerospace grade aluminum, its compact design, lightweight, and durable features, make the VIIR and ideal Every Day Carry or a spare light for hiking escapades or emergencies, or for every day (or should we say every night) usage.
A rubber tailed switch is installed in the gadget to enhance its performance, and provide you with the output you require with utmost comfort because nobody likes the hard, plastic switches that hurt your fingers after extended use.
As though it was not versatile enough, the optional AA extender makes it possible for you to power the flashlight with an inexpensive and readily available alkaline battery. Overall, a really great flashlight choice with multiple features that make the usage quite enjoyable and practical no matter the situation.
PROS:
Can run up to 35 hours
Waterproof
CONS:
Adjustment ring can come loose
Metal button does not work well, is noisy
Related: There is an extender for the battery that you can purchase, which is the Sunwayman V11R Black AA Extender.
Streamlight 88040 Protac Hl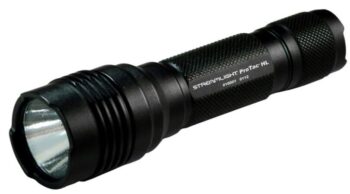 Price: Approx. $60
Battery: CR123A
Weight: 5.6 ounces
Dimensions: 1.37 x 5.25 x 1.45 inches
Specific features: Waterproof, three operational modes, anti-roll face cap, C4 LED technology for extreme brightness
Best use: Self-defense, security, hiking, camping, survival
Description: The Streamlight 88040 ProTac HL flashlight is one of the best rated in the ProTac series, owing to its blinding light of 750 Lumens. The model provides the latest in the LED technology, as well as three different selection modes.
The combination of its output and small size results in one of the brightest carry lights of its kind. Furthermore, the users say that the high setting is very bright, with an excellent hot spot and more than enough of spill. The portability aspect of the 88040 ProTac makes it easy to fit into a pocket or slide it into the purse.
The users  of this flashlight claim that the Streamlight has a great customer service, so in case you do have any problems, which are rare, the company is willing to stand by their products and assist you with your problems.
PROS:
Comes in multiple colors
Waterproof
CONS:
Lumen output can decrease over time
Defective ones work for about a month or two
Related: This manufacturer also makes tactical holsters for various models, including this one, which is the Streamlight 88051 Tactical Holster.
Eagletac G25c2 Mk Ii Xm-L2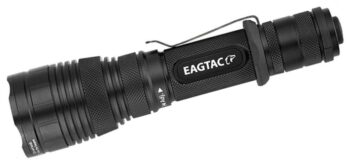 Price: Approx. $130
Battery: Lithium Ion
Weight: 4.8 ounces
Dimensions: 1.55 x 5.9 x 1.55 inches
Specific features: Beam distance 295 m
Best use: Self-defense, security, hiking, camping, survival
Description: The EagleTac G25C2 MK II XM-L2 flashlight is one of the best-focused gadgets you can ever get. Lumens and brightness are only insignificant without concentration and focus; otherwise, all the light will be scattered, and most of it will be unused.
When the beam of the flashlight is thrown at a distance, the beam's white center remains concentrated, expanding in the right way at every distance like the spotlight or floodlight.
In addition to that, its amazing size makes it possible for you to carry it and its hardened surface offers a firm grip such that it doesn't drop in case you trip down climbing the mountains. Furthermore, even if you get caught by a heavy rainfall, or you drop it in the river or a stream, you don't have to worry because it is waterproof.
The EagleTac model is a wonderful LED flashlight you can use without having to worry about efficiency since it is has a great lifespan that promises extended hours of brightness.
PROS:
Beam distance 295 m
Waterproof
CONS:
Settings may not work
Some stop working after a few days
Related: The NiteCore-i2-V2014 Universal Intelligent Charger is a charger that can work on a variety of items that are compatible with it, just the product we have reviewed.
Nitecore SRT7 Revenger Cree XM-L2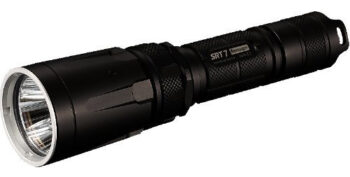 Price: Approx. $82
Battery: Lithium Ion
Weight: 6.4 ounces
Dimensions: 1 x 6.22 x 1.57 inches
Specific features: Impact resistant to 1.5 meters, tail stand capability, IPX-8 Waterproof
Best use: Self-defense, security, hiking, camping, survival
Description: The NiteCore SRT7 Revenger Cree XM-L2 flashlight features a third generation Smart Selector Technology that offers you a rapid and smooth access to variable modes of brightness, ranging from 0 to 960 Lumens. Due to its revolutionary inbuilt LED, you can get a unique tactical device that fits your illumination needs.
Its Multi-function power signal is used to indicate your battery status so you can know when you need to charge or replace the, and a resistance of 1.5 meters height falls, will protect the flashlight from getting destroyed when it hits the ground if you drop it.
Furthermore, it is waterproof up to a depth of 2 meters, so you don't have to worry that it will die on you if you drop it in the river or a stream, or even when a heavy downfalls catch you with your guard down.
CONS:
Plastic tactical ring
Will flood
Related: You will need lithium ion batteries for this product, and you can buy them in 2 packs and up, such as the NITECORE NL189 Rechargeable Li-ion Batteries.
Klarus Xt11 Cree XM-L2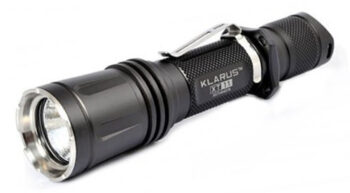 Price: Approx. $75
Battery: CR123A
Weight: 4.8 ounces
Dimensions: 1.5 x 6 x 1.5 inches
Specific features: Waterproof to IPX-8 Standard, 820 Lumens / 6 hrs working voltage, 3 lighting modes, 50,000 hours lifespan, aircraft grade aluminum
Best use: Self-defense, security, hiking, camping, survival
Description: The Klarus XT11 CREE XM-L2 flashlight is a device that is easy to operate due to its strategically-located switches. The ON and OFF button is placed higher than the mode switch. As a defense gadget, this is a good thing as it's impossible for you to miss the buttons when handling the torch.
The XT11 is designed with four mode functions. Activation is done by pressing ON and OFF button. After the gadget is on, you will be able to press the mode function and activate brightness by pressing the mode settings. When the gadget turned off, pressing the mode function will activate the mode.
You can also half-press the ON and OFF switch to activate your flashlight temporarily. The appearance of the flashlight is outstanding. The body is made from aircraft-grade aluminum. The point of grip is diamond-patterned, to ensure the gadget's grip is firm in your hand. The small clip on its side makes it possible for you to hook it to a pocket or a belt.
PROS:
820 Lumens on high
Made from aluminum
CONS:
Strobe can die
Main switch can stop working
Related: If you want a bezel attachment for your flashlight, you can check out the Klarus Extended Strke Beze.
Zebralight H502 L2 Flood Headlamp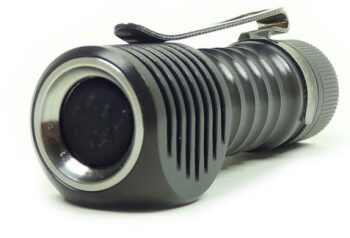 Price: Approx. $70
Battery: Lithium
Weight: 1 ounces
Dimensions: 2.8 x 0.8 x 2.8 inches
Specific features: Waterproof to IPX8, hard anodized finish, 3 mode illumination (low, medium, high), tempered optical grade glass
Best use: Self-defense, security, hiking, camping, survival
Description: The Zebralight H502 L2 Flood Headlamp is a small, extremely portable and outstanding gadget to own. The headlamp is designed with three different levels of brightness – High, Medium, and Low – in addition to a strobe light feature.
If you have never used a headlamp style torch before, the Zebralight model will certainly surprise you. The illumination is super bright and gives an excellent wide pattern towards your target. It is a versatile device that can be used both indoors and outdoors when camping as it gives you a wonderful light on feeling.
Furthermore, the 90 degree lens gives you the opportunity to place this light on a flat surface and expect the entire room to be eliminated. Also, when attached to its head-strap, it works perfectly as a headlamp. Also worth mentioning is the fact that the 120 degree flood, ensures you have the entire FOV lit up and clear.
The multiple brightness settings will let you choose the amount of light, depending on your needs. And, there is no hot spot like with other flashlights, making the entire light area evenly bright.
PROS:
Waterproof
3 month run time
CONS:
Not enough light
Short battery life on high
Related: You can find a battery charger pack, such as the Panasonic K-KJ17MCA4BA Battery Charger Pack, so you can recharge your batteries.
Fenix PD22 Cree XP-G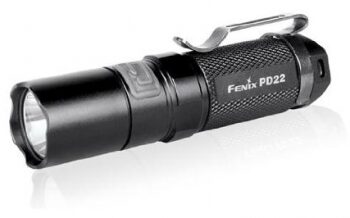 Price: Approx. $40
Battery: Lithium Ion
Weight: 3.2 ounces
Dimensions: 4.5 x 3.1 x 1.1 inches
Specific features: Max of 210 Lumens
Best use: Self-defense, security, hiking, camping, survival
Description: For a survival kit, a glove box, or a bright light source which can easily fit into the pocket, the Fenix PD22 Cree XP-G flashlight would certainly be the ideal option for you.
Despite the fact that this flashlight is powered by a CR123A battery, it is able to produce powerful illumination – 371-foot beam into the dark with an output of 210 Lumens.
A switch on its side will allow you to select the preferred mode settings of four brightness and two emergency options, hidden SOS and a rapid strobe, which in our opinion, is a great feature for those unexpected situations when you need to act quickly.
The Fenix PD22 is an amazing flashlight. Its design and compactness, make it an Every Day Carry Device. It has an outstanding quality for its size and is surprisingly bright with excellent battery life owing to its lower settings.
PROS:
210 Lumens
2 Emergency options
CONS:
Does not come with a battery
Battery life is not long
Related: You can buy a multi pack of batteries for this flashlight, such as the Surefire Battery 123A 3 Volt Lithium Batteries.
Concluding Thoughts
The above information will keep you informed about the kinds LED flashlights you need to consider. When you go shopping for the best lighting gadgets, you will be able to find a wide range of options in terms of styles and brands.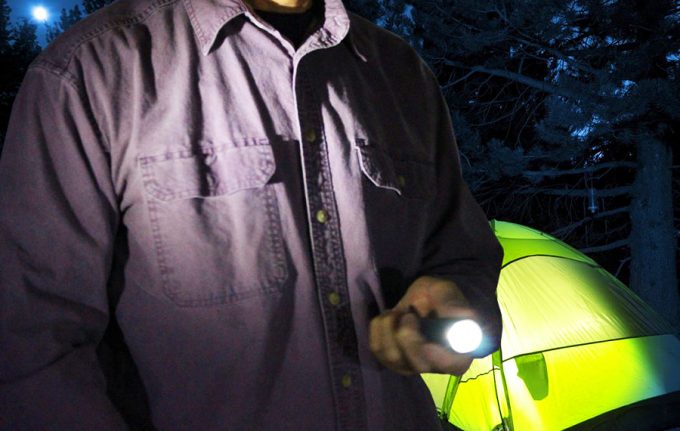 At that point, you will want to choose one that will be long-lasting, has a greater lifespan, rechargeable batteries, and durable construction. As you compare the various options available, it will be wise to consider your application and how you intend to use the flashlight.
Once this has been determined, you can look for one that has the features you need. Finally, compare prices and see which among the identified options falls within your budget.
So, did you find this article helpful to you? Please let us know about your best LED flashlight suggestions and what features you would want your light to have. Feel free to post your views in the comment section of this page.